The new Srixon irons were released in 2020 and quickly became a favorite among mid to low-handicap golfers.
Designed with innovative features and a visually appealing appearance, these irons allow good golfers to take their skills to the next level. In this Srixon ZX5 irons review, you'll learn what makes these irons stand out and why they might be the perfect addition to your golf bag.
Quick Summary: Arguably one of the best Srixon irons, the ZX5 is a fantastic option for intermediate to advanced golfers who are seeking distance, forgiveness, and workability in a sleek and attractive package.
But they're not for everyone, and beginner golfers will struggle with the large club head. There are a couple of other drawbacks, which you'll learn below, and you won't want to miss the details.
Here is what you will learn in our Srixon ZX5 Irons Review:
Pros and cons of these player's irons
Which handicap range best suits the irons
Specs and features of the ZX5 irons range
Three alternative iron sets to consider
Srixon ZX5 Iron Review: Overview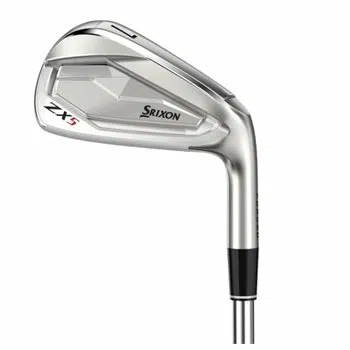 To provide a more comprehensive understanding of the Srixon ZX5 irons, we have created a performance ranking of each category:
| | |
| --- | --- |
| Performance Category | Ranking (1-10) |
| Distance | 9 |
| Forgiveness | 8.5 |
| Workability | 8 |
| Feel | 9 |
| Sound | 8.5 |
| Appearance | 9 |
| Price/Value | 7.5 |
| Grip | 8 |
| Overall Score | 8.5 |
Pros
Long and accurate performance
Forgiving, with a high MOI for added stability on off-center hits
Workable, allowing golfers to shape shots as needed
Flight-able, providing the ability to control ball flight trajectory
Easily hittable, with a confidence-inspiring look at the address
Cons
Clubheads may be too large for some players' preferences
Some golfers may prefer a more traditional, compact clubhead design
Who They're Best For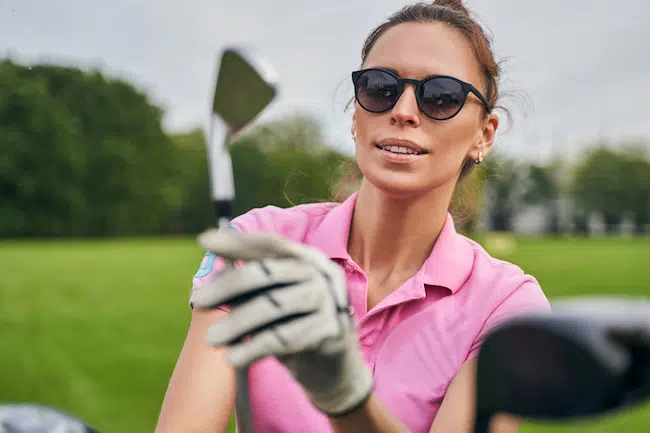 The Srixon ZX5 irons cater to a wide range of golfers, specifically low to mid-handicappers who are looking for a perfect blend of distance, forgiveness, and workability in their irons.
Players in this category often prioritize control and consistency in their game, making the ZX5 an ideal choice. The sleek design of the irons also appeals to golfers who want a visually appealing set without compromising performance.
On the other hand, high handicappers or those just starting out in the game might find the Srixon ZX5 irons less suitable for their needs.
These golfers typically require more assistance in terms of launch and forgiveness, which game-improvement irons such as the Srixon ZX4 can provide more effectively. These irons offer additional features that cater to less experienced golfers, helping them build their skills and lower their scores over time.
Srixon ZX5 Iron Specs
| | |
| --- | --- |
| Specification | Value |
| Clubhead Material | Forged SUP10 Face, 1020 Carbon Steel Body |
| Shaft Material | N.S. PRO MODUS 3 Tour 105 (steel) / UST Mamiya Recoil 95 (graphite) |
| Grip | Golf Pride Tour Velvet 360 |
| Irons Available | 3-AW (4-PW and 5-PW stock sets) |
| Loft | Progressive, strong lofts |
| Tungsten Placement | Toe section of 3-7 irons |
[Check other user experiences with the Srixon ZX5 Irons]
Why You Should Trust Us
Our team spends thousands of hours trying out and researching golf equipment to help you take your game to the next level. Here's our product review process.
We can bring these reviews to you through the small commissions we earn if you buy through the links below.
How We Reviewed These Products
Golfspan only shares equipment and brands we trust.
I'm a PGA-certified golfer and instructor, and I thoroughly researched and evaluated the Mevo+. Then an editor reviewed and fact-checked the review. Finally, we conduct regular content audits to update and revise our reviews to ensure you receive the latest information.
When researching this review, we considered these criteria:
Cost
Forgiveness
Control
Spin
Workability
Loft
Main Features of the Srixon ZX5 Irons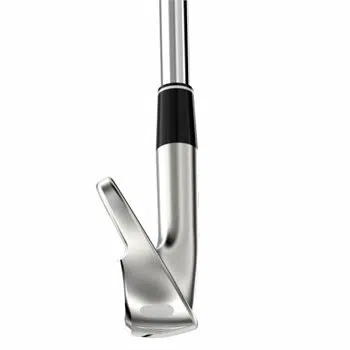 Let's take a look at the features of Srixon ZX5 iron in this review.
Forged Cavity Back Design
The Srixon ZX5 irons feature a forged cavity back design, providing outstanding feel and performance characteristics that appeal to low handicap golfers. The irons are more forgiving and longer than the ZX7, thanks to their strong lofts, delivering extra distance.
MainFrame Technology
The MainFrame technology, a variable thickness pattern milled into the backside of each iron face, maximizes ball speed and distance on every shot. This innovative design helps to increase the COR (coefficient of restitution), resulting in higher ball speeds and longer distances.
Progressive Grooves
The irons feature progressive grooves, with the shorter irons (8-PW) having sharper, narrower, and deeper grooves for more spin and stopping power on approaches. The longer irons (4-7) have wider grooves for consistency on longer shots.
Tour V.T. Sole
The Tour V.T. Sole is specifically shaped to improve turf interaction and provide better feel at impact. This design helps the club glide through the turf more smoothly, resulting in improved contact and better results, even on imperfect swings.
Multi-Piece Construction with Tungsten
The Srixon ZX5 irons feature a multi-piece construction, with added tungsten in the toe section of the 3-iron through 7-iron to increase the MOI (moment of inertia). This addition provides added stability and forgiveness through impact.
Alternatives to the Srizon ZX5 Irons
If you are considering other options besides the Srixon ZX5 irons, here are three potential alternatives that may fit your preferences and playing style: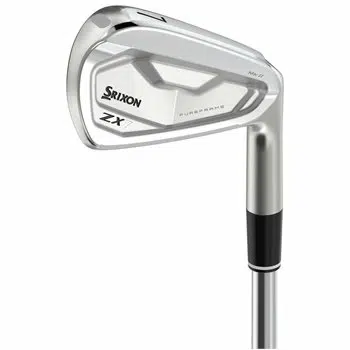 These irons are designed for more advanced players seeking control, precision, and feel. With a more compact head and focus on workability, the ZX7 irons cater to players who want to easily shape their shots. The forged construction provides excellent feedback and a soft feel at impact, making these irons a popular choice among better players.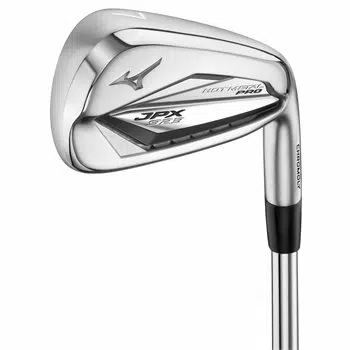 The JPX 923 Hot Metal Pro Irons are another players-distance iron option emphasizing distance and forgiveness. These irons feature Mizuno's Chromoly 4140M material, allowing a thinner face and faster ball speeds. The stability frame design enhances forgiveness on off-center hits, making these irons attractive for golfers seeking performance and playability.
The TaylorMade P790 Irons are a popular players-distance iron set featuring a hollow body construction and SpeedFoam technology. This unique design increases forgiveness while maintaining a pleasing appearance at address. The P790 irons offer a combination of distance, feel, and control that appeals to a wide range of golfers.
Srixon Game Improvement Irons: How They Compare to ZX5 Irons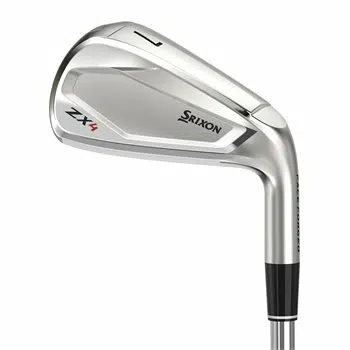 Srixon offers a variety of game improvement irons that cater to different skill levels and needs. The Srixon ZX4 irons, for instance, are designed for golfers looking for more assistance in terms of launch and forgiveness.
The Srixon ZX5 handicap range is also impressive. These irons feature a larger clubhead, thicker top line, and more offset than the ZX5 irons, making them a more suitable option for high handicappers or beginners who need extra help with their swing.
And they aren't modest in looks either. In fact, they can be regarded as one of the best irons in terms of visuals as well.
On the other hand, the ZX5 new Srixon irons are targeted at mid to low-handicap golfers who desire distance, forgiveness, and workability in their clubs. Their forged construction and sleek design make them appealing for players seeking to fine-tune their skills and lower their scores.
Additionally, the Srixon ZX5's price is also quite competitive, ranging between $120-$1200, depending on the configuration. If you're looking for cheaper models, however, check out used golf irons.
FAQs
What Handicap Is The Zx5 For?
The Srixon ZX5 irons cater to low-to-mid handicap golfers seeking an ideal balance of distance, forgiveness, and workability.
Players within this skill bracket typically possess a solid foundation in golf and strive to refine their abilities, sharpen shot-making precision, and boost their overall course performance. The innovative design and cutting-edge features of the Srixon ZX5 irons enable these golfers to achieve their goals and unlock their full potential.
Do Any Pros Use Zx5 Irons?
Although professional golfers' equipment choices can differ significantly, the Srixon ZX5 irons have attracted attention from notable pros valuing their performance and feel.
Golfers like Keegan Bradley, Graeme McDowell, and Hideki Matsuyama have incorporated the ZX5 irons into their bags, showcasing the exceptional quality and performance these irons offer at the highest level of play.
What Is The Difference Between Srixon Zx5 And Zx7?
The primary differences between the Srixon ZX5 and ZX7 irons lie in their forgiveness levels and target golfer demographic. The ZX5 irons are designed to offer more forgiveness and cater to low to mid-handicappers seeking a blend of distance, control, and forgiveness.
In contrast, the ZX7 irons have a more compact head and are geared toward better players who prioritize control, feel, and workability in their irons.
How Do The Srixon Zx5 Irons Perform In Various Course Conditions?
The Srixon ZX5 irons perform admirably in a variety of course conditions thanks to their Tour V.T. Sole design, which improves turf interaction and provides better feel at impact.
This feature helps the club glide smoothly through the turf, resulting in consistent contact and favorable results, even on imperfect swings or in challenging conditions such as wet or thick grass. Golfers using the ZX5 irons can expect reliable performance regardless of the course environment.
Conclusion: Are the Srixon ZX5 Irons Worth It?
Following our comprehensive Srixon ZX5 irons review and extensive testing, we can assert that these irons are an outstanding choice for golfers seeking a blend of distance, forgiveness, and workability in a sleek design.
Customers have highly praised the irons, which have earned a silver medal on the 2022 Golf Digest Hot List and a spot on the GolfWRX Best Irons 2022 List.
If you're in the market for a new set of irons, we highly encourage you to explore the Srixon ZX5 irons as an option. With their innovative design, performance-enhancing attributes, and visually pleasing aesthetics, these irons present an excellent opportunity for golfers looking to elevate their game and achieve better results on the course.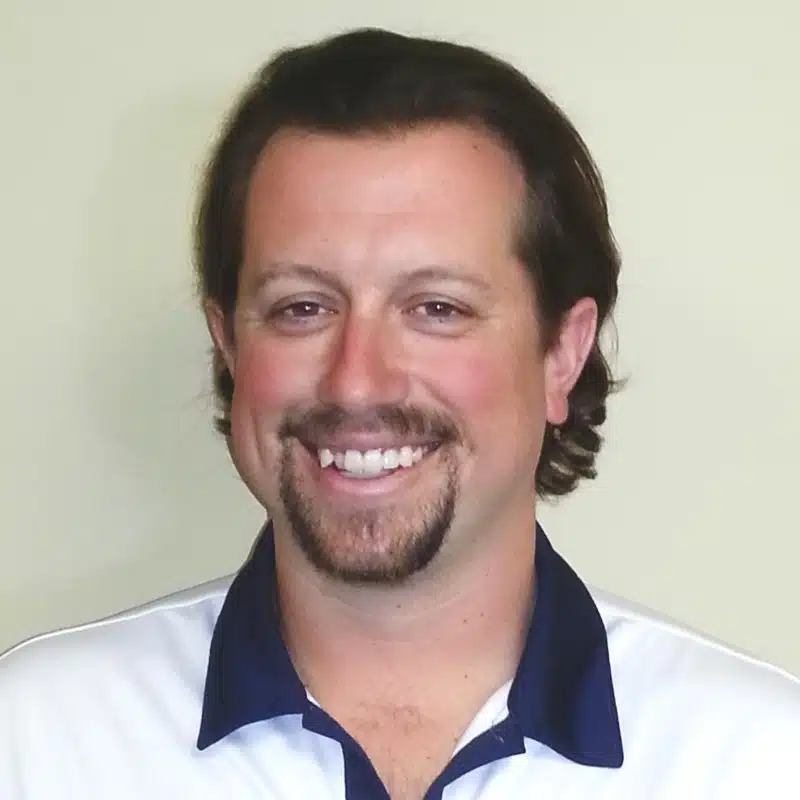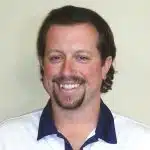 Clint became the Head Teaching Professional at one of Toronto's busiest golf academies and was featured on Canada's National Golf TV program, "Score Golf Canada," twice. He now tests and reviews golf equipment and gets to enjoy the game he loves whenever he wants while helping people lower their scores.