If you're an amateur in the mid-high handicap range, you don't need to buy a new set of clubs for every new release. But you do need a reliable golf set that fits your playing style.
In this Titleist AP2 irons review, I will share my research and testing of the AP2 718 irons and recommend them to suitable golfers. Stay tuned.
The Titleist AP2 iron sets provide workability and forgiveness with a classic design and modern technology. They are in the pure player's irons category and are recommended for low-handicaps because of their thinner topline.
Stick around cause I'm sharing a complete review of the Titleist AP2 718 irons below. I'll cover different AP2 models in the market that perform compared to the 718s and how the AP2 irons performed in testing.
Titleist 718 AP2 Irons Review: Overview
Pros
Excellent workability and control
Good feel and feedback
Forgiveness suitable for a range of handicaps
Consistent distances
Cons
High price point
Less forgiving than game improvement irons
Not suitable for high handicappers
The Titleist AP2 718 irons were released in 2018 and quickly became popular among low to mid-handicap players.
With a classic design and modern technology, the Titleist AP2 iron reviews have consistently been positive for their feel, accuracy, and overall performance.
The AP2s are one of the best Titleist irons. Titleist has always produced top-quality iron sets, and the AP2 718 irons remain a top choice for golfers looking for precision and forgiveness in their irons.
Key Metrics to Consider
These are my ratings for the Titleist AP2 Irons.
Note: All ratings are out of 100.
| | |
| --- | --- |
| Category | Rating |
| Overall | 90 |
| Distance | 90 |
| Forgiveness | 84 |
| Feel | 90 |
| Workability | 95 |
| Aesthetics | 95 |
| Price | 80 |
Who Are They Best For?
Ideally, the Titleist AP2 718 irons were designed to be versatile for players of all skill levels. However, I realized that these irons are best suited for low-to-mid handicap golfers looking for workability and forgiveness.
The AP2 irons provide excellent feedback and feel, making them a great choice for golfers prioritize precision and control. The AP2 718 irons are also suitable for golfers who prefer a traditional blade-style iron with modern technology.
Overall, these irons offer a well-balanced combination of performance and aesthetics, making them an excellent choice for serious golfers who want to take their game to the next level.
Verdict
Overall, the Titleist 718 AP2 irons are an excellent option for skilled golfers who prioritize workability and control in their iron play. My testing revealed that these irons are great for hitting precision shots while trying to work the ball.
The blade design and high-density tungsten weighting system provide a higher launch and increased stability on off-center hits. The 718 AP2 also features a thinner topline and sole, which gives it a more classic look and feel that many better players prefer.
The 718 AP2 is a top-performing iron set that delivers consistent distance, accuracy, and feel.
I'd recommended the AP2 irons to skilled golfers of low handicaps looking to improve their iron play.
Things to Consider Before Buying The Titleist AP2 718 Irons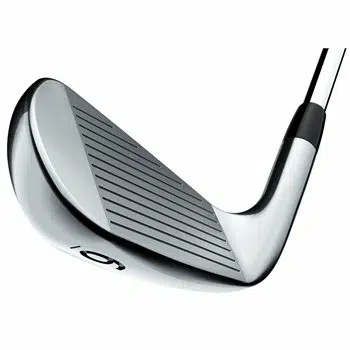 Titleist irons have a rich history of 50+ years. If you buy the AP2 irons, here's what you must consider beforehand.
The AP2 718 irons are designed for low to mid-handicap golfers as they are less forgiving than game improvement irons and have a thinner topline.
Consider your swing type. The AP2 718 irons suit golfers with a smoother, more controlled swing. If you have a fast and aggressive swing, you may find the AP2 718 irons too difficult to control.
The AP2 718 irons are at the higher end of the price range but worth the money, in my opinion, if you're a skilled golfer.
The AP2 718 irons come with several different shaft options. Consider your swing speed and personal preferences when selecting a shaft.
Trying out the AP2 718 irons before purchasing is always a good idea. Hit a few shots with them to see how they feel and perform for you.
Compare your current irons with the AP2s. I will buy a new set of irons if mine aren't performing fine or if it's a big jump from the previous ones.
Below, I will share my review and findings from testing the AP2 718 iron set.
Following are specifications based on each iron in the set.
| | | | | | |
| --- | --- | --- | --- | --- | --- |
| Iron No. | Loft | Lie | Length | Offset | Bounce |
| 3 | 21° | 60° | 39.00″ | 0.177″ | 3° |
| 4 | 24° | 61° | 38.50″ | 0.157″ | 4° |
| 5 | 27° | 62° | 38.00″ | 0.137″ | 5° |
| 6 | 30° | 62.5° | 37.50″ | 0.118″ | 6° |
| 7 | 34° | 63° | 37.00″ | 0.098″ | 7° |
| 8 | 38° | 63.5° | 36.50″ | 0.079″ | 8° |
| 9 | 42° | 64° | 36.00″ | 0.059″ | 9° |
| PW | 46° | 64° | 35.75″ | 0.051″ | 10° |
Why You Should Trust Us
Our team spends thousands of hours trying out and researching golf equipment to help you take your game to the next level. Here's our product review process.
We can bring these reviews to you through the small commissions we earn if you buy through the links below.
How I Reviewed The Titleist AP2 718 Irons
I got second-hand Titleist AP2 718 irons, in good condition, from Golf Global and played with them on the range and the course.
I researched and evaluated the Titleist AP2 718 irons. Then an editor reviewed and fact-checked the list.
This is what I considered while reviewing these irons:
Cost: The Titleist AP2 718 irons are players' irons. Considering the prices of other players' irons in competition, I gave the AP2 718 irons my value for money.
Distance: While testing the AP2 718 irons, I focused on the distance of my shots and gave them a rating regarding the results.
Forgiveness: Players' irons are not known to be forgiving, so I intentionally hit some mishits with the AP2 718 irons to see how forgiving they are.
Feel, Appearance & Sound: Sleek irons with a great feel and sound are a bonus. So, I rated the AP2 718 irons based on their appearance and feel.
Launch & Accuracy: Higher launch angles and more accuracy are what every golfer wants in their irons. I rated the Titleist AP2 718 irons based on their launch and accuracy.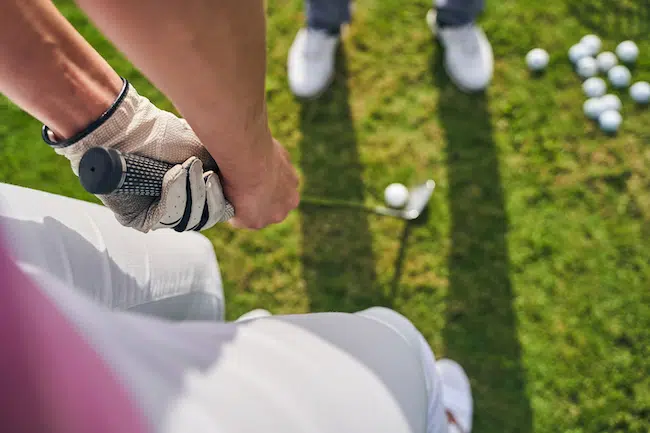 So let's get to business here. I'll describe my findings from the testing session of the Titleist AP2 irons and the 718 ap2 specs.
I took the irons to the driving range and played a round at the local course to see how they'd perform regarding distance, forgiveness, feel, sound, and overall.
Overall
These irons are an excellent set for an aspiring golfer trying to break 70-75. They provide a blend of precision and forgiveness.
They also offer exceptional distance, accuracy, and feel, making them reliable.
Because of their players' irons' characteristics and capacity to be forgiving, the AP2 irons revealed themselves as an ideal set of golf clubs for lower-handicap golfers trying to get better at maneuvering the golf ball and hitting their numbers more consistently.
Distance
Upon hitting the range and course shots, I discovered that the AP2 718 irons offer excellent distance, especially for a player's iron.
I'm used to shooting my seven iron 175-180 yards. My dispersion with the AP2 irons was 178-to-180 yards. The consistency in the distance was a notable feature.
The innovative design and technology in the clubface provide optimal ball speed and launch conditions, resulting in well-controlled distances.
Forgiveness
The AP2 718 irons are not known for their forgiveness, but as an extra incentive, it offers a forgiving design that delivers consistent performance even on off-center hits.
Although the forgiveness I noticed during the testing was not as good as "game improvement" irons, it was still above average for a set of players' irons.
Accuracy
The AP2 718 irons are known for their accuracy, allowing golfers to hit their desired target easily.
I noticed consistent distances and precision on all hits from the center. However, the few non-center ones were inaccurate, but forgiveness features did play a role.
In the testing procedure, I also noticed the compact shape and optimized CG location makes it easier to control shot trajectory, giving golfers more confidence in their swings.
Launch
The AP2 718 irons in testing proved that the launch on these irons was not excessively high whenever I wasn't trying to shape it, which is ideal for players looking for consistent distance and control.
It's not like you cannot hit the ball higher or lower than default launch conditions; you will just have to manipulate your flight which is what good players prefer.
Feel/Look
From the first sight to when I placed them behind the ball, the AP2 718 irons offer a classic design and look.
The clubhead features a clean and compact profile that inspires confidence at the address for better golfers who prefer a thinner topline and club face.
Additionally, upon hitting, the forged construction provided a soft feel and feedback on every shot, typical of blade irons.
Sound
The AP2 718 irons produced a crisp sound that provided instant feedback on contact. The sound I experienced was not too loud or soft.
Golfers can get the perfect balance between feel and acoustics.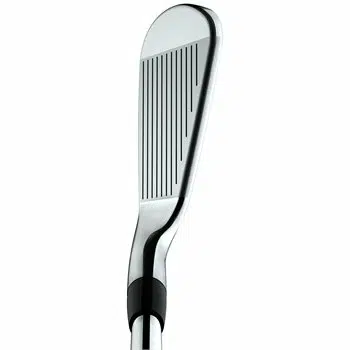 Let's look at some of the Titleist 718 ap2 specs and technical features.
Forged Construction
The AP2 718 irons are made with a high-strength forged construction, which enhances the feel and feedback of the club while providing exceptional durability and reliability.
Most blade irons use forged construction. Forged construction has a higher strength than cast construction.
Tungsten Weighting
High-density tungsten weighting is used at the toe of the club. This lowers the center of gravity and increases the moment of inertia.
Tungsten weighting is one of the main components in the golf club for forgiveness on off-center hits.
Co-Forged Cavity Back
The cavity back of these irons is co-forged with a high-strength steel body and a thin, unsupported face insert made of high-speed spring steel.
This helps increase ball speed and distance while maintaining a classic, blade-like appearance.
Improved CG Progression
The CG progression in the AP2 718 irons has been improved from previous models, resulting in a higher launch, more spin in the long irons, and a lower launch and less spin in the short irons for greater control and precision.
Pre-Worn Leading Edge
The leading edge of the AP2 718 irons is pre-worn during the manufacturing process to help reduce turf interaction and improve consistency on shots hit from various lies.
This is an unusual feature for the Titleist ap2 specification, but it provides excellent feedback.
Titleist AP2 — Other Models
Before we get into some alternatives off the market, let's look at other AP2 models on the market.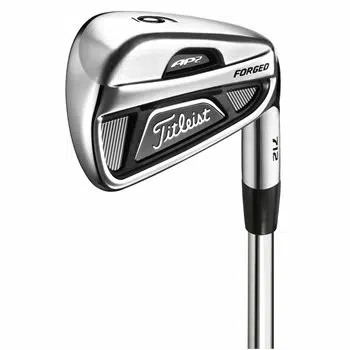 The AP2 712 irons were released in 2012, six years before the 718 model.
Compared to the 718, the AP2 712 specifications include a slightly smaller head size and thinner topline, which can appeal to more skilled players who prioritize workability and shot-shaping ability. However, the 718 models have updated technology, such as a co-forged construction and high-density tungsten weighting, which provides better forgiveness and a higher MOI.
With the 712 models, you sacrifice forgiveness for a pure players' irons model. They are the oldest AP2 model and hence offer the best price.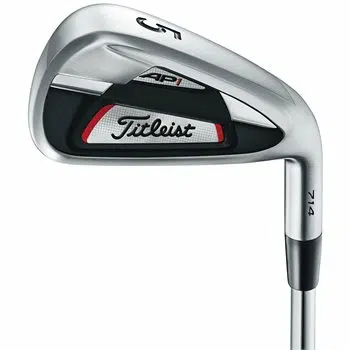 The AP2 714 irons were released in 2014, four years before the 718 models.
Compared to the 718, the head size is similar, but the 714 has a thicker topline and more offset, making it more forgiving for mid-to-low handicappers.
These irons can most closely be compared to the 712 irons as a version with more forgiving features than the 712s.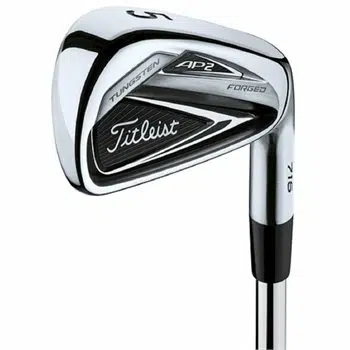 The AP2 716 irons were released in 2016, two years before the 718 models.
These irons are a step up from the 714 version. Similar thicker topline, but offset in these have been reduced compared to 714 and 718 AP2s.
This set provides more forgiveness than the 718 with a more innovative design than previous models. So if you want the 718 head to have more forgiveness in your iron head, you can opt for the similar 716 head.
Read More: Titleist AP3 Review
Titleist AP2 718 — Alternate Options
If you feel like the AP2 irons aren't suitable, here are some great alternatives to the AP2 irons.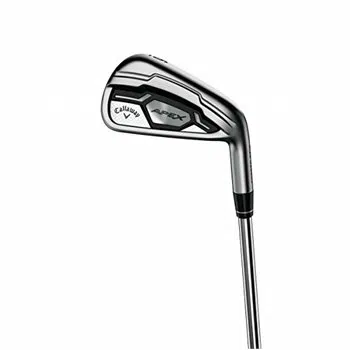 The Callaway Apex CF16 iron set is a game-improvement set designed to offer maximum performance for golfers similar to players' irons.
So, it's a nice alternative to the AP2 718 irons. This set features a sleek and modern design crafted from high-quality materials.
Pros
Excellent feel and sound.
Highly forgiving
Higher launch angles
Wide range of customization options
Cons
Not as maneuverable as its counterparts
Slightly larger profile than typical players' irons.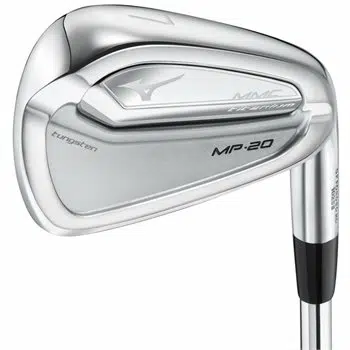 The Mizuno MP-20 MMC is a highly-regarded iron set. It combines classic looks with modern performance. It's designed to provide precision and control for better golfers.
Pros
Predictable ball flight.
Exceptional feel and sound.
Forgiveness of off-center strikes.
Sleek design.
Excellent maneuverability of the golf ball.
Cons
Does not provide a lot of distance.
Higher price point than some competitors.
Not suitable for beginners or high handicappers.
The TaylorMade P7MC irons are designed for skilled players providing control and workability.
The clean, classic look of the P7MC irons will appeal to better players who value aesthetics and traditional design.
Pros
Exceptional feel
Thin topline and compact blade shape. A preference for better golfers.
A clean, classic look.
Distance and trajectory control.
Cons
Less forgiving than other options
It is not suitable for mid to high handicappers
Slightly higher price point.
FAQs
What Handicap Is Titleist AP2?
The Titleist AP2 comes under the players' irons category and is recommended for low-to-mid handicap golfers. The Titleist AP2 irons are excellent regarding trajectory and distance control. And they are not as forgiving as game improvement irons.
Are Titleist AP2 Considered Blades?
The Titleist AP2 irons are not categorized as "blades." While the AP2 irons have a traditional blade-like appearance compared to game improvement irons, they still have a cavity-back design to provide forgiveness. They are made for the maneuverability of the golf ball with the additional advantage of forgiveness.
Do Any Pros Use AP2?
You'll find some pros playing with the Titleist AP2 irons on the PGA tour. Jordan Spieth used to play with the AP2 irons, but he switched to the T100s. Jason Dufner and Bill Haas are renowned golfers using the AP2 718 irons.
Final Thoughts
This Titleist AP2 review covers everything you need to know about the players' irons.
The Titleist AP2 irons are a good choice for golfers looking for workability and forgiveness to take their game to the next level. The 718 model has received high praise for its distance, accuracy, and overall performance.
While you can find other options on the market, the AP2 718 irons offer a classic look with modern technology and a wide range of customizations to fit your preferences.
However, I won't recommend them for high handicappers who need more forgiveness in their irons. But if you are a mid-to-low handicapper looking for a reliable and versatile iron set, the AP2 is a good option.

As a skilled golfer and wordsmith, Abdulmoiz brings a fresh and engaging voice to the golfing world. Whether he's on the course or at the keyboard, he strives to improve and inspires others to do the same.