Golf clubs from Japan are highly prized for their exceptional detail, quality materials, and expert craftsmanship. In addition, the equipment is packed with the latest technology built to simplify golf for amateurs. This post examines the best Japanese golf clubs in 2023 to showcase what forging masters are concocting.
At the end of this post, you will know that Japanese golf clubs offer unique designs, exceptional feel, amplified acoustics, and optimal distance. In addition, you will learn that products from the Land of the Rising Sun fetch a premium and are often difficult to source from your local golf retailer.
The 16 Best Japanese Golf Clubs By Brand In 2023
Top Japanese Golf Clubs
Best Overall Japanese Brand
Best Japanese Brand For High Handicappers
Best Japanese Brand For Ladies
Mizuno
Srixon
XXIO
Pros

Buttery soft irons
Their golf clubs enhance feedback
They construct all clubs

Forgiving game improvement clubs for amateurs
Options for all skill levels
Impressive driver and iron distance

Their lightweight nature suits ladies
Their irons and woods are easy to launch
Exceptionally forgiving golf clubs

Cons

Typically priced higher than their competitors
Most of their irons offer insufficient forgiveness for beginners

They do not manufacture wedges
Their clubs carry a high price tag.

Priced at a premium compared to competitors
Limited alternative stock shaft offerings with their clubs

Best Japanese Golf Clubs
What Is Golf In Japan Like?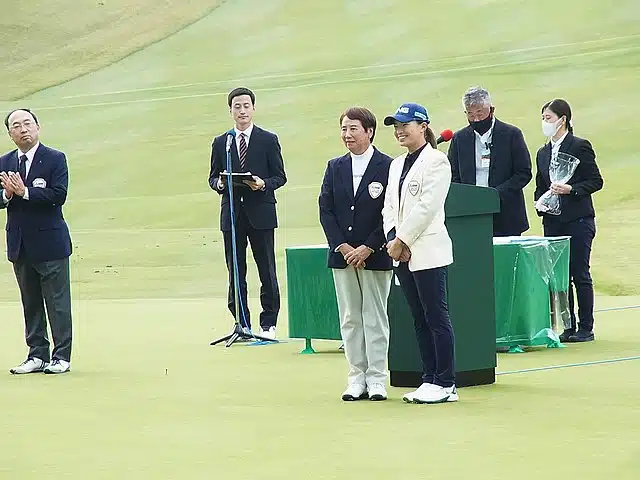 Golf is a popular sport in Japan, with over 2,350 golf courses in the country. The sport was first introduced to Japan in 1903 by a group of British expatriates, and it quickly gained popularity among the Japanese people. Today, golf is enjoyed by people of all ages and backgrounds in Japan.
One unique aspect of golf in Japan is the attention to detail and etiquette. Golfers in Japan are expected to adhere to strict rules and customs both on and off the course. For example, players are expected to bow to their opponents and caddies and are not allowed to wear shorts on the course.
Another feature of golf in Japan is the quality of the courses. Japan is home to some of the world's most beautiful and well-maintained golf courses, with many designed by famous golf course architects. The country also hosts several major international golf tournaments each year.
Golf is also a popular activity for business networking in Japan. Many companies use golf as a way to build relationships and make deals with clients and partners. As a result, golf courses in Japan can be quite busy during weekdays, with many businessmen taking advantage of the opportunity to mix business with pleasure.
Overall, golf in Japan is a respected and enjoyable pastime that combines athletic skill with social and cultural traditions.
Why You Should Trust Us
Our team spends thousands of hours trying out and researching golf equipment to help you take your game to the next level. Here's our product review process.
We can bring these reviews to you through the small commissions we earn if you buy through the links below.
The Best Japanese Golf Club Brands
1. Mizuno – Overall Best Japanese Golf Clubs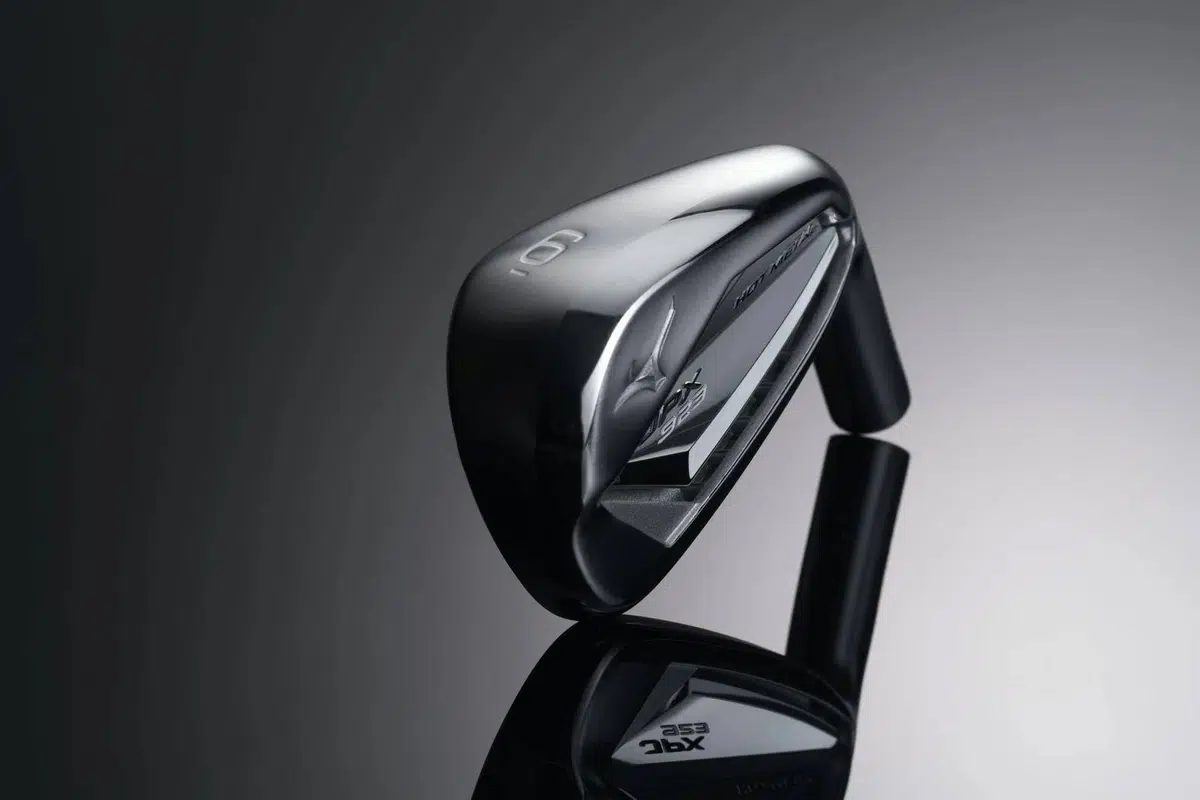 Pros
Buttery soft irons
Their golf clubs enhance feedback
They construct all clubs
Fast clubface
Durable construction
Cons
Typically priced higher than their competitors
Most of their irons offer insufficient forgiveness for beginners
Mizuno enters its 90th year of golf club manufacturing operations in 2023 and continues to create premium, high-performing equipment. The Hiroshima manufacturer is famed for superior forging practices designed to construct fast iron club faces, a buttery-soft feel, and increased feedback.
Although the above performance features better suit low handicappers, the brand has since included game improvement equipment. Now, they offer drivers, irons, hybrids, wedges, and putters for every golfer. Their versatility and consistency support my pick for the best Japanese golf club brand.
Best Mizuno Golf Clubs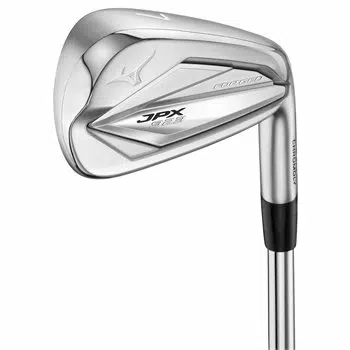 The newly released JPX 923 Forged irons are my top golf clubs from Mizuno in 2023, thanks to their distance, playability, and forgiveness. These irons feature a compact profile, bolstered by a high-speed 4120 Chromoly Face, perimeter weighting, and a beveled edge.
Together these components enhance workability and blast the golf ball off the clubface while preventing speed drop. Overall, they offer mid-handicappers the distance they desire without eliminating leniency for consistent approach shots.
My second favorite club from the current Mizuno portfolio is the T22 wedge, available in blue, copper, and satin chrome. I enjoyed the pure teardrop profile and forged construction designed to soften the blow of each strike and optimize feedback.
In addition, Quad Cut Milled grooves prove efficient in imparting a higher spin rate on the golf ball for drop and stop control. Finally, the HydroFlow Micro Grooves shed water from the face to retain friction in all conditions.
2. Srixon – Best Japanese Golf Clubs For Beginners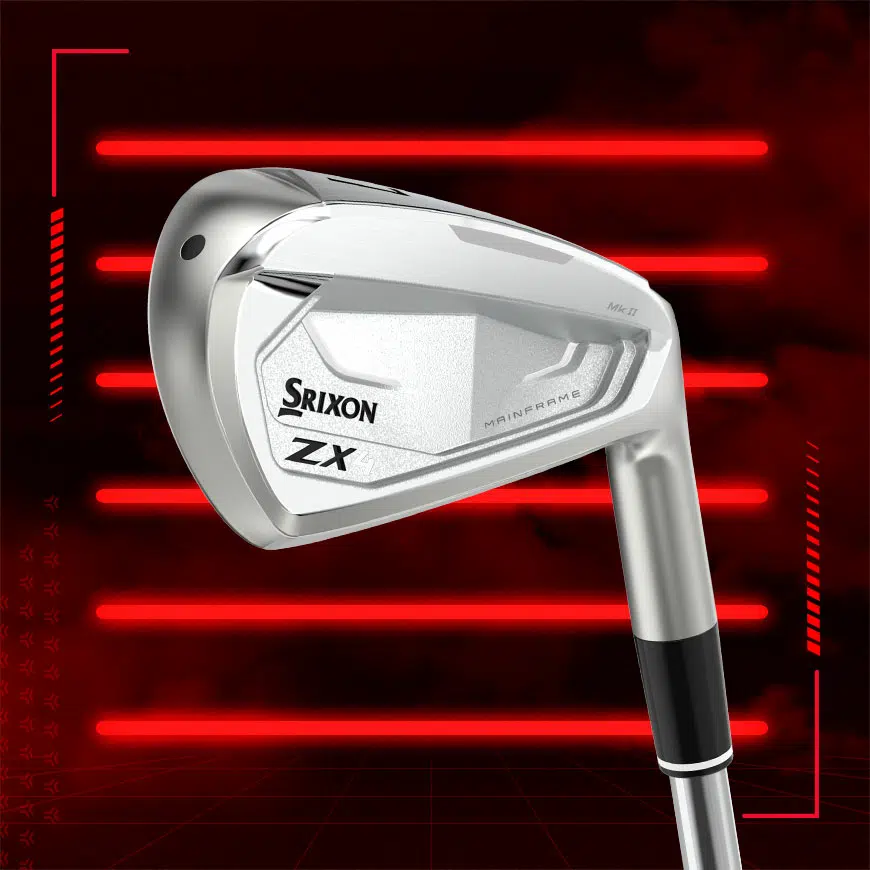 Pros
Forgiving game improvement clubs for amateurs
Options for all skill levels
Impressive driver and iron distance
Durable golf clubs
Attractive designs
Cons
They do not manufacture wedges
Their clubs carry a high price tag.
Srixon is a familiar brand for the average golfer, especially with their popular golf ball, the Soft Feel. Compared to Mizuno, Srixon is an infant with less than three decades in the business. However, they have made a formidable name by crafting long drivers and irons for pros and amateurs.
Their popular ZX range covers all bases with forgiving super game improvement irons for beginners and forged player's irons for the game's best. Nestled in between are the ZX5 player's distance irons which optimize yardage on approach and deliver a delicate touch for mid-handicappers.
Best Srixon Golf Clubs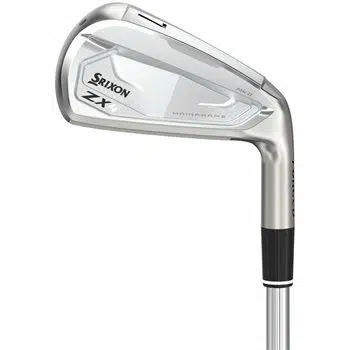 The ZX4 MKII irons are the most forgiving in the series, designed to carry high handicappers around the links. Its MainFrame structure creates Variable Face Thickness to enhance flexibility and rebound at impact for a powerful launch and optimal carry length.
In addition, the Hollow iron Shaping and moderate sole width are paired with extreme offset to combat slices and promote straighter shots. Finally, I enjoy the clean turf interaction of the Tour V.T. sole, promoting cleaner contact from any lie.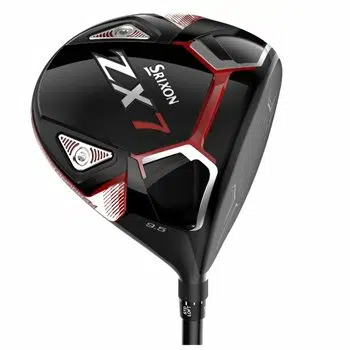 The adjustable Srixon ZX7 driver carries a powerful Rebound Frame clubface, which increases spring at contact, imparting maximum speed on the golf ball. In my case, the added rebound lowered driver spin and ensured forgiveness on all off-center hits.
Although an adjustable hosel allows you to change the loft and lie angle, the stock setting produces a penetrating trajectory. When I kept the driver in this setting, I noticed I gained more yards of roll to a weaker or stronger loft.
The Srixon ZX 5 is designed and built to provide extra distance and forgiveness off the tee.
A Carbon Crown combined with a Rebound Frame increases speed and distance and more forgiveness on off-center shots. The triangular shape and flatter clubface combined with a single sole weight that is placed low and deep make the ZX 5 ideal for straight drives that launch high and carry far.
An adjustable hosel and two rear and low weight ports enable you to fine-tune the position of the center of gravity, face angle, and lie for a draw or fade shot.
The Srixon ZX 5 combines a sporty look, feel, and sound with fast speed off the face and forgiveness on off-center shots.
3. XXIO – Best Japanese Golf Club Brands For Women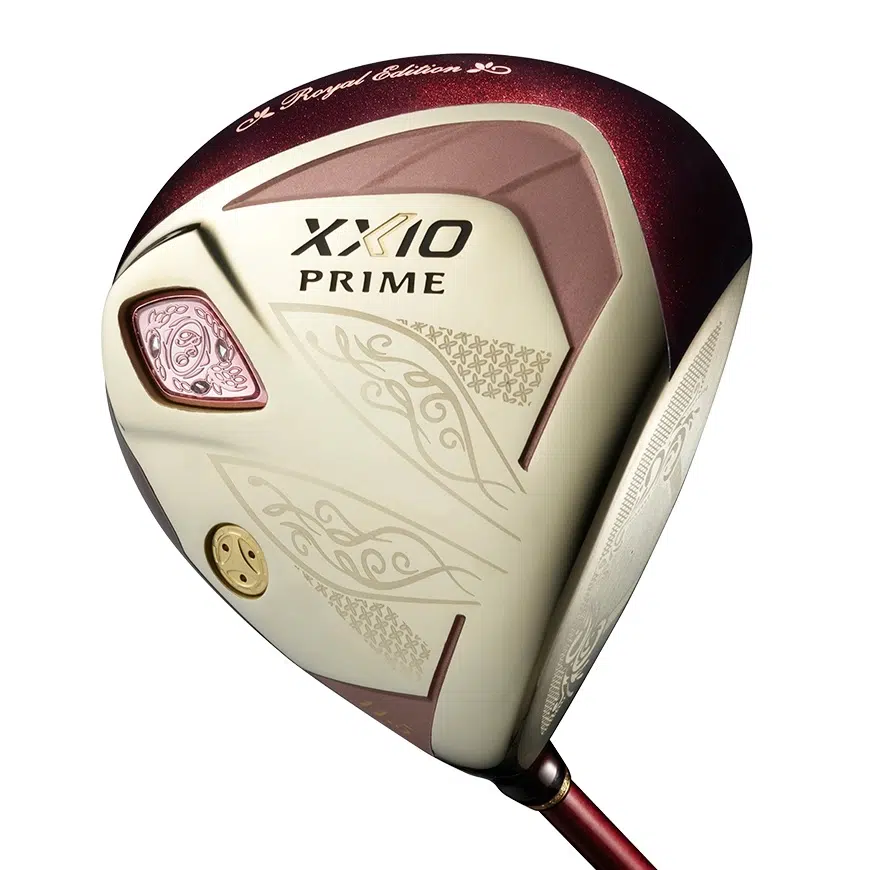 Pros
Their lightweight nature suits ladies
Their irons and woods are easy to launch
Exceptionally forgiving golf clubs
Attractive color patterns on the woods and irons
Ideal for slow swing speeds
Cons
Priced at a premium compared to competitors
Limited alternative stock shaft offerings with their clubs
XXIO arrived on the scene at the turn of the millennium with a mission to manufacture forgiving, technology-driven, game-improvement golf clubs. Although the manufacturer produces men's clubs used by pros like Ernie Els, I find the ladies clubs are superior performers.
Their commitment to increasing your distance is evidenced in their set lineup, focusing on drivers, fairway woods, hybrids, and irons. They do stock putters, but you only have the option of a blade or mallet.
Best XXIO Golf Clubs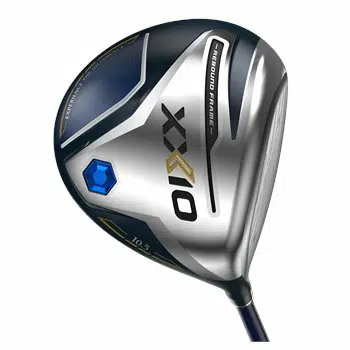 The XXIO 12 produces sensational yardage off the tee for the average lady, thanks to its exceptional stability and lightning-quick clubface. The ActivWing club head breaks drag on the downswing and clears the path for powerful contact, increased rebound, and a powerful launch.
Adding to the speed and low spin of the XXIO 12 driver is its Flat Cup Face design which enhances the coefficient of restitution (COR) for increased zip. Finally, XXIO offers the 12 Ladies driver in a 9.5, 10.5, or 11.5-degree design.
The ActivWing, Flat Face Cup, and Rebound Frame reunite in the XXIO 12 Ladies hybrids to ensure explosive ball speed off the clubface. Thanks to advanced Rebound Frame ladies, their coefficient of restitution remains stable on off-center hits, ensuring consistent ball speed and low spin for an elevated launch.
Finally, the center of gravity (CG) is lowered in the XXIO 12 to produce a higher launching golf shot for increased carry distance and a soft landing.
The XXIO Eleven driver is a lightweight driver designed to benefit mid-to-high handicap golfers with moderate golf swing speeds to hit longer and straighter drives from the tee. A Star Frame rib structure supports an ultra-thin sole with a thickness of just 0.45mm, enabling the weight to be redistributed to achieve a higher launch and forgiveness.
The driver features a strong, durable cup face that strengthens the clubface to ensure that ball speed is not reduced irrespective of where the ball is struck on the clubface. Brass and rubber are inserted into the butt-end of the shaft to raise the balance point, thus helping you to swing the driver easily and smoothly to achieve more power and strike the ball further.
The XXIO Eleven is worth considering, especially for mid to high handicap golfers, as it will improve your swing.
4. Honma – Best Premium Golf Clubs Made In Japan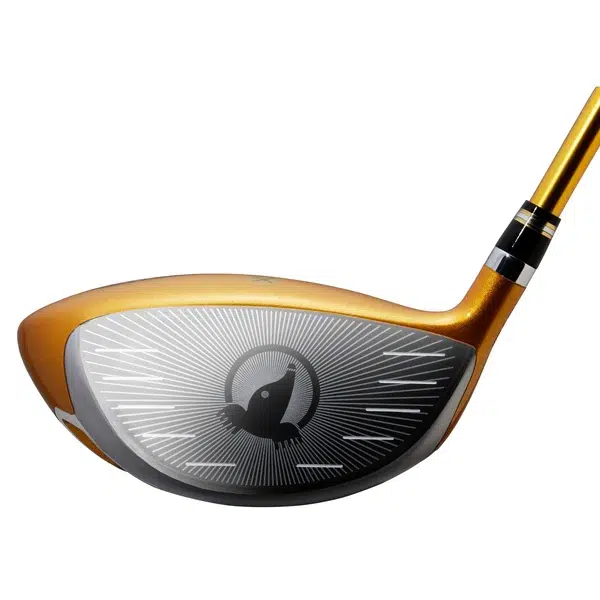 Pros
Expert craftsmanship
Packed with technology
They construct every type of golf club
Offer premium and mid-range golf clubs
Ladies and men's clubs are available
Cons
Super expensive golf clubs
No ladies-specific wedges
Honma is famed for its Beres range which is renowned for their Beres range which sports intricate artwork on top of a gold finish. The driver and putter fetch almost $1,000, but the price is justifiable. They commit to using premium materials like carbon fiber and make shafts in-house.
In addition, Honma golf clubs are prized for their expertly crafted golf clubs which highlight the brand's seven decades of manufacturing experience.
Best Honma Golf Clubs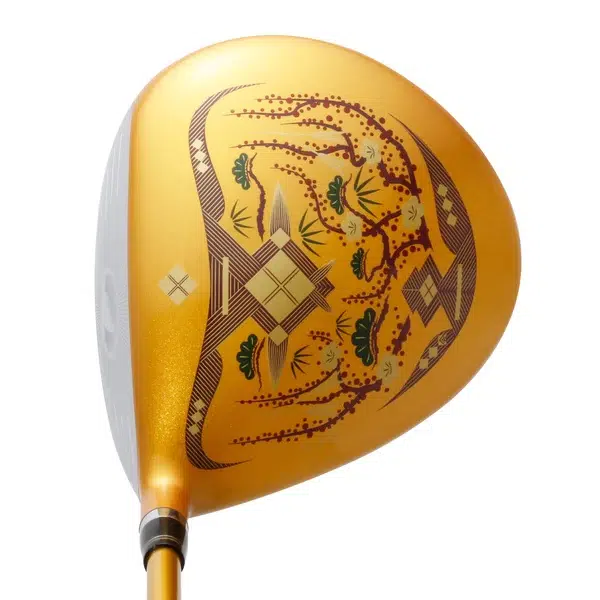 The Beres Aizu driver is famed for its premium price tag, unique gold finish, and accompanying artwork on the crown. Honma feels your money is well spent on exceptional game improvement technology like Triple Sole Slots, an L-Cup, and Evolved Radial Face.
These technologies partner to promote straighter ball flight and consistent velocity across the surface. Finally, the driver offers a 9.5, 10.5, and 11.5-degree loft.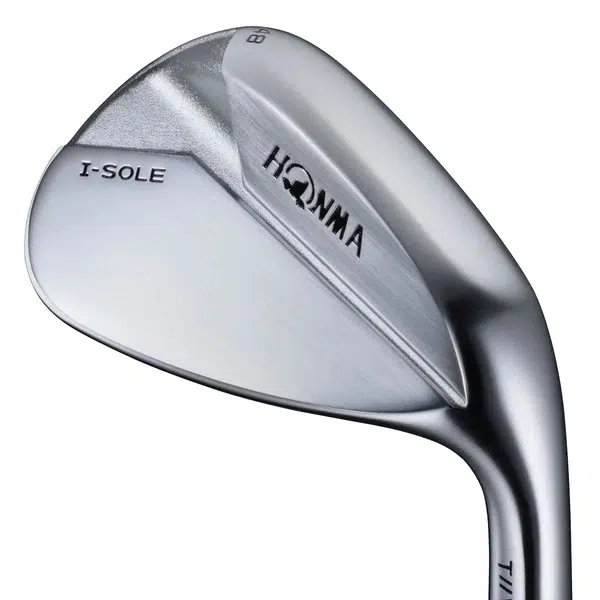 Honma's T-World W21 offers versatility, low flight, and consistent spin for optimal short-game control. A CNC Milled Insert set in the toe pushes the CG higher to encourage low ball flight and a drop and stop landing on shorter shots, allowing players to attack the flagstick.
In addition, the CNC Milled grooves generate a sublime feel and increased feedback and enhance friction for improved spin. Finally, Honma offers the T-World W21 in three sole grinds, but I found the S-Sole is the most lenient option for the average golfer.
Read More: 20 Most Expensive Golf Clubs
5. Miura – Best Japanese Golf irons 2023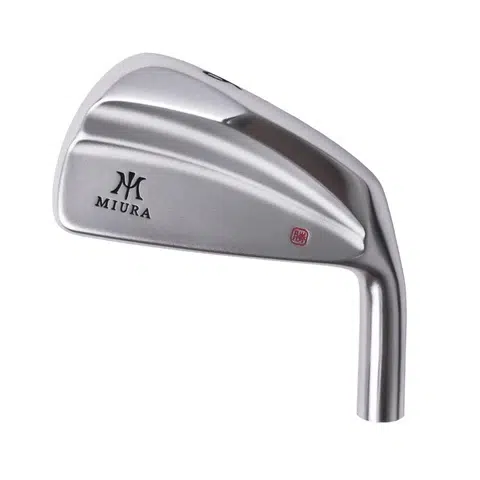 Pros
Handcrafted golf clubs
High-quality Japanese golf irons
Their clubs offer an incredible feel
Compact, attractive profile
Workable irons
Cons
Premium-priced golf clubs
They do not manufacture woods or hybrids
Miura is another Japanese golf club manufacturer that commenced operations in the 1950s. This time it was Katsuhiro Miura from the city of Himeji who had the vision to craft the finest forged golf irons on the planet. Nearly 70 years later, he earned the nickname "Hands of God" for his miraculous creations.
Miura focuses on crafting high-quality forged irons, which is evident in the below video by Skratch golf. Besides buttery soft, crisp-sounding tour-inspired irons, the golf club "shokunin" constructs high-spinning wedges and smooth rolling putters.
Best Miura Golf Clubs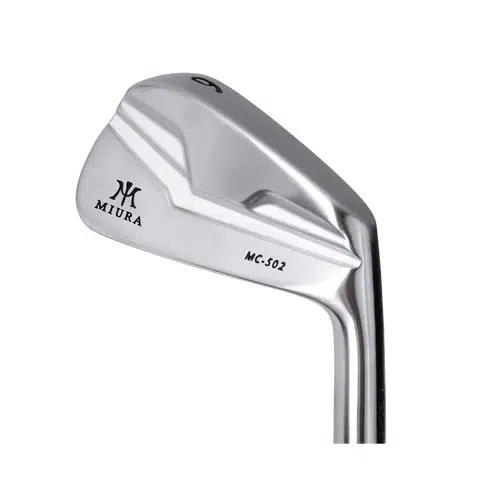 The Miura MC 502 is the successor to their super popular MC 501 range, which offers an air of leniency in a classic blade iron. The latest addition better meets superior golfers needs by employing less offset and a rounded top line and toe for crisp turf interaction and increased workability on approach.
Despite meeting the preferences of low handicappers, the MC 502 still offers stability at impact and optimal bounce. This is made possible by the weight channels positioned in the club's sole. Finally, better ball strikers will welcome the enhanced feedback of these immaculate irons.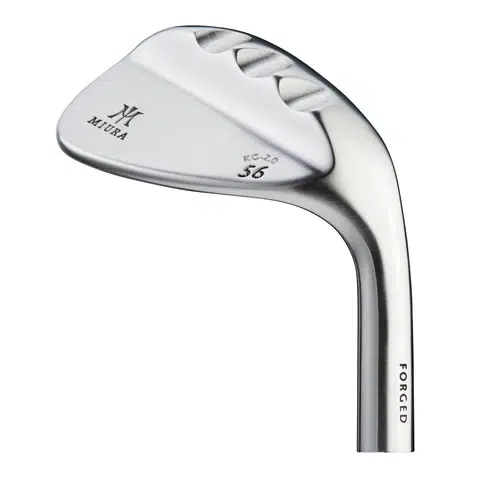 Miura's ingenuity shines through in the K-Grind 2.0 wedge, which evolves the game-changing design of its predecessor. The Fluted or "Knuckles" sole provided superb stability in my experience, limiting twist from the greenside fringe and the sand.
I found the enhanced stability improved my ability to make clean contact with the golf ball when my clubface was open. At impact, the grooves on the soft carbon steel took over to enhance friction and elevate feedback, leading to optimal greenside spin and control.
6. Vega – Best Japanese Golf Club Brands For Wedges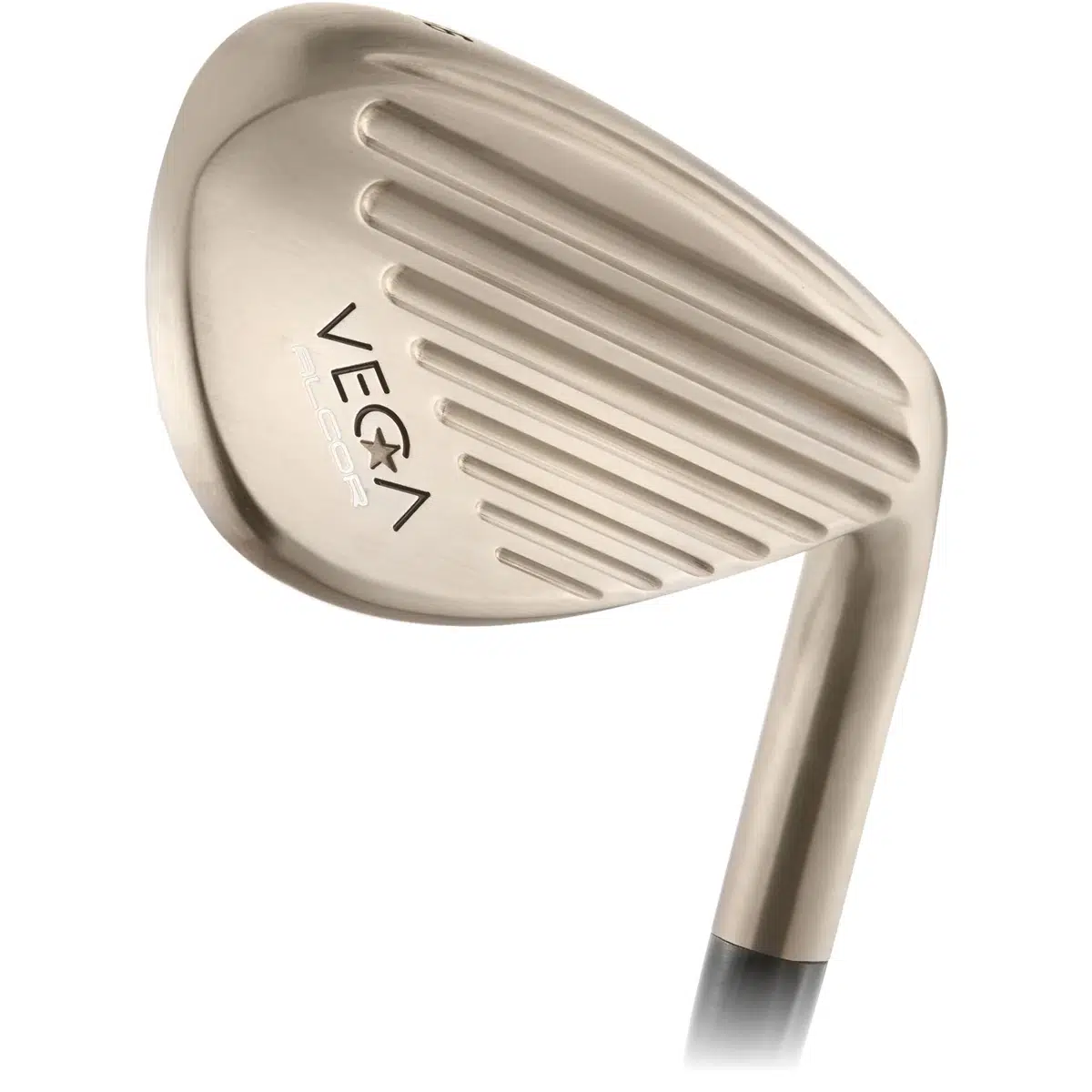 Pros
Over 100 years of forging experience
Buttery soft irons and wedges
They manufacture all golf clubs
Durable clubheads
Golf clubs undergo eight stage forging process
Cons
The golf clubs are expensive
No ladies-specific golf clubs
Established in Ichikawa, Vega has a rich golf club manufacturing history stemming longer than a century. They are famed for their production of high-end wedges and irons. Plus, they also produce woods and hybrids.
Professional Golf Europe now owns the company but remains firmly committed to its Japanese heritage. Vega takes no chances with the quality of their forged golf clubs, enlisting their clubheads to an eight-stage forging process, ensuring excellent durability, stability, a buttery-soft feel, and clean turf interaction.
Best Vega Golf Clubs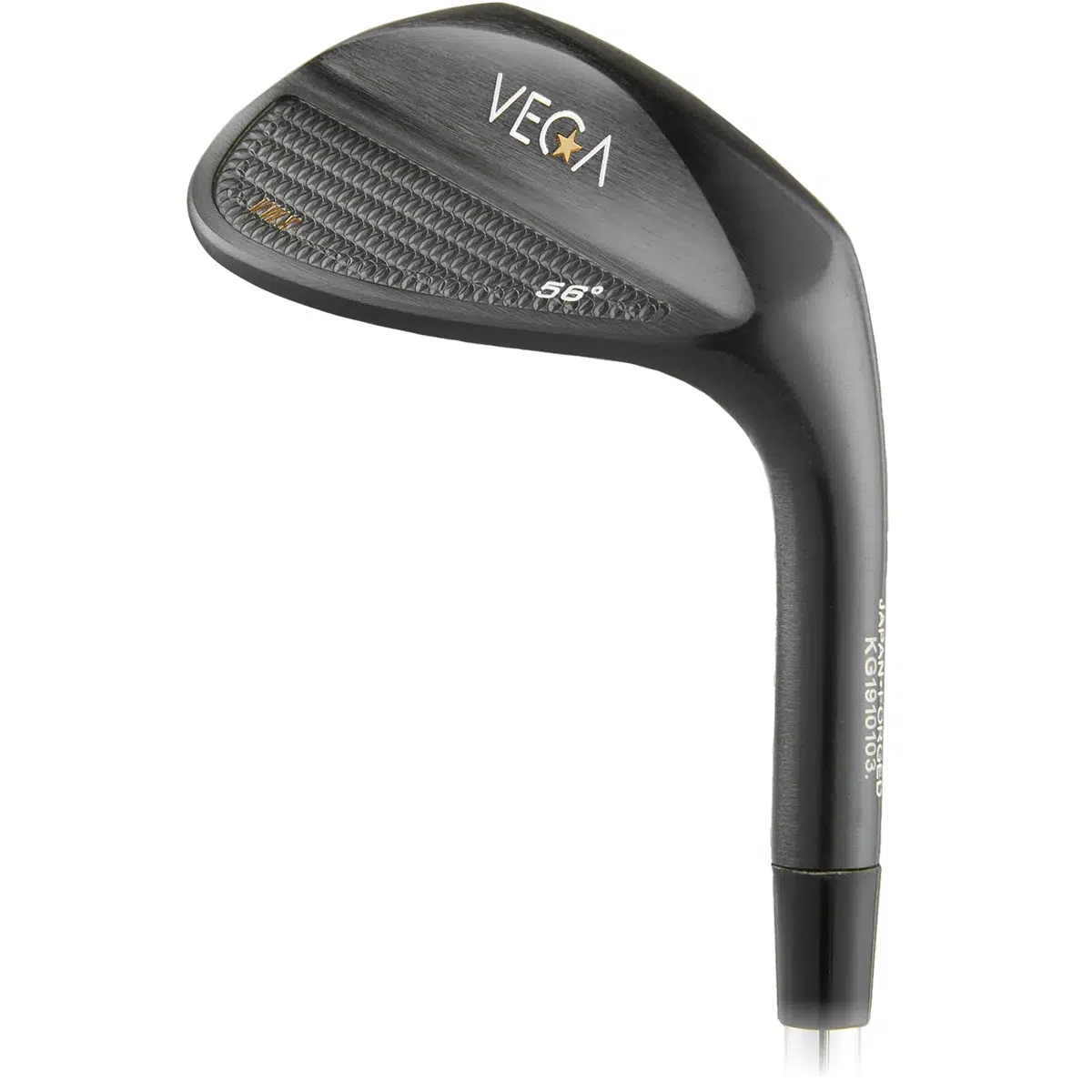 Vega concocted a high-spinning wedge with a unique appearance and exceptionally soft feel for increased short-game control. Their engineers forged the wedge from Supersoft one-piece carbon steel to produce an appealing feel and enhanced feedback on all shots.
In addition, the soft cutbacks on the heel and toe area propelled the clubhead through the turf for a clean strike in the rough and sand. Finally, I produced optimal backspin rpm, thanks to the CNC Spin Milling clubface.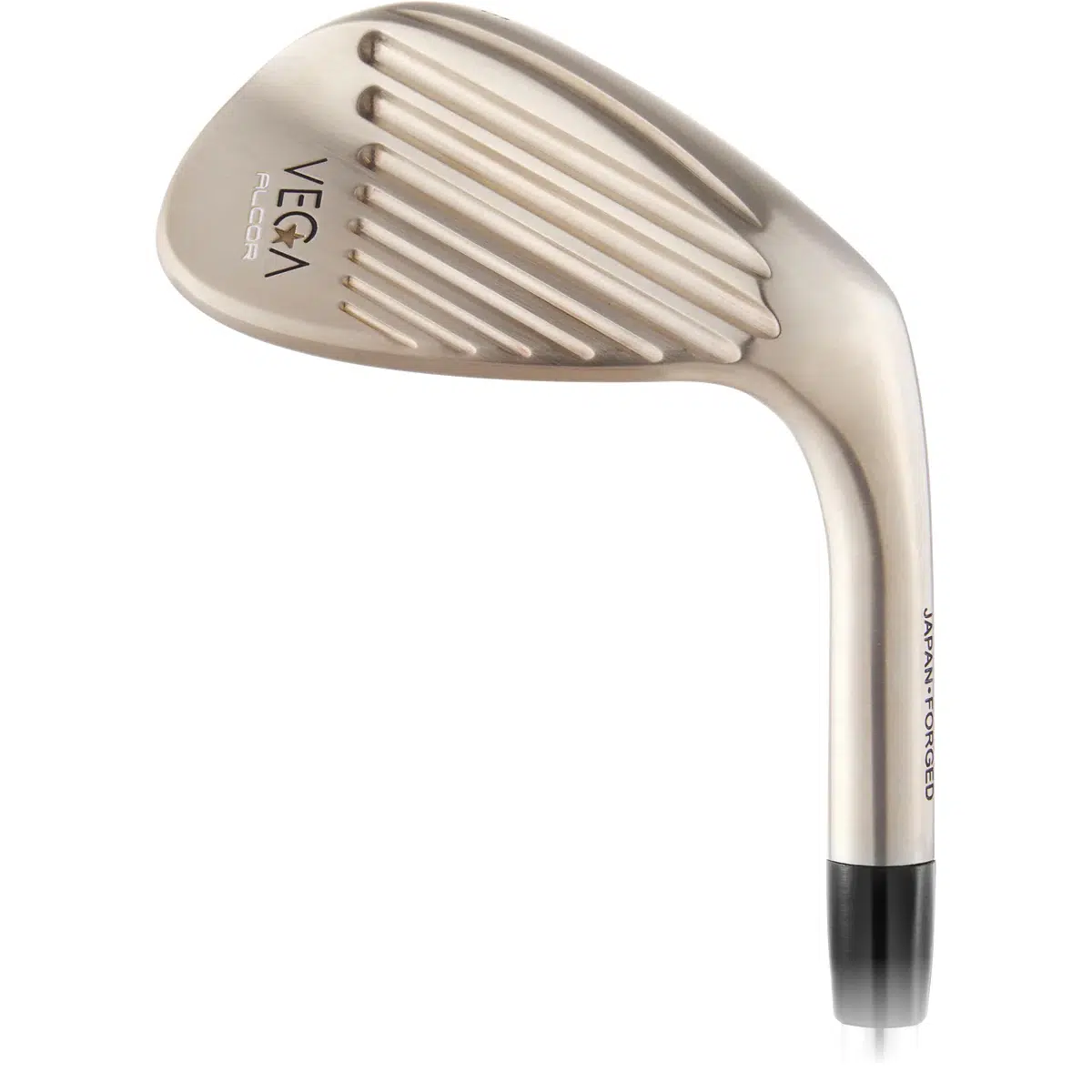 The Alcor Gold wedge immediately attracts attention because of its gleaming finish. However, its performance is where it truly captures you. Vega engineers forged the wedge from a single piece of aluminum brass, prompting a rich appearance, phenomenal feel, spin, and feedback.
Its CNC Milled face boosted my spin on full wedge shots to produce a hop-and-drop landing allowing me to attack the flagstick. Finally, the Alcor is only available in a 52-degree gap wedge, a 56-degree sand wedge, and a 60-degree lob wedge.
7. Seven – Best Japanese Putter Brand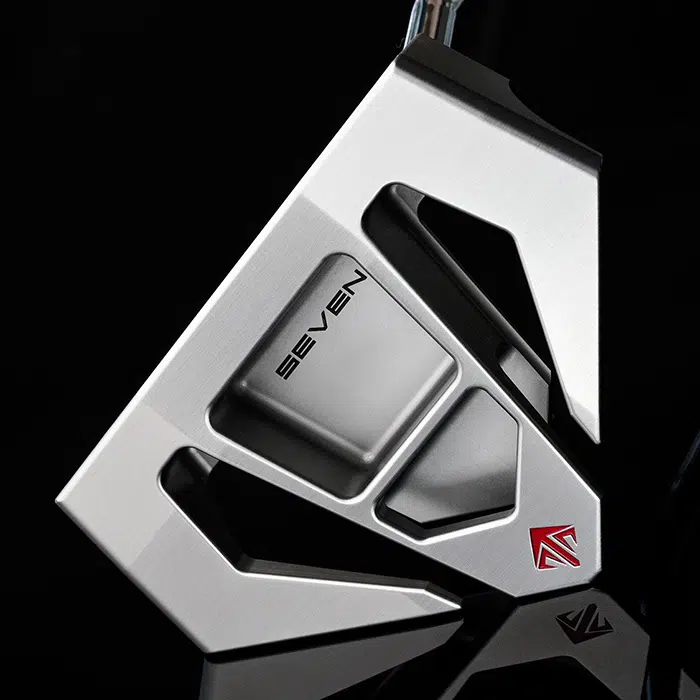 Pros
Premium milled putters
Soft feel
Optimal feedback
They produce a clean roll
The brand also crafts irons and wedges
Cons
Exceptionally expensive putters
They do not manufacture woods or hybrids
We close our review of the best Japanese golf clubs for 2023 with the top putter brand from the "Land of the Rising Sun." Seven putters are crafted in Kyoto and feature high-quality CNC milled faces, which produce a soft feel, enhanced friction, and a clean roll off the putter face.
Besides their premium putters, the brand manufactures irons and wedges, which, like their flat sticks, are priced at a premium. The company has boldly claimed that they produce the highest quality single-piece forged Japanese irons around, which their competitors would likely contest.
Best Seven Golf Clubs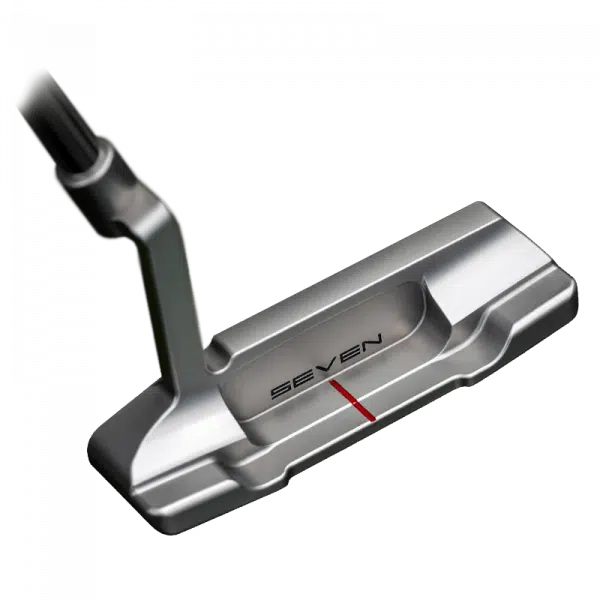 The Seven Arrow putter is a blade design with a plumber's hosel that generates less offset than the standard structure. SUS303 stainless steel is milled to create a durable putter face, which boosts friction at impact, prompting a clean roll off the putter face with minimal skid.
In addition, the refined neo-blade design generates enhanced feedback on mishits and delightful touch on strikes out of the center. Finally, the 42-degree toe hang on the putter best suits golfers with arched strokes.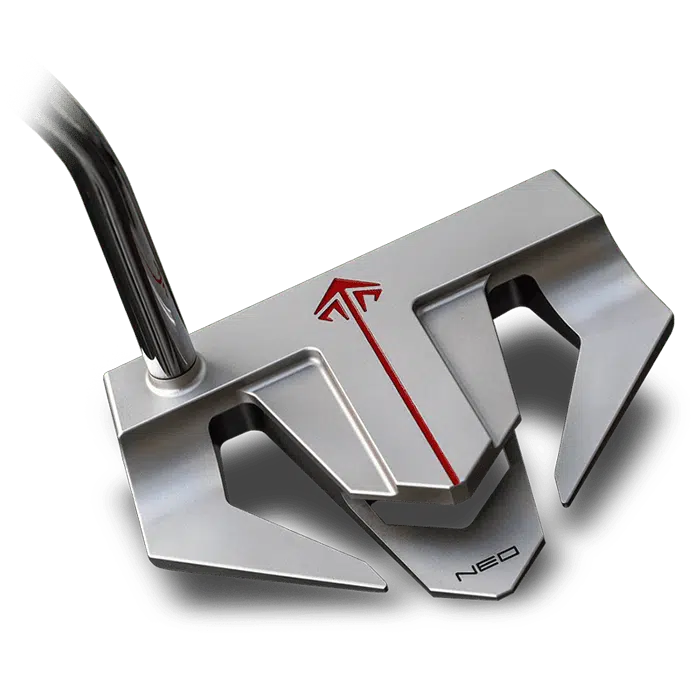 I found the Seven Neo putter produced better results for me on the dancefloor, likely stemming from its advanced forgiveness. The oversized, futuristic mallet head is not everyone's cup of tea. However, it assists you against off-center strikes as its stability and milled face will limit the damage.
The CNC Micro Milling clubface and horizontal grooves combination produced superb friction on all strikes to prevent topspin dropoff. The result was a clean rolling golf ball on heel and toe mishits.
What To Consider When Purchasing Japanese Golf Clubs
If you're interested in purchasing Japanese golf clubs, there are a few things to consider before making a purchase:
Quality: Japanese golf clubs are known for their exceptional quality and craftsmanship. Look for clubs made by reputable manufacturers who use high-quality materials and have a history of producing top-performing clubs.
Style: Japanese golf clubs come in various styles, from traditional blades to more forgiving cavity-back designs. Consider your skill level and playing style when selecting a style that will best suit your needs.
Customization: Many Japanese golf club manufacturers offer customization options, such as shafts, grips, and club length. If you have specific preferences or requirements, be sure to choose a manufacturer that offers customization options.
Price: Japanese golf clubs can be more expensive than clubs from other countries. Consider your budget and compare prices from different manufacturers to find a club that fits within your price range.
Availability: Some Japanese golf clubs may not be readily available outside of Japan. If you are unable to find a specific club or manufacturer in your local market, consider purchasing online from a reputable retailer.
By considering these factors, you can make an informed decision when purchasing Japanese golf clubs that will help improve your game and enhance your golfing experience.
FAQ
What Pros Play With Japanese Golf Clubs?
Brooks Kopeka, Hideki Matsuyama, Shane Lowry, Minjee Lee, and Inbee Park play with Srixon golf clubs. In addition, Stacy Lewis and Luke Donald play with Mizuno golf clubs, while Ernie Els plays with XXIO. Finally, Abraham Ancer swings Miura irons.
What Is The Most Popular Golf Brand In Japan?
According to the National Club Golfer, XXIO has remained the largest-selling golf brand in Japan since the start of the millennium.
Is Honma Made In Japan?
Yes, Honma manufactures their forged irons in Sakata, located on the northwestern coast of Yamagata prefecture. However, the brand features a head office in Shanghai for operational purposes.
Does Japan Make Good Golf Clubs?
Japan makes good golf clubs thanks to expert craftsmanship, handcrafted forging techniques, and many quality control steps. Japanese clubs feature an attractive profile and detailed finish with innovative game improvement technology to promote forgiveness, consistency, and distance.
Are Japanese Golf Clubs Different?
The most substantial difference with Japanese golf clubs is the forged production process of many irons and the magnitude of technology in the club head. These features lead to the golf clubs costing a premium.
Conclusion
That concludes our review of the best Japanese golf clubs for 2023, and I have enjoyed covering these works of art. While brands like Mizuno and Srixon have become household names in Western countries, it is challenging to find clubs from other Japanese brands renowned for crafting fewer sets.
Golf clubs in the Pacific nation are priced at a premium to cover the production costs of high-quality steel and the experienced hand that makes them. Naturally, this places equipment from Hideki's homeland in a category many amateur golfers cannot afford.
You will have to save up substantially to acquire a set of Honma Beres or Miura irons. However, there are more affordable options. Although expensive compared to Callaway and TaylorMade, Mizuno and Srixon offer the average golfer equipment at an attainable price.
Mizuno earns my pick for the best overall Japanese golf clubs in 2023, thanks to their diverse offering, game improvement technology, and impressive feel. If I had to pick one product to enjoy this year from the experienced manufacturer, I would select the forgiving, long, and workable JPX 923 Forged irons.
Read More: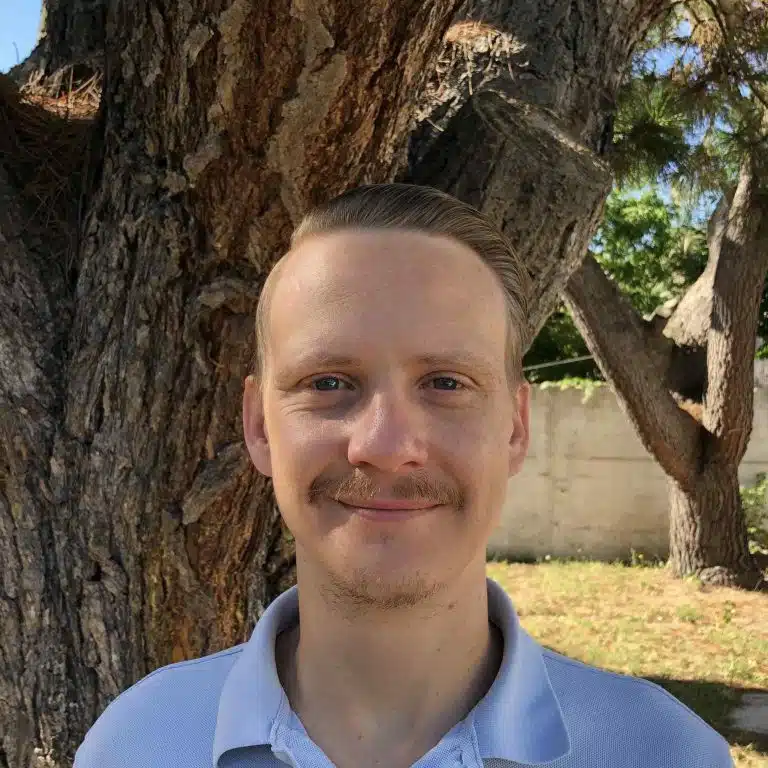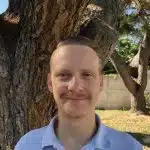 Matt is a seasoned golf equipment writer and sports fanatic. He holds a Postgraduate in Sports Marketing and has played golf for over 28 years.