Interest in women's golf has grown tremendously since the LPGA (Ladies Profession Golfers Association) and LET (Ladies European Tour) started televising tournaments. This led to substantial growth in sales and encouraged manufacturers to expand on the ranges specifically designed for women. We take a look at the 5 Best Women's Golf Club Sets For Beginners.
Women's golf is growing at a faster rate than males. This represents a lucrative market and all the leading brands are developing quality products for a slice of this pie.
What Should Be Included In My Golf Set?
The rules of golf allow for a maximum of 14 clubs in your bag. As a beginner or high handicap golfer, you do not need to buy a full set while learning the game and determining your long-term interest in golf.
You should include a combination of woods, hybrids, irons, at least one wedge, and a putter in your bag to offer the largest possible coverage on the course.  Maximum coverage means that you have at least one club in your bag that you can hit the distance that you are faced with.
Woods might be the most difficult to hit but it offers you the extra distance that you require as a beginner. A driver is essential, but the fairway woods can be limited to at #3 wood. It is possible to supplement the woods at a later stage.
Replacing your long irons with hybrids will fill the gap between woods and your mid-to short irons. Hybrids are sold separately thus enabling you to change them as your confidence grows if required.
Ideally, your long irons should start from a six-iron through a nine-iron and then at least a pitching wedge. Having a sand wedge in your bag will add you an extra option for those dreaded bunker shots. Wedges come in a variety of lofts which becomes essential as your distance control improves.
Completing the club setup requires a putter to assist you to hole out on the greens.
The loft is determined by the angle of the clubface. Higher lofted clubs are easier to get into the air which is the part of the game that most beginners struggle with. The higher the loft, the higher the golf ball flies and how far it travels.
The sole part of the golf club is the area at the bottom of the clubhead that makes an impact with the turf. Thin and short soles tend to dig into the ground and become difficult to hit. A wider sole reduces the drag on the turf and is easier to push through the turf and rough.
Headcovers are sometimes included as accessories increasing the number of components in the set. This is not essential but a good idea to protect your woods and hybrids from damage and offer you some personalization of your bag.
At a glance: Our Top 5 Picks for Best Womens Golf Club Sets
Which option is better; complete starter set or individual clubs?
It is advisable to purchase a complete set to begin as this will improve consistency in feel swing weights, and lofts between clubs. At a later stage, you can mix the brands or sets to suit your swing.
Assess Your Goals
Any decision to purchase clubs requires a careful assessment of your skill level, commitment to the game, goals, and budget.
A skills assessment will direct you to the level of clubs, goals will indicate whether you want to purchase a set that spans several levels and handicaps.  Don't lose track of your budget and commitment to golf as you may purchase an expensive set and never use it again after a few rounds.
Premium brands such as Callaway, Cobra, TaylorMade, and others can dent your budget seriously while lesser-known brands such as Aspire, Confidence Lady, and Palm Springs provide affordable options that are not far off the mark.
As a beginner, you will find it hard to tell the difference between premium brands and lesser-known brands. However, if your budget allows and you are committed to the long term, premium brands will offer you more durability and remain relevant much longer as your handicap improves.
Woods
The driver is the most frequently used wood off the tee as it promotes extra distance. Although it is the most difficult club to hit due to the long shaft, most manufacturers invested heavily in research to provide the most forgiving drivers possible with a maximum allowed clubhead of 460cc.
Beginners and high handicap golfers will be best advised to start with a driver with 12 degrees or more loft and a graphite shaft. The lighter the club, the more swing speed you can generate.
Fairway woods are slightly simpler to hit as they have shorter shafts and a smaller clubhead. Ideally, the difference between each wood should vary by no more than 3 degrees to 4 degrees.
Irons
Irons are available from a 1-iron through a 9-iron with the 1-iron being the most difficult to hit. Most manufacturers have excluded the 1-iron and 2-iron from their sets completely. Some are now even replacing the 3-iron and 4-iron with hybrids of a similar loft.
Beginners would be highly advised to have a set with a 6-iron to 9-iron combination and supplement the longer clubs with hybrids.
Graphite shafts are becoming the material of choice for women and men with lower swing speeds. The lighter shaft enables you to generate more distance and control over every shot. It is not limited to the material, but the flex of the shaft is just as important. Incorrect flex will produce inconsistent shots and thus making it more difficult to improve rapidly.
Ladies (L) flex shaft is the softest available and will enable you to present a square clubface at impact.
Hybrids are a combination of the best qualities of wood and iron. The clubhead looks more like wood but the face is similar to an iron. This enables manufacturers to add more weight behind the clubhead thus making it easier to hit.
The use of hybrids is not limited to beginners as there is an increasing number of professionals that have added hybrids to their arsenal.
The additional forgiveness offered by the hybrid creates extra distance compared to the iron of a similar loft, therefore it is not recommended to replace irons with hybrids of a similar loft.
Wedges and Putter
Most of your shots will be played within 100 yards from the green. To reduce your scores and handicap, mastering the short game and distance control is crucial.
Complete sets often limit the number of wedges included and therefore offer you limited coverage within the 100-yard scoring area.
Pitching wedges are commonly included and a sand wedge is not considered a necessity. However, in your best interest, you should consider at least a pitching wedge and sand wedge as essential. Generally, there are approximately 10 degrees of difference between the pitching wedge loft (approximately 45 degrees) and a sand wedge (approximately 56 degrees). This leaves a big gap where you have to manufacture shots, which you want to avoid as a beginner.
Adding a Gap wedge (between 50 degrees and 52 degrees) will enable you to cover the gap between your PW and SW. Good golfers generally add a lob wedge (60 degrees to 64 degrees) to their bag for shots over obstacles between them and the green or to stop the shots quickly.
Accessories
The majority of complete sets for beginners come with a bag to carry your clubs in. The bag can be either a cart bag or a stand bag.
Cart bags are ideal for placement on a push or pull cart, or even better, on the back of a golf cart that is driven by the golfer.
Stand bags are generally carried on your shoulders and then placed on the ground. Two legs pop out at an angle making it easier to access your clubs. Storage in the bag should enable you to store the accessories required.
Other accessories that are required the first time you buy a set of clubs are:
Golf Balls
Tees
Towel
Ball marker for the putting green
Pitch repairer
Sunscreen
Golf cap
The 5 Best Women's Golf Club Sets For Beginners
Taking all of the above into consideration, we looked for the very best options available. There is something to suit all budgets and requirements.
Quick Overview: Our Top Picks for 5 Best Womens Golf Club Sets
1. Tour Edge Female Lady Edge Package Set
Pros
Good beginner set
High-quality clubs
Affordability
Cons
May need an upgrade with rapid improvement
Tour Edge is not exactly what you would call a newcomer to golf. They have built a reputation for building affordable quality clubs covering the full spectrum from men's clubs through junior clubs. The Lady Edge Beginners set is targeted at women that want to enter the golfing arena with confidence.
The configuration of the clubs comes with stronger lofts to add distance and shorter than average shafts making it ideal for women and shorter men. The strong lofts cover the loft that would generally require a gap wedge.
Color options include Turquoise/White, Violet/White, Black/White with the Teal set available in an additional one-inch length.
Included in the set is:
1 X 15-degree 460cc driver
1 X 18-degree #3 fairway wood
1 x 22-degree #5 fairway wood
1 X 31-degree #6 hybrid
1 X 35-degree #7 hybrid
1 x 40-degree 8 Iron
1 X 45-degree 9 iron
1 x 50-degree Pitching Wedge,
1 x 55-degree Sand Wedge,
1 X 4-degree Putter 33 inch shaft
Stand Bag
Callaway is a leading brand in the golf industry and their latest 2021 offering with the Reva 11 Complete set is sure to attract attention on and off the course.
The set includes a Driver, 3-Wood, 5 and 6 Hybrids, 7 through to 9 irons, Pitching and Sandwedge, Putter, Cart Bag, and 5 Headcovers. It is a fantastic set combination that will deliver distance while offering forgiveness on mis-hits. The 460cc driver is long, has a low CG, is forgiving, and launches easily. The lightweight graphite shaft delivers maximum ball speed through impact and builds confidence.
The fairway wood is optimized with low CG for easy launch, accuracy, and high flying ball flight, while the large oversized irons are designed for forgiveness and accuracy, and deliver an easy launch from the rough or fairway. Engineered with a Deep Cavity back, the irons are exceptionally long, which will assist in reaching those long par 4's comfortably.
Short game mastery got even easier with the medium sole Pitching and Sandwedge, to recover from those difficult lies and bunkers. The mallet-style putter has Callaway's innovative Stroke Lab shaft for a smoother stroke through the ball.
Set Comprises:
1 x  12,5-degree 460cc Driver

1 x 20-degree 3-Wood

1 x 5 Hybrid

1 x 6 Hybrid

1 x 7 Iron

1 x 8 Iron

1 x 9 Iron 

1x Pitching Wedge

1 x Sand Wedge

1 x Putter

1 x Cart Bag

5 x Headcovers
Callaway is a premium brand that has taken offers serious competition in the women's golf club category ideal for golfers measuring 5 feet 4 inches to 5 feet 9 inches.
The Women's Strata clubs come in a variety of configurations thus enabling you to select a set according to your requirements and budget.
Strata Complete sets are available in the eleven clubs, fourteen component, and sixteen component configurations. As the governing bodies' rules allow for a maximum of 14 clubs, it may seem strange that premium brands offer sixteen component sets. Keep in mind that it does not include 16 clubs, but the total includes the bag and headcovers.
As an entry-level complete set, the eleven-piece configuration is highly recommended. This will provide you with a high-quality set that provides optimal coverage at a reasonable price. Headcovers are not included, and it is possible to acquire the other components that make up the more expensive sets at a later stage.
Set includes:
1 X Driver
1 X 5 Wood
1 X 5 Hybrid
7, 8, and 9 Iron
1 X Sand wedge
1 x Mallet putter
Stand bag
Woods and hybrid are designed for more distance without sacrificing forgiveness and control. The woods and hybrid are color-matched to the bag and available in Pink, Gold, Purple, and Teal.
Stainless steel cavity-backed irons offer the ultimate in forgiveness and control. The lack of a pitching wedge is disappointing.
The mallet putter contains a T-style alignment marker to improve accuracy.
A durable yet lightweight golf stand bag has five storage pockets, an additional cooler pocket, a rain hood, and a backpack strap system.
Palm Springs offers a set of eleven clubs including woods, hybrids, irons, and a bag this offering you complete coverage across the golf course. These clubs are ideal for beginners and gofers that require game improvement clubs at an affordable price.
The Petite -1 inch are suitable for golfers measuring 5 feet 6 inches or less. There is an option for average-length golfers.
All of the clubs come standard with a graphite shaft except for the putter that comes with a steel shaft.
A 460cc driver offers a large sweet spot for maximum forgiveness even on off-center strikes. The graphite shaft comes standard in ladies flex (L) that is ideal for slower swing speeds.
Fairway woods comprise a #3 wood with 15 degrees of loft comprising a large sweet spot and low profiled sole adding to forgiveness.
Two hybrids come standard in an 18 degree (#3 hybrid) and 21 degrees (#4 hybrid) configuration. Hybrids are designed to offer forgiveness and getting the golf ball airborne sooner.
Irons are available as cavity back design and graphite shafts ranging from a five iron through a nine iron and a pitching wedge. The high MoI and lower center of gravity increase the amount of forgiveness and consistency.
Included in the set are a putter, golf stand bag, and headcovers.
Wilson is one of the best-known brands in a wide range of sports including golf.
The Wilson SGI Women's Golf Set is a complete set that is a highly recommended option for all levels including senior golfers.
A fully inclusive set contains woods, irons, wedges, a putter, and a stand bag. All clubs come with a lightweight graphite shaft with ladies flex (L).
Woods cover a 460 cc 13-degree driver, 21-degree #5 wood fairway, and 24-degree #5 hybrid. The higher lofts enable you to get the golf ball higher rapidly.
Oversized cavity-backed irons range from a six-iron to a sand wedge with an aerodynamic sole design for enhanced turf interaction.
There is a wide range of color combinations available such as gray and pink, gray and teal, green, and purple and white. The bags offer various sizes such as petite, standard, and tall in either stand bag or cart bag form.
Final Thoughts
Women's golf has progressed rapidly and some excellent sets are covering the full spectrum from beginners to professional golfers.
Deciding on the set that's ideal for your requirements needs some assessment of your skills and other requirements and preferences.
Although premium brands offer a wide variety of clubs in the beginners' category, we tried to introduce some of the lesser brands competing in the sector.
There are many good choices available for beginners at affordable prices that would satisfy even the most stringent selection criteria and selecting an overall winner was not that straightforward.
After careful evaluation, the Callaway Strata is our selection as the best women's golf set for beginners. It offers a wide range of options depending on how complete you want your set to be. Callaway is renowned for its quality and you will not be disappointed with a Strata set.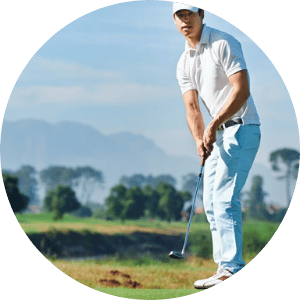 Nick Lomas is the founder of GolfSpan, an avid golfer, not quite a pro but has over 15-years of experience playing and coaching golfers from all over the world. His mission is to bring the golfing community a better experience then it comes to choosing the right golf gear, and finding the right set up for your game.