Not all are current, in fact, many are rather old. They all, however, remain relevant and useful to this day. They are some of the most classic and popular golf books around.
At a glance: Our Top 5 Picks for Best Golf Books
Quick Overview: Our Top Picks for Best Golf Books
The Top 6 Best Golf Books
1. Ben Hogan's Five Lessons
The Modern Fundamentals of Golf
Regarded as one of the best golfers of his time, Ben Hogan won a total of nine majors including his 1953 "Triple Crown" when he won the British Open, the Masters and the US Open. Five Lessons was first published in 1953, and reprinted in 1980 and is a must in any golfer's collection.
Forty years later, this book described as "timeless", is still relevant, it tells you precisely how to improve your game. Filled with illustrations and easy to read it will prove helpful to any player regardless of handicap or talent.
Hogan strongly believes that any golfer, by developing a high-level, consistent swing, can shoot 80 or under. The chapters take you through the grip, stance, posture, backswing and the downswing with detailed illustrations and analysis.
As an amateur or a new golfer, you often get advice on the stance or the swing and the favorite, "Keep your head still". Seldom is much attention paid to the grip.
In the first chapter, Hogan starts right there, with the grip. As he puts it, the only contact you have with the ball is through the clubhead, up the shaft, and into the hands.
The grip is thus fundamental to the feel, control, and result of any shot. He always noticed the grip of other players, for instance, "Walter Hagen  had a beautiful grip, delicate yet powerful as if his hands had been designed to hold a club."
The overlapping grip has been with us for a long time and nothing better has come along. The hands have to work as a single unit for the best possible result. You cannot allow the stronger hand, say right hand if right-handed, to take over or dominate on the downswing.
To ensure this unity of the hands there's a right way to place the club first in the left hand and then to bring the right hand on and over.
This is all perfectly illustrated and explained, step-by-step, almost as if you are having a one on one coaching lesson from the man himself.
There is a beautiful description of how the power generated by the body is transferred through the arms to the shaft to the clubhead, much like the snap-the whip game that children play where the end of the whip is traveling at the greatest velocity.
Advances in the modern game center around equipment and the mental approach, but the fundamentals as Hogan puts them across are basics of a solid game.
This book explains the fundamentals that remain valid and have stood the test of time. There is a lot of positive feedback from those who have applied the lessons. On the downside, it only covers tee to green and does not give advice on distance.
2. A Life Well Played: My Stories
Arnold Palmer
If you are wanting to read an autobiography there is none better than "The King", Arnold Palmer. The memoirs of Arnold Palmer, one of the greats in the history of golf, is an easy read with many photographs not only of his exploits on the golf circuit but also of his family life.
Although not rated in the top 10 in terms of major wins he was hugely popular having a loyal following known as "Arnie's Army". Even in Japan, he was seen as a hero. Arnie set the standard and was the consummate gentleman, humble in victory and gracious in defeat and was a role model in manners and etiquette.
Along with Jack Nicklaus and Gary Player, under the umbrella of Mark McCormack's management, they helped to popularize golf and bring it to the TV screens and grow the status and culture of the professional era.
Arnie's father was the greenkeeper and later resident pro at the Latrobe Country Club in Pennsylvania. As a three-year-old, his father showed him how to grip a club, how to stand, and how to swing.
He also instilled into him how to be a good sportsman, and so a legend is born. He credits his father "Paps" as having the biggest influence in his life despite him being a hard taskmaster who paid few compliments.
Arnold won seven majors, The Masters four times, the US Open once, and The Open (British) twice but failed to make the Grand Slam as he never was able to win the PGA.
He was runner up in this event three times, and ten times overall in all majors. He ranks his most memorable round however at what he considered his home, Latrobe CC, when he scored 60.
Arnold was always available to autograph hunters and made sure that his signature was legible. He rebuked younger pros who left what he called a "chicken scratch" which nobody could read and would soon be forgotten.
He played his golf boldly, charging down the fairway and attacking the green. He was famously quoted as saying, "I'd rather be hit by an express train than be short on a putt".
In his business life, he was equally driven but still rated civility and trust highly. Many a deal was sealed on a mere handshake. There's the lovely story of the logo. He and his partners were agonizing about a logo and had a couple of misses were some ideas were too mundane and others already trademarked.
Arnold stepped out of the meeting to clear his head, it was raining and he notices a lady getting out of a car and open her umbrella. Thus the four-panel open umbrella logo which appears on all products of APE, Arnold Palmer Enterprises, has become known worldwide. His business interests included golf course design and consultation, co-founding The Golf Channel and his charitable work involving children and hospitals.
Arnie loved flying and would probably have been an airline pilot had he not made a career of golf.
The book is divided into three sections dealing with golf, family, and business and is written in such a conversational way that the reader almost feels like having a one-on-one chat with the man himself.
The commemorative edition features a foreword by Jack Nicklaus.
3. Harvey Penick's Little Red Book: Lessons and Teachings from a Lifetime in Golf.
Co-Authored by Bud Shrake
Harvey started out as a caddy at the age of eight and went on be become the head coach at the Austin Country Club, a position he held for fifty years. He made it a habit, after every session, to record tips and observations in a red spiral-bound notebook, hence the name of the book.
Today one would probably be a blogger and then collate them into a book.
Harvey worked with beginners, amateurs and professionals alike, amongst the big names were Ben Crenshaw, and Tom Kite who wrote the foreword to the book. Later there came the Twentieth Anniversary edition with new illustrations and articles from the family archives, as well as a new foreword by Davis Love III.
Unlike most other instructional books on golf, this one does not get bogged down with a lot of technical jargon and over-analysis of technique. Rather he uses common sense and some basic drills along with saying it how it is.
He has, for example, the "water bucket" exercise, where you learn muscle memory by swinging a bucket full of water. Another is the "four club" drill where you use only four clubs, play down to the green, putt out, and then play back to the tee. This is a great exercise to improve your short game.
Harvey likes to teach with images, metaphors, and parables that plant a seed in the mind and grows to good shot-making. The book is full of observations and impressions he gained from the greats such as Byron Nelson, Ben Hogan, Walter Hagen, Bobby Jones, Sam Snead, and many others. There are lots of stories and anecdotes which give an interesting insight into the history and growth of the game and the characters.
Penick explains in his book how he never allowed anyone to read his little red book, except for his son Tinsley, who was a good teacher in his own right, and who might benefit from Dad's experience. He was often approached to write a book, or have someone help him do so, but always declined.
Late in life, confined to a wheelchair, his nurse would drive him out to the course in his golf cart for an hour or two, and invariably someone would come along and ask for advice or a bit of coaching.
On one such occasion, he was sitting there wondering if maybe he was being selfish and it happened that an old friend Bud Shrank came by and shared the golf cart with him. The bubble burst, he opened his briefcase took out the red binder and the book was birthed.
Some of his favorite sayings were, "swing the club like a weed cutter", or "select one club, say a 7 iron, and love it like a sweetheart", and the most famous, "take dead aim".
Probably the most popular and bestselling book on golf instruction, although some feel that Hogan's book is better, and others that Harvey tends to repeat himself a bit.
4. Golf's Not A Game of Perfect
Dr. Bob Rotella
I had often heard the expression, "the shortest distance in the game is the space between your ears", and never knew where it came from until I met Dr. Bob Rotella in his book, Golf's not a game of perfect.
In the modern professional era the psychological approach, or mental attitude, is even more important than the physical attributes, natural talent or correct technique. It could mean the difference between a great player and a champion.
Bob Rotella is THE guru of the performance consultants in the world of golf.
Most people would have a mental image of what a good golfer with potential should look like. He would be young, lean, tall and move with the grace of a gazelle. He would have been above average at any sport he tried at school, and he would probably be strong enough to hit the ball a mile.
This might be enough to make him a good golfer but does not prove real potential. There are many good golfers on the circuit, earning a good living, who have never won any tournament of significance.
So what is needed to unleash the real potential, to change good to excellent, and to make a champion?
5. The Bogey Man: A Month on the PGA Tour
George Plimpton
George Plimpton is a writer and journalist who believes in getting in deep and dirty. He does not sit in the press box and file a report to the editor, he actually participates in and then writes about the experience. You, therefore, get the inside scoop so to speak.
In the early sixties, when the PGA was not as rigidly controlled and amateurs could compete alongside the pros, George takes a month-long journey into the world of professional golf to discover firsthand what life is like on the circuit.
On the adventure, he rubs shoulders with the greats of the day, from Walter Hagen to a young Arnold Palmer and many more. He is a good listener and gets anecdotes and tips and probably some free coaching and advice from these guys.
There are also other amateurs trying to break in and make a name for themselves. George is analyzing the players, their ambition, hopes and fears, and trying to get a fix on the psychological makeup of what it takes to be a touring pro.
He is also exposed to the life of the caddies. They are another source of stories and anecdotes and some quite crazy experiences. He has discussions with officials and various hangers-on to get an overall picture of golf in the new and rapidly growing professional era.
On the course, George has his ups and downs. Playing off a handicap of 18 he is often found apologizing to his fellow players. Along the way, he gets to experience his and others' thrills and frustrations, their victories and sometimes humbling moments.
Included in the mix is a lot of superstition, golf lore, shot saving advice, theories on the swing and putting technique stretching from tee to green.
Off the course and on the road, he looks at the added frustration of travel, cost, living out of a suitcase, getting laundry done, bookings, keeping in touch with family, and the challenges just mount up.
If all this sounds pretty serious, don't be misled. Plimpton writes in his own inimitable style with many of the stories being quite humorous if not hilarious. One such story involves two golfers traveling cross country and the passenger has a driver in his hand. When they reach a crossroad he likes to get out and take a few swings. On one occasion the driver doesn't notice the missing passenger for some distance before turning back.
George Plimpton is also known for his escapades in pro football as the preseason backup quarterback for the Detroit Lions in his book Paper Tiger. In Out of my League, he is pitching in a major league exhibition game. He has also sparred with big-name boxers, played hockey played in a symphony orchestra and stared in a movie.
Although this book might be probing the psychology of the sport, it is rated as the wittiest book on golf and Plimpton's style is described as elegant and effortless as an Arnold Palmer iron shot. Another critic put it as a book about a kind of madness without rules.
The general consensus is that it is a good must-read, even if you don't know golf.
6. The Big Miss: My years coaching Tiger Woods
Hank Haney
Hank Haney is regarded as one of the top golf instructors in the world and has coached as many as 200 tour professionals. He has training facilities around the world and hosts the Golf Channel show The Haney Project.
For six years, from 2004 to 2010 Haney was the swing coach to Tiger Woods. During this time Tiger won six majors and a third of all the tournaments that he entered.
What makes this book so unique is that Haney not only coached Tiger but actually lived with him in his home. This gave him the opportunity to study this highly talented athlete at close quarters, to find out as they say, "what makes him tick".
Tiger is a very complex individual on and off the course, and the combination of talent, fame, and fortune merely adds to the complexity. He is obsessed with the military, especially the Navy Seals, and this type of discipline is evident in his approach to fitness, training and in the game.
His biggest fear is hitting a shot so wild that it completely ruins the round, "the BIG MISS". Away from the course, Tiger can be somewhat aloof, disengaged, unempathetic, and emotionally "blank", according to some.
The opening chapter of the book gives a fascinating insight into the coach's ability to read his charge. The setting is the final round of the 2010 Masters at Augusta. Woods is 4 behind the leader Lee Westwood, and 3 behind Phil Mickelson.
He walks onto the practice range and goes to the far end. The crowd follows as they always do, but this time there are not only supporters but also those who want to see what his recent past has done to him. Woods has just come through a very public exposure and scandal of his private life.
He has also recently returned from a six-week self-examination program that was brutal, and no man has ever fallen so far so fast. The coach is also wondering and concerned because the warmup is not looking good. The normal crispness and zip are not there, it's as if Tiger is not focused, he will not make eye contact and is not following the normal routine. He should be at his best. This is what he lives and works for, where he can display his superior talent, his ability to "hyper-focus". Being mentally "bulletproof" is his big plus over the other players.
At the end of the chapter, Haney says, "Life is about loss. He's become less of a golfer, and he's never going to be the same again." Was this maybe the BIG MISS?
Phil Mickelson went on to win that event and it wasn't till 2019 before Woods would again win a major, and it happened to be The Masters.
A fascinating insight into the psyche of one of the most talented athletes and golfers of our time. A must-read.
In A Word: Dreams
Bob will sit you down on his couch and chat. He will ask about your dreams, what is it that really gets you fired up? What will get you out of bed in the morning ready to go for it?
From the book: "A person with great dreams can achieve great things"
In the early '80s, a thirty-something Pat Bradley came to see him. She was a naturally gifted athlete, had got better over time and had won a few tournaments but felt unfulfilled. He asked her what her dream was. It was to win more, to win a major, to be the player of the year, and to be in the LPGA Hall of Fame. This was exciting stuff, she had something to go for. Over the next couple of days, they talked about how she could learn to think effectively, believe in herself, focus on each shot and putt, and really see herself as a winner.
The following year Pat won five tournaments, including three majors, and just missed the Grand Slam. In 1991 she qualified for the LPGA Hall of Fame. After the induction, she said to Bob," We need to find a new dream".
There are many examples in the book, including the story of Tom Kite, who as a teenager was taken to a pro with the sole purpose of trying to discourage him, to tell him how tough it would be and that he would never make it.
Fortunately, the pro instead told him to go for it, but it was only after he met Bob and got to OWN his dream that he broke through. He won a major, was leading money winner, and was willing to put in the hard yards, the time to practice and to keep the dream alive till you get there.
On one occasion Byron Nelson attended a presentation given by Bob and Tom Kite. During question time Byron raised his hand and gave his story. He said he was often asked where his mind was when he had a winning streak of eleven tournaments.
He said he didn't know how to answer that question until now. He had always wanted a ranch, but first, he had to buy the land. Then he would have to fence it, build a house, barns, stock it, and get someone to run it for him while he was on the circuit. He then put away enough money to keep it going. After that, he was "pretty much washed up as a golfer".
Along with getting that dream deep-seated in your mind comes hard work. Just as talent alone won't be enough, so you can't merely fly on a dream. Some cruise along on talent, others crumble under the pressure of too much expectation. You also need to chill a bit and have fun with it. Here are a few maxims from his book that are worth applying:
"On the first tee, a golfer must only expect two things of himself, to have fun and to focus his mind properly on every shot."

"Golfers must learn to love the challenge when they hit the ball into the rough, trees or sand. The alternatives- anger, fear, whining and cheating- do no good".

"Confidence is crucial to good golf. Confidence is simply the aggregate of the thoughts you have about yourself".

"It is more important to be decisive than to be correct when preparing to play any golf shot or putt".
Names such as Nick Price, Tom Kite, Davis Love III, Pat Bradley, Brad Faxon, John Daly, and many more sat on Bob's couch, and without fail attribute their following success to his coaching.
Bob says of himself, that he is not a shrink, but an enlarger, reading this book might just do that for you, enlarge not only your game but your whole life.
The book contains practical lessons that can be applied to golf and life and is great for improving the all-important mental aspect of the game. It will not necessarily help with the technical aspects of golf but the mental part is highly important as most golfers will know.
Have a good read, and share it with your friends.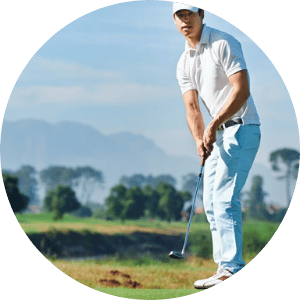 Nick Lomas is the founder of GolfSpan, an avid golfer, not quite a pro but has over 15-years of experience playing and coaching golfers from all over the world. His mission is to bring the golfing community a better experience then it comes to choosing the right golf gear, and finding the right set up for your game.