After a decade of experimenting with the JPX models, Mizuno claims to have perfected these clubs and introduced the JPX 921 in 2021. So how good are these irons? Find out in this Mizuno JPX 921 Hot Metal review.
Quick Mizuno JPX 921 Hot Metal Review: The Mizuno JPX 921 Hot Metal was designed for high to mid-handicap golfers. The JPX 921 was successful when it launched because of its game-improvement features and performance. The irons have a great balance of distance, forgiveness, accuracy, and overall feel.
You'll find five variants of the Mizuno JPX 921, such as the Forged and Tour irons. Many options can confuse you in choosing what works best for you.
This Mizuno Hot Metal Irons review will only consider the JPX 921 Hot Metal Irons and take you through all the pros and cons of the irons while going in-depth about their performance. Continue reading to find out more.
Overview of the Mizuno JPX 921 Hot Metal Irons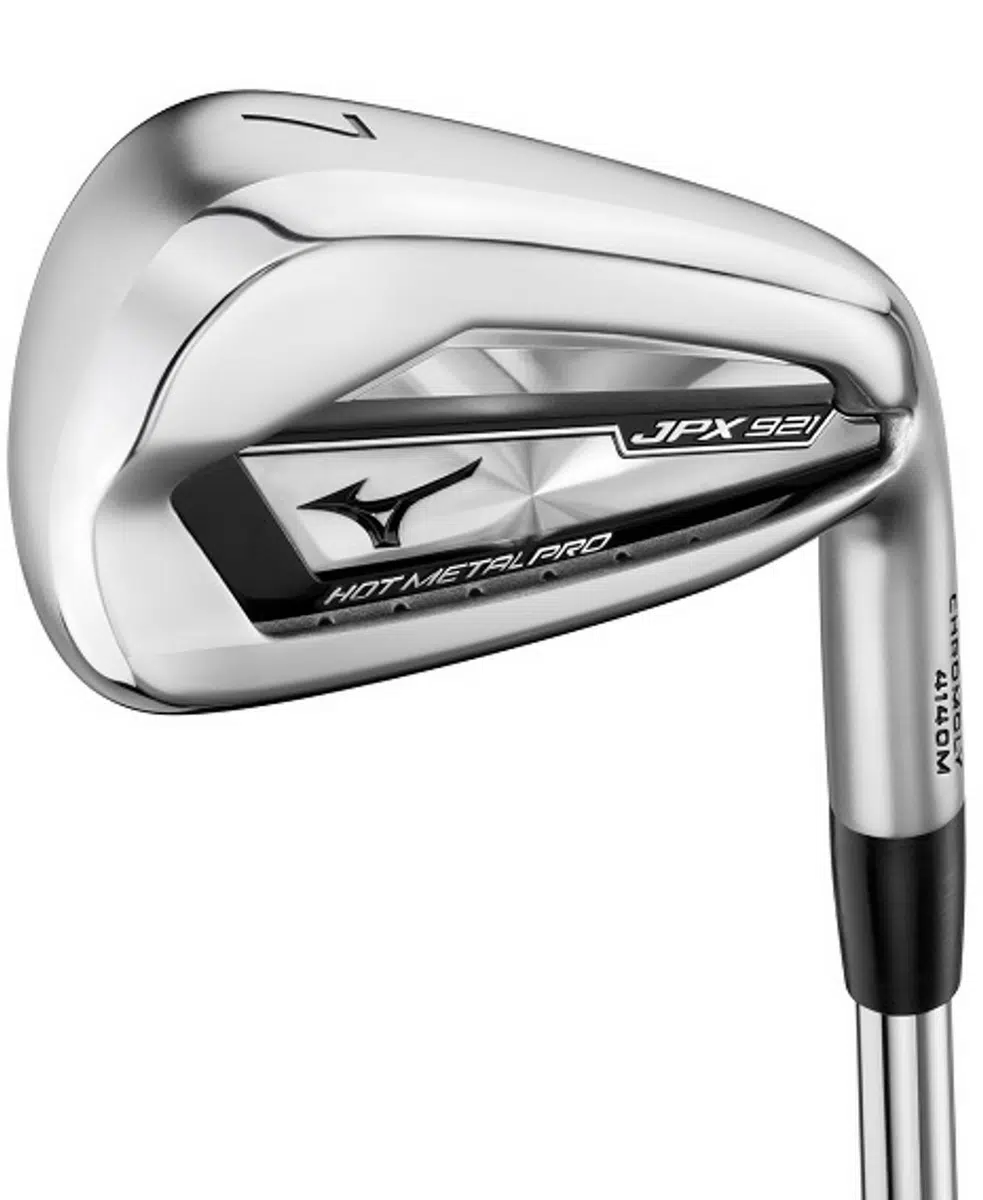 Pros
Soft and satisfying sound on impact
Great distance coverage with good forgiveness
Sleek and modern design
Reasonably priced
Cons
Not a lot of  upgrades from previous models
Key Metrics to Consider
*Note: All ratings are given out of 100*
| | |
| --- | --- |
| Overall | 93 |
| Star Rating | 4. out of 5 |
| Distance | 90 |
| Forgiveness | 90 |
| Feel/Sound | 98 |
| Playability | 95 |
| Price | 90 |
Verdict
The Mizuno JPX 921 Hot Metal Irons are mid-priced irons that deliver distance, forgiveness, and a great feel. The buttery-smooth feel upon impact is an absolute winner for me. The sweet spot on these is also comparatively bigger, so you get more forgiveness than other models from the JPX 921 range.
The Hot Metal line of irons are ideal for golfers with slower swing speeds. That makes it ideal for high to mid-handicappers.
These irons look more like player irons due to their smaller clubheads and slightly thinner top line with minimal offset. The good news is they give you the forgiveness of a game improvement iron.
Compared to the Mizuno JPX 921 Forged, these Hot Metal irons have a stronger loft and give ball speeds up to 114mph, which is quite impressive. These numbers back Mizuno's promise that the Hot Metal and Hot Metal Pro Irons deliver the fastest-ever ball speeds compared to all their other irons.
Compared to the company's higher-end clubs, the JPX 921 Hot Metal Irons are a great option for golfers who emphasize feel and playability.
Read More: Best Golf Club Brands
Who They're Best For?
The JPX 921 Hot Metal irons are game-improvement irons ideal for high to mid-handicappers.
High handicappers can benefit quite a bit from the forgiveness of these irons since the stability frame gives these irons added weight.
This weight makes the shots much more stable, translating into uniform ball speeds and adding forgiveness on off-center shots.
Mid-handicappers would love the blend of control, playability, and distance with each shot on these irons. You can also improve your flights because of the shot-shaping abilities of these irons.
Things to Consider Before Buying The Hot Metal Irons
You don't want to add irons to your bag that don't add value. Here's what you must consider before buying the JPX 921 Hot Metal.
1. Budget
The JPX 921 Hot Metal aren't at the higher end for irons, but they're not the most affordable irons either. Consider your budget and see if you can comfortably afford them before purchasing.
2.  Your Golf Skill
These irons are game-improvement irons targeted at golfers who want to improve their golf. The Hot Metals are ideal for new golfers or players around the 10-18 handicap range.
However, for more advanced players, you can choose between the Hot Metal Pro or Tour versions.
3. Your Current Irons
The Mizuno JPX 921 was released in 2021 and has the latest technology for the year. If you've got older, worn-out irons and want to upgrade, consider the 921 Hot Metals.
On the other hand, if your irons are doing fine and you're still new to golf, you can work on your swing and improve before making big purchases.
However, if you want the latest technology and features, check out the Mizuno JPX 923 Hot Metals. These are the latest irons from Mizuno but also cost considerably more.
Why You Should Trust Us
Our team spends multiple hours trying out and researching golf equipment to help you take your game to the next level. Here's our product review process.
We can provide more and more reviews for you through the small commissions we earn if you buy through the links below.
How We Reviewed These Products
Golfspan only shares equipment and brands we trust.
I'm an experienced golfer and writer who thoroughly researched and evaluated the irons shared below. Then an editor reviewed and fact-checked the list. Finally, we conduct regular content audits to update and revise our reviews to ensure you receive the latest information.
I considered these criteria to review these irons:
Cost
Distance
Forgiveness
Feel, Appearance & Sound
Launch & Accuracy
Mizuno JPX921 Hot Metal Irons Review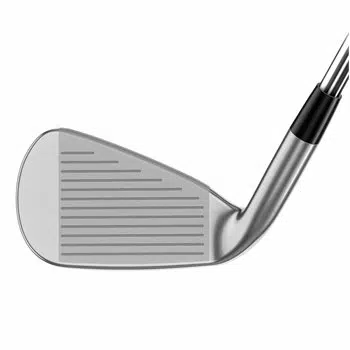 After a detailed assessment of the clubs, here's my Mizuno JPX 921 Hot Metal Irons review. Regarding performance, these irons do not disappoint in any aspect for the intermediate golfer.
The irons come with many new technologies, such as the Chromoly 4140M, CORTECH face, stability frame, and more. Let's go further into this Mizuno 921 Hot Metal irons review.
Overall
The Mizuno JPX 921 Hot Metal are game-improvement irons and perform likewise. You get decent distance, forgiveness, a surprising consistency, and a decent feel at impact.
You should notice a 5-7 yard increase in distance if you've got older irons. The 921 Hot Metal features a larger sweet spot which increases forgiveness.
The standard 921 Hot Metals fall slightly short compared to the Hot Metal Pro irons. The Hot Metal irons have a thicker sole that is more difficult to get under the ball, making them less playable than the pros.
Nonetheless, the Mizuno 921 irons have a good blend of distance, playability, feel, and incredible feedback at the right impact.
Distance
When it comes to distance, these irons are made to go the extra mile (or yards, since we're talking golf terms). Mizuno uses the 4140M Chromoly material to make these irons, making the balls achieve faster ball speeds with each impact.
The Hot Metal irons offer a great deal of distance, but it's clearly not enough if you compare it with the tour version.
If you're buying the Hot Metal, distance isn't your primary goal since it's a game-improvement iron. It's the balance of forgiveness, accuracy, feel, and distance you should be after.
Appearance
When I first looked at the Mizuno Hot Metal irons, I was highly impressed by their sleek look.
Each iron has the company's signature pearl brush finish designed to reduce glare. This finish reduces the sun glare, which is quite practical, and that's why you'll see many tour players use clubs with minimum glare.
The Hot Metals have a thicker topline which is one of it's game improvement feature. If you opt for the Hot Metal Pro series, you'll see that they're significantly thinner and have less offset than the standard Hot Metal Irons.
I particularly liked the Mizuno logo's placement and size on the club. It's subtly placed on the shaft and clubhead without being too overpowering. I've seen tacky oversized brand logos ruin some good-looking clubs, so this is worth mentioning.
Forgiveness
This is where the Hot Metal wins over the other variants of JPX 921. The Mizuno JPX 921 Forged, Hot Metal Pro, or tour variants don't offer the same amount of forgiveness as the Hot Metal does.
Even for higher handicappers, the forgiveness level of these irons translates to better shots even on off-center hits.
Feel and Sound
The JPX 921 Hot Metal irons have a good feel if your impact is right. Even on slight mishits, something felt wrong. Don't get me wrong, if you're hitting the center, you'll get a solid feel. It's just the mishits with an unsatisfactory feel. Although, it's a blessing in disguise if you ask me.
I found the 921s quieter than previous versions but loud enough to give you that crisp, satisfying shot. I'd give credit to Mizuno's Harmonic Impact Technology for that.
Features and Benefits of the Mizuno JPX921 Hot Metal Irons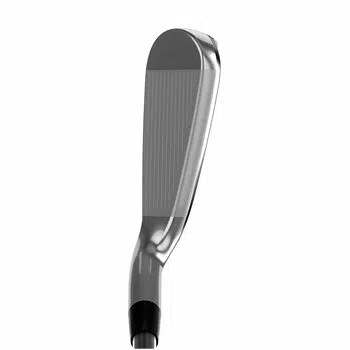 Let's check out some of the main features of the JPX 921 Hot Metal irons.
Chromoly 4140M Material
The Mizuno 921 Hot Metal Irons return the Chromoly 4140M material. This marks the third generation of Mizuno irons incorporating this Chromoly material.
Chromoly is a strong steel alloy that gives these irons a thinner clubface, measuring only 2.2mm.
CORTECH Face
The multi-thickness CORTECH face means these irons are 0.2mm thinner at the center.
The combination of this central thinning and Chromoly material allow the irons to shoot the ball with a much stronger impact, making them travel long distances at high speeds.
Stability Frame
The irons also incorporate the Stability Frame structure, which adds perimeter weighting with toe bias. This increases the overall MOI, increasing stability during your swing and shots.
The additional weight makes these irons much more stable, which results into uniform ball speeds and added forgiveness, even on off-center hits.
Harmonic Impact Technology
Mizuno also brought back the Harmonic Impact Technology with the JPX 921 Hot Metal Irons. They added three more good ribs within the frame of each club head after extensive research into the vibration patterns of the clubs.
This gives the Mizuno JPX Hot Metal a much more solid feel on impact, and golfers get better feedback with every shot.
Specifications of Mizuno JPX 921 Hot Metal Irons
Here are the specification of each iron from the JPX921 Hot Metal set.
| | | | | | | |
| --- | --- | --- | --- | --- | --- | --- |
| Club | Length | Loft | Bounce | Offset | Lie | Swing Weight |
| 4 Iron | 38.5" | 19° | 0° | 0.224" | 60° | D2 |
| 5 Iron | 38" | 22° | 0° | 0.213" | 60.5° | D2 |
| 6 Iron | 37.5" | 25° | 0° | 0.201" | 61° | D2 |
| 7 Iron | 37" | 29° | 1.5° | 0.189" | 61.5° | D2 |
| 8 Iron | 36.5" | 34° | 2.5° | 0.173" | 62° | D2 |
| 9 Iron | 36" | 39° | 3.5° | 0.150" | 62.5° | D2 |
| Pitching Wedge | 35.5" | 44° | 5° | 0.150" | 63° | D3 |
| Gap Wedge | 35.25" | 49° | 7° | 0.134" | 63° | D3 |
| Sand Wedge | 35.25" | 54° | 13° | 0.138" | 63° | D3 |
| Lob Wedge | 35.25" | 59° | 10° | 0.063" | 63° | D3 |
Mizuno JPX 921 Hot Metal Alternatives
The Mizuno Hot Metal Irons are an absolute winner in multiple aspects. However, if these irons still don't fit your requirements or you're looking for more budget-friendly options, check out the following alternatives.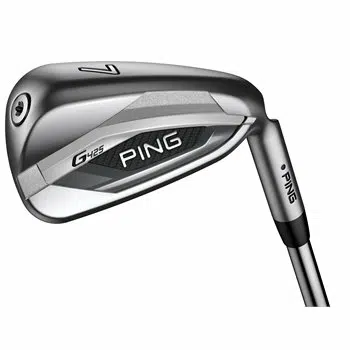 Pros
More affordable
Modern, water-repellent chrome pearl finish
Variable face thickness for added forgiveness
Cons
Lesser forgiveness than the Mizuno
The Ping G425 irons are a great alternative if you're a golfer who's looking to improve their slice shots. Plus, they offer great control and stopping power for those approach shots.
The hollow construction design gives the perfect amalgamation of the forgiveness provided by a cavity back and the sleek look of a muscle back. This construction also gave the irons a better launch and added yardage with each shot. You'll see your ball speeds increase as well.
These irons are great for playing on firmer greens since the added spin by the Ping G425 ensures that your shots get as close to target as possible.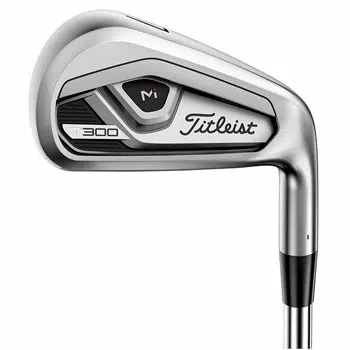 Pros
Max Compact Technology for increased speed and distance
Variable face thickness for added forgiveness
Great for mid and high handicappers
Cons
The Titleist T300 irons are made specifically keeping mid and high-handicappers in mind. They offer great forgiveness with each shot, so your off-center shots could go unnoticed or at least be compensated for.
The Max Impact Compact Technology and the fast cavity back design ensure you get added speed on the ball and distance with your shots. It also particularly focuses on improving the slice and push shots.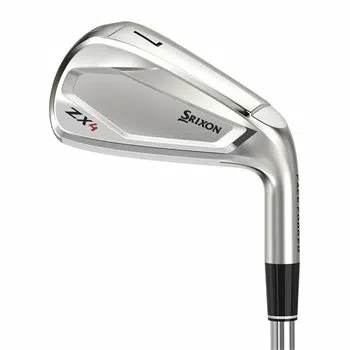 Pros
Great feel upon impact
Good consistency and forgiveness with each shot
High launch angles
Increased ball speeds and distances
Cons
Not great for low handicappers
Shorter than some irons on the market
The Srixon ZX4 is a solid iron set for golfers looking for forgiveness and consistency with their shots. This makes them perfect for mid to high-handicappers, although they may lack the control that low handicappers are looking for.
FAQs
What Handicap Should Play Mizuno JPX921 Hot Metal?
The JPX921 is made specifically keeping mid and high-handicappers in mind. The Mizuno JPX 921 Hot Metal handicap range would be between 10-18. The stability frame design makes these irons much more forgiving, so your off-center shots could go unnoticed.
Is Mizuno JPX 921 Hot Metal Good for Beginners?
The JPX 921 Hot Metal irons are a great option for beginners since they're game-improvement irons and offer great stability, making your shots go further and higher. The irons are forgiving and easy to hit for beginners. 
When Did the Mizuno JPX 921 Hot Metal Irons Come Out?
The Mizuno JPX 921 Hot Metal irons were released on September 17, 2020. They were available for pre-sale on August 31, 2020.
Final Thoughts
At the end of my Mizuno JPX 921 Hot Metal review, I believe that they're a solid buy for most high to mid-handicappers.
These game-improvement irons are priced right for their performance. They deliver good distance and forgiveness while perfoming in most other aspects as well. The only downside I found is the feel at mishits, but that's one way to get better at iron striking.
Would I buy the JPX 921 Hot Metal? Most likely no. Not because they're bad, but because I'd be better off using the Hot Metal Pro as a more experienced golfer.
If you're a high handicapper, I'd recommend sticking to the standard Hot Metal Irons, but if you're a low to mid handicapper, I suggest trying out the JPX 921 Hot Metal Pro or the JPX 921 Tour.

As a skilled golfer and wordsmith, Abdulmoiz brings a fresh and engaging voice to the golfing world. Whether he's on the course or at the keyboard, he strives to improve and inspires others to do the same.