Buying a used golf cart isn't always a straightforward process. There are precautions you should take, and it can be hard to know where, exactly, is the best place to buy a used golf cart. In this guide, we'll cover everything you need to know about buying a used golf cart.
Things to Consider Before Buying a Used Golf Cart
In the world of second-hand motor vehicles, practically anything goes. People will try to sell all sorts of carts, regardless of age and condition.
For the most part, sellers will be transparent about the state of the cart they are trying to sell. But as a customer, you can never be too cautious; where possible, find out as much of the following as possible before getting your wallet out.
How Old Is The Golf Cart?
There are a number of old golf carts out there, probably from as far back as the 80s, that are still alive and kicking. Some of them run just as well, if not better than newer models, so if retro is your thing, then go for it.
However, a big problem with buying older carts is that many of the old parts no longer exist. There are also fewer mechanics around who know how to repair them. So if your cart develops any issues after you buy it, it could be game over.
It's also important to consider that older carts, generally speaking, do not run as well as newer carts. They are more likely to need repairs, which could end up costing you more in the long run.
Is It Gas Or Electric?
Both gas-powered and electric golf carts each come with their own sets of advantages and disadvantages. Most people nowadays go electric, but you should choose the type that best suits your needs.
Gas-powered carts can drive faster than electric, and a full tank of gas lasts a lot longer than a fully charged battery. However, gas carts aren't as good for the environment, and they generally require more maintenance. You should also expect to pay more for a gas cart, plus the additional cost of refueling them.
Electric golf carts are more common – they're great for the environment, and generally don't require a lot of maintenance. However, you must have access to a battery charger, and you must also ensure that the batteries are clean and corrosion-free. Ideally, the batteries will be covered under a manufacturer's warranty.
Has The Cart Been Refurbished?
Some used golf carts may have received a thorough repair and reconditioning, whereby they are sold under the label of 'refurbished'. A successful refurbishment could result in a golf cart that's practically as good as new.
However, there are some dealers who may simply give a cart a fresh coat of paint, or a new set of tires, and call it a refurbishment. Meanwhile, the internal parts have been left as they are, which could either be broken or on the verge of breaking.
Thus, if you're looking to fork out a bit extra on a refurbished cart, you would be wise to buy one from an official dealer of the particular make and model. That way, you'll end up with a cart that's actually been refurbished, rather than one that's been "refurbished".
How Are The Tires Looking?
Tires are one of the cheaper parts of a golf cart to replace, but you could still save yourself a lot of aggro by making sure they're in good knick.
First, you'll want to make sure that they're inflated, and that they're retaining the air inside. Then you'll want to check that the treads have depth and that there's no visible damage to the tire as a whole.
How Does The Cart Run?
Take it for a spin – legitimate dealers should have no qualms with this. Once you start driving, you'll quickly be able to determine whether or not the ride is smooth and properly functional.
Listen out for any strange noises, such as grinding, clicking, or squeaking – these are all signs that something is wrong with the internals. Also, check that the steering wheel is responsive and that the cart doesn't drag either to the left or the right.
Is There Any Visible Damage?
In most cases, used golf carts may be showing slight signs of wear and tear. Minor things, like rust, scratches, dents, and faded paint won't cause too much of an issue, but keep in mind the money you'll have to spend if you want to get them repaired.
More serious damages, however, such as loose panels, or holes in the roof, should serve as a red flag. These require expensive repair jobs, meaning that the used cart will be more trouble than it's worth.
Who Is The Manufacturer?
Buying from a reputable manufacturer could save you a lot of potential headaches. If you need to change some of the parts, for instance, you won't have too much trouble finding them from the likes of Yamaha, EZ-GO, and Club Car.
Is It Worth The Asking Price?
Perceived values of used golf carts can easily become skewed, and it can be difficult to know if the seller is being fair with the price.
With a bit of research, you can easily find the estimated trade value of the cart you are interested in. Check out the Golf Car Blue Book – it's a free online resource that allows you to check the value of a cart based on its make, model, year, and condition.
How Much Should You Pay for a Used Golf Cart?
The price of a used golf cart will vary depending on its make, model, age, features, and condition, but you can expect to pay anywhere between $2,000 and $5,000.
This may still sound like a lot, but considering that you can spend up to $16,000 on a brand new cart, it's clear that there are opportunities for some big savings. If you're lucky, you could find a Club Car, for instance, that may only be a couple of years old, and get it at half, or even a third of the original price.
Note that some used golf carts will be fully equipped with features to make them street legal carts, in which case you should expect to pay in the region of $6,000 to $8,000.
So, where do we buy them from?
Best Places to Buy Used Golf Carts
1. From the Manufacturer
That's right – manufacturers themselves often take in some of their older vehicles, refurbish them, and then resell them at a greatly discounted price.
Take Club Car, for example. There's a whole section on their site dedicated to the selling of remanufactured vehicles. Using their store finder, you can find an authorized Club Car dealer near you, and then start searching for a fully-functioning, warrantied, discounted Club Car golf cart.
Purchasing directly from the manufacturer has obvious advantages. The carts will have been refurbished to their high factory standards, with every component being inspected, and repaired or replaced if necessary.
It might mean paying a little more than you would to a random seller on the internet. But equally, you greatly reduce the risk of getting scammed. In my opinion, the peace of mind you get from buying directly from the manufacturer is well worth the extra cash.
Ebay often has pages and pages of second-hand golf cart listings. You can filter your search down by location, seating capacity, power type, make, condition, and price, which is handy if you have a clear idea of what you want.
Ideally, you'll be purchasing from someone close by, so that you can go and inspect the cart yourself before confirming the purchase. Take care when arranging meetings, though – it's the internet!
The good thing about eBay is that every seller comes with a rating, given to them by previous buyers. You can view all of the specific feedback regarding item description accuracy, communication, shipping time, and shipping charges. If a seller has hundreds of five-star ratings, then you can more or less trust that their golf carts are what they say they are.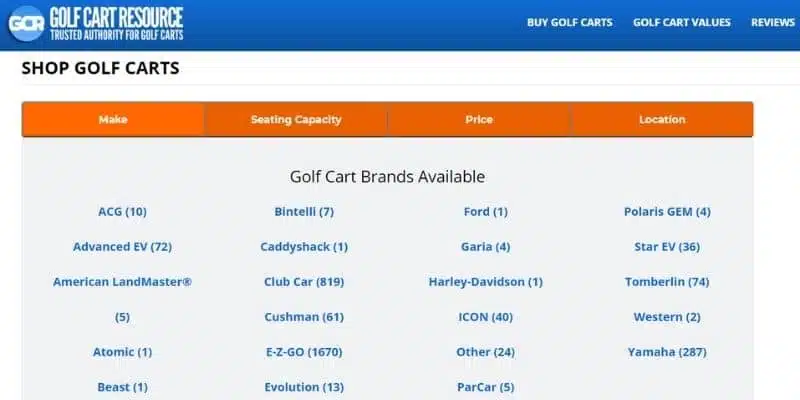 As a trusted authority for golf carts, Golf Cart Resource has a pretty substantial coverage across the US. You can search by location, and there's a good chance of there being a number of used golf carts for sale close by. You can also search by price range, make, model, year, seating capacity, power type, and condition.
Prices can vary quite dramatically, but the majority of the listings on here are from registered dealers, so most of what you see will be more or less legitimate. If it's a private seller, however, then proceed with caution.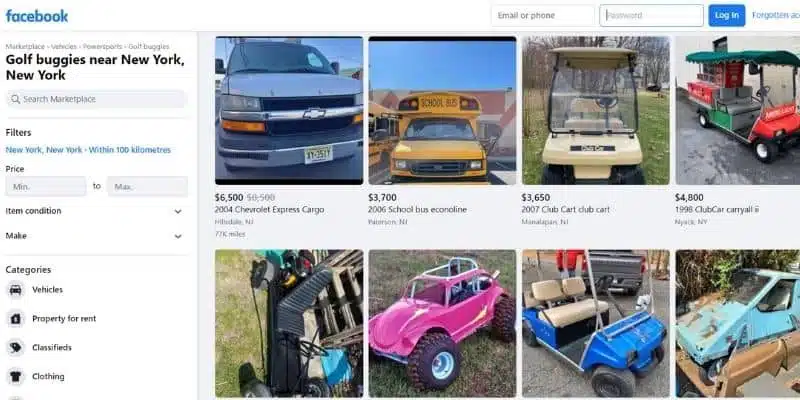 With a bit of luck, you can land some pretty great bargains on Facebook Marketplace. It's becoming an increasingly popular platform among sellers; new listings are popping up pretty much every day.
However, you have to be pretty wary of some seller descriptions. For instance, you might see something along the lines of 'BRAND NEW!! AWESOME GOLF CART!! LED lights, 14" wheels, etc… AND FREE DELIVERY!! $1000!!'. Basically, if it sounds too good to be true, it probably is.
You can get great deals on Facebook Marketplace – just as long as you take every necessary precaution, and steer well clear of potential scammers.
Final Thoughts
Buying a used golf cart can be an exceptionally smart choice. You can easily get a top-of-the-range model at a fractional price.
However, it's important to carefully assess exactly what it is you're buying. There's a lot that could potentially be wrong with a used golf cart, so be sure to check its tires, how it runs, and its overall visible condition. Also consider the cart's age, its make, and whether it is electric or gas. Most importantly, check that the asking price is fair on the Golf Car Blue Book.
The safest way to buy a used cart is directly from the manufacturer. Since they have authorized dealers located across the country, you shouldn't have to travel too far to find one.
If you want to pay a bit less, then head over to eBay, Golf Cart Resource, Facebook, or any other online marketplace – but just be aware that those 'bargains' you see could end up being very costly in the long run.
Related Articles
Nick Lomas is the founder of GolfSpan, an avid golfer, not quite a pro but has over 15-years of experience playing and coaching golfers from all over the world. His mission is to bring the golfing community a better experience then it comes to choosing the right golf gear, and finding the right set up for your game.