Evolution golf carts might not be as renowned as other brands, but they have a more than 10-year history and much to offer.
The premium cart brand is fully electric and offers great looks and performance models. Evolution is self-called the producer of the 'quickest and most capable golf carts in electric vehicle history.'
But which of the Evolution golf carts is best for you in 2023? The best overall cart is the Forester 6 Plus. If you are on a budget, opt for the Classic 4 Plus, and for heavy loads, choose the Turfman 800 Plus, as not everyone will use a cart on the course.
I love riding the Forester 6 Plus around my local courses in Cheshire. We have plenty of hills, yet this cart is a very smooth ride. If you're buying a cart, it may not be for you though. We must add that there is much more to know about the Evolutions carts, including why we picked those, all the models, their key features, if they are street-legal, and everything in between.
Let's get into it!
Top 3 Evolution Golf Carts: Review
Here is a table detailing some of the differing carts for different uses:
Best Overall
Best for Heavy Loads
Best Valu Pick
Forester 6 Plus
Turfman 800 Plus
Classic 4 Plus
Pros

Lots of seating
Looks great
Reliable safety features

Lots of storage space
Slick looking
Thick wheels
Back-up camera and brush guard handy on work site

Good value
Storage box under rear seats
Can fold out rear seats for more space

Cons

More expensive than the others

Not as much storage space as 1000 Plus
Max speed of 19 mph

Price Score
82
81
90
Looks
91
84
85
Mobility
85
77
84
Effectiveness
90
88
77
Rating
4.5 Stars
4 stars
4 Stars
Who Makes Evolution Golf Carts?
The carts are made by EVolution Electric Vehicles, a golf cart brand. Professional engineers design the carts and the models. The brand is part of its parent company HDK Electrical.
Where are Evolution Golf Carts Made?
My research revealed that the carts are made in Chino in California, but a lot of the parts a manufactured in Xinyang in China,
The company also has a U.S. headquarters in Corona, California.
Top Features of Evolution Golf Cars
Pros
Here are some benefits to Evolution golf carts:
Made with premium features
Very modern
Slick looking
Options for different uses (golf course, work, tough terrain)
Good for the environment
Street legal
0 – 25 mph in 5 seconds
Cons
Here is a list of some Evolution golf cart problems:
Potential battery issues over time
Solenoid can break
Can't vertically adjust side mirrors
Reported motor problems in older carts at times
Touchscreens
Some of the carts, like the Carrier Plus models, have 9-inch touchscreens on the carts. On the screen, you have options such as radio, music, movies, a speedometer, and a backup camera.
We think it is worth using the windshield in adverse conditions to protect the screen if you weren't already.
Warranty
You will be pleased to hear that if you buy the car, you have a good warranty on it. For parts and labor, it's 2 years. The charger and the controller are 4 years old. The lithium battery has a 5-year warranty; for the frame, it is a lifetime.
Customer Service
My findings indicated that when you buy a cart from Evolution through a local dealer across the West or the East Coast, apt support will be provided to help you. You may face issues along the way or need customization, and that is where the dealer comes in to help.
Car App Connection
Some of the carts have a car app connection. This enables you to have an app to connect your golf cart and your phone to find out all the details you need, including the charge. If information about what is inside the cart is more easily accessible, in theory, it should enable you to stay on top of any potential issues.
Premium Features
As the cart is a premium design, it comes with some top-quality features too. Little expense has been spared in the design. There is a luxury steering wheel, two-tone seats, Bluetooth speakers, color-matched inserts on the wheel, and a touchscreen. Evolution is here to impress.
Why You Should Trust Us
Our team spends thousands of hours trying out and researching golf equipment to help you take your game to the next level. Here's our product review process.
We can bring these reviews to you through the small commissions we earn if you buy through the links below.
How We Reviewed These Products
Golfspan only shares equipment and brands we trust.
I'm an experienced golfer and writer and I thoroughly researched and evaluated the golf carts shared below. Then an editor reviewed and fact-checked the list. Finally, we conduct regular content audits to update and revise our reviews to ensure you receive the latest information.
To select these golf carts, we considered these criteria:
Cost
Looks
Seating
Lift
Power
Speed
Braking
Tires
The 3 Best Evolution Golf Cart Reviews 2023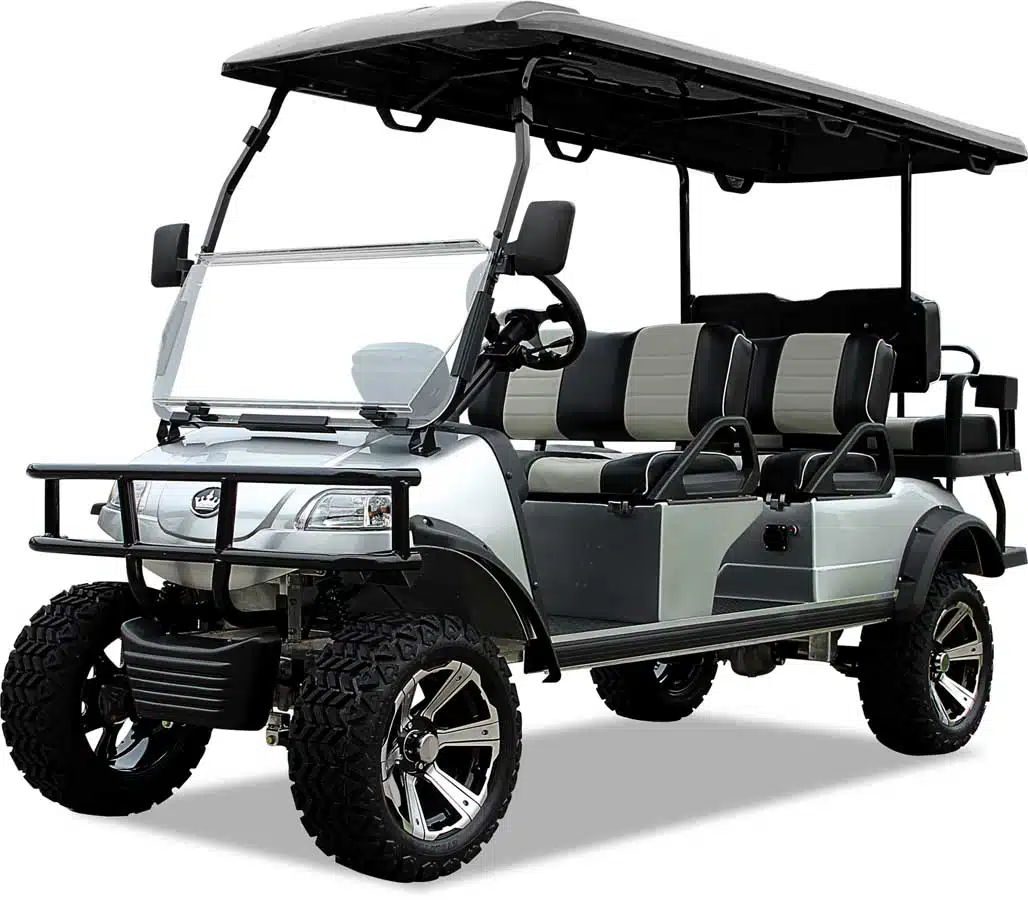 Pros
Lots of seating
Has a 9-inch touchscreen
Safety features
Cons
Key Features
Carries: 6 people
Wheels: 14″ aluminum wheel with black insert
Motor: 48V 6.3KW AC Motor
The Forester 6 Plus is the more expensive model at around $15,000, but it is for good reason. In my opinion, it looks even better than other rival carts like the Massimo Buck 250.
Even with this, it can carry more people and maintain a solid 22 mph max speed, but there is also a good amount of storage. You can also keep things under the front two seats and the fold-out rear seats.
It is worth noting that this price point will put those who are on a budget. But we think it is the best Evolution model overall and deserves to be shouted about.
Rating: 4.5/5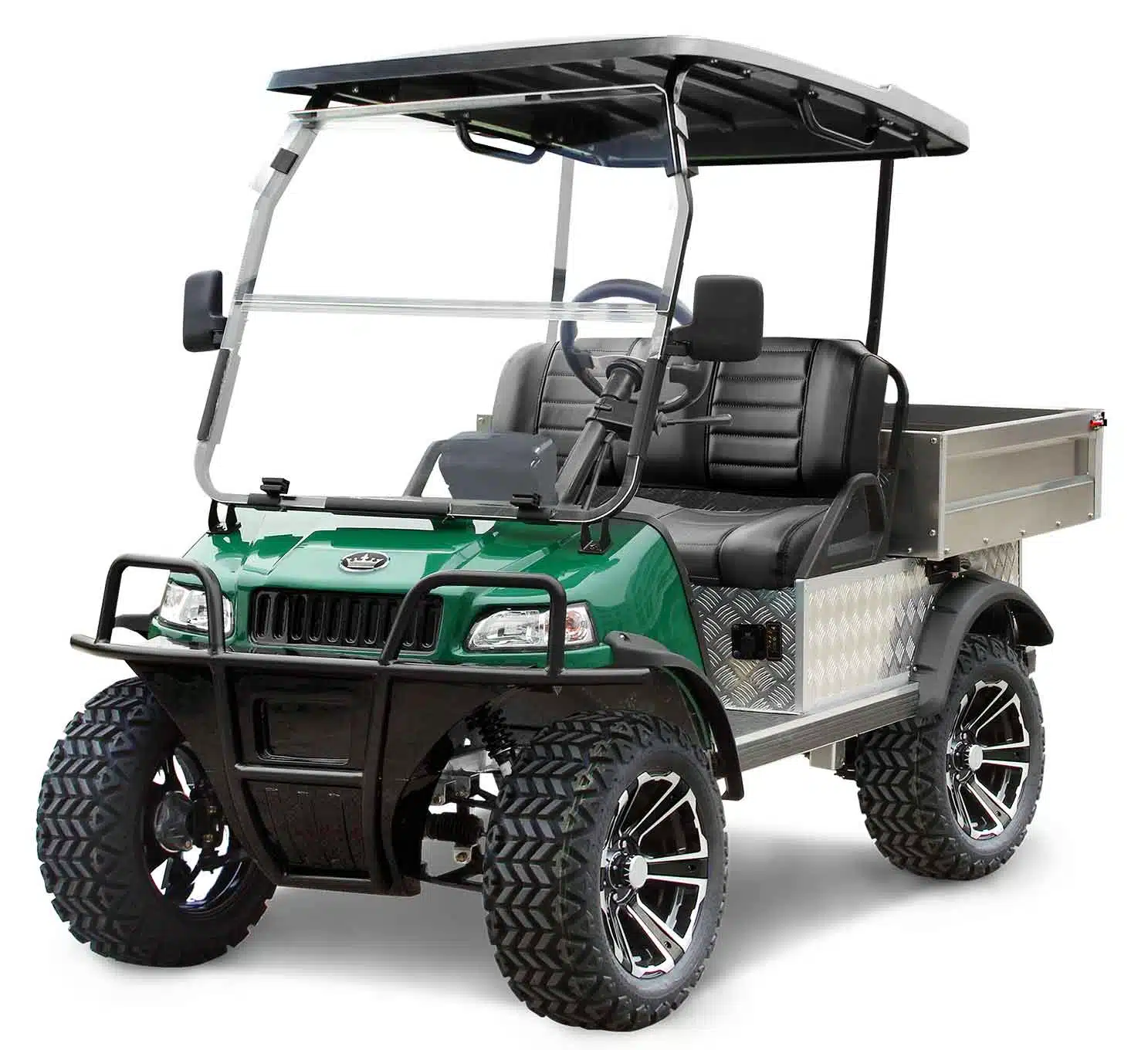 Pros
Thick wheels
Lots of storage space
Slick looking
Cons
Max speed of 25 mph
Not as much storage space as the 1000 Plus model
Key Features
Carries: 2 people
Wheels: 14″ aluminum wheel with black insert
Motor: 48V 6.3KW AC Motor
This thing of beauty looks great to use with heavy loads and in a work setting. It is also a thing of beauty too.
Unfortunately, it has less storage space than the 1000 Plus model. However, it has benefits like being lifted, having a brush guard for protection, and a touchscreen. We deemed those very useful – especially the backup camera which should come in super handy on a worksite.
Additionally, those thick tires will benefit when the terrain is not as reliable.
Our research determined that the Turfman 800 Plus is undoubtedly the best golf cart for heavy-duty jobs.
Rating: 4/5
Pros
Comes with 9-inch touchscreen
Good value for money
Motor has more KW than Pro version
Storage box under rear seats
Can fold rear seats out into space to carry things
Cons
Key Features
Carries: 4 people
Wheels: 14″ aluminum wheel with black insert
Motor: 48V 6.3KW AC
The best for those on a budget doesn't necessarily mean the cheapest model. It's all about value for money while keeping the price down. That is why I opted for the Classic 4 Plus model.
It is around $500 more expensive than the Classic 2 Pro version, and you get double the number of seats, an engine capable of more KWs, and the touchscreen benefits. It is especially handy if you have a family to ride around too.
Despite being the budget option costing just under $9,000, it is cheaper than new Yamaha models and some Club Car models. The only downside is that the Classic model only offers two and four-seaters, so if you have a party of six, they wouldn't all be able to fit on it.
Based on our observations, this is the best budget option of the Evolution range.
Rating: 4/5
Are Evolution Golf Carts Good?
Many golfing fans are asking are Evolution golf carts any good? The short answer is yes. Just because they are not as big of a household name like Club Car or Yamaha, don't let that stop you from reading into the carts.
Yes, they aren't cheap. But, for the price, you get quality, modern features on a reliable, stunning cart. And you are helping the planet, too.
Evolution Golf Cart Prices
Prices of new Evolution golf carts range from just under $8,500 to $20,000. This depends on the model as the Classic is usually the cheapest. A newer model like the D3 is more expensive and so are Forester models that have been customized.
These figures are similar to the prices of the likes of Club Car and Yamaha.
List of all Evolution Carts
Here is a full list of all Evolution golf carts and their dimensions:
Classic 2 Pro – 94″ x 55″ x 72″
Classic 2 Plus – 94″ x 55″ x 72″
Classic 4 Pro – 113″ x 55″ x 76″
Classic 4 Plus – 113″ x 55″ x76″
Carrier 6 Plus – 144" x 55" x 76"
Carrier 8 AC – 176" x 55" x 76"
Turfman 200 Plus – 94" x 55" x 72"
Turfman 800 Plus – 118" x 55" x 79"
Turfman 1000 Plus – 131" x 55" x 72"
Forester 4 Plus – 117" x 55" x 83"
Forester 6 Plus – 148" x 55" x 87"
D3
Let's take a deeper look at some of the models, though.
Classic
We found four Classic models there, which are handy for getting around the course and the road. Regarding sizing, there are not many changes between the Pro and the Plus, but the features do. The plus benefits from a 9-inch touchscreen that comes with radio, music, movies, a speedometer, a backup camera, and a car app connection.
Additionally, the Pro has a 48V 4KW AC motor, whereas the Plus has 48V 6.3KW AC so it can generate more power.
And when comparing the Classic 2 and the Classic 4 models, the 4 boasts a new plastic rear seat kit with trunk and cup holders. Golf bag holder upgrades can be requested too.
Carrier
There is a Carrier 6 Plus model and a Carrier 8 AC version. Both can carry groups around in numbers. Our analysis deciphered that it is only the former that has the 9-inch touchscreen, and due to the size increase of the latter, there is an extended roof.
Turfman
The three Turfman models are those best designed for carrying extra loads – the cargo box, or flatbed indicates this at the rear. As per our expertise, this model is also slightly slower than others too, boasting a max speed of just 19mph.
Forester
This is very handy for tough terrain. The raised nature of the cart, the brush guard, and thick wheels make it ideal for this. There are 4 and 6-seater options to suit your situation. Barring that, they are relatively similar.
Where To Buy A Used Evolution Electric Golf Cart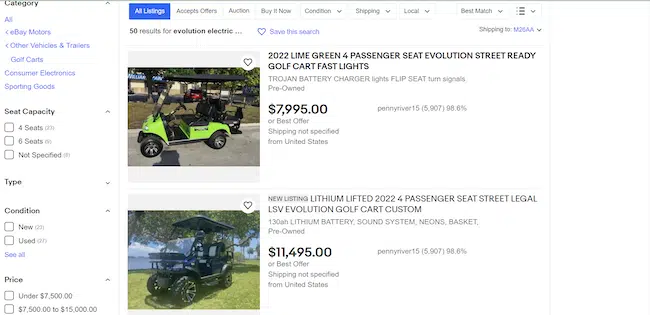 Websites like eBay, Golf Cart Resource, and Winters Recreation provide new and used Evolution golf carts. You can find used carts for as low as $6,450 at times, but usually, the cheapest figure is around $8,000.
Evolution Golf Cart Top Speed
The top speed of an Evolution golf cart is 25 mph for most models on a fully charged battery. However, this wasn't the case for every Evolution model. We found that the Turfman series has a max speed of 19 mph instead.
Are Evolution Golf Carts Street Legal?
Evolution carts are low-speed vehicles (LSV). This means that they are street legal and can be driven on public roads with a speed limit of 35 mph or lower. They are LSVs due to the likes of the LED headlights and taillights.
Evolution Golf Carts: Parts and Accessories
Foldable windshield
LED headlights and taillights
9-inch touchscreen
Seatbelts
Rearview mirror
USB charging ports
Horn
2-tone seats
Decorative strip
Customizable
Golf bag holder
Cup holders
Are Evolution Golf Carts 4-Wheel Drive?
Our investigation demonstrated that no, Evolution golf carts are not 4-wheel drive. The carts come with rear-wheel drive but aren't 4-wheel drive.
FAQ
Is Evolution a Good Golf Cart Brand?
Evolution is a good golf cart brand. It is not as renowned as an EZ-Go or a Club Car, but this may work in your favor at times because some golfers are unaware of the quality of this cart. It isn't far off some of the best premium carts around.
Can I Speed Up My Evo Golf Cart?
Yes, you can speed up your Evolution golf cart but it comes at a cost. You would have to change the motor to a high-speed one. You could also explore raising the speed of your electric engine but this could cost upwards of $10,000.
What Is the Range of an Evolution Golf Cart?
The Evolution golf cart has a range of 17 hours on one single charge. The lithium battery can last more than 40 miles on this full charge.
What Motor Is in an Evolution Golf Cart?
All Evolution golf carts have a 48V AC Induction motor drive system. The motor can vary between 4KW and 6.3KW, depending on the cart. For example, the Pro models had a 4KW motor, and the Plus models had a 6.3KW motor.
Final Thoughts
Now you know as much as there is about Evolution golf carts. Just wait until one of these questions comes up in a quiz…
We have picked one for each category, but our overall winner is the Forester 6 Plus. Due to its seating options, looks and reliability, it is a very good golf cart.
We hope you've enjoyed the piece, and if you get one of their golf carts, let us know what you think…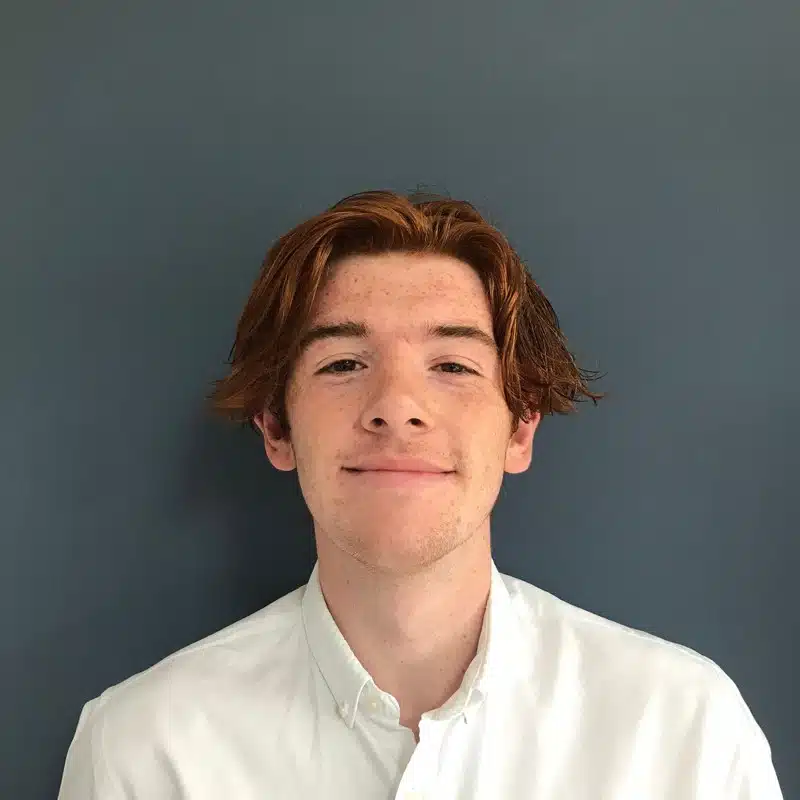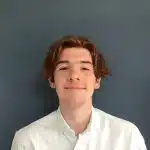 Jack was inspired by his Grandad Ron's golfing and grew up playing this great game. Now, he enjoys both playing and writing about it. He is also a big sports fan too. Jack is always looking for ways to find the edge on the course to share with readers.