Evnroll putters were only launched in 2016, but several pro players use them. Can they help your game?
The 8 best Evnroll putters are:
Evnroll ER5 Hatchback – Best Overall
Evnroll ER8v Tour Mallet Putter – Best Budget Pick
Evnroll ER2v Putter – Best Mid-Blade
Evnroll ER10 Outback Putter – Best Short-Range 
Evnroll ER7 Putter – Most Versatile
Evnroll Zero Putter – Best Forgiveness and Control
Evnroll ER11v Putter – Best MOI
Evnroll ER1.2 Tour Blade Putter – Best Classic Style
It's essential to have a putter that works for you to take your putting to the next level. I've struggled with putters and realized that the right putter for everyone can be different.
In this article, you'll learn about the world of Evnroll putters and explore the best ones from their entire putter lineup.
Read on to understand the key features, characteristics, varieties, and drawbacks. This will help you pick the best putter to fit your style.
Top 3 Evnroll Putters 2023
Best Overall
Best Mid Blade Putter
Best Budget Pick
Evnroll ER5 Hatchback Putter
Evnroll ER2v Putter
Evnroll ER8v Putter
Pros

High-performance putter
Adjustable weights
Distinctive alignment features

Consistent ball speeds, distance control, and accuracy.
Innovative gravity grip alignment aid
Provides stability and forgiveness.

Increased forgiveness and stability
Improves accuracy and consistency
Roll enhancement technology

Cons

Limited customization options
Some golfers may prefer a blade-style putter

Limited customization options
Premium price point

Limited customization options
Usually out of stock

Price Score
90 out of 100
75 out of 100
90 out of 100
Head Design
90 out of 100
95 out of 100
90 out of 100
Alignment Aids
95 out of 100
80 out of 100
85 out of 100
Technology
90 out of 100
85 out of 100
90 out of 100
Rating
4.8 out of 5 Stars
4 out of 5 Stars
4.5 out of 5 Stars
Overview of the Evnroll Brand
Evnroll Putters was founded in 2016 by the putting design legend – Guerin Rife. Rife has been designing putters for the last 25 years. He's worked in Odyssey Golf and Rife Putter Company.
Putters by Guerin have won over one hundred tournaments. Evnroll only sells putters and introduced 100% milled putters with Sweet Face Technology. This technology allowed them to create putters with an exceptional feel and accuracy.
Evnroll manufactures their putters in the USA and has won multiple awards consecutively.
Recently, a Korean company – CREATZ Inc, acquired Evnroll for $15.2 million.
Why You Should Trust Us
Our team spends thousands of hours trying out and researching golf equipment to help you take your game to the next level. Here's our product review process.
We're able to bring these reviews to you through the small commissions we earn if you buy through the links below.
How We Reviewed These Products
Golfspan only shares equipment and brands we trust.
To help you make an informed decision, I have reviewed all the Evnroll Putters and listed the best ones here. I compared the putters based on this criteria:
Cost
Distance Control
Accuracy
Forgiveness
Stability
After that, an editor reviewed and fact-checked this list. Finally, we conduct regular content audits to update and revise our reviews to ensure you receive the latest information.
Best Evnroll Putters for 2023
Pros
Increased forgiveness and stability
Adjustable weights
Budget-friendly
Improved accuracy and consistency
High performance putter
Cons
Key Features
Stainless Steel body with an aluminum soleplate
Sweet Face Technology (SFT)
Hatchback-shaped head design
High MOI
Gravity grip technology
Rating: 4.8/5
I found the Evnroll ER5 Hatchback putter to be one of the most underrated putters on the market because of its performance and price ratio.
It has a mallet–style sleek design with a combination of cutting-edge technology and advanced features.
This putter's stainless steel body and aluminum soleplate combine to create a multi-material design that optimizes weight distribution and raises MOI.
Accuracy is improved, and ball speeds are consistently maintained by the Sweet Face Technology (SFT) face milling.
The hatchback's classy yet modern design makes it great and gives you a lot of forgiveness and control. I like this putter's design and logo more than the Odyssey White Hot OG.
The ER5 has many pros, and there's a reason why it's considered the most superior model in the Evnroll family.
It's one of the most forgiving putters I've reviewed. This is one of those putters that should also help you with alignment issues.
Drawing from my experience, the Evnroll ER5 is a great putter that can give you much-needed confidence as well as improve your performance on the greens.
Who's it For?
This Evnroll ER5 putter is great for you if you need help in alignment or distance control. The putter also enhances stability and forgiveness during the stroke and is very suitable for golfers who want to increase their confidence and consistency on the greens.
Pros
Incredible feel and sound
Great balance
Increased forgiveness and control
Consistent roll and greater ball speed
Cons
Relatively heavier
Expensive
Fitting is advised
Key Features
Adjustable weights
Sweet Face Technology (SFT)
Squared-backed midsize mallet head
Alignment aids
Gravity grip technology
Patented Microgroove pattern on face
Rating: 4.4/5
The Evnroll ER8 was introduced in 2021 and so far has proven to be a reliable putter on the green.
This Evnroll mallet putter uses the Sweet Face Technology to provide better forgiveness, stability, and accuracy.
The Microgroove pattern on the face and the squared-backed mallet head provides wonderful balance and a great feel and sound.
The putter has a modern yet stylish look that increases your confidence when making a shot. This is mainly because of the adjustable weighting feature, gravity grip technology, and alignment aids to improve your putting.
The milled face of this putter is smoother than I thought, but the steel face can sometimes reflect sunlight, which is annoying.
Although this putter is expensive and a little heavier than others in the market, It can still greatly benefit you if you struggle with consistency on the green.
I prefer lighter-weight putters with stability, but golfers prefer heavier ones because they're easier to swing.
Who's It For?
Golfers looking for stability and forgiveness on a budget could benefit from the Evnroll ER8 putter.
Pros
Consistent ball speeds, distance control
Increased accuracy
Impressive grip
Easy to swing
Provides stability and forgiveness
Classic blade-style head
Cons
Priced higher
Sound at impact could be too soft for some
Key Features
Interchangeable neck system
Sweet Face Technology (SFT)
Blade-style design
Alignment aids
Gravity grip technology
Rating: 4.7/5
The Evnroll ER2v putter is a wonderful addition to the classic blade-like putter design, giving modern technological benefits while putting.
Like all Evnroll putters, the ER2v also has the Sweet Face Technology, which provides forgiveness and stability, as well as the patented Microgroove pattern on the face of the putter that gives consistency and distance control.
The alignment aids provided can help improve the accuracy when putting on the green. This mid-blade putter is larger than a standard blade and smaller than a full-sized mallet head.
During my evaluation, I found the ER2v to give a super soft feel which some golfers might prefer. But if you're like me and want to hear what your impact sounds like, this might feel too soft for you.
Who's It For?
The Evnroll ER2v is best for golfers who like to use a blade-style putter that focuses on improving accuracy, forgiveness, distance control, and stability.
Pros
Increased stability and forgiveness
Improved accuracy
Modern design
Effective on short putts
Distance control
Cons
Expensive
Not the greatest feel on impact
Key Features
Raised center of gravity
Sweet Face Technology (SFT)
Hollow-Body construction
Alignment aids
Gravity grip technology
Rating: 4.5/5
I've played a couple of rounds with the Evnroll ER10 Outback putter that I borrowed from a friend.
I got to say I loved how the Sweet Face Technology of the Evnroll putters improves the accuracy and forgiveness of the stroke.
I felt extremely confident on putts within the 6-foot range. The raised center of gravity allows a consistent and smooth roll by decreasing backspin, and the putter proved to be ultra-consistent between five to ten feet.
The Hollowed-body construction of the putter increases MOI and stability and decreases the negative effects of off-center hits. The alignment aids and the option of gravity grip technology can help in improving performance on the greens.
However, the feel and sound upon impact are slightly dull. Despite the performance, the feedback was not rewarding enough, and the overall feel of the Evnroll ER10 Outback putter could be improved.
Whos it For?
The ER10 Outback putters are for golfers who prioritize stability, forgiveness, and overall performance closer to the green.
However, those who consider the feel and sound of impact may want to look for a better alternative, such as Evnroll Zero Putter.

Pros
Increased forgiveness and stability
Better alignment assistance
Versatile mallet for around the green
Improved distance control and accuracy on putts
Cons
Usually out of stock on Amazon
Takes time to adjust and settle
Key Features
Adjustable sole weights
Sweet Face Technology (SFT)
Mallet-style head design
Alignment aids
Microgroove Pattern on face of putter
Rating: 4.6/5
Since its release, the Evnroll ER7 putter has solidified a reputation as a dependable choice on the greens.
It uses the well-known Sweet Face Technology, which provides improved accuracy, stability, and forgiveness. The squared-backed mallet head and the microgroove pattern on the face provide better forgiveness, stability, and increased ball speeds.
The adjustable sole weights and better alignment assistance increase accuracy and control when out on the green.
Even though it's a good putter, it could take time to get used to it. But that's natural for any golf club. It takes a few rounds to get comfortable with new equipment.
Who's it For?
It's ideal for golfers looking for a modern putter that gives them better accuracy and forgiveness on off-center hits and provides more control over distance.
Pros
Premium look and feel
Increased forgiveness and Stability
Enhanced accuracy and control
Strong performance and durability
Ball holder on the center
Good weight distribution
Cons
Key Features
Adjustable sole weights
Sweet Face Technology (SFT)
Precision milled 6061 aluminum body
Alignment aids
Zero offset shafts
Almost center-shafted
Rating: 4.5/5
The Evnroll Zero Putter is a fascinating piece of golf equipment. It's designed to give golfers an experience with top performance and a premium feel and sound.
The head of the putter comprises the Sweet Face Technology and the patented Microgroove pattern on the face. This gives extra forgiveness, ball speed, stability, and accuracy on off-center hits. It's made up of high-class materials that boost its performance and durability.
This putter features a zero offset shaft design that minimizes the potential for unwanted hand movement and promotes a smoother and more stable stroke. It's close to being a center-shafted putter and has a great weight balance.
The best center-shaft putters help with weight balancing, promotes a pendulum swing, and helps keep the face stay squared while putting.
The alignment assistance also makes it easy to make consistent and accurate shots.
I found the putter to be visually stunning with its modern aesthetic look, and as a bonus, it's also reliable and accurate on the green.
Who's it For?
This putter is for golfers that struggle with weight control and who need assistance in alignment and accuracy. This putter gives a wonderful balance, feel, and sound, making you more confident on the green.
Pros
Consistent ball speeds
Extremely forgiving head
Large clear alignment lines
Great MOI
Great weighting
Cons
Very Expensive
Hollow sound on impact
Too large for some
Key Features
Sweet Face Technology (SFT)
Full-size mallet head
Large Alignment aids
Made up of high-class materials
Rating: 4.3/5
Evnroll ER11v has lately become a little popular among putters with massive heads.
It's an improvement on some of the previous models as it has a massive head with large alignment lines and dots to give golfers more accuracy and forgiveness.
It has the same technology, the Sweet Face Technology, and the patented Microgroove face pattern. This leads to increased ball speed and distance control, which is apparent on all Evnroll putters.
The putter is made up of high-class materials, making it expensive and heavy compared to other putters from Evnroll. Still, it does provide good performance and stability as you keep playing.
The feel of the club is great, and you'll like that. But the impact has a hollow sound which not everyone would appreciate – especially in this budget range.
Who's It For?
The Evnroll ER11 is for golfers who can afford this expensive putter and also like to play with a heavy putter. It's suitable for golfers looking for more stability, forgiveness, and consistency on the greens.
Pros
Consistent ball speeds and forgiveness
Visual alignment aid
Enhanced roll and distance control
High quality craftsmanship
Cons
Costs more
No other lengths available
Key Features
Adjustable sole weights
Sweet Face Technology (SFT)
Blade-style design
Alignment aids
Gravity grip technology
Rating: 4.5/5
The Evnroll ER1.2 is a very good putter if you're looking for a traditional plumber neck flange blade. This is one of the Evnroll putters on tour as well.
During my review, I found the Sweet Face Technology impressive. It gives improved ball speed and accuracy, and the adjustable sole weights allow a more optimized weight distribution to increase MOI.
The craftsmanship of the putter is highly visible in its performance as it increases forgiveness, distance control, stability, and performance. The milled face on this putter gives a controlled roll.
The off-center shots from the Evnroll ER1.2 are less taxing than I expected.
I think it's a great putter that can improve your confidence and elevate your performance on greens, but you may find it to be a little expensive. And frankly, you can find some renowned putters in this price range too.
Who's it For?
Golfers who like a traditional blade-style design with modern performance-enhancing features might choose the Evnroll ER1.2 putter.
It's appropriate for golfers of all skill levels who value the look and feel of a classic blade putter while also looking for accuracy, forgiveness, consistent ball speeds, and control on the green.
What to Consider Before Buying an Evnroll Putter?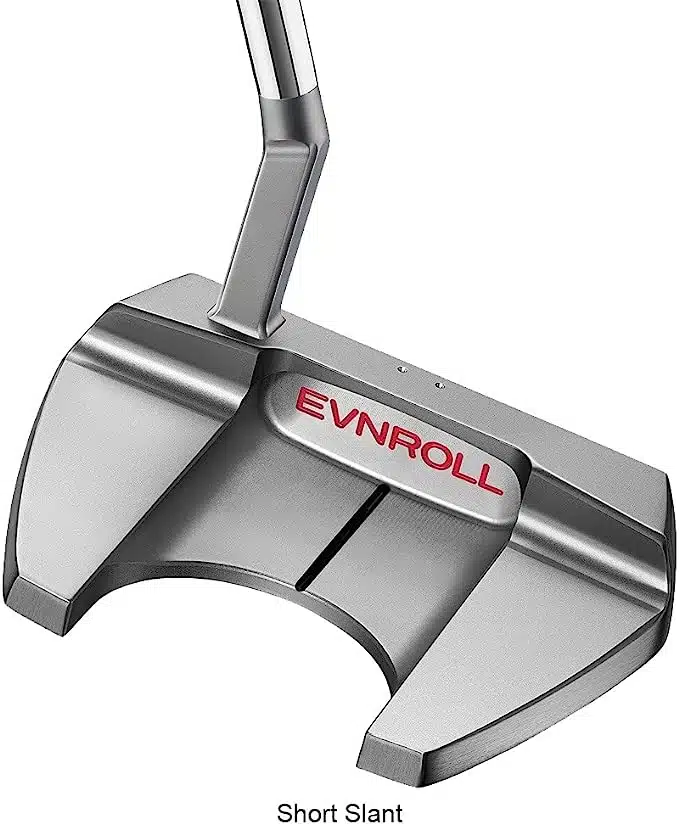 I've bought, broken, and reviewed a lot of putters, which has helped me understand what works and what doesn't.
So, let's walk through what you need to consider before getting an Evnroll putter.
1. Putter Head Design
You'll find putters available with various head designs such as a blade, mallet, or milled.
These designs offer unique qualities regarding alignment features, balance, and forgiveness. Your choice of putter head will also depend on the particular green conditions you experience.
Mallet putters are preferred for slower greens since they are heavier and have larger heads. They are useful for reducing hard strokes and enhancing control and precision.
Blade putters are better for faster greens.
Milled putters are ideal for consistency and improving putting feel.
If you have a wristy swing, a mallet head may be more beneficial to you as it's heavier and allows a pendulum-like movement of the arm to improve accuracy and reduce "wristiness".
Read more: Blade Vs Mallet Putter
2. Alignment Technology
Some putters have features like contrasting sight lines, dots, or alignment markers. These are often different in color or thickness and act as helpful visual cues to help your alignment.
3. Balance and Weight
The balance and weight of your putter plays a crucial role in staying consistent around the greens.
Some Evnroll putters have adjustable weights that you could customize to your putting stroke.
Finding the right balance for your stroke can be found by experimenting with various weights.
If you're looking for a balanced putter, check out our top picks for the best face balanced putters.
4. Feel and Sound
Evnroll putters are impressive regarding responsiveness and have a soft overall feel. It's what you'd expect from mallet-style putters.
I have found Evnroll putters to have a better feel than most mallet putters, like the Wilson or Pinemeadow mallet putters.
Evnroll putters are designed to feel soft and responsive, so it's important to know if you prefer a stiffer or more muted experience.
5. Budget
Envroll putters are not the most expensive putters. But some models can go up to $400, which is a lot, considering you could even buy a new Scotty Cameron Squareback or a used Newport 2 in this price range.
I would check out the mid-range models because they have the best bang for the buck. I would rather look for other putters if I had to spend $400 on a putter.
FAQs
Which PGA Players Use Evnroll Putters?
Several PGA Tour players have used or use Evnroll putters. Professional golfers such as Zac Blair, Ian Poulter, Lucas Glover, Phil Mickelson, and Lexi Thompson have used or use Evnroll putters. Phil has used Evnroll putter, and Ian Poulter still has one in his bag.
What Are the Dots on Top of the Evnroll Putter?
Golfers can use the dots on top of Evnroll putters as an alignment guide so the putter face is square to their chosen target line. The number and placement of the dots may vary, but they can help improve accuracy and consistency in putting strokes.
What Makes Evnroll Putters Good?
Evnroll putters are renowned for their outstanding performance and unique design elements. They feature cutting-edge technology such as Sweet Face and MicroGroove, hatchback cavity and full mallet options, and alignment aids such as dots or sight lines which provide a huge advantage in terms of performance, feel, and alignment.
Are Evnroll Putters Heavy?
Evnroll putters are designed to offer a balanced and cozy feeling during the putting stroke, with the weight distribution often adjusted to encourage a steady and smooth motion. It's important to try out a few different putters to find the one that feels the most natural and best fits your swing.
Final Thoughts
Putting is tricky. Buying a putter that works for you is trickier. Many brands are making different golfing equipment.
Evnroll putters are successfully designed and developed in a way that has always been practical and reliable to serious and beginner golfers.
Evnroll putters consistently provide golfers with accuracy, forgiveness, stability, and distance control because of their cutting-edge technology and designs.
Putting is all about feel. What feels right for you, might be different for another golfer.
In the end, the best Evnroll putter is the one that feels the most natural and is most compatible with your swing. You should always choose a putter that suits your personal preference and needs.

As a skilled golfer and wordsmith, Abdulmoiz brings a fresh and engaging voice to the golfing world. Whether he's on the course or at the keyboard, he strives to improve and inspires others to do the same.