I want to talk about counterbalanced putters. Putting never gets the respect it deserves. If you're researching counterbalanced putters, I commend you for doing what 90% of amateurs don't, and that's care about their putting. 
Chances are you've realized how many strokes putting can cost you compared to other parts of your game, and you want to change that. A strong-putting game is more attainable for the general public than any other aspect. 
Many of us 'ain't gonna hit' 300-yard drives, 2-iron stingers, or suck-back wedges. But we can drain 6-foot putts with consistency and make a 30-footer now and then. The best counterbalanced putters will help solidify your putting stroke so you can confidently read greens knowing your ball will go where you want. Let's find you a putter.  
Featured Counter Weighted Putters
What Is A Counterbalanced Putter?
A counterbalanced putter is when its center of gravity is closer to the middle of the shaft. Traditionally, putters are weighted strongly towards the head with a very light grip. Adding weight to the top end of your putter can create a more repeatable fluid stroke. 
This is separate from a face balanced putter. Face balancing is when the heel and toe of the putter are equally weighted. 
How To Test For Counterbalance And Facebalance
Hold your putter parallel to the ground and balance it perpendicularly on your index finger.

If your putter is counterbalanced, you must place your finger closer to the center of the shaft. None will ever be precisely in the middle. 

Once you find the counterbalance point, observe the face. It is face-balanced if it's pointing to the sky and perfectly parallel to the ground. 
Benefits of Counterbalance Putters
Steady and quiet movement in hands and wrist

Improves response and feel 

Creates smooth tempo 

Increases MOI for more consistent aim
Quick Overview: Our Top 5 Best Counterbalanced Putters
In-Depth Counterbalance Putter Reviews
Find the best counterbalanced putter by 'weighing' all your options (pun intended). Each has a different counterbalance point that will affect how the putt feels and reacts off the face.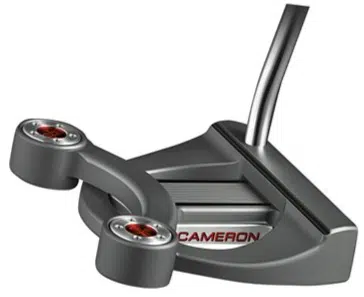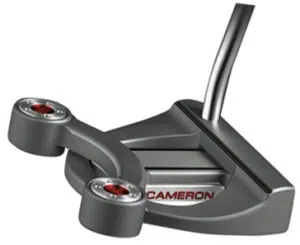 Length:

35"

Weight:

400 grams

Shaft Style:

Heel-mounted, dual bend

Grip:

Standard, +50 grams
Scotty Cameron makes the Rolls Royce of putters. The precision in their craftsmanship is unchallenged by competitors, and everyone else is just competing for second place. Counterbalancing a putter requires a keen eye to ensure proper feel, and there's no one we trust more than Mr. Cameron. 
This putter feels like it makes putts all by itself. Although the design may be a bit odd to look down at initially, you'll feel the difference it makes once you take a couple of strokes with it. 
Weights spread far and wide like that help to increase the MOI, which keeps the putter face square through impact. Counterbalance putters are experts in this arena. 
This model also boasts a very scientific club face. It's mid-milled, which means it can quickly create topspin on the ball while reducing sound and impact vibration. Other putters use more inexpensive inserts to replicate a milled style. 
[Check Prices & See User Reviews Here]
Pros
Heavier head for smooth acceleration

Weights far and wide from sweet spot, keep the face square

Added weight in the grip to steady hands

Precision milled face for consistent roll

Double bend shaft creates face balancing for even more stability

Frozen titanium finish gives it a professional and modern look
Cons
A bit pricey (but much less than a Rolls Royce)
Length:

34" or 35"

Weight:

365 grams

Shaft Style:

Heel-mounted, double bend

Grip:

Standard +104 grams
If this is your first count counterbalance putter, then you should wait before committing to a Scotty Cameron. Test counterbalance technology with much less risk by trying a Wilson Infinite. 
The basics of counterbalance are present, so you can feel the difference a high MOI putter makes. Wilson has moved the center point closer to your hands than any other putter on this list. The added 104 grams in the grip is the reason for this, and it creates an effortless stroke. 
The face is milled, which helps to create topspin fast and gives you the best feel. Larger putters like this usually mean larger sweet spots, so you want to ensure the face is responsive. That way, you can notice if your stroke is not on the right track. 
This putter has a great look at address. The matte black finish looks sharp, and the combination of horizontal and vertical lines makes any putt easy to line up. 
[Check Prices & See User Reviews Here]
Pros
Exaggerated counterbalance 

Added weight in the grip

Milled face increases feel

Large head for stability and larger sweet spot

Matte black, anti-glare finish
Cons
Overall weight is a bit light

Shaft bend is aggressive
Length:

34" or 35"

Weight:

355 grams

Shaft Style:

Standard

Grip:

SuperStroke mid-size
A fierce competitor to Scotty Cameron, TaylorMade's line of Spider putters has been very successful over the past decade. Being used by many tour professionals is always a good sign, but this model stands out as one of the best counterbalanced putters on tour.
While it's not as counterbalanced as others, its unique design creates the same feeling throughout your putting stroke. It still has a very high MOI, and the weights positioned in the back help open the sweet spot and steady the clubhead. 
This model comes with an oversized SuperStroke grip that helps to move the center of balance closer to the hands than the stock grip that usually comes with the Spider. A wider grip is excellent for players with active wrists and hands, as it neutralizes them to create a more consistent stroke. 
The matte black finish looks great and helps absorb any sun rays that could be reflected. It also has a simplified shaft setup for those who don't like the look of single and double-bend shafts. 
[Check Prices & See User Reviews Here]
Pros
Large clubhead increases MOI

Counterbalance is lower than others on this list

Weights in the back create a repeatable stroke

Matte black finish looks incredible and blocks reflection

Used by tour pros for many years
Cons
Simple grooves on the face don't provide the same feel as others  
Length:

33", 34", or 35"

Weight:

370 grams

Shaft Style:

Single bend

Grip:

Standard
This putter is not advertised as a counterbalance putter, but it sure plays like one. The head is something special that you may not expect from Cleveland. It bears a striking resemblance to a Scotty Cameron design and feels very similar. 
The clubface contributes most to the feel as it's CNC precision milled. This means it has milling inside the milling. If you look closely, you can see that between each large groove are micro-grooves to create more friction with minimal surface area contact. This feature puts topspin on your puts fast and effortlessly. 
The head is made from a softer 304 stainless steel, giving accurate feedback on all putts. You will feel exactly where you made contact so that you can improve quickly with this putter. 
The topline view is very pleasing. It's simple and provides good visuals of horizontal and vertical lines. The muted silver gives it a very professional (and Scotty Cameron) look. 
[Check Prices & See User Reviews Here]
Pros
Incredible feel from CNC-milled face

Simplistic look at address

Muted silver mimics Scotty Cameron's appearance

Softer metal provides optimal feedback

Shorter length available
Cons
Not as counterbalanced as others
Length:

36"

Weight:

350 grams

Shaft Style:
Grip:

Standard +60 grams
This counterbalanced putter is perfect as an entry point into the world of counterbalancing. It's priced reasonably and will give you a great idea of what counterbalance putters could do for your game. 
The grip is to thank for creating such a great feel for a putter at this price point. It's larger and heavier, which moves the balance point closer to the hands. You don't need to spend millions on research and development to achieve this, and Tour Edge has exploited that with this putter. 
The head design is inspired by Spider putters but is less exaggerated. The alignment lines on top make it crystal clear where your clubface is pointing. Perimeter weighting helps increase the MOI but not to the point of some of the others listed above. 
The clubface is another aspect that needs to be added to this putter. It's a grooved insert that helps put topspin on your putts but does not do it as efficiently as the more costly milling process. Players with consistent swing paths will benefit from this to fully take advantage of the counterbalance aspect. 
[Check Prices & See User Reviews Here]
Pros
Weighted grip moved balance point towards hands

Heavier head helps control swing tempo

Clean alignment lines to keep face square 

Incredible price

Center-shaft

to steady your club path    
Cons
Insert face is grooved

Made from inexpensive material
Bonus: How To Counterbalance Any Putter
If you're unwilling to part with your beloved current putter, that's totally understandable. I've been using the same putter for 15 years now, but that's after I tried almost everything under the sun. If you love your putter head but think you could benefit from more even weighting, this grip is for you. 
This grip will add 128 grams to your putter where you need it most, in your hands. No matter what kind of putter head you have, this will create a pendulum motion on all your strokes. 
It will work best with a face-balanced putter to have symmetrical weighting throughout your entire putter. I also advise you to use this grip with a mallet-style head. Smaller heads can be overshadowed by the weight of this grip, which will rob you of control through the impact zone. 
This grip is available in two different colors and is a mid-size circumference. Many putter grips are going with this size because it reduces the involvement of your hands and wrists. 
It's made with unique Winn material, making it very soft and comfortable in your hands. It's a great feeling to have on short putts to relax your hands and arms. 
[Check Prices & See User Reviews Here]
Pros
Turn any putter into a counterbalanced putter

Made from soft proprietary Winn material

Very affordable and can be removed if you don't like it

Mid-size to reduce stress on hands and arms
Cons
Might be too heavy for blade-style putters
Why You Should Trust Us
Golfspan is independent and not pressured by manufacturers to recommend products. We were not paid for the reviews in this article. Our team has over 100 years of golf experience, has spent thousands of hours reviewing golf equipment, and has hand-picked these putters. We may earn an affiliate commission when you purchase something through our retail links.
Buying Guide For The Best Counterbalanced Putters
Having a counterbalanced putter might be a new concept for many people. Still, pro golfers like Serio Garcia have tried it, so take note of the following characteristics to ensure you get the best putter for you. 
Balance Point
How much "counterbalance-ness" do you want? To see how close the weight is to your hands, simply balance the putter shaft on your index finger parallel to the ground. You'll find that you need your index finger to be much closer to the club head to find the balance point on non-counterbalanced putters. 
You may not see any with a balance point in your shaft's middle. We still want to weight the head. This allows gravity to do its thing and helps us swing the putter head consistently. 
A higher balance point will help us keep the putter face square and encourage a more straight back and straight through putting stroke. 
Head Size
A good rule of thumb is the larger the head, the more it weighs. If you prefer a smaller putter head, then you can get a counterbalance putter with a high balance point simply because the clubhead weighs less. 
The more common approach is to get a larger head with a larger grip to not only raise the balance point but increase the overall weight of the putter. This will add tempo to your putting stroke and allow you to create power without using as much strength. 
Larger heads also come with larger sweet spots. If you never miss the sweet spot, then your weight will never be off by that much. The old saying goes, "There are three important aspects to putt well: weight, aim, and weight." Control the speed of your putts, and the direction will take care of itself over time. 
Length
Choosing the right length of putter should be as easy as measuring the distance from your wrist to the floor while standing upright. However, it's not that easy with so many different ways to hold the putter now. 
The length of your putter depends on your stance first and foremost. Many putting gurus suggest that beginners hang their arms loose from their shoulders, with no bend in the elbow. For many people, this stance will benefit from a 34" length. 
If you're a bit taller (above 6'1"), try a 35". You have the correct length as long as both your hands are entirely on the grip and there is no bend in your elbow. 
If you want to venture off the beaten path, you can get longer putters (38"+) that will also contribute to a higher counterbalance point. These are typically used for forearm anchoring—see Bryson DeChambeau or Will Zalatoris. 
Face Material
Even on off-center strikes, look to a CNC-milled face for the most consistent roll. This elaborate process creates the perfect amount of friction to get your putt rolling smoothly without skidding in the first foot. 
The density of the metal will determine what each putt feels like, so you know where you hit the ball in the face. Many CNC-milled faces are made with some type of softer stainless steel. This is popular for golfers who want something in the middle, not too soft or firm. 
If you want something with a really soft feel, then look at putters with inserts. This is where the face is made from an entirely different material than the rest of the putter head. Some companies even use rubber compound inserts to create an ultra-soft and buttery feel of the face.  
FAQ
What Is A Counterbalanced Putter Grip?
A counterbalanced putter grip is heavier than standard putter grips. This is to center the putter's weight to stabilize the clubface and increase MOI. Putting more weight in the hands helps to reduce their involvement which helps putters who typically use too much wrist action. 
Can You Cut Down A Counter Balanced Putter?
Yes, you can cut down a counterbalanced putter, but it's not recommended. If you must, be sure to safely remove the grip so you can re-apply it on the newly cut putter. The grip is specially weighted to match the weight of the putter head. Removing even an inch of length will change the counterbalance point and most likely affect your swing tempo. 
Should I Counterbalance My Putter?
Yes, you should counterbalance your putter if you are currently struggling on the greens. Counterbalancing helps improve the steadiness of your stroke, which is crucial on short putts. Golfers who have trouble making putts within six feet will significantly benefit from a counterbalanced putter. 
Final Thoughts
If you're sold on the theory of counterbalanced putters and are ready to commit full-time, get the Titleist Scotty Cameron Futura X Dual Balance Putter. Yes, it's probably more than you wanted to spend, but you use your putter twice as much as any other club in your bag. Forget the big dog—which only accounts for 14 strokes of your score—and invest in your putting.  
Your scorecard will thank you.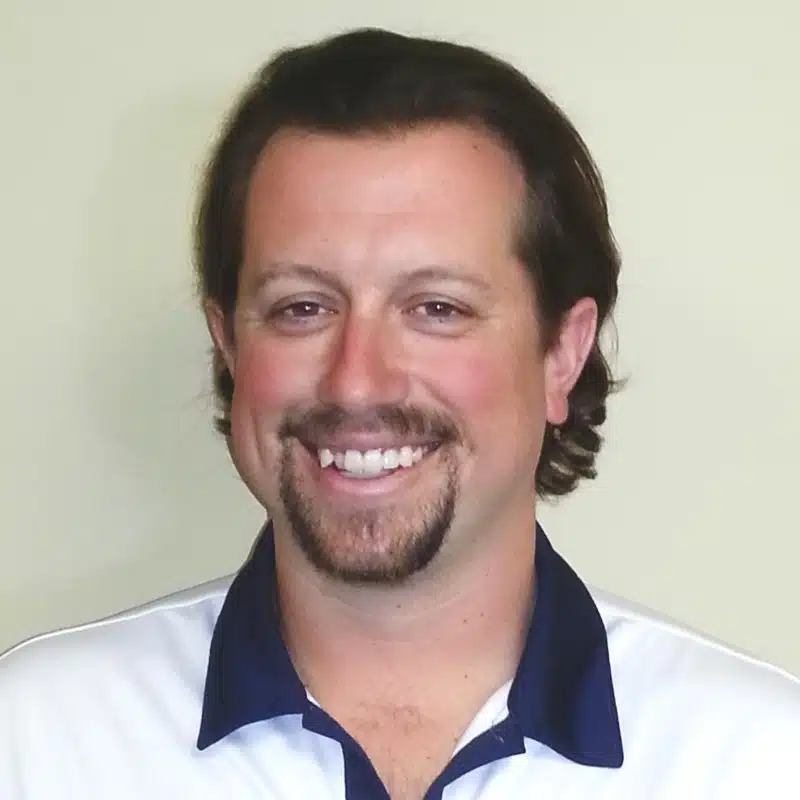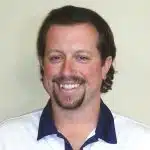 Clint became the Head Teaching Professional at one of Toronto's busiest golf academies and was featured on Canada's National Golf TV program, "Score Golf Canada," twice. He now tests and reviews golf equipment and gets to enjoy the game he loves whenever he wants while helping people lower their scores.