In 1952, Trojan partnered with Autoette to manufacture the first deep-cycle golf cart battery. Ever since then, the company has been the preferred battery for utility vehicles by 90% of the top country clubs and courses in the United States. Their popularity directly results from their batteries' reputation of having the longest life span.
In this post, we are looking at where to buy Trojan golf cart batteries, whether it's online or offline.
Where to Buy Trojan Golf Cart Batteries Overview
Trojan has been producing electric cart batteries for over 90 years, which has enabled them to build up a strong network of distributors across the globe.
You can purchase their batteries from offline distributors and online retailers depending on your preference.
While you may have a strong relationship with your local distributor and prefer to buy offline, online sales offer the highest level of convenience.
Where to Buy Trojan Batteries for Golf Carts Online
Amazon
When I saw the prices of Trojan cart batteries on Amazon, I was shocked by how high they were. But, I soon realized most listings sell batteries as bundles, significantly elevating the price. So first and foremost, pay close attention to how many batteries are on sale for each listing. And secondly, if you do by a bundle, try not to let the cost put you off. The six Trojan battery bundles, in particular, seem ridiculously expensive, but when you break it down to the price per unit, each Trojan battery works out to a cost you would expect.
Trojan Golf Cart Batteries 12 Volt — Trojan T-1275
Like everything we buy these days. You can purchase Trojan golf cart batteries on Amazon from various distributors.
The site also provides a large selection of Trojan golf cart battery options regarding voltage ampere-hours. The Trojan T-1275, pictured above, is a 12V battery, so make sure it is the one you need before purchasing.
A quick note about purchasing batteries from Amazon. You will need to be present to receive the package. This is because it is not sent via normal carrier mail. Your order will arrive via truck freight and will require you to schedule a delivery time.
Besides needing to schedule a time and be present to sign for the delivery, this is the most convenient way to buy Trojan golf cart batteries.
Trojan 8 Volt Golf Cart Batteries for Sale — Trojan T-890
No products found.
When looking for 8V Trojan golf cart batteries on Amazon, you don't have a lot of choices. Almost all listings are large bundle deals that sellers seem to be struggling to shift. However, we found one such Trojan battery: the T-890. It weighs 31 kg and is rated 190Ah.
Trojan 6 Volt Golf Cart Batteries for Sale — Trojan J305H-AC
No products found.
The popular T-105 Trojan 6V golf cart batteries are currently out of stock on Amazon, so if you need a 6V battery, you'll have to opt for the J305H-AC instead. This battery weighs 45 kg and is rated 360Ah, notably higher than the T-105, which is 225 Ah.
Walmart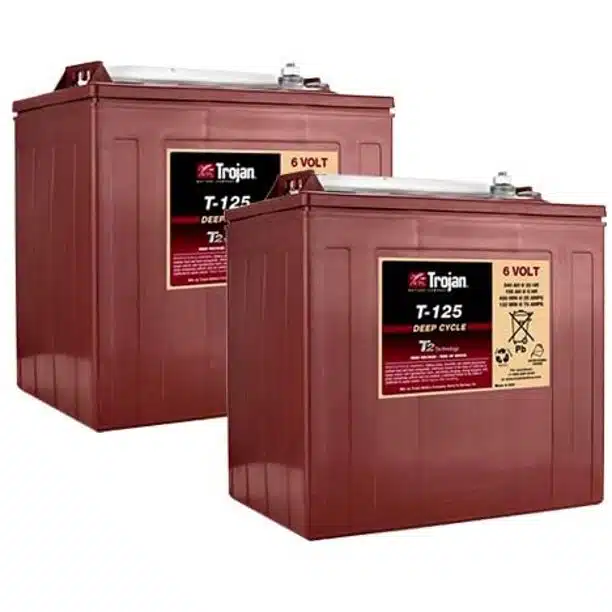 You will notice that there are fewer options at your disposal than Amazon when shopping at Walmart. There are also fewer single-battery listings, so if you're only in the market for one battery, Amazon is likely a better choice.
If you prefer to inspect your battery in person before purchasing, you can arrange to pick it up at a brick-and-mortar Walmart.
Buy Trojan Batteries Through a Recommended Dealer
Those who like to shop for batteries the old-fashioned way, and visit a recommended Trojan dealer, can still do so. Trojan has streamlined the process by adding a dealer search tool on their website.
It is simple to use. Type in your postal code and select your preferred radius. Then hit the search button and the tool will provide you with all the licensed Trojan dealers in your area. If nothing comes up on your first search, increase the distance you are willing to travel.
You can use their region search option if you need to replace the golf cart batteries in a foreign country. Select the region you are in, and search. If you can't find anyone in your city, call the nearest dealer on the list, and see if they have a contact for you.
Buying through a recommended dealer is a longer process than purchasing your batteries online. However, it does allow you to inspect the battery before purchasing. It also enables you to ask a professional any questions you may have.
Frequently Asked Questions
Do New Trojan Batteries Come Charged?
Trojan batteries arrive around 75% charged, however, you should always charge them to 100% before using them initially to maximize their energy retention. What's more, for the next 10-20 cycles you should aim to not allow your charger to dip below 75% battery life before charging. After this point, you can use it as normal.
What Is the Alternative to Trojan Batteries?
There are many great alternatives to Trojan batteries for golf carts including those by Lifeline, UPG, ExpertPower, and LiTime. The 12V LiFePO4 by LiTime and 12V ExpertPower EXP33 are particularly popular options that we rate.
Should I Buy Used Trojan Batteries?
As a general rule, we do not recommend buying used Trojan batteries as you get no warranty and no guarantee as to what state the battery is in. It could have been misused meaning it has a reduced lifespan or some form of damage.
Where Can I Buy Titan Golf Cart Batteries?
Titan golf cart batteries, like the Titan Lithium Golf Buggy itself, are available on the Powerhouse Golf website.
Can I Use a Golf Cart Battery for an RV?
Golf cart batteries work well in RVs because they can discharge as much as 80% of their energy and then recharge without any damage being done. The same cannot be said about a 12V deep cycle battery, which makes golf cart batteries a more reliable power source for an RV.
Final Thoughts
I trust this review expedites the process for you the next time you are in the market for batteries. There are multiple online and offline options available to you. As it stands, Amazon and Walmart are the best sources. They both have a fairly got variety of 6V, 8V, and 12V batteries. Moreover, both offer many bundle deals that reduce your average price per battery.
No products found.
Related Articles
Nick Lomas is the founder of GolfSpan, an avid golfer, not quite a pro but has over 15-years of experience playing and coaching golfers from all over the world. His mission is to bring the golfing community a better experience then it comes to choosing the right golf gear, and finding the right set up for your game.