I have endured my fair share of foot pain from golf shoes, but nothing comes close to the agony inflicted by heel and arch inflammation. Golfers suffering this injustice require cushioned, supportive footwear to ease the suffering.
What are the best golf shoes for plantar fasciitis in 2023?
You'll notice that most options included on this list are spikeless shoes, which I find offers a more comfortable, cushioned step than their spiked counterparts. In addition, these products are equipped with optimal insole and midsole padding and provide exceptional heel support.
Golfers searching for added cushioning, and rebound support, should bookmark our review on the most comfortable golf shoes.
Top 3 Golf Shoes Plantar Fasciitis
Best Overall
Best Budget
Most Comfortable
Ecco Biom Hybrid 4
FootJoy Flex XP
New Balance Fresh Foam
Pros

Exceptional comfort
Constructed from durable leather
Waterproof protection

Highly affordable
Breathable
Enhanced underfoot cushioning

Optimal comfort
Waterproof microfiber leather
Ultra-underfoot cushioning

Cons

Expensive
No wide sizes are available

Sizes are marginally larger than usual
The traction implodes on seriously wet turf

Sizes are marginally larger than usual
The traction implodes on seriously wet turf

Price Score
83.2
97.8
94.5
Cushioning
95.6
89.1
96.2
Arch Support
96.7
86.6
94.7
Traction
87.4
83.1
87.2
Rating
4.5 Stars
4 Stars
4.5 Stars
What To Consider When Purchasing Golf Shoes For Plantar Fasciitis
Mid Sole and Heel Cushioning
Increased cushioning is the best friend of golfers suffering from plantar fasciitis. Without sufficient padding, you will expose the soles of your feet to the shoe's outsole, leaving limited protection to ensure a soft step.
Ideally, you want to set your sights on shoes that feature cloud or memory foam, which conforms to the shape of your feet. This boosts your comfort and ensures that your feet are secured during your swing for maximum stability.
For example, the Duca Del Cosma JL1 features a memory foam insert sole, which offers a supportive, comfortable fit.
Heel Support
Besides added layers of foam, you need shoes that protect your heel and keep it secure on each step. When your heel is unsecured, it can move around, causing blisters, tension, and unbearable pain.
The G/Fore MG4+ is a prime example of golf shoes that keep your heel in place every step. A 3-dimensional molded external heel cup offers lateral support to lock the heel in place. You'll find that eliminates any risk of injuring your heel and aggravating plantar fasciitis.
Spikeless Golf Shoes
In my experience, spikeless golf shoes are the best design for plantar fasciitis sufferers, as it offers a softer feel underfoot. There is also less risk of the screws from cleats driving into the midsole, which is a painful experience, I have endured on countless occasions.
However, there are two downsides of spikeless shoes to consider. Firstly, they offer limited traction in wet weather compared to spiked shoes, and the second issue is down to longevity. As the rubber studs wear away, you lose grip on dry surfaces, and since they are irreplaceable, it calls for a new pair of shoes.
I suggest acquiring a pair of spikeless shoes to use in drier conditions. Conversely, keep a comfortable, padded spiked design for wet weather days. If your feet seriously struggle with cleats, you can opt for a high-gripping spikeless pair, such as the Under Armour Hovr Drive SL.
Arch Support
The final factor is arch support to keep your feet stable while you walk and swing. If your feet move around, it can create tension and blisters, leaving you in excruciating pain for days.
I find that the boot style is the most supportive golf shoe construction to stabilize your heel and midsole. You'll notice that the Puma PWRCAGE Saddle is an excellent example of a secure boot fit. Puma integrates nylon straps into the lacing system, which fastens the cage around your foot, and keeps it in place during your round.
How We Test These Products
Golfspan is independent and not pressured by manufacturers to recommend products. We were not paid for the golf shoe reviews in this article. These shoes were selected by our team, who have over 100 years of experience playing golf and thousands of hours reviewing products. We may earn an affiliate commission when you purchase something through our retail links at no cost to you.
The Best Golf Shoes For Plantar Fasciitis 2023
1. Ecco Biom Hybrid 4 – Overall Best Plantar Fasciitis Golf Shoes
Pros
Exceptional comfort
Constructed from durable leather
Waterproof protection
Removable and washable Ortholite inlay sole
Secures your feet
Cons
Expensive
No wide sizes are available
The Danes claim the top spot on my list of golf shoes to combat plantar fasciitis. The Ecco Biom Hybrid 4 earned my respect for its waterproof protection, exceptional stability, and cloud-like cushioning for soft steps. In addition, you'll notice that the shoes are offered in four traditional colors to pair with any slacks or shirt.
I was immediately impressed by the comfortable feel of these shoes underfoot, created by the PU midsole and removable Ortholite inlay sole. The inlay sole enhances cushioning and comfort, removing pressure from your arch and heel.
I also found that the PU Midsole and TPU side insert was a stroke of genius because they secured my feet and provided extra padding around the sides.
Besides their dull fashion sense, I enjoyed most aspects of their performance, starting with their durable, waterproof leather. I found that the presence of Gore-Tex technology kept my feet warm and dry for optimal comfort in all conditions. However, the traction, which I will touch on in a moment, struggled in heavy rain.
Moreover, you'll see the Biom Hybrid 4 lowers your center of gravity to bring you closer to the earth for robust stability. Plus, the Ecco MTN Grip further boosts balance and durability and offers rotational assistance in 3 different zones.
Rating: 4.5
2. FootJoy Flex XP – Best Arch Support Golf Shoes For A Budget
Pros
Highly affordable
Breathable
Enhanced underfoot cushioning
Impressive traction in dry conditions
Promotes optimal toe spring during your swing.
Cons
Sizes are marginally larger than usual
The traction implodes on seriously wet turf
Spending a fortune on a quality pair of golf shoes is unnecessary for the average golfer on a strained budget. Take the example of the FootJoy Flex XP, a super affordable, comfy, breathable pair of golf shoes offered in four standard colors, with olive being the most adventurous of the lot. However, these designs pair with everything in your wardrobe.
The stand-out features for me were the Soft EVA Midsole and Laser Sport Fit. This is where the comfort kicks in. You'll find that the Soft EVA Midsole enhances the padding directly under your soles to absorb the impact of each step and reduce pressure on your feet during a round of golf.
In addition, the Laser Sport Fit creates a full rounded toe character to maximize toe spring during your swing. In addition, you'll notice a narrow heel construction to secure the aft of your feet.
Next, I found that the performance mesh upper encouraged increased airflow through the shoe, ensuring dry, fresh feet on warm days. Finally, the Versa-Trax Outsole provides exceptional traction on high-impact points during your swing. I found this kept me stable in dry conditions.
Rating: 4
3. New Balance Fresh Foam – Most Comfortable Golf Shoes With Arch Support
Pros
Optimal comfort
Waterproof microfiber leather
Ultra-underfoot cushioning
Smart rubber spikeless sole
2-year waterproof warranty
Cons
Dull colors on offer
It provides less traction in the wet
I wore New Balance running shoes for 15 years before I tested my first pair of golf shoes from the brand. No matter the sport, the brand are experts in producing comfy, cushioned footwear to keep you on your feet for hours on end. The New Balance Fresh Foam earns my pick as the most comfortable golf shoe for plantar fasciitis.
For starters, you'll see that the Fresh Foam range is available in five traditional colors to pair with most of your clothing. In addition, it carries an affordable price tag which is attractive for the average golfer.
My favorite feature of these shoes is the 10 mm drop Fresh Foam midsole, which packed several padded layers under my sole. The added cushioning provides the feeling of walking on a cloud, even after hours on your feet, chasing your golf ball around the links.
Furthermore, I noticed the Molded Cush+ insole secures your foot to prevent it from sliding around and pounding the edges. I have notched up too many blisters from this issue, which New Balance mitigated.
Finally, you'll find that the Fresh Foam is equipped with a breathable upper mesh to generate airflow around the interior for dry feet.
Rating: 4.5
4. Callaway Solana TRX V2 – Best Spiked Golf Shoe For Plantar Fasciitis
Pros
Breathable upper and sides
Waterproof protection
Optimal stability
Elevated traction in all conditions
Cushioned insole and midsole
Cons
Moderately expensive
The traditional color options do not suit fashionable golfers
Most golf shoes for plantar fasciitis follow a spineless structure, as it generally offers additional padding underfoot. However, I was impressed with the comfort and protection provided by the Callaway Solana, which earned it the best-spiked golf shoes for a pain-free walk.
Callaway opted for three standard colors, which may not appeal to the fashionable golfer. But, the neutral colors will match every item in your wardrobe. You'll notice that these golf shoes carry a microfiber leather upper which is durable and breathable. In addition, it possesses Opti-Dri waterproof protection, which includes a 2-year limited warranty.
I found the 5 Spike Dura-Rubber outsole provided advanced stability and traction in all conditions to prevent slipping. You'll notice that this helps you produce optimal rotation during your swing for consistent distance and accuracy.
Moreover, I enjoyed the combination of a Forged DX midsole and the 5mm insole. The midsole offered ample cushioning and made it feel like my feet were touching the turf. Plus, the 5mm insole softened the blow on each step to leave my trotters refreshed after 18-holes.
Rating: 4
5. G/Fore MG4  – Best Spikeless Arch Support Golf Shoes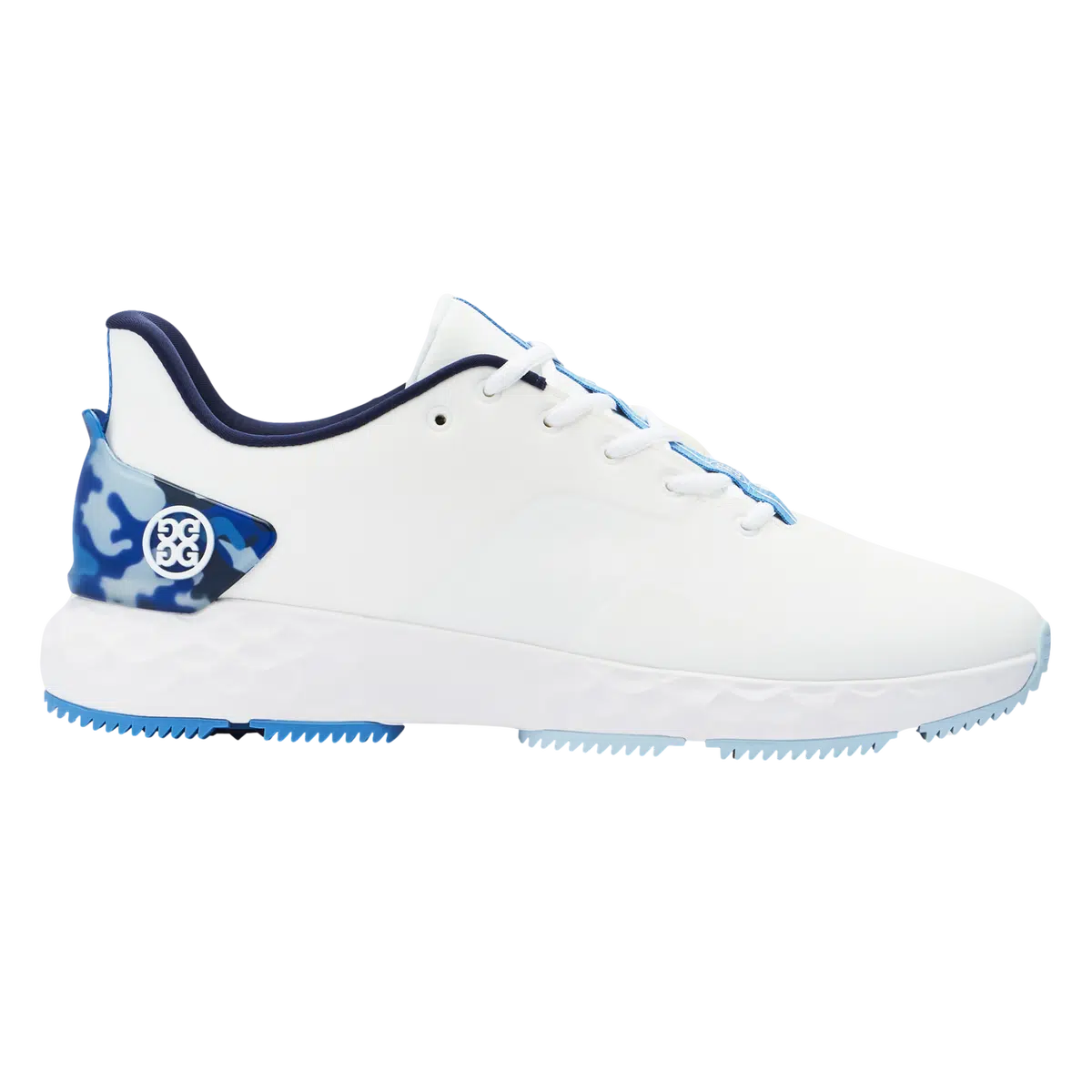 Pros
Available in seven colors
Keeps your heel locked during your swing
Wider toe box for a comfortable fit
The footed nubs massage your feet
Responsive EVA midsole boosts spring during your swing
Cons
Expensive
The 2-piece rubber non-slip outsole relinquished traction in heavy rain
The G/Fore MG4 shoes are a premium creation built to offer superb comfort, slick looks, and enhanced traction in various conditions. When they combine, they birth the best spikeless golf shoes plantar fasciitis suffers can wear in light rain and dry weather.
G/Fore produced the MG4 range in seven colors to appeal to a wider audience, including traditionalists and fashionistas. I enjoy the white and royal blue partnership, which adds some sauce to a standard white golf shoe.
In addition, you'll see that these shoes are equipped with a premium synthetic waterproof upper, which encourages consistent airflow through the interior. This ensures that your feet remain cool and dry on warm days.
Furthermore, I found that the 3 dimensional molded external heel cup keeps the back of my feet locked during my swing for optimal stability. Plus, the removable and washable insoles reinforced support with direct under-heel comfort.
I also noticed that the G/Fore Comfort System Technology Footed Nubs worked wonders for underfoot airflow and tension release. The nubs massaged the bottom of your feet on each step, while a 2-piece rubber non-slip outsole produced optimal traction in light rain and dry conditions.
Rating: 4
6. Nike Roshe – Most Breathable
Pros
Optimal breathability
Offers excellent grip in drier conditions
Soft, responsive midsole cushioning
Padded midfoot
Ideal for warm days
Cons
Limited grip on wet turf
The slightest quantity of moisture penetrates the surface and wets your feet.
On warm days, breathable golf shoes are essential to prevent sweat build-up and ensure a dry, crisp foot. The Nike Roshe generated the most internal airflow among its peers, earning it the crown of the most breathable golf shoes for plantar fasciitis.
A breathable upper and sides lure your feet inside with the promise of exceptional airflow, and the Roshe didn't disappoint. I noticed it combatted moisture accumulation and kept my feet dry, refreshed, and comfortable.
Sticking with comfort, I found that the Lunarlon midsole provided mellow, responsive cushioning for optimal spring and shock absorption. You'll feel that the midfoot also delivers exceptional padding and support around the midfoot to keep your feet stable during each swing.
Furthermore, I approve of the Articulated Integrated Traction, which provided substantial grip and stability in drier conditions. Finally, you'll notice that Nike offers the Roshe range in eleven colors, with a pair running for a moderately affordable price to cater to a wider audience of golfers.
Rating: 4
7. Puma Ignite PWRADAPT – Golf Shoes With The Best Arch Support
Pros
360-degree support
Tightens the cage around your foot for maximum support
Locks your heel in place for increased stability
Excellent traction in wet and dry conditions
Soft Ignite midsole foam
Cons
I found them tight to squeeze on initially
The wide sizes of these shoes are narrower than their counterparts.
A boot design is worth considering if your arch and heel require added support for balance. The Puma Ignite PWRADAPT is one such construction that offers exceptional arch support to keep your feet in place during your swing.
Puma created the Ignite range in 6 colors to appeal to traditionalists and trendy golfers alike. My favorite is the white and silver peacoat with a red outsole. It adds an element of character to your outfit and should pair with anything in your wardrobe.
I was impressed by the Adaptive Fit System, which offers 360-degree support through an internal bootie. It is boosted by the presence of a PWRFRAME and PWRCAGE Saddle.
The frame provides protection in high-wear areas. Conversely, the cage saddle tightens a cage around your foot for increased stability. Plus, Puma added a Heel Lock Window Cup, which comfortably keeps your heel in place during your swing.
Moreover, you'll feel the Ignite Foam, a genius midsole foam that boosts energy return and cushions each step. Lastly, Puma opted for 3-dimensional traction to help you maximize rotation while remaining anchored to the earth.
Rating: 4
Pros
Water-resistant upper
Ample traction in dry conditions and light rain
Extremely comfortable Ultra Go foam
Responsive insole for a soft, rebound
Breathable sides
Cons
The durability of the leather is questionable
It is not waterproof
If you are playing a round in warm conditions with light rain, you want a breathable pair of golf shoes that provide ample traction. I found that in the Skechers Pivot Spikeless golf shoes, which kept my feet dry and cool and produced satisfactory traction despite the soft turf underneath.
Skechers created the Pivot Spikeless range in seven colors, predominantly traditional palettes such as white, gray, black, and navy. I like the gray and lime combination because of its different finish, but it does little to conceal dirt.
You'll see that the Pivot shoes sport a spikeless design, adding to the underfoot comfort. Although the rubber traction pads held well in damp conditions, I would not trust them when in heavy downpours.
In addition, I felt the Ultra Go Foam was worth the price of these shoes alone. The ultra-lightweight and responsive cushioning boosted the spring of each step, and the Goga Max technology insole provided a soft rebound.
Finally, you'll notice that the Skechers Pivot Spikeless shoes are equipped with breathable sides and a water-resistant upper. The breathable sides promote improved airflow to keep your paws dry and cool, while the upper sheds light quantities of moisture from the surface.
Rating: 4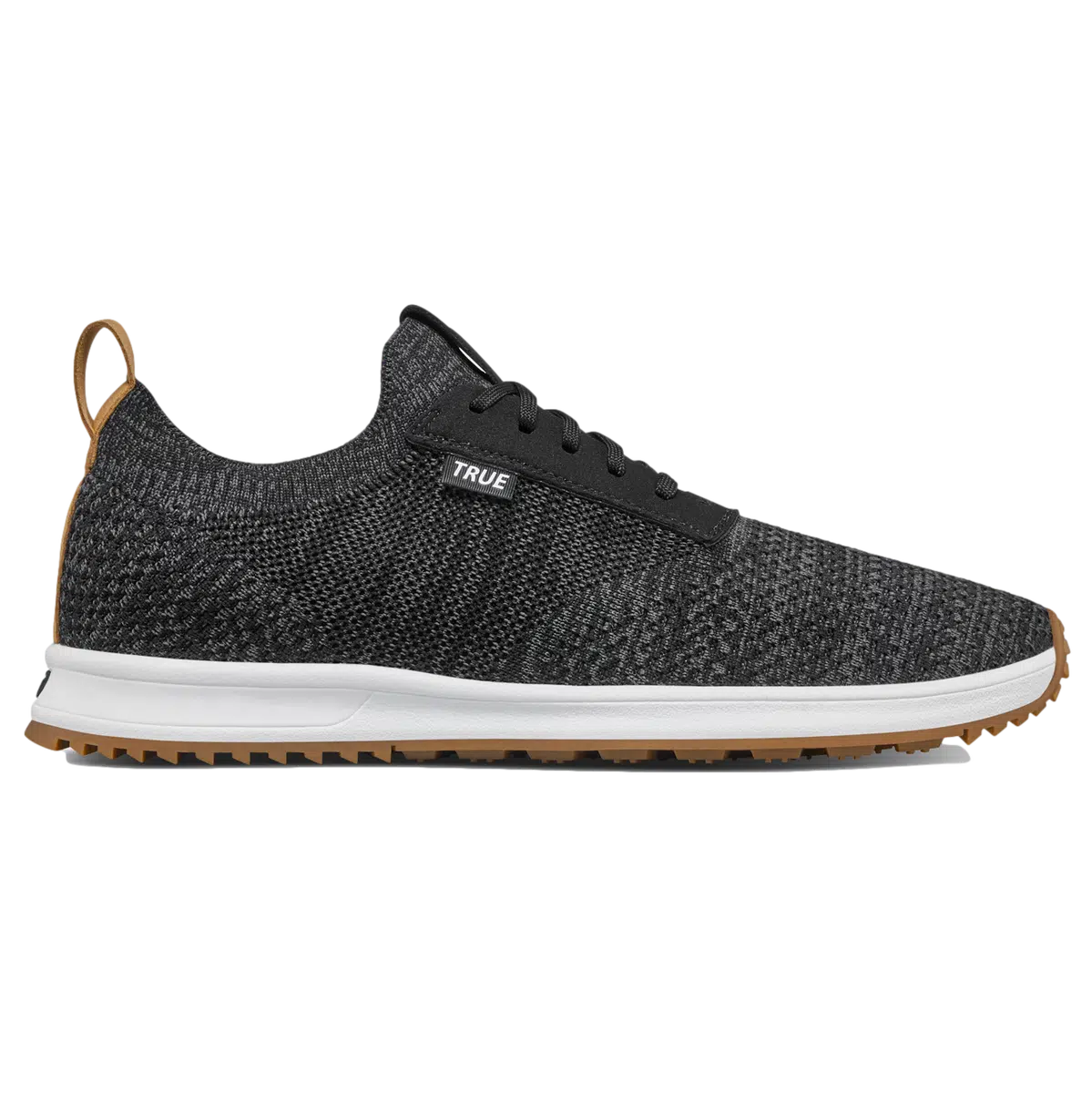 Pros
Available in 11 colors
All-terrain grip for use on and off the golf course
Comfortable and high rebound midsole
6mm transitional drop
Exceptional breathability
Cons
Expensive
I would not use these shoes in wet weather
Despite the brand's name, the All Day Knit II golf shoes are fit for wear on and off the golf course. These trendy, casual-styled golf shoes offer you an all-terrain grip, elevated comfort, breathability, and cushioning.
I was impressed with the number of color options available to you in this range. If it were up to me, I would suggest burgundy or green shoes to throw some color into the mix. However, traditionalists have plenty to contemplate, with a host of white, gray, and black variations.
Outdoor enthusiasts will notice that the True Linkswear All Day Knit II shoes contain an All-Terrain grip. This is inspired by the tread from mountaineering boots for consistent traction and off the golf course.
Besides traction, this footwear boasts a Trueknit breathable one-piece upper, which calls for wind to flow through the interior. You'll find that an Open Cell Footbed enhances breathability from the underside, reducing sweat accumulation.
Moreover, I felt that the All Day Knit II shoes dropped me closer to the surface for superior stability and traction. Plus, the Wanderlux Midsole offers increased padding to protect your feet from all angles.
Rating: 4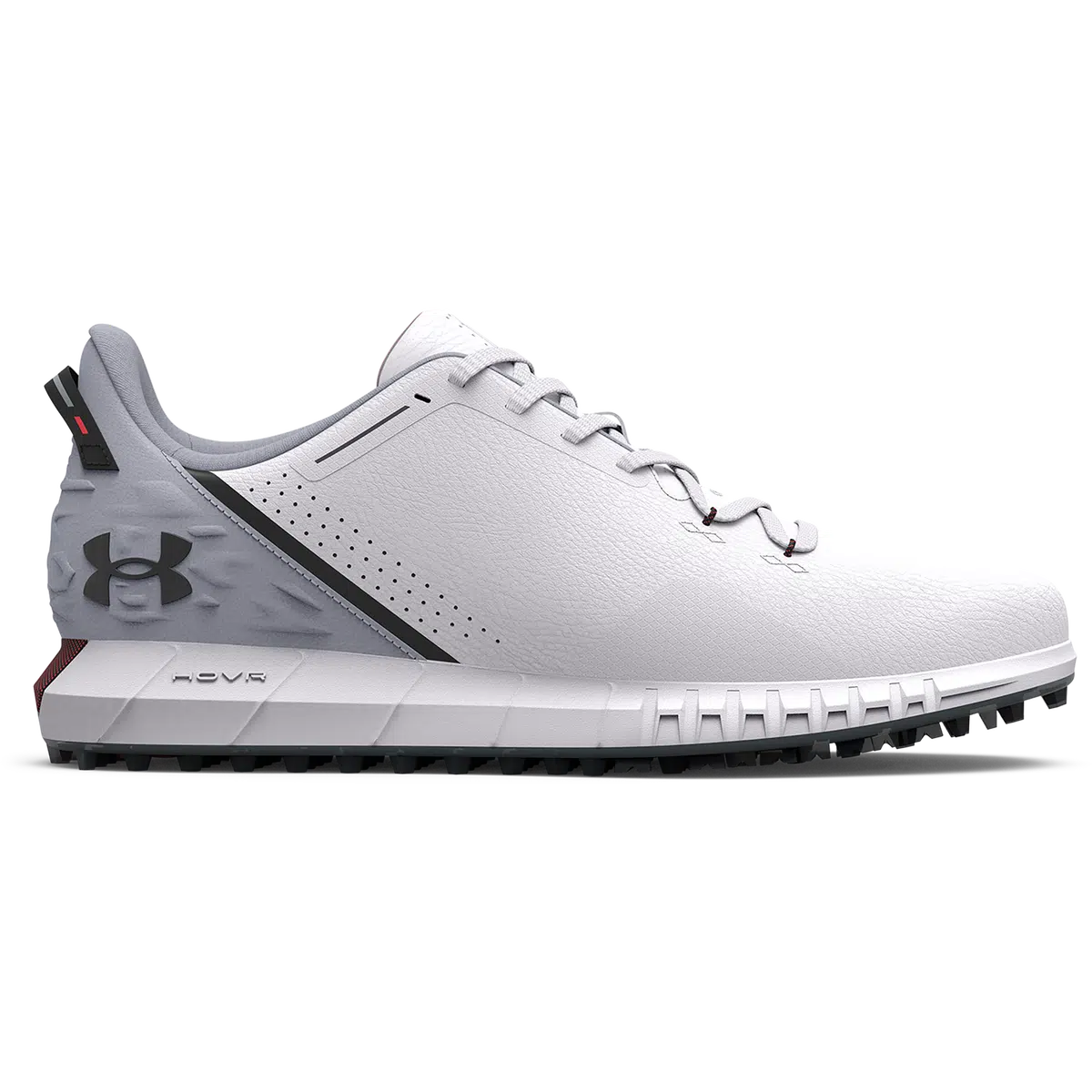 Pros
Soft cushioning
Rotational Resistance Traction enables optimal hip turn in your swing
Waterproof
Breathable
Keeps your feet secure during your swing
Cons
The rubber spikes wear out quickly
Some golfers may find the wide fit too narrow
Growing up in a subtropical climate led to numerous rounds in the rain with limited grip, wet feet, and miserable vibes. I found that the Under Armour HOVR Drive SL held up the best in these conditions and ensured enhanced grip and waterproofing.
You'll notice that Under Armour only offer these shoes in a white, and gray combination, keeping with traditional colors. However, the finish on these shoes is clean and slick, and it pairs with any color shirt, cap, or belt.
The Hovr Cushioning offered a soft, padded step and helped you boost energy return after each step. I felt it did well to keep my feet tension free, for a comfortable waltz around the links. Moreover, you'll feel the Rotational Resistance Traction offered by the outsole to boost the coil in your swing.
Finally, I appreciated the Molded Heel and Molded EVA footbed combination, which provided superior support to the back and midsole area. As a result, my feet remained stable, protected, and blister-free.
Rating: 4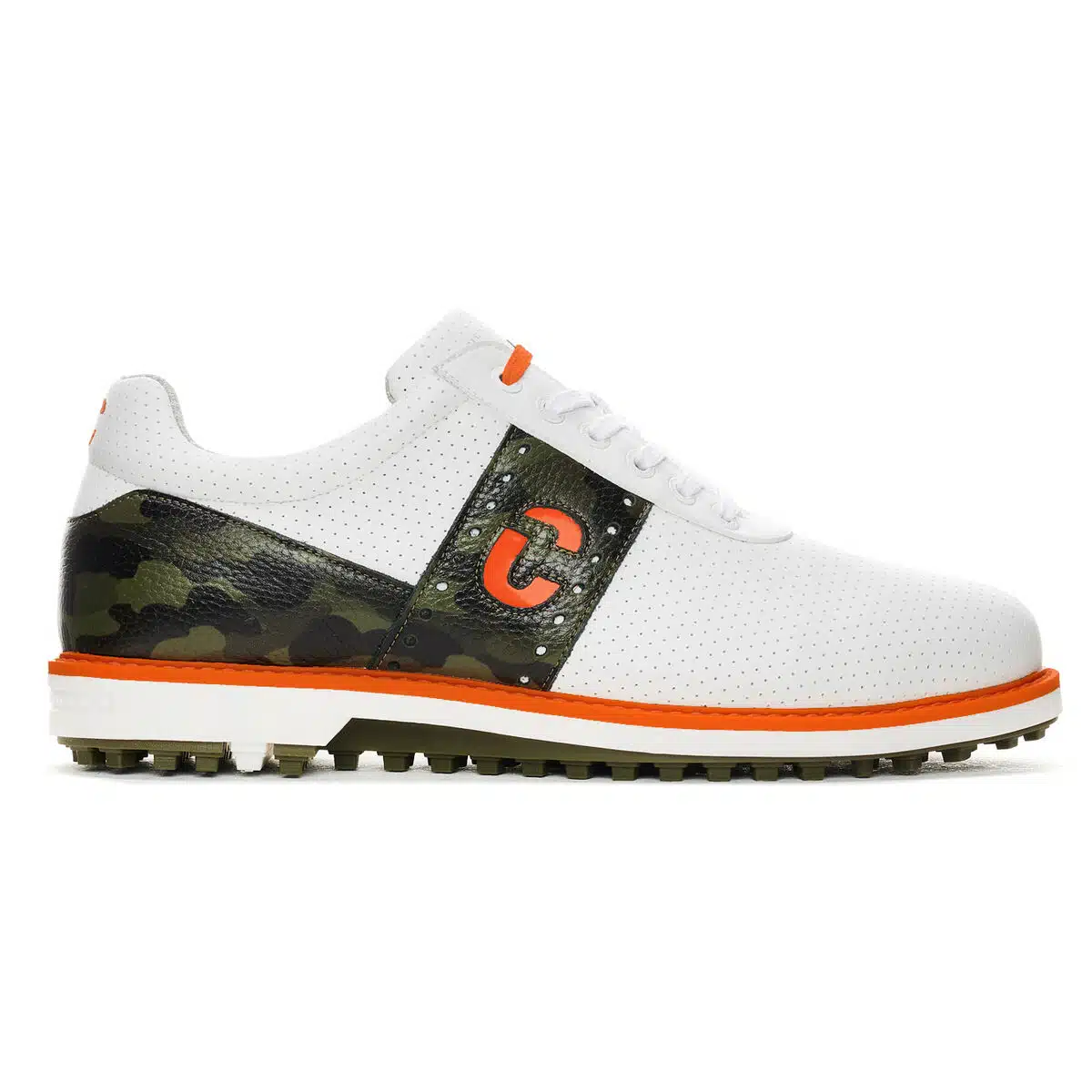 Pros
Exceptional quality
Fashionable finish
Enhanced grip and stability
Breathable
Memory foam insert sole provides superb comfort
Cons
Expensive
There are only two colors to choose from, which may not suit every golfer.
Baldovino Mattiazzo, the co-founder of Duca Del Cosma, presented the first spikeless golf shoes to the world in 2006 and has continued to innovate since then. Now headquartered in the Netherlands, the brand has partnered with fashionable Dutch golfer Joost Luiten to deliver the trendy JL1 line.
European Tour Pro Luiten is renowned for sporting the national colors of his homeland, orange, and these shoes are a perfect tribute to the character. My favorite design is the white and green camouflage Italian Nappa leather with an orange rim.
I noticed that the JL1 featured an elevated heel which secured the back of my foot and kept it shielded from impact. Furthermore, I loved the Arneflex Insert Sole memory foam, which molds around the shape of my foot for a cloud-like step.
You'll see that the JL1 is equipped with the Airplay XI spineless outsole, which sports 5mm square-shaped nibs designed to enhance stability and traction. Finally, I was impressed with the comfort of the recyclable microfibre material and cork-crafted heel support.
Rating: 4
12. Adidas Women's Codechaos – Best Women's Golf Shoes For Plantar Fasciitis
Pros
Casual look
Four stylish designs
Breathable mesh
Cushioned feel
Enhanced traction on dry weather and light rain
Cons
Not as waterproof as I expected
They provide limited grip in the wet
The Adidas Codechaos shoes are the best golf shoes for women in 2023, thanks to their fashionable looks, ample grip, and breathability. You'll see that the Codechaso range is available in four distinct patterns, including legend mar, screaming pink, core black, and footwear white.
The legend mar pattern is my personal preference because it is more likely to pair with any color you wear. Alternatively, you could consider the core black design, which is also a neutral color. In addition to its trendy colors, the upper of these shoes is constructed with 50% Parley Ocean Plastic.
You'll notice that these golf shoes offer a casual look, with comfortable internal padding to soften the blow of each step. Plus, a boost midsole improves your spring and absorbs the impact of your landing to eliminate vibrations and shocks.
The mesh upper provided minimal waterproofing and struggled to keep out light moisture. However, it made up for it by offering an element of breathability to ensure your feet remain refreshed, dry and comfortable.
Lastly, I found that the Adiwear Traxion rubber outsole held its own in light rain to keep me stable. Unfortunately, it struggles in wetter weather.
Find a broader selection of the best womens golf shoes in our informative review.
Rating: 4
13. Skechers Drive 4 – Best Orthopedic Golf Shoes For The Driving Range
No products found.
Pros
Extremely comfortable
Casual look
Breathable
High-rebound insole cushioning
Easy slip on design
Cons
Expensive
Not suitable for wet weather
Skechers is now well versed in producing fashionable, casual, spikeless golf shoes which are comfortable, breathable, and light on the feet. The casual slip-on-design of the Drive 4 golf shoes makes them a suitable pair to wear to the range, the chip-and-putt course, or for a laid-back nine holes.
The Drive 4 range is offered in the two classic colors of gray or brown, leaving much to be desired on the fashion front. However, what they lack in color and style, they makeup with exceptional comfort, cushioning, and protection.
You'll notice that these shoes sport a laid-back, slip-on design to get on and off. In addition, a lightweight, breathable wax canvas promotes increased breathability, restricting sweat build-up to keep your feet cool and dry.
I found that the Goga Max technology insole, and lightweight, responsive, Ultra Go cushioning provide a soft, comfy step. The high rebound cushioning absorbs the impact and boosts each step for maximum power during your swing.
Finally, the spineless, durable rubber traction plate kept my soles soft and safe, and the tread boosted grip in dry conditions.
Rating: 3.5
14. Puma Fusion Evo – Best Wide Fit Golf Shoes Arch Support Design
Pros
Available in 5 colors
Offers wide-fit sizes
The PWRSTRAP Fit System secures your foot
Optimal padding
Boosts energy return
Cons
Limited traction in the wet
Tght at first, but it stretched out as I started to walk
The penultimate golf shoe for plantar fasciitis in 2023 is the Puma Fusion Evo, our top pick for golfers with wide feet. Puma offers these shoes in five traditional patterns, and although boring match most color coordination.
Finding a stock of wide-size golf shoes is a nightmare. I know this because I wear wide shoes. Fortunately, Puma covers you with this highly supportive and comfortable golf construction.
You'll find that the Fusion Evo range provides 360-degree support around the foot, thanks to the PWRSTRAP Fit System. Advanced nylon straps appear in the lacing system to secure your foot for enhanced comfort and security.
The final factors that stood out were the Softfoam and Fusion Foam which cushioned my heel and midsole for a comfortable fit and enhanced energy return. Overall, it protected my feet and eradicated vibrations upon landing for a smoother walk.
If you are looking for a diverse selection of wide options, read about our best golf shoes for wide feet.
Rating: 3.5
Pros
Affordable
Breathable
Enhanced balance
Increased grip in all weather
Super soft and comfortable cloudfoam midsole and sock liner
Cons
Typical boring colors to choose from
Narrow toe box, which can cause discomfort to those with wider phalanges
The final option on our list this year is the Adidas Tech Response 2.0 golf shoes, which offer the best balance of the lot. In addition to their stability and traction, these are an affordable, lightweight, and breathable option for the average golfer.
Firstly, I noticed the synthetic upper stretching the width of the top. It performed as expected and promoted increased airflow through the interior of the golf shoes, keeping my feet refreshed and dry.
When you try on the Tech Response 2.0, you immediately notice the impact of the cloudfoam sock liner and midsole. It gives the soles of your feet the sensation of touching a soft, thick, woolen rug. Plus, the sock liner protects your ankles and reduces skin friction to limit the risk of blisters.
Furthermore, you'll see that the Tech Response 2.0 is fitted with Adiwear X-Traxion lugs that offer exceptional grip and balance. Your grip is further boosted by the inclusion of EXP cleats which bite into the turf to keep you stationary throughout your swing.
Rating: 3
FAQ
Does Golf Aggravate Plantar Fasciitis?
Yes, playing golf can aggravate plantar fasciitis. According to the United Kingdom NHS, walking or standing for long periods can onset this pain. If you do not use a golf cart, you will stand for close to five hours, which can wreak havoc with your heel and arch.
If you find walking and carrying your bag aggravates your plantar fasciitis, think about driving a golf cart.
What Shoes Should You Not Wear With Plantar Fasciitis?
The NHS recommends avoiding tight shoes with a narrow toe box or without a back. Now, on a golf course, most of these are not an issue, but shoes with cleats, reduced padding, and a loose fit must be left alone.
Overall, golfers with plantar fasciitis should steer clear of hard soles and a loose fit than causes your foot to move around during your swing.
Are Hard or Soft Soles Better for Plantar Fasciitis?
From my experience, soft soles are a far better way to alleviate the tension and pain generated by plantar fasciitis. You will typically enjoy superior cushioning and a softer step when operating with soft sole golf shoes.
Conclusion
May heel and arch pain bother you no longer, thanks to our selection of the best golf shoes for a softer feel. Now you know that advanced padding and a supportive fit are vital for alleviating the impact underfoot. In addition, opt for the softer stepping spikeless golf shoes compared to harder cleats.
Before I wrap up, let me leave you with my 3 best golf shoes for plantar fasciitis. Starting with the most comfortable golf shoes in 2023. The New Balance Fresh Foam. It features an innovative midsole and ultra-cushioning for a cloud-like feel.
Next is the best budget choice which goes to the FootJoy Flex XP. These shoes earned my respect for their breathability, traction, and comfy step. Finally, the Ecco Biom Hybrid 4 is the best overall golf shoe for inflammation, thanks to its quality, comfort, stability, traction, and padding.
To review more options before deciding, I suggest reading our review on the best golf shoes in 2023.