The best golf accessories enhance your swing mechanics, ensure comfort and give you tools to repair pitch marks. In this post, I dive into the best golf accessories for 2023, ranging from alignment sticks, gloves, and tees to ball retrievers, umbrellas, and headcovers.
After reading our review on the best golf accessories, you will learn about the must-have golf accessories for 2023. Besides touching on the usual suspects, I also mention the best speakers for the golf course, which are words you probably never thought would appear alongside each other.
Here are the 15 best golf accessories for 2023:
You can't have a great round with just clubs. Having the right accessories can help you take your game to the next level, and could even take strokes off your next round.
Read on for the pros, cons, and key features of each of the top-notch golf accessories.
Top 3 Golf Accessories
Best Overall
Best Divot Tool
Best Golf Glove
SKLZ Gold Flex
Scotty Cameron Pivot Repair Tool
FootJoy Contour FLX Gloves
Pros

Versatile device
It helps shallow the shaft on the downswing
Encourages increased lag

Pleasing milled finish
Easy to grip
Improves leverage

Contoured comfortable fit
Strong moisture-wicking materials
Super breathable

Cons

Not the cheapest accessory on the list
You may need to replace the grip a few times in its lifespan.

Expensive for a single-function divot repair tool
The milled finish does scratch easily if left in your pocket with tees and balls.

It could be slightly softer for a Cabretta leather glove
It is not the longest-lasting glove I have tried, but I am hard on gloves.

Price Score
84.3
86.9
85.3
Performance
94.6
93.1
92.9
Value
90.8
89.5
91.4
Durability
87.4
86.1
85.8
Rating
4.6 Stars
4.3 Stars
4.3 Stars
Why You Should Trust Us
Our team spends thousands of hours trying out and researching golf equipment to help you take your game to the next level. Here's our product review process.
We can bring these reviews to you through the small commissions we earn if you buy through the links below.
How We Reviewed These Products
Golfspan only shares equipment and brands we trust.
I'm an experienced golfer of 28 years and thoroughly researched and evaluated the products shared below. Then an editor reviewed and fact-checked the list. Finally, we conduct regular content audits to update and revise our reviews to ensure you receive the latest information.
To select these drivers, we considered these criteria:
Cost
Usefulness
Build quality
Durablity
Versatility
Helpfulness
The Best Golf Accessories for 2023
1. SKLZ Gold Flex  – Overall Best Golf Accessory
Pros
Versatile device
It helps shallow the shaft on the downswing
Encourages increased lag
Improves rhythm and tempo
Activates core golf muscles
Cons
Not the cheapest accessory on the list
You may need to replace the grip a few times in its lifespan.
The SKLZ Gold Flex Swing Trainer tops the golf accessories list for 2023 thanks to its versatility and effectiveness. One tool helps warm me up, enhances my swing tempo, and improves lag on the downswing for increased speed and power into impact.
SKLZ offers the choice of a 40 or 48' shaft, but I prefer the latter as it fits my height and demands greater core muscle activation. A 2.5 lb. weight combines with a highly springy shaft to teach you to control your plane and generate lag for increased power in your swing.
I find the SKLZ Gold Flex does a superb job encouraging me to shallow the shaft prior to impact. This benefits my swing path, promoting an outwards direction and helping me create added lag for increased swing speed into contact.
Besides its ability to improve my swing mechanics, it also works as a sublime warm-up aid, activating my core golf muscles. Finally, it fits seamlessly into the top slot of my bag, allowing me to carry it at all times.
Rating: 4.6
Read More: The Best Golf Gifts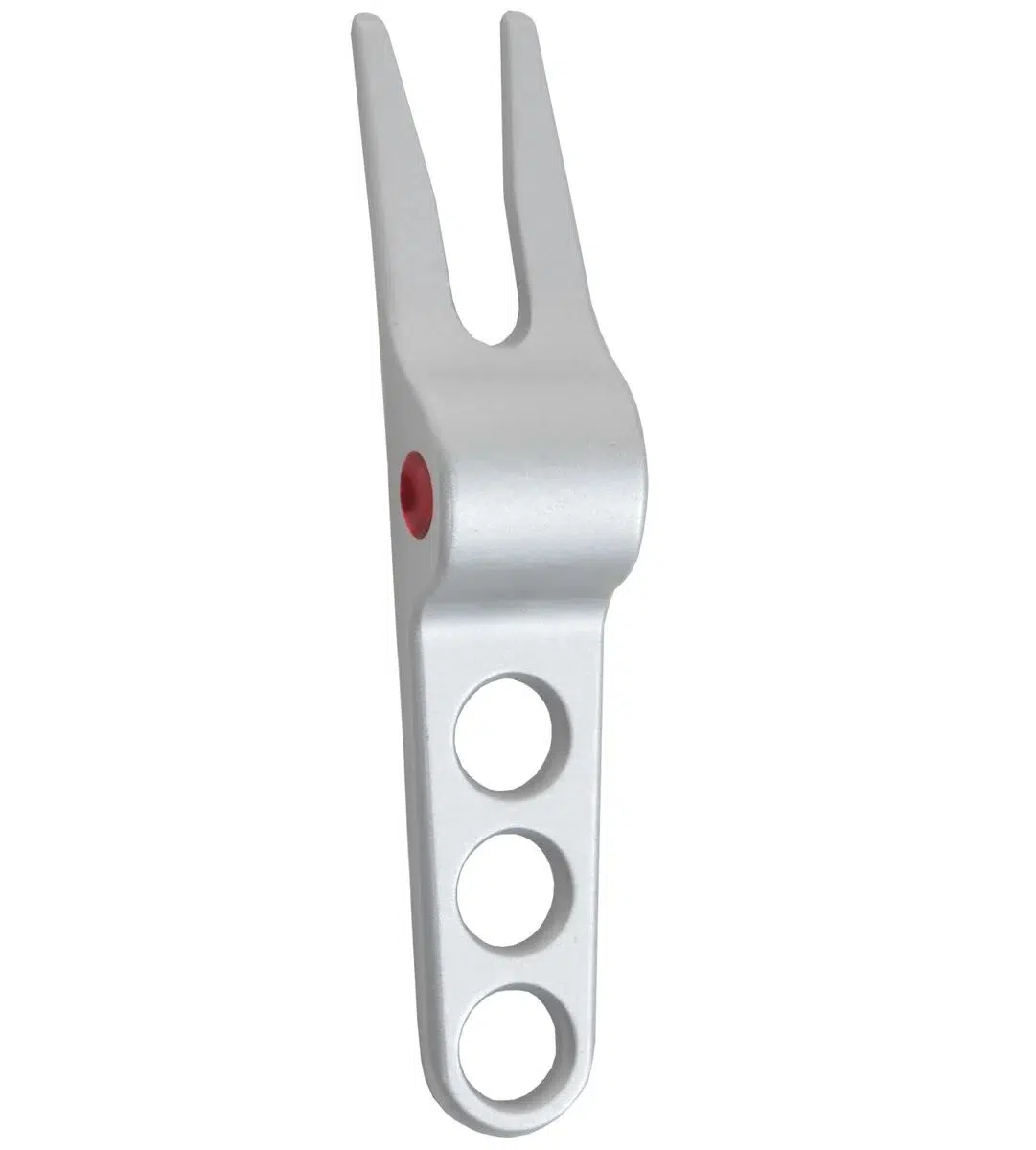 Pros
Pleasing milled finish
Easy to grip
Improves leverage
Built to limit the impact on the green turf
It is sold in a classy metal
Cons
Expensive for a single-function divot repair tool
The milled finish does scratch easily if left in your pocket with tees and balls.
The Scotty Cameron Pivot Tool tops the best golf accessories 2023 list for divot repair tools. The flat stick masters have crafted a premium design, which is easier to grasp and boosts your leverage without damaging the dancefloor.
Scotty Cameron suggests Tour professionals employ the tool in their bags for their class and efficiency. The main difference between these and other tools is their high-end tumbled aluminum finish and easy-to-hold top.
Three perforations line the handle area, which I found improved my grip over other divot repair tools. I often find a limited surface area to grip, and at times, I lose traction, and the tools fall out from between my fingers.
Finally, adding to its class is a Scotty Cameron case to keep the marker in and avoid scratching that phenomenal milled finish.
Rating: 4.3
Pros
Contoured comfortable fit
Strong moisture-wicking materials
Super breathable
Secure closure
Available in small through to 2XL
Cons
It could be slightly softer for a Cabretta leather glove
It is not the longest-lasting glove I have tried, but I am hard on gloves.
The FootJoy Contour FLX gloves are golf must-haves for 2023, owing to the pleasant feel of the glove, breathability, and contoured fit. In addition, its moisture-wicking capabilities exceeded my expectations, keeping my hands cool and dry in the heat.
FootJoy constructed the Contour FLX gloves with premium Cabretta leather, which delivers a delicate, pleasant feel. Plus, they contain sweat build-up inside the glove to keep my hands dry and traction high.
Adding to the comfort was the Soft PowerNet mesh positioned across the knuckle area. They welcomed airflow through the interior, ensuring my hands remained cool and comfortable throughout the round.
Finally, FootJoy employed a High-performance FiberSof material on the back of the hand, producing an ideal fit.
Rating: 4.3
Pros
Affordable
Three alignment sticks included
Offered in a car
Foldable design
Works to improve various facets of your swing mechanics
Cons
Durability is questionable
The foldable design leads to some sticks not sitting entirely straight
Next on our top golf accessories list is the versatile, affordable, and foldable alignment training sticks from GoSports. Three sticks are included in the set and reach 4' when fully extended, making them ideal for club and ball alignment, swing plane, and club path drills. All of which you can use simultaneously.
The foldable nature of these training sticks made them a breeze to break down and store in the tube. Plus, the tube was compact and fitted seamlessly into the top compartment of my golf bag. The only downside of the collapsable design is that some sticks are not straight, but the impact is minor.
In addition, I appreciated the spiked ends of the sticks, which allowed me to dig them into the turf. Its bright green color spices up your appearance on the driving range, appealing to fashionable golfers concerned with their looks.
The GoSports Golf Alignment sticks offer excellent value for money and are accessible to all golfers. If your budget is tight and you are looking for a versatile training tool, these alignment sticks are worth considering.
Rating: 4.2
5. HackMotion Plus – Best Golf Swing Training Accessory
Pros
Improves clubface control
Easy to use
Compare your wrist angles to tour professionals
View historic replays of your wrist angles for each shot
Real-time audio feedback
Cons
It would be nice to sync wrist data with launch monitor results for greater insight
It is a premium-priced product
The HackMotion Plus is a golf swing training aid, but it deserves its place on the best golf accessories 2023 list. I've enjoyed outstanding success with my clubface control since using the HackMotion Plus sensor.
It trains you to produce wrist flexion and extension at critical points during your swing for optimal plane, power, and club path. Using the technology, I discovered I extended my wrists before impact, steepening my attack angle and opening the clubface.
A consistent high-launching shot that faded or sliced was the outcome of these wrist angles. It trained me to start bowing my wrists prior to contact to shallow the shaft and close the clubface for increased compression and a straighter launch.
Besides my gains with the sensor, I love the interface as it is advanced, keeping data nerds like myself entertained for hours. While I appreciate the live 3D wrist model, it can chew the battery on older smartphones, like mine faster than is desirable.
In addition to its innovative interface, I enjoyed replaying previous shots and seeing what my wrists were doing at each point. Finally, I was delighted to compare my statistics to tour pros, helping me understand where I fall short in my swing.
Rating: 4.2
Pros
Affordable
Built for shots with drivers
135 tees in the pack
Built specifically built for strikes with drivers
I found it easy to press further into the ground for iron and hybrid strikes
Cons
There are no shorter tees in the pack for iron, hybrid, and fairway wood shots
Higher swing speeds may snap a few every round
One can never carry enough tees in your bag. However, the quality of the 3 ¼" Pride Professional Tee System results in greater longevity. Its multifilament composition makes it able to better absorb the impact of your driver compared to other hardwood tees.
The tees are coated white and carry a corresponding blue mark, denoting their length as a 3 ¼" tee. Pride Professional increased the length of the tee specifically to handle shots with modern large-head drivers. However, you can press it further into the earth when swinging a weaker lofted club.
Pride throws 135 tees into the package, which should cover you for an entire season. Naturally, the tees break after a couple of strikes, but I find myself going through an average of 3 to 4 per round, granted I do not lose any.
Finally, Pride Professional offers several shorter tee options better suited to irons, hybrids, and fairway wood strikes. Admittedly, I do not feel it is worth purchasing the shorter tees because I only need to push my 3 ¼" tee further into the ground for tee shots with a weak lofted club.
Rating: 4.0
Pros
Quirky design
Quality material
UV resistant
Can fit drivers and fairway woods
Resembles John Daly's headcover
Cons
Moderately expensive for a single-head cover
Not water resistant
Moving our best golf stuff review for 2023 onto driver head covers, and the top pick is a fitting tribute to one of the characters of the game. The lion head cover with shaggy hair has become synonymous with the bag of John Daly, and Daphne's allows us to sport one.
Despite being designed for drivers as large as 460 cc, I find it a tight fit, but I overlooked that because of the style, the lion added to my bag. Plus, I was impressed with the quality of the fabric, which does well to combat UV rays and preserve the original color of the cover.
Once I managed to get my driver head on, it looked sublime wearing the John Daly lion head. However, I feel like the interior is so tight it will have no issue providing a secure fit and protection to fairway woods.
Lastly, I love the plush feel the material provides, making it a pleasure to put on and remove. Unfortunately, it got soaked in the rain and took a few days to completely dry. However, that is the risk of acquiring an attractive head cover.
Rating: 3.9
Read More: Gift Ideas For Golfers Who Have Everything
8. Iron Flask – Best Golf Water Bottle Accessory
Pros
Keeps drinks warm and cool throughout your round
Available in 27 colors
Crafted in 6 sizes
Leak proof lids
100% BPA Free
Cons
Its longevity remains to be seen
Only use warm soapy water to wash it
Remaining hydrated on the golf course is essential to avoid heat stroke and to ensure optimal performance. The Iron Flask forms part of a list of essential golf accessories you should carry when you hit the golf course.
Firstly, the Iron Flask passed its ultimate objective with flying colors, keeping my beverage frosted for nine holes. Once I hit halfway house, I needed a refill, and it served me well until walking off the 18th green. Although Iron Flask suggests it keeps drinks cold for 24 hours, I only needed it to thrive for 150 minutes at a time.
Contrary to keeping my drinks cool, the flask does well to preserve the heat of coffee, tea, or hot water for early morning winter rounds.
The Iron Flask group constructed the bootle using 18/8 stainless steel, free from BPA and preventing rust. Plus, the manufacturer threw in 3 robust, leakproof lids to keep your liquids contained and refreshed during your round.
Finally, Iron Flask water bottles are concocted in 27 colors to suit every fashion sense, and they are available in 12 to 64 ounces, depending on your preference.
Rating: 3.9
Pros
Optimal coverage
Anti-inversion design
Excellent UV resistance
Soft, comfortable foam handle
Slick, Titleist players design
Cons
Expensive for a golf umbrella
Only available in black
Umbrellas are golf accessories you need, come rain or shine, to keep you and your clubs dry, cool, and comfortable. The Titleist Double Canopy brolly is your best option to ensure maximum protection in any weather without the risk of inversion.
At first glance, the umbrella is mighty simple, built with black fabric and sporting the famed Titleist logo in white font. However, once you step under it, you realize it provides exceptional shelter in the sun, rain, and wind.
Its 68" arch delivered outstanding coverage, enough to shelter my caddy and I, along with the golf bag. I also noticed the Titleist umbrella held phenomenally well in gale force winds, thanks to its double canopy and vented structure. This feature reinforced its anti-inversion qualities to remain intact at all times.
Next, I enjoyed the Soft Foam Handle, as it simplifies controlling the umbrella and keeping it in place. Lastly, I found the material generated superb UV protection, minimizing sunburn while on the golf course.
Rating: 3.7
Pros
Optimal moisture absorption
Quality cotton fabric
Integrated carabiner clasp secures it to your bag
Available in five designs
Soft feel
Cons
Pricey for a golf towel
You have to wet it multiple times during a round
Keeping your grooves free of debris and mud is essential for generating clean contact, consistent ball speed, and spin. The Nike Performance Towel offers the best solution to keeping golf clubs clean.
Nike crafted the golf towel with cotton to ensure superior moisture absorption, which keeps it damp enough for 3 to 4 holes. Although I appreciate the classic black background with the white tick logo, it is available in white, red, blue, and black with a gold tick.
I found the cotton was easy on my clubface, and the towel was effective at expelling dirt and grime from the surface. Plus, it was refreshing to try a soft towel that left no scratches on the face post-cleaning.
The final factor worth mentioning is the carabiner clasp, which always kept the towel fastened to my bag. The sturdy, durable build should hold well in the long run.
Rating: 3.5
Pros
SPF 70+ protection
Water-resistant
Works for 60 to 80 minutes when sweating
It does not block pores
Oil-free
Cons
The oil-free base makes it sticky
You have to reapply at least four times during an 18-hole round
Sunscreen is not specific to golf, but after a recent skin cancer scare, I have joined the choir to promote its use on the links. The Neutrogena Sport Face Sunscreen is excellent for golfers with its SPF 70+ protection qualities.
Besides its high-quality UVA and UVB ray protection, Neutrogena concocted the sunscreen to nourish your skin. Using an electrolyte complex, the scientists created an oil-free base that does not clog pores.
Next, the sunscreen proved effective during a warm round as it remained operative for approximately an hour when I was sweating. Of course, it meant I needed to reapply four times during my golf round.
Finally, compared to its peers, it is relatively affordable for a 2.5-ounce unit, which will last several months if you only use it while golfing. Since I require it every time I step outside, I plow through a tube every 3 to 4 weeks.
Rating: 3.5
12. Theragun Mini – Best Must Have Golf Accessories For Muscle Treatment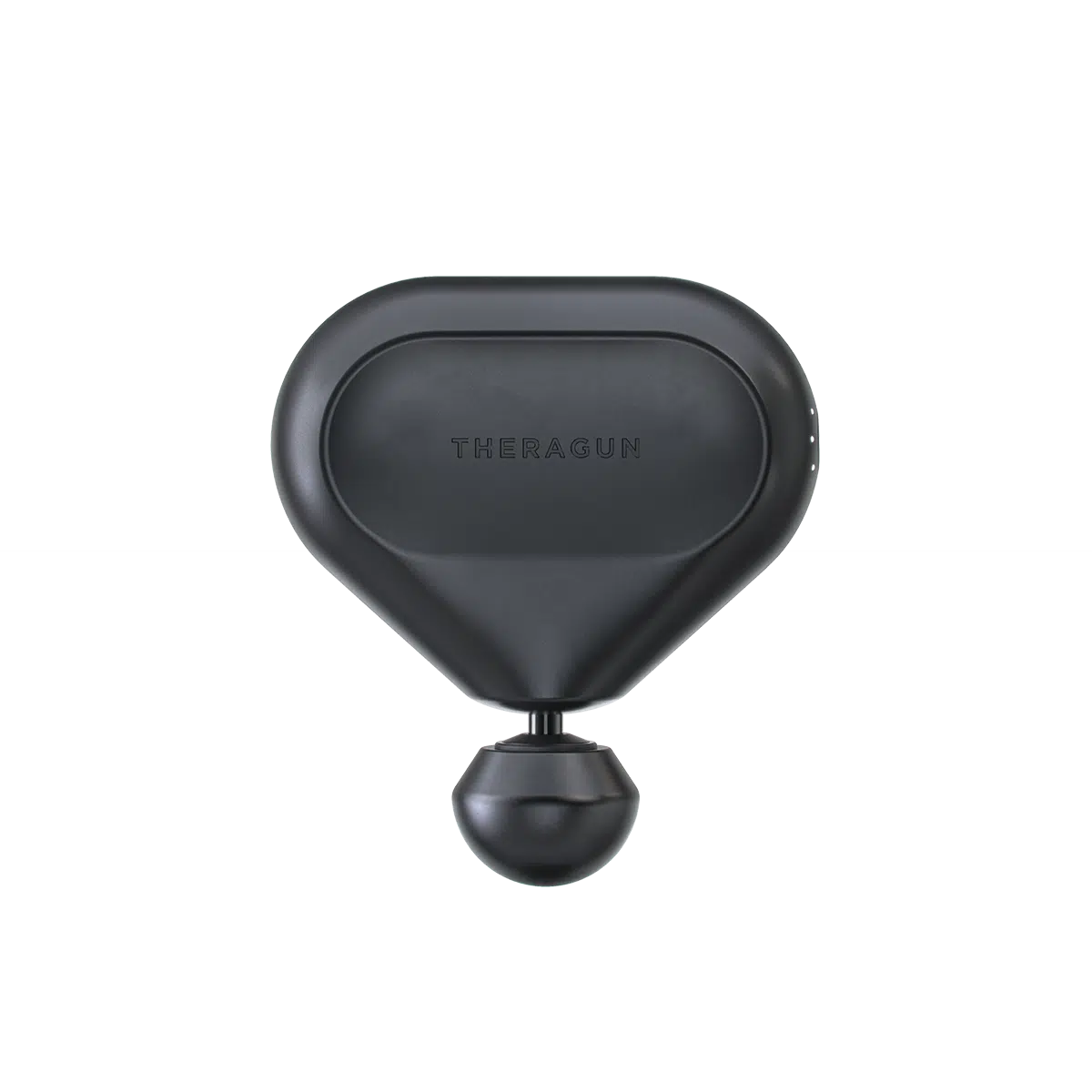 Pros
Treats muscles aches
Compact device
Portable
Features 3-speed options
The battery runs for 150 minutes between charges
Cons
Expensive compared to other must-have golf accessories
There is only one head attachment, but that is what makes it easily portable
While golf is fun, post-round aches and pains are not, and the Theragun Mini solves this conundrum. The highly portable, quiet, and powerful device is ideal for deep muscle treatment to loosen muscle knots in your neck, shoulders, and lower back. I also find it effective for treating muscles after a long run, cycle, or gym workout.
Theragun installed their QuietForce Technology into the brushless motor to enhance power and mute the audio. Thanks to its force and 3-speed options, I could dig into the knot in my muscle and quickly relieve the tension.
Next, despite its compact design, the grip was ergonomic, comfortable in hand, and easy to maneuver the golf gadget. The 1.5 lb. Mini is also optimal for transporting on vacation or work trips to destress when you are in your hotel room.
I was satisfied with the 150-minute running time of the Lithium-ion battery because I only used the massager for 2 to 5 minutes at any given time. This feature ensured I got several sessions out of the device before it was time to recharge.
Rating: 3.3
Pros
Keeps your hands warm
Warms up rapidly
Battery lasts 12 hours
Water-resistant material
Three custom heat settings
Cons
Expensive design
Limited alternative colors and patterns
Those lucky enough to get in 18 holes during the winter have to dress accordingly to ensure warmth, comfort, and optimal performance. G-Tech Apparel Heated Hand Warmer Pouch solves one challenge ensuring your mitts remain toasty during a chilly day on the links.
Winters are not extremely cold where I live, but hand warmers are necessary when teeing off at the crack of dawn. I find the G-Tech Pouch heats up rapidly, thanks to its lithium polymer batteries, Patented Heating Technology, and Advanced Fabric Technology.
Once on, it is supposed to run for 12 hours straight, three times what I needed. In addition, I noticed the pouch was efficient in resisting water and moisture, keeping the interior dry and warm during my wear.
Although the military camouflage design is not for everyone, sometimes fashion is relevant in your struggle to keep warm. Finally, G-Tech added three heat settings to the pouch to achieve your desired level of toastiness.
Rating: 3.1
Pros
Durable design
Crisp audio for the price
Easily attaches to your cart frame
Up to 24 hours of battery life
Waterproof, dustproof, and drop resistant
Cons
The bass levels could be deeper to elevate the audio
Although durable, the paint does chip off.
Speakers are not typically high on a traditional golfer's list, but younger generations enjoy blasting tunes while they traverse the links. The Rokform G-Rok Golf Speaker is built for use on the course and boasts a durable design and sensational battery life, topping 24 hours.
Rokform kitted the G-Rok speaker with a 3600mah battery which will last approximately six rounds of golf when played at 60%. Battery life aside, the speaker is easy to attach and secure to the frame of your golf cart, thanks to its instant Built-In Magnetic Mounting.
I find the speakers produce crisp sound, and it is unnecessary to pump up the volume 100%. In addition, their durability seriously impresses me. It is drop resistant, waterproof, and dustproof to improve the longevity of the speaker.
The easily portable Rokform G-Rok Golf Speaker is considerably more affordable than their legacy brand competitors, who do not make sport-specific products.
Rating: 3.1
Pros
Outstanding UV protection
Built specifically for golf
Suited to bright days on the course
High Definition Optics (HDO)
Durable O-Matter frame
Cons
Priced at a premium
Only one lens color is available
We conclude our must-have golf accessories review with our top sunglasses pick for a bright day on the course. The Oakley Holbrook Square Sunglasses are built for golf, boosting contrast and helping you better gauge distance when wearing.
The High Definition Optics is a game changer for clarity and sharper vision on a sunny day. In addition, Oakley engineers employed the Prizm Dark Golf sports lens producing a Visible Light Transmission (VLT) score of 22%, considered ideal for bright days out.
Next, I found the Prizm Dark Golf lens made it easier to identify the boundaries between fairway and rough and fringe and green. It adjusts to the color of the turf, increasing the tint when the background is light and returning to normal vision in darker environments.
I feel the O-Matter frame is incredibly durable and flexible, and it remained in one piece after falling off my head on a few occasions. Lastly, I like the cleaning and storage bag, which is simple, compact, and easy to carry in my golf sack.
Rating: 2.9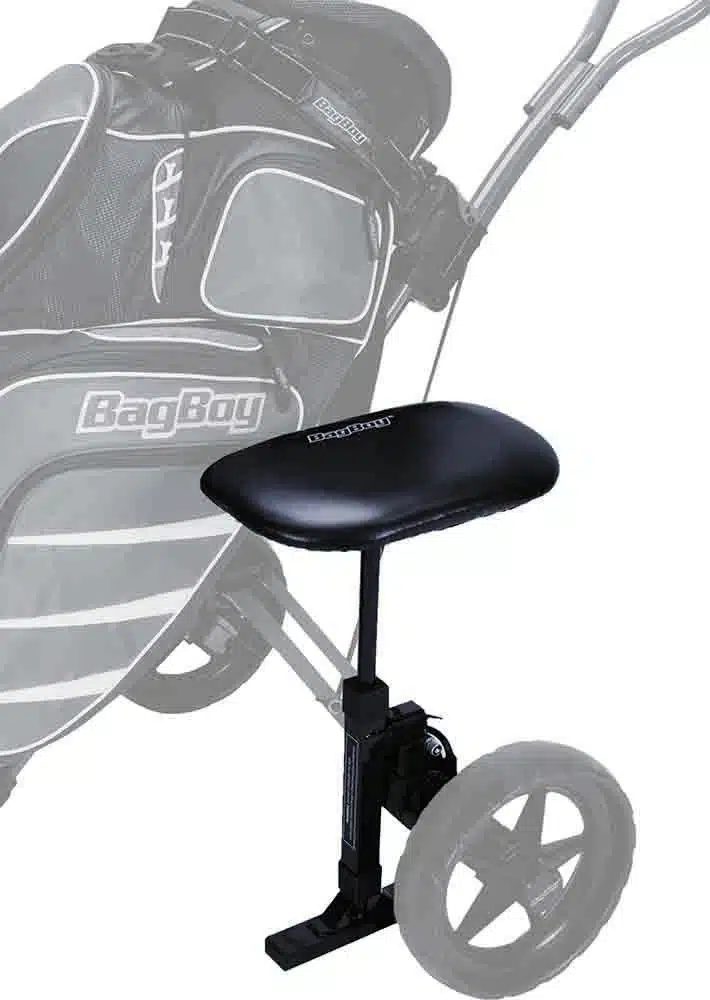 Pros
Durable steel construction
Wide base ensures maximum stability
Padded for ultimate comfort
Compatible with a wide range of Bag Boy push carts
Easy installation and removal
Cons
Adds a bit of weight to the cart (though not particularly noticeable)
Need to remove the seat before folding the cart
The BagBoy Push Cart Seat can be a game-changer for those long rounds on the course. As a golf coach, I can't emphasize enough the importance of comfort during play. This seat offers a well-deserved break to those who prefer to use a pushcart. It's especially helpful during those rounds when every player lines up their putts as if they're at the Masters.
Constructed from durable steel, this seat boasts both resilience and stability. The wide base guarantees it won't wobble, and the padding provides maximum comfort. Compatibility is a breeze – it fits the Nitron, TriSwivel II, Quad XL, Compact 3, and most other Bag Boy push carts.
Installation was straightforward, and I managed to set it up in under 10 minutes. While it does add a bit of weight, the cart's bearings compensate so well that the difference is barely noticeable. The seat's easy removal ensures the cart can be folded without any hassle.
Whether you're playing on a slow-paced course or looking for additional comfort during your rounds, the BagBoy Push Cart Seat is a stellar choice.
Rating: 4.8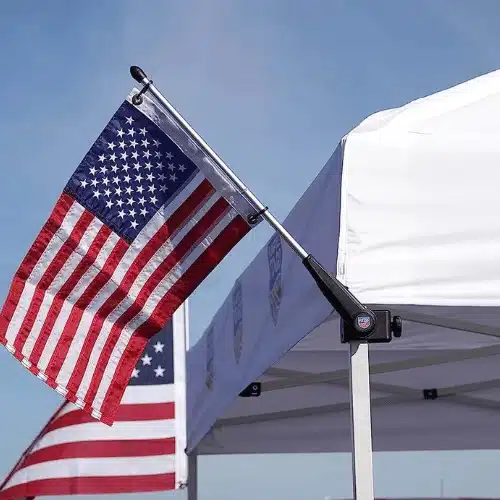 Pros
Easy attachment to frames up to 1.25″
Ideal for marking course ranger carts
Versatile design caters to personal style and flags
Durable construction ensures flag flies proudly throughout play
Anti-furl swivel clips maintain flag orientation
Cons
Only compatible with square frame designs
When it comes to personalizing your golf cart, few accessories combine practicality and style as effectively as the BagBoy Golf Cart Flag Holder. As someone immersed in the world of golf, I can affirm the importance of marking one's territory, be it for course rangers or just showing off your personal flair.
Constructed with golf and flag enthusiasts in mind, this flag holder boasts a design that ensures easy mounting on any square frame up to 1.25″. There is no need for complicated setups or tools – just a straightforward attachment, and you're good to go.
Course rangers will particularly find value in this holder. It's not just about marking the cart but doing so with finesse. The anti-furl swivel clips are a noteworthy feature, ensuring that your flag remains untangled and prominent regardless of the weather or the speed of your drive.
And for those who see their golf cart as an extension of their personality, this flag holder offers the perfect opportunity to showcase your style. Whether it's your favorite team's colors, a patriotic American flag, or any other banner that resonates with you, the BagBoy Golf Cart Flag Holder sets the stage for you to make a statement on the course.
This flag holder stands out in the vast world of golf accessories, merging functionality with a touch of style. It's a subtle yet effective way to elevate your golfing experience.
Rating: 4.7
18. Bag Boy Cart Fan 2.0 – Your Ultimate Cooling Companion on the Course
Pros
Energy-efficient adjustable speed fan
Multi-function: doubles as a power bank for USB-based devices
Flexible tripod legs ensure universal fit
Up to 20 hours of battery life depending on speed setting
Easily adaptable to various devices with tubular structure
Compact, portable, and easily adjustable angles
Ideal both as a personal accessory or a thoughtful golf gift
Cons
Battery life varies significantly with speed setting
Golfing in hot weather conditions can be a challenge, especially when the sun beats down mercilessly. Enter the Bag Boy Cart Fan 2.0 – a game-changer for those sweltering summer rounds. This fan isn't just about providing a breeze; it's a well-thought-out accessory that truly caters to the golfer's needs.
Its energy efficiency stands out. With adjustable speeds, you get to control just how much cooling you need, ensuring you're not draining the battery unnecessarily. Speaking of battery, up to 20 hours of life on a single charge is genuinely commendable. However, it's essential to note that on higher settings, this duration may diminish.
The flexibility this fan offers is another highlight. Thanks to its universal tripod legs, it can be attached to nearly any device with a tubular build. From golf trolleys to push carts, this fan is versatile in its applications. The adjustable angle ensures that you direct the airflow precisely where you want it.
But what really caught my attention is the dual functionality. Apart from cooling you down, the fan doubles as a power bank, ready to charge any USB-based device. It's compact and portable, making it a breeze to carry around or store.
In essence, the Bag Boy Cart Fan 2.0 is not just a fan; it's a holistic solution for golfers who like to stay cool and connected on the course. Whether for yourself or as a gift to a golf-loving friend, this fan is bound to be a hit.
Rating: 4.8
What To Consider When Purchasing Necessary Golf Accessories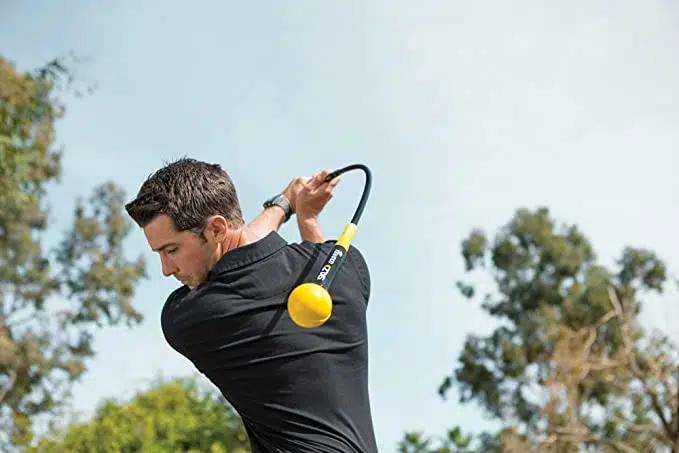 Category Of Golf Accessories
Golf accessories refer to a broad spectrum of non-essential golf products built to improve your game, comfort, and overall experience.
Golf accessories are classed as:
Head covers
Gloves
Towels
Tees
Training aids
Divot tools
Umbrellas
Ball retrievers
Drinkware
Health products
Think about what accessories are pertinent to helping you enhance your swing mechanics, shelter from the sun, and keep warm in the cold. In addition, which accessories will ensure greater control of the golf club for consistent launch, distance, and accuracy?
Value For Money
The next factor to consider when purchasing cool golf accessories is the value for money they provide. Ensure your desired golf accessory will enhance your game and warrant the money you spend on it.
For example, an umbrella, sunglasses, and a drinks bottle may not directly impact your swing. However, they resist glare, keep your clubs dry, and you remain refreshed. Without these components, you would be uncomfortable, sunburnt, and frustrated, ultimately impacting your ability to perform.
Golf Bag Weight
Your final consideration with golf accessories is the weight it adds to your golf bag. While it is phenomenal to carry everything you could need on a golf course, think about how it impacts the total mass of your golf bag.
Adding in one of everything from the above list will crowd your bag and render it too hefty to carry comfortably. Therefore, think about what is most important to lug around during your round and what you can leave at home.
Conclusion
Our best golf accessories review for 2023 shows that this is a broad category, covering everything from training aids, gloves, and golf towels to umbrellas, sunscreen, and speakers. Not every accessory on the list directly links to improving your game. However, they protect you from the elements, ensuring greater comfort.
The FootJoy Contour FLX Glove was soft, breathable, and boosted my traction, while the HackMotion Plus improved my clubface control. Finally, the SKLZ Gold Flex took top honors for versatility and effectiveness.
One device enhanced my rhythm and tempo, activated my core golf muscles, and helped me generate increased lag. Furthermore, it was an effective warm-up tool before teeing up on the first hole. Overall it sharpens your swing mechanics and encourages enhanced rotation, power, and tempo on every swing.