Golf skirts are a great way to level up your golfing attire without compromising comfort or mobility.
You'll find golf skirts from hundreds of brands, but investing in the wrong golf skirt can limit movement and make you uncomfortable, significantly affecting your performance.
After thorough research, and much trial and error, I've got a list of the best golf skirts for you so you can continue to look chic on the course.
Here are the best 16 golf skirts for 2023:
From pockets galore to playful pleated skorts and golf skirts for women, I included something for everyone. You'll find descriptions of each skirt, who should buy them, and a list of their pros and cons. So, let's get into it!
Top 3 Golf Skirts 2023
Best Overall
Best for Alternate Use Case
Best Budget Pick
Werena Pleated Golf Skirt
Callaway Ladies Pull-On Skort
Jack Smith Golf Skirt
Pros

Multiple color and print options
3 built-in pockets
High-waisted and wide elastic band

Machine wash friendly
Slimming look
Opti-Dri moisture wicking technology

No chafing
Fun, preppy look
Budget-friendly

Cons

Pricier option
White may be a little see through

Not true to size
Length may be too long

Price Score
95/100
80/100
98/100
Biker Shorts
85/100
90/100
85/100
Pockets
99/100
90/100
80/100
Fabric
95/100
99/100
85/100
Rating
4.3/5
5/5
4.1/5
What Are Golf Skorts?
Skorts are basically skirts with attached biker shorts underneath them. Skorts are special skirts designed specifically for women to play sports.
Mostly, women playing tennis or golf choose to wear skorts.
Golf skirts are usually more straight and slightly longer than tennis skirts. They may have small slits running down the side for better mobility. Some may contain pleats, while others are more form fitted.
Although they look the same, golf skirts differ from tennis skirts. Tennis requires much more running around, so those skirts are made from a more stretchable and breathable fabric.
Check out this article to learn the differences between golf skirts and tennis skirts.
Why You Should Trust Us
Our team spends thousands of hours trying out and researching golf equipment to help you take your game to the next level. Here's our product review process.
We're able to bring these reviews to you through the small commissions we earn if you buy through the links below.
How We Reviewed These Products
Golfspan only shares equipment and brands we trust.
To help you avoid wasting so much time watching golf skirt videos, I have checked out over 100 reviews of around 45 of the most popular golf skirts. Then I compared reviewer opinions based on these criteria:
Cost: I reviewed prices of the best golf skirts in each category and listed the best value ones.
Comfort: Ladies want to stay comfortable during golf, so I included the most comfortable skirts based on user reviews and videos.
Style: You don't want an affordable, comfortable skirt that looks below par. So I included products with a balance of style, comfort, and cost.
After that, an editor reviewed and fact-checked this list. Finally, we conduct regular content audits to update and revise our reviews to ensure you receive the latest information.
16 Best Golf Skirts for 2023
Pros
Multiple color and print options
Three built-in pockets
Budget-friendly
Built-in biker shorts
High-waisted and wide elastic band
Cons
Rating: 4.3/5
Werena is one of the best and most slept-on athletic skirts out there. Their pleated golf skirt is one of the best skirts on the market.
It's made from 5% spandex and 95% polyester, giving it the perfect blend of elasticity and breathability. It comes in 20 different colors and patterns, so you're spoilt for choice when buying one of these.
The cute preppy design with the pleats also makes it great athleisure wear that you can style both on and off the course.
Although the skirt has multiple pros, the winner is the multiple-pocket design. I'm sure all of you ladies can relate when I say that pockets are absolutely necessary. Well, the design team at Werena heard your cries and gave you not one or two but three separate pockets to keep your phones, cards, and even golf balls and tees in.
The high waistband allows you to tuck in any stomach securely rolls you may have and provides great support.
Who's it For?
This Werena skirt is great for women of all sizes and colors. The wide range of color and print options lets you choose the color that compliments you best, and the seven size options cater to women of all sizes.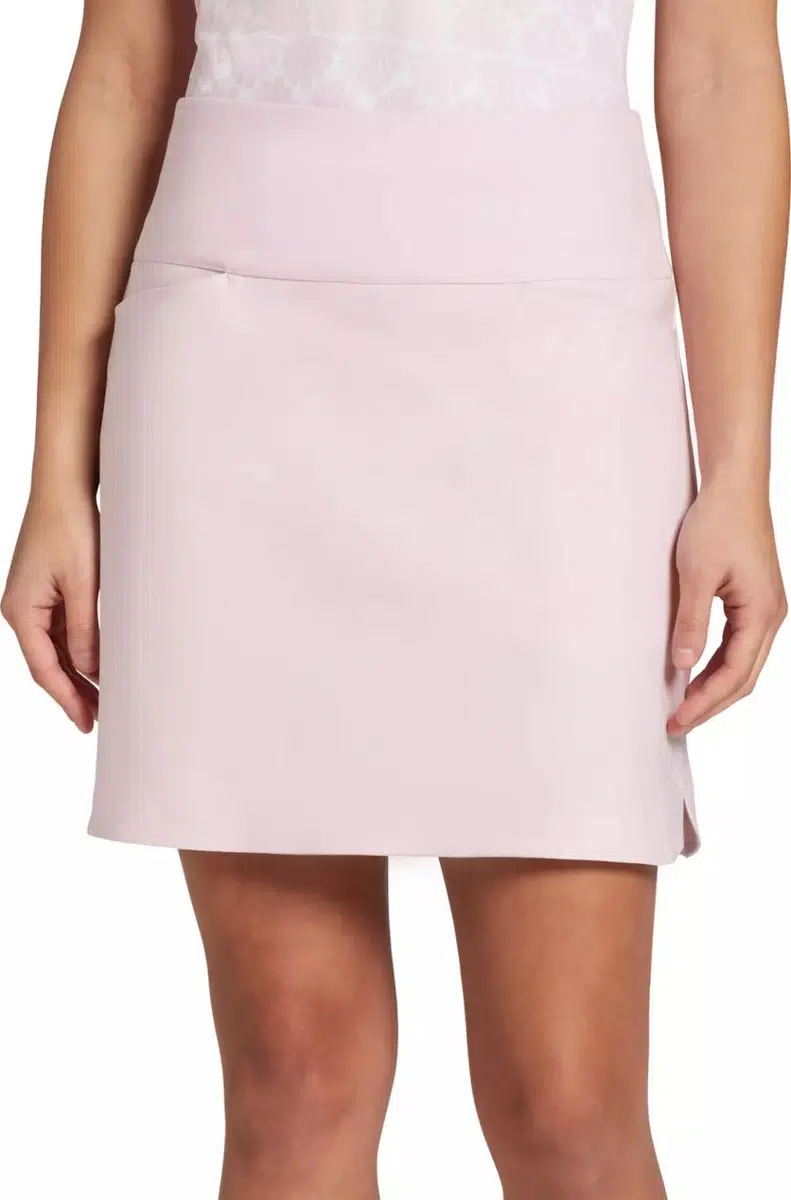 Pros
Pockets
Inbuilt biker shorts
Good coverage
Flattering design
Cons
Rating: 4.7/5
The Lady Hagen plus-size golf skort provides a great flattering option for women of all shapes and sizes.
They have a wide size range, ranging from XS to 3XL. The length varies according to size, but they're long enough to meet golf club guidelines.
This skort contains a tummy control mesh panel to safely tuck away any extra skin while still complimenting your natural body. The drop tail hem ensures your skirt will not ride up as you bend to pick the ball.
Besides being stretchable and breathable, the skort has pockets — a clear winner every time.
Whos it For?
Although Lady Hagen designs are specifically made to accommodate our plus-sized queens, they're just as flattering on thinner girls as well.
Pros
Machine wash friendly
Earphone cable hole
Budget-friendly
Hidden pockets
Elastic closure
Cons
Size may run small
Thin fabric
Rating: 4.3/5
The Baleaf women's athletic skorts are made from moisture-wicking fabric that keeps you fresh and dry, even during a hot summer day.
I love that the fabric can easily be washed in the machine because it saves time, and you don't have to run to the dry cleaners.
The fabric is also slightly reflective – you won't look like the roadside cat eyes at night, but you won't fade in the dim light either.
Baleaf considered the little details when designing this skort because it even has a headphone cable hole! How great is that?
This could be a game-changer if you like to listen to music while playing golf.
Who's it for?
For all the golfing ladies who love staying comfortable and enjoying golf while listening to music and swinging their clubs.
Pros
Multiple pockets
Stretchable fabric
Multiple color and print options are available
Hidden drawcord
Cons
The length may be too long for some
Preferred handwash or dry cleaning
Rating: 4.4/5
These skorts by HonourSex are the perfect example of athletic but cute women's golf skorts. They're one of the best golf skorts for women and one of the best skorts for 2023.
The ruffled skirt is flattering on both younger and older women, and the in-built biker shorts are one of the best-attached biker shorts.
The fabric is 90% polyester and 10% spandex, providing the perfect stretch yet remaining light and breathable.
HonourSex knew that women wanted pockets, so they gave 5! You will always have pocket space if you wear these skorts.
Although this skirt is delightful, the material and color downgraded a little after I tested it in the washing machine a few times. So it's preferred to hand wash these skorts or send them to the dry cleaner.
Who's it For?
Women tend to carry ten different things in their hands since they always need more pocket space. With these skorts, pocket space is not an issue.
Pros
Multi-purpose design
Budget-friendly
Breathable material
Elastic waistband with hidden drawcord
Cons
Usually out of stock on Amazon
Sometimes sizing is non-uniform among different colors.
Rating: 4.4/5
Cityyoung's women's golf skirt is a great mixture of a curve-hugging yet flowy design. I loved how these skorts were straight from the front and added the perfect amount of pleats at the ideal height at the back.
They're chic and cute golf skirts that can easily be paired off the course with a simple tube or tank top.
Although they're made for golf, these ladies' golf skorts can create an excellent cheerleading uniform.
Cityyoung came out with multiple colors and patterns for these skorts, but my favorite is surely the black golf skorts. Even though it's fun to change your look with a print here and there, you can never go wrong with a black golf skirt.
Who's it For?
For the ladies that have golf at 8 am and need to catch breakfast with friends at noon. You can easily style them for sports or a morning out.
Pros
Very stretchable
Machine wash friendly
Soft and breathable material
Budget-friendly
Cons
Inbuilt shorts tend to ride up
The material feels too thin
Rating: 4.2/5
These multi-purpose skirts by Blevonh are great for golf, but you can also wear them while playing tennis, badminton, or swimming. The material is light and breathable, and these skorts have a lot of stretch.
For women, chafing is often a major issue; if you've experienced it, you know just how painful it can get. These Blevonh skorts contain a longer inseam that prevents chafing no matter how you move.
The high elastic band provides good support while tucking your tummy roles right in. The material is also durable, so you can easily throw them in your washing machine without damaging the fabric.
Who's it For?
Those who aren't sure which size to get when buying skorts online. These Blevonh skorts are quite forgiving when it comes to sizing. The extra stretch allows you to fit even into smaller sizes.
Pros
Machine wash friendly
Slimming look
Opti-Dri moisture wicking technology
Flattering design
Cons
Rating: 5/5
Callaway is a leading brand in golf balls and clubs, so it's no surprise they also came out with high-quality golf skorts. This 16-inch golf skort by Callaway is elegant and gives you a luxe feel.
From a first look, the skort seems straight and compact, but with 13% elastane in its material, it provides great stretch and movement.
As soon as I touched the fabric, I knew it was high quality, and that's what Callaway is known for. It's firm and thick enough to reduce tummy bulges and gives you a slim look. At the same time, the fabric feels thin to allow good air circulation and breathability.
The subtle flare at the bottom of this skirt also looks quite flattering as you rotate your body to swing the club.
Who's it For?
For the golfing woman looking for the perfect golf skort that makes you look elegant and flattering.
Pros
Chic design
High-quality material
Compression shorts underneath
Cons
More expensive
Limited size options
Shorts show from the side slit
Rating: 4.1/5
These skorts from Adidas with the classic three-stripe logo look stylish. I love the slight cutout edge on the corner since it's different from most skort designs.
These Adidas skorts are thin and curve-hugging yet provide great mobility. They also have three pockets, 2 in the front and one at the back, that provide enough space and grip to hold heavier items such as your phone, etc.
The compression-fit shorts underneath provide a good grip, hiding any unwanted thigh bulges.
Who's it For?
For the golding woman tired of the same cutouts on golf skirts and looking for something different but still classy.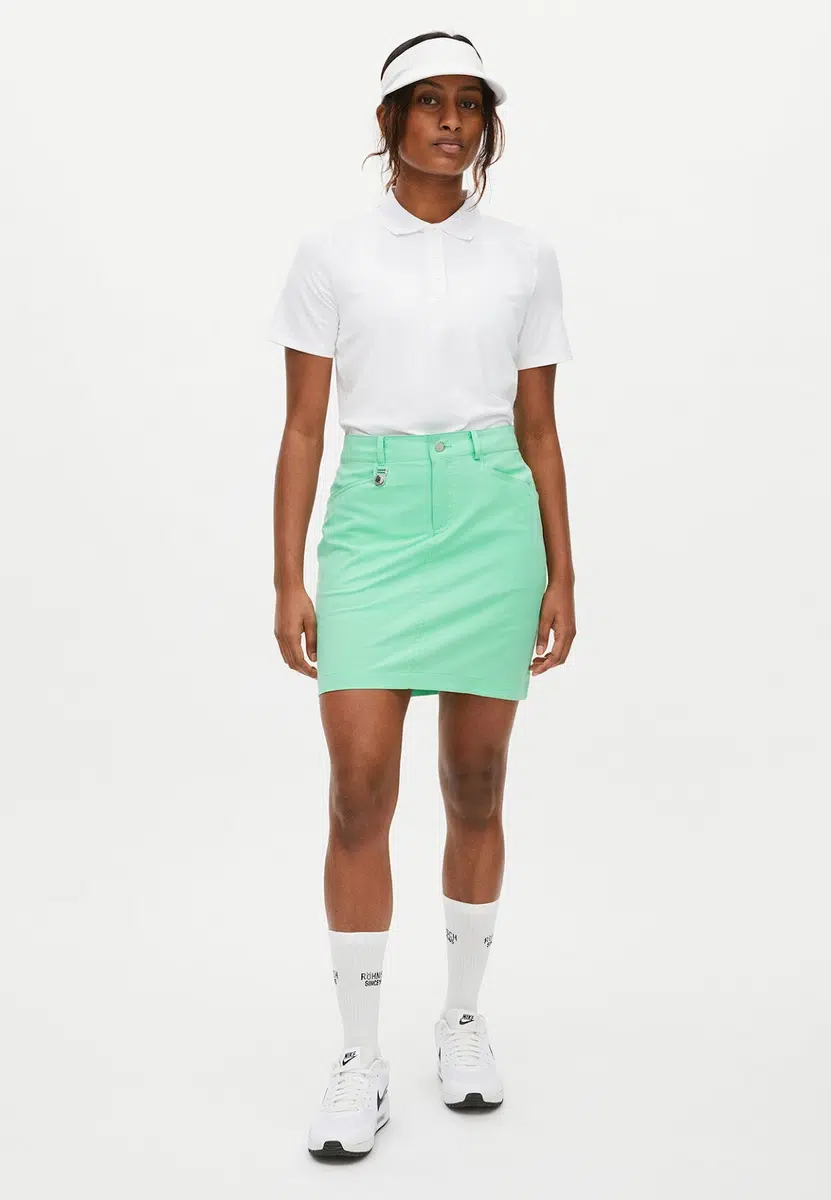 Pros
Breathable material
Wide color range
Different length options
Wide range of size options
Cons
Fabric only stretches in one dimension
Rating: 5/5
The Rohnisch Seon skort is different from most skorts within this article. Instead of an elastic waistband with drawstring closure, this skirt has belt loops and a front button.
It's one of the more formal golf skorts and is one of the most popular skorts by Rohnisch.
I love that the skirt comes in two different lengths so that you can choose your preferred size based on your preference and your golf club's guidelines.
The skirt also has four pockets, two in the front and two in the back, which is great for keeping your phone, keys, scorecard, etc, safe.
Who's it For?
This skirt is great for golfers looking for a more formal look for golf tournaments or even for normal practice days on the course.
Pros
Light, breathable material
Flattering design
Elastic closure
UPV 50+ UV protection
Cons
Rating: 4.6/5
Adidas is killing it when it comes to golf skorts, and it's only fair that I mention another one of their leading golf skort designs.
The Ultimate 365 Knit Frill Skort is trendy and gives a playful look with subtle frill detail.
I like how the skirt snugs you at the waist and hips, giving a flattering look, and then gets looser lower down, giving a younger feminine touch.
Unlike other skirts, this skirt isn't high rise, so it won't do a great job hiding belly fat, but even with a mid-rise look, it still compliments your body.
Interestingly, Adidas also added UPF 50+ UV protection to the skirt. Imagine all the benefits of sunblock but in clothing form.
Considering how we golfers spend long hours in the sun during golf, I'm surprised more brands haven't caught on.
Who's it For?
For all athletic women looking for a good blend of classy yet playful. It's also great for sensitive skin since it'll keep the sun away from your thighs. You can pair it with leggings from Adidas for full sun protection.
Pros
No chafing
Fun, preppy look
Budget-friendly
In-built shorts
Cons
It may not be true to the size.
Rating: 4.1/5
This Jack Smith golf skirt is modern, unique, and super budget-friendly womens golf skirt. The look, feel, and material are quite worth the price.
It's covered in pleats from front to back, making it much more flowy than other golf skirts. It's the perfect feminine golf skirt for those looking for something out of the box.
The multiple pleats give it a preppy look, and you can always double it as a high-school cheerleading uniform. I can almost picture my grandmother wearing something like this in the 1960s. So if you're into the retro aesthetic, these are surely for you.
The attached shorts ensure you're covered from down under no matter how you move. They're also high-waisted, giving you the perfect snatch at the waist.
You can either tred waters with the black or white pleated skirt or dive into the ocean with the bolder printed options.
Who's it For?
For the golfing ladies that aren't afraid to stand out from the crowd, the ones that want to express their unique personality.
Pros
Pockets
Wrinkle free material
Soft and breathable material
Hidden drawstring closure
Cons
Length may be too short
Difficulty finding the right size
Rating: 4.4/5
These skorts by CRZ YOGA are one of the most flattering golf skirts out there.
It's shorter than most golf skirts, so you may have to check your golf club's clothing guidelines. But if it fits their criteria, this CRZ YOGA is THE skirt to make head turns.
Although short, this golf skort provides good coverage with the attached biker shorts underneath.
Apart from looking chic, it's made from multiple high-quality fabrics that provide breathability, stretchability, and mobility.
I'd say it quite closely resembles the Lululemon skorts, except they're more budget-friendly.
The sizing for these skorts could be clearer, so you may have to try out a couple of different size options to see which fits you the best.
Once you've found your size, you're honestly spoilt for choice with the 25+ color options.
Who's it For?
For all the golfing ladies that aren't scared to show some skin. It's also great for simply lounging around on your couch since the fabric is breathable and wrinkle-resistant.
Pros
Breathable, light material
Does not bunch up in the stomach
Good length by golf club guidelines
Cons
The size runs a little bigger
The white skirt is a little seethrough
Rating: 4.2/5
PGA's airflow golf skirt is great for long sunny days both on and off the course. The light and breathable material allow good airflow, so you'll stay dry and happy.
The skirt also has UV protection, so your skin remains protected, even on the worst of days.
The stretchable seams allow for more unrestricted movement and a snug fit. The sizing on these skirts runs a little bigger, so I recommend ordering a size down when ordering.
The built-in shorts cover your thighs and double as shapewear, tucking your tummy in.
Who's it For?
For lady golfers looking for an elegant and flattering shapewear skort.
Pros
Classic, Elegant design
Snug fit
Wrinkle resistant
Elastic closure
Cons
No drawstring on the waistband
No pockets
Rating: 4.4/5
Whether you want to have an active day on the course, a busy day running errands, or a lazy day on the couch, this Ekouaer golf skort will become your best friend.
It's comfortable, light, breathable, and wrinkle-resistant fabric. This means you can spend the morning lazying around in it and still get up and run errands without re-ironing the skirt.
I don't know about you, but I find ironing dreadful, so this skort would save you a lot of time.
This Ekouaer skort makes you look elegant and is perfect for the older golfing ladies that want a simple yet classic skirt. It hugs your curves in the right places and beautifully accentuates your waist. My only concern with this skirt is the need for more pockets.
Who's it For?
For women of all ages, particularly older women who want a simple and classic skort.
Pros
Lightweight and comfortable
No chafing
UV protection
Cons
Rating: 4.2/5
The Viodia women's skort is a more conservative take on the classic golf skort, with its 20-inch length.
If you're a regular churchgoer and like playing golf on Sundays, you don't need to worry about changing your outfit because this skort covers just the right amount.
It has five pockets, so you have ample space to store your valuables, such as your phone. The skort fabric has UPF50+ sun protection, so your skin will remain safe from harmful sun rays.
The chic A-line skirt also has side slit hem detailing, adding perfect fun to the classic skirt.
Who's it For?
For all the golfers who want to look cute on the course without showing too much skin.
The Dog-Toile Skirt from Foray is not just a piece of apparel; it's a statement. Made with a premium 4-way stretch material, every swing feels unrestrictive. My girlfriend, who has an eye for fashion, particularly adores the zip-front style, noting its chic appeal.
Besides the amazing fit, the sneaky pocket also subtly hides her phone, ensuring it doesn't interfere with her game. But the icing on the cake? Every purchase contributes $50 in-kind to Puppies & Golf, an organization dedicated to helping dogs and, by extension, the larger community. Knowing that my gift has assisted in providing grants to families, shelters, and organizations that train rescue dogs to aid those in need, including our brave military veterans, fills me with pride.
Not only will you look great on the course, but I think you will also feel great knowing you're supporting a fantastic cause.
What to Consider Before Buying a Golf Skirt?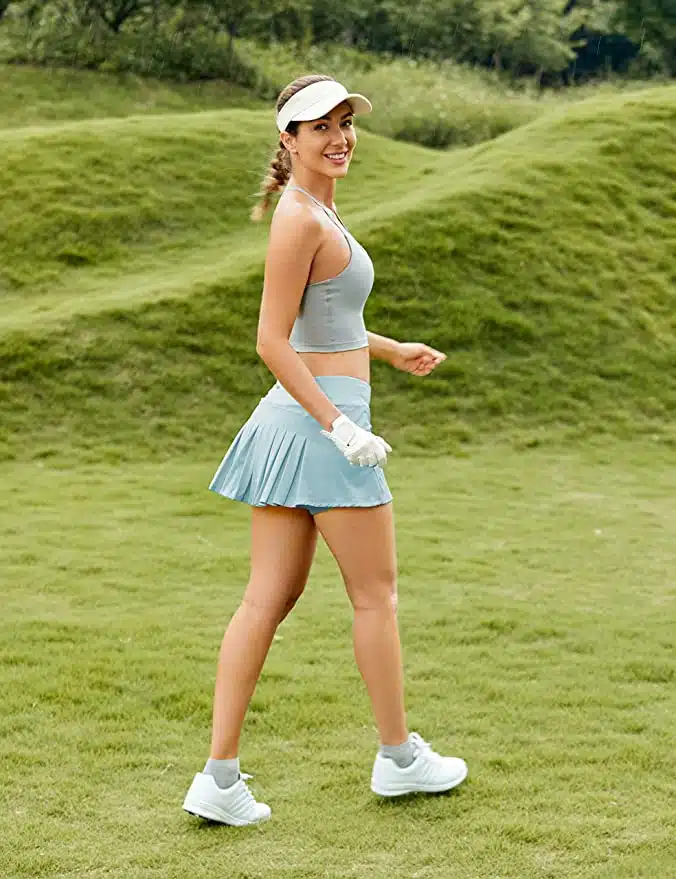 Women's golf skirts are designed to let you remain cool and comfortable on the course so you can swing comfortably.
When investing in a golf skirt, there are multiple factors that you must consider. There's so much to consider before buying a golf skort or skirt – from material to your preferred style, print, and length.
1. Material
Golf may not require much running around, like tennis or badminton, but it does require hours of standing under the scorching sun as you finish the course which means you'll sweat a lot.
So, the material is extremely important when choosing a women's golf skort.
Ideally, a blend of spandex and polyester provides good breathability and mobility. These and other moisture-wicking fabrics are specifically designed for use in sports.
They also have good elasticity, which you need when swinging the club or sitting down to make a line for your putt.
2. Length
The length of your skirt is one of the most important factors to consider before investing in one.
If your skirt is too short, you'll spend a lot of your time and attention trying to tug it down, which could seriously affect the quality of your game.
More importantly, some courses have stricter dress code rules and may not let you play if your skirt is too short. As per most guidelines of golf clubs, your skirt must be between 14-18 inches long for it to be acceptable.
According to other guidelines, your skirt should be lower than your fingertips when standing upright with your hands on the side.
Golfers take their attire very seriously, and it's not just limited to the length of your skirt. This is why you must know the appropriate golfing attire before your first day on the course.
3. Print and Patterns
While there are no strict guidelines about the print of your golf skirt, as a basic rule, it should not have something inappropriate printed on it and, ideally, should not be too flashy.
You'll find many black golf skirts and other solid colors because many golf skirts come in classic solid colors such as navy blue, dark green, or black.
What print and pattern you decide on is totally up to you. So if you want to dress up like Ian Poulter, no one stops you.
FAQs
What Are Golf Skorts?
Golf skorts are golf skirts with hidden biker shorts underneath that are specifically designed for golf and other sports. They are usually stretchable and breathable, allowing for a good range of motion.
What's the Difference Between a Skirt and a Skort?
The two clothing items are quite similar, except for one main difference, a skort has an attached short attached under it, whereas a skirt does not. But from the outside, they both look exactly the same.
Is There a Difference Between Tennis Skirts and Golf Skirts?
There is a difference between Tennis and Golf skirts. Tennis skirts are usually shorter and more flowy to allow for a completely unrestricted range of motion. This is because, in tennis, you have to run around a lot.
On the other hand, golf skirts are longer, follow general golf club guidelines, and are more A-lined with comparatively lesser mobility.
Final Thoughts
Multiple brands are making golf skirts to cater to all audiences. The options are endless, from funky prints to elegant solids, headphone cable holes, and multiple pockets. There's a golf skirt for every lady golfer out there.
The best golf skirts have a few things in common. They're affordable, stylish, and comfortable.
I'd recommend you consider buying a Werena Pleated Golf Skirt. It has top-notch quality and even pockets to keep your golf balls, tees, and other valuables comfortably.
In the end, the best golf skirt is what sits well with you. You should choose a skirt that suits your personal preferences and needs.

As a skilled golfer and wordsmith, Abdulmoiz brings a fresh and engaging voice to the golfing world. Whether he's on the course or at the keyboard, he strives to improve and inspires others to do the same.