FlightPath golf tees claim to add distance to your drives. Since I'm a certified golf instructor and often play with friends, that sounds great. But is it true?
I bought some FlightPath golf tees to find out. I also bought some Martini and Zario tees, then headed to my local course in sunny Oaxaca, Mexico, to see.
Read on to learn the results of my premium golf tee test, including the differences, similarities, pros, and cons. Finally, I'll share my final verdict on whether FlightPath golf tees are the best premium tee to add distance to your drives.
How I Tested The FlightPath Golf Tees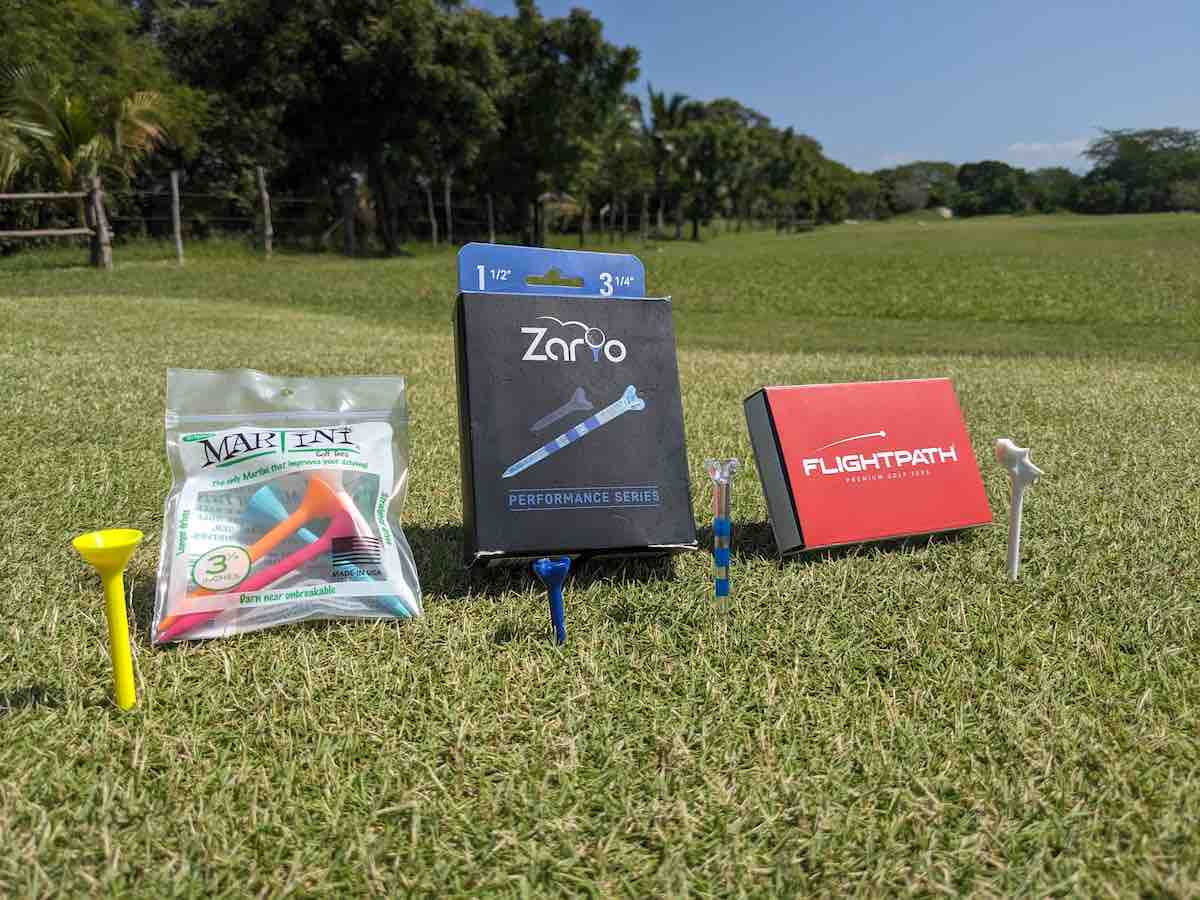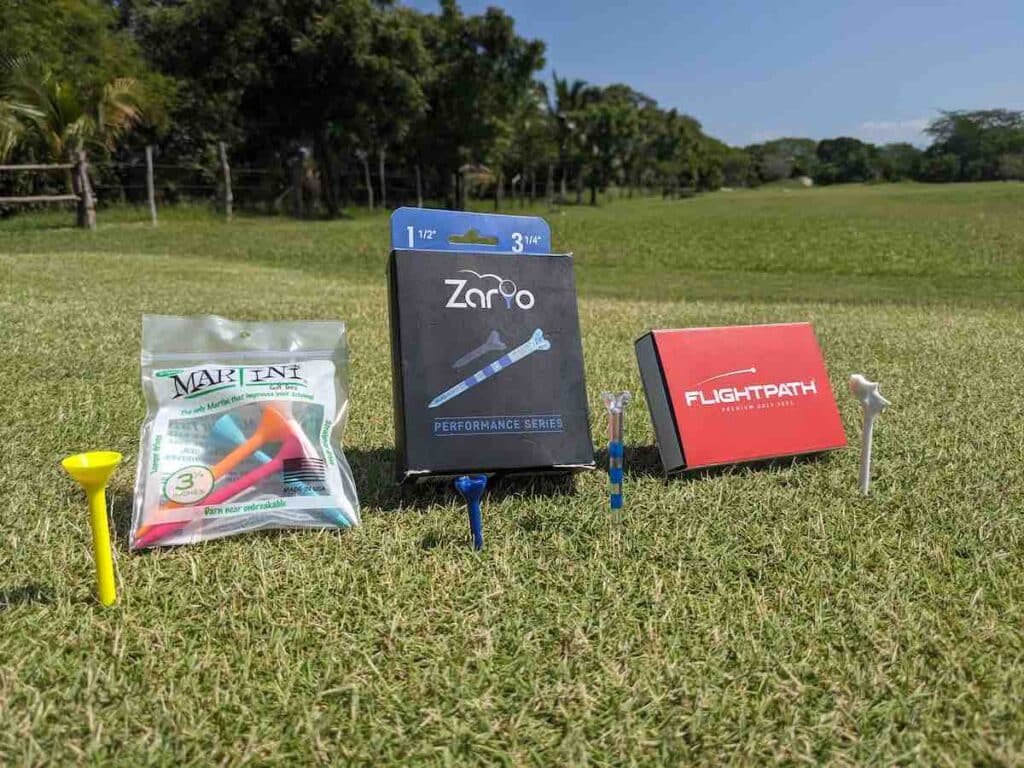 I tested these tees at my local course in Puerto Escondido. Here are the specific parameters of this test:
All test shots were performed with my old TaylorMade Burner driver. It has a smaller sweet spot than newer drivers, delivering excellent feedback.
I used a Titleist AVX since it's not too hard nor too soft with a neutral spin rating.
Each test consisted of 10 drives that I aimed at the same target using my stock driver swing, which produces a slight fade. I then drove out to them to record their distance and location.
FlightPath Golf Tee vs Other Premium Tee Comparison Chart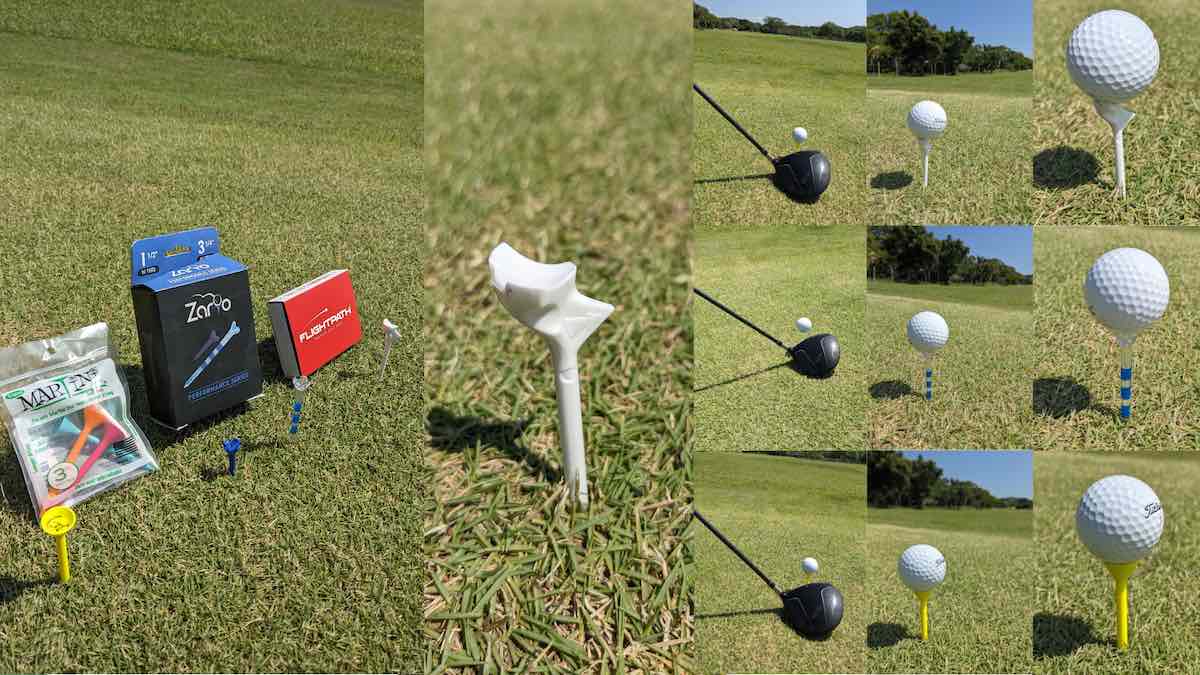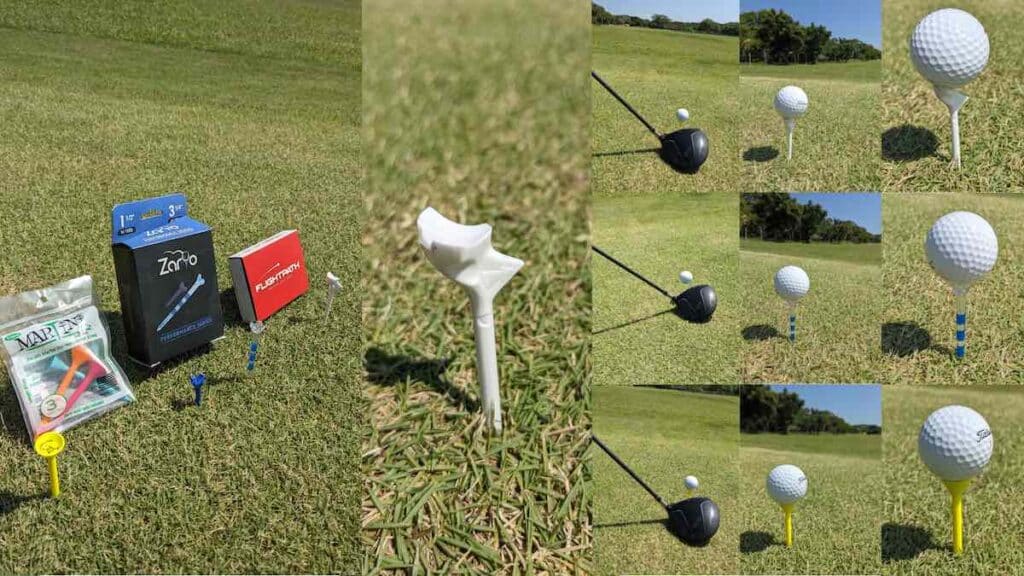 I compared the FlightPath, Martini, and Zario against the traditional wooden tees most golfers use. I assigned each rating from 1 to 5. 1 being worse than wood and 5 being a huge improvement over wooden tees. Here's how they did:
Worse than wood = 1
Slightly worse = 2
Same = 3
Slight improvement = 4
Huge improvement = 5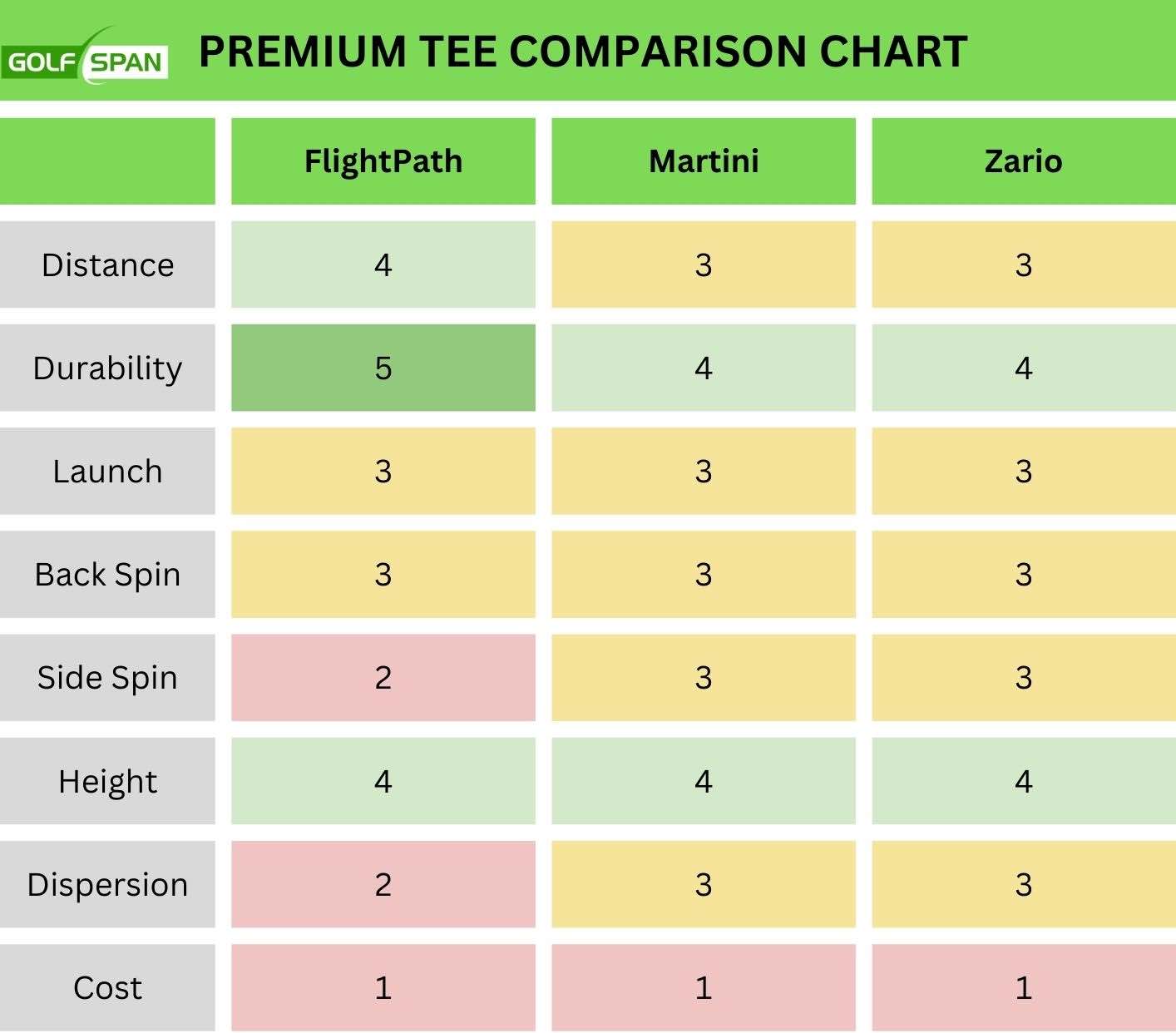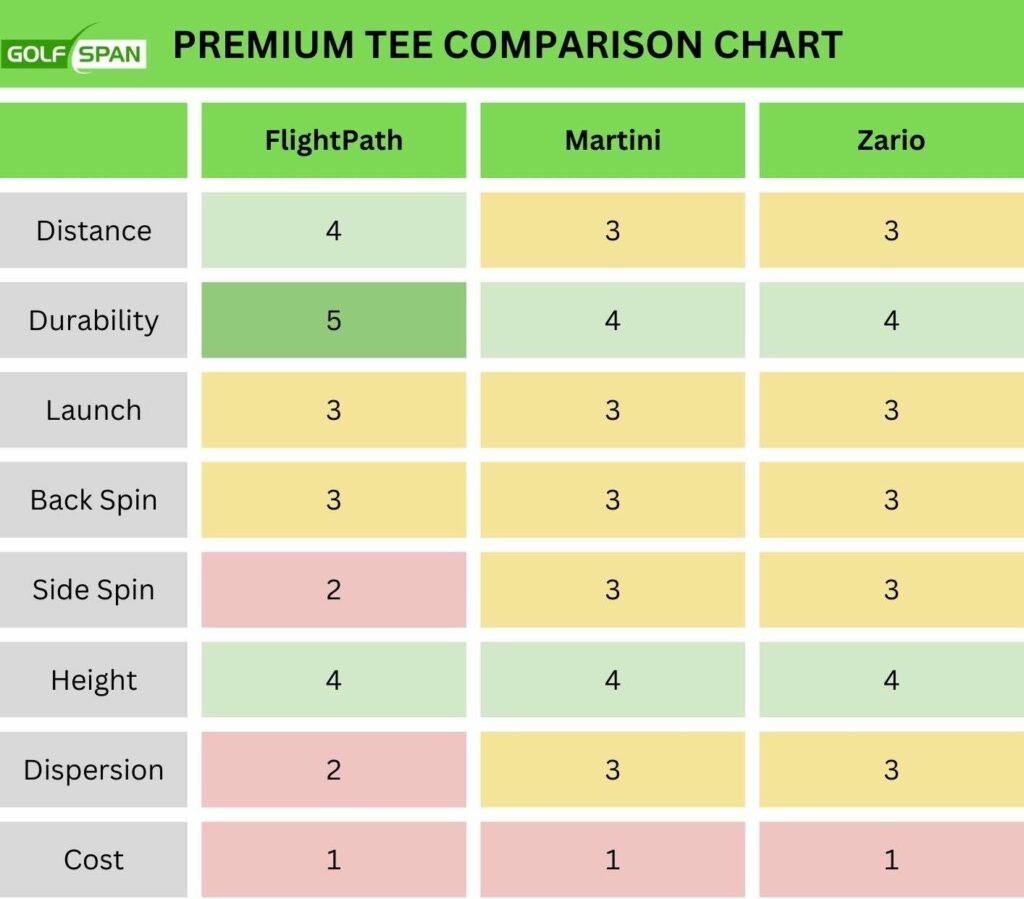 FlightPath Golf Tees Review: Pros, Cons, Verdict
I was most excited to try these as they have a unique design that helps with your alignment, unlike any other tees. Using the arrow at the front of the tee, you can match it up with your target line and the label on the ball to help keep you square.
This design adds some distance as you can make full contact with the back of the ball. This causes it to hang in the air for a couple extra seconds. Its durability is also noticeable compared to wooden tees, but I wouldn't say they are "unbreakable."
Pros
Increased distance
Added durability
Assists with alignment
Increased height
Cons
Hard to balance the ball
Higher cost
They do break
Verdict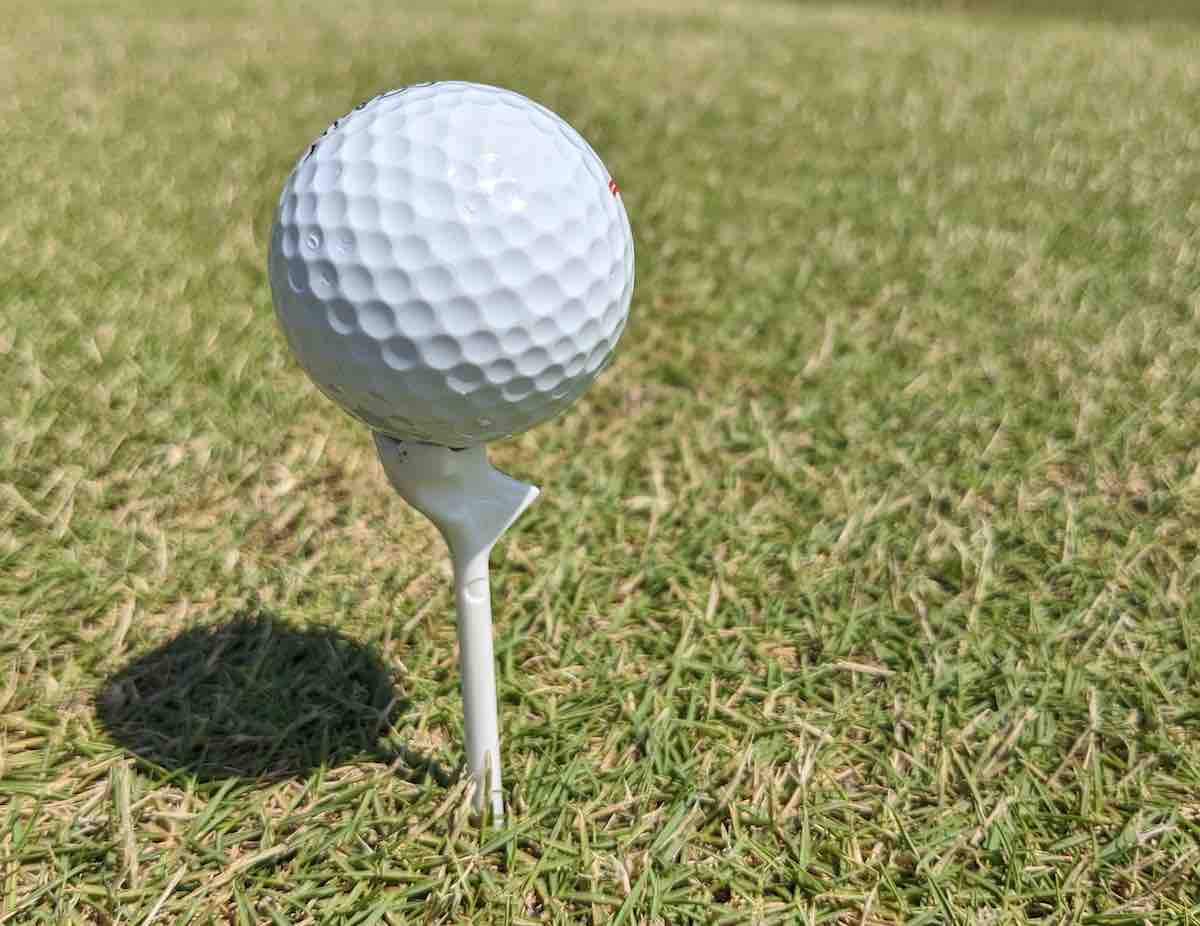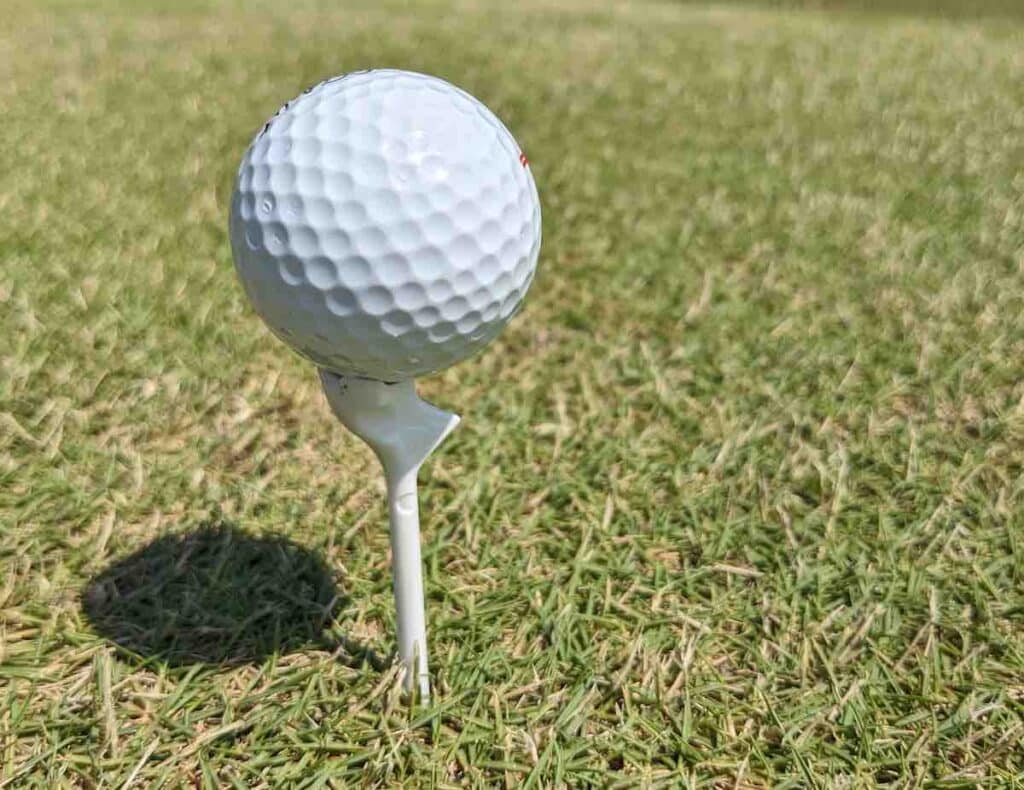 Any time I can get more distance, I'll take it — which is the main reason to buy FlightPath golf tees. It's also obvious the FlightPath tees will last longer, making them worth the extra cost over time.
One downside is that these tees are a little hard to use and could be frustrating on windy days. Since it was my first time, I bet it would be easier with some practice.
If you have a steady hand and want a premium tee, then you stand to benefit from the FlightPath golf tees. They can add a few extra yards, and the alignment assistance can help with more accurate shots.
How do FlightPathGolf Tees stack up against the best golf tees? Check out the full review.
Martini Tees Review: Pros, Cons, Verdict
These eye-catching tees draw the eye and can be great conversation starters at the starter hut. Unlike the FlightPath tees, these are very easy to use as the unique martini shape provides the perfect holster for a golf ball.
Despite its visual and functional appeal, I'm not sure there is much difference in distance and dispersion between a Martini tee and a wooden tee. Its durability was appreciated, but I'm not sure that alone justifies the added cost.
Pros
Increased durability
Fun design
Easy to use
Cons
Bulky in your pocket
Doesn't help with distance or direction
Verdict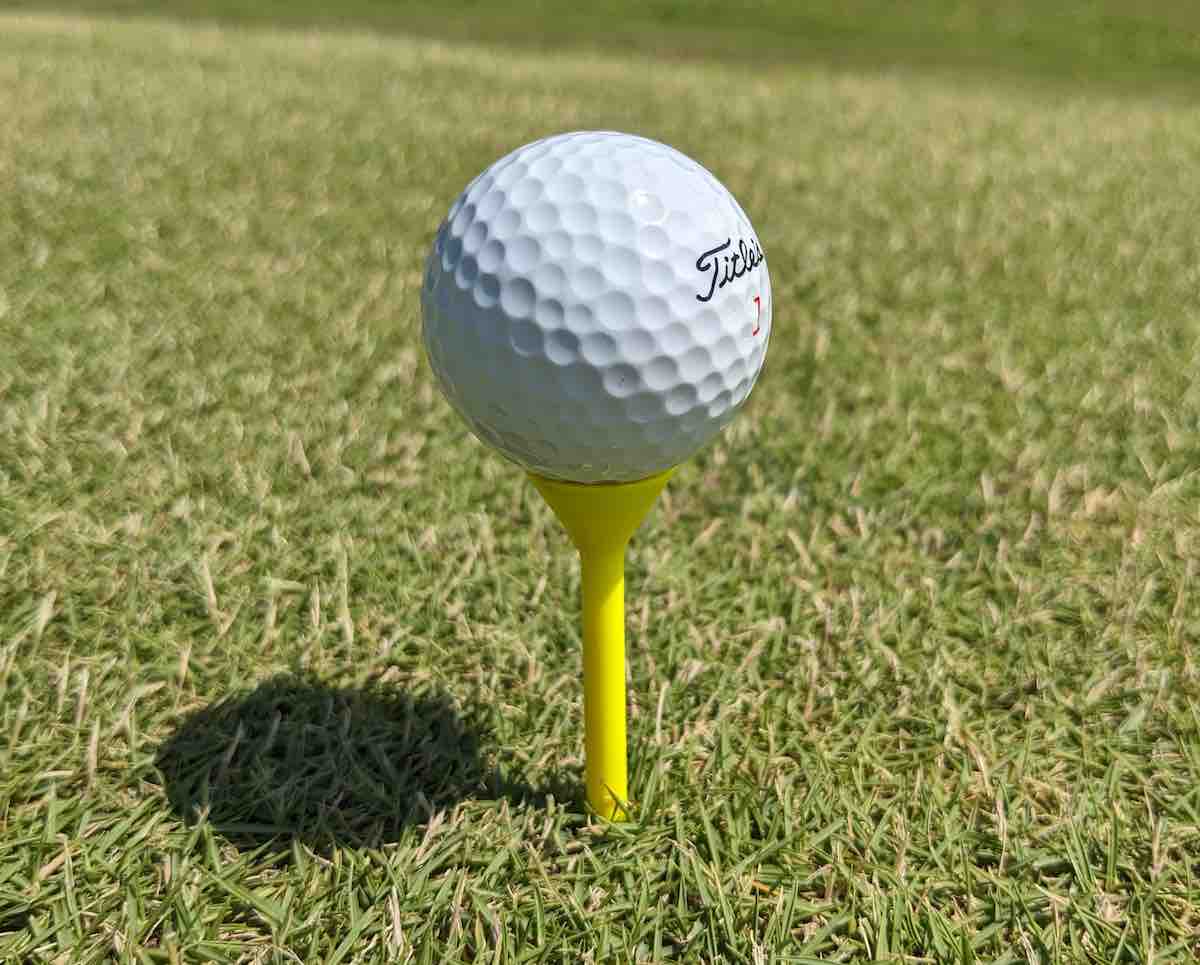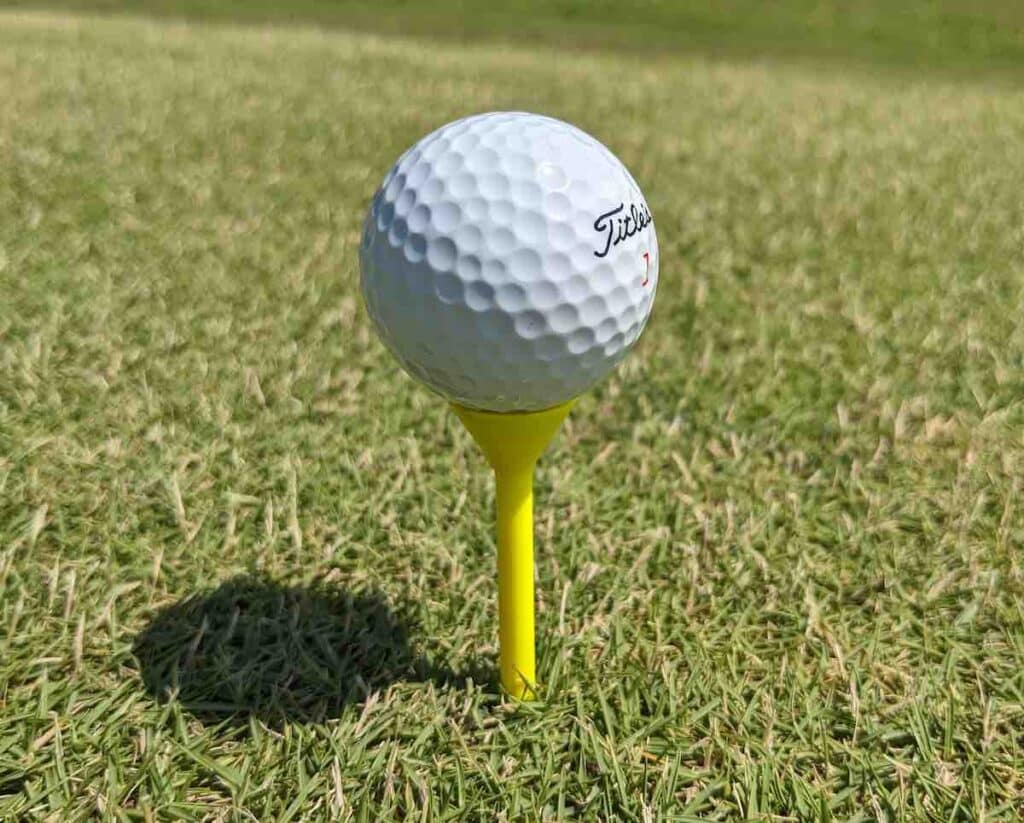 If you want to laugh and lighten the mood on the tee box, pick up a bag of Martini tees. They will be a crowd favorite and a great way to break the ice with new playing partners. However, if you want to improve your drives, you might be better off spending your money on a new driver and a bucket of range balls.
Can you tee off from the senior tee box? Read the rules.
Zario Golf Tees Review: Pros, Cons, Verdict
These futuristic-looking tees were easy to use and felt natural, just like traditional tees.
The added benefits start with the three stripes on the side that help you achieve the same ball height every time. Like the other two tees, Zario tees are more durable than wooden tees, but they occasionally break.
This package was special because it also came with shorter tees, which are perfect for hybrids or irons. No stripes are needed on these as they are meant to be pushed into the ground, so only the platform is left showing.
Pros
Design assists with consistent tee height
Professional looking design
Slight improvement in height
Much more durable than wooden tees
Includes short tees for hybrids and irons
Cons
Not much improvement over wood in terms of distance and direction
Verdict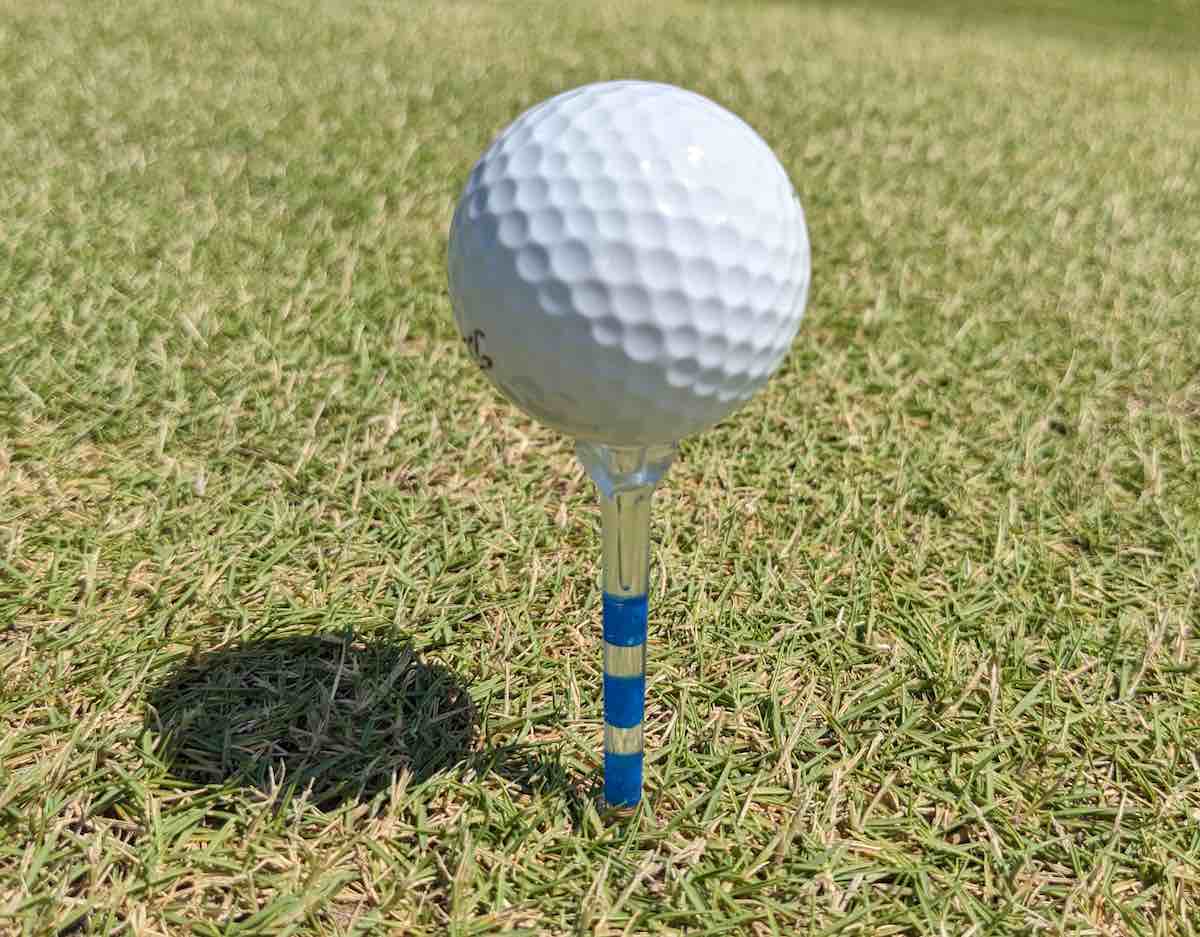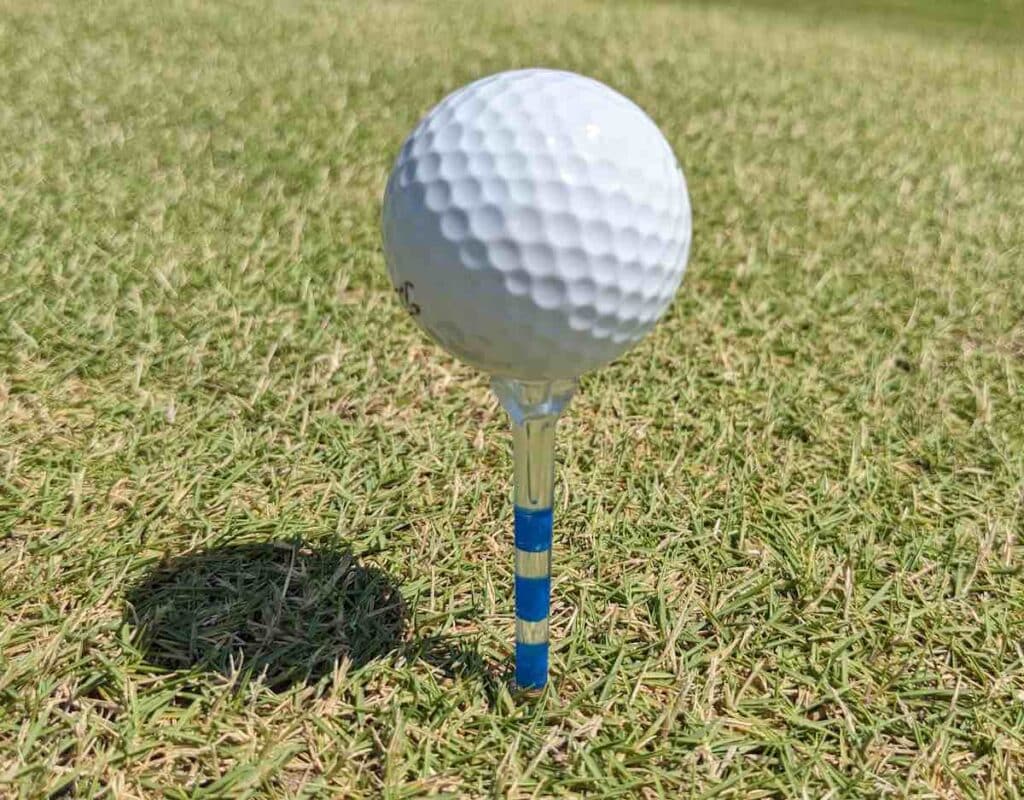 If you want to try something other than wooden tees but are not ready for anything too off-the-beaten-path, then Zario tees are perfect. They would make a great gift as they last longer than wooden tees. But if improving your distance and direction are your main goals, look elsewhere.
Who invented the golf tee? Read the quick history of this key piece of golf equipment.
Summary—Golf Tee Test and The Difference They Make
FlightPath golf tees can help your distance. They performed better in that department than Martini or Zario. In a game of inches like golf, any help is appreciated.
They also are less likely to break than wooden tees, and I also liked the alignment aids, which helped me with accuracy.
But they're not a perfect tee, and as I tell my students, the right equipment can help your game, but there are no miracle fixes.
Use the FlightPath golf tees over wooden tees if you want a bit more distance and help with alignment. Or if you're just tired of wooden ones always breaking. But don't expect to be hitting drives like Dustin Johnson. For that, you'll need good old practice and determination.
Read more: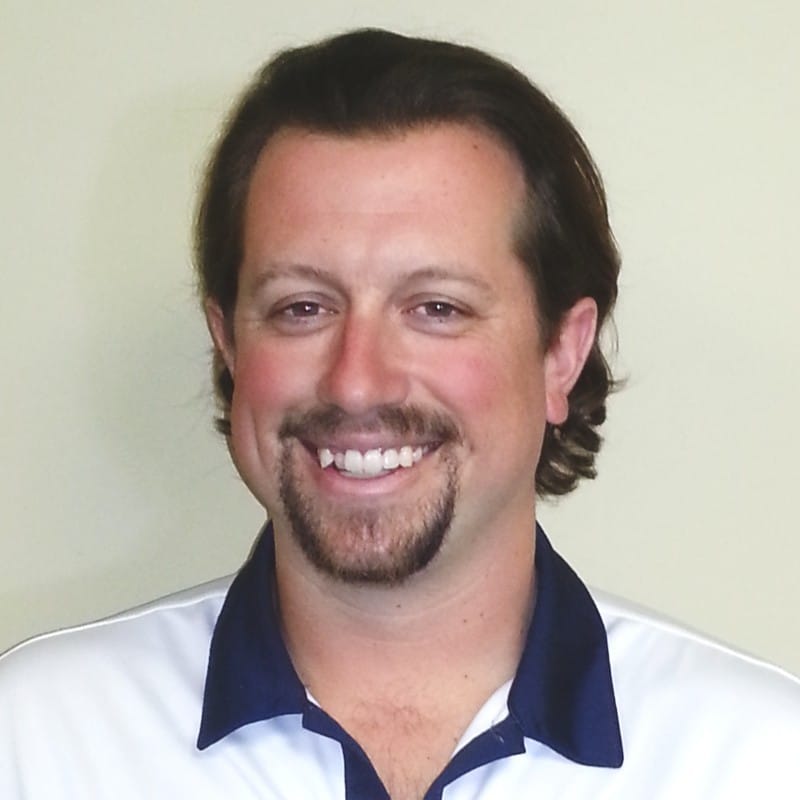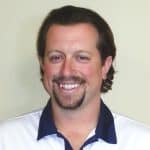 Clint became the Head Teaching Professional at one of Toronto's busiest golf academies and was featured on Canada's National Golf TV program, "Score Golf Canada," twice. He now tests and reviews golf equipment and gets to enjoy the game he loves whenever he wants while helping people lower their scores.