Golf shoes are crucial in maintaining stability and prevent sliding especially when swinging hard and fast for a few extra meters on the long par fives.
Comfort and style combined with technology push the price of golf shoes up and can be quite stratospheric when using the ultimate in materials.
Fortunately, golf shoes are available in every golfer's budget and the well-heeled golfer can afford to purchase the ultimate in golf shoes offering longer warranties and higher quality.
Top-quality leather golf shoes are often more expensive than composite materials since they have a longer life expectancy and are more comfortable making them ideal for long walks around the golf course. Furthermore, they offer more resistance to weather and moisture.
Leather shoes are also more likely to form to your foot for increased comfort and become more flexible which is ideal for the golf swing.
You might well find that investing in more expensive golf shoes saves you money in the long run.
Some of the most expensive golf shoes available are:
The Most Expensive Golf Shoes You Can Buy?
The UA Spieth 3 is constructed from textiles and synthetic materials and a synthetic sole.
The uppers are made from a lightweight smart weave Clarino microfiber leather for added durability & support.
Ankle support is provided by the bootie construction that extends over your ankle for a snug, comfortable fit & increased support.
Locking the shoe to your foot is achieved by the integrated lacing system.
The Adidas ZG21 is an extremely lightweight shoe that is comfortable and unlikely to wear you out when walking 18 or 36 holes in competition play. ZG21 shoes were designed on request from tour players that want lightweight and comfortable golf shoes without sacrificing high performance.
At a mere 13 ounces, it is 20 percent lighter than Adidas' Tour360 XT shoe and highly competitive with most other brands.
It comes standard with Adidas' legendary Boost technology and innovative Lightstrike cushioning borrowed from other sporting codes. Lightstrike is claimed to be 40 percent lighter than any EVA foam available in golf shoes whilst providing shock absorption and quick recovery for the foot.  The combination of these technologies adds comfort and stability throughout the swing.
The lightweight and waterproof upper outer layers are made of four-layers waterproof construction manufactured from innovative textiles and polyurethane films that carry a one-year warranty.
ZG21 Outsole is made from ultra-thin TPU featuring six strategically placed cleats and a new crescent moon-shaped lug for enhanced grip. Adidas positioned the cleats based on information gathered from shots on their heat maps.
A selection of 4 color combinations including Black, White/Grey, White/Yellow, White/Yellow/Blue makes them suitable for a wide range of personalities.
3. ECCO Men's Cool Pro Gore-tex Golf Shoe
This is a stylish spikeless golf shoe that performs equally well on the tee, fairways, and green.
The upper part of the shoe is manufactured using a flexible dritten leather that supports your natural movement with a specially designed spyder-grip outsole with naturally placed pivot points for a solid base throughout the swing sequence irrespective of the weather and turf conditions.
The specially designed soles with GORE-TEX SURROUND technology offer excellent breathability through the advanced air channeling system without sacrificing its water resistance.
4. WSHZ Golf Shoes Men's Outdoor Waterproof Breathable Anti-Skid Golf Shoes Running Shoe Sneakers (Currently Out of Stock, Will Update Soon)
PGM has been in the manufacturing of golf equipment for more than two decades and has built a strong catalog of patents.
These spikeless shoes are multifunctional and can be used on and off the course.
The premium rubber soles and fixed anti-skid supports promote stability and support on the greens and tee box.
Added protection against the elements is provided by a double-layer microfiber leather waterproof outer material while the inner lining contains a layer of waterproof socks that are embedded in the shoes.
A premium mesh lining adds to the breathability of the shoe.
Adidas is a highly regarded sporting goods manufacturer that supplies golfing apparel to many professional golfers.
The Adidas Tour360 XT was first available in 2019 and is extremely popular amongst professional golfers and amateurs alike.
The eight-cleat spiked synthetic sole contains eight cleats with strategically placed X-Traxion secondary lugs and Thintech EXP cleats.
The premium leather uppers are seam-sealed Climaproof and 360Wrap to lock in and support your feet.
FootJoy is another premium brand used on professional golf tours that are popular amongst amateurs as well. The Tour X spiked golf shoe was first launched in 2018 and continues to grow in popularity.
There are nine synthetic spikes placed on the lightweight synthetic sole with five in the front and four in the heel of the shoe. This enables you to swing through onto your toes without slipping.
A TPU Power Strap that can wrap around the foot's back adds to the lateral support.
Puma Ignite PWRadapt features the signature IGNITE foam that runs across the midsole's length for additional comfort.
The Ignite PWRADAPT offers a proprietary sole system that provides revolutionary 3-dimensional traction and cushioning for supreme performance and comfort.
Uppers are manufactures from a combination of leather and synthetic materials while the seven spiked soles are manufactured from synthetic material.
A PWRFRAMEUltra-thin TPU frame encases the EVA midsole offering a strong, durable, yet lightweight shoe with increased flexibility and traction.
Puma's confidence in its waterproof ability is borne out by the 2 Year Waterproof warranty.
8. Nike React Infinity Pro Golf Shoe
Although Nike does not manufacture golf equipment anymore, its apparel range still offers high-quality products.
The React Infinity Pro golf shoe is built to offer high-quality cushioning for comfort combined with pioneering traction and grip to support you throughout your swing sequence.
Nikes flexible NIKESKIN technology aids in keeping your feet dry and the shoes clean. The breathable textile used on the uppers assists with keeping your feet aired for increased foot health and fewer odors.
Stability is offered by a midfoot overlay and an internal heel.
Nike's lightweight React technology and a foam sock liner offers comfort throughout your round.
Piston spikes combined with a sole patter designed based on data collected over many years, provide enhanced energy return and comfort.
Final Thoughts
Golf shoes play a significant role in providing stability and protection during your high-speed swing. Since many golfers walk a significant distance your shoes must be comfortable.
The price of golf shoes necessitates that they are durable to compensate for the initial outlay.
Looking at the shoes in this article there are some excellent shoes at most budgets that will provide you with a solid base to swing from and still provide comfort and long-term durability.
Our preferred choice is the Under Armour Spieth 2 shoe for its all-around quality, construction, support, and comfort.
Questions, feedback, and comments will be highly appreciated in the comments section below.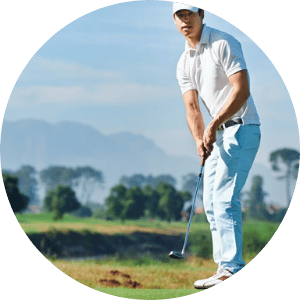 Nick Lomas is the founder of GolfSpan, an avid golfer, not quite a pro but has over 15-years of experience playing and coaching golfers from all over the world. His mission is to bring the golfing community a better experience then it comes to choosing the right golf gear, and finding the right set up for your game.