What is important is that you select your equipment carefully. If you are of the older generation, it helps to choose a driver suitable for seniors.
What Seniors Should Look for in a Driver
The golf equipment market is extremely competitive and manufacturers are constantly trying to develop quality equipment for various sectors of the market.
at a glance: Our Top 5 Picks for Drivers for Seniors
One market they realize is a worthwhile investment is senior golfers. This is fortunate and there are some amazing clubs available, particularly drivers.
The right driver will help you maximize distance off the tee, deliver and easy launch and be fairly forgiving. They will enhance your game, reduce your score and allow for a more rewarding and enjoyable round.
Quick Overview: Our Top Picks for Drivers For Seniors and Older Golfers
Here are a few important aspects seniors golfers should consider before deciding:
Launch Angle
Slower swing speeds need some assistance in the form of a greater launch angle. While adjustability is handy it is not essential provided you select a driver with the correct angle. The slower your swing speed the more launch angle you need.
Shaft
This is important for all golfers but particularly important to senior players that might have a slower swing speed.
There are three main factors to consider:
Shaft weight
A lighter shaft will allow for higher clubhead speed off a slower drive. Modern materials allow for ultra-light shafts that will help you maximize your driving speed.
Shaft Flexibility
More flexibility in the shaft will benefit slower swing speeds. Most drivers have a range of shaft flex options so be sure to select the one that suits your swing speed. There is generally a specific senior shaft choice which will suit most golfers in this category unless they have managed to maintain fast swing speed.
Shaft length
While longers shafts potentially deliver greater distance the also reduce control. There is no perfect balance, it depends on the individual and their swing. Take the time to study your swing style and speed in order to determine the ideal shaft length for your game.
Weight distribution
Again, this will vary from player to player. A lighter head or club generally translates into higher clubhead speed and therefore more distance.
Optimal head weighting, however, also affects your launch and contributes to the forgiveness of the driver.
Spin
Spin is beneficial but can also work against you. A very high spin will result in a ball going too high without achieving great distance.
Too little spin will mean a poor launch with reduced distance. Finding the right balance for your speed and style is key.
Adjustability
Adjustability is not essential but can be a handy feature for many senior golfers. It will allow you to dial the club into your specific speed and style.
Grip
Do not forget to consider the size and quality of the grip. This will help you to maintain control of the club. The larger your hands the bigger the grip you will need.
Budget
As with all golf equipment, the budget has to be considered. Any spending on a driver will result in sacrifice on other equipment. While quality drivers are costly they will last you many years and help you improve your golf. Rather invest in a decent product that will improve your game.
Forgiveness
All but the very best golfers want forgiveness in their drivers. Even experienced seniors will benefit from a forgiving head. Some drivers are designed for greater forgiveness so be sure to select the one that suits your game.
What Driver loft is best for seniors?
Deciding on the loft of the driver is a personal choice, but unfortunately, we often make the cardinal error of selecting too little loft. Loft is the golfer's friend, and the older we get, the more loft should be put into play. Senior golfers lose clubhead speed in the swing and adding loft will get the ball airborne easily, producing more carry and distance. Loft from 10,5 to 12-degrees is the optimum range for seniors. Playing golf regularly in the wind should be considered, but still select a 10,5 as the lowest loft.
How can a senior get more distance with the Driver?
Besides increasing the loft on the driver, selecting the correct shaft flex, will increase distance and accuracy. Graphite is the ideal choice and a senior or regular lite shaft will do the trick. Playing a softer compression golf ball will add those extra meters off the tee.
Can the ball a senior plays influence distance?
Definitely. Playing a softer compression golf ball will add meters to the tee shot, without trying to overpower the ball. There are plenty of golf balls on the market with compression as low as 38 and others in the region of 70. They have a soft feel off the club and are great off the tee, as well as good around the greens.
How far should a senior hit a Driver?
We all swing the driver differently, and clubhead speed determines how far the ball will travel. Natural strength and age are variables, but hitting it around the 200-meter mark is above average. For the older seniors, 150-meters creates excitement!
Best Driver for Seniors – The Reviews
1. Callaway Big Bertha B21 460cc 10,5 regular RH
Pros
Long off the tee with low spin
New high launch technology for straighter drives
Fast ball speed from AI Designed Flash Face
Improve launch angle and eliminate a slice
Easy to hit
Cons
 A stronger player may require a stiffer shaft

 Upper price level

 Clubhead at address may not be to everyone's liking

 Internal draw bias in the head not for golfers who prefer to hit a fade
Callaway Big Bertha drivers have been on the golf scene for many years.
The latest AI technology used to develop this latest model will please Callaway fans.
Drivers are all about distance and the new B21 produces long straight high launch drives by decreasing ball spin off the face.
The new AI-designed Flash Face SS21 promotes fast ball speed at contact and compensates for any off-center strike thereby retaining distance.
The super-strength clubhead design and materials are lighter than titanium to produce a consistent ball speed.
Jailbreak + T2C Triaxial carbon crown has 2 bars that connect the sole to the head and the lighter carbon crown allows for redistribution of weight to create a higher MOI.
The Callaway RCH lightweight 55gm regular graphite shaft increases clubhead speed through impact and the Golf Pride Tour Velvet 360 Soft Grip improves feel.
Senior or slow swing speed golfers should take advantage of the new technology to keep their game consistent.
2. Cleveland Launcher HB Turbo Driver
Pros
Sits well at address and is a confidence builder for all skill levels.

Easy, high launch creates carry and distance.

The great shaft fitted to this driver adds accuracy and control.

4-loft options available: 9,10,5,10,5 Draw, and12 degrees.

Well priced.
Cons
No hosel loft-adjustment.

Not a leading brand, but good value for money.
The Cleveland Launcher driver has been around for a few years, and the performance has in many cases exceeded the expectation of the purchaser. The latest model HB Turbo has received many accolades from golf equipment experts and other reviews in 2021.
Known as one of the top wedge manufacturers, their offerings have slowly grown, and this new driver will put many a smile on the tee for any new owner. Probably one of the most underrated drivers on the market, it will suit all skill levels.
Cleveland has excelled at adding a full range of high-tech to the driver. A re-designed HiBore Crown added to the Turbocharged Cup Face and an Ultra-light Hosel, gives the 460cc head a confidence-inspiring and powerful look.
The head sits comfortably at address and stability and control make it easy to hit. The large sweet-spot on the face adds forgiveness to the mis-hit tee shot without sacrificing too much distance.
Launch-angle is improved with a deep weighting sole pad and a counterbalanced Miyazaki C.Kua shaft developed for Cleveland.
Testing this driver on the range should be fun, and the accuracy and distance is a bonus.
3. Callaway Men's XR Driver
Pros
Good aerodynamics and low drag
Highly forgiving
Speed and distance
OptiFit Adjustability
Cons
Some golfers take a while to adjust to the club
Distance could be better
Not as much adjustability as some would like
Callaway produces some legendary drivers and their XR is a great option for seniors. It is ultra forgiving and still delivers a good distance. Most golfers appreciate the consistency and accuracy of the XR Driver. The low spin will benefit most seniors.
One can expect a decent trajectory and fair consistency with the Callaway Men's XR Driver. It has a large and forgiving 460cc head which inspires confidence at address. It is easy to hit and will not allow mishits to stray too far off course.
The technology used in this driver is impressive. The Speed Step Crown minimizes drag and allows for greater swing speed. This will result in more distance for most players.
The aerodynamic design just adds to seed and distance making this a long-hitting driver. The reduced turbulence offered by the speed step design also adds to greater accuracy and consistency.
Callaway has incorporated its legendary RMOTO Face Technology. This produces fast ball speeds across the face for distance, accuracy, and forgiveness. The OptiFit Adjustability allows for a choice of 8 lie and loft settings according to your swing and style.
This allows for a great launch and better distance for most golfers. The internal standing wave has been imp[orved for a lower CG with front weight. This further increases ball speed.
The graphics are quite dramatic and while rather stylish might not appeal to the more conservative golfer. The XR Driver is fast and long but some might want a bit more in terms of moveable weights.
4. Cobra Golf Men's King F8 Driver
Pros
Good distance
Accurate and highly forgiving
Multiple adjustment options
360° Aero Tips for improved aerodynamics and higher clubhead speed
Cons
Some players found the graphics distracting at address
While forgiving the spin causes mishits to lose distance
A popular and highly rated driver for seniors is the Cobra 2018 Golf Men's King F8 Driver. It is a feature-rich driver that is fast and long. Cobra has created a CNC precision milled face that is ultra-thin. This feature makes it incredibly fast and accurate.
Another feature that improves clubhead speed for greater distance is the perimeter 360 Aero-Innovative Polymer Aero Tips. These reduce drag making the clubhead more aerodynamic and therefore faster.
The Carbon Fiber crown is superlight for optimal weight positioning and higher clubhead speeds. The CG is low and back and is adjustable for forgiveness and quality trajectories.  The adjustable hosel will also allow you to finetune the driver according to your needs.
Another popular feature is the SmartPad. This helps to keep the driver face square at impact. You can expect good speed and distance with heaps of forgiveness. The sound and feedback are appreciated by many players.
A lot of time, effort and money went into the research and development of this driver. Most golfers agree that they feel the benefits of this in the distance and accuracy the F8 delivers.
A unique and impressive feature of the Cobra King F8 Driver is the Arccos powered Cobra Connect technology. This is a tracking system that will give you data pertaining to your driving performance.
It uses a sensor in the grip of the club and works with an app on your smartphone. This information should help to improve performance.
5. Ping G425 Max Driver 12 Degree
Pros
A new level of performance
Upgrade from the G400 Max and the G410 Plus
Highest MOI in Ping history
Most forgiving Ping Driver for Accuracy and Easy Launch
Solid sound at impact
Cons
Weight adjustment may be an over-kill for the senior golfer

Price tag a bit steep

Not all players enjoy the Ping Driver head shape
Ping is a leading brand and continues to advance driver development.
Combining the best technology from the G400 Max and the G410 Plus, Ping has created the highest MOI In their history.
The 12-degree loft and senior flex shaft will assist the player in launching the ball high and far off the tee.
Increased accuracy is another bi-product of this driver.
The adjustable head configuration allows the senior golfer to set the ball flight to a fade, draw, or neutral bias.
Ping claims the G425 Max to be the most forgiving driver available in the market.
The renowned Ping Graphite shaft tightens up dispersion and the 460cc head minimizes loss of distance on mis-hits.
6. TaylorMade SIM MAX Regular Flex 10.5° Loft Driver
Pros
Revolutionary new shape
Faster clubhead speed and more distance
Twist Face Technology with a slightly larger face
Ultra-low CG optimizes COR
Cons
New shape not for all
Pricey
The SIM Max drivers have a revolutionary new shape head, which improves aerodynamics, drag, and greater clubhead speed through the ball. A rear weight increases the MOI for more forgiveness on mis-hits. Twist Face Technology with a slightly larger face area provides straighter shots consistently.
The multi-material construction, with carbon, steel, and titanium allows the weight to be positioned precisely in the head for low CG and high MOI. Each head is calibrated to its maximum legal limit. The 2-degree Loft Sleeve allows for customized adjustment for face angle and ball trajectory.
7. Titleist TSi1 Regular Flex 12° Loft Driver
Pros
Ideal for moderate swing speeds
Provides maximum launch and distance
Ultra-lightweight components for faster ball speed
Solid sound and feel at impact
All Titleist latest technology
Cons
Lightweight design will not suit all
Pricey
The Titleist TSi1 driver has a new head shape that improves aerodynamics and clubhead speed and is ideal for moderate swing speed senior golfers. The deep, face-centered CG launches the ball easily and far. The driver is 40gm lighter than most competitors, and the 460cc head inspires confidence over the ball.
The new ATI 425 Face Insert promotes faster ball speed across the face and good distance is maintained on mis-hits. The optimum spin levels produce straighter tee shots and the confidence to hit more fairways. New thin titanium material used on the crown, allows the weight to be spread more evenly for optimized performance. The TSi1 Driver performs well in all conditions and sits well at address. The traditional solid sound and feel through impact is unmistakable.
8. Cleveland Launcher XL Lite Men's Right Hand Driver
Pros
Lightweight Design creates faster swing speed
Flexible Rebound Frame and face for extra distance
Counterbalance weight at end of the shaft for increased stability
Easy launch and penetrating ball flight
Well Priced
Cons
May be too light for stronger seniors
Sound at impact is slightly different
Cleveland Golf has designed an ultra-light driver to produce maximum clubhead speed for the senior golfer wanting to maintain or increase distance off the tee. The second layer of flexibility Rebound Frame incorporates a flexible face that compresses and rebounds through impact propelling the ball high and far. An 8-gram weight is fitted at the end of the shaft, giving the club a light feeling and adding stability to each shot. The XL Lite driver sits and looks good at address, and will inspire confidence on the tee. Cleveland is known for its ability to produce drivers that "fly".
Conclusion
All of the drivers we have featured will benefit a senior golfer. One, however, stands out as the clear champion. The Ping G25 Driver is an exceptional tool for a slow swinger and ideal for seniors.
It ticks all the right boxes in terms of speed, distance, and forgiveness. It is a quality driver with a confidence aspiring and appealing look, it delivers an effortless loft and is also great value for money.
These are all impressive drivers for seniors. Consider your game, your needs and your budget. You will find the best driver for seniors.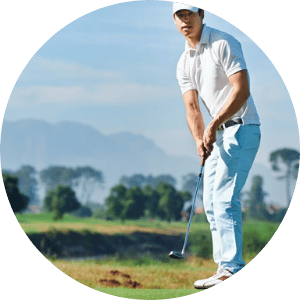 Nick Lomas is the founder of GolfSpan, an avid golfer, not quite a pro but has over 15-years of experience playing and coaching golfers from all over the world. His mission is to bring the golfing community a better experience then it comes to choosing the right golf gear, and finding the right set up for your game.