The best drivers for seniors can help you keep your distance up as get older. Although senior golf clubs start as early 50s, which isn't exactly a senior citizen, but knowing the best clubs for forgiveness, distance, and launch can help. There are some amazing clubs for older golfers, particularly drivers.
The 8 best golf drivers for seniors:
The best driver for seniors will help you maximize distance off the tee, deliver an easy launch, and be fairly forgiving. They will enhance your game, reduce your score, and allow for a more rewarding and enjoyable round.
But the wrong driver could prevent you from ever reaching your potential. 
Read on to learn about:
Pros and cons of each driver

Key features

Ratings based on price, distance, accuracy, and spin

How to select the best drivers for older players

FAQs about the best drivers for seniors
Top 3 Featured Drivers for Seniors
Best Overall: Callaway Rogue ST Max Driver
Most Forgiving: TaylorMade SIM 2 MAX
Best Budget Pick: MAZEL Titanium Golf Driver
Pros

AI flash face technology

Higher launch angle

Low spin

Carbon construction increases club head speed

Twist face tech improves off-center hits

Lots of adjustment features

Simplistic look 

Cup face technology for forgiveness and distance

Excellent value

Cons

Not good for those who hook shots

Quite large to look at

Higher price

Muted sound off sweet spot

Style design is a bit dated

No adjustability

Price Score

72/100

65/100

95/100

Distance Score

93/100

89/100

86/100

Accuracy Score 

88/100

90/100

88/100

Spin Rate Score

87/100

92/100

81/00

Rating

★★★★★

★★★★☆

★★★★☆
Why You Should Trust Us
Our team spends thousands of hours trying out and researching golf equipment to help you take your game to the next level. Here's our product review process.
We can bring these reviews to you through the small commissions we earn if you buy through the links below. 
How We Reviewed These Products
Golfspan only shares equipment and brands we trust. 
I'm a PGA-certified golfer and instructor, and I thoroughly researched and evaluated the drivers shared below. Then an editor reviewed and fact-checked the list. Finally, we conduct regular content audits to update and revise our reviews to ensure you receive the latest information. 
To select these drivers, we considered these criteria:
Cost
Launch
Spin
Forgiveness
Distance
Durability
8 Best Drivers for Seniors – The Reviews
Pros
Long off the tee with low spin
New high-launch technology for straighter drives
Fast ball speed from AI Designed Flash Face
Improved launch angle with minimal chance of slices
Easy to hit
Cons
 A stronger player may require a stiffer shaft

 Upper price level

 Internal draw bias in the head not for golfers who prefer to hit a fade
Specs
Head material: Graphite
Shaft material: Cypher 40G
Loft: 10.5°, 12°
With a February 2022 release date from Callaway, you can be sure that this club is the most advanced driver on the market. Callaway is known as the leader in A.I. tech and innovation. The smart AI technology developed in this latest model will please Callaway fans, both young and especially old. Color me impressed, that's for sure.  
Over the years, I've found that drivers are all about achieving maximum distance, and the new Rogue ST produces long, straight, high-launch drives by decreasing ball spin off the face.
I really noticed the new AI-designed Flash Face Rouge ST that promotes faster ball speed at contact and compensates for any off-center strike, thereby retaining distance and making my shots look amazing. This feels closer to the TM SIM driver, the undisputed champion of forgiveness these days. 
The super-strength clubhead design and materials are lighter than titanium to produce a consistent ball speed. That said, an internal draw bias may make the Rogue ST not the club of choice for golfers who prefer hitting fades. 
This lightweight driver screams more ball speed, especially for golfers with mobility needs who struggle in that area. You may require a stiffer shaft for older golfers (which we will all be one day) who have a little more strength behind them. 
Unfortunately, Callaway isn't known for their high-quality stock shafts, so I recommend getting fit and spending the extra few bucks to get something that matches your swing exactly.  
Slow-swing speed golfers or elderly golfers in search of a senior driver should take advantage of this new technology. This advanced Callaway engineering makes the ST Max Driver the best golf driver for seniors to keep their game consistent.
How does this driver compare against the
best drivers on the market
? Read the full review.
Pros
Revolutionary new shape
Faster clubhead speed and more distance
Twist Face Technology with a slightly larger face
Ultra-low CG optimizes COR
Cons
New shape not for all
Pricey
Specs
Head material: Titanium
Shaft material: UST Mamiya Helium 4
Loft: 10.5°, 12°
The TaylorMade SIM 2 MAX is my top pick for the most forgiving driver for elderly golfers; I noticed less drag and greater clubhead speed through the ball. 
A rear weight increases the MOI for more forgiveness on mis-hits. Twist Face Technology with a slightly larger face area provides straighter shots consistently, regardless of age. 
These factors specifically make the Taylormade MAX-D the best driver for a senior golfer who needs extra forgiveness on their drives. The downside here is that this newer tech gives the club a distinct, advanced shape that may not be for the golfers who prefer the classic feel. 
The multi-material construction, with carbon, steel, and titanium, allows the weight to be positioned precisely in the head for low CG and high MOI. Each head is calibrated to its maximum legal limit. The 2-degree Loft Sleeve allows for customized face angle and ball trajectory adjustment.
Unlike other adjustable drivers from the competitors, this setup is the easiest to use while still providing a wide range of options. 
All of these features add up to make an incredibly forgiving senior driver. This could be the perfect club for you if you know you're prone to a few slices. If you can dole out the extra cash, the Taylormade MAX-D is well worth it. 
Want more forgiving driver options? These are the
most forgiving drivers
on the market.
Pros
Great value for money
Choice of colors and head upgrades
High rebound cup-face design
Cons
Doesn't compare well to the premium senior drivers
Specs
Head material: Titanium
Shaft material: Graphite
Loft: 10.5°
If you want to spend a little less than you would with the Taylormade but you still want to improve your game as a senior golfer, the MAZEL Titanium is one of the best senior golf drivers to add to your set of clubs.
I'm starting to get to the age where I don't want any more club changes or fancy technology; I just want a simple club that will get the job done. You'll be pleased to see this driver here if you can relate. Not many people know this because it's not a big name, but I assure you, it gets the job done just as well as any other big stick. 
I was surprised at the distance and forgiveness of this budget club. With an engineered wedge, it offers incredible ball speed off of its speed channel. The result? A steadier performance with crisp ball speed. 
The larger sweet spot allows you to take advantage of this extra speed and distance, even if you're a little off-center when you strike the ball.
While this lacks some of the features of the more expensive clubs, such as adjustability and maybe some styling points, it's still one of the best drivers for seniors in 2023 if your budget is tight.
Pros
Extremely inexpensive
Anti-slice technology
Cons
Not available with a seniors shaft
Only available in 10.5-degree loft
Specs
Head material: Other
Shaft material: Graphite
Loft: 10.5°
I love golf for its simplicity sometimes, and if you share that sentiment and want to make golf as easy as possible, then have a look at this no-frills driver that is the best driver for seniors on a budget.
Many of the senior golfers I work with have difficulty relinquishing their stiff or regular flex shaft in favor of the "seniors" flex. But with this driver, you won't have to, as the regular flex is designed for slower swing speeds. Other companies provide much stiffer shafts that are labeled 'regular.' PGX has taken the opposite approach, and my students are much happier because of it. 
What really made me include this driver what the exaggerated offset. I've not seen many clubs with such an embellished design, so if slicing is your problem, let me introduce you to your solution.
Although great at curing slices, it may take some getting used to. Its unique look can be off-putting to some golfers, but that's the price you might have to pay to keep your ball from slicing into the next fairway. 
It's very hard to argue with the value this club offers. I also really liked the protective head cover included, sourced from genuine leather. While not the most popular name on this list, PGX is unapologetic about manufacturing drivers that will help cure your slice to lower your scores. And for that, I have a lot of admiration for them.
Pros
Good aerodynamics and low drag

Highly forgiving

Speed and distance

OptiFit Adjustability
Cons
Distance could be better

Not as much adjustability as some would like
Specs
Head material: Titanium

Shaft material: Graphite

Loft: 10.5

°,

12

°
TaylorMade produces some legendary drivers, and their STEALTH 2 PLUS is a great option for seniors. It is perfect for distance but not quite as good as the MAX (my number 2 pick). Yet, most golfers appreciate the consistency and accuracy of the STEALTH. The low spin will also benefit most seniors.
You can expect a decent trajectory and fair consistency with the Stealth 2 Plus as it has a large and forgiving 460cc head. This filled me with confidence at address before I even put the ball on the tee. It is easy to hit and will not allow mishits to stray too far off course.
The technology used in this driver is impressive. The speed-injected intelligent crown minimizes drag and allows for greater swing speed. This will result in more distance without any added effort on your part.
The aerodynamic design adds to seed and distance, making this a long-hitting driver. However, I noticed it didn't achieve the same distances as the SIM MAX; the reduced turbulence offered by the speed step design adds to greater accuracy and consistency.
TaylorMade has incorporated its legendary Twist Face Technology. This produces fast ball speeds across the face for distance, accuracy, and forgiveness. The 2-degree loft sleeve adjustability allows for choosing 8 lie and loft settings according to your swing and style.
The graphics are quite dramatic and, while rather stylish, might not appeal to the more conservative golfer. The Stealth 2 Plus driver is fast and long, but some might want more cold-hard distance
Pros
Good distance

Accurate and highly forgiving

Multiple adjustment options

360° Aero Tips for improved aerodynamics and higher clubhead speed
Cons
Some players found the graphics distracting at address
While forgiving, the spin causes mishits to lose distance
Specs
Head material: Other
Shaft material: Graphite
Loft: 10.5°
A popular and high-rated driver for seniors is the Cobra AeroJet MAX Driver. It is a feature-rich driver that's as fast as it is long. Cobra has created an ultra-thin CNC precision-milled face; this feature makes it incredibly speedy and accurate.
Another feature that I love improves clubhead speed for greater distances is the perimeter 360 Aero-Innovative Polymer Aero Tips. Engineered to reduce drag, the Aero Tips make the clubhead more aerodynamic and, therefore, faster.
The Carbon Fiber crown is superlight for optimal weight positioning and higher clubhead speeds. This is something that many other drivers are using, but it seems Cobra has incorporated it better than them.
My favorite part about this club is the draw-biased weight which makes a huge difference in correcting those banana slices that many seniors struggle with. I also tend to slice my misses, but they were barely noticeable with this club.
Keep in mind that, for the Cobra, the designed forgiveness can sacrifice a bit of distance due to ball speed, while some of our testers found the rather "loud" graphics on the club a little too distracting.
Not to be confused with the PGX driver, PXG is a premium company with top-tier products that also come with top-tier pricing. While this is a much higher-quality driver, some seniors may not want to shell out so much for one club.
The PXG 2021 0211 driver has a classic shape with proven aerodynamics and clubhead speed and is ideal for moderate swing speed senior golfers. 
The deep, face-centered CG launches the ball easily. The driver is lighter than most competitors, and the 460cc head inspires confidence over the ball with decent forgiveness. It definitely has a classy and professional feel that is noticeable compared to other drivers of lesser value.
The new Ti412 face promotes faster ball speed across the face, and a decent amount of distance is maintained on mis-hits. I found that these optimum spin levels produce straighter tee shots and the confidence to hit more fairways.  
These drivers perform well in all conditions and sit well at address. The traditional solid sound and feel-through impact are something not to be missed. That said, this club is everything and then some for traditionalists; the boring visuals may turn off senior golfers looking for a little more flash. 
Pros
Sits well at address and is a confidence builder for all skill levels.

Easy, high launch creates carry and distance.

The great shaft fitted to this driver adds accuracy and control.

4-loft options available: 9, 10.5, 10.5 Draw, and 12 degrees.

Well priced.
Cons
No hosel loft adjustment.

Not a leading brand, but good value for money.
Specs
Head material: Other
Shaft material: Graphite
Loft: 12°
I remember when the Cleveland Launcher Driver was released in 2021, thinking it won't make any waves in the golf industry; boy, was I wrong. The performance has often exceeded the purchaser's expectations (including mine). The latest model has recently received many accolades from golf equipment experts and other reviews.
Known as one of the top wedge manufacturers, their available products have slowly grown, and this new driver will surely put a smile on any senior's face. Probably one of the most underrated drivers on the market; it will suit all skill levels.
Cleveland has excelled at adding a full range of high-tech to the driver. A re-designed HiBore Crown added to the Turbocharged Cup Face, and an Ultra-light Hosel gives the 460cc head a confidence-inspiring and powerful look, while the shaft fits great to the driver, adding an additional sense of control. 
The head sits comfortably at address, and its stability and control make it easy to hit. The large sweet spot on the face adds forgiveness to the mis-hit tee shot without sacrificing too much distance. It feels a bit clunky compared to other drivers, but the results speak for themselves if you can get used to it.
The launch angle is improved with a deep weighting sole pad and a counterbalanced Miyazaki C. Kua shaft developed for Cleveland. What's more, you have 4 loft options available: 9, 10.5, 10.5 Draw, and 12°, perfect for a wider range of senior golfers. 
Testing this driver on the range should be fun, and the accuracy and distance are nice bonuses.
The Best Golf Drivers for Seniors – What To Look For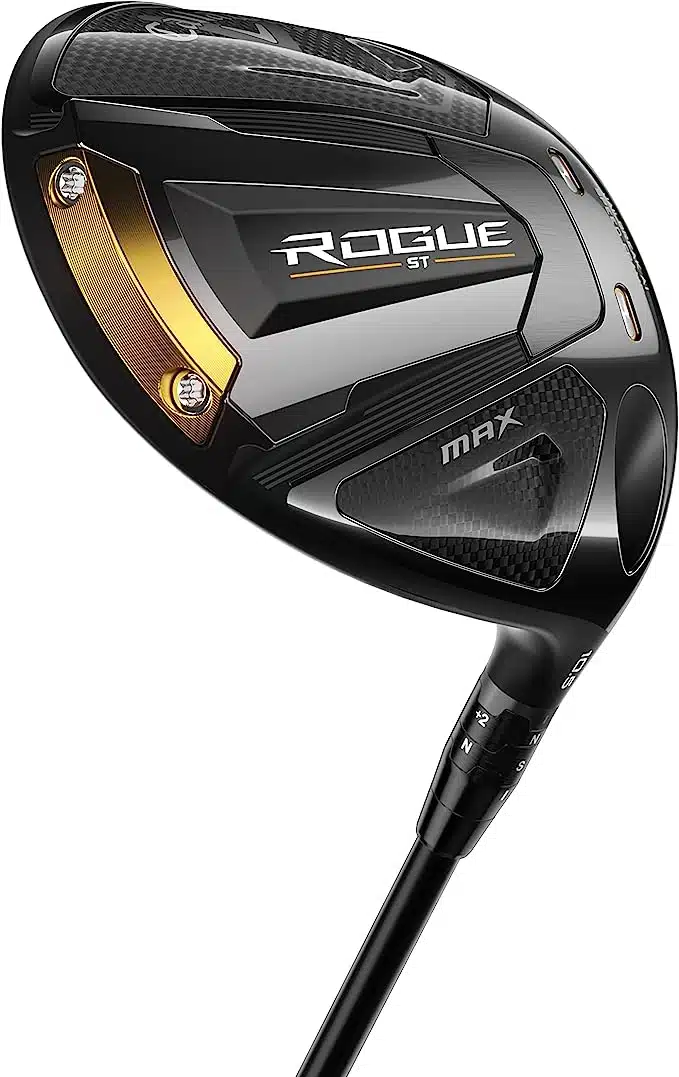 The Launch Angle of Golf Drivers for Seniors
Slower swing speeds need assistance in the form of a greater launch angle. While adjustability is handy, it isn't essential, provided you select a driver with the correct angle. The slower your swing speed, the more launch angle you need.
Shaft
The right shaft is important for all golfers, particularly for senior players with a slower swing speed.
There are three main factors to consider for slow swing speed drivers:
A. Shaft Weight
A lighter shaft will allow for higher clubhead speed off a slower drive swing. Modern materials allow for ultra-light shafts that will help you maximize your driving speed.
B. Shaft Flexibility
More flexibility in the shaft will benefit slower swing speeds. Most drivers have a range of shaft flex options, so select the one that suits your swing speed. A specific senior shaft choice will generally suit most golfers in this category unless you have managed to maintain a fast swing speed.
C. Shaft Length
While longer shafts potentially deliver greater distance, they also reduce control. There is no perfect balance. It entirely depends on you and your own individual swing. Take the time to study your swing style as well as swing speed to determine the ideal shaft length for your game.
Weight Distribution
Again, this will vary from player to player. A lighter driver head—or really a lighter club—generally translates into higher clubhead speed and, therefore, more distance.
However, optimal head weighting also affects your launch and contributes to the driver's forgiveness.
Check out this fascinating study to read about how proper weight distribution, flexibility, and your ability to maintain proper balance benefits your golf game.  
Spin
Spin is beneficial but can also work against you. A very high spin will result in a ball going too high without achieving great distance.
Not enough spin makes for a poor launch with reduced distance. Finding the right balance between your speed and style is key.
Loft
For loft, because you're likely working with less mobility and an impaired ability to generate top, competitive clubhead speed, a higher lofted driver will be what we're looking for. 
Anywhere from 10.5-12° is going to be your friend, as a higher lofted driver will help you easily achieve carry distance while simultaneously creating an optimal launch angle.
Read more: Driver Loft Chart
Adjustability
Adjustability is not essential but can be a handy feature for many senior golfers. It will allow you to dial the club into your specific speed and style.
Grip
Do not forget to consider the size and quality of the grip. This will help you to maintain control of the club. The larger your hands, the bigger the grip you will need.
Budget
As with all golf equipment, your budget has to be considered. Any spending on a driver will result in sacrifice on other equipment. Quality drivers are costly, but they will help you improve your golf game. So it's a good idea to invest in a decent product for years.
Forgiveness
All but the very best golfers want a forgiving driver. Even experienced seniors will benefit from a forgiving head. Some drivers are designed for greater forgiveness, so select the one that suits your game.
The Best Drivers For Seniors FAQ
What Driver Loft Is Best for Seniors?
Deciding on the loft of the driver is a personal choice, unfortunately, we often make the cardinal error of selecting too little loft.
Loft is the golfer's friend, and the older we get, the more loft should be put into play. Senior golfers lose clubhead speed in the swing and adding loft will get the ball airborne more easily, producing more carry and distance.
Loft from 10.5 to 12-degrees is the optimum range for seniors. Playing golf regularly in the wind should be a consideration, but still select a 10.5 as the lowest loft.
How Can a Senior Get More Distance With Their Driver?
Besides increasing the loft on the driver, selecting the correct shaft flex will increase distance and accuracy. Graphite is ideal, and a senior or regular lite shaft composition will do the trick. Playing a softer compression golf ball will also add those extra meters off the tee.
Loft from 10.5 to 12 degrees is the optimum range for seniors. Playing golf regularly in the wind should be a consideration, but select a 10.5 as the lowest loft.
Can the Ball a Senior Plays Influence Distance?
Playing a softer compression golf ball will add meters to the tee shot, without trying to overpower the ball. There are plenty of golf balls on the market with compression as low as 38 and others in the region of 70. They have a soft feel off the club and are great off the tee, as well as good around the greens.
How Far Should a Senior Hit a Driver?
We all swing the driver differently, and clubhead speed determines how far the ball will travel. Natural strength and age are variables, but hitting it around the 200-meter mark is above average. For the older seniors, 150-meters should be celebrated!
What Loft Driver Should a Senior Use?
Aim for a loft driver between 10.5 to 12 degrees to make the launch easier. Seniors tend to experience a decrease in swing speed and overall flexibility compared to younger golfers. This can make it challenging to generate enough clubhead speed to generate a high, competitive launch. 
A driver with an easy, repeatable launch with 10.5-12° in loft is perfect for seniors to achieve a higher launch angle with less effort.
What Is a Good Swing Speed for a Senior Golfer?
A respectable swing speed for a golfer that's over 60 is around 71-79mph. Keep in mind everybody's different, and what may be considered good for you may not be good for someone else. 
To improve your swing speed, choose a lightweight driver that allows for control and flexibility over the shaft, balanced ball spin, a higher loft angle, as well as ample forgiveness through your stroke. 
What Type of Grip Should a Senior Golfer Use?
Older players should opt for a tacky grip as grip strength is reduced. A tacky grip will provide you with better traction to reduce slippage while also allowing you to relax in your applied grip pressure so that you don't experience any muscle fatigue/soreness or general inconsistency in your swing.
What Is the Best Driver for Distance for Seniors?
You should focus more on getting the right shaft than just the driver. Make sure you have a seniors flex graphite shaft to get the most out of the slower swing speeds. With that in mind, the Callaway Rogue ST Max performed as the best driver for distance in our extensive testing and through our research process.
What Is the Best Driver for a Senior Golfer?
We believe the Callaway Rogue ST Max is the all-around best driver for senior golfers. With an easy-to-hit, AI-designed flash face that supports faster ball speeds, an improved launch angle, and equipped high launch tech, this is the best golf club driver for seniors looking to continue playing well into their golden years.
What Is Draw Bias In Drivers?
A draw bias in drivers refers to the club's center of gravity shifting more toward the heel. With a draw-biased driver head, the reference point is altered, where a center-facing contact reacts to the "toe side" of the center of gravity; this is where you'll find spin generated. How much draw-spin your shot creates is going to be based on how much the center of gravity has been shifted, therefore determining how great or how slight draw biases are.
Conclusion
Drivers for seniors will benefit older golfers, and you have plenty of options to choose from. But one driver stands out as the champion. The Callaway Golf Rogue ST Max is an exceptional tool for a slow swinger and is the best driver for seniors on the market today.
It ticks all the right boxes regarding speed, distance, and forgiveness. It is a quality driver with a confident, aspiring, and appealing look. It delivers an effortless loft and is also great value for money.
That doesn't necessarily mean it's the right driver for you. Consider your game, your needs, and your budget, and take a look at our entire list of the best drivers for seniors to make an informed decision.
If you found this article useful, you may want to check out these articles too:
Chris's love for golf is only rivaled by his wanderlust. A globetrotter at heart, He's played courses throughout Europe and Asia and at home in NSW, Australia. With a writing style as smooth as his golf swing, he'll help you find the right gear to match your skill level and style. You can connect with Chris on LinkedIn.