UPDATE (6/6/2023): The PGA-LIV Merger
A few days after writing this post, the PGA Tour and LIV Golf have joined forces. The PGA Tour now recognizes LIV Golf as an equal and partner in pro golf. The details about this big announcement are still coming to light, but here is what we know.
On June 6, 2023, the PGA Tour announced that it had agreed to merge with the Saudi-backed LIV Golf. The deal, which is still subject to approval from the Justice Department and the European Commission, would create a new, for-profit entity that would combine the assets and operations of the two organizations.
The merger is a major development in the ongoing battle between the PGA Tour and LIV Golf. The two organizations have been at odds since LIV Golf was launched in 2022 with the backing of the Saudi Arabia Public Investment Fund. LIV Golf has offered players large signing bonuses and guaranteed prize money, which has led to several high-profile players, including Phil Mickelson and Dustin Johnson, leaving the PGA Tour to join the new league.
The PGA Tour has responded to LIV Golf's challenge by increasing prize money for its events and by strengthening its rules against players who compete in events sanctioned by other organizations. However, the PGA Tour has been unable to prevent players from leaving for LIV Golf, and the merger is seen as a way for the PGA to regain control of the men's professional golf landscape.
The merger is also a major victory for LIV Golf. The organization has been criticized for its ties to the Saudi government, which has been accused of human rights abuses. However, LIV Golf has argued that it simply provides players with an alternative to the PGA Tour. The merger will give LIV Golf a much larger platform and will likely lead to more players joining the league.
The implications of the merger are still unclear. However, it will likely majorly impact the men's professional golf landscape. The PGA Tour will no longer be the only major golf tour, and the competition between the two organizations will likely intensify. This could lead to higher prize money and more opportunities for players. However, it could also lead to a fragmentation of the sport, with players divided between the two tours.
Only time will tell how the merger will play out. However, it is a major development that will significantly impact the future of men's professional golf.
PGA vs. LIV Intro To Their Rivalry
Below is some background information on the PGA TOUR and LIV battle before these latest developments.
For the past few years, the usual peaceful landscape in professional golf has become unglued. Instead, there has been a divide in golf ever since LIV Golf Commissioner and CEO, Greg Norman, announced in late 2019 his plans to bring a new league into professional golf.
Let's compare: PGA vs. LIV. The PGA TOUR  has a longer season and more events than LIV. LIV has shorter events, but the players earn far more. LIV also has a team format versus the PGA TOUR's individual format. 
However, there is more to the PGA versus LIV matchup because they've squared off head-to-head in several controversial areas. Golfers won't want to miss out on these details because it could change professional golf forever.
I will examine everything relating to the PGA TOUR and LIV in today's article. You will learn about:
The PGA TOUR and LIV Tour as a whole — how do they differ?
Who the PGA TOUR and LIV Are
The LIV lawsuit and PGA TOUR countersuit
Is LIV a sport-washing attempt by the Saudis?
Should PGA TOUR players be banned for competing in LIV?
PGA vs. LIV Overview
While both the PGA TOUR and LIV operate highly successfully, they approach their tours differently. The PGA TOUR adopts what many would consider a traditional approach. Each season is long, beginning in September and concluding in August. There are 45 events in total. On the other hand, LIV has just 14 events for the year, so there is less action for golfers and viewers to get stuck into.
The structure of said events is also widely different. Anywhere from 132-156 players compete across 72 holes on the PGA TOUR. By comparison, LIV golfers only cover 54 holes, and just 48 players get to compete. As such, it is clear that the PGA TOUR focuses more on volume.
Pay also differs greatly. PGA TOUR players are only paid if they place near the top. On the other hand, LIV pays a flat sum for entry on top of prize money for strong finishes. What's more, their prize pool is far larger and they pay ludicrous sums of money for players to join their tour.
As a result of this financial incentive, many players have migrated to LIV, thus we have the current lawsuit which is unfolding. The PGA TOUR claims that the Saudis are sportswashing and employing unethical business practices. On the other hand, LIV believes that the PGA TOUR is monopolizing the sport of golf.
PGA TOUR: Overview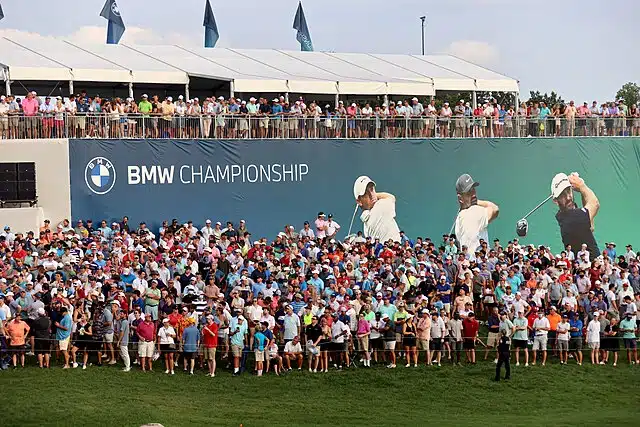 The PGA TOUR is the world's premier membership organization for touring professional golfers. It co-sanctions tournaments on the PGA TOUR, PGA TOUR Champions, Korn Ferry Tour, PGA TOUR Latinoamérica, and PGA TOUR Canada.
The PGA TOUR was established in late 1968 after it broke off from the PGA of America's "Tournament Players Division." As a nonprofit organization, the PGA TOUR has no owners but is governed and run by a board of directors, its executive team, and its players advisory council.
The PGA TOUR and its affiliate tours mostly host what is considered more traditional events. These consist of the following:
72 holes of play
A mid-tournament "cut" where the field is reduced in some capacity, usually half
A full field of 132, 144, or 156 players
Tee time starts
The majority of events are played in individual stroke play (some match play and team events)
Long season, with 45 events in a "wrap-around" season from September through August
Related: Who Owns The PGA
LIV Golf: Overview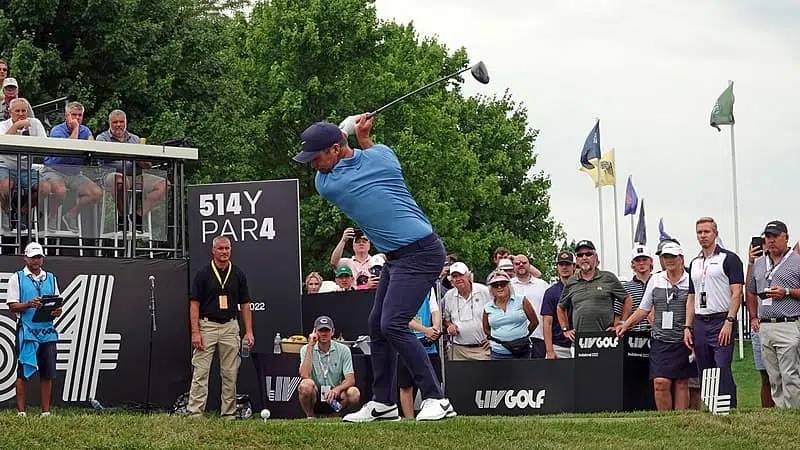 LIV Golf launched in June of 2022 with its first event at the Centurion Club near London, England. The Saudi Public Investment Fund, the sovereign wealth fund of Saudi Arabia, finances LIV Golf.
The Commissioner and CEO of LIV Golf is former world number 1 golfer and two-time major champion, Greg Norman. In 2019, Norman began talks with Golf Saudi, a Saudi Public Investment Fund division, about funding his Premier Golf League concept. Before negotiations with Norman, Golf Saudi had already planned to create a "Super Golf League."
What eventually transpired was the blending of the two ideas, with Greg Norman being charged with running the new LIV Golf Investments Series. This was formally launched in October 2021.
The LIV Golf Series hosts what is seen as very non-traditional events in the world of professional golf. These events consist of:
54 holes of play
No mid-tournament "cuts"
A reduced field of 48 players
Shotgun starts
Events played in individual stroke play and 4-man teams, simultaneously
Short season, with only 14 events, all in a calendar year
Related: What Is LIV Golf?
How the LIV Golf vs. PGA TOUR Rivalry Began
Now, back to the history of the PGA TOUR vs. Greg Norman and his vision for a World Golf Tour. Norman has had designs of starting a breakaway league going as far back as 1994. In a meeting in November of that year, he gathered several big-name PGA TOUR players to present his case for establishing a World Golf Tour and one that would seemingly break away from the PGA TOUR.
The following may sound familiar…
Norman, along with Fox Sports executives David Hill and John Montgomery Jr., presented the following blueprint:
Eight tournaments in 1995
40-player fields with guaranteed money for participants
Winner's share is $600,000 (adjusted in today's dollars totals $1,195,000)
Players committing to the tour would receive a travel allowance and other bonuses
Season-ending player of the year would pocket $1 million (adjusted in today's dollars totals almost $2,000,000)
Sounds eerily similar to today's LIV Golf Series.
In the mid-'90s, the average winner's take for PGA TOUR events was $216,000. The most lucrative purse on TOUR, the PLAYERS Championship, had a winners cut of $450,000.
Interestingly, a few days before this meeting, then PGA TOUR commissioner Tim Finchem sent a memo to players saying anyone joining a rival tour would be suspended.
Norman's World Golf Tour never left the runway, but you have to think, with what we see today, in 2023, Greg had his sights set on eventually trying to make this work.
The PGA TOUR Bans Players for Competing in LIV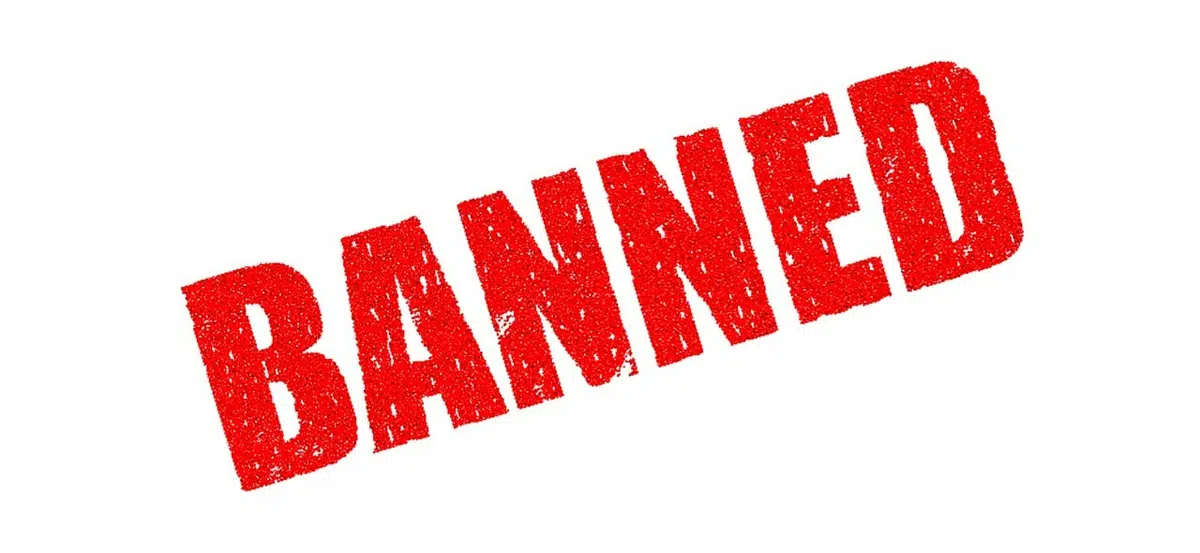 Today, the PGA TOUR is banning members and non-members from last playing in a LIV Golf event for one year. The players that moved to LIV and the LIV Series contend that what the PGA TOUR is doing is not allowable. Thus, we have the current legal battle in place.
The PGA TOUR differs significantly from other major professional sports organizations, especially compared to team sports like the NBA, NFL, or MLB. In essence, the PGA TOUR is player-owned.
True, as a nonprofit entity, there are no owners of the PGA TOUR; however, if you had to consider any of the interested parties involved in the tour as "owners" or "stakeholders," it would have to be the players. Yet PGA TOUR members are independent contractors and not employees, which is a key distinction. Their contracts include a non-compete clause which is an industry standard.
More From Golf Span: Most Disliked Golfers Ever – On And Off The Course
LIV Golfers Sue the PGA TOUR      
LIV Golf and the PGA TOUR have been in court battles since August 8, 2022. Initially, 11 of the PGA TOUR professionals suspended after playing in LIV tournaments sued the PGA TOUR. They claim that the PGA TOUR allegedly used its position to prevent its players from pursuing other professional ventures without consequences. Those consequences were their suspension and removal from the PGA TOUR.
The 11 LIV Golf PGA TOUR players in the original suit included:
Bryson DeChambeau
Hudson Swafford
Matt Jones
Abraham Ancer
Carlos Ortiz
Ian Poulter
Pat Perez
Jason Kokrak
Peter Uihlein
Eventually, LIV Golf became a plaintiff in the players' suit. When that happened, all 11 of the original golfers in the case dropped out, except for Peter Uihlein, Bryson DeChambeau, and Matt Jones. Later, Uihlein dropped out, leaving only DeChambeau and Jones.
Finally, the latest development is that Bryson DeChambeau and Matt Jones have dropped their names from the suit, leaving only LIV Golf as the remaining plaintiff.
LIV's Lawsuit and the PGA TOUR'S Countersuit
Where the money comes from has been a rallying cry from those who have seen golfers defect from the PGA TOUR to the Saudi-backed LIV Tour.

Most people say they don't care. pic.twitter.com/4YISz7lxPM

— Darren Rovell (@darrenrovell) June 9, 2022
The basis of LIV's lawsuit is straightforward in their eyes. They feel that the PGA TOUR is holding LIV Golf tour members back. LIV needed to start the league to give professional golfers options, allowing them more access to business opportunities and money.
In their filing, LIV Golf wants to pursue "Punitive damages for the PGA TOUR's bad faith and egregious interference with LIV Golf's contractual and prospective business relationships."
Early in the proceedings, the players asked the judge for the right to simultaneously play the PGA TOUR and LIV. The judge denied that request.
As of now, the trial is set for January 2024.
The PGA TOUR filed a countersuit on September 28, 2022. In this, they argued that LIV Golf and the Saudi Public Investment Fund wrongly interfered in PGA TOUR business. In addition, by giving players millions of dollars to break their contracts and play for LIV, the PGA TOUR feels that LIV is practicing poor business ethics.
Monopoly Accusations Aimed at the PGA TOUR
In July of 2022, the U.S. Department of Justice started a probe into the PGA TOUR, noting that its suspension of players who competed in LIV could put them within the scope of antitrust issues.
However, as mentioned earlier, in Greg Norman's mid-90s attempt to start a new World Golf League, the Federal Trade Commission (FTC) was in fact brought in to investigate this same antitrust concern. One of the critical concerns back then revolved around PGA TOUR members playing in non-PGA TOUR events without the commissioner's express permission. In that situation, the FTC dropped its investigation by 1995, stating there was no basis to consider any wrongdoing on the PGA TOUR's behalf.
Is LIV a Sportswashing Attempt by the Saudis?
Sportswashing is when a country, business, or organization looks to sports to help better its image. Many people in the golfing world believe LIV is a classic case of sport-swashing, and we must agree. LIV golf is just one of the many advancements the Saudis have made in the sporting world. These include their purchase of Newcastle, as well as links to the WWE, eSports, and Formula 1.
It's important to note that these sporting ventures coincide with harsh criticism relating to human rights abuses such as:
The suspected murder of Washington Post journalist Jamal Khashoggi
The Saudi Arabian government's intolerance of homosexuality
The Saudi Arabian government's treatment of women
Many of the hijackers behind September 11th were Saudi, though the Saudi government has denied their involvement
Of course, Saudi Arabia claims that their focus on diversification in sports from oil was a means to remain a world economic powerhouse. However, it seems that they are exploiting the passionate and positive sentiment of sport for their own benefit. They could have quite easily migrated into any number of industries that wouldn't have masked their immoral practices.
This is very disheartening for us golf fans. We feel obligated to watch LIV as it features so many incredible players. Yet by doing so, we are supporting unethical activity which will allow it to continue.
Read More: How Do Golfers Get Paid?
Closing Thoughts
The birth of LIV Golf in June 2022 largely sent the golfing world into chaos. With the lucrative prize money, many players naturally sought to compete in the PGA TOUR and LIV for maximum return.
Yet, as LIV threatens the stability of the PGA TOUR, to nobody's surprise, the PGA TOUR pushed back. Banning players left and right who competed in the rival league. What has ensued is court proceedings. LIV argues that the PGA TOUR is monopolizing the sport of golf while the PGA TOUR is condemning LIV for unethical business practices. By offering large sums of money, they are incentivizing players to break their PGA TOUR contracts.
How the PGA TOUR vs. LIV feud plays out is anyone's guess. But we expect this rivalry will extend far beyond the trial which is set to take place in January 2024.
Frequently Asked Questions
Can Golfers Play in LIV and the PGA?
While LIV players are banned from playing in almost all PGA Tour events, there are a few for which they are eligible. For 2023, LIV golfers can compete in any of the four majors provided they meet entry criteria.
Does LIV Pay More Than the PGA?
LIV pays far more than the PGA. Golfers who take 1st place at LIV tournaments earn a respectable $4 million. By comparison, most PGA 1st place finishers earn $2 million or less. What's more, every player who enters a LIV event is paid. The PGA doesn't function in this way.
Is LIV a Competitor to PGA?
LIV is a breakaway professional golf league that directly rivals the PGA Tour. A field of 48 players compete across 54 holes. This differs from the PGA Tour, where up to 156 players compete across 72 holes.
Who Is the LIV Golf Founder?
Golf Saudi, a group within the Saudi Public Investment Fund, founded LIV Golf. They appointed two-time champion Greg Norman as the CEO and commissioner of the organization.
Who Is Playing LIV Golf?
There are 48 players competing in the LIV league, many of which are former PGA players. A few examples of PGA players who joined LIV include Bryson DeChambeau, Dustin Johnson, and Brooks Koepka.
Nick Lomas is the founder of GolfSpan, an avid golfer, not quite a pro but has over 15-years of experience playing and coaching golfers from all over the world. His mission is to bring the golfing community a better experience then it comes to choosing the right golf gear, and finding the right set up for your game.