If you're looking for clubs from a grassroots company known for affordability is Bombtech Golf. They claim they offer forgiveness and distance.
So, are BombTech clubs good? The BombTech golf clubs are a solid choice for beginners, high-handicappers, and golfers with slower swing speeds. They are designed for distance and accuracy. They also have large sweet spots for extra forgiveness. However, more advanced golfers will need more customizable equipment.
Bombtech has drivers, iron sets, wedges, and putters, and you'll learn the TLDR about each to avoid wasting money on the wrong club.
In my BombTech golf clubs review, I'll examine each of these clubs' pros, cons, and features to see who they're best for. But these clubs aren't for every golfer, so pay attention to the alternatives from major manufacturers listed below.
Let's dive into the BombTech golf clubs!
Overview of the BombTech Clubs
Product Name
Check Today's Price
Pros
Cons
Bombtech Driver & 3 Wood Bundle

Designed for maximum distance.
Large sweet spot for forgiveness on mishits.

Some may prefer more adjustable woods.

Bombtech Iron Set

Built for distance and accuracy.
Progressive weighting for optimal playability across the set.

May not be ideal for very advanced players.

Bombtech Wedge Set

Offered in various lofts for different shots around the green.
Groove design for optimal spin.

Feel might differ from some premium wedges.

Bombtech Putter

Built for consistent roll and distance control. Milled face for enhanced feedback.

Design might not be for everyone.
Pros
Great distance
Great forgiveness
Very affordable
Large club heads
Nice finish
Cons
Less workability
Less control
Not a well-recognized brand
Key Metrics to Consider
These are my ratings for the Bombtech golf clubs.
Note: All ratings are out of 100.
| | |
| --- | --- |
| Overall | 92 |
| Star Rating | 4.6 out of 5 |
| Distance | 90 |
| Forgiveness | 95 |
| Feel | 88 |
| Workability | 85 |
| Aesthetics | 83 |
| Price | 95 |
Verdict
The BombTech golf clubs are premium and inspire self-belief and improve a golfer's performance.
In my assessment of BombTech golf, I discovered they provided a great combination of distance and forgiveness. These are ideal for high-handicap golfers and better players who do not want to compromise their performance.
So, if you are looking for good performance clubs with added distance and forgiveness, you should try BombTech Golf.
Who BombTech Golf Clubs Best For?
The BombTech golf clubs are generally designed for beginner golfers with slow-swing speeds and high handicaps.
High-handicapped golfers will love these as they're fantastic for gaining more yardage on your shots without compromising forgiveness.
I wouldn't recommend these to mid to low-handicappers because there are much better options and irons available.
Things to Consider Before Buying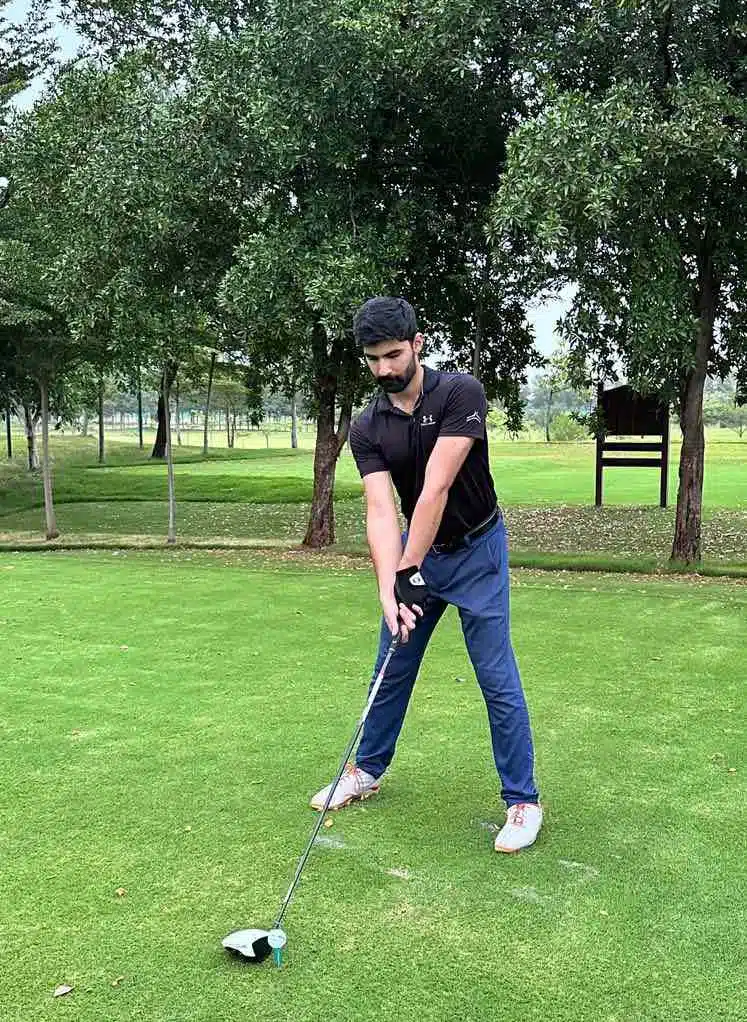 You should consider the following things before purchasing these golf clubs.
Your Budget: They are affordable compared to their competitors. If price is your top priority, this will be a great buy.
Your Skill Level: They are perfect for high-handicappers but not ideal for mid to low-handicappers.
Your Swing Speed: Golfers with slower swing speeds will prefer BombTech.
Your Current Set: Are you looking to improve, or will this be your first golf set? Great for a first set, but not if you're looking to improve.
Why You Should Trust Us
Our team spends thousands of hours trying out and researching golf equipment to help you take your game to the next level. Here's our product review process.
We can bring these reviews to you through the small commissions we earn if you buy through the links below.
How We Reviewed These Products
Golfspan only shares equipment and brands we trust.
I considered these criteria for my BombTech review:
Cost
Distance
Spin & Control
Feel, Appearance & Sound
Launch & Accuracy
Overview: Bombtech Golf Reviews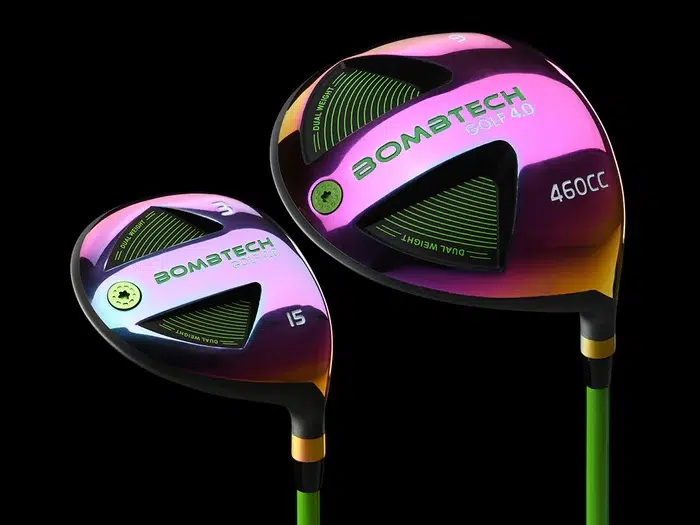 To gain valuable insights, I spent a lot of time researching these golf clubs.
Distance
In my research, I discovered that BombTech drivers and woods are designed for golfers to provide them with maximum distance because of dual weights and speed cavities.
I was also impressed by the crazy yardage the BombTech irons can provide. Even on some off-center hits, I got good yardage with plenty of accuracy.
Forgiveness
They are designed for beginners and high-handicappers, so we hope they offer plenty of forgiveness.
The drivers and woods are extremely forgiving. The irons are perimeter-weighted with a cavity back that can truly improve your performance on the course. The clubs provide consistency and precision even on off-center hits because of the larger club heads.
Launch
BombTech invests in cutting-edge engineering and design to optimize launch circumstances and balance yardage, trajectory, and accuracy.
A well-placed CG, aerodynamic design, and high-strength face technology maximize launch circumstances and allow golfers to achieve their ideal of golf ball in flight, whether high and towering or penetrating and controlled.
Note: Launch performance can vary due to various factors such as swing speed, club loft, and course conditions.
Feel & Look
BombTech woods boast sleek, modern aesthetics, featuring clean lines, refined curves, and a nice finish.
BombTech irons have a sleek and streamlined appearance with a compact shape. The wedges offer confidence, versatility, and a soft, responsive feel.
BombTech Drivers and Woods Review
The company founder partnered with some students and went on to develop their driver, now known as the Grenade driver. So what are the BombTech Grenade Woods reviews like?
The driver lineup from BombTech Grenade provides incredible power off the tee with optimized launch angles and lower spin rates for longer flights.
The Bombtech Grenade driver has a 460cc head with 10.5 degrees loft – remember that these woods have no adjustability. There is a stiff flex shaft.
The fairway wood has a 15-degree loft. Fairway woods and hybrids are versatile, allowing you to meet the sweet spot from various lies.
When you mis-hit towards the heel or toe, the Dual weights in the heel and the toe of the driver and the woods stabilize the head resolution in straighter strokes off the tee or deck.
Key Features and Benefits
460cc head
Speed cavities
Dual Weighted
Pros
Great distance
Very forgiving
Produces straight flights
Cons
BombTech Irons Review
The BombTech Irons have a big footprint and an extended sweet spot, making them ideal for players with greater handicaps. These cavity back irons have stainless steel shafts for a great feel and surprising accuracy.
They're perimeter weighted, so your mishits are protected to some extent. These irons launch high and fly straight.
Key Features and Benefits
Unsupported face
Cavity back
Perimeter weighted
Pros
Large club heads
Very forgiving
Gunmetal finish
Cons
BombTech Wedges Review
The BombTech wedges have accurate grooves and grinds that allow you to execute a variety of shots around the green with great spin and control. You can find some of the deepest grooves on the Bombtech Wedges.
The Bombtech Wedges also launch extremely high with little effort. The black coating eliminates glare and provides these irons with a high-end appearance.
With these, you'll get a pitching wedge and sand wedge. You'll get 3 wedges with 52, 56, and 60 degrees loft.
Key Features and Benefits
Deep face grooves
Large design
Stepped Shaft
Pros
Great spin and control
High launch
Cons
BombTech Putters Review
BombTech putters have a precision milled face and an alignment aid that improves putting consistency and accuracy.
The milled face encourages a smooth roll and precise ball contact, which leads to greater distance management and overall performance on the greens.
BombTech putters are designed with balanced weight distribution to improve feel and stability throughout the stroke and assist you in maintaining control and confidence in your putting stroke.
Key Features and Benefits
Precision milled face
Balanced weight distribution
High-quality construction
Pros
Durable
High accuracy
Solid feel
Visually appealing
Cons
Limited options
Subpar sound
Alternatives
If you're looking for alternatives to these clubs, several reliable companies on the market provide a variety of options to meet different preferences and playing styles.
The Callaway Strata is one of the most popular beginner golf club sets. These clubs are great for the everyday golfer; you can get the entire set without breaking the bank.
Pros
Great for beginners
Forgiving nature
Decent distance and high accuracy
Value for money
Cons
Not for advanced players
No long irons in the set
These Wilson clubs are a great alternative to the BombTech clubs for beginners and intermediate players. They're priced reasonably, have a strong brand name, and offer great results for a new golfer.
Clubs in this set boast a low center of gravity, which aids in achieving higher launch angles, which is especially beneficial for novices. The durable build and ergonomic design make all the clubs long-lasting and comfortable. While seasoned players might seek more advanced features in their clubs, the Profile SGI set offers undeniable value, making it a great starter kit for those entering the world of golf.
Pros
Complete golf set and clubs with a bag
Recognized brand name
Beginner-friendly clubs and forgiving
Affordable price tag
Cons
Some complain about the quality of the driver
Bag quality is not the best
FAQs
Who Are Bombtech Clubs For?
BombTech clubs are made for beginners and high handicappers. They're appropriate for golfers with slower swing speeds looking for yardage, forgiveness, and customizability. BombTech clubs cater to those who emphasize value and cost over excellence.
Are BombTech Wedges Legal?
There's been a BombTech controversy regarding their driver and some clubs. However, according to USGA (United States Golf Association), Bombtech wedges are legal as they comply with the Pre-2010 Golf rules and the 2010 Groove rules. This implies they can be utilized in full swing during any golf outing, whether casual, high-level amateur, or professional.
Do Any Pros Use BombTech Clubs?
BombTech clubs are not used by professional golfers. The company sells directly to consumers and does not target professional golfers because they believe their clubs do not fit their needs.
Final Thoughts
So, after my BombTech golf review, I can confidently say that they're excellent golf clubs for new golfers that struggle with accuracy and distance.
The BombTech clubs are a good option for high-handicapped golfers, especially beginners with relatively slow swing speeds looking for extra yardage and forgiveness. However, I would not recommend these clubs to advanced golfers.
If it were up to me, I wouldn't buy these golf clubs as they're not the best fit for my game. However, if you think these clubs suit you, don't hesitate to buy them since they're way cheaper than most clubs from other brands on the market yet offer great value.
Basically: Are Bombtech clubs good? They have my two thumbs up!