There are now apps that you can use to get your distance readings for a fraction of the price of a rangefinder. We have reviewed the best golf GPS apps to help you determine which one is best suited to your needs.
Things to consider before subscribing to a Golf GPS App
Annual Golf GPS App Fee vs Price of a Laser Rangefinder
The initial outlay in terms of subscription fees for a golf GPS App is significantly lower than if you were to acquire a laser rangefinder. This may prompt you to hop on to the App or Google Play store and download the first one you see, but you need to get the calculator out first.
On average, I have found that a Golf GPS App with premium features will run you about $50 for an annual subscription. Ten years' worth of subscription fees could get you a top laser rangefinder, and you will likely have purchased more than one device during that period.
This makes a Golf GPS App an excellent option if you are on a budget or are looking for distance measurements while you save up for a laser rangefinder.
Free Features
Many golf GPS apps offer users a free version, with a variety of features and benefits. I have found the free features on some apps to be so good, I was not sure if it was necessary to upgrade.
If you like an app and its features, it is worth upgrading to get the full experience.
The free version of GPS apps commonly offers a GPS rangefinder that works on thousands of courses. And a basic digital scorecard.
If you are in the market for a golf GPS app it is worth taking advantage of the free features to see if it suits your needs before signing up. If you are not willing to spend anything on a golf GPS app, you can still enjoy the free features.
Keep in mind that free features aren't completely free, in the sense that you will need to deal with annoying banner adverts if you decide to go this route.
Monthly vs Annual Subscription Fee
Purchasing an annual subscription fee will result in you saving up to 60% in comparison to paying monthly.
While the savings are significant when you agree to a one-year subscription, all sales are final. If you don't like the app and cancel within 12 months, you won't be refunded for the months of no use. You can avoid throwing your hard-earned dollars away by taking advantage of an app's free version before committing.
Paying monthly works out to more than if when paying a full years subscription upfront. However, the advantage is that you can opt-out at any point and move on to another app.
Measurement Accuracy
Golf GPS apps will typically give you the distance to the front, center, and back of the green, and not to within 1 yard of the pin, like a laser rangefinder.
Certain apps allow you to adjust the position of your target, giving you precise reads for that day's pin location.
The premium features on apps do provide you with an accurate measurement from your ball to hazards and the green, to help you plan your hole from the tee to the green.
Integrated Maps
The performance of your Golf GPS products is only as good as the detail provided by the map, which is integrated into the app. If the map integrated by the developers does not have detailed information about your home course, the app will underperform.
It is advisable to test all the apps functions on the course that you play the most, to ensure the product works.
Digital Scorecard
Besides providing you with distance measurements, these apps enable you to keep your score. Premium features on GPS apps encourage you to record your fairways in regulation (FIR), putts per hole, and shots out of the sand.
Select apps allow you to directly post your score from the app to your GHIN profile providing you with extra convenience.
Strokes Gained Analysis
Serious golfers wanting in-depth insight into their games should look at Golf GPS Apps that offer strokes gained analysis.
When you capture your score every hole, you add in details regarding FIR, putts per hole, shots out of the sand. The analysis then provides you with a handicap for each element of your game, determining where you need to improve.
Shot Length
If you are looking to improve your distance control, look for an app with enhanced accuracy. This, in turn, will help you improve your distance control.
Shot distances can be recorded using a Golf GPS app. These distances will help the app accurately recommend clubs for future shots.
Club Recommendation
GPS Apps that measure the distance of your previous shot use that data to recommend the best club. The more information that your GPS has regarding your distances, the more accurate the recommendation will become.
Overall Best Golf GPS App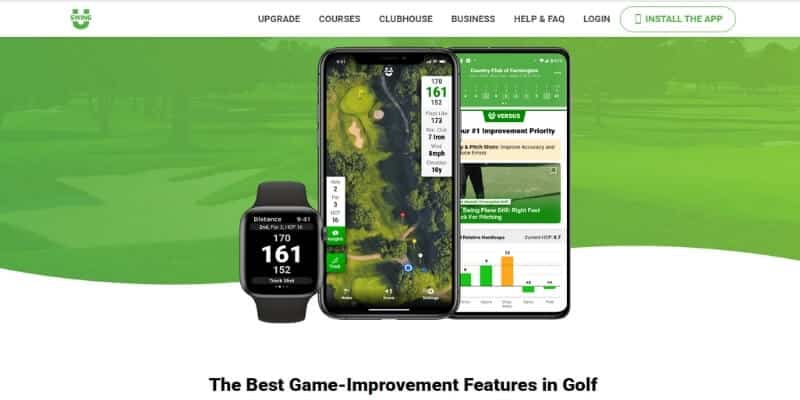 Our pick for the best overall Golf GPS app is brought to you by SwingU. The app is used by over 5 million golfers and works on every course in the world. I have tried it on courses throughout the USA, Canada, UK, South Africa, and Argentina. It has performed as expected in all Countries.
Pros
Advanced free features
GPS rangefinder works on every course in the world
Strokes gained analysis gives you insight into all areas of your game from tee to green
Adjustable power usage to save battery and data when you are on the course
Coaching tips and instructions
Cons
Banner adverts on the free version
Basic digital scorecard on the free version
Accuracy of measurement to the exact location of the flag
Features and Benefits
GPS Rangefinder
The premium version of SwingU offers advanced GPS rangefinder features, which would even impress the most hardcore golfers. During non-tournament rounds, you can switch off tournament mode to receive distance measurements that factor in the current wind speed and the elevation of your shot. As a result, the application can provide you with "plays like yardages."
The rangefinder on this app allows you to measure the distance of your shots. With sufficient data, it will accurately recommend which club to hit based on your past average distances.
Adjustable Target
One of the downsides with Golf GPS products has been the accuracy of measurement to the pin. The devices give you the distance to water hazards and bunkers and to the front, center, and back of the green. On the SwingU app, you can adjust your target by dragging the pin to get a more accurate read to current pin locations, and layup points.
This feature does help to make the GPS rangefinder's readings more accurate. However, it won't give you the distance to within 1 yard of your target, like a laser rangefinder.
The ability to adjust your target gives you more control than with GPS devices of the past. I found it particularly useful for layup shots on doglegs and blind holes.
Serious golfers may want more precise measurements, but you will have no trouble sticking it on the dance floor with the help of the adjustable target function.
Digital Scorecard
As has become the norm in the market, this application comes with a digital scorecard function. Besides plugging your strokes in every hole, you can record whether you hit the fairway or rough from the tee, the number of putts, bunker shots, and penalty strokes.
The digital scorecard features a hole insights function that compares your performance on each hole to other golfers in the SwingU network.
Versus Mode
SwingU's strokes gained analysis feature versus mode provides you with in-depth analysis from tee to green. The app's algorithm analyses the information for your hand and gives you a handicap for all facets of your game. This helps you determine what you need to work on next time on the range.
Versus mode comes with a variety of lessons and drills from world-class golf coaches. They are designed to help you work on the weaker elements of your game.
Pricing and Packages
SwingU offers you two packages. The Free for Life with basic features, and the Premium version.
The premium subscription is $59.99 per year if you pay upfront otherwise it is $9.99 per month.
Verdict
The SwingU app has basic but sufficient features in the free for life version to keep the average golfer happy. That being said, the variety of features and services in the Premium edition is well worth the $59.99 per year. The app is designed to improve your overall game and in reality, is your virtual caddie.
Best Value For Money Golf GPS App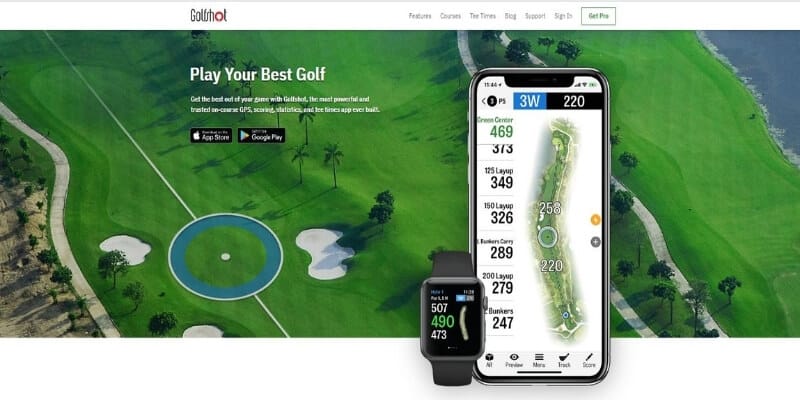 As far as the cost for upgradable features goes, Golfshot offers you the most bang for your buck. The Golfshot pro edition is substantially more affordable than their competitor's products, and offer most of the same features. It is for this reason that we
award Golfshot our best value for money Golf GPS app.
Pros
Free version
Augmented reality delivers distances to hazards in realtime
Post scores from the app directly to your GHIN account
Book tee times from the app
Tee to green statistics even on the free version
Cons
Banner adverts on the free version
Flyovers on the free version don't provide any distances
Cannot adjust target on the free version
Does not work on all courses
No monthly subscription option
Features and Benefits
GPS Distances
The free version of the Golfshot GPS app merely provides the distance to the center of the green.
The pro version gives you distances to hazards, suggested layup points, and the green. Like the SwingU app, the Golfshot rangefinder measures the distance of your shots and suggests which club you should use.
Finally, Golfshot has included a pan targets feature in the app, to allow you to zoom into your target to receive a truer measurement.
Flyover Preview
On each hole, you will enjoy a flyover preview from tee to green. The free version shows the layout of the hole in 3d but does not provide any qualitative data.
In the pro version, you are given distance readings to the suggested target areas on the hole. I have found this to be useful in planning my hole, which has also aided my distance control.
Digital Scorecard
Golfshot has added additional convenience to their subscribers' lives, by enabling you to link your GHIN number to the app. This, in turn, allows you to post your scores directly to your handicap index.
Discounts
When you become a Golfshot Pro subscriber, you enjoy a host of discounts with the brand's partners. Reduce your spending on green fees, swing evaluations, and golf balls from selected partners.
Pricing and Packages
The Golfshot GPS app comes in three different levels of subscription. Free, Pro, and the Ultimate Combo.
The free package offers users basic features, including the distance to the center of the green. It also enables you to book tee times from the app.
If the free version leaves you wanting more, then you can upgrade to a Pro account. This includes the detailed features that we touched on earlier and costs $39.99 per year.
The ultimate combo subscription comes with the pro version features, lessons, and tips. This is intended to help enhance your game. This service will cost you $59.98 per year.
Verdict
It is refreshing to see an app that offers an entry-level, medium-range, and premium subscription option. The free version is very basic in comparison to other golf GPS apps, but the cost to upgrade is affordable and the features are well worth the investment.
Most Affordable Golf GPS App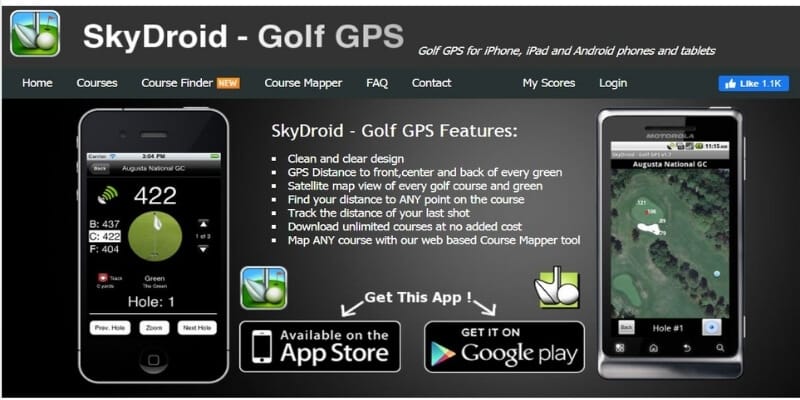 Skydroid is the most affordable golf GPS app that I have ever used. While it is one of the older options on the market, it still gets the job done, far cheaper than any of its competitors.
Pros
Most affordable app on the market
GPS distance to the front, center, and back of the green
Map any course not currently in the database
Shot distance tracker
Cons
Outdated interface
Wind speed and slope not factored into distance reading
Inaccurate on courses with limited map data
Features and Benefits
GPS Distances
The Skydroid GPS gives you the distance to sand traps, hazards, and the front, middle, and back of the green. While this works for the average player who wants to get the ball in the vicinity of the green. Superior players will likely prefer more precise measurements.
Course Maps
Once you have paid the one-off subscription fee for the app, you are free to download unlimited satellite course maps. The only limit is the storage capacity of your smartphone.
Pricing and Packages
The cost of the Skydroid app is a once-off fee of $1.99 and enables you to download unlimited course maps and receive basic distance measurements to hazards and the green. If you want the synchronized feature to automatically upload your scores to the Skydroid website. It will only cost you an additional one-off fee of $1.
Verdict
As the most affordable golf GPS app, you get what you pay for with the Skydroid app. It is a basic creation that provides the average golfer with distance readings around the course. For the price, it does what is intended and makes for an excellent entry level option.
Best Golf GPS App For Putting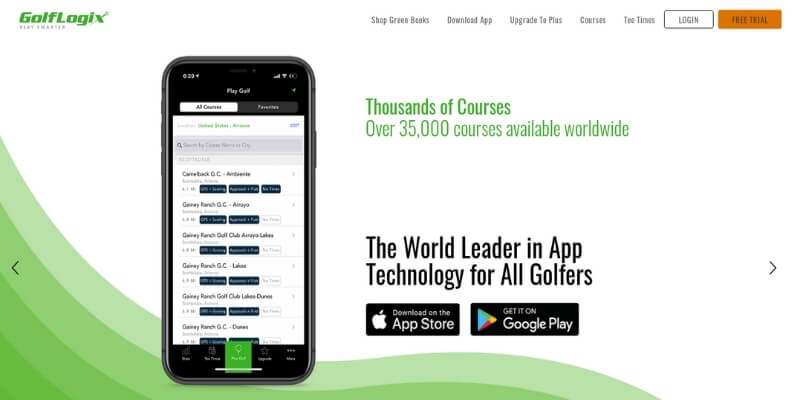 This is a golf GPS app best suited for players who need assistance with their putting reads. While it will help you get from tee to green, the app's unique selling point is its ability to give you accurate breaks and distance reads from your ball to the cup.
Pros
Gives reads on putts
Free trial with pro features
Turn tournament mode on and off
Shot distance tracker
Covers 35,000 courses worldwide
Cons
Ads in the free version
Putt breaks and approach maps not available for all courses
Only one free round with pro features
Aerial imagery option on the free version is basic
Features and Benefits
GPS Distances
The Golflogix GPS app provides you with measurements to any point on the fairway, greens, bunkers, and water hazards.
The app's, 3d birds approach maps give you detailed information regarding the angles in and around the green. This helps you with your distance control and accuracy around the greens, giving yourself more birdie chances.
The app's unique putt line feature will guide your aim and demonstrate how the ball will break. This is handy to reduce unwanted three-putts and increase one putts.
Digital Scorecard
The app allows you to input a variety of information about your performance on each hole, giving you an in-depth insight into your overall game. I appreciate that this feature is available in the free version of the app and found the analysis to be useful.
After each hole. Input your score, the number of putts, greens in regulation, fairways hit, driving distance, greenside bunkers, pitches, chips, penalties, and missed putts.
Customize Your Golf Bag
After downloading and setting this app up, you can customize your golf bag which will track the distances of your shots with each club. This will help to improve your distance control with every club from driver to putter. To set up your bag, click on the relevant club, then select the manufacturer, model, and loft.
The distance of your shots for each club will be recorded, and the app will display the average distance that you hit that specific club.
Pricing and Packages
GolfLogix offers you a basic free version that gives you distance readings to the front, middle, and back of the green.
The plus membership includes an approach map to show you how the ball will land and roll, to aid your shot preparation. Furthermore, the plus option comes with built-in putt break maps that act as your own caddie, giving you the perfect line, and weight recommendation. Plus membership will cost you $49.99 per year if you cough up for 12 months upfront.
If you would prefer to take it month by month, you can grab a Plus membership subscription for $9.99 per month.
Verdict
The GolfLogix golf GPS app will serve you well from tee to green, but I would recommend this more for players needing more detailed reads for short game shots.
Best Free Golf GPS App
Hole 19 Golf GPS and Scorecard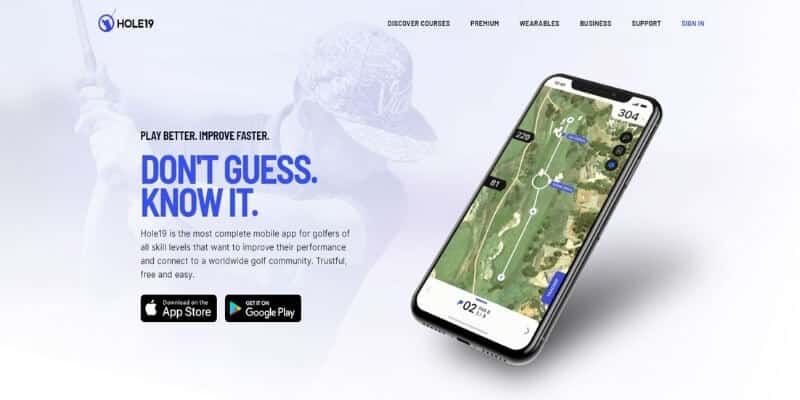 Hole 19's Golf GPS and Scorecard is my pick for the best free golf GPS App. While the app does have a paid-for Pro version, the free features are sufficient for those looking for an entry level option.
Pros
Works on 43,000 courses
Find courses to play on nearest to you
Adjustable target feature for more accurate distance measurement
Basic digital scorecard
No ads on the free version
Cons
Augmented reality not in the free version of the app
No distance tracker on the free version to determine shot lengths.
Features and Benefits
GPS Distances
Hole 19 automatically provides the distances from the tee to the front, center, and back of the green. However, the interface is easy to use and allows you to adjust the target area to where you would like a reading. It also gives you the ability to zoom in on the course layout to set your target market as close to the actual target as possible.
This flexibility enables you to easily get measurements to bunkers, water hazards, and layup spots.
Digital Scorecard
The digital scorecard on the free subscription package of Hole 19 is simple but sufficiently detailed. Enter in your strokes for the hole, the number of putts, sand shots, and penalties.
Your scores will be stored on the app, offering you a convenient way to access data from past rounds.
Search For Courses To Play
With over 43,000 golf courses in their database, Hole19 gives you the ability to search for nearby courses to play. Whether you are at home or traveling around the world, you will be able to find a round at a golf course where the app functions and makes your life easier.
Pricing and Packages
This may be the best free Golf GPS app around but, Hole 19 also offers a premium pro version. It comes with features such as augmented reality, shot tracker, and club recommendation.
The premium pro subscription will run you $60.15 per year when paid upfront. Hole 19 also offers subscribers a 6-month option that costs $36.80 and a monthly alternative for $9.81.
Verdict
The Hole19 free golf GPS is easy to use, provides sufficient detail regarding distance measurements. It has earned its right to be the best free golf GPS app. If you are not looking to spend a dime on more golf equipment, this is the app you want to download.
Final Thoughts
Golf GPS apps have made it more affordable and convenient for the average golfer to get an accurate distance measurement. The overall winner of our Best Golf GPS Apps review is the SwingU app. The range of free features, paired with the detail and insight provided in the premium version, makes it an excellent option for all golfers. The app is cheaper than a laser rangefinder. And, it does not require you to carry an additional device around the course.
If you want to avoid spending hundreds of dollars on a laser rangefinder but still desire detailed and accurate distance measurements, check out the SwingU Golf GPS app here.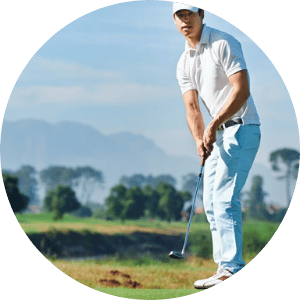 Nick Lomas is the founder of GolfSpan, an avid golfer, not quite a pro but has over 15-years of experience playing and coaching golfers from all over the world. His mission is to bring the golfing community a better experience then it comes to choosing the right golf gear, and finding the right set up for your game.