I have always held a pair of white golf shoes in the closet because of their versatility and ability to match any other color. In this post, I reveal the best white golf shoes for 2023 in my experience, ranging from waterproof and breathable designs to spikeless and cleat-powered footwear.
The 15 best white golf shoes for 2023 are:
After diving into our best white golf shoes review, you will know which white golf shoes are best for sunny, rainy, or multi-season days. In addition, I reveal the top picks for ladies and the best laceless, budget, casual, and comfortable golf shoes.
Top 3 Best White Golf Shoes
Best Overall
Best Budget
Most Comfortable
Puma Fusion 3.0
Adidas Tech Response 2.0
Puma Ignite Articulate
Pros

Comfortable
Padded foam
Enhanced traction in dry conditions

Attractive price
Optimal traction in the wet
Superb cushioning

Superb comfort
Stable design
Outstanding traction

Cons

The traction lugs are less effective in the rain
No wide sizes available

The shoes are not entirely white, featuring black Adidas stripes
I found moisture seeped in through the upper

Priced at a premium
They are not the best for wet weather

Price Score
92.3
93.8
82.7
Comfort
93.2
90.1
92.4
Traction
88.3
92.1
93.5
Durability
90.1
87.8
88.1
Rating
4.7 Stars
4.6 Stars
4.4 Stars
Why You Should Trust Us
Our team spends thousands of hours trying out and researching golf equipment to help you take your game to the next level. Here's our product review process.
We can bring these reviews to you through the small commissions we earn if you buy through the links below.
How We Reviewed These Products
Golfspan only shares equipment and brands we trust.
I'm an experienced golfer of 28 years and thoroughly researched and evaluated the products shared below. Then an editor reviewed and fact-checked the list. Finally, we conduct regular content audits to update and revise our reviews to ensure you receive the latest information.
To select these shoes, we considered these criteria:
Cost
Comfort
Traction
Water resistance
Sizes
Breathability
Design
Before reading the reviews, consider checking out the latest sales on Nike shoes, one of our proud partners.
The Best Golf Clubs For Intermediate Players In 2022
Pros
Comfortable
Padded foam
Enhanced traction in dry conditions
Water-resistant upper
Moderately affordable
Cons
The traction lugs are less effective in the rain
No wide sizes available
Specs
Sizes: 7 – 17
Closure: Lace
Alternative colors: Silver, Navy
The Puma Fusion Pro 3.0 won us over as the overall best white golf shoes for their cushioning, traction, and affordability. In addition, they produced a plush feel on every step, keeping my feet comfortable and cramp-free during my round.
Puma engineers employed a Fusion Foam and Soft Foam combination to maximize softness on every stride. I found it absorbed the impact of my steps, producing a plush, pleasant feel when my feet touched the ground.
Puma opted to forego cleats in the Fusion Pro 3.0 and instead employed Hex Traction lugs to keep my feet rooted to the turf. The lugs appear on high contact points of the shoe, which kept me balanced during my swing. The biggest downside of the lugs was their reduced effectiveness in the rain.
Finally, golfers like my uncle, who rocks a size 17, will appreciate the rich selection of larger designs. It is not easy to find shoes this size off the shelf, and Puma has taken note and provided a suitable solution.
Rating: 4.7
Read More: The Best Golf Shoes For Walking
Pros
Attractive price
Optimal traction in the wet
Superb cushioning
Breathable
The cleats are replaceable
Cons
The shoes are not entirely white, featuring black Adidas stripes
I found moisture seeped in through the upper
Specs
Sizes: 7 – 15 Wide
Closure: Lace
Alternative colors: Black, Grey
If you are operating on a shoestring budget, the Adidas Tech Response 2.0 is a reliable pick consisting of enhanced grip, padding, and breathability. I found them best suited to warm, dry conditions because the breathable upper mesh can enable moisture to seep through and wet your feet.
Speaking of the upper mesh, I welcomed its work to keep air constantly flowing through the shoes in the heat. My feet tend to build up moisture rapidly, and if left unchecked, can cause discomfort throughout my round. Fortunately, the Tech Response 2.0 produced fine moisture control keeping my feet cool and dry.
The sock liner softened the contact between my ankles and the shoe, resulting in no blisters. Adding to the comfort and protection of my feet was the Cloudfoam Cushioning, which embraced the impact of my steps and ensured a subdued feel.
Next, I produced optimal friction and grip while swinging and walking thanks to the combination of EXP cleats and X-Traxion lugs. I even enjoyed stability in moderate rainfall.
Rating: 4.6
3. Puma Ignite Articulate – Most Comfortable White Golf Shoes Men's Edition
Pros
Superb comfort
Stable design
Outstanding traction
Breathable upper mesh
Keeps your feet secure
Cons
Priced at a premium
They are not the best for wet weather
Specs
Sizes: 7 – 15 Wide
Closure: Lace
Alternative colors: 6 Designs
Puma makes its second appearance on the list with the Ignite Articulate range, our most comfortable white golf shoes this season. It combines premium comfort, padding, stability, and traction for a pleasant walk around the links.
In my experience, the Ignite Foam was the star feature, accounting for the relief I felt while walking. The midsole foam was highly responsive and supported my foot as it returned to the ground, reducing vibrations and promoting a cloud-like feel.
Softness aside, the Ignite Articulate shoes delivered outstanding stability during testing, stemming from the Articulating PWRCAGE. The PWRCAGE consists of a lightweight TPU saddle noticeable on the upper midfoot. The saddle helped keep my feet in place, reducing unnecessary movement and friction.
Lastly, I achieved optimal traction in the Puma Ignite Articulate shoes because of the 8 Tornado cleats. They enabled me to get a firm grip on the turf in wet and dry conditions, prompting a stable swing.
Rating: 4.4
4. FootJoy Fuel – Best Laceless White Men's Golf Shoes
Pros
BOA laceless fit
Cushioned midsole
Breathable sides and upper
Waterproof design
Impressive traction in the dry
Cons
Expensive golf shoes
Once the traction pads wear out, you have to purchase new shoes
Specs
Sizes: 6.5 – 15 Extra Wide
Closure: BOA
Alternative colors: Black
Golfers going after optimal convenience have the luxury of laceless golf shoes, which are easy to slip on and start walking. The FootJoy Fuel shoes earn top honors for our best laceless white golf shoes in 2023, thanks to their BOA closure system.
The BOA Fit System is a genius construction by FootJoy, which loosens or tightens the shoe with the slightest tweak. Adding to the security of my feet was the Patented Stability Bridge, which kept my feet in place and limited movement while I walked.
Next, the Stratolite EVA Midsole was a blessing for the soles of my feet, delivering a spongy feel and eradicating vibration as I stepped. My comfort levels were enhanced by the shoe's perforations on the sides and upper parts. Wind filtered in and kept my feet cool and dry, restricting moisture build-up.
The Fuel BOA shoes proved themselves in the wet thanks to their waterproof construction, keeping my feet dry in the morning dew. Finally, the Power Stabilizer Outsole produced outstanding traction in the dry and light rain. However, the wetter the turf becomes, the less effective the lugs are.
Rating: 4.3
5. Ecco Biom C4 Gore-Tex – Best Waterproof White Leather Golf Shoes
Pros
Waterproof design
Lower to the floor, stable construction
Advanced Cushioning
Premium leather
Breathable sole
Cons
Super expensive
The traction pads are not as effective in heavy rain
Specs
Sizes: 5 – 15
Closure: Lace
Alternative colors: Black
There is only one way to play golf in a high-rainfall area, and that is with waterproof apparel and shoes. The Ecco Biom C4 Gore-Tex is our top waterproof design owing to the leather quality, padding, stability, and breathability.
The star feature is the Gore-Tex membrane which ensures 100% water-resistant protection and keeps my feet dry and comfortable in the rain. Surprisingly, the shoes produced superb breathability, despite the moisture-proof composition.
Ecco engineers employed an innovative air channel in the sole to enhance ventilation and minimize sweat build-up. I also noticed that the C4 Gore-Tex maximized my stability on every swing.
It turns out the Biom Natural Motion Technology adapted to the shape of my foot, and its low-to-ground construct optimized my center of gravity for improved balance. Lastly, Ecco applied an MTN Grip pad to the shoes for added traction and rotational support during the swing.
Although it gripped well in light rain, I have my reservations about its ability in torrential downpours.
Rating: 4.2
6. Adidas Tour360 – Best Cleat Golf Shoes White Color
Pros
Optimal traction
Cushioned midsole
Durable construction
Waterproof design
Designed using recyclable materials
Cons
Expensive
The spikes are not replaceable
Specs
Sizes: 7 – 15
Closure: Lace
Alternative colors: Core Black, Silver Metallic
Spikeless golf shoes tend to deliver less traction in the wet, and this is where spiked golf shoes offer a superior solution. The Adidas Tour 360 shoes are our top spiked pick, given its responsive midsole and high gripping outsole.
My experience with the Direct Inject TPU Spikes was overall positive. I found the spikes rotated with my body on my swing, promoting optimal balance from takeaway through impact. In addition, traction lugs on the toe area provided added support on my follow-through to clear my hips and shoulders through contact.
The Geofit Collar and DUALSTACK Hybrid Midsole treated me to a snug fit and optimal protection. The design managed to secure my feet and absorb the force of my landing, minimizing foot tension, friction, and cramps.
Adidas impressively reduced friction between the sides of my feet with the cushioned sock liner. However, I found the heel hard on the first couple of wears, but it softened after two rounds, and thereafter, it was smooth sailing.
Lastly, the Tour360 proved an effective waterproof design thanks to the leather upper construction. Lastly, I did not care much for the price tag and the irreplaceable spikes. Although Adidas suggests they are designed to last, I will need to acquire a new pair of shoes when they wear down instead of switching them for new ones.
Rating: 4.2
7. Under Armour Drive 2 – Best Men's White Golf Shoes For All Seasons
Pros
Waterproof construction
Breathable to manage moisture build-up
Maximum traction
Cushioned midsole
Available in wide and regular sizes
Cons
Pricey golf shoes
The spikes need to be replaced frequently
Specs
Sizes: 7 – 15 Wide
Closure: Lace
Alternative colors: Mod Gray, Black
Living in a sub-tropical climate often produces a downpour without warning, forcing me to prepare for all occasions. I find the Under Armour Drive 2 shoes offer the best relief in the rain and shine, given their waterproof yet breathable nature.
In my experience, the Drive 2 shoes provided better than expected breathability, onset by its supportive microfibre upper. The air flowed consistently and managed moisture build-up for a dry, comfortable wear.
Next, the lightweight waterproof membrane construction prevented moisture from infiltrating the interior and soaking my feet. I welcomed its performance on my dew sweeper rounds as it stood firm against the abundance of wet.
The Drive 2 also produced outstanding comfort from the moment I stepped into when I walked off the 18th green. The presence of a Molded EVA footbed and UA HOVR Placement cushioned my steps and eliminated vibrations.
Finally, the Rotational Resistance Traction cleats and padding gripped into the turf, twisting with my body promoting balancing through my swing.
Rating: 4.0
Pros
Exceptional durability
Cushioned midsole
Replaceable cleats
Waterproof upper
2-year waterproof warranty
Cons
Limited breathability in the heat
The laces are longer than some shoes, but it is not a train smash
Specs
Sizes: 8 – 16 Extra Wide
Closure: Lace
Alternative colors: Gray, Black
I used New Balance for years as a middle-distance runner and prized them for their durability, comfort, and traction. After testing the Brighton golf shoes, it turns out that New Balance has transferred their expertise to on-course footwear. Our most durable golf shoes are waterproof, cushiony, and produce excellent friction.
New Balance employed a high-quality waterproof leather, which did well to keep moisture out and my feet dry and cozy. Besides its waterproof nature, the leather bolstered the durability of the shoes for longer-lasting wear.
Adding to the tenacity of the Brighton shoes is their NDurance Rubber Outsole, which enhanced my friction with the turf, keeping me grounded during my swing. Besides its longevity, I enjoyed exceptional comfort in these golf shoes, thanks to its Cush+ insole, which softened my steps, preventing vibrations from stinging my soles.
Lastly, I relished the inclusion of Fast Twist 3.0 Pulsar® replaceable cleats for their practicality and traction. When the cleats wear out, I only need to switch out the old ones for a new set instead of purchasing a new pair of golf shoes.
Rating: 4.0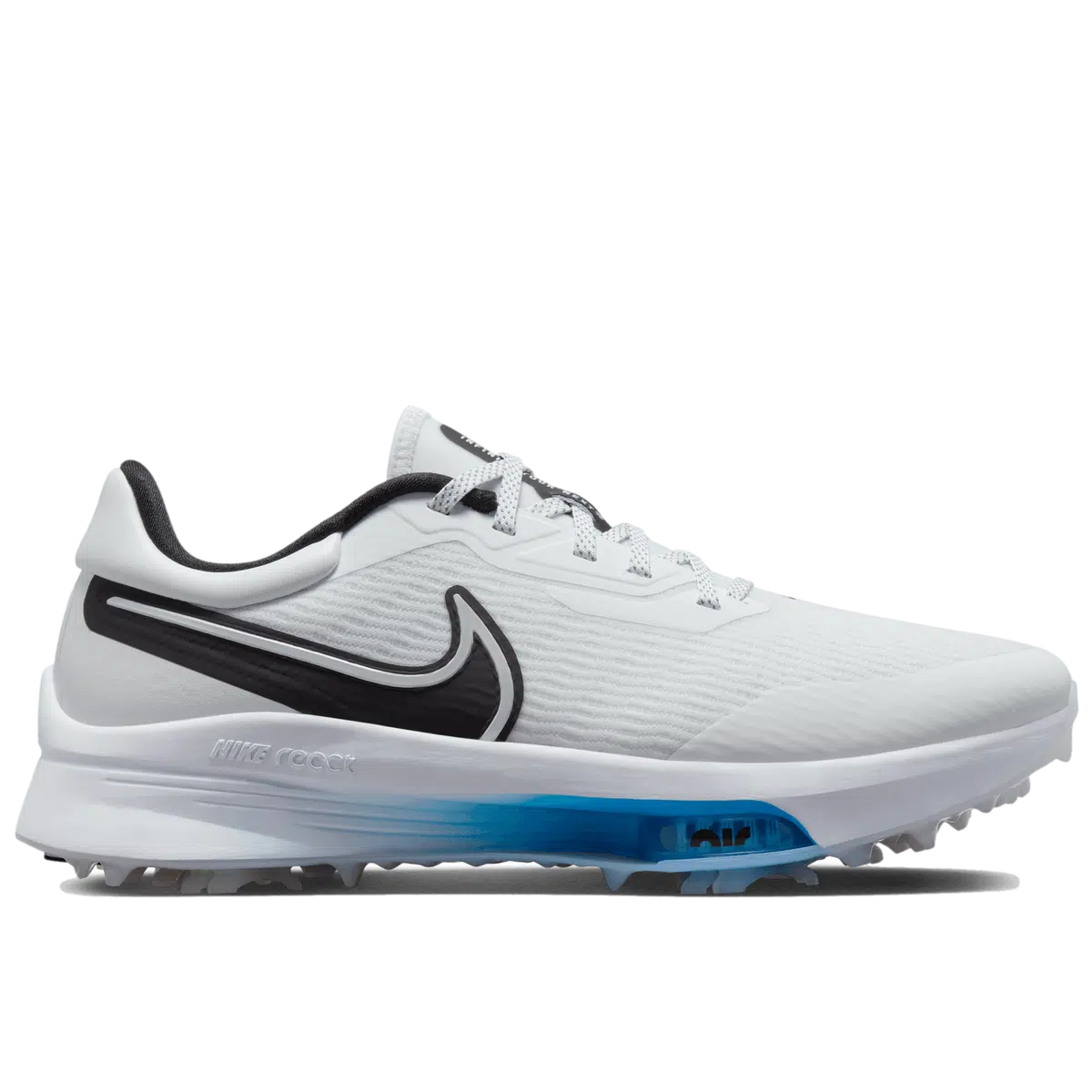 Pros
Enhanced energy transfer on every step
Breathable design
Cushioned interior
Satisfactory traction
Convenient to slip on and off
Cons
Expensive
Difficult to keep clean
Not available in a wide or extra wide fit
Specs
Sizes: 3.5 – 16
Closure: Lace
Alternative colors: Black, Gray, Blue
Serious golfers seeking a high-performance style golf shoe with all the bells and whistles need only look as far as the Nike Air Zoom Infinity Tour Next %. Our top tour performance pick in 2023 produces unmatchable cushioning, energy transfer, and stability.
I found the design offered ample space for my feet, reducing tension caused by a tight fit. In addition, forefoot cushioning induced a plush feel on my soles for the duration of my round. The two Zoom Air Units positioned in the forefoot area added to my support and comfort.
The Zoom Air units gave me the platform to push off from the ground on my backswing and transition through to impact. Next, my feet received relief from the heat thanks to the breathable material, promoting enhanced airflow.
I managed to keep a solid footing on swings in dry and light rainy conditions thanks to its 4 spikes. 2 cleats are set at the forefront and 2 at the back for necessary balance. Finally, the addition of a gusset on the tongue made it easy for me to slip the shoe on and off.
Rating: 3.9
Pros
Replaceable cleats
Creates substantial friction
Waterproof
Splendid cushioning
Moderately priced
Cons
Reduced breathability
Not available in larger sizes
Specs
Sizes: 7 – 13 Wide
Closure: Lace
Alternative colors: Black, Gray
Golf shoes with replaceable cleats enjoy a prolonged life, as you simply swap out the cleats whenever they wear down. The Skechers Torque Waterproof shoes are the top replaceable white golf shoe cleats for their waterproofing, traction, and outstanding comfort.
Skechers employ SoftSpikes on the outsole, which are tough enough to grip into the dirt in all conditions. Plus, they are easy to discard and swap out when they struggle to grip anymore. Although they require a small investment upfront, I find they offer better value for money in the long run.
Spikes aside, Skechers roped in waterproof material, which performed well in moderately heavy rain. In addition, its leather upper reinforces the durability of the golf shoes for enhanced longevity.
I also felt the Torque Waterproof shoes were incredibly responsive, stemming from the Ultra Go Foam Cushioning. Every time my soles touched the ground, they managed to lessen the blow for a comfortable stroll around the links.
Rating: 3.8
11. Adidas ZG21 Wide – Best White Shoes For Wide Feet
Pros
Built for wider feet
Waterproof upper
Excellent traction
Optimal moisture control
Cushioned midsole
Cons
Moderately expensive
No alternative colors
Specs
Sizes: 9 – 12.5 Wide
Closure: Lace
Alternative colors: None
Wider-fitting golf shoes would have saved me from innumerable blisters growing up, as I had to settle for medium-width shoes. Fortunately, wider shoes are far more accessible, and options like the Adidas ZG21 Wide deliver comfort, water resistance, and a high energy transfer.
The Adidas ZG21 wide is available in sizes 9 to 12.5, covering golfers with moderately sized feet. The 10.5 wide fitted seamlessly, and I felt I had sufficient space to maneuver my feet during the round to enhance leg drive and energy transfer.
Next, the INSITE Sockliner helped prevent moisture from soaking the insole, keeping my feet cool, dry, and comfortable. My comfort received an additional boost from the lightstrike cushioning, which softened my every step.
Finally, I was impressed with the grip produced by the ZG21 shoes. The 6-cleat TPU Outsole gripped firmly into the turf and rotated as needed during my swing to maintain friction, stability, and balance on all shots.
Rating: 3.7
12. G/Fore MG4+ – Most Comfortable Heel White Golf Shoes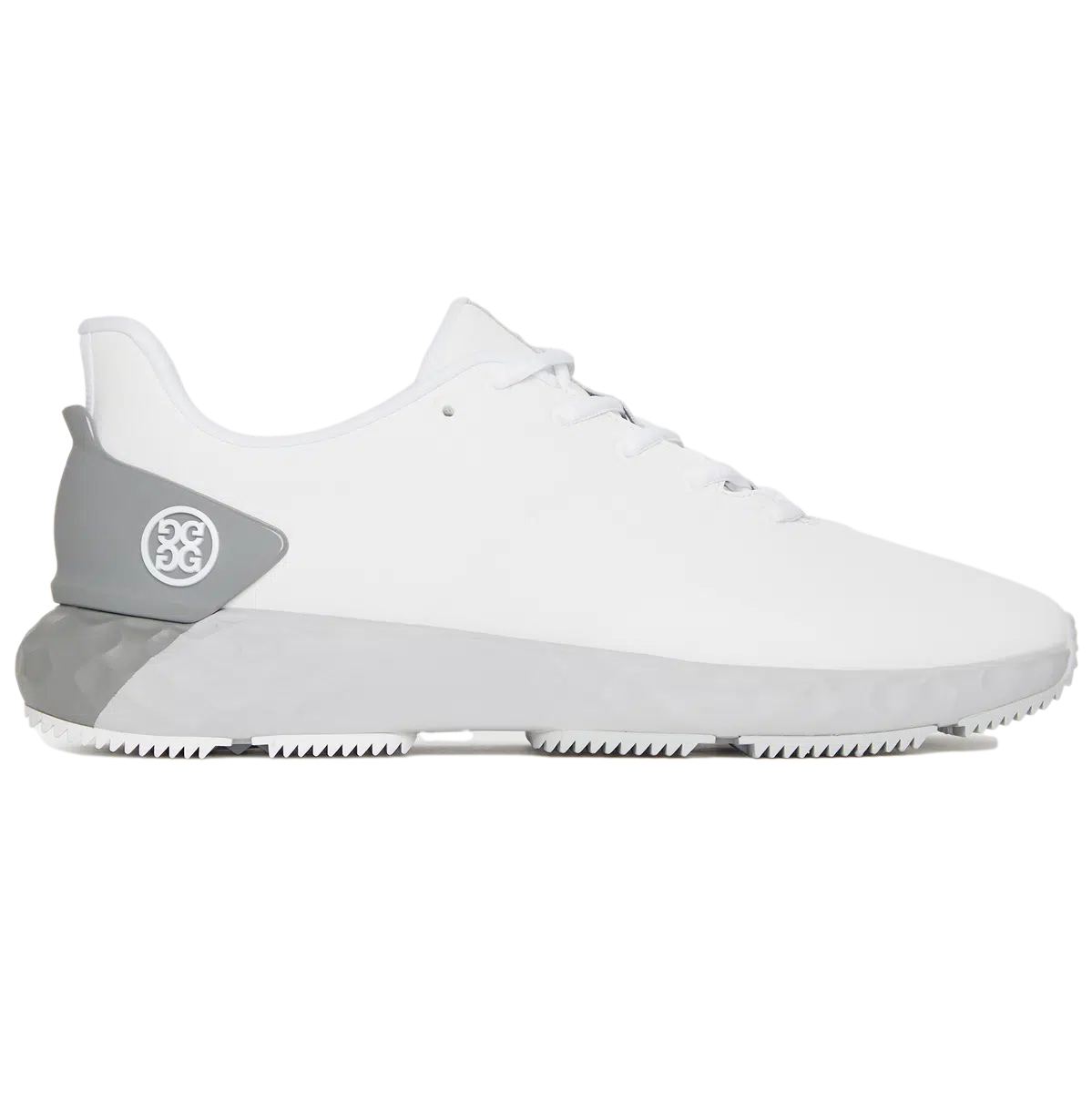 Pros
Comfortable heel design
Secured my feet
The nubs massaged the soles of my feet while walking
Ample traction in dry conditions
Waterproof upper
Cons
The traction pads struggled to keep me grounded in the wet
Carries a premium price tag
Specs
Sizes: 8 – 13
Closure: Lace
Alternative Colors: Navy, Charcoal, Blue Camo
One challenge I routinely face with new shoes is the softness of the heel, which takes time to break in. This results in blisters and discomfort for several rounds before I reap the rewards of my investment. The G/Fore MG4+ leaps this hurdle with a combined 3D Molded External Heel cup and under-heel padding.
The 3D Molded External Heel stood out as the core feature in my experience as it promoted a stable wear. It generated lateral support and secured my heel in place to avoid friction and blisters. Lending support to my heel comfort were the cushioned, removable, and washable inner pads.
My comfort was further enhanced by comfort system technology nubs that massaged the soles of my feet while I walked. In addition, they paired with the rubber non-slip outsole to boost traction with the earth for a stable swing.
G/Fore added a waterproof upper to the MG4+, which I found effective in keeping out moisture from the interior. Lastly, an EVA Midsole and auxetic sidewall combine to secure your feet and absorb the impact for a cushioned feel.
Rating: 3.5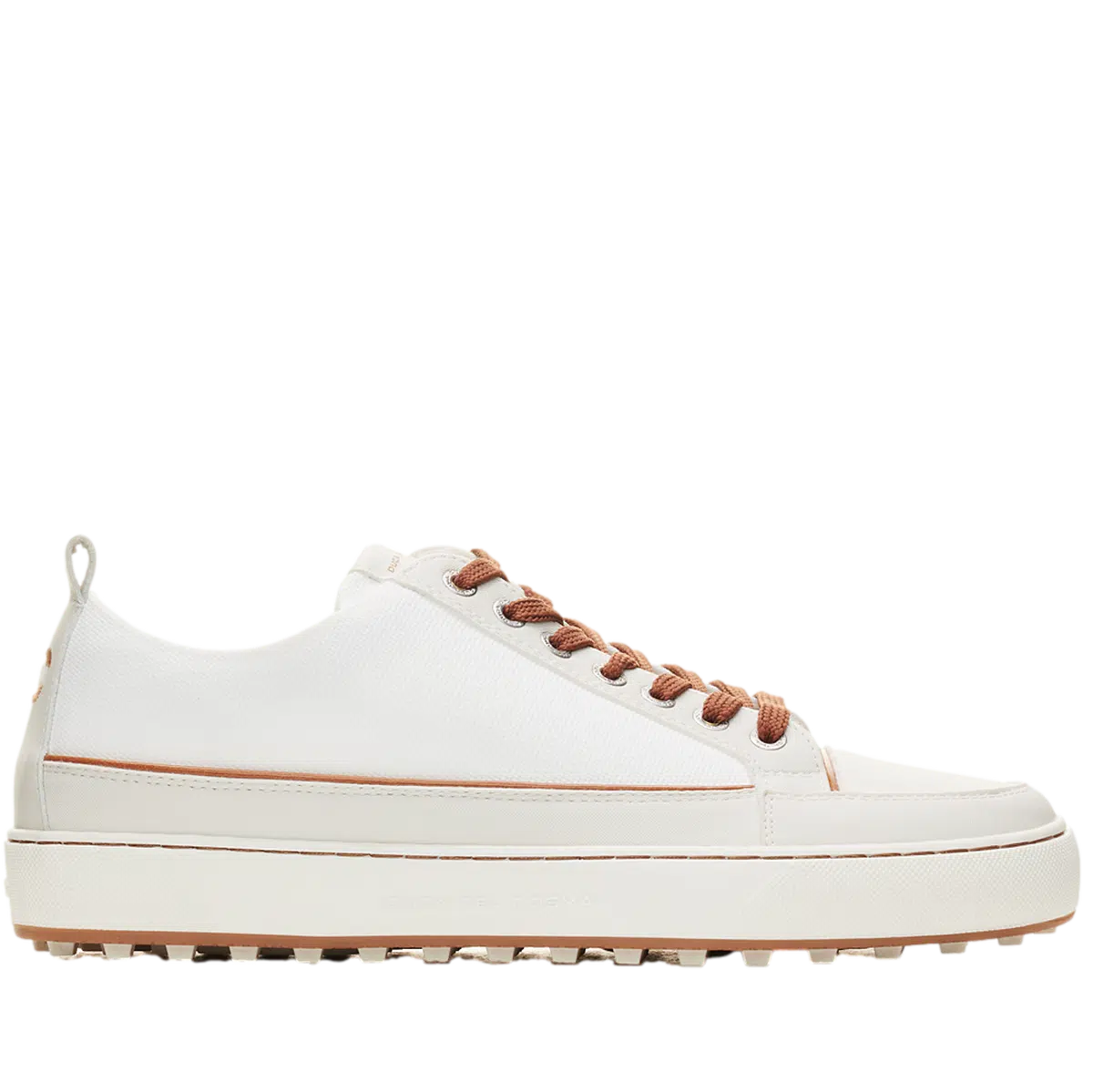 Pros
Casual design
Breathable
Stylish
Substantial traction in dry conditions
Soft, responsive memory foam
Cons
Expensive golf shoes
Reduced grip in the wet
Specs
Sizes: 7 – 14
Closure: Lace
Alternative colors: Navy
When you take the course on a scorching day, you need breathable, comfortable shoes with a relaxed look. The Duca Del Cosma Laguna shoes tick all the boxes and are our best casual white golf shoes selection for their comfort, style, and breathability.
The famed Italian designer employed recyclable microfibers and canvas to concoct these casual yet trendy spikeless golf shoes. In my experience, the materials produced a breathable wear and helped restrict sweat and moisture build-up.
When my feet first entered the shoe, I was treated to a cloud-like feel, which was likely onset by the ARNEFLEX memory foam insert. It absorbed my step and adapted to the contours of my feet to enhance responsiveness and absorb unwanted shocks on landings.
The final feature worth mentioning is the 5 mm square nubs littered across the outsole of the Duca Del Cosma Laguna. Their construction helped to massage my feet and reduce tension as I traversed the links. Plus, the nubs generated outstanding friction between my outsole and the grass.
Rating: 3.3
Best White Golf Shoes For Ladies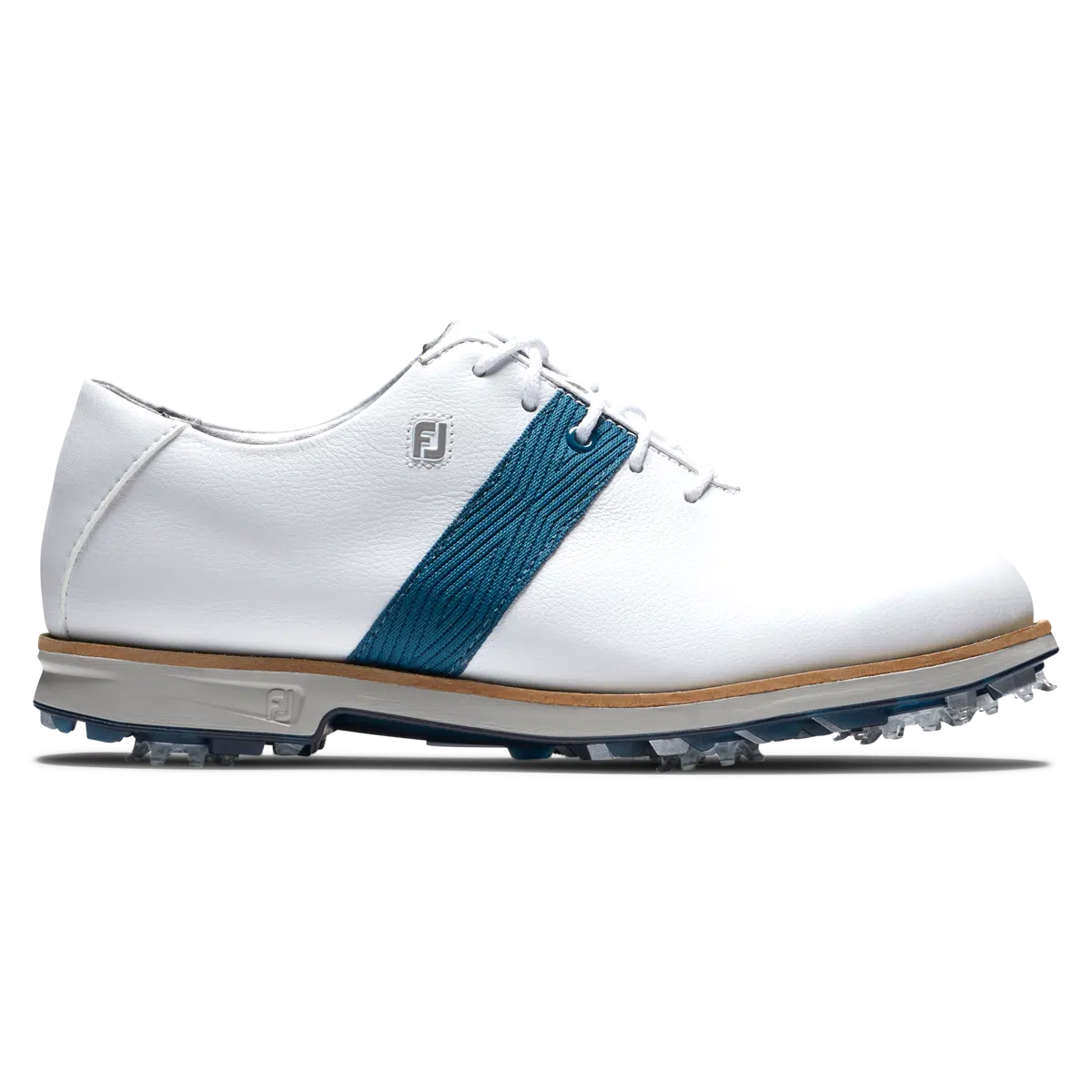 Pros
Soft, comfortable padding
Available in 5 designs
Waterproof
High traction cleats
The traction pad enhances friction on every step
Cons
Moderately expensive
Only available in dull colors
Reduced breathability to combat moisture build-up
Specs
Sizes: 5 – 11
Closure: Lace
Alternative colors: Snow Leopard, White Leopard, Charcoal
The best ladies golf shoes must be soft, constructed from premium materials, and protect your feet from the elements. The FootJoy Premiere series ticked all these boxes and delivered a lightweight wear which my wife explained was easy on the feet all day long.
A molded footbed enhanced the security and comfort of the wear by adding extra padding around the heel and tongue. In addition, the midsole minimized the vibration experienced on landings, promoting a comfortable step.
Ladies living in rainy area codes should prize its robust waterproof performance, keeping moisture and raindrops out. Naturally, it leads to drier, more comfortable feet during your round. FootJoy is so confident in its ability that they offer a 2-year waterproof warranty.
Next, the Fast Twist 3.0 Cleat System announced itself as an efficient proponent of traction. My better half kept her balance and feet secured to the ground in dry and wet weather. Lastly, the cleats were supported by the VersaTrax+ outsole, which increased friction on every step and swing to prevent slipping.
Rating: 4.5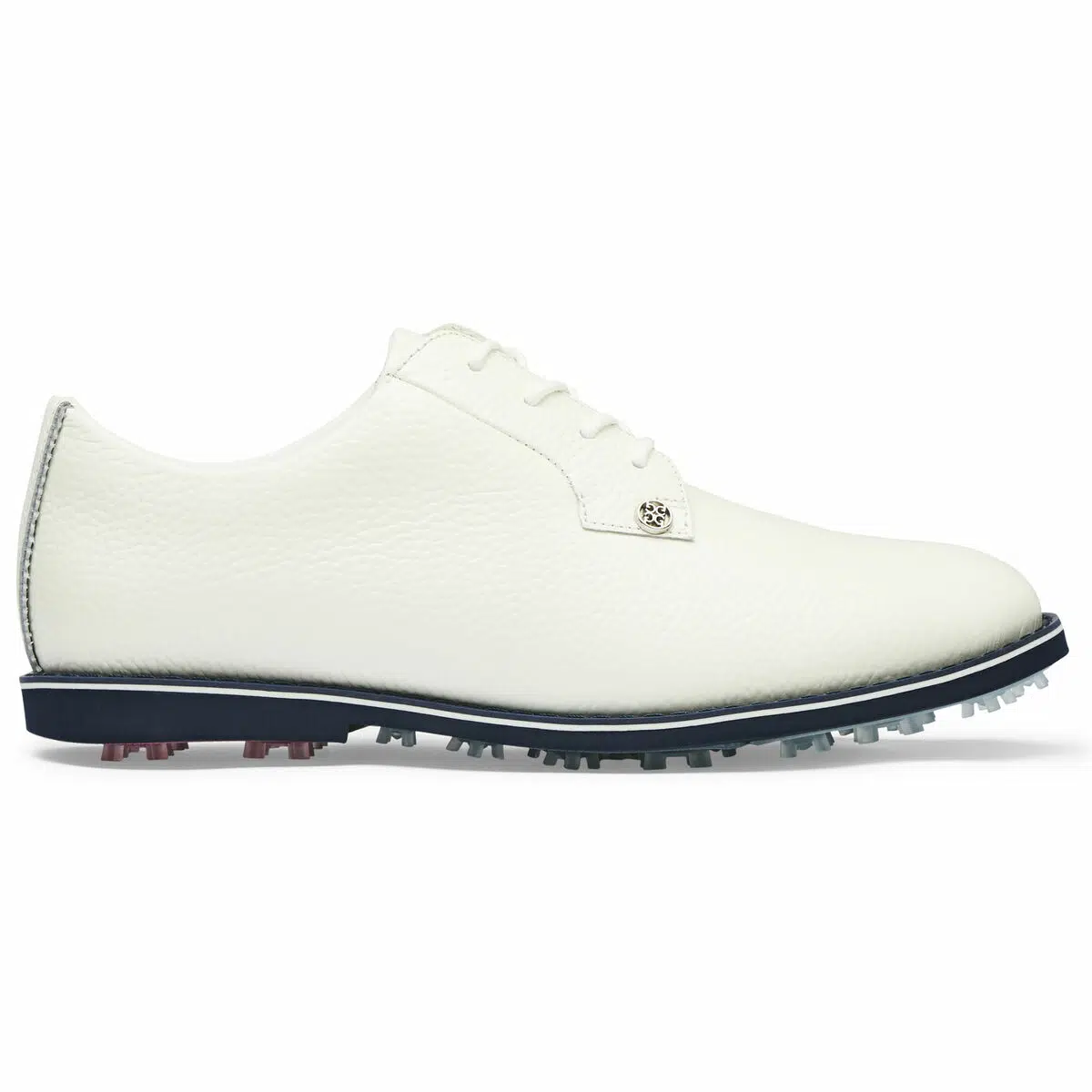 Pros
Classic look
Crafted with premium leather
Waterproof
Comfortable padding
Durable design
Cons
Different to keep spotlessly clean
Pricey golf shoes
Specs
Sizes: 7 – 17
Closure: Lace
Alternative colors: Silver, Navy
The G/Fore Gallivanter pair conclude our best white golf shoes review, earning its place as the best classic ladies shoes. It produces a combination of waterproofing, breathability, super soft padding, and a removable and washable cushion footbed.
These classic shoes feature an all-white top consisting of Pebble Grain Leather. The quality leather is durable to extend longevity and highly waterproof to keep your feet dry in a rainstorm. In addition, I thought the antimicrobial removable inner simplifies keeping your shoes smelling fresh.
Next, my wife explained that these shoes required limited break-in time and were sufficiently soft on the first wear. Plus, the Foam Cushion Footbed ensured a squishy sensation on each step. It also effectively massaged the soles of my wife's feet to keep them cramp free during her round.
Finally, the G/Fore Gallivanter Golf Shoes contain high-traction soft spikes that fit onto a pink and blue outsole. The cleats do well to maximize grip in heavy rain, promoting enhanced energy transfer and balance.
Rating: 4.2
Before reading on, consider checking out the newest Nike shoes and see if you can find a pair to fit your game.
What To Consider When Purchasing Golf Shoes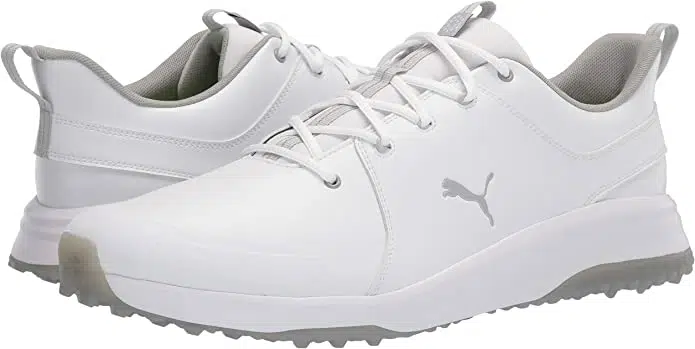 Fit
Before you start looking at golf shoes, identify your optimal fit. Shoes are classified as medium, wide, and extra wide. Medium-fit shoes, as a rule of thumb, suit golfers with a length-to-width ratio of 2 to 1. For example, if your feet are size 10, you would fit a medium if the width of your feet measures 5 inches.
However, if your size 10 feet are wider than 5 inches, your feet are broader than the average, and you are best suited to wide golf shoes.
Cleats vs Spikeless
Once you know the best fit for your feet, think about cleats or spikeless shoes to enhance your traction. I prefer cleats in all conditions because of the added grip provided in all weather and lies. However, spikeless golf shoes are incredibly comfortable and light on the feet for rounds in warm weather.
In my experience, spikeless shoes struggle to deliver the level of traction experienced with soft spike shoes.
Waterproof
Next, think about the conditions you are most likely to endure on the course and whether you need highly waterproof shoes. If you live in a high rainfall area, golf shoes like the Ecco Biom C4 Gore-Tex are ideal for the occasion and hold well against an onslaught of water.
However, keep in mind that some waterproof golf shoes provide limited breathability. If you play in a warm climate with afternoon thundershowers, your feet may steam up, sweat, and soak the interior of the shoes.
Breathability
If you frequently play in warmer conditions, I recommend sourcing breathable golf shoes to keep your feet cool and dry. A lack of ventilation throughout the shoe will cause moisture to build up, leaving no avenue to eradicate it.
One option to consider is the Adidas Tech Response 2.0 golf shoes which produced consistent airflow and ventilation during testing. Wearing breathable shoes will keep your feet comfortable and cool for a pleasant golfing experience.
Closure
Golf shoes are crafted with two predominant closures, laces, and the BOA dial. The laces are a traditional setup that you find on most shoes. However, the one downside is the length of the laces and finding a way to tuck them into the shoe to avoid distractions or tripping.
The alternative solution is the BOA dial, which connects the internal lacing structure and tightens and loosens the shoe at the slightest turn. In addition, it simplifies sliding your shoes on and off and avoids the hassle and time of lacing up your boots.
FAQ
Do White Golf Shoes Get Dirty Fast?
Yes, white golf shoes get dirty fast, as marks, dust, and grime are easily visible. However, I find that dusting them off, cleaning them, and then applying Kiwi Shoe Whitener enhances the look. However, when you hit the course, your hard work is undone.
How Do You Keep White Golf Shoes White?
You keep your shoes white by using a cloth to remove dust and top layer grime before washing them with soap, water, and a shoe-cleaning brush. Dislodge deep-rooted mud with the brush, remove the soapy water, and leave the shoes to dry at room temperature. Once your shoes are dry, apply shoe whitener to improve the look.
Can You Wear White Golf Shoes Year Round?
Yes, you can wear white golf shoes year-round, as there is no rule prohibiting it. They pair well with any color, making them a versatile option. However, white golf shoes look terrible when playing in wet, muddy conditions, as the shoes clearly display the accompanying dirt.
Conclusion
My white golf shoes review highlighted the versatility of the color and its ability to pair with most hues. In addition, there is no shortage of white golf shoe designs, with a host of breathable, waterproof, spikeless, and cleat designs.
Golf manufacturers also produce a healthy selection of medium, wide, and extra-fit white shoes to carry all feet. I was also impressed with some golf shoe producers who catered to golfers with seriously long feet. Overall, the Puma Fusion Pro 3.0 for its comfort, moderate traction, water resistance, and fair price tag.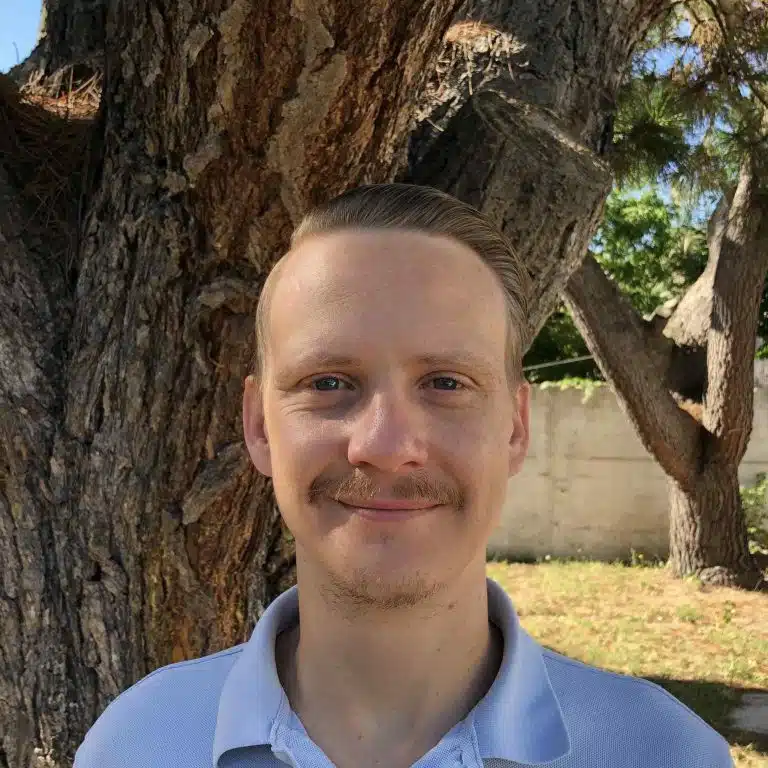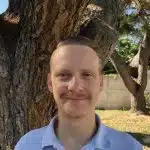 Matt is a seasoned golf equipment writer and sports fanatic. He holds a Postgraduate in Sports Marketing and has played golf for over 28 years.