Since I was a junior, I have used TaylorMade golf bags, clubs, and balls because the brand was widely stocked at my local golf store. In this post, I turn specifically to the best TaylorMade golf bags for 2023 to find fitting options for walking players, golf cart drivers, and lightweight selections for trips to the range.
Here are the 9 best TaylorMade golf bags for 2023:
After reading this post, you will know which TaylorMade golf bags are best for riding on a cart or carrying. In addition, I reveal the best waterproof option, staff bag, and the top golf cart and stand bag offering for ladies.
The 3 Best TaylorMade Golf Bags
Best Overall
Best Cart Bag
Best Stand Bag
Flextech Crossover Stand Bag
Tour Cart Bag
Flextech Lite Stand Bag
Pros

14-way top to keep clubs separated
10 pockets provide ample storage space
Cart strap pass keeps the bag secure in transit

12 pockets to store everything you need
Durable construction
6-way top

Lightweight design
Comfortable dual strap design
Features 8 pockets

Cons

Expensive for a stand golf bag
The color options are less attractive than the previous iteration

Super pricey
No alternative colors

Expensive for a lightweight stand bag
The stand did not always activate when I placed the bag down.

Price Score
90.1
96.5
89.7
Storage
93.2
88.1
92.4
Dividers
94.6
90.2
93.5
Durability
90.1
87.8
88.1
Rating
4.5 Stars
4.5 Stars
4.5 Stars
Why You Should Trust Us
Our team spends thousands of hours trying out and researching golf equipment to help you take your game to the next level. Here's our product review process.
We can bring these reviews to you through the small commissions we earn if you buy through the links below.
How We Reviewed These Products
Golfspan only shares equipment and brands we trust.
I'm an experienced golfer of 28 years and thoroughly researched and evaluated the bags shared below. Then an editor reviewed and fact-checked the list. Finally, we conduct regular content audits to update and revise our reviews to ensure you receive the latest information.
To select these bags, we considered these criteria:
Cost
Dividers
Pockets
Strap
Colors
Durability
The 10 Best TaylorMade Golf Bags 2023 Reviews
Pros
14-way top to keep clubs separated
10 pockets provide ample storage space
Cart strap pass keeps the bag secure in transit
Adjustable dual strap system
Cooler pocket keeps beverages cold
Cons
Expensive for a stand golf bag
The color options are less attractive than the previous iteration
The overall best golf bag TaylorMade has to offer in 2023 is the Flextech Crossover, owing to its versatility, waterproofing, and structured top. Its hybrid design structures it like a golf cart bag, but I feel the comfortable adjustable strap and stand make it suitable for a walking golfer.
The unique feature of the Crossover is the 14-way structured top, which I am not used to on a stand bag. Its 14-way top design helped me separate every club in my bag, and I had no issues extracting a jumbo-size putter grip.
Next, I noticed the cart strap pass-through channel, which allowed me to fit onto a golf cart and enjoy access to the back and side pockets. Speaking of pockets, the Crossover is gifted with 10 of them to offer ample storage space for everything I needed for a round.
The one caveat with the superb compartment space is the weight of the bag, which is heavier than your average stand construction. However, TaylorMade made up for the extra mass by employing an adjustable, comfortable, dual-padded strap construction for optimal carry.
Finally, besides the premium price tag, my biggest gripe is that the color combinations are less desirable than the 2022 edition. However, the gunmetal finish still works for me.
Rating: 4.6
2. Tour Cart Bag – Best TaylorMade Golf Cart Bag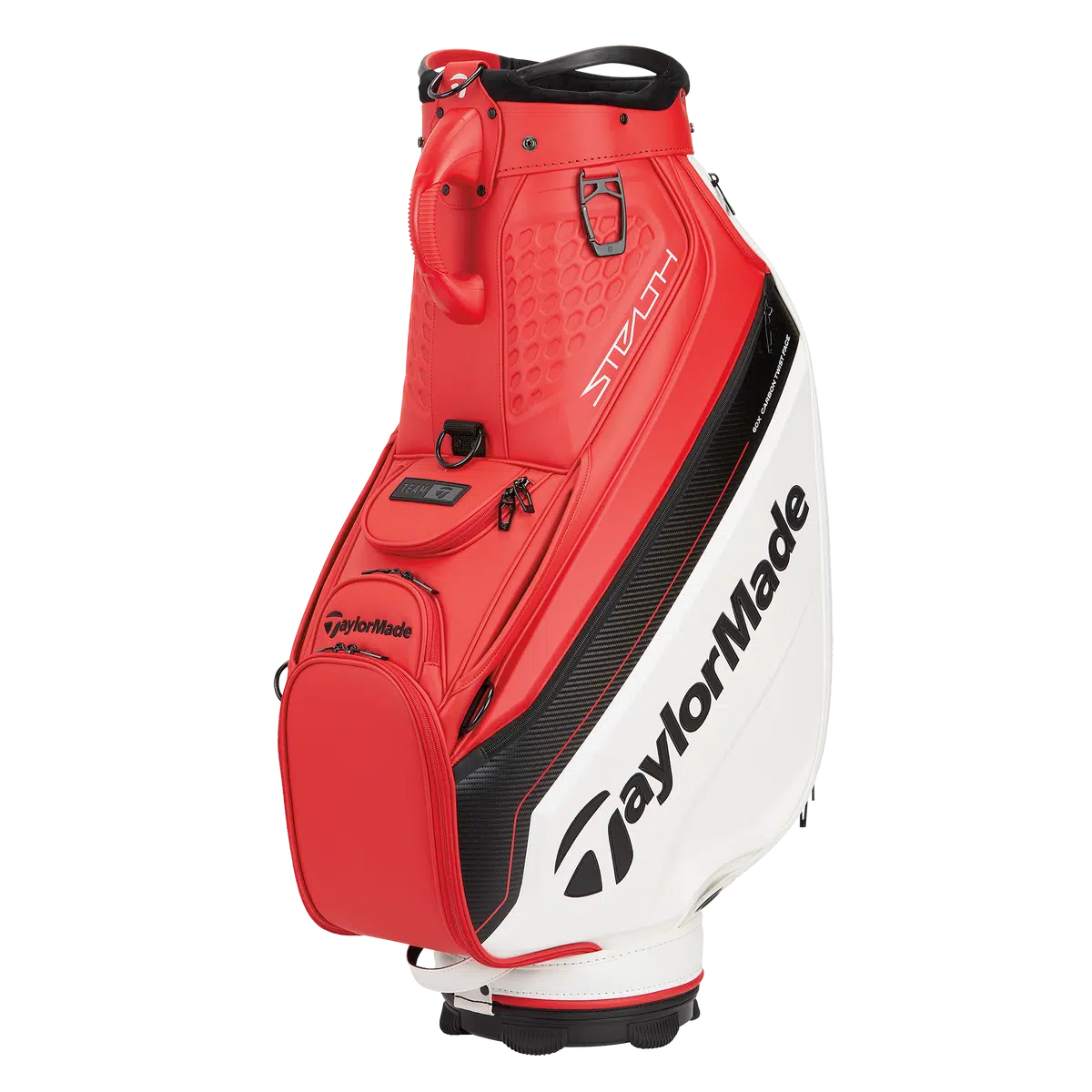 Pros
12 pockets to store everything you need
Durable construction
6-way top
Large apparel pockets
Carbon channel to pass the cart strap through
Cons
Super pricey
No alternative colors
Golf cart owners require a bag that fits securely on their vehicle and provides advanced storage space to keep all their gear. The Tour Cart bag delivered precisely what I was looking for in this department and further impressed me with its durable construction.
I relished the presence of 12 pockets on the Tour Golf Cart Bag, which let me carry more than everything I needed. The apparel pockets were spacious, leaving ample room for my rain gear and additional apparel.
TaylorMade engineers opted for a 6-way padded top. I used the setup to separate my woods, long, mid, and short irons, wedge, and putter. I had little trouble with clubs clunking into each other and tangling, providing an overall pleasant experience.
I also applaud TaylorMade for the durability of the Tour Cart Bag stemming from its hard shell construction. The biggest pitfalls of the bag arise from its extraordinary price tag and the lack of alternative colors. However, I liked the red, black, and white color combinations since they were my high school colors.
Rating: 4.3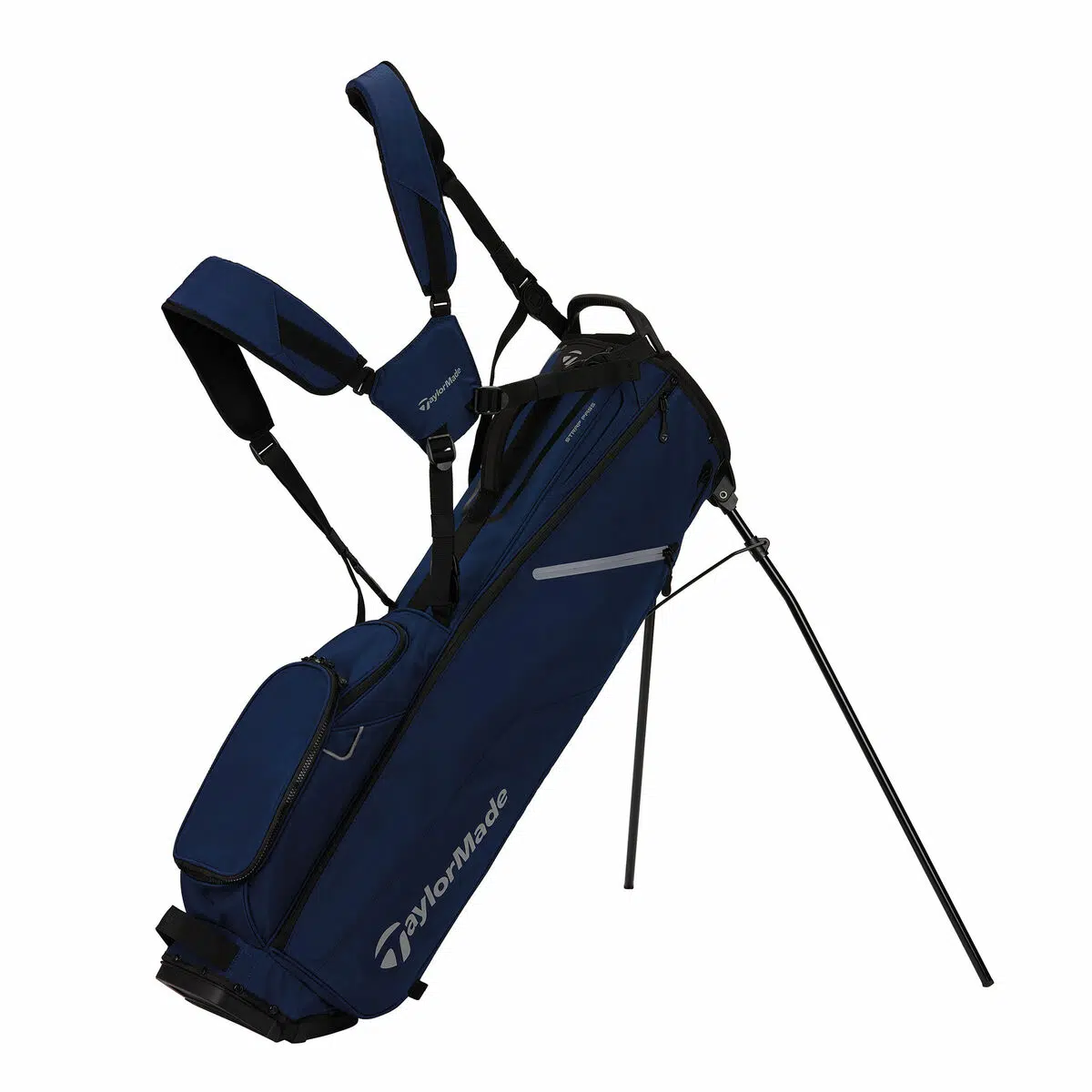 Lightweight design
Comfortable dual strap design
Features 8 pockets
4 way top
Leg lock technology keeps the stand in place
Cons
Expensive for a lightweight stand bag
The stand did not always activate when I placed the bag down.
Golfers like myself who prefer walking the golf course require a lightweight stand bag with comfortable dual straps and enough storage space for the basics. The Flextech Lite Stand bag ticks all these boxes and earns my vote as the top TaylorMade Stand Bag.
When I picked up the Lite Stand Bag for the first time, I was amazed at how light it was. It was not the lightest golf bag I have carried, but good enough. It tipped the scales at 3.9 lbs before I loaded my clubs into it. Even after it was packed with my regulation 14 sticks, it was still light enough to carry over 18 holes without hurting my shoulders.
Speaking of shoulder support, the removable fixed strap system helped me achieve optimal fit and balance. This distributed the weight evenly for a comfortable carry, preventing the bag from toppling over and my clubs from falling out.
Next, I appreciated the effort of including 8 pockets on the bag to carry my accessories, rain gear, valuables, and refreshments. However, I feel TaylorMade could have added fewer pockets and made the existing ones deeper because some compartments were compact.
Lastly, the Flextech Lite Stand bag sports an entry-level 4-way top to separate your long, middle, and short clubs.
Rating: 4.1
4. Flextech Waterproof – Best TaylorMade Golf Bag For Wet Weather
Pros
Waterproof material
Includes 6 pockets
Comfortable, self-adjusting strap
Stable, anti-split stand
5-way top
Cons
The lack of dividers caused my clubs to entangle
Not the lightest stand bag, but still manageable
If you are prone to get caught in the rain during your round, you need the support of a waterproof golf bag, like the Flextech design. The Flextech Waterproof bag is the top rain-resistant design from Callaway for its lightweight material, comfortable straps, and sufficient storage space.
TaylorMade engineers crafted this Flextech model with lightweight, waterproof fabric that scores 2500 mm on the PSI test. Therefore, the material can handle 98 inches of rain at any given time before it caves in and becomes soaked.
Waterproofing aside, I felt the bag contained sufficient storage space to carry my accessories, valuables, and apparel. 5 of the 6 pockets sported a welded seam to keep water out, and the last pocket was an open compartment where I stored my water bottle.
Next, I welcomed the Self Adjusting Strap and Strap Slider System built to promote a comfortable, stable carry. The Self Adjusting Strap helped me achieve the ideal fit, while the Slider System prevented the bag from toppling over and my clubs from falling out.
Although the 5-way top helped me divide my long, medium, and short clubs, they did entangle at times owing to the 2 full-length dividers. Finally, the Flextech stand produced a stable performance and kept the bag upright on slopes and flat ground.
Rating: 4.0
5. Cart Lite Bag – Best TaylorMade Golf Bag For Push Carts
Pros
Optimized for push carts
11 pockets
14-way top
The cart strap pass secures the bag and leaves you access to the pockets
Light for a cart bag.
Cons
Limited full-length dividers cause clubs to entangle
Challenging to keep clubs balanced while carrying
Golfers who enjoy pushing their bag around the golf course require a lightweight construction optimized for a push cart base. The TaylorMade Cart Lite is our top featherweight cart case for its storage space, structured top, and secure fit. Plus, it gives you access to 11 trendy colors and patterns to spruce up your on-course appearance.
I found the 5 lbs Cart Lite bag was feathery enough to carry without wearing down my shoulders over 18 holes. Conversely, TaylorMade engineers optimized the base and top of the bag, ensuring it fits seamlessly onto your vehicle. In addition, I felt the cart strap pass-through worked effectively to secure my bag and leave me access to the pockets when attached to the buggy.
Mass aside, I relished the inclusion of 11 pockets, which left me with ample compartments to store my accessories, apparel, refreshments, and valuables. Plus, a Deep Well Cooler Pocket left sufficient room to hold my beverages and keep them cold while I traversed the fairways.
I appreciated the 14-way top structure as it gave each club its private slot and simplified my task of organizing my sticks. However, the bag does not have 14 full-length dividers, which led to some clubs tangling. The lack of full-length dividers also meant I occasionally struggled to dislodge my oversized putter grip from the slot.
Rating: 3.9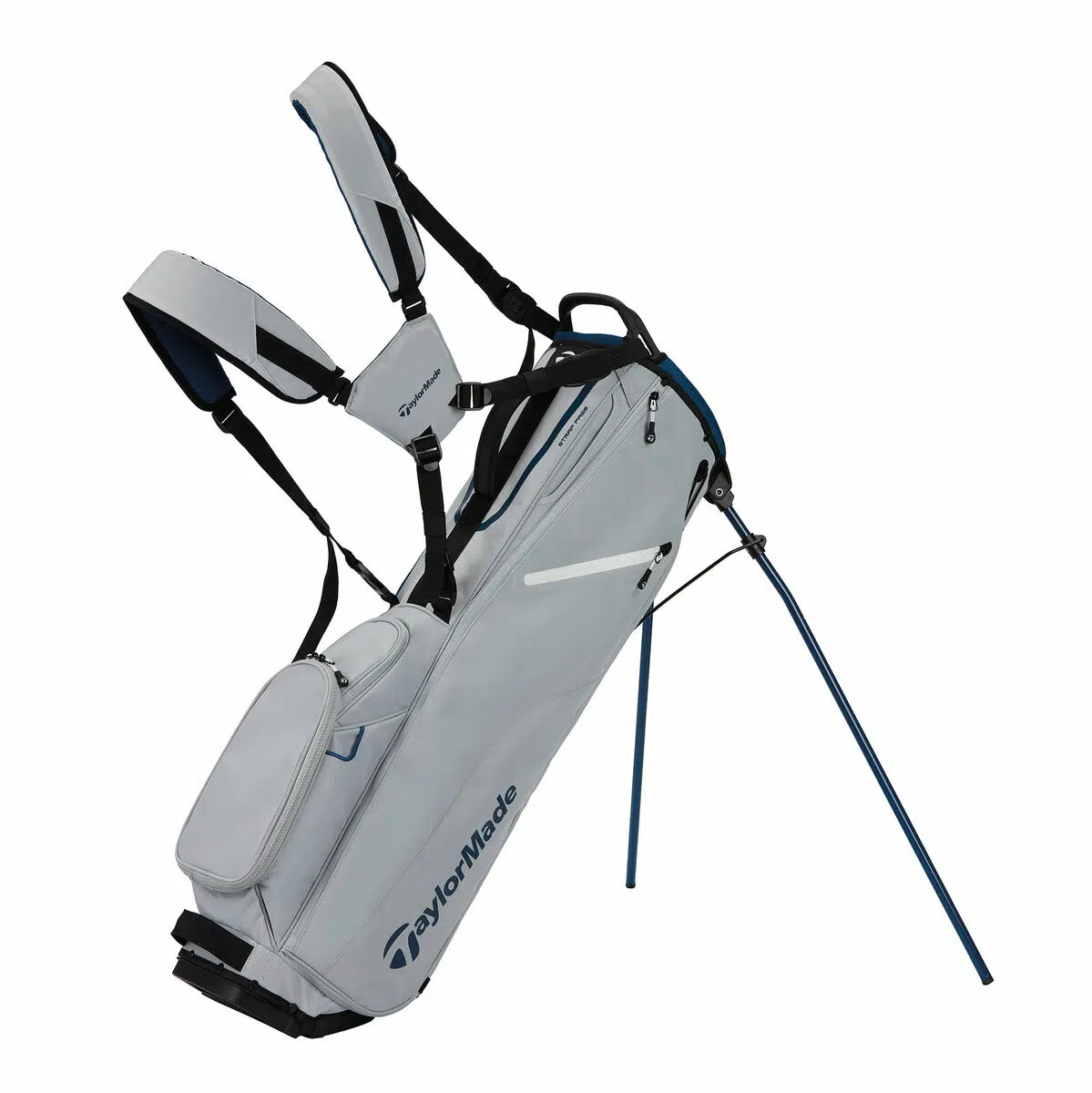 Pros
Light and easy to carry
Dual comfortable straps
Features 7 pockets
Fits securely onto a push cart
Leg Lock technology keeps the stand secure
Cons
Only available in 2 colors
The 4 way top causes clubs to entangle
Ladies who prefer walking the golf course are best equipped to carry a lightweight stand bag with ample storage space and comfortable straps. The FlexTech Lite ticked all the boxes, thanks to its cushioned carry, adequate pockets, and durable stand.
The FlexTech Lite tips the scales at 3.9 lbs placing it among the ranks of the lightest golf stand bags around. In my experience, the featherweight design was a pleasure to carry, and it did not weigh down my shoulders after 18 holes.
Weight aside, I felt its 7-pocket setup left me sufficient space to store my necessities like balls, tees, valuables, and refreshments. I was further impressed with the waterproof valuables pocket, which kept my watch, keys, and wallet dry during my round.
Next, I welcomed the dual padded strap design on the FlexTech Lite, which was easygoing on my shoulders, neck, and back. I also appreciated their adjustable nature, enabling me to remove them from the equation when placing the bag on a push cart.
Lastly, TaylorMade input a 4-way top structure in the bag, meeting the minimum requirements for a stand bag. However, this setup does cause clubs to clash and entangle, increasing the challenge of removing and adding the sticks from my bag.
Rating: 3.9
Read More: Best Women's Golf Bags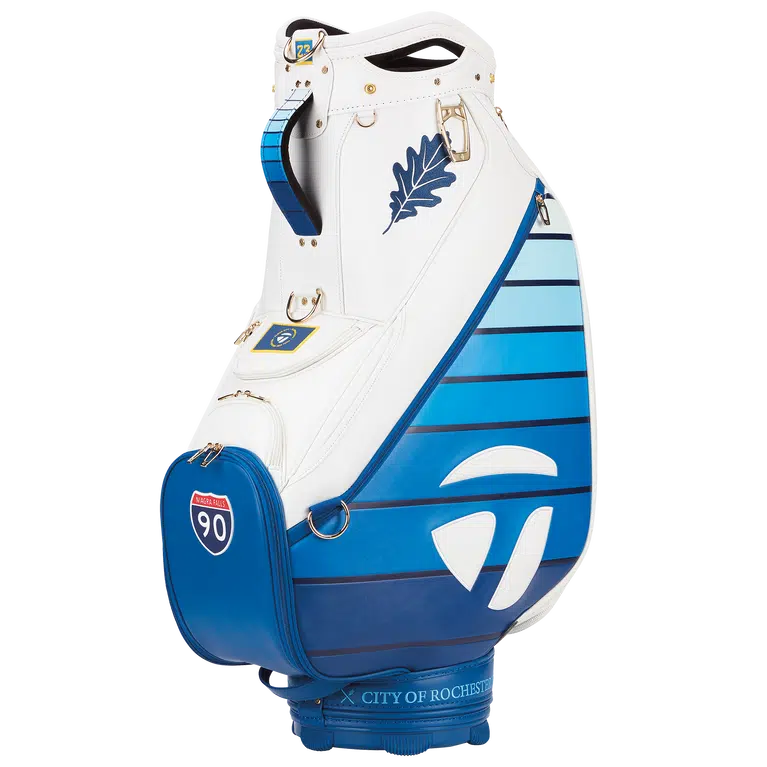 Pros
Exceptional storage space
3-point shoulder strap system
Attractive blue and white finish
6-way top
Robust materials
Cons
Incredibly expensive
Heavy golf bag to carry
Discerning golfers who value finer quality equipment will appreciate the spacious and luxurious TaylorMade Professional Championship bag. The staff golf bag pays homage to Oak Hill Country Club, the venue of the 2023 PGA Championship, won by Brooks Koepka.
The Professional Championship bag earns my support for its exceptional durability and storage space. However, you best hire a caddie to lug it around, as its 11.2 lbs design is bulky and can weigh your shoulders down after 18 holes.
TaylorMade fitted 12 pockets to the bag, providing storage compartments for everything from balls and tees to apparel, rangefinders, and technology. In addition, I appreciated the depth of the apparel pockets as it allowed me to store a healthy selection of rain and winter gear.
I felt the 6-way top provided a suitable structure to keep my woods, long, mid, and short irons, wedges, and putter separated. Adding to its impressive construction is a premium leather finish and a comfortable 3-point shoulder strap, which did render it easier to carry.
Performance aside, I was drawn to the color combination of the bag, which represents the blue hues of Lake Ontario and Erie Canal, which flow freely into nearby Niagara Falls.
Rating: 3.6
8. Kalea Cart Lite – Best TaylorMade Ladies Cart Bag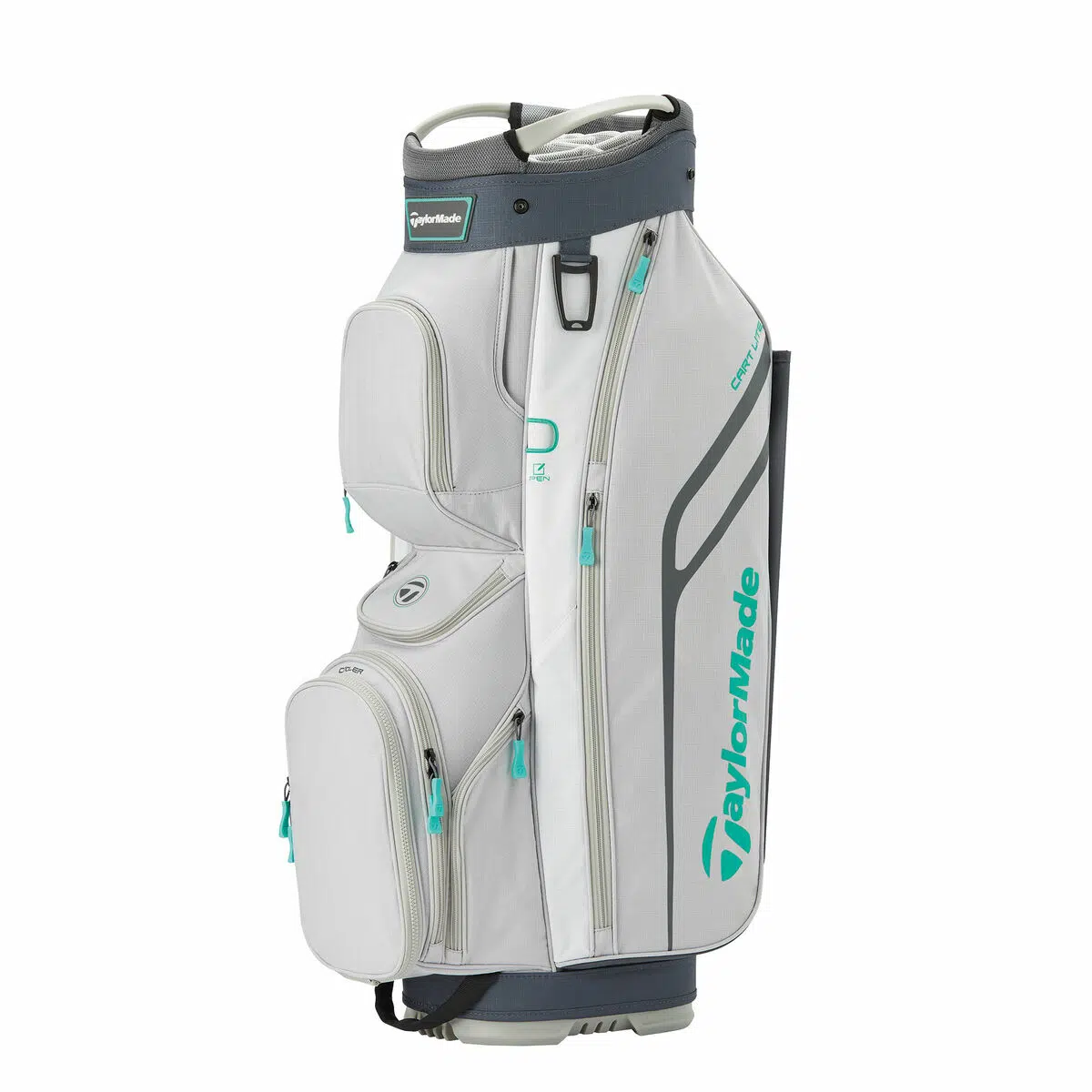 Pros
Lightweight design
Optimal for use on push and driven carts
8 pockets to store your essentials
Constructed with durable 600d polyester
14 way top
C

o

ns
A lack of full-length dividers causes the clubs to entangle
Limited alternative colors and patterns
Ladies accustomed to pushing or driving a cart are best suited to a spacious, light, and durable golf cart bag like the Kalea Cart Lite. The specialist ladies bag earns the top spot on our list for its storage space, durable material, and secure fit on a vehicle.
TaylorMade built the 5.5 lbs bag to ride safely on a push or standard golf cart, thanks to its pushcart enabled base and cart strap pass-through. The bag remained fastened to the base of the cart as I navigated the golf course and gave me unobstructed access to the pockets.
Speaking of pockets, I counted 8 compartments on the Kalea Cart Lite, which left sufficient room to store everything required on the golf course. I carried my refreshments, rain gear, and rangefinder on top of the usual accessories and valuables.
The engineers fitted the Kalea Cart Lite with the popular 14-way top, which is exceptional for keeping your clubs organized. However, the bag is short on full-length dividers, causing my clubs to entangle, leaving it challenging to slide them in or out.
Finally, I felt the 600d polyester material improved the durability of the golf bag, and it should hold firm going forward. My biggest gripe with this bag is the lack of alternative colors, but if you can look past that, you are treated to a light, secure, and spacious golf cart bag.
Rating: 3.5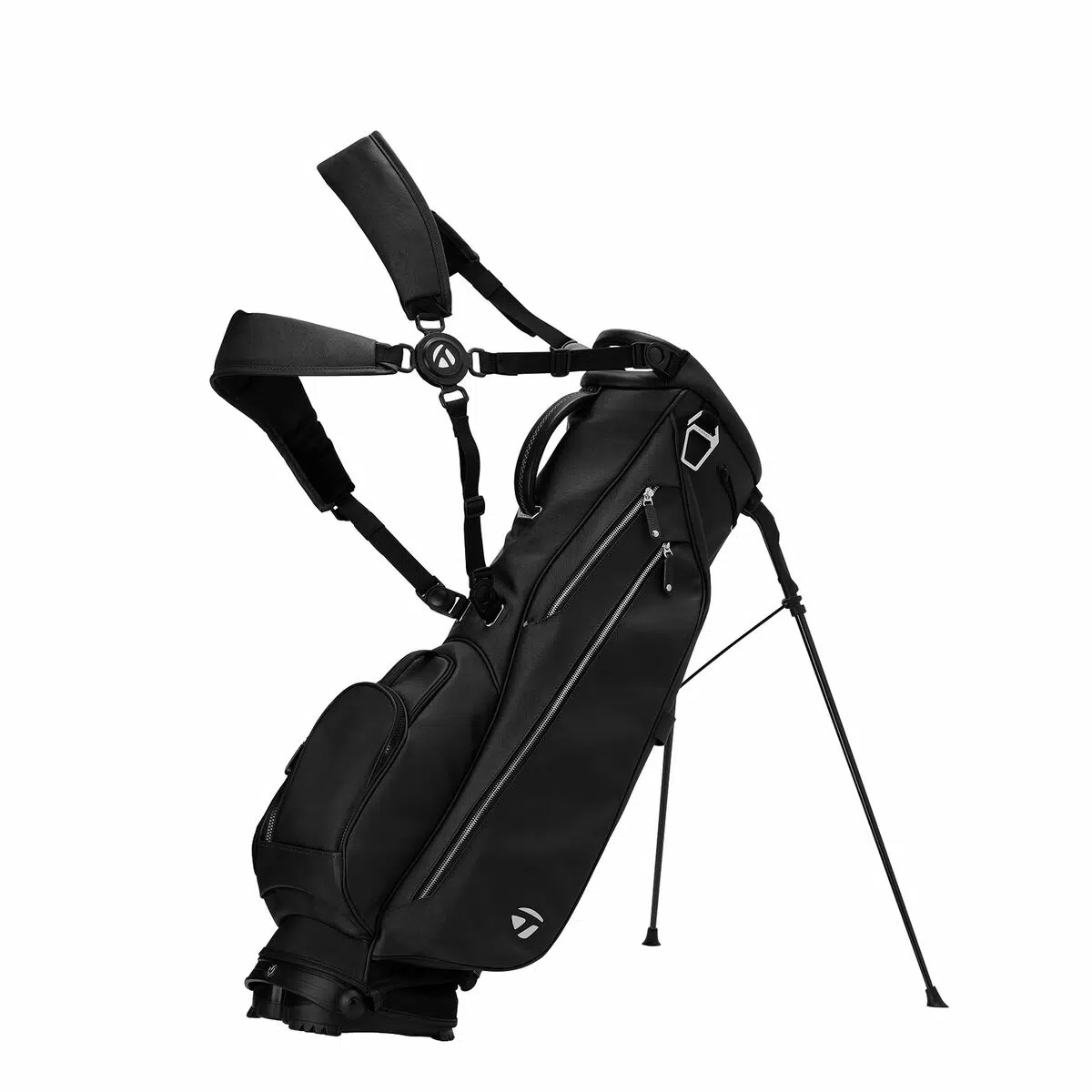 Pros
Durable construction
5 pockets
Comfortable adjustable strap
Robust stand
4-way top
Comfortable adjustable strap
Cons
Priced at a premium for a stand bag
Fewer pockets than I would like to see
The 4 way top caused my clubs to clash
Golfers demanding premium quality products may take a shine to the Vessel Lite Lux stand bag, built to last, impress and perform. I would have liked more pockets for the price, but the quality of the zippers, material, straps, and stand made up for it.
TaylorMade only applied 5 pockets to the bag, but the apparel compartment was deep and held all my raingear. I also thought the cooler-lined water bottle pocket effectively kept my drink chilled for at least 9 holes.
Regarding drinks, casual golfers will appreciate the dual towel ring and bottle opener feature to crack open the cold ones for your buddies. Next, I relished the balance and comfort provided by the Equilibrium 2.0 Convertible Strap. It allowed me to adjust it to my preference, reducing the risk of straining my shoulders.
The 4-way top was relatively basic, besides the velour-lined compartments. I set my woods up in the back, long and mid irons in the middle, and short irons, wedges, and putter in the front. My clubs did collide while carrying, and at times the clubs in the same compartment got stuck.
Lastly, I saw value in the durability and longevity of the Vessel Lite Lux. However, it does lack certain structural features I prefer on a high-end bag.
Rating: 3.2
What To Consider When Purchasing TaylorMade Golf Bags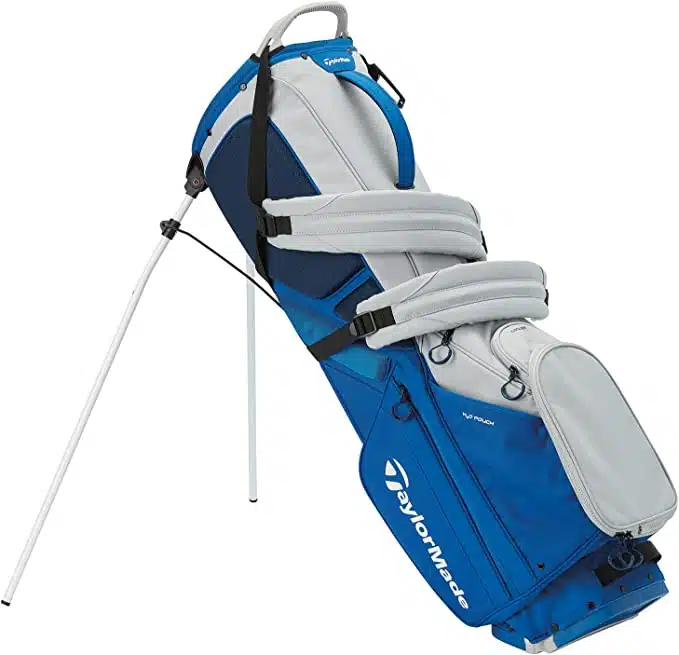 Type Of Golf Bag
TaylorMade manufactures a healthy variety of bags to suit everyone from par 3 golfers to walkers, cart drivers, and professionals. The first factor to consider when purchasing a TaylorMade bag is how you will use it. Is it for trips to the driving range? Will you carry it yourself? Or do you intend to secure it to your golf cart to haul around the links?
If you are searching for a minimalist bag that can carry a few clubs to the driving range or par 3 courses, think about a carry or Sunday bag. However, when you prefer walking 18 holes, a stand bag like the FlexTech Lite is ideal.
Carry and stand bags are typically the lightest options from TaylorMade as they offer less storage space and fewer top compartments than cart bags. If you push or drive a cart, you require a bag like the Cart Lite Bag, tweaked to fit securely on the base of your trolley.
TaylorMade's final type of golf bag is a staff or Tour bag. A prime example is the Professional Championship Staff Bag, which features premium material and optimal storage space. However, these bags are super heavy and best handled by a caddie.
Storage Space
Storage space is a deciding factor for many golfers when seeking a new case, as carrying everything you need on the golf course is imperative. However, with more pockets comes more equipment and accessories, increasing the total mass of the bag and prompting an uncomfortable carry.
If storage space is the primary objective, the best bet is a golf cart bag. For example, the Tour Cart Bag features 12 pockets. I carried a rangefinder, raingear, balls, tees, and refreshments, and I still had space.
However, golfers operating without a cart are advised to stick to stand bags, despite the reduced pocket space. I suggest this because stand bags typically have dual straps and are lighter than cart bags.
Top Slots
TaylorMade golf bags are constructed with 3, 4, 5, 6, and 14-way tops, designed to separate your clubs and simplify inserting and extracting them. 3-way tops are found on carry bags, lightweight builds, which I find best suited for use on short courses or for players using less than the full complement of clubs.
Next, 4 and 5-way slots are regular on lightweight stand bags that help you divide long, mid, and short clubs. They are followed by 6-way slots that TaylorMade typically reserves for staff bags used by tour pros.
Finally, you will discover 14-way top structures on TaylorMade golf cart bags, leaving a separate compartment for each golf club.
Waterproofing
Not all TaylorMade bags are waterproof, and if you operate out of a high rainfall zone, it is a necessity. TaylorMade golf bags like the FlexTech Waterproof are composed of waterproof fabric with a PSI rating of 2500 mm.
Although all bags come with a matching rain hood, it will stop water from penetrating the sides of the case, causing your grips to become soaked.
Budget
TaylorMade golf bags are priced at the higher end of the market and are not ideal for players on a shoestring budget. If you are a loyal TaylorMade fan, I recommend saving up and keeping an eye on sales, where you may find a bargain. Alternatively, you can seek out alternative value golf bags for the money from other brands.
FAQ
Are Taylormade Golf Bags Waterproof?
No, not all TaylorMade golf bags are waterproof. The only TaylorMade golf bag that can withstand the rain is the FlexTech Waterproof Stand Bag. It is constructed with lightweight, waterproof fabric that scores 2500 mm meaning it can take up to 98 inches of water in one go before succumbing to the pressure.
How Do You Arrange A Taylormade Golf Bag?
You arrange a TaylorMade golf bag by placing your woods at the back and long and mid irons in the middle. Next, I position my short irons, wedges, and putter in the front. However, this setup may vary depending on the number of slots and whether the bag includes a dedicated putter well.
Conclusion
Our TaylorMade golf bags review highlighted the premium price of the equipment giant's gear. Whether you desire an entry-level carry bag or a high-end tour design, you can expect to pay above what most of their competitors charge.
However, I feel the enhanced price tag is warranted, given the quality, storage space, and comfort TaylorMade golf bags provide. I am confident that the FlexTech Crossover Stand Bag is the top offering from the brand this year after trialing the best that TaylorMade has to offer.
I appreciate the organization promoted by 14-way Top, its impressive pocket space, and its versatile performance. Although heavy, it was comfortable to carry, and a dedicated cart strap pass-through channel made it easy to secure the bag to a cart and still enjoy access to the pockets.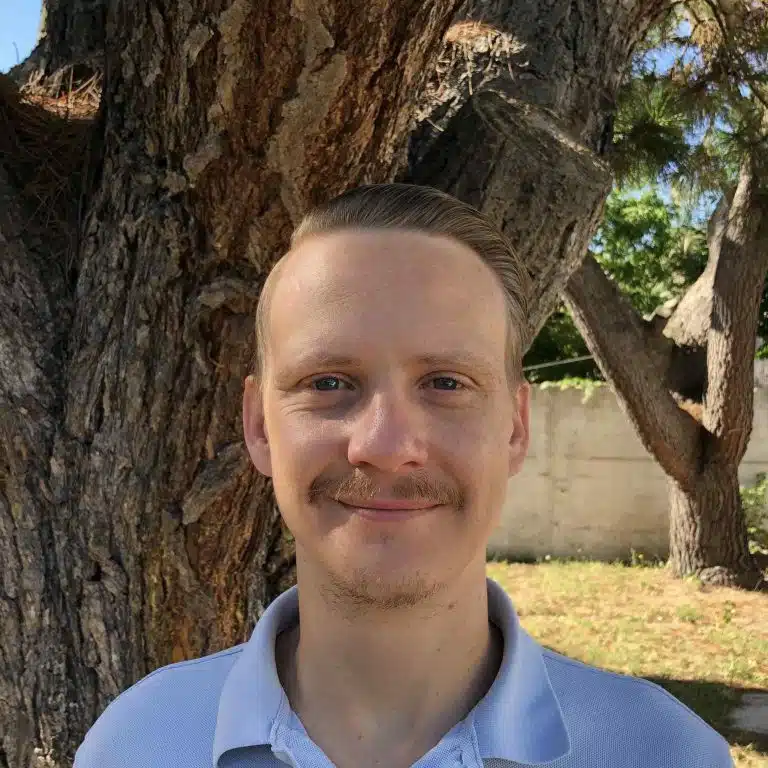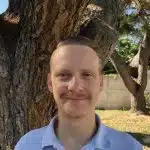 Matt is a seasoned golf equipment writer and sports fanatic. He holds a Postgraduate in Sports Marketing and has played golf for over 28 years.