Purchasing a golf simulator will allow you and your clients to play no matter the weather. Simulators come in assorted sizes and are used for different applications and in this piece, we will be looking at the best commercial golf simulators on the market.
A simulator is not only designed to enable you to play in a limited indoor space, but it is also a highly effective tool in helping golfers improve their performance.
They can also be used for recreational golf and are a great way to get in some practice with friends in a fun environment all year round. Simulator technology has improved rapidly leading to an increase in accuracy in recreating a real-world environment.
The simulator provides golfers with accurate data related to your golf game such as swing, shot shape & trajectory, and golf clubs.
At a glance: Our Top 4 Picks for Best Commercial Golf Simulator
Types of Commercial Golf Simulator
There Are 3 Main Types, Each Using a Different Technology:
Firstly, we will look at the photometric-based simulators such as the SkyTrak and Foresight Sports GC2. The technology is based on cameras taking high-speed images of the ball immediately after impact. The simulator then analyzes the images to obtain the measurements to return shot trajectory and distance. The photometric simulator captures ball-related data such as ball speed, backspin, sidespin.
Secondly, we will look at the Radar (Doppler) simulators such as the Voice Caddie SC300. Doppler radar is a microwave signal that is transmitted from the unit and bounces back from the golf ball after impact. Doppler technology requires the ball to travel a short distance before it can calculate the data and thus require a few yards more space than a photometric simulator.
Lastly, we will look at Infrared (IR) simulators such as the Optishot. They emit a light signal to track the position of the clubhead throughout the swing. As the infrared simulator captures information related to the clubhead, it does not require contact between a club head and a ball, but the information is not as accurate as photometric and the Doppler systems.
Many businesses including indoor golf centers, golf courses, and pro shops invest in commercial-grade golf simulators to generate and provide practice facilities during the winter months or periods of severe weather conditions. Irrespective of the reason for buying a commercial simulator it requires a substantial investment of $30,000 or more.
Commercial simulators make use of advanced technology and require large spaces and screens, accurate tracking data, and great software applications. Commercial simulators are commonly installed and kept in one place and are not portable.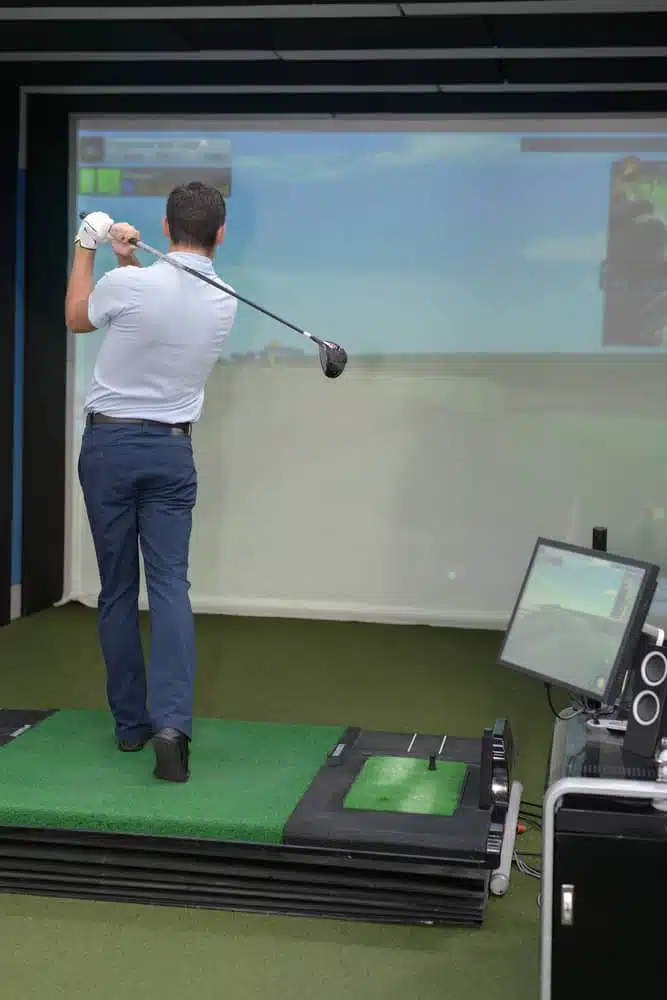 The Benefits of Commercial Simulators
They enable golfers to practice any time of any day in a protected environment allowing businesses to attract golfers to their premises.
The accuracy of data is critical and the data must be returned swiftly after the swing has been completed. Key data to be returned include club head speed, backspin, sidespin, carry distance, total distance (carry + roll), flightpath, distance off-center, and much more.
They are also handy for mapping your bag accurately. Fine-tuning the distances for every club will lead to more accuracy on your approach shots on the course and fewer missed greens.
Some simulator software presents skills assessment challenges helping you to fine-tune your game. The skills assessment games furthermore push you to improve on your short game skills by setting targets where you have to shots at a variety of velocities, ¼, ½, ¾, and full shots.
One of the greatest benefits of a simulator is the ability to play a full round of golf on a variety of courses anywhere in the world. Many simulator software provides access to the top courses in the world and you do not have to pay extra for the experience.
Commercial Simulators Buyers Guide
Since the investment in a commercial simulator is quite substantial, we will provide some information on the best ones available and what you should look for in your decision-making. We cover the key factors to take into consideration when purchasing a simulator for your business.
Picking the most suitable product and accessories is not easy but can contribute greatly to the customer experience. The system must be straightforward and easy to understand thus an intuitive and good user interface is key. You do not want to spend all your time showing new customers what they have to do.
Golf is a Game
Golf is simple yet complex, easy to learn yet impossible to master, and appeals to people of all age groups. The entertainment value that golfers get is what makes them return customers. Since simulators are dependent on the launch monitor that comes as part of the package, many launch monitors only supply raw data and that creates no fun value.
To get the most out of your simulator you have to ensure that you have a good launch monitor and software combination that provides the ultimate fun experience while still allowing for serious practice and training.
Size
The floor space for a simulator should make provision for at least 14 feet in width and 9 feet in height Depth requirements can be as much as 20 feet or more.
Portability
Portability is not crucial for your setup but there may be times when you relocate your business and should take the possibility of moving the simulator into consideration.
Quality
Commercial simulation machines should have great image quality that can be projected onto a large widescreen that is enclosed in the environment providing accurate and advanced tracking data. It should use technologies like high-speed cameras and playback.
The higher the quality of your equipment the higher the hourly price that you can charge visitors although some people will still pay a decent amount of money for a lesser experience.
Budget
Top-of-the-range commercial golf simulators can cost $30,000 or more making it unaffordable for some smaller businesses. Fortunately, there are more affordable options available as well.
You must take into consideration that cheaper models will provide less value and you may have to sacrifice in the accuracy of data returned. It is possible to start with a full-blown system but you can upgrade or finance your purchase to suit your budget.
Data Points
Ball speed is the measurement of the golf ball's velocity directly after the impact between the club head and golf ball and it is the main component in creating distance.
Total spin is the amount of spin created around the tilt axis and plays a significant role in the apex height and shape of your shot.
Distance off-center is the initial angle relative to the target line and in conjunction with sidespin, it determines the final position range relative to the target.
Golf Simulator Accuracy
They are generally 85-95% accurate but it varies between brands and models. This accuracy will help golfers to improve their game provided that they use the information correctly.
A golf simulator comprises a few components including hardware and software components. Here are the most common components that you will find in a simulator:
Launch Monitor
The most vital component in the setup is the launch monitor that provides various data points to track your swing, contact data, and ball trajectory. The various type of launch monitors was described earlier in this piece. Some launch monitors will display the ball trajectory and is ideal for use in a simulator to display the trajectory on the screen.
Golf Simulation Software
Once the launch monitor completes the tracking of your swing and ball data you will require good software to convert this data to simulation for display on the screen. The software will display the realistic ball trajectory on the screen and the quality of graphics is dependent on the software as well as the projector.
Some of the software packages provide game improvement games to help golfers with distance control and accuracy. Some of the top software packages allow you to design your own course.
Computer
You will require a desktop or laptop computer to install your software and connect it to your launch monitor. Some products can link to mobile devices, but these devices do not have the same processing power as desktops and laptops.
Hitting Mats
Since most golf simulators are placed indoors you will require a hitting mat to tee the ball upon. Hitting mats are becoming commonplace at driving ranges thus golfers are not afraid to hit shots from them. These mats are generally made from nylon turf and are quite durable and provide a consistent platform to hit shots from.
Projector
The projector is used to project the images onto a screen showing the data returned from the launch monitor and the ball trajectory. Combined with the software, the quality of the images and golf courses are dependent on the quality of the pixels that the projector can display.
Consider the following key areas when purchasing a projector:
Price
Quality
Resolution
Durability
See our guide on choosing the best projectors for golf simulators.
Screen
The screen is the display area that the images emitted by the projector are displayed upon.
Golf Hitting Net
The golf hitting net is the net that absorbs your ball to protect the area around the simulator from damage. Some golfing nets can return the golf ball to you and some will only absorb the energy and drop the ball at the bottom of the net.
Quick Overview: Our Top Picks for Best Commercial Golf Simulator
Quick Overview: Our Top Picks for Best Commercial Golf Simulator
Reviews of the Best Commercial Golf Simulator
Here we take a look at some of the leasing options currently available.
TruGolf is a reputable maker of simulators with a team of highly respected developers and golfers. The TruGolf Vista 12 is aimed at businesses with a mid-range budget and needs some portability making it a great commercial option.
It delivers high-definition images and enhanced swing analysis. It is portable and the installation process is straightforward. Bars, restaurants, country clubs, and pro shops often purchase TruGolf simulators.
The Vista 12 simulator comes with:
Large enclosure
Side nets
1080-pixel projector
Overhead Light Bar
165″ Impact screen
4:3 Aspect Ratio
1 X 21-inch touch screen monitor
1 X TruGolf level 2 computer
TruTrack2 tracking system
Premium hitting mat
2 Year Basic E6 Connect subscription
Portable speaker
Library of 27 Golf courses
Vista 10 User Manual
Duffel bag for frame storage
1-year limited warranty
The recommended dimensions for a comfortable setup is 15 feet wide X 10 feet high X 20 feet deep. Crystal clear images are displayed on the crease-free, high definition impact screen. Their matte-box design enclosure blocks the ambient light providing the immersive feeling that you are on the golf course.
The TruTrak2 system consists of 3 rows of high-speed optical sensors that will track your clubs throughout your swing. It provides feedback on the following data points:
Launch angle
Clubface angle
Clubhead Speed
Club path
Ball speed
Distance
Spin
Deviation
The E6 Golf Connect software enables you to connect and play against golfers anywhere in the world on high definition golf courses.
E6 Golf Simulation Software Features:
Various Time of Day Conditions
5 Tee box settings
Course elevation setting
In-game practice mode
Boost setting for new golfers
Automatic scoring
Skills challenge features
2. SkyTrak SIG12 Golf Simulator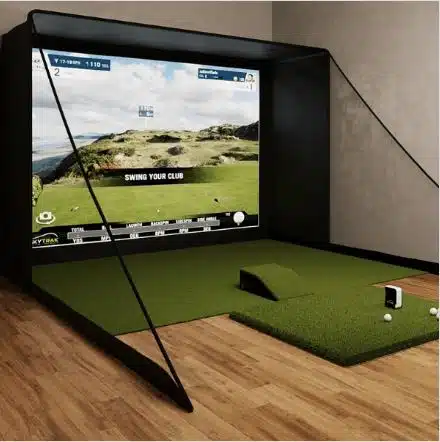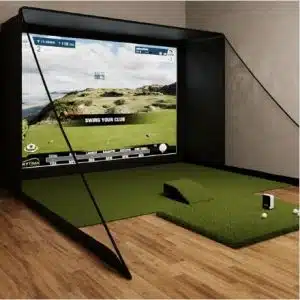 Pros:
Lightweight and portable
Accurate readings for shots hit off golf hitting mats
Fantastic user experience
You can change factors such as wind and temperature
Easy setup or put away
Cons:
The golf ball and the launch monitor has to be at the same level
Annual subscriptions required for the advanced features
SkyTrak is a popular brand in the launch monitor space and will provide hours of fun and entertainment for you and your family. It offers the most often used data points at a very affordable price.
The SkyTrak SIG12 simulator comes with:
SkyTrak Golf Launch Monitor
Metal Protective Case
Play & Improve Software
SIG12 Golf Simulator Enclosure
Side Barrier Netting
Landing Pad Turf
Choice of golf hitting mats
5 feet X 5 feet fairway Series
4 feet X 7 feet Fiberbuilt
4′feet X 9 feet Fiberbuilt
Optoma EH412ST Short Throw Projector
Projector Shield Floor Mount Enclosure
25 feet HDMI Cable
HDMI to lighting cable
Micro-USB charging cable for SkyTrak
SkyTrak User Manual
Quick Start Guide
This is a standalone simulator package and you are not required to drill holes in a wall for the installation. Following the instructions added to the package will make the setup straightforward and it can be completed within a brief period.
The golf hitting mat is made from durable materials aiding in the durability of the mat and it is easy to hit your shots off the mat.
SkyTrak measure the following data points:
Ball speed
Launch angle
Backspin
Sidespin
Side angle
It calculates the following data points once the ball has traveled a few feet through the use of some complex algorithm:
Clubhead speed
The angle of ball descent
Carry distance
Ball roll
Total distance achieved
Deviation from a straight line.
Accuracy is one of the strong points of the SkyTrak golf simulator and it can compare to most other golf launch monitors and simulators. The accuracy parameters of the SkyTrak launch monitor are as follows
Ball Speed 0 – 200mph +/- 1mph
Launch Angle 0 – 55° +/- 1°
Back Spin 0 – 12,000rpm +/- 250rpm
Side Spin 0 – 4,000rpm +/- 250rpm
Side Angle 0 – 20° +/- 2°
The user interface is simple to use and provides a natural feel when playing golf.
The Pro series is the top of the range golf simulator provided by Full Swing and it makes use of high-speed cameras for extreme accuracy. The overhead tracking and Ion3 cameras reliably capture the clubhead and ball at impact and provide high definition swing playback. The Pro golf simulator has a modular designed providing a range that comes as a compact simulator or in a widescreen configuration.
The Full Swing Pro Series Simulator comes with:
Solid wood enclosure and platform
Ion3 high-speed camera X 1
360° infrared tracks X 1
Cinema-quality projector X 1
Energy-absorbing diffuser screen X 1
Industrial-grade carpet and hitting mat X 1
The screen width can reach over 16 feet. The Full Swing Pro golf simulator can be customized in 60 different configurations.
The following data points are measured by the Full Swing Pro Golf simulator
Ball speed
Launch angle
Ball direction,
Carry distance
Backspin
Smash factor
In-Flight Tracking
Full Swing utilizes the fastest and most accurate technology available and the Pro Series makes use of infrared technology through the use of 688 infrared sensors spanning 2 tracks. The infrared lights measure the ball mid-flight at the speed of light. Feedback and display on the screen are instant and gives you the feeling that you are standing on the golf course watching your ball soar into the distance.
Software
The software will enable you to create additional golf courses, play a variety of other sports, and do an analysis of your swing.
Courses
There are 84 Championship courses to select from and you will be able to use the
Course Reproduction
Interactive Practice Range Contest Capabilities
Customizable Environments
Swing Analysis
The swing analysis system provides the golfer with an understanding of their golf swing by highlighting the pressure points of your feet during your swing and the impact it has on the rest of your body.
The Golfzon Vision premium comes with:
VISION Software
Basic Screen
6,000 ANSI Lumens Full HD Projector
T1 Sensor
GS System, Console, Mouse, Keyboard
Card Reader and Membership Card
Swing Replay Camera
Basic Plate with Fairway-Rough-Bunker Mat
Auto Tee-up and Ball Retrieval System
Keypad Remote Controller
The dimensions of the Golfzon premium are:
Booth Width – 13 feet 10 inches
Projector to Screen – 26 feet
Booth Height – 10 feet 5 inches
The T1 SensorTwo high-speed cameras are equipped with the T1 Sensor, which is propriety technology developed by GOLFZON, can accurately trace club movement, impact between golf ball and clubface, and ball movement.
This allows you to become very technical in the execution of your shots and you can hit a draw, fade, and lob shots.
The sensor provides wide measurement capability and can thus capture mishit shots. The information is processed extremely fast and accurately before being displayed immediately after the contact between the golf ball and clubface.
Moving Swing Plate
The PlateVISION moving swing plate technology will adjust your lie according to your settings at the start of the game. The advanced golfer can set more severe sloping parameters than less experienced golfers.
The system will then simulate uphill, downhill, and sidehill slopes according to the course that you have selected keeping the feel of the game natural.
Multi-Surface Hitting Mats
There is a Multi-surface Hitting Mat that gives you the options of playing from the fairway, rough, and sand bunker enhancing the realistic feel of the game. The simulator will react according to the surface that you have to play from and adjust your distances accordingly. The level of sight can be adjusted at any time including putting to provide the ultimate natural feel.
Swing Replay
There is a swing replay feature available for you to review your swing after every shot. You can furthermore, compare your swing with other golfers on the network and upload your best shots to an online account for future reference.
Smart Auto Tee-up
Bending down to tee up your ball can strain your back and impact on your swing. Golfzon found a way to aid you by developing an auto-tee. You set the auto tee height and the system will tee every ball at the same height for you.
Play Against Other Golfers
You can connect with players that are connected to the Golfzon online network for a better experience and challenge. You can include 6 players in a game, and this includes family and friends to enjoy a round with you. Junior can join in as well since Golfzon has added a tee box for juniors for fair competition.
Courses Available
You will have access to more than 190 world-class courses in crystal clear detail including courses such as St. Andrews, Pebble Beach, PGA National, Mission Hills, and many more. Golfzon is continually adding new courses to the collection at no extra cost.
Display
The incredibly brilliant high-definition 3D graphics, aerial photographs combined with the sound will make you feel that you are playing on a real golf course.
Final Thoughts
Golf launch monitors evolved into a package that creates loads of fun or function as aids for golfers needing practice and training. The advent of gold simulators has made golfing indoors accessible and created business opportunities for some entrepreneurs that can combine their love for the game and business.
A commercial simulator can attract many new clients to your business and keep them there for longer thus increasing your revenue.
No one product will offer you everything you want in a single package, but some are close to meeting everyone's expectations. The simulators we reviewed in this piece offer excellent value for money and will go a long way to aid you in selecting the best tool for your business.
The best commercial simulator in our opinion is the TruGolf Vista 12 Pro for the combination of price and quality of the offering. The large screen, high definition projection capabilities in a complete package covering all aspects required for a golf simulator makes this an extremely valuable acquisition.
We hope you have found value in the piece and it will aid you in making the correct decision.
Nick Lomas is the founder of GolfSpan, an avid golfer, not quite a pro but has over 15-years of experience playing and coaching golfers from all over the world. His mission is to bring the golfing community a better experience then it comes to choosing the right golf gear, and finding the right set up for your game.