Top Flite golf clubs are a relatively unknown brand, that could be the secret sauce to take your game to the next level. But they're not for everyone.
This Top Flite golf clubs review will cover the best options for golfers like yourself. As a golf coach and golfer myself, I recommend these for clients and friends looking for affordable clubs with forgiveness
Here are some of the most popular Top Flite golf clubs:
And a little teaser: By skipping out on this review, you could be missing out on saving hundreds of dollars on a great club or set of clubs.
If you're looking for an affordable and forgiving set of golf clubs, Top Flite is a great option. In the full article, I'll go into more detail about each of these clubs and who they're best for. I'll also discuss the pros and cons of Top Flite golf clubs and compare them to other leading brands.
So what are you waiting for? Read the full article to learn more about Top Flite golf clubs and find the perfect set for you!
Pros & Cons of Top Flite Golf Clubs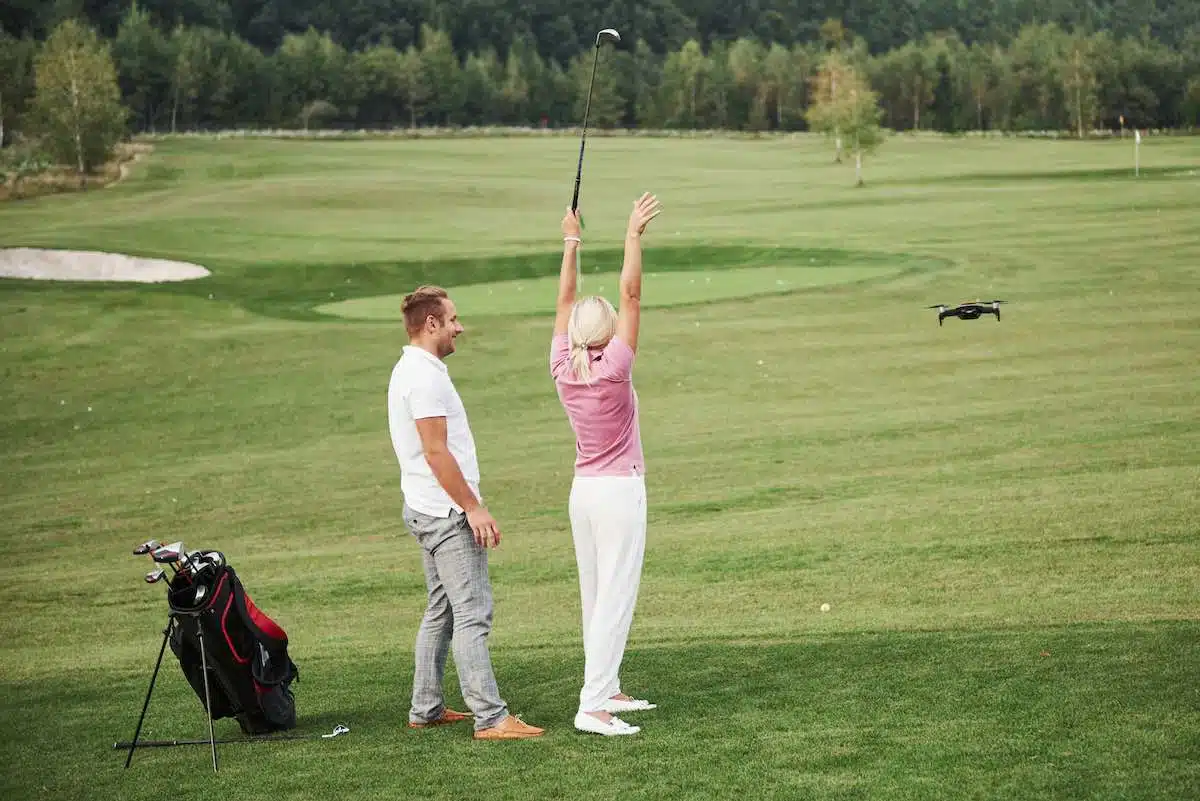 Here's the TL;DR about Top Flite golf clubs in general. Then I'll cover the top golf clubs further down.
Pros of Top Flite Golf Clubs
Affordable Pricing
Beginner-Friendly Design
Durability and Longevity
Wide Range of Options
Affordable Pricing
Top Flite comes to the rescue in the often-expensive world of golf, where getting a quality set of clubs can make you feel like you're taking out a second mortgage. One of the major perks of this brand is that they provide good quality clubs without burning a hole in your pocket. This pricing is a significant advantage for those just getting started or even intermediate golfers on a budget.
Beginner-Friendly Design
Remember the first time you tried to hit a golf ball, and it didn't go as planned? We've all been there. What's great about Top Flite clubs, especially models like the XL 2020 set, is their forgiving design. This means that even if you're not hitting the ball perfectly (and let's face it, who does every time?), the club can help compensate to make your shots look a lot better than they might feel. It's like having a little golf angel on your shoulder.
Durability and Longevity
There's an old saying among us golfers: "Clubs are for swinging, not for breaking." Okay, maybe I made that up, but the point stands. Top Flite golf clubs are built to last. Whether you're playing every weekend or just once in a blue moon, these clubs can take a beating and keep on swinging.
Wide Range of Options
Whether you're an ambitious youngster, a passionate amateur, or an old pro revisiting the basics, Top Flite has something for you. Their extensive range caters to a variety of skill levels and ages, ensuring that every golfer can find their perfect match.
Cons of Top Flite Golf Clubs
Not Ideal for Advanced Players
Limited Customization Options
Aesthetics Might Not Appeal to All
Not Ideal for Advanced Players
While Top Flite clubs are brilliant for beginners and intermediates, they might not be the top choice for advanced players or professionals. The same features that make them forgiving for newbies might limit the control and precision that a pro golfer seeks.
Limited Customization Options
For golfers who like their clubs tailor-made to their preferences, Top Flite might come up short. The brand doesn't offer the same level of customization as some premium brands do. While they cover a broad range, if you're super specific about your club's weight, balance, or grip, you might need to look elsewhere or consider aftermarket adjustments.
Aesthetics Might Not Appeal to All
Beauty is in the eye of the beholder, right? While functionally solid, some golfers feel that Top Flite clubs lack some other high-end brands' sleek, polished look. If you want your clubs to be as much a style statement as a functional tool, this is something to consider.
The Best Top Flite Golf Clubs Review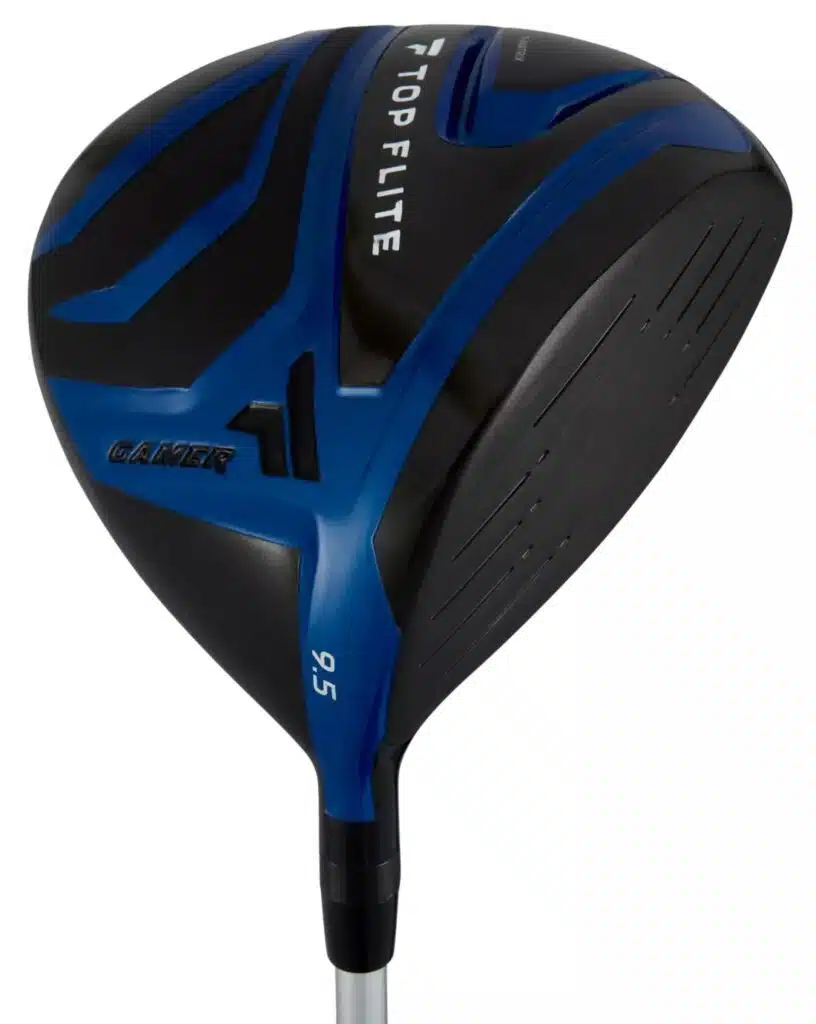 Pros
Forgiving: The large head and offset design make it forgiving on mishits. This is important for beginners and high handicappers still learning the game.
Easy to hit: It is also easy to hit, even for golfers with slower swing speeds. This is because it has a lightweight design and a large sweet spot.
Good for distance: The Top Flite Gamer Driver is designed to provide good distance. This is thanks to its deep face and powerful lofts.
Durable: This makes it a good value for the price.
Cons
Not as much feel or workability as some other drivers: The Top Flite Gamer Driver does not offer the same level of feel or workability as some other drivers on the market. This means it may not be the best choice for golfers looking for the most precise control over their shots.
Not as technologically advanced as some other drivers: It does not use the latest technology in its design. This means that it may not be the best choice for golfers looking for the most advanced driver on the market.
Specs
Head size: 460cc
Loft: 9°, 10.5°, 12°
Shaft: Aldila NV RevX
Flex: Regular, Stiff, X-Stiff
The Top Flite Gamer Driver is a great option for budget-minded golfers looking for a forgiving, easy-to-hit driver. It features a large, forgiving head designed to reduce mishits' impact. The driver also has a deep face that helps to increase ball speed and distance. Plus, you can't beat the price.
I have tried the Top Flite Gamer Driver with friends, and we were impressed with it. It doesn't compare to the best drivers on the market, but I was pleasantly surprised by how far I could hit the ball with the driver at this price point.
If you are looking for a forgiving and easy-to-hit driver that is also a good value for the price, then I would recommend the Top Flite Gamer Driver.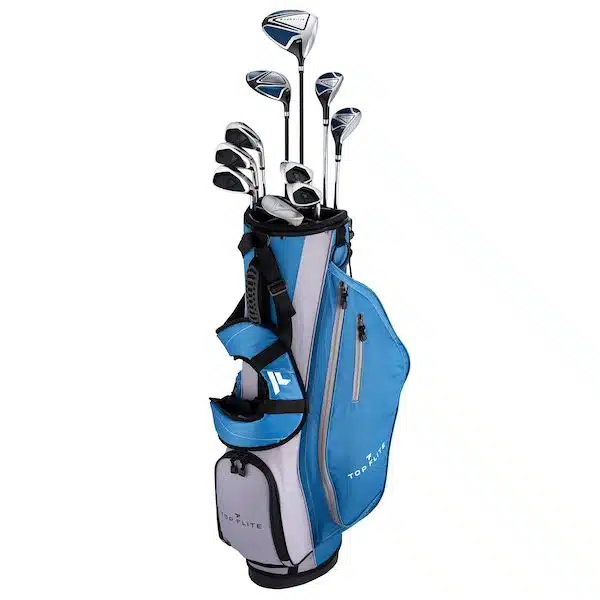 Pros
Comprehensive Set: As a newbie, it can be overwhelming picking individual clubs. This set gives you everything you need to step onto the green.
Hybrids over Long Irons: For beginners, hybrids are a blessing. They're more forgiving than long irons, and many of my students find them easier to get airborne.
Durable Bag with Plenty of Storage: Not only does it hold your clubs, but there's also room for balls, tees, and that all-important water bottle for hot days.
Affordability: For what you're getting, the price point is hard to beat.
Cons
Not For Advanced Players: While this set is a gem for newcomers, seasoned players might want more specialized clubs in their arsenal.
Limited Customization: The set is a package deal. So if you're looking to tweak or make specific choices, this might not be the set for you.
Specs
Driver: 460cc head size, 9°, 10.5°, 12° lofts, Aldila NV RevX shaft
Fairway woods: 3-wood and 5-wood, 15° and 18° lofts, Aldila NV RevX shaft
Hybrids: 3H and 4H, 19° and 22° lofts, Aldila NV RevX shaft
Irons: 6-iron to PW, 7-iron loft, True Temper XP95 steel shaft
Wedges: SW, LW, PW, 56°, 58°, 60° lofts, True Temper Dynamic Gold Spinner steel shaft
Putter: Malbon Black Label Mallet Putter
The Top Flite XL Complete Set for Men is an outstanding choice for those starting their golf journey or players on a budget who want a comprehensive set without the fuss. It's like getting a starter kit to the vast world of golf. Just remember, as with any sport, the gear is only part of the equation. Practice and passion make perfection!
I remember a day with one of my newer students, Alex. He'd bought expensive, individual clubs based on what he'd seen pros using, and he struggled. We switched to the Top Flite XL set for a session; the difference was night and day. The hybrids especially helped his game. His comment? "I didn't know golf could feel this good!"
If you are looking for a forgiving and easy-to-hit set of clubs that is also a good value for the price, then I would recommend the Top Flite XL Complete Set for Men.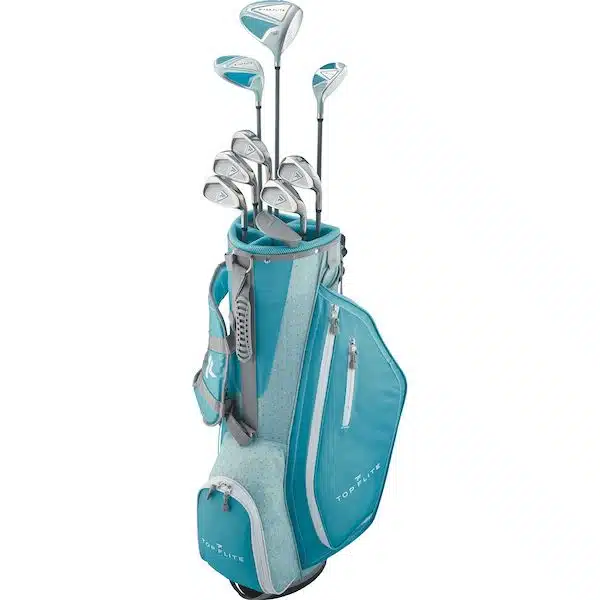 Pros
Tailored Design: Recognizing the differences in swing mechanics and speed, these clubs are designed with women golfers in mind. They're lightweight and optimized for flexibility.
Hybrids for the Win: Like its counterpart for men, this set smartly replaces long irons with hybrids. For many, especially those just picking up the sport, this makes shots from the fairway a breeze.
Stylish Bag with Functional Design: Not only does it look good, but its functional design also ensures you have easy access to your clubs and gear.
Value for Money: A comprehensive set without a hefty price tag.
Cons
Geared Towards Beginners and Intermediates: This isn't a con per se, but advanced players might crave more specialization.
Potential for Upgrades: As one's game progresses, some might feel the urge to upgrade certain clubs, especially the putter or driver.
Specs
Driver: 460cc head size, 9°, 10.5°, 12° lofts, Aldila NV RevX shaft
Fairway woods: 3-wood and 5-wood, 15° and 18° lofts, Aldila NV RevX shaft
Hybrids: 3H and 4H, 19° and 22° lofts, Aldila NV RevX shaft
Irons: 6-iron to PW, 7-iron loft, True Temper XP95 steel shaft
Wedges: SW, LW, PW, 56°, 58°, 60° lofts, True Temper Dynamic Gold Spinner steel shaft
Putter: Malbon Black Label Mallet Putter
The Top Flite XL Complete Set for Women is a great introduction or continuation for those journeying in the golf world. It combines thoughtful design with practicality, ensuring that you have a fulfilling day on the course. And remember, the right set is like the right pair of shoes; it just makes everything flow better.
If you are a woman golfer looking for a forgiving and easy-to-hit set of clubs that is also a good value for the price, then I would recommend the Top Flite XL Complete Set for Women.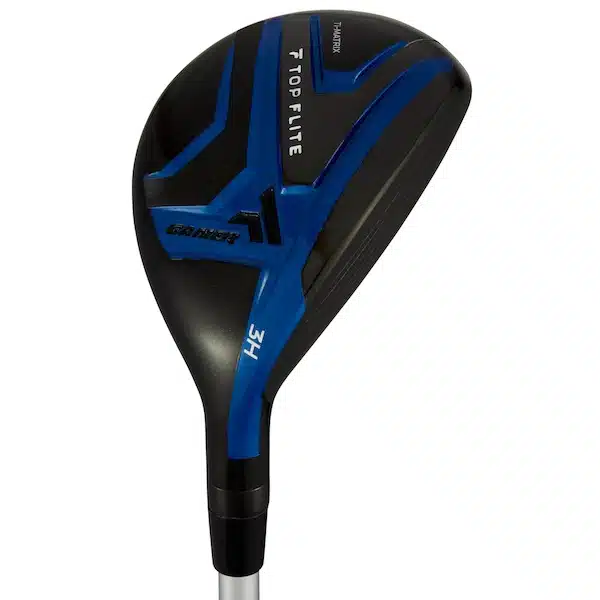 Pros
Versatility: Designed to replace long irons, this hybrid works wonders from the fairway, rough, or even those tight lies. I've seen it get players out of some tough spots.
Forgiving Design: Thanks to the high MOI face, off-center shots still have a fighting chance. It's a boon, especially for recreational players.
Lightweight Feel: The graphite shaft ensures the club feels balanced, yet light, giving you the confidence to take that swing.
Value: It delivers performance without demanding a premium price, a hallmark of Top Flite.
Cons
Limited Customization: While it's versatile, customization options are limited when compared to some premium brands.
Sound: Some players note that the sound on impact is a tad different. While it doesn't affect performance, it's something to get used to.
Specs
Head size: 190cc
Loft: 17°, 19°, 21°, 23°
Shaft: Aldila NV RevX
Flex: Regular, Stiff, X-Stiff
The Top Flite Gamer Hybrid is a splendid addition to any golfer's bag. It simplifies those challenging shots and offers a blend of forgiveness and performance. While it might not replace the hybrids from premium brands for advanced players, it's a solid choice for many. And as I always say, it's not just about the club but how you use it. But hey, a good club sure does help!
If you are looking for a forgiving and easy-to-hit hybrid club that is also a good value for the price, then I recommend the Top Flite Gamer Hybrid.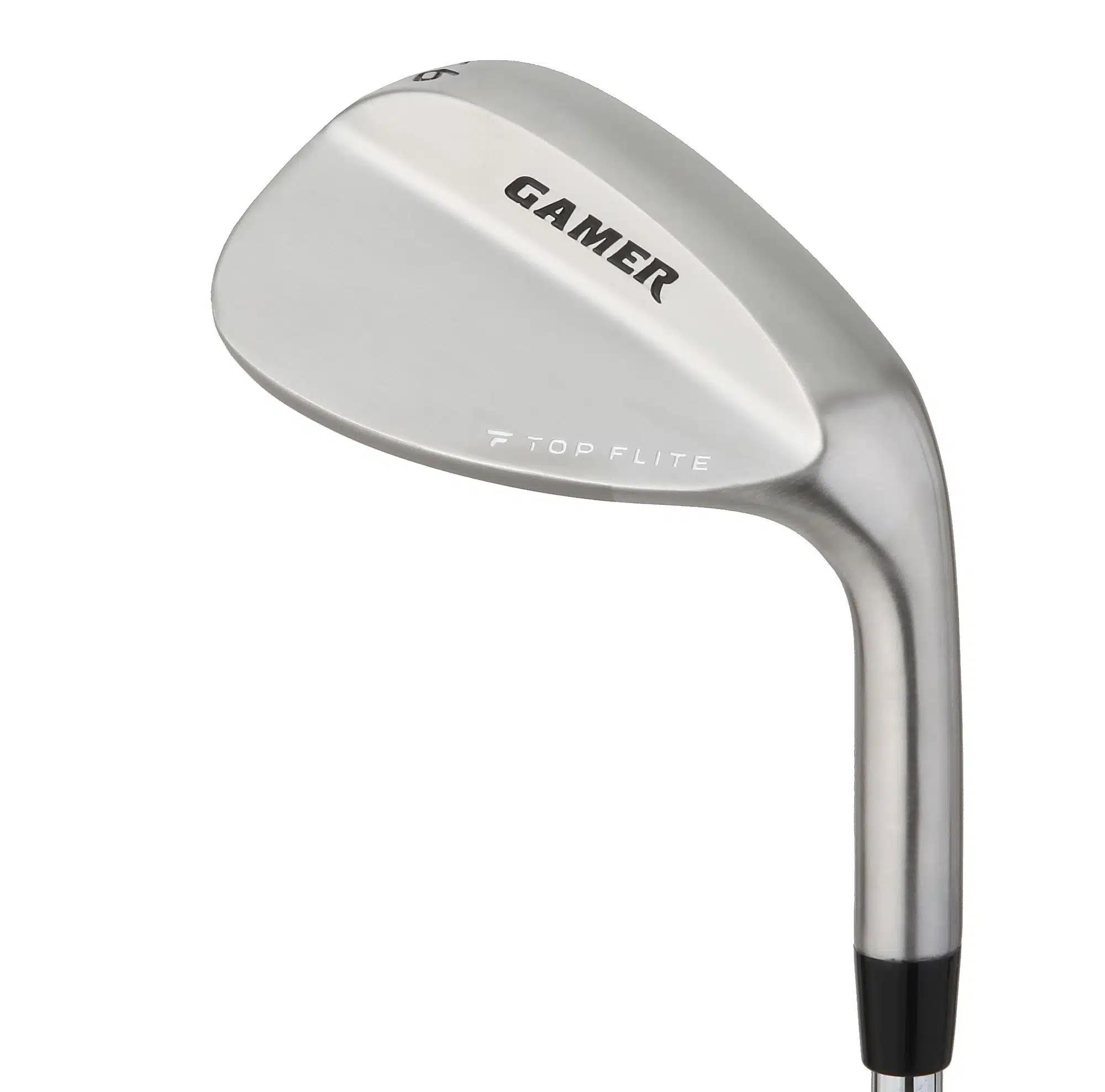 Pros
Spin Control: With its grooved face, generating spin, especially on those finesse shots, feels controlled and predictable.
Adaptable Grind: Whether you're playing from soft sand or firm turf, the sole grind offers adaptability, a feature I've seen benefit many of my students.
Affordable Precision: In the world of wedges, some can set you back a pretty penny. The Gamer Wedge delivers performance without straining the wallet.
Durability: It's a club that seems to withstand the test of time, great for those who play frequently.
Cons
Feel: A few players, especially those used to high-end wedges, have noted a slightly different feel on impact. It's not a deal-breaker but might take an adjustment period.
Aesthetic Variety: While its design is sleek and functional, there aren't many aesthetic options to choose from.
Specs
Head size: 56°, 58°, 60°
Bounce: 8°, 10°
Shaft: True Temper Dynamic Gold Spinner
Flex: Regular, Stiff, X-Stiff
The Top Flite Gamer Wedge is a stellar choice for those looking for control, adaptability, and value. It's a wedge that'll serve you well, from the rough patches right to the green. While it may not carry the frills of luxury brands, it more than compensates with its performance. Remember, in golf, as in life, it's not just about the tools but how you use them. That said, the right tool does give you an edge!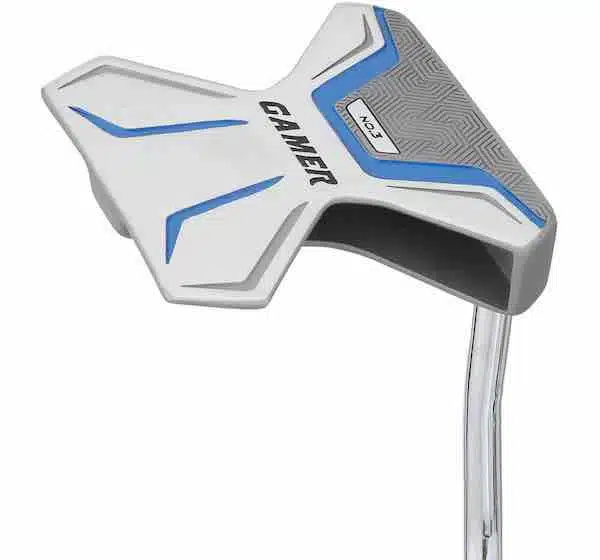 Pros
Alignment Assistance: The clear visual aids truly live up to the putter's name, making it a boon for those who struggle with lining up putts.
Soft Face Insert: It gives that pleasing, responsive feel on contact, ensuring you're in tune with every putt.
Stability: Its mallet design provides a balanced and stable putting stroke—a must for nailing those pressure putts.
Affordable: A high-performing putter without the exorbitant price tag? Sign me up!
Cons
Aesthetics for Some: Mallet putters, with their distinct design, can be polarizing. Some golfers love them. Others prefer the traditional blade design.
Weighting Feel: A couple of players, especially those transitioning from lighter putters, have mentioned an adjustment period to its weight distribution.
Specs
Design: Mallet-style putter.
Length: Typically available in 33", 34″, and 35″.
Head size: 420cc
Shaft: True Temper Dynamic Gold Spinner
Flex: Regular, Stiff, X-Stiff
The Top Flite Gamer Alignment Putter is a commendable ally on the greens, particularly for those who value clear alignment and a consistent stroke. While aesthetics and feel can be subjective, its performance speaks volumes. In golf, the smallest strokes often make the most significant difference. With the Gamer Alignment Putter in hand, you're well-equipped to master the dance of the greens.
Comparing Top Flite to Industry Titans
Regarding golf equipment, Top Flite often stands out as a brand offering value without compromising performance too much. However, certain distinctions are worth noting when stacked against industry juggernauts like TaylorMade, Titleist, and Mizuno.
While Top Flite provides excellent value and decent quality, especially for amateur and recreational players, these leading brands have an edge in terms of cutting-edge technology, craftsmanship, and tour-level performance.
Alternatives to the Top Flite Golf Clubs
1. Macgregor CG3000 Golf Clubs Set
My first 5-wood was a Macgregor, so I can vouch that these guys know how to create clubs for beginners. The CG3000 set includes nine clubs, giving you everything you need to get started.
The set includes a weak lofted 13-degree driver that delivers optimal launch for slower-swinging golfers and beginners. Furthermore, it features an 18-degree fairway wood and a 24-degree hybrid. Like the Top Flite XL, the set includes a 6 iron through to a pitching wedge and a forgiving and easy-to-align mallet putter.
2. Wilson Men's Complete Golf Set
This Wilson set provides ten clubs with a well-rounded selection. Kicking off the set is a 10.5-degree driver, which combines with a 5-wood and 5-hybrid to take care of your long game.
Following on from the longer clubs are 6, 7, 8, and 9-iron to take care of your mid-distance game. The irons in the set contain a low CG for a high launch and perimeter weighting to deliver optimal forgiveness. While a pitching wedge and sand wedge are on hand for your greenside shots.
Finally, the set includes a mallet head putter for optimal forgiveness on off-center strokes, and an ergonomically designed bag for comfort and convenience during the round.
3. Callaway Men's Strata Complete Set
Although advertised as a 16-piece set, it only contains eleven clubs, which is still more than most of its competitors. The set features a 12-degree driver and a 15.5-degree 3-wood.
Sticking with the longer clubs, it also includes a 22-degree 4-hybrid and a 26-degree 5-hybrid. Added to the longer clubs in the set are your standard 6 to 9-iron setup, along with a PW, SW, and putter. Lastly, the set features a lightweight stand bag that is comfortable and easy to carry over 18 holes.
Overall, this set offers consistent launch, distance, and optimal forgiveness, which is the dream for any golfer.
Why Aren't Top Flite Golf Clubs More Well-Known? A Dive Into Brand Perception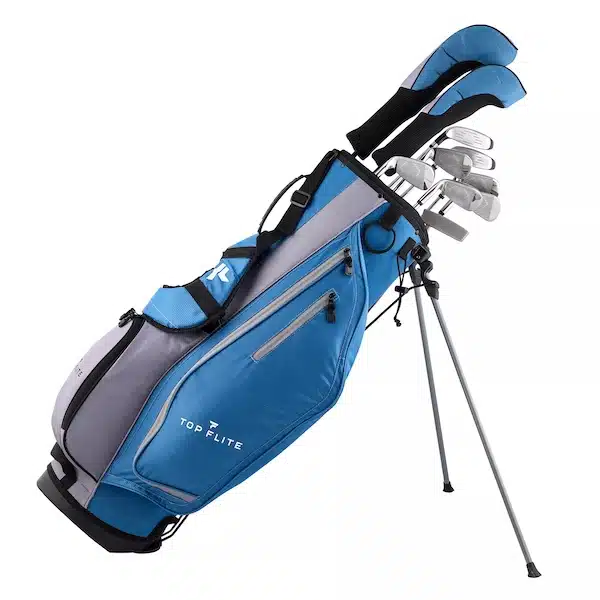 Top Flite is undoubtedly a name many recreational golfers have come across, especially when seeking affordable golf gear. But if you were to ask a group of avid golfers to list top brands, names like Titleist, TaylorMade, or Callaway might spring up more often. So, what keeps Top Flite from being as renowned as some of its counterparts? Let's explore.
Historical Focus on Golf Balls: Top Flite originally gained fame for its golf balls, particularly those designed for distance. For a good stretch, the brand was more synonymous with balls than clubs, which set the tone for their market positioning.
Target Market: Top Flite has traditionally aimed its products at beginners and recreational golfers seeking affordability over high-end performance. While this makes the brand accessible, it doesn't necessarily place them in the spotlight for pro tournaments or major endorsements.
Marketing and Sponsorship: Golf is a sport where endorsements and sponsorships can heavily influence brand reputation. Brands like Titleist or Callaway often invest heavily in PGA Tour player endorsements, putting their equipment in the limelight during major tournaments. Top Flite's marketing approach has been more subdued in comparison.
Perception of Quality: Like many others, the golf community often equates price with quality. Since Top Flite clubs are priced more affordably, there's an assumption (not always accurate) that they're inferior to pricier counterparts. This perception can impact a brand's prestige, even based on mere pricing psychology.
Product Range: While Top Flite offers various clubs, it doesn't release new models as frequently as some of the industry giants. Regular product launches, often accompanied by innovative technology claims, keep brands in the news and conversations, something that Top Flite does less aggressively.
In summary, while Top Flite may not be the first name to come up in elite golf circles, it holds a significant place in the market. For many, it's the entry point into the sport—a reliable, affordable option that serves as a stepping stone into the vast world of golf.
Things to Consider Before Buying Top Flite Golf Clubs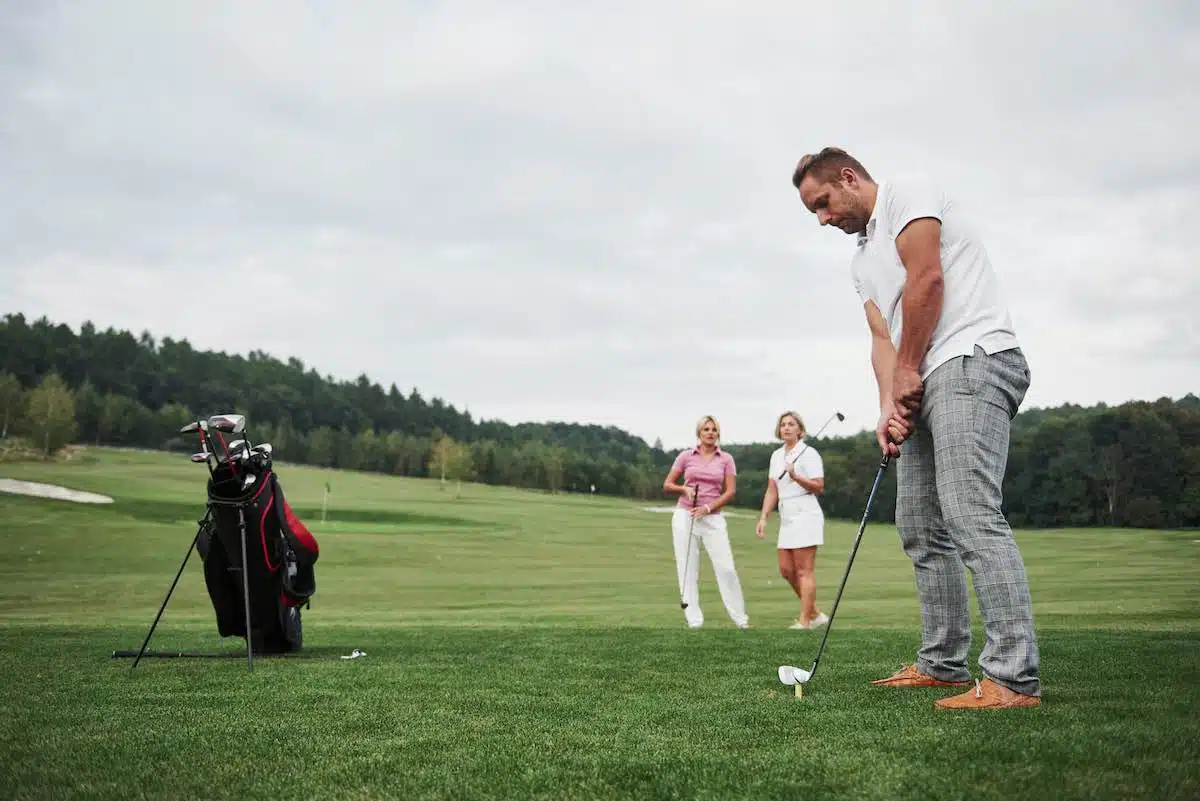 Budget
Golf club prices are vast and varied. Establishing a budget ensures you remain in a set price range and can better evaluate Top Flite's offerings versus premium brands. Remember, with Top Flite, you're eyeing affordability without compromising too much on quality.
Choosing Sets vs. Individual Clubs
Sets offer a cost-effective solution, especially for newcomers. Typically, Top Flite sets include essential clubs, making it an all-in-one solution. They often include a driver, fairway woods, irons, wedges, and a putter. However, for more customization or if you're upgrading, individual clubs might be the way.
The Importance of Club Fitting
Visiting a local club fitter or pro can significantly enhance your golfing experience. They'll help align your playing style with the best club specifications. With Top Flite, given its affordability focus, you might opt for this step when you're ready to transition to a more advanced set.
Understanding Loft
Proper loft ensures a consistent launch. Especially with Top Flite clubs, which cater to beginners, getting the right loft can help improve game consistency.
Center of Gravity (CG) Matters
Look for Top Flite clubs that have optimized CG. This aids in a high and powerful launch, which is especially beneficial for beginners or those refining their swing.
Choosing the Right Clubhead Profile
Top Flite offers a range of clubhead profiles. Oversize profiles, which Top Flite often employs, enhance forgiveness—perfect for those still mastering their swing.
Cavity Back vs Blade Irons
Given Top Flite's target audience, cavity back irons might be the go-to as they provide forgiveness and are beginner-friendly. Blades are more suited for those seeking advanced play nuances.
Picking the Ideal Shaft
Shaft flex directly impacts ball flight and accuracy. With Top Flite's range, it's worth noting that the shaft flex best complements your swing speed, whether extra-stiff, stiff, regular, senior, or ladies flex.
Extra-stiff shafts work best for players who swing a driver over 105mph, while stiff shafts pair better with swing speeds between 97 and 104mph.
Those who swing at 84 to 96 mph should find that a regular flex is sufficient. Speeds below 84mph may want to consider a seniors flex, but if that is too stiff for your swing, there is always ladies' flex.
FAQ
What Are Top Flite Golf Clubs Known For?
Top Flite golf clubs are best recognized for their affordability and suitability for beginners and recreational players. The brand offers a range of clubs that provide decent performance without breaking the bank, making it a popular choice for those just starting out in the sport.
How Do Top Flite Golf Clubs Compare to Premium Brands?
While Top Flite golf clubs deliver good value for their price, premium brands like TaylorMade, Titleist, or Callaway often feature advanced technology, superior craftsmanship, and materials that can provide enhanced performance, especially for more experienced golfers.
Are Top Flite Golf Clubs Good for Beginners?
Yes, Top Flite golf clubs are often recommended for beginners due to their forgiving nature and affordable pricing. They offer a good balance between quality and cost, allowing newcomers to get a feel for the game without a hefty initial investment.
How Long Do Top Flite Golf Clubs Last?
Like most other brands, the durability of Top Flite golf clubs depends on usage frequency and care. For a recreational golfer playing occasional rounds, they can last several years. However, as with all golf equipment, regular checks for wear and tear are advised to ensure optimal performance.
Where Are Top Flite Golf Clubs Made?
Historically, Top Flite golf clubs and balls were manufactured in the U.S.. Still, as with many golf brands, production might have shifted or diversified over the years to include international manufacturing facilities. It's always best to check the specific product details or the company's official information for the most accurate answer.
Final Thoughts On The Top Flite Golf Clubs Review
In our comprehensive Top Flite golf clubs review, we've journeyed through the brand's offerings, assessed their strengths and areas of improvement, and compared them to some of the big names in the golfing world. It's evident that Top Flite golf clubs offer incredible value, particularly for those new to the sport or playing on a tighter budget.
Among the top benefits of these clubs are their affordability, user-friendly designs tailored for beginners, and a legacy of consistent performance. These clubs might not always match the high-end tech found in premium brands, but they do an excellent job of bridging the gap for recreational players.
So, who are Top Flite golf clubs best for? Naturally, beginners, casual players, and those looking for a blend of quality and affordability will find these clubs a worthy companion on the golf course. And if you're seeking the star of the Top Flite lineup, the Top Flite Gamer Driver stands out, boasting a blend of distance, forgiveness, and playability that few in its price range can match.
In wrapping up, while Top Flite might not have the prestige of some industry giants, its value proposition is undeniable. For many, these clubs are the gateway to countless memorable moments on the greens.
Nick Lomas is the founder of GolfSpan, an avid golfer, not quite a pro but has over 15-years of experience playing and coaching golfers from all over the world. His mission is to bring the golfing community a better experience then it comes to choosing the right golf gear, and finding the right set up for your game.