Imagine having a club that helps you hit tee shots with the distance of a driver and the forgiveness of a hybrid – the hybrid driver. Teton came up with one such club, and here's the Teton hybrid driver review you've been looking for.
The Teton hybrid driver is a combination of the driver and the hybrid. It has a smaller shaft and club face than a driver, yet delivers great distance. The club looks like a hybrid and performs like a driver. The Teton Hybrid Driver is recommended for casual golfers.
Every golfer wants to hit fairways, and that's a big problem to solve for golf innovators. However, a hybrid driver might be exactly what you're looking for.
I decided to look at this club to see if it's worth the hype and who I'd recommend it to.
Overview of the Teton Hybrid Driver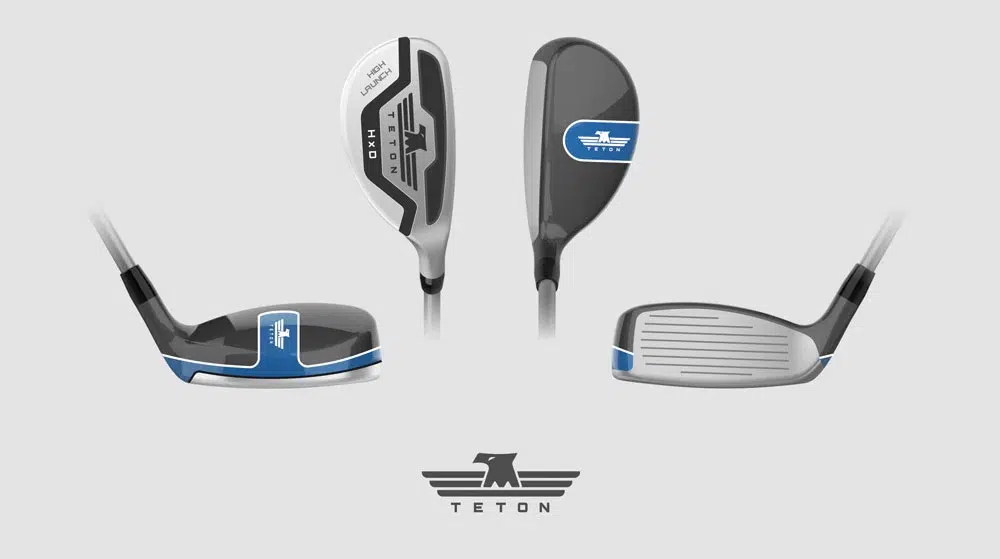 Teton claims that you can hit the hybrid driver just as far as you'd hit your standard driver but with a lot more accuracy and forgiveness.
I can hit my hybrid easier than my driver, so it's a tempting claim I kept in mind during my research.
The hybrid driver has a shorter shaft length, almost equal to a hybrid, and a smaller club head. This should lower the variability in your shots and deliver more accuracy.
The Teton hybrid driver looks almost identical to a hybrid. It's much smaller than a driver but slightly bigger than a hybrid.
Before we get further into the Teton driver review, here are a few pros and cons.
Pros
A high face provides stability through the hitting zone.
Higher forgiveness than a driver.
Assists in hitting the ball high.
A shorter shaft helps control the golf club easily.
More accuracy than a driver.
Teton hybrid driver price is affordable.
Cons
Distance isn't as much as claimed. (Great for a hybrid or a 3-wood, though)
The impact sound is a bit unnatural.
Some golfers might not like how it looks.
Key Metrics to Consider
I've rated the Teton hybrid driver below.
Note: All ratings are out of 100.
| | |
| --- | --- |
| Category | Rating |
| Overall | 88 |
| Distance | 90 |
| Forgiveness | 95 |
| Feel | 89 |
| Workability | 85 |
| Aesthetics | 85 |
| Price | 96 |
Verdict
The Teton hybrid driver gives you a good amount of forgiveness of the tee and sufficient distance to stay in contention throughout the day. It didn't give me the full distance that my driver did, but it was enough to keep me close.
The golf club is shaped like an oversized hybrid club with a bigger face which provides additional stability, forgiveness, and the ability to hit it off tees. The club is highly recommended for casual golfers who don't have the time to learn how to hit a driver or struggle with it.
I doubt any tour golfer will replace this with their driver, but it's great for the weekend and casual golfers who want to see more distance on their tee shots with accuracy. Personally, I might replace it with a 3-wood but not the driver.
Who Is The Teton Hybrid Driver Best For?
Teton hybrid driver is best for golfers who care about their golf skills but don't want to spend dreadful hours on the range doing drills and fixing their swing all the time.
All casual, weekend, and high-handicap golfers can use this innovation to have a better outing on the golf course.
Though, I can assure you that the Teton hybrid driver can benefit high handicap and casual golfers who want to enjoy the game of golf.
It's also a good choice for senior golfers who can get a lot of distance with minimum effort and slower swing speeds.
Also, if you're a senior golfer, check out the best hybrid golf clubs for seniors.
Teton Hybrid Driver — Specifications
If you're wondering what you would get in the box when getting this club, here are the club's specifications to help you out:
| | |
| --- | --- |
| Loft | 15° |
| Grip | Teton — branded rubber grip |
| Head Material | Titanium |
| Shaft Length | 42.5 inches |
| Head Volume | 460cc |
| Shaft Material | Graphite |
| Weight | 300 g approx. |
Things to Consider Before Purchasing The Teton Hybrid Driver
If you're considering the Teton Hybrid Driver, here are a few checkpoints you might want to mark off.
Are you a serious golfer, but your handicap is slightly higher than average, and you're considering this club? I suggest you work on your game and stick to a driver because it's more sustainable in the long term.
If you like playing golf to have a good time with your buddies and are not concerned with the shot's outcome every time, you should consider the Teton golf driver because it can easily get the ball out there with minimum effort.
This hybrid driver will be a good option if you're a slower-swinging golfer who normally uses hybrids in his bag.
If you struggle with fairway woods and want to hit it farther than a hybrid, you can consider the Teton hybrid driver. As a bonus, it's affordable as well.
Why You Should Trust Us
Our team spends thousands of hours trying out and researching golf equipment to help you take your game to the next level. Here's our product review process.
We can bring these reviews to you through the small commissions we earn if you buy through the links below.
How I Reviewed The Teton Hybrid Driver
I wanted to see if the Teton hybrid driver could potentially replace a driver and if it performs like Teton claims.
I've been golfing for half a decade and write professionally. So, I decided to review and evaluate the Teton driver. Then an editor reviewed and fact-checked the list.
This is what I considered while reviewing this hybrid driver:
Cost: The Teton Hybrid Driver's cost will be put against other hybrid drivers' prices in the competitive market.
Distance: While reviewing the Teton hybrid driver, I focused if the distance came out as claimed and gave them a rating regarding the results.
Forgiveness: This club is designed to provide maximum forgiveness, so I evaluated the Teton hybrid driver to see how forgiving they are.
Feel, Appearance & Sound: I will review the club regarding appearance, feel, and, most importantly, sound impact.
Launch & Accuracy: A hybrid driver has more loft than a driver, and your shots should go higher and be more accurate. So, I rated the Teton hybrid driver based on its launch and accuracy.
How to Hit the Teton Hybrid Driver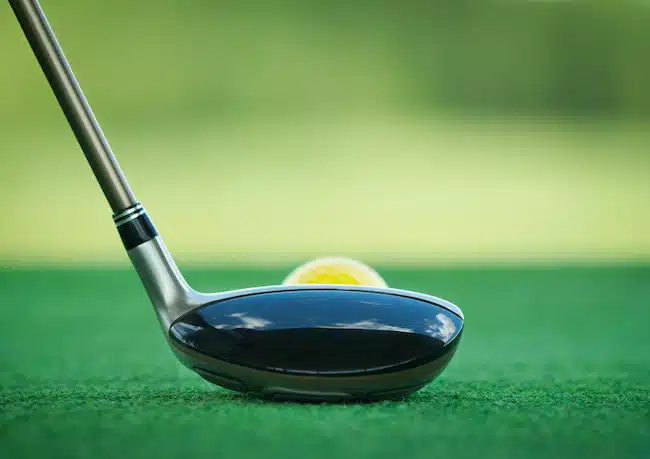 One of the first questions I had when I heard of a hybrid driver was how to hit it. Do you hit it like a driver or a hybrid? Tee it up high? Where do you place the ball?
You're supposed to hit a hybrid driver like a standard hybrid – not a driver. Place the ball one club face inside your left foot, and swing like you're playing a long iron or a hybrid. To me, this is great because I'm naturally better at hitting hybrids than a driver.
Your driver swing is different from a long iron swing, which can be challenging for some golfers on every tee. This is why the hybrid driver is easy to hit for high-handicappers that aren't consistent with different swings.
During my research, I also found that the Teton hybrid driver isn't great for off-the-deck shots. It delivers good distance, but you'd want to use it from the tee shots to get the maximum out of the club.
Your tee height should be as if you're playing a hybrid. You don't need to tee it high like a driver.
Teton Hybrid Driver Review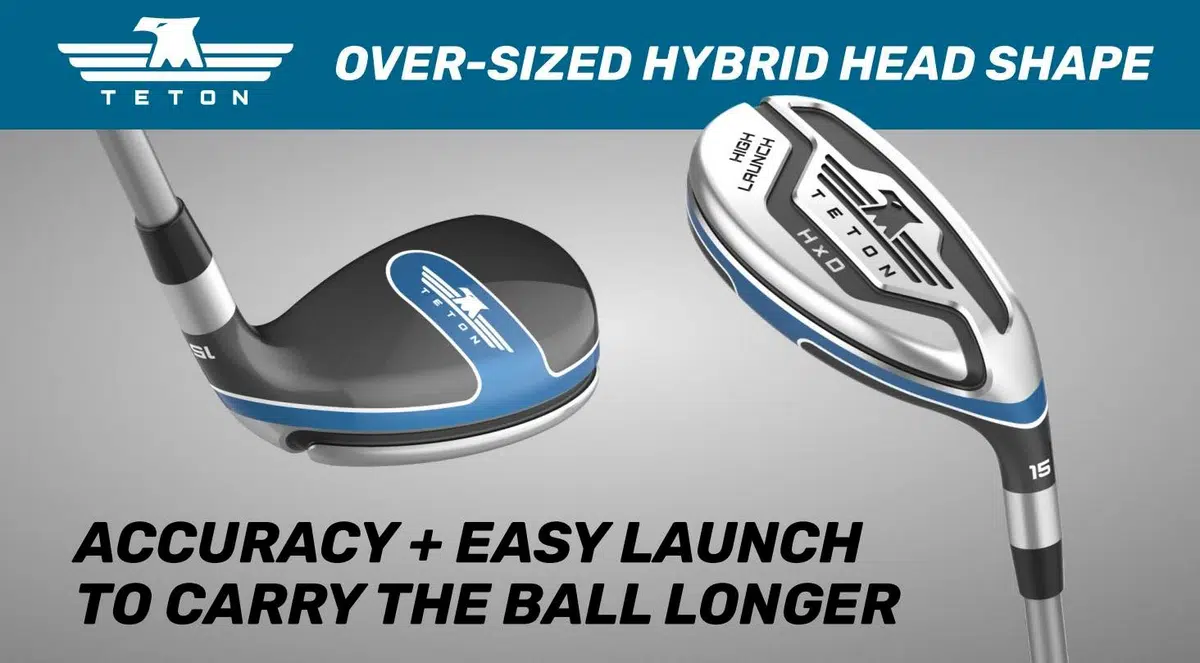 Teton Hybrid Driver was released back in 2020. It took the golf scene by storm. A lot of golfers finally thought about getting some forgiveness off the tee. However, the club always had mixed reviews.
Nike's top golf engineer, Josh Boggs, who won twelve golf digest hot list awards, designed and manufactured this golf club. His concept and efforts were depleted in developing a futuristic golf club.
Every time a new concept in golf comes out, there's a good chance it turns out to be a gimmick. The golf industry is filled with gimmicks. So is the Teton hybrid driver a suitable replacement for a driver? Or can it be replaced with a 3-wood? Let's find out.
Read more: 3-Wood vs. Hybrid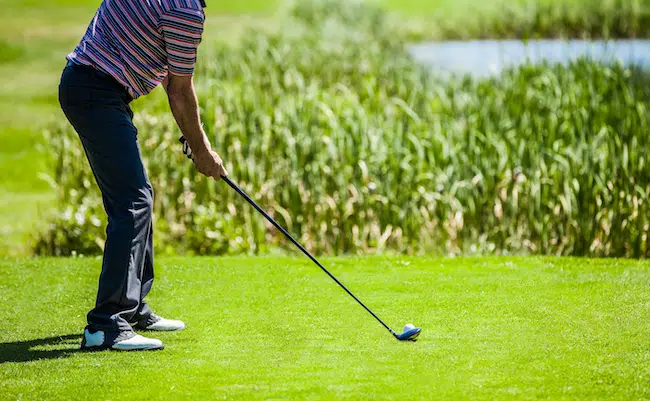 Here's what I concluded after evaluating the Teton hybrid driver in different categories.
Overall
Overall, the club differs from what you usually find in people's bags but does not show any extraordinary qualities. It's not something you'd find in a tour player's bag.
The Tuton hybrid driver is great for weekend golfers who want some accuracy and distance on their tee shots. The Teton golf club is forgiving and accurate but definitely doesn't deliver a driver's distance. It could replace a 3-wood or fairway wood, but not a driver.
The Tuton hybrid driver can help a golfer who doesn't have the time to learn on the range and is trying not to embarrass himself on the first tee.
Distance
I'm usually hitting my drives to 250-70 yards, so I doubt I'd feel any gain in distance with the Teton hybrid driver.
The longest this club should go is around 240-250 yards. Considering the average drive distance of amateur golfers is around 216 yards, this could be a good alternative. You're also getting forgiveness and accuracy, so it's a win-win for high-handicappers.
Launch
The hybrid driver has a loft of 15 degrees, so naturally, you're getting more loft than a driver. The apex of my ball flight with the hybrid driver would always be higher than my usual driver's ball flight.
Tuton claims that this golf club will help golfers with slower swing speeds to hit better distances, and I buy that.
The shorter shaft and smaller club face should allow slow swing speed golfers to hit almost the same distance as their drivers.
Forgiveness
The Teton hybrid has a shorter length than a driver, a bigger hybrid face, and feels like a hybrid behind the ball.
This makes forgiveness off the chart with this club. I found the club generally hard to work around, even on purpose.
The ball flight doesn't have a lot of spin and rolls when it lands on the fairway. However, a faster swinging golfer will spin the wheels of the golf ball with this golf club. So beware.
Accurate
Teton has emphasized the accuracy of this club, and yes, it's very accurate off the center. It has extra stability for shots off the center.
I found that staying on target is straightforward when playing with the Teton driver. The club has good distance and control as well.
Feel/Sound/Look
The golf club looks like an oversized hybrid behind the ball. It does give you confidence behind the ball to make a more stable and controlled golf swing.
It feels soft when you strike from the center of the face and doesn't get too bad on off-center strikes, but it wasn't the same as center strikes.
The sound on the hybrid driver isn't the sweetest, but it's typical of a hybrid. It did not feel smacked but soft like the ball got pressed against the face.
Teton Hybrid Driver — Features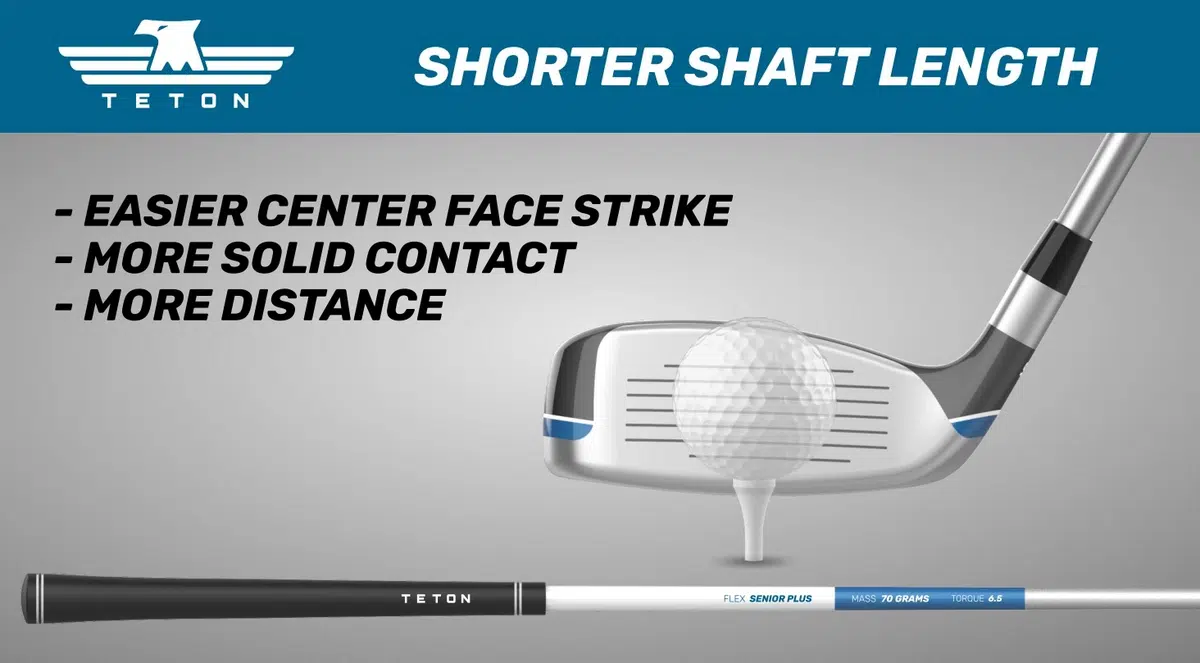 Read the following technical features of the golf club to learn more about the club's construction and the secret behind the golf club's performance.
Hybrid Technology
The golf club provides hybrid technology in a driver's head. Hybrid technology has proven itself for its distance, launch, and forgiveness qualities over the years.
Boggs used this theory to deliver hybrid construction in a driver's head. The whole club is designed like a hybrid with a long, more forgiving face and weight behind the face to assist in swinging the golf club comfortably.
Titanium Construction
The club head of the Teton hybrid driver is made up of titanium.
Titanium is a low-weight material that provides a lot of strength. This helps ball flight and distance.
The forged titanium face provides a larger sweet spot for enhanced forgiveness along the club face.
Besides the above-mentioned technical features, the club comes with an adjustable hosel for varying the degrees on the club.
It has various shaft options, but the default is a graphite shaft and its own signature rubber grip.
Read more: Best Hybrid Golf Clubs
Alternate Options To The Teton Hybrid Driver
Here's a list of forgiving drivers and clubs for high handicappers to use if they want to go a different and more recognized route:
Callaway Epic Max is a popular driver among mid-high handicappers. It provides optimal ball flight and distance, along with accuracy and forgiveness.
This driver has proved itself to be a trustworthy choice for any golfer.
Pros
Increased ball speed
Underrated forgiveness
A.I optimized face design
Great distance
Stylish club
Cons
Some golfers may not prefer the feel of the club
Not suitable for low handicappers.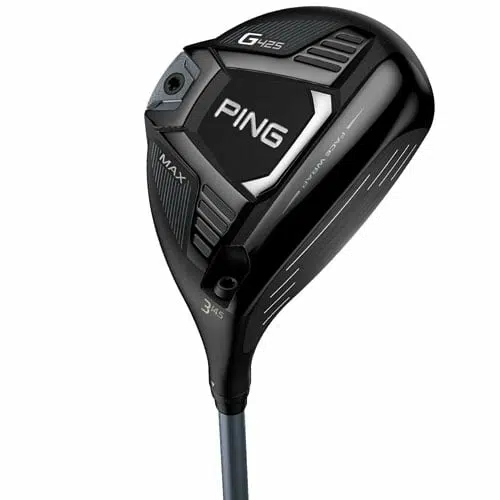 Ping is renowned for making forgiving drivers. I'll have to give it to Ping to develop sleek, good-looking, high-performing drivers.
If you can handle the Ping driver's sound, you should definitely go with a Ping fairway wood. The Ping G425 fairway wood is one of the best Ping drivers for mid-high handicappers.
Read more on the Ping G425 wood here.
Pros
Enhanceable club face flex
Good feel
Optimal distance
High launch
Designed to provide forgiveness
Explosive ball speed and spin rates
Cons
The sound may be undesirable to some golfers
Expensive
Reduced distance
The TSi3 is a good-looking driver, providing maximum forgiveness. If you catch the ball in the middle of this driver, that ball is gone.
Pros
A compact club face provides stability
Highly effective forgiveness
Sneakingly higher ball speed
Cons
The slightly higher price point
Some golfers might not be comfortable with the compact design
Read more: The Best Titleist Drivers
FAQs
Is Teton Hybrid Driver Any Good?
The Teton hybrid driver can be a good choice if you're only interested in playing golf casually. The Teton hybrid will help you easily get the ball off the tee.
If you're a serious golfer who wants to improve at golf, I wouldn't recommend the Teton hybrid driver and suggest you get better with your driver since it's more sustainable.
Can You Hit the Teton Hybrid Driver in the Fairway?
You can easily hit the Teton hybrid driver in the fairway because of the accuracy of the club. It will provide a higher launch angle and increased distance.
The hybrid driver is designed to be hit off the tee, and although you can hit it from the fairway, it's not the best club to hit off the deck.
What Is the Loft of the Teton Hybrid Driver?
The loft on the Teton hybrid driver is 15 degrees in its standard setting. This higher loft allows you to hit higher shots with better launches. Your driver generally has a loft anywhere between 9-10.5 degrees which might restrict your distance because of a lower loft.
Where Can I Buy A Teton Hybrid Driver?
You can buy the Teton Hybrid driver from the Teton Golf Company website.
Final Thoughts
So, is the Teton hybrid driver any good? Yes, it's an innovative club for high-handicappers and casual golfers. If you're struggling to hit your driver and want a quick fix, it's a good option.
The Teton hybrid driver golf club delivers good distance and excellent accuracy combined with the forgiveness of a hybrid. But if you ask me to replace it with my driver, I'd have to respectfully decline. I'd consider replacing it with a 3-wood, though.
Innovation has brought golf to the level it is today. Clubs like the Teton hybrid driver have paved the way for a completely new set of golf clubs.
This Teton hybrid driver review proves that in the future, we can expect more clubs with the qualities of a driver and all the forgiveness of a hybrid.

As a skilled golfer and wordsmith, Abdulmoiz brings a fresh and engaging voice to the golfing world. Whether he's on the course or at the keyboard, he strives to improve and inspires others to do the same.