The BOA Fit System is used on golf shoes to provide a secure and comfortable fit. It is a dial-based closure system that allows for precise and even tightening of your laces. This provides a more secure fit than traditional laces, which can come undone or loosen during play.
BOA golf shoes are also typically lighter and more breathable than traditional golf shoes, making them a good choice for golfers who want a comfortable and performance-oriented shoe. But what are the best golf shoes using BOA?
Here are the 7 best BOA golf shoes:
Having the wrong golf shoes will hurt your game more than you'd realize. If you haven't yet tried BOA golf shoes, you might be missing out on a significant enhancement to your game.
So, let's dive into the features, pros, and cons of this year's top BOA golf shoes to help you make an informed decision.
Top 3 BOA Golf Shoes of 2023
Best Overall
Best for Comfort
Best Budget Pick
Adidas Men's ZG23 Lightstrike BOA
PUMA Ignite Pwradapt Caged BOA
FootJoy FJ Flex BOA
Pros

Super Comfortable
Top-notch terrain
Used by some of the best players

Premium leather
Excellent grip

Super comfortable
Excellent stability

Cons

Not as breathable as other options

Higher price point
Limited color options

More suitable for wide feet
Less breathable

Price Score
90
80
85
Comfort Score
95
90
95
Durability Score
90
90
85
Style Score
90
90
90
Overall Rating
4.9/5
4.8/5
4.7/5
Why You Should Trust Us
Our team spends thousands of hours trying out and researching golf equipment to help you take your game to the next level. Here's our product review process.
We're able to bring these reviews to you through the small commissions we earn if you buy through the links below.
How We Reviewed These Products
Golfspan only shares equipment and brands we trust.
I've played golf for +20 years and am a professional writer about golf equipment. I meticulously researched each of the shoes below. Following this, an editor combed through all the information to ensure it reads well and is factual. We also regularly review our content as the market changes to bring you the latest in golfing gear.
For this post on golf shoes, I considered the following criteria:
Cost
Comfort
Fit
Looks
Traction
Durability
Breathability
Colors
The 7 Best BOA Golf Shoes of 2023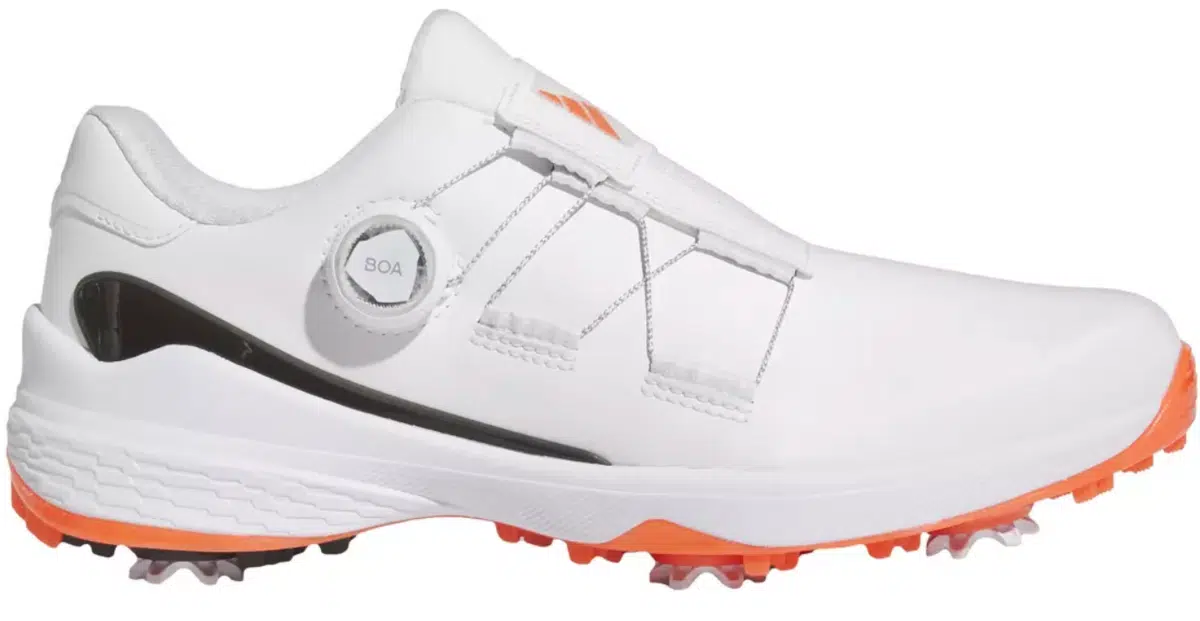 Pros
Premium full-grain leather construction for a luxurious feel
Exceptional grip with X-Traxion primary lugs for stability on various terrains
BOA Fit System guarantees a customized and secure fit
Cons
Higher price point
Limited color options
Key Features
BOA Fit System for effortless and personalized fit adjustments
X-Traxion primary lugs provide superior traction and stability
Eight cleats for added grip and control
Rating: 4.9/5
For the ultimate golfing experience in 2023, look no further than the Adidas Men's ZG23 Lightstrike BOA Golf Shoes. With a combination of premium full-grain leather and advanced features, these shoes offer unparalleled comfort and support on the course.
Boasting X-Traxion primary lugs, these shoes deliver exceptional grip, ensuring stability even on wet surfaces and varied terrains. The inclusion of eight cleats further enhances traction and control during swings and walks.
Crafted with the innovative BOA Fit System, these golf shoes always guarantee a perfect fit. Simply turn the dial to achieve a customized and secure feel, allowing you to focus solely on your game without distractions.
While some individuals might find the color options limited, and the price slightly higher than alternatives, the investment is well worth it for the unmatched comfort, premium materials, and the ability to achieve the perfect fit every time.
Having personally tested the Adidas Men's ZG23 Lightstrike BOA Golf Shoes on the golf course, I was immediately impressed by their comfort, which remained consistent throughout the day. The grip provided by the X-Traxion primary lugs ensured stability, even on wet surfaces, enabling me to focus on my game without any concerns.
Who's it for
The Adidas Men's ZG23 Lightstrike BOA Golf Shoes are ideal for serious golfers who prioritize comfort, stability, and a perfect fit in their golf shoes. If you're someone who doesn't want to compromise on quality and performance, these shoes are worth considering.
Pros
Super comfortable with IGNITE foam
Excellent stability with Pwradapt technology
BOA Fit System for a perfect fit
Cons
More suitable for wide feet
Less breathable than some competitors
Key Features
IGNITE Foam
Pwradapt Technology
BOA Fit System
Rating: 4.7/5
The PUMA Ignite Pwradapt Caged BOA stands out in terms of comfort. The IGNITE foam ensures maximum comfort, while the Pwradapt technology provides excellent stability on any terrain. The BOA Fit System guarantees a secure and snug fit.
However, these shoes may be more suitable for golfers with wide feet; some might find them less breathable than other models. Regardless, the comfort and stability they offer make them a fantastic choice.
Taking a stroll on the green in my PUMA Ignites, I felt like I was walking on clouds thanks to the IGNITE foam. They were a bit snug for my narrow feet, but the stability was on point!
Who's it for
The PUMA Ignite Pwradapt Caged BOA is perfect for golfers who prioritize comfort and stability in their golf shoes. These shoes could be ideal if you have wide feet and often play on varied terrains.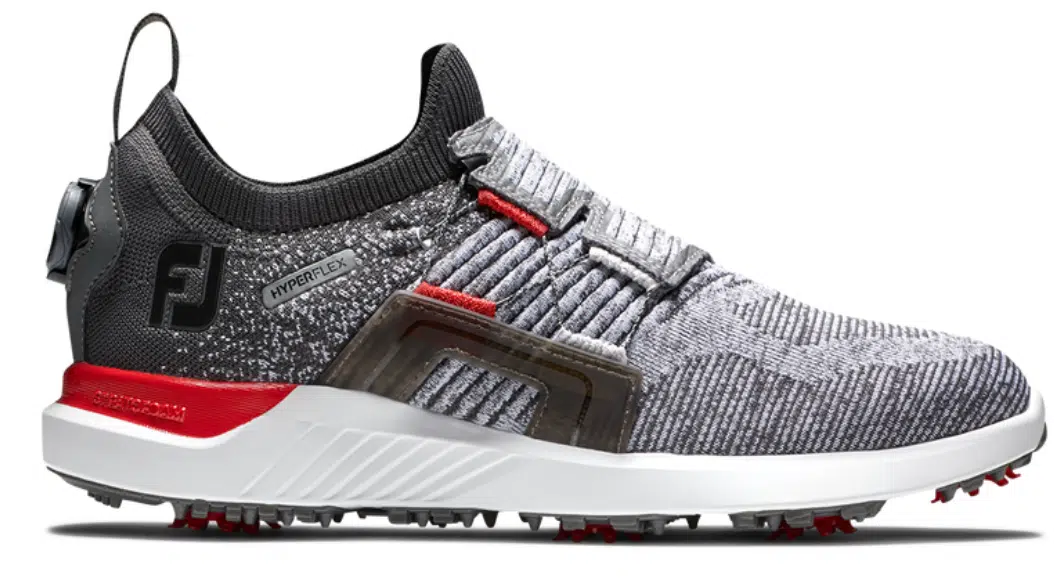 Pros
Great price
Lightweight with mesh upper
BOA Fit System for a perfect fit
Cons
Limited waterproofing
Less premium materials
Key Features
Versa-Trax outsole
Lightweight mesh upper
BOA Fit System
Rating: 4.5/5
For budget-conscious golfers, I recommend the FootJoy FJ Flex BOA. Despite their lower price point, these shoes don't compromise comfort or fit, thanks to the lightweight mesh upper and BOA Fit System.
The Versa-Trax outsole also provides excellent grip on the course. However, they offer limited waterproofing and are made of less premium materials than our other top picks, like The Adidas Tour360 XT BOA. Despite these cons, their excellent price-performance ratio makes them a solid choice for those on a budget.
Who's it for
The FootJoy FJ Flex BOA is ideal for golfers seeking a budget-friendly option without sacrificing comfort or fit. If you're looking for a lightweight, comfortable, and affordable golf shoe with the BOA Fit System, these shoes might just tick all your boxes.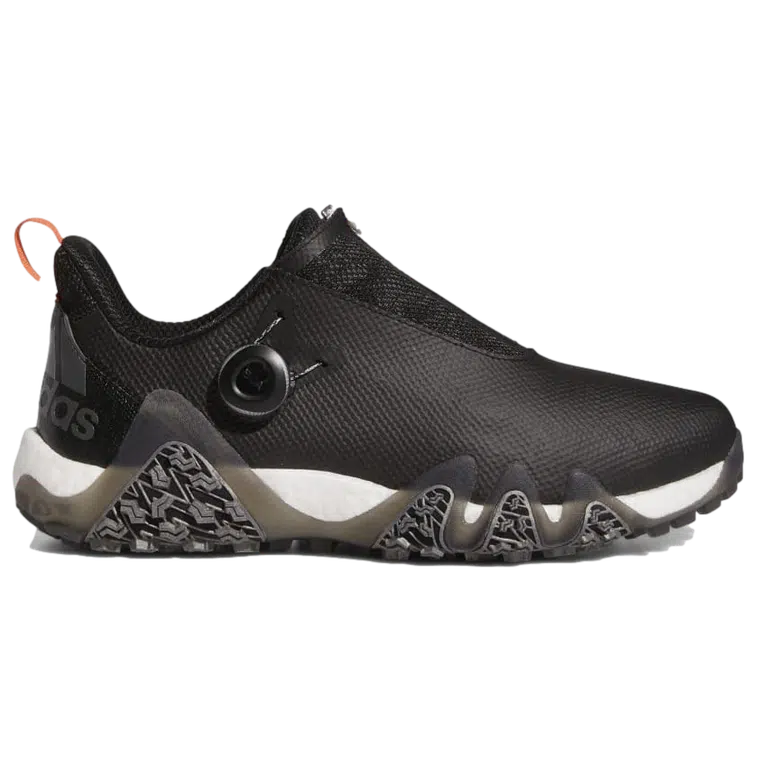 Pros
Super light and comfortable
Excellent grip and stability
Stylish design
Cons
Not fully waterproof
Might be less durable than others
Key Features
BOA Fit System for micro-adjustability
Lightweight Chaos Traxion outsole
Full-length Boost midsole
Rating: 4.7/5
These Adidas Codechaos 22 Men's BOA Golf Shoes are renowned for their lightweight design. As per our expertise, these shoes offer exceptional comfort, excellent grip, and stability.
However, they are not fully waterproof and might be less durable than other options, like the Footjoy Tour Alpha Double Boa. I valued the lightweight comfort and style when I tried these on the course. If your local course is long, I would recommend these for sure!
Who's it for
These are ideal for golfers who value comfort and a lightweight design. If you're one who walks the course, Adidas BOA golf shoes will keep your feet feeling fresh even after 18 holes.

Pros
Excellent grip
Comfortable and lightweight
Durable
Cons
Limited color options
Could be too narrow for wide feet
Key Features
BOA closure system for effortless fit adjustments
IG5 Spike technology for superior traction
Wave platform for enhanced stability
Rating: 4.6/5
The FootJoy Men's DryJoys Premiere Packard BOA Golf Shoes are the ultimate choice for golfers seeking unparalleled grip. These shoes provide stability and comfort, making them ideal for extended games on the course. Equipped with IG5 Spike technology, they offer exceptional traction, ensuring you stay firmly grounded with every swing.
My experience was that these golf shoes prioritize comfort and lightweight performance. I enjoyed a comfortable stride throughout my round, wearing these without compromising on agility and mobility. Additionally, their durability ensures they withstand the test of time, providing reliable performance round after round.
I'm also just a fan of the classy, old-school look. Many golf shoes on the market these days tend to look like trainers.
Who's it for
These shoes are perfect for golfers who prioritize grip, stability, and classic styling in their golf shoes.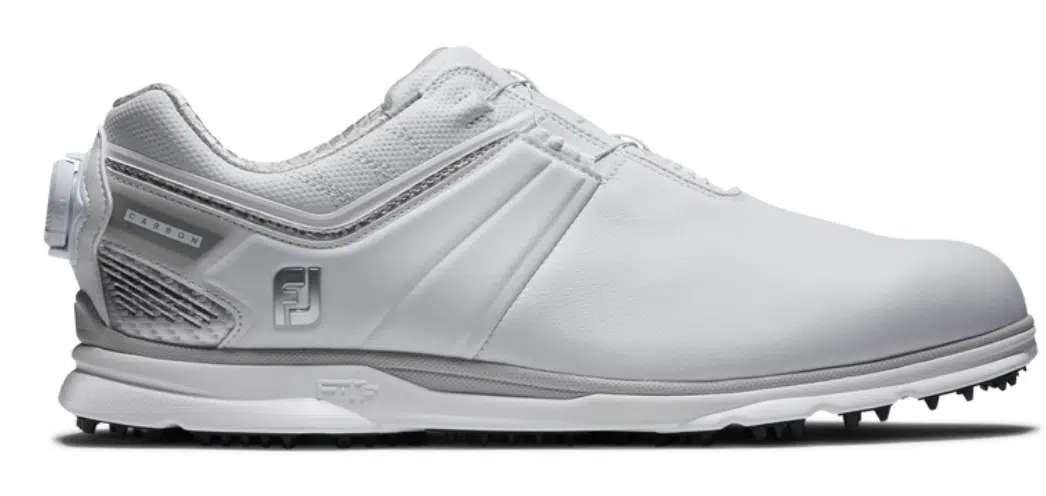 Pros
Superior traction
Comfortable fit
High-quality construction
Cons
Premium price point
Might feel stiff initially
Key Features
BOA Fit System
Carbon inserts for stability
High-density FTF+ midsole for comfort
Rating: 4.8/5
The FootJoy Pro/SL Carbon BOA Shoe offers superior traction, making it our top pick in this category. After putting it to the test, we found that these shoes provide a comfortable fit and high-quality construction, making them durable for long-term use.
However, they come with a premium price tag, and I found that they initially felt quite stiff.
Who's it for
The FootJoy Pro/SL Carbon BOA Shoe is best for golfers who value traction and quality and are willing to invest in a premium golf shoe.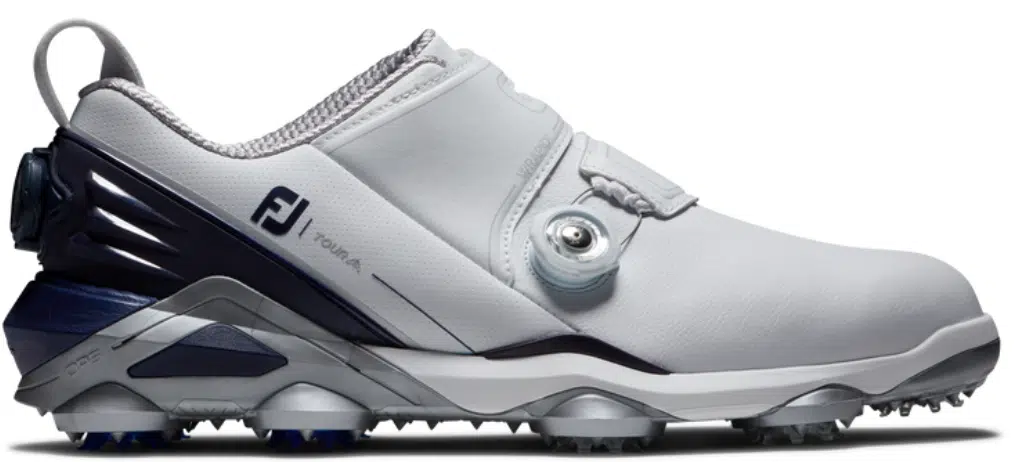 Pros
Exceptional stability
Comfortable fit
High-quality construction
Cons
On the higher end of the price spectrum
Limited color options
Key Features
Dual BOA Fit System
3D FoamCollar 2.0 for improved fit
TPU PowerStrap for added stability
Rating: 4.9/5
The FootJoy Tour Alpha Double BOA Golf Shoe stands out for its exceptional stability. Based on our observations, this shoe provides a comfortable fit and high-quality construction, making them a durable option. The dual BOA system offers superior adjustability for a secure fit.
Despite its superior features, it does come with a higher price point and offers limited color options, which might not appeal to all golfers. However, if you're a golfer prioritizing stability, comfort, and quality, the FootJoy Tour Alpha Double BOA Golf Shoe is definitely worth the investment.
Its 3D FoamCollar 2.0 molds to the ankle for unsurpassed support and comfort. Coupled with the TPU PowerStrap, it provides increased control and power throughout the swing. Additionally, its dual BOA Fit System allows for even finer levels of adjustment and accuracy in fit, ensuring that the shoe stays snug and supportive, no matter the course conditions or the game's length.
When I tested these, I instantly sensed they were serious golf shoes: a premium option for regular golfers.
Who's it for
The FootJoy Tour Alpha Double BOA Golf Shoe is ideal for golfers who value a secure fit, excellent stability, and top-notch comfort. If you're willing to invest in a pair of premium golf shoes with BOA that enhance your game and last for years, this could be the perfect option for you. Whether you're a professional golfer or a dedicated amateur, these shoes are designed to support you through every swing and step on the golf course.
What To Consider When Buying BOA Golf Shoes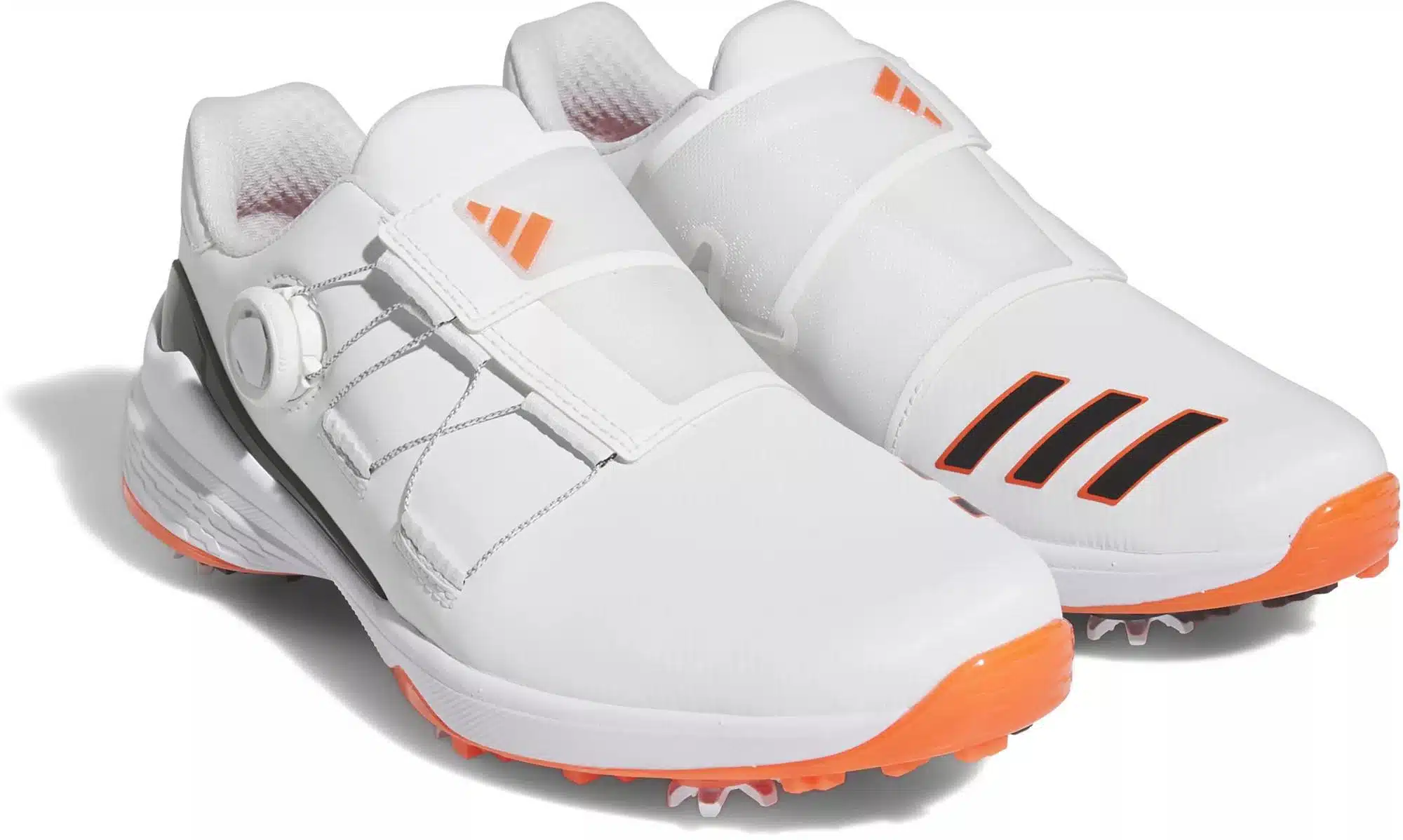 BOA golf shoes are the choice for some of the top pros, but there are also several factors to consider. Your personal comfort, the shoe's functionality, and how well it meets your specific needs are all important. Below are some key features to look for:
Material
The material of your golf shoes can greatly affect your comfort and performance on the course. Shoes made of breathable, sweat-wicking materials can keep you cool and dry during your game. Some shoes also offer waterproof features, which can be crucial if you often play in damp or wet conditions.
Fit
A good fit is essential when it comes to golf shoes. The BOA Fit System provides a customized fit, ensuring the shoes stay secure and comfortable throughout your game. However, some shoes may not fit well on wider or narrower feet, so be sure to check the fit before purchasing. For ultimate comfort, why not check our list of the best slip-on golf shoes.
Grip
The grip provided by your golf shoes can greatly impact your game. Look for shoes with excellent traction and stability to keep you grounded during your swing. Shoes with spiked soles usually offer better grip, but spikeless options can also provide excellent traction and are often more comfortable for walking.
Price
Look out for BOA golf shoes on sale. In normal circumstances, they can range in price, so it's important to find one that offers the features you need at a price point that fits your budget. While some premium shoes have a higher price tag, they often offer superior materials and construction. However, many affordable options provide good comfort and performance.
If you can drop more cash, check out our list of the most expensive golf shoes.
So, consider your budget and the features you prioritize before purchasing.
Style
While function is important, style is a personal preference. Some golfers prefer classic designs, while others look for bold colors or patterns. Many BOA spikeless golf shoes also feature sleek designs and embroidered logos, adding a touch of sophistication to your golfing attire.
Comfort
Comfort should never be compromised when it comes to golf shoes. Look for shoes with good cushioning, ideally with technologies that enhance comfort. A shoe with a comfortable fit can help prevent foot fatigue and keep you focused on your game.
FAQs
Are BOA Golf Shoes Worth It?
BOA golf shoes are often considered worth the investment due to their convenient and precise fit system. The dial-based lacing system allows for easy fit adjustment, ensuring your shoes are always secure and comfortable. This can help enhance your golfing performance by ensuring your footwear isn't distracting.
Are BOA Golf Shoes Better Than Lace-Up Shoes?
Whether BOA golf shoes are better than traditional lace-ups is subjective and depends largely on individual preference. BOA shoes offer easy and precise adjustments for a snug fit and are ideal for golfers who prefer this convenience. However, some golfers may still prefer lace-up shoes' traditional look and feel.
Are BOA Shoes Durable?
BOA shoes are designed with durability in mind. The BOA system is made from high-quality materials that are built to last. Furthermore, BOA laces are often made of strong, coated steel or another durable material that lasts longer than traditional shoelaces. However, like any product, the durability of BOA shoes can also depend on how well they are maintained.
Final Thoughts
Choosing the right golf shoes can significantly enhance your performance and enjoyment on the course. Their unique lacing system provides BOA golf shoes with unparalleled comfort and a secure fit. Whether you prioritize premium materials and excellent grip, supreme comfort and stability, or a great price-performance ratio, our top picks for the best BOA golf shoes of 2023 cater to a range of needs and preferences.
Our best recommendation, Adidas Men's ZG23 Lightstrike BOA, combines premium materials with excellent performance features. Its top-notch comfort, excellent grip, and the BOA Fit System make it a worthwhile investment for serious golfers.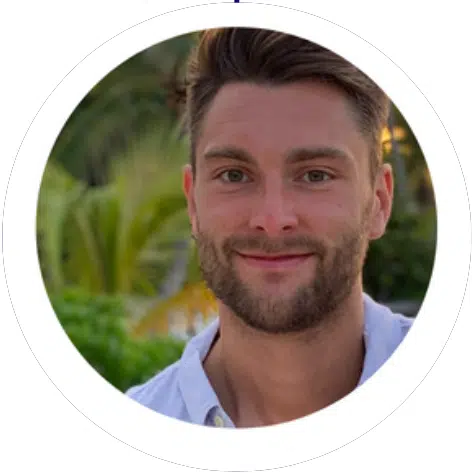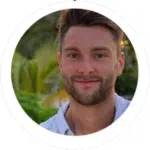 Sam has been playing golf for over 20 years and founded Impact Golfer. As a teenager, he discovered his love for the game using his grandad's clubs, including a wooden driver! As a golf obsessive, Sam plays whenever possible: regularly competing in matchplay with his friends and in tournaments at his local club. Fortunate to have a close friend who is a club pro– he has tested almost every type of equipment on the market (no freebies yet).