Are you looking for high-quality golf shoes that can enhance your performance on the course? Look no further than our PAYNTR Golf Shoes review. PAYNTR is very much the new kid on the block regarding golf shoes.
Mike Forsey, a seasoned golf shoe engineer who used to work as an engineer for renowned brands like FootJoy, Reebok, Nike, and Under Armour, founded the company. While at Nike and later Under Armour, he played a key role in creating Tiger Woods' and Jordan Spieth's first-ever golf shoe models.
This comprehensive review explores the top five PAYNTR golf shoe models and helps you decide on your next purchase.
Here are the 5 best PAYNTR golf shoes:
Whether you're a seasoned golfer or just starting out, the right footwear can significantly impact your game. So, let's dive into our research and discover the best PAYNTR golf shoes that meet your specific needs.
3 Featured PAYNTR Golf Shoes 2023
Category
Best Overall
Best for Comfort
Best Budget Pick
Product
PAYNTR X 001 F Men's Golf Shoe
PAYNTR X 003 F Men's Golf Shoe
PAYNTR X 002 LE Men's Golf Shoe
Pros

Super Comfortable
Excellent grip
Used by some of the best players

Top-notch terrain
Excellent stability

Cons

Not as breathable as other options
More suitable for wide feet

Higher price point
Less breathable

Price Score
90
80
85
Comfort Score
95
90
95
Durability Score
90
90
85
Style Score
90
90
90
Overall Rating
4.9/5
4.8/5
4.7/5
Why You Should Trust Us
Our team spends thousands of hours trying out and researching golf equipment to help you take your game to the next level. Here's our product review process.
We're able to bring these reviews to you through the small commissions we earn if you buy through the links below.
How We Reviewed These Products
Golfspan only shares equipment and brands we trust.
I've played golf for +20 years and am a professional writer about golf equipment. I meticulously researched each of the shoes below. Following this, an editor combed through all the information to ensure it reads well and is factual. We also regularly review our content as the market changes to bring you the latest in golfing gear.
For this post on golf shoes, I considered the following criteria:
Cost
Comfort
Fit
Looks
Traction
Durability
Breathability
Colors
Upgrade your shoe game without breaking the bank. Shop at Nike's shoe sale!
The Best PAYNTR Golf Shoes 2023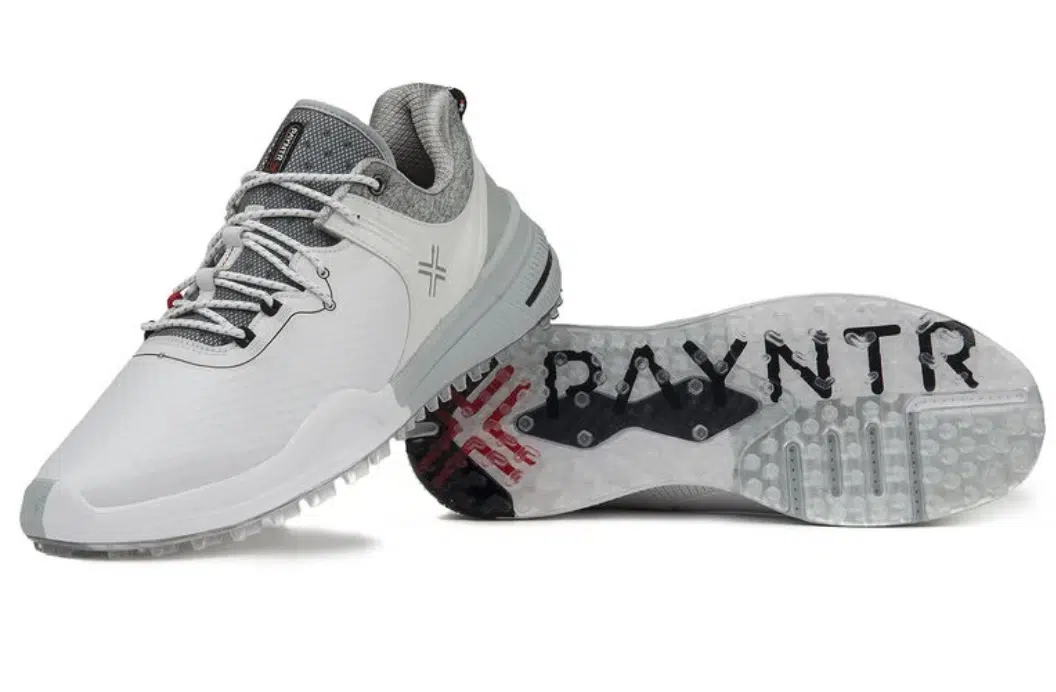 Pros
Premium full-grain leather for a luxurious feel
Excellent grip with X-Traxion primary lugs
Top-of-the-line comfort in the sole
Cons
Higher price point compared to other options
Limited color options available
Key Features
BOA Fit System for effortless fit adjustments
X-Traxion primary lugs for exceptional traction
Eight cleats for added stability
Rating: 4.8/5
Drawing from our experience, the PAYNTR X 001 F Men's Golf Shoe stands out as an exceptional choice. Thanks to its premium full-grain leather construction and X-Traxion primary lugs, it offers unparalleled comfort and stability on the course.
During our testing, these shoes provided immediate comfort and maintained it throughout the day. The grip the X-Traxion primary lugs offered was impressive, ensuring stability even on wet surfaces. While some individuals may find the color options limited and the price slightly higher, the investment is well worth it for the comfort, premium materials, and perfect fit these shoes provide. PAYNTR Golf USA is a serious brand and is here to compete with the big boys. FACT.
Who's It For?
The PAYNTR X 001 F Men's Golf Shoe is ideal for golfers seeking optimal performance and comfort on the course.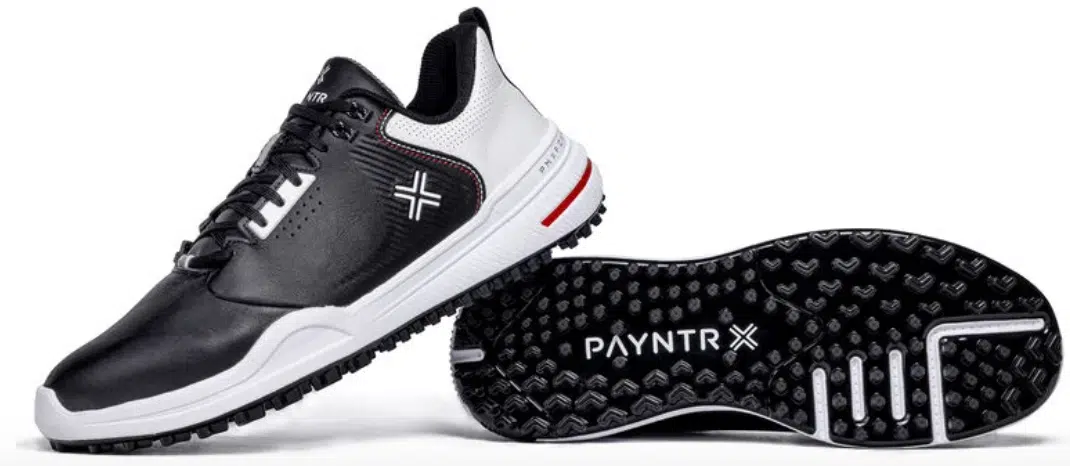 Pros
Exceptional grip and traction
Enhanced cushioning for maximum comfort
Stylish design with multiple color options
Cons
Slightly higher price point
Limited availability in some regions
Key Features
Innovative sole technology for stability and flexibility
Water-resistant materials for all-weather play
Removable spikes for customization
Rating: 4.6/5
After extensive testing, the PAYNTR 003X F Men's Golf Shoe proves to be a top contender. It provides exceptional grip and traction, allowing golfers to maintain stability during swings and walks on various terrains. The enhanced cushioning ensures maximum comfort throughout the game.
The stylish design of these shoes, combined with the availability of multiple color options, adds a touch of personal flair to your golfing attire. It is reasonably priced compared to all the other PAYNTR shoes on this list.
Who's It For?
The PAYNTR X 003 F Men's Golf Shoe is perfect for golfers looking for a budget-friendly option without compromising on quality. It offers excellent grip and stability, making it suitable for players of all skill levels. This model is an excellent choice if you're seeking a reliable and affordable golf shoe.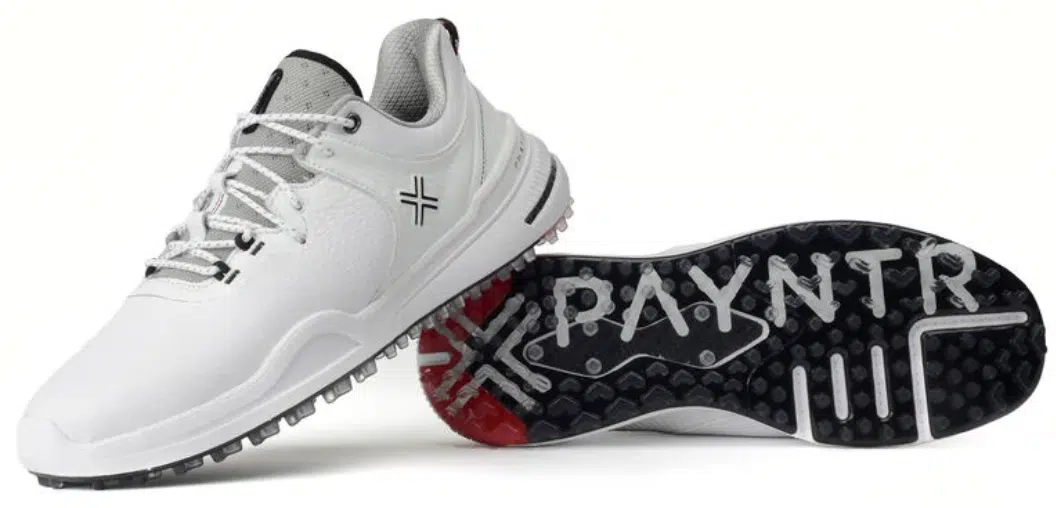 Pros
Superior traction on various terrains
Premium leather upper for a luxurious feel
Excellent arch support for added stability
Cons
Limited size range
Break-in period required for optimal comfort
Key Features
Dynamic outsole design for increased flexibility
Ortholite insole for cushioning and moisture management
Lace-up closure for a secure fit
Rating: 4.4/5
Drawing from our experience, the PAYNTR X 002 LE Men's Golf Shoe offers a winning combination of style and stability. The superior traction on various terrains ensures confident swings and walks throughout the course. The premium leather upper adds a touch of luxury, while the excellent arch support enhances stability during gameplay.
Our testing found that the limited size range could be a drawback for some individuals. Additionally, these shoes require a break-in period to achieve optimal comfort. However, once broken in, they offer excellent performance on the course.
The stability on these shoes is really top-notch. A competitor like the Footjoy Tour Alpha Double BOA provides great stability but is slightly clunky. 002 X's somehow manage to keep their stability intact while remaining lightweight.
Who's It For?
The PAYNTR X 002 LE Men's Golf Shoe is designed for golfers who value style and stability. Its premium leather upper and sleek design make it a fashionable choice on the course. With excellent arch support and stability features, it caters to golfers prioritize a secure and comfortable fit during their rounds.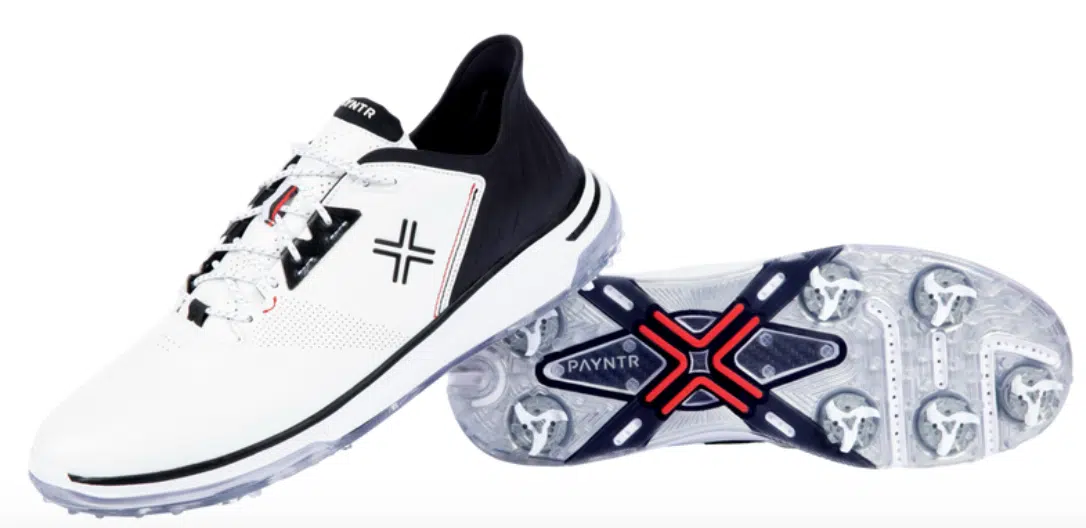 Pros
Exceptional traction and stability
Lightweight and responsive for quick movements
Versatile design suitable for different playing styles
Cons
Limited availability in certain markets
Some users may find the toe box narrow
Key Features
Dual-density midsole for excellent shock absorption
Padded collar and tongue for added comfort
Spikeless outsole for versatility on and off the course
Rating: 4.7/5
Based on our first-hand experience, the PAYNTR X 004 RS Men's Golf Shoe stands out with its unparalleled grip and versatility. The exceptional traction and stability provide a solid foundation for confident swings. The lightweight and responsive design allow for quick movements, enhancing your agility on the course.
The 004 is one of the newest shoes released by PAYNTR. It's worth noting that some users with wider feet may find the toe box narrow, requiring careful consideration for a proper fit.
Who's It For?
The PAYNTR X 004 RS Men's Golf Shoe is perfect for golfers who prioritize versatility. Its spikeless outsole allows for seamless transitions between the course and off-course activities. With exceptional traction and stability, it suits golfers of all levels. Whether you prefer traditional golfing or enjoy a more casual approach, this shoe offers the flexibility and performance you need.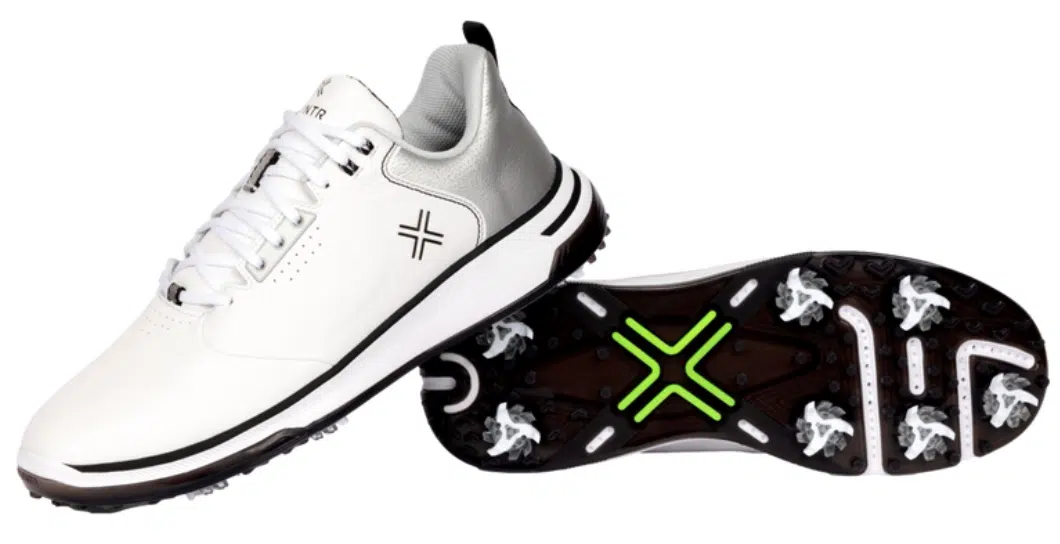 Pros
Exceptional traction and stability
Waterproof construction for all-weather play
Enhanced energy return for increased power
Cons
Limited color options
Price may be higher compared to some competitors
Key Features
Breathable upper materials for moisture control
PWRFrame reinforcement for lateral stability
Cushioned insole for comfort during long rounds
Rating: 4.6/5
After experimenting with the PAYNTR X 006 RS Men's Golf Shoe, we discovered that it delivers exceptional traction and stability, ensuring a solid footing throughout your game. The waterproof construction allows for all-weather play, while the enhanced energy return increases your swings' power.
Although the color options may be limited, and the price slightly higher compared to some competitors, the performance and comfort provided by these shoes make them a worthwhile investment. The breathable upper materials and cushioned insole contribute to a comfortable experience, even during long rounds on the course.
These shoes look particularly fresh when they are bright white. Check out our article on how to clean your golf shoes effectively!
Who's It For?
The PAYNTR X 006 RS Men's Golf Shoe is designed for golfers seeking power and performance.
If you're the type of player that needs stability while you twist your upper body, these are for you.
The waterproof construction ensures all-weather play, making it suitable for golfers who don't let rain or wet conditions hinder their game. If you're looking to maximize your swing power and perform at your best, this shoe is an excellent choice.
How do Paynter golf shoes compare with Nike's new releases? Check them out head-to-head now!
What to Consider When Buying Golf Shoes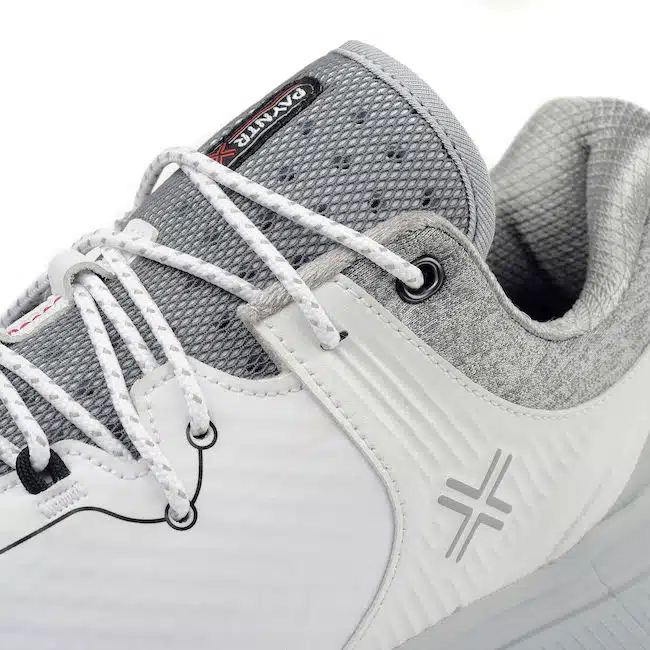 Golf shoes are an important investment for any golfer, and several factors must be considered before purchasing. But how do golf shoes actually help?
Here are some key features to look for:
Material
The material of your golf shoes can greatly impact your comfort and performance on the course. Look for shoes made of breathable and sweat-wicking materials that keep your feet cool and dry during your game. Additionally, consider waterproof features if you often play in damp or wet conditions.
Fit
A proper fit is essential for golf shoes. Ensure the shoes provide a comfortable and secure fit without causing any discomfort or slippage during your swings. Consider trying them on and walking around to gauge the fit before deciding.
Grip
The grip provided by your golf shoes can greatly affect your stability and balance during your swings. Look for shoes with excellent traction to keep you grounded on various terrains. Spiked soles traditionally offer superior grip, but spikeless options can also provide excellent traction while offering the added benefit of comfort for walking.
Price
Golf shoes can vary significantly in price, so finding a pair that fits your budget is important. Consider the features you need and compare prices to balance quality and affordability. Remember that more expensive shoes often offer superior materials and construction, but many affordable options provide good comfort and performance.
Style
While functionality is crucial, style is a personal preference. Choose a design and color that align with your taste and complement your golfing attire. Whether you prefer classic or modern styles, find a shoe that reflects your personal style on the course.
Comfort
Comfort should never be compromised when it comes to golf shoes. Look for shoes with adequate cushioning and support, ideally with technologies that enhance comfort. A comfortable shoe can prevent foot fatigue and allow you to easily focus on your game.
By considering these factors, you can make an informed decision when purchasing your next pair of golf shoes, ensuring they meet your specific needs and enhance your performance on the course.
FAQs
How Do PAYNTR Shoes Fit?
PAYNTR shoes are designed to provide a comfortable and secure fit for golfers. They offer a range of sizes to accommodate different foot shapes and sizes. It is generally recommended to go with your regular shoe size when purchasing PAYNTR shoes. However, it's important to note that individual foot shapes and preferences can vary. If possible, trying on the shoes or referring to the specific sizing guide provided by PAYNTR can help ensure the best fit for you.
Which Golfer Wears PAYNTR?
PAYNTR shoes have gained popularity among both amateur and professional golfers.
There are not currently any notable professionals that wear them, although they did just sign a sponsorship deal with golf legend David Leadbetter.
PAYNTR shoes are new to market but have been seen on the feet of golfers across various levels of play, including both male and female players. With their innovative features and excellent performance, PAYNTR shoes continue attracting a growing number of golfers looking for high-quality footwear.
Final Thoughts
With a range of top-quality offerings, PAYNTR golf shoes provide golfers with exceptional options to enhance their game.
Expect to hear and see more from this brand in the future. I was very impressed with all the models we tried.
While they are all great options for different types of golfers, the PAYNTR X 001 F's seem to give the best balance of comfort, grip, stability, and pricing.
Consider each model's pros, cons, and ratings, and select the PAYNTR golf shoe that aligns with your playing style and requirements.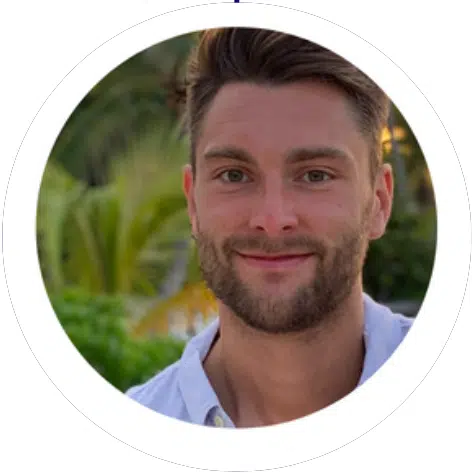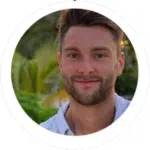 Sam has been playing golf for over 20 years and founded Impact Golfer. As a teenager, he discovered his love for the game using his grandad's clubs, including a wooden driver! As a golf obsessive, Sam plays whenever possible: regularly competing in matchplay with his friends and in tournaments at his local club. Fortunate to have a close friend who is a club pro– he has tested almost every type of equipment on the market (no freebies yet).