A golf trip can be a once-in-a-lifetime experience, but planning it can be a real headache. And if you make a mistake you could lose your golf clubs in an airport thousands of miles from home can be a nightmare.
So what are the best tips for flying with golf clubs? Most airlines treat golf bags as check-in baggage, but calling in advance is always better. It's always wise to avoid connecting flights, so your luggage/golf bag does not get misplaced. You can also pack your golf clubs in durable golf bags, and remove clubhead covers, but use bubble wrap to protect the heads.
Before I begin discussing what's lurking out there waiting for you at the airport, let me put you at ease by telling you that your airline will be responsible for your golf clubs in case they get lost.
Keep reading our guide to learn everything you need to know about flying with golf clubs. We'll cover tips on traveling with golf clubs, costs, and organizing your clubs for the flight properly.
How Much Does It Cost To Travel With Golf Clubs?
Most airlines and the TSA consider a golf bag as part of your baggage allowed as long as the weight does not exceed the permitted limit. In this case, no extra amount needs to be paid.
However, golf clubs sometimes need to be checked in through a separate conveyer belt – usually because the bag is oversized compared to the allowed dimensions.
If your bag is oversized or overweight, you must pay $40 to $60 before taking them on the flight with you.
6 Tips To Avoid Hassles When Flying with Golf Clubs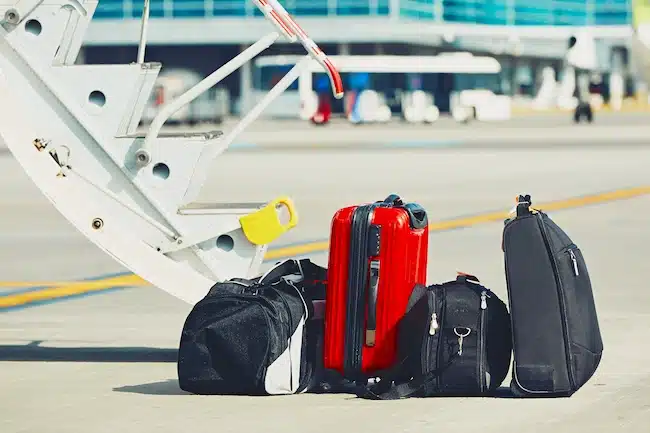 This guide will help you plan and know what to expect at the airport, on the flight, and what you can do to avoid any further hassle.
1. Avoid Layovers
One thing that brings uncertainties in your traveling is layovers. It's a stop before you reach your primary destination; every stop can add suspense to your trip.
First thing, layovers have the possibility of delays. Secondly, on a layover, the airport/airline must transfer your bags from one flight to another, and you could get stuck, hoping your clubs do not get lost during the transfer.
At the end of the day, if everything takes care of itself smoothly, there's still a possibility that all the movement can cause some damage to your golf clubs.
The fewer transfers you have, the lower your chances of losing clubs. So, direct flights are the way to go!
2. Consider Using a Tracking Device
There is always a good option to plan for the worst situation, and losing your golf bag is the worst. Add a tracking device like the Apple AirTag to your golf bag if ID tags aren't enough. This will give you security if your bag is misplaced, and you'll know where to find it.
3. Leave The Important Valuables at Home
As mentioned, most airlines aren't responsible for returning your precious valuables. Anything with sentimental value is gone if you lose your bag, and the airline might not recover it. Golf clubs are replaceable. However, that souvenir you got from your favorite course is not replaceable. So, if you've got some valuables in your golf kit, it's wise to leave them at home.
4. Research your Airline
Before you fly, research the airline and its policies related to the baggage you can carry. Most airlines usually have a policy regarding traveling with golf clubs. Knowing what to expect can help you better prepare for the check-in process.
Airlines consider golf clubs like any checked baggage as long as you've properly stored and packed them. As long as the total weight of baggage is within the maximum limit allowed against your ticket, you won't have to pay extra just to bring your golf clubs on board.
Some airlines don't consider it part of the baggage, and your golf bag needs to be check-in as oversized baggage; in this case, you might have to pay upfront.
At the end of the day, pay attention to the fine print: it's up to the TSA officer at the gate whether or not you'll be allowed through with your golf bag.
5. Buy A Durable Golf Bag
You can use specific golf bags produced for traveling with golf clubs. Hard-shell case and Soft-shell case bags are your go-to options.
Investing in one can reduce overall bag weight and help you bring the total weight under the allowed limit.
Hard-Shell Case Bags
Hard-shell cases used as golf bags are typically made of a more rigid material than your usual golf bag build. This is the best protection you can get for your golf clubs.
There are no real downsides to investing in a hard-shell case bag other than that it's a little heavier and might not fit in every car, but you can find a way around that since we are trying to achieve optimal safety when flying with golf clubs.
Mentioned below are one of the top hard-shell travel golf bags in the market.
Soft-Shell Case Bags
Soft-shell case bags are another option you can opt for. These bags are made of rugged canvas material.
This material does not run the risk of getting torn or ruptured during the flight, but it does leave the clubs free inside the bag. This can lead to the clubs bumping inside and can cause damage due to an external force.
Soft-Shell Cases are still a good option because of their good durability, low weight, and ease of moving from one place to another.
Here are my top picks for a soft-shell case.
6. Ship your Golf Clubs
If you're planning a longer stay somewhere else and delivering your golf bag through shipping is a feasible option, opt for shipping your golf clubs. This option is much safer with less risk than a.
Although shipping golf clubs might not be the most affordable option, you will have much-needed peace of mind. You can read our guide on shipping golf clubs to learn more.
How To Pack Your Golf Clubs (So They Don't Break)
Packing golf clubs can be daunting, but you can follow some simple steps to ensure they are properly protected during transit and don't break. Here are some tips to help you pack your golf clubs:
Use a sturdy golf travel bag: A dedicated golf travel bag is the best way to protect your clubs during transport. Look for a bag made of durable materials with extra padding to protect your clubs from impact. Check out our recommendations above.
Remove the clubhead covers: Remove them from each clubhead to prevent them from getting damaged or tangled during transit.
Pack the clubs carefully: Place them in the bag in the same order you use them on the course. Start with the longer clubs, such as the driver, and work your way down to the shorter clubs. Fill any gaps with towels or clothing to prevent the clubs from shifting during transit.
Protect the clubheads: Use bubble wrap or foam tubing to protect the clubheads during transit. Wrap each clubhead individually and secure it with tape or rubber bands.
Secure the bag: Once your clubs are packed, ensure the bag is securely closed, and all zippers are locked. Use a luggage lock to keep the bag closed during transit.
Label the bag: Put your name and contact information on the bag, in case it gets lost during transit.
You should also pack shoes, towels, tees, balls, sweaters, and rain gear. You shouldn't leave any expensive items or electronics in the bag if they get misplaced or broken.
Your golf bag is usually under the weight limit of most airlines. Check out our guide for tips on how to organize your golf bag.
Bonus Tips for Flying With Golf Clubs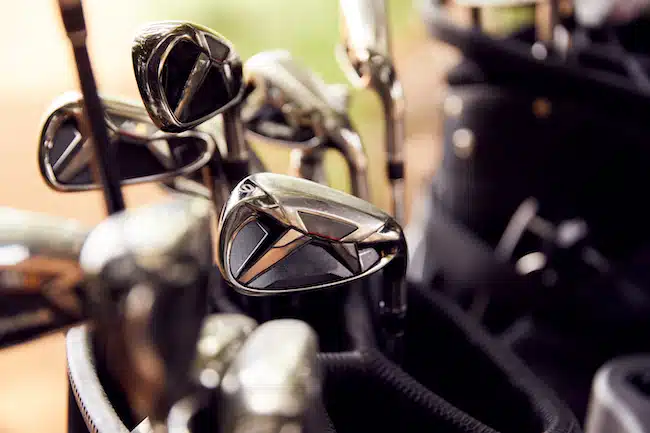 When I first traveled as a golf addict, I was ecstatic about the new course. I should have considered the requirements and things to consider when you fly with golf clubs. I just picked up my golf bag and some carry-on and was ready to fall asleep on the plane. But things rarely happen that smoothly for me, so I already had my concerns.
However, I learned much from experience and will share my tips on how to fly with golf clubs here.
If you need additional clarification on your golf bag's cost or weight allowance, check with the airline or your travel agent. Some airports will send your golf bag through the regular baggage belt (with all the other luggage), but others will send your golf bags to a different location specifically for oversized bags. This entirely depends on the airports and airlines.
If an airline doesn't mention any specific policies regarding golf clubs on their website or customer portal, just to be sure, call them and ask the airline representative what to expect. You will get clear-cut answers and can prepare accordingly.
Only travel with what you can manage. Always keep the number of bags low and travel relatively light instead of loading up on bags. You can call ahead at the golf course you're playing to know if they offer rental golf clubs; if they do, you might not have to take the clubs with you.
Think about a cab or car service (or a ride to the airport). You don't want to carry a heavy golf bag and walk if you can avoid it.
Avoid carrying any expensive electronics in your golf bag. If you have a rangefinder or GPS, I recommend carrying them like your laptop.
It's important to protect your golf clubs. A stiff-arm increases vertical strength of your travel bag, protecting your golf clubs from stress. You can use a broomstick or a ski pole if you don't have a stiff-arm.
You can also use a standard bucket and put them over your golf clubs as a shield before you close your travel bag.
Another thing you can do is to turn your clubs' upside down in your golf bag. This is straightforward for golf irons, but you'll need to figure something else out for drivers and fairway clubs.
FAQs
Can You Take Golf Clubs on An International Flight?
Rules for taking golf clubs on an international flight are the same as any other flight. However, international flights can be a little tricky to check in because of the additional security and requirements for traveling.
It's important to do your due diligence before taking the trip to avoid surprises during check-in. Every airline has different guidelines, so you'd want to ensure you follow them when traveling with golf clubs.
Can I take my Golf Clubs on a Plane?
You can take your golf clubs on an airplane. Most airlines treat golf clubs like any other checked luggage (or carry-on baggage), while others might have some specific policies related to golf clubs; either way, you're allowed to fly with golf clubs. Make sure you know the golf bag policies for the airline you're traveling on.
Do You Need A Special Bag To Fly With Golf Clubs?
You can use any bag to fly with golf clubs but I recommend using a hard-shell case or a soft-shell case bag. Both offer utility in their own way. Hard-shell cases provide the most safety for your golf clubs, while soft-shell cases are light, and easy to carry and transport.
Is a Golf Bag Considered Oversized?
Golf bags are usually not considered oversized and are considered a part of your baggage. However, if it's considered oversized in accordance with policies laid out by the airline, you should be able to check it in by paying $40 to $60 extra, depending on your airline.
What Happens if Your Airline Loses your Golf Bag?
According to airline policies, if the carrier loses your golf clubs, the airline is required to return the items in the bag or the value of the items in the bag. This does not include items that hold sentimental value, and, unfortunately, they'll be gone forever. In case your bag is misplaced, the airline will return the clubs back to your home address.
Can You Travel With Golf Clubs on American Airlines?
Yes, you can travel with golf clubs on American Airlines. They allow you to bring sports equipment with a maximum linear size (add length + width + height) of 126 in or 320 cm. The maximum weight is 70 lbs or 32 kg. You can travel with 1 golf bag containing: clubs, balls, tees, and 1 pair of shoes. Swingless golf club load strips are not allowed. The standard checked bag fees apply for up to 50 lbs or 23 kgs and overweight fee starts from 51 lbs / 23 kgs to 70 lbs or 32 kgs.
Final Thoughts
You deserve that golf retreat. You deserve a vacation, and the logistics shouldn't hinder your hard-earned personal time. As long as you're prepared for what a golf retreat requires and expects from you. You will be just fine.
Research your airline beforehand. View specific policies regarding golf bags or vacations and play the round of your life. Happy golfing, my friends!

As a skilled golfer and wordsmith, Abdulmoiz brings a fresh and engaging voice to the golfing world. Whether he's on the course or at the keyboard, he strives to improve and inspires others to do the same.