Who doesn't love hoodies? But when it comes to golf, hoodies are still a new concept.
Golfers are strict about their attire, and there are strict golf club rules about what you can and cannot wear on the course. But ever since star golfers started wearing hoodies on the course, everyone wants to join in on the fun.
Multiple brands are coming out with their version of a golf hoodie, so you're bound to be confused about which one brings the most value.
Here are the 17 best golf hoodies:
In this article, I've gathered some of the best golf hoodies from 2023 that you cannot miss out on.
Whether you like your hoodie slim fit, regular fit, or cropped, you'll find the best options here. From budget-friendly hoodies to high-end premium quality ones, I've included something for everyone.
Top 3 Golf Hoodies
Best Overall
Most Comfortable Pick
Best Budget Pick
PUMA Golf Runway Hoodie
TRAVIS MATHEW Cloud Golf Hoodie
Russell Athletic Dri-Power Fleece Hoodie
Pros

Therma Fabric helps store heat
Dri-Fit technology helps keep you cool and dry
Multiple colors to choose from

Luxurious premium feel
Wrinkle-Resistant
Good Stretch

Dri-Power Moisture Wicking Technology
Machine Wash Friendly
Multiple Color Options

Cons

Not great for machine wash or dryer

The material is a little heavy

Price Score
90/100
80/100
100/100
Material
90/100
100/100
80/100
Stretch
95/100
99/100
90/100
Color Variety
85/100
95/100
99/100
Rating
4.5/5
5/5
4.6/5
How Do Golf Hoodies Differ From Regular Hoodies?
Golf hoodies are quite similar to regular hoodies, except they usually contain a mixture of spandex to allow easy movement. They also could have sun protection or are made by popular golf apparel companies like TravisMathew.
Many people prefer wearing golf hooded sweatshirts in their daily lives as well because of how comfortable they are.
Since they first started being incorporated into the sport, golf brand hoodies have stirred quite a debate within the golfing community. While some golfers find them comfortable and stylish, others consider them too casual and inappropriate for golf.
Each golf course has slightly different attire rules, but overall your clothing needs to be appropriate and not interfere with your game or those around you.
View this post on Instagram
Why You Should Trust Us
Our team spends thousands of hours trying out and researching golf equipment to help you take your game to the next level. Here's our product review process.
We can bring these reviews to you through the small commissions we earn if you buy through the links below.
How We Reviewed These Products
Golfspan only shares equipment and brands we trust.
I'm an experienced golfer and writer who thoroughly researched and evaluated the hoodies shared below. Then an editor reviewed and fact-checked the list. Finally, we conduct regular content audits to update and revise our reviews to ensure you receive the latest information.
To select these hoodies, I considered these criteria:
Cost
Fit
Comfort
Warmth
Sun protection
Colors
Wash options
18 Best Golf Hoodies for Men in 2023
Pros
Drycell technology
Machine-wash friendly
UV Protection UPF. 40+
Front zipper closure
Good size range
Cons
Long over the waist for shorter men
Rating: 5/5
This PUMA Runaway hoodie is the perfect hoodie for chilly days during the summer. The Drycell and moisture-wicking technology keeps you sweat-free and fresh for hours, even under the sun.
Plus, the 40 SPF UV protection helps secure your skin from the sun's harsh rays, making it great for those easily sunburnt.
Although the sun protection is ideal, the material is thick enough to block out the cold air during chilly, windy mornings.
The material is nice and flexible and allows for a great full range of motion so you can swing freely.
Who's it For?
It's ideal for most golfers since it wicks away my sweat, keeps the sun, and winds off my skin. It's also great for taller golfers with difficulty finding the perfect length hoodie.
Pros
Luxurious premium feel
Lace up closure
Wrinkle-resistant
Comfortable hood
Good stretch
Cons
Rating: 4.9/5.0
If you plan to splurge on one golf hoodie, this is the one. It's one of the softest and most premium feel hoodies on the market.
With this Travis Mathew hoodie, it's all about the fit and the feel. The design has nothing extraordinary, but the sheer tailoring is perfect for slimmer golfers like myself.
With the multiple color options, you're also truly spoilt for choice.
From the detailing on the drawstring to the wrinkle-resistant material, you can tell that the Travis Mathews team was committed to perfecting this golf hoodie.
This hoodie may be costly, but it feels worth every penny when I wear it.
Who's it For?
The perfect hoodie for those looking to splurge on themselves or a loved one for the ideal and most comfortable golf hooded sweatshirt.
Pros
Budget-friendly
Dri-power moisture-wicking technology
Machine wash friendly
Multiple color options
Cons
The material is a little heavy
Rating: 4.6/5
Russell Athletic brings you one of the most budget-friendly and versatile golf hoodies for men out there. With more than 18 color options, you cannot help but buy more than one.
I loved the white golf hoodie as it's simple yet classy and can be paired with multiple outfits. Surprisingly, most golf hoodies don't come in a white color option, so this is a solid positive with the Russell Athletic one.
The front kangaroo pocket is perfect for keeping your phone, keys, and other small items so your hands remain free.
Who's It For?
For all the budget golfers looking to build their hoodie collection without spending a fortune.
Pros
Therma Fabric helps store heat
Dri-Fit technology helps keep you cool and dry
Fits size
Multiple colors to choose from
Cons
Not great for machine wash or dryer
Rating: 4.6/5
This Nike golf hoodie is the perfect hoodie to wear all year round. Its Dri-Fit technology is designed to keep you warm during cooler temperatures and breathable during warmer days.
I love how versatile this hoodie is – I've layered this hoodie with another jacket during colder months, and it's perfect for running errands or a day out with friends and family. It's one of my personal favorites for everyday tasks and golfing.
Who's It For?
For golfers looking for the perfect all-year-round hoodie that is both comfortable and well-fitted.
Pros
Moisture-wicking technology
Extremely comfortable material
Great for spring/summer
Four-way stretch and great flexibility
Cons
Material may be too light for winters
Rating: 4.6/5
Another commendable hoodie by PUMA is their Cloudspun progress hoodie. The material allows four-way stretch, and the fit is also quite flattering.
Once I touched this hoodie, I understood what Cloudspun meant — it feels like touching clouds. I found the material extremely soft and comfortable; it's almost like a hug in a hoodie form.
The moisture-wicking technology also keeps you dry on warmer days. You also don't need to worry about handwashing the hoodie to maintain the fabric because this material is perfectly safe to wash in the machine.
Who's It For?
This hoodie is for golfers looking for a soft, comfortable hoodie to wear during the summer.
Pros
Thick fleece Material
Front Kangaroo pocket
Machine-wash friendly
Diverse size range
Multiple color options
Cons
Rating: 4.7/5
This Under Armour hoodie is perfect for golfers who love going on the course, even during the winter. The cotton and fleece blend ensures you stay warm and comfortable on a cold winter morning.
It also fits great; off the course, you can wear it for your morning jog, running errands, and much more. You're sure to get multiple uses out of this hoodie, and it has the potential to become that go-to winter piece.
The single front kangaroo pocket is also perfect for carrying golf balls, phones, scorecards, etc.
The material is durable and high quality, making it the perfect Christmas gift for the golfer in your life.
Who's It For?
For golfers that can't seem to find their perfect hoodie size. With the diverse size range of Under Armour, you're sure to find your ideal fitted hoodie, regardless of your height or build.
Pros
Eye-catching prints
Water repellent
Light and flexible
Lux fabric for warmth without bulk
Cons
Sizes are usually not accurate
Rating: 4.0/5.0
This is your classic hoodie that offers comfort, style, and mobility. The fun prints are surely eye-catching and will get golfers asking you where you got them from.
The light, stretchable fabric gives a great full range of motion, and the brushed back and fave of the hoodie add the extra element of softness.
I wore this hoodie for hours on the course and multiple hours for the rest of the day without feeling uncomfortable.
It's also water-repellent, so that you can wear it on a drizzly golfing day.
Who's It For?
For the golfers looking to stand out from the rest with their unique style. Also great to wear on a cloudy day with chances of rain.
Pros
42% recycled polyester; Eco-Friendly
Machine washable
Stylish reflective details
Thumb holes
Cons
Only available in two colors
Rating: 5.0/5.0
Mizuno's Infinity hoodie is not only stylish, but it's also made from 42% recycled polyester. So not only do you get to look good while playing golf, but you're also saving the environment.
Although it's recycled polyester, it's still very comfortable and stretchable, allowing for proper mobility.
The Drylite technology used within the material ensures you remain dry and easy, even after hours on the course.
I like how the half zipper closure lets me adjust the hoodie's neckline according to my preference while still giving me that convenient kangaroo pouch pocket. I'm a big fan of kangaroo pouch pockets and Mizuno, so it's a win-win for me.
Who's It For?
For golfers looking to add a unique cut hoodie to their collection while also trying to be environmentally conscious.
Pros
Stretchable fabric
Eco-friendly recycled fabric
Double knit fabrication for extra warmth
Cons
Rating: 4.4/5.0
This simple, no-nonsense golf hoodie is one of the best hoodies and keeps you comfortable while giving you good mobility without interrupting your swing.
The double-knit fabrication makes this hoodie perfect for the cooler autumn or winter. The material is also partially recycled, not compromising the hoodie's quality.
It's a versatile piece you can wear countless times on and off the course.
Who's It For?
For golfers looking for a simple, classic hoodie that they can wear even during the colder months without worrying about the bulk of the garment interfering with their swing.
Pros
OdorFree Technology
Wrinkle free material
Side pockets
Durable fabric
Cons
Rating: 4.3/5.0
This hoodie by FootJoy is one of the best hoodies in 2023. It's light and keeps you warm even during the colder months. The material is designed specifically for sports such as golf to ensure the wearer remains dry and odor-free.
If you're anything like me and are very particular about ironing your clothes, then this FootJoy hoodie is made for you. The material is wrinkle-free, so I just toss it in my golf bag and take it out whenever I want to wear it without worrying about ironing.
I love the tailoring on this hoodie, especially since, regardless of your movement, it does not bunch up around you and remains in place. The pockets are an absolute winner because who doesn't love pockets?
Who's It For?
For golfers looking for a premium feel hoodie that keeps them dry and odorless throughout.
Pros
Machine washable
Golf design that shows passion
Unisex
Kangaroo pocket design
Cons
Not from a recognized brand
Rating: 4.4/5
This is the hoodie for golfers that breathe, dream, and survive on golf. The design of the hoodie has a golfer perfectly fitted on a heartbeat.
The hoodie is not from a recognized brand, but it's still made of good quality and materials. The hoodie has a solid fit and comes in four different colors for you to choose from.
But it won't be as good as Runway hoodie at wicking away sweat and isn't as soft as the Cloudspun hoodies.
Who's It For?
This hoodie is perfect for golfers that live, breathe, and only talk golf. It's got a great golfing design that any golfer would appreciate.
Pros
Dry Fit Technology
Pockets with separate spaces for phone
Odor wicking technology
Soft breathable French Terry fabric
Cons
Limited color options
Sizes run a little small
Rating: 4.3/5
This is a great hoodie when the weather is chilly but not too cold. It'll help you stay warm and comfortable. Plus, it's moisture-wicking and odor-wicking, so you can stay dry and fresh throughout your golf day, even if the sun comes out.
The particular standout feature that made me add this hoodie to this list is its pockets, including a separate one to keep your phone. This feature shows that the creators really put effort into the design.
Who's It For?
For the golfers looking for a sleek, stylish, well-fitted hoodie that will look great both on and off the course.
5 Best Golf Hoodies for Women in 2023
Pros
Comfortable fit
Moisture Wicking Technology
Pull-on closure
Pockets
Cons
Not ideal for extremely cold winters
Limited color options
Rating: 4.7/5.0
This Women's Cloudspun hoodie uses the same technology as the men's one, except it's designed specifically for women's body types.
It's wider around the shoulder area allowing for better mobility and stretch. The cut makes it look flattering even though it's not as form-fitted as the men's hoodie.
The material is light and comfortable, making it perfect for use during the spring/summer season. The moisture-wicking technology also keeps you dry and comfortable throughout your course.
Who's it For?
The perfect gift to give the golfing lady in your life to make her days on the course comfortable. It's also ideal for women to wear on a day-to-day basis. Pair it with a warmer jacket on top, and it's fit for winter too.
Pros
Front zipper closure
Flattering design
Machine wash friendly
Rib cuffs and bottom band
Cons
The material is too thin
Hoodie rides up when you raise your arms
Rating: 4.3/5
This Soffe Women's cropped hoodie is ideal for all the golding ladies who want to level up their styling game without compromising comfort.
This ribbed cuffs and bottom band give you the perfect cinched look at the waist, making it quite flattering.
Plus, the light windbreaker material is versatile, and you can wear it to the gym, a morning jog, or even to brunch with friends.
Who's it For?
For the busy golfing ladies that have golf at eight and brunch at ten and want to maintain their style.
Pros
Very soft stretchable material
Flattering fit
Machine wash friendly
Cons
Wrinkles at the front
Limited color options
Rating: 4.3/5
Designed specifically for golf, this PUMA Women's Everyday hoodie is a nifty find for all the golfing ladies looking for a versatile option. The combination of elastane and polyester ensures the hoodie has good stretch and does not interfere with your swing.
The material of this hoodie is exceptionally soft, and it seems ideal for golfing, a morning jog, or a simple run.
Although a solid hoodie, it sometimes tends to wrinkle in the front, which may seem unflattering to some.
Who's it For?
For the ladies looking for a comfortable and stretchable hoodie that can be worn on the course and for everyday errand runs.
Pros
Machine washable
UV protection
Chafing-free, comfortable fabric
Cons
Color may vary from what's shown
Sheer material
Rating: 4.5/5
These days most hoodies have a baggier look, especially sports hoodies. But this UPF hoodie by Willit is the perfect solution for all the ladies that prefer a more snug fit.
Willit delivers comfort, style, and freedom of movement like no other. The material is so soft and light that this full-sleeved hoodie will keep you comfortable and dry even on a hot day.
The material is durable and can easily withstand machine washing, so you don't need to worry about running to the dry cleaners each time.
Who's it For?
It's ideal for golfing ladies looking for a trendy slim-fit hoodie without compromising their range of movement while swinging the club.
Pros
UV protection
Lightweight material
Quickdry technology
Cons
Rating: 4.5/5
Tacvasen's SPF hoodie is perfect for ladies who don't want to let the heat interfere with their plans. The light and breathable material of the fabric ensures that you remain comfortable throughout the day.
The quick dry technology ensures you won't get wet and sweaty even with the sun shining above your head. The covered design with the hoodie and full sleeves also keeps your skin away from the sun's harmful rays.
I particularly love the versatility of this hoodie; you can wear it anywhere from the golf course to the gym, for hiking, or even running errands.
Who's it For?
For the ladies looking for a simple all-in-one hoodie that's equally comfortable and stylish.
What to Consider Before Buying a Golf Hoodie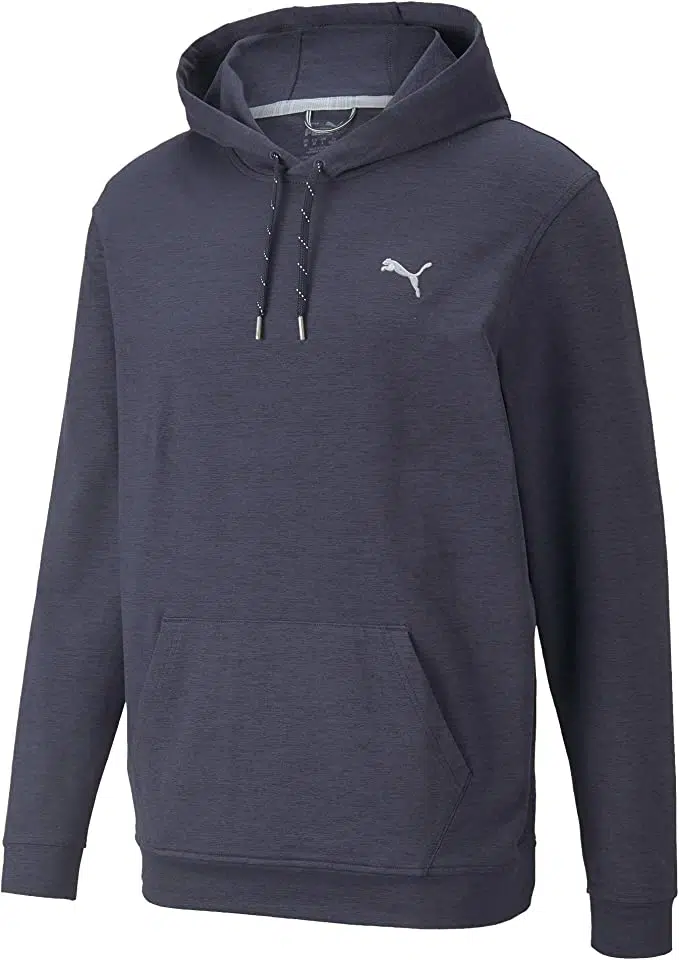 Golf hoodies may seem odd, but they're quickly increasing in popularity. With the rise in demand, many mainstream brands, such as Nike and Adidas, have come out with their golf hoodies, but multiple low-key brands have released some promising hoodies.
They're stylish, comfortable, and trendy with the right golf pants.
Before investing in a golf hoodie, there are multiple factors that you must put into consideration. These include the material and look of the hoodie, whether the hoodie limits your movement or not, and most importantly, does it fit your budget.
Here are a few things you should consider before buying a hoodie for golf.
1. Material of Your Hoodie
The material of your hoodie is the most important factor to consider before investing in one. If you're playing golf in the cold winters, a fleece hoodie is ideal for staying warm and comfortable.
Alternatively, if you want to wear a hoodie as more of a fashion statement during the summers, there are multiple light and breathable cotton options out there as well. I personally prefer cotton, but the material of your hoodie fully depends on your preference and your surrounding climate.
If you live in warmer arid climates, then a hoodie may not be the wisest option to invest in. In such cases, a nice airy golf shirt and some golf shorts would be your best bet.
2. Mobility
While hoodies are usually quite comfortable, some hoodies can sometimes interfere with movement. Golf is about technique and mobility, so your hoodie must be stretchable and not interfere with your swing.
The best way to check this is by trying on multiple hoodies and imitating a swing to see which allows for the best range of motion.
3. Versatility
Yes, you may buy a hoodie keeping golf in mind, but who doesn't love getting more bang for the buck?
I'd recommend you get a hoodie that you can wear in a lot of conditions. A versatile hoodie is great for wearing on the course, on a lunch with friends, your university lecture, or running errands.
4. Budget
Budget is important to factor in before buying anything. No matter how good a hoodie may be, it's useless for you if it's fully out of budget.
Luckily, multiple brands have come out with their versions of a golf hoodie at different price points. This means that there's always something to fit someone's budget.
I've included multiple budget-friendly hoodies in this article, so you'll be spoilt for choice here.
FAQs
Final Thoughts
I hope my list of the best golf hoodies helps you find something you're looking for. Golf hoodies are a newer trend, but professional golfers support the trend. Undoubtedly, 2023 will be the year they become a golfing staple.
For men, the PUMA Men's Golf Runway Hoodie is a great option to keep you warm when it's chilly and wick away the sweat as you get warm.
For women, the PUMA GOLF Women's Cloudspun Hoodie is a great option as it's so warm and soft. Yet it also can wick away your sweat as you heat up on the course.
There's much to choose from, from kangaroo pockets to reflective stripes and cloud-like softness.