Golf has become increasingly popular since the start of the Covid 19 pandemic as people could be outdoors and easily social distance.
As the number of golfers increases, you may consider a profitable venture and wonder how much it costs to build a golf course?
The median cost to build a golf course is $14 million, not including buying the land. The lowest-priced golf courses cost $7 million. Others cost as much as $25 million. Building greens is one of the most important tasks, and it can cost as much as $60 per square foot.
Building your own golf course, as you can see, is an expensive project. But there are many factors to consider, and we'll cover them all as we fully answer the question, how much does a golf course cost? But the first thing to consider is buying land.
How Much Land Does It Take To Build A Golf Course?

How much to build a golf course depends significantly on the cost of the land. An average 18-hole golf course requires approximately 140 and 180 acres, while a 9-hole course requires 70 and 100 acres. A 9-hole par-3 course can be built on as little as 65 acres, while an 18-hole pitch and putt require around 25 to 30 acres.
Shorter courses require less land due to shorter fairways that can be narrower than a standard 18-hole golf course, thus saving on the cost to build a golf course.
This should be sufficient to include the course, practice greens, driving range, and clubhouse.
Building a golf course requires a sizable piece of land that slopes as golfers do not want to play on a level course. If the land is too flat, you will have to transport soil in to create slopes, thus dramatically increasing the cost of building a golf course.
When building a 9-hole course, you will be well advised to buy enough land to build the second nine holes at a later stage.
If you are still wondering how much it costs to make a golf course, read on.
How Much Does It Cost To Build A Golf Course?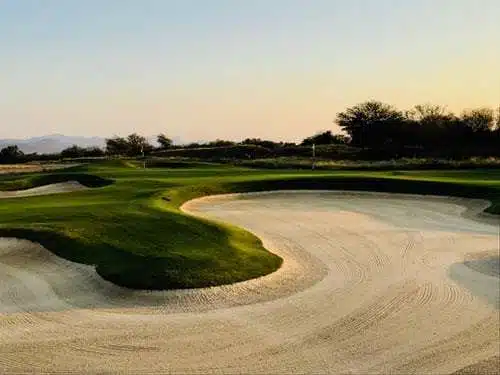 In 2001, Michigan State University found that the median cost to build a golf course was $14 million. But it varied between $7 and $25 million. It is difficult to provide an exact cost to the question, how much is it to build a golf course since there are many options and expenses.
Let's look at the steps required to build a golf course and assign some budgetary figures.
Mobilization
Mobilizing the team to construct the course can cost anywhere from $10,000, requiring minimal work up to $100,000 for an elite course.
Layout and Staking
Laying out the course and staking the perimeter of the fairways, rough, and green could set you back as much as $150,000 for a pristine course.
Erosion Control
A golf course allows you to spend some time in the open but requires you to protect the vast amounts of grass and dirt from washing away.
To maintain the golf course in good condition, you have to prevent erosion which can cost approximately $250,000.
Clearing and Grubbing
Clearing and grubbing include the removal of existing structures, trees, and other obstructions that may influence the construction of the golf course. This can cost upwards of $250,000.
Topsoil Strip
The amount and type of soil to be cleared or moved will determine the cost of the topsoil strip and earth moving.
There are many costs like:
Drainage requirements
Irrigation system to be installed
The amount of soil to be moved
Method of constructing the greens
Any other costs to clear the land
All of this must be done while meeting regulatory requirements that influence the amount required to build a golf course — this can easily cost upward of $300,000.
Rock Blasting        
Should your golf course be built on a rocky surface, it may require some blasting to remove the rocks and open the soil to plant grass and shape the fairways and greens.
This could set you back by around $200,000.
Earthmoving
This is one of the big-ticket items on your list. Depending on the amount of soil to be relocated and shaped, it can easily come to close to $1.5 million.
Topsoil Replacement
Once the major earthworks have been completed, you need to replace the topsoil before starting with the drainage, irrigation, and planting of the grass. A budgetary indication for this is around $300,000.
Drainage
Drainage can be subdivided into stormwater and rainwater drainage off the fairways and greens to avoid soggy patches that make the golf course unplayable. The combined cost of this could come to around $750,000.
Irrigation and Pump Station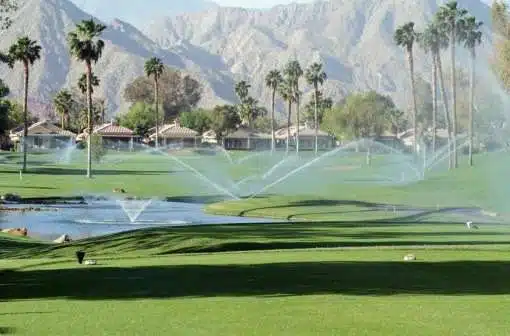 In addition to drainage, the watering of the fairways and greens is extremely important to keep the course playable throughout the year. This varies widely depending on the course length and the size of the pump station required to pump the water for the irrigation. A short par-3 course could cost as little as $150,000 but could quickly rise to over $1 million for an elite course.
Greens
How much does it cost to build a golf course green?
Greens can make or break a golf course, and you must use the correct grass for the area that the golf course is built. The cost of greens can vary widely between $3/square foot and up to $60/square foot.
The average-sized green on a professional tour is approximately 6,000 square feet. Links courses have larger greens than parkland courses, increasing the cost significantly.
Depending on the size of the greens, these could cost between $300,000 and $900,000.
Tees
A good tee box can change the hole's layout and needs to be large enough to move the tee for every round. This will allow you to change the distance of the hole significantly.
An average tee box is around 40 feet long and 30 feet wide, thus creating a surface area of 1200 square feet.
Every hole requires at least 4 tees, front (formerly known as lady's tees), senior, club, and professional tees.
Adding the number of tees up for an 18-hole course is 72 tees and a surface area of more than 86,000 square feet.
The approximate cost to build the tees could range from $50,000 to $200,000.
Bunkers
Size, quality, and quantity of bunkers play a significant role in the cost of the bunkers.
Constructing good quality playable bunkers can cost up to $4 per square foot. In addition, you have to consider the maintenance it will require that will dramatically push your maintenance cost up.
Construction of the bunkers could cost around $100,000.
Cart Paths
Another big-ticket item is the system of cart paths to provide for a smooth ride for the golfers. Most don't know that this is a requirement for protecting the environment against erosion.
Depending on the length and width of the course, you can budget up to $500,000 for an 18-hole elite golf course.
Lakes And Water Features
Unless you have some natural water features and lakes, you may have to construct lakes, water features, and streams.
This varies considerably depending on the length of the course, size of the lakes, and length of the stream.
A fair budget for this is approximately $200,000.
Seeding and planting of grass/trees
Rounding off the build of the golf course is planting the grass seed and sods and the rough when a specific look and feel is required.
Furthermore, the grass will provide the finished look of the course and determine the number of golfers the course attracts.
This can range from $100,000 to well over $500,000.
If you want to provide an established look from the start, you may want to plant established trees which can easily push up the cost per hole for seeding, grass, and trees up to around $50,000.
How Long Does It Take To Build A Golf Course?
It could take as little as 1 year to build a course but could easily take up to 2 years to obtain all the required permits and complete the construction. This excludes the bedding in the period once the construction is complete.
The Kiawah Island Ocean Course was built in three years between 1989 and 1991.
Grow-In Period
You cannot open the golf course without risk if you don't allow for bedding down. This enables you to find any defects, changes of shape to make the course more playable and test out the various pin placements on the greens.
Although not essential, this will also provide you with time to build the practice green, driving range, practice bunker, and clubhouse.
FAQs: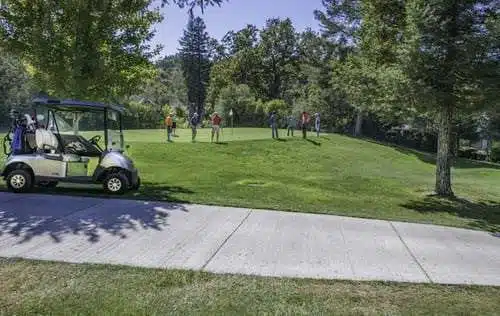 Can owning a golf course be profitable?
Owning a golf course can be quite profitable and rewarding if the construction costs can be kept low without sacrificing quality.
Many investors buy golf courses as a long-term property investment and get golf course management companies to manage the operational side.
Many golf courses have been returning negative returns since the early 2000s and occasionally turn a profit.
Successful golf courses such as Augusta that hosts the Masters Tournament generate around $115 million in revenue with a profit of nearly $30 million.
See our article for more information on how golf courses make money.
How many acres do you need to build a golf course?
A short par 3 course can be built on as little as 25 acres, while a full-length elite course can require up to 140 acres of land. But the land requirements vary based on your location, size of course, and the difficulty of the course.
Conclusion
In conclusion, how much does it cost to build a golf course cost?
Considering the steps required as set out above, it can vary considerably depending on the golf course's size, length, and quality, and amenities that come with the course.
Layout and Staking: $150,000 
Erosion Control: $250,000
Clearing and Grubbing: $250,000
Topsoil strip: $300,000
Rock Blasting: $200,000
Earthmoving: $1,500,000
Topsoil Replacement: $300,000
Drainage: $750,000
Irrigation and Pump station: $1,000,000
Greens: $900,000
Tees: $200,000
Bunkers: $100,000
Cart paths: $500,000
Lakes And Water Features: $200,000
Seeding and planting of grass/trees: $500,000
Total: $7,100,000
If you want to provide an established look from the start, you may want to plant established trees which can easily push up the cost per hole for seeding, grass, and trees up to around $50,000. A good-sized quality clubhouse can also set you back a couple of million dollars.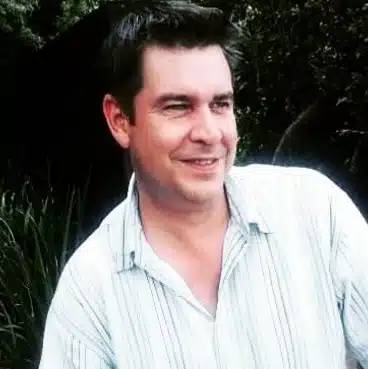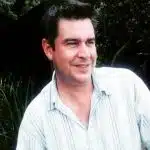 Charl is an avid golfer who studied marketing and advertising. He is fascinated by new technology in golf equipment and the mechanics of the perfect swing.