Choosing the correct set of golf clubs can be a difficult task. There are so many brands and choices on the market that the search can quickly become overwhelming.
When companies use terms like Speed Pocket, 360 Cup Face, Urethane Microspheres, even the most eager shopper can shut down and give up.
I will give you some actionable steps you can take to make sure that you get the golf clubs that you need for your game, and by the end of this guide you will know how to buy women's golf clubs.
Step 1: Determine Player Type
Not all golfers are created equal.
Are you a female golfer that has just started playing?
Have you been playing the same game for many years, and it is time for a technology upgrade?
Have you gotten better and need more of a players club?
Even within the category of women's golf clubs, there are options for all player types. Take a good look at your golf game. If you can break 90, you need to start shopping for some clubs with better feel.
If you are shooting over 100 consistently, you need to keep the focus on forgiveness and distance and look into those game improvement irons.
If this is your first experience buying women's golf clubs and you have never played before, keep an open mind to a complete beginner set. The set will give you everything you need to get out there and start playing while getting some positive results right from the start.
Step 2: Determine Budget
Now that you have done some self-analysis and figured out what type of golfer you are, it's now time to take a look at the bank account.
Golf clubs can get very expensive, very quickly. A new driver alone can cost $500. This could be your entire budget, all for one golf club.
If budget is not a concern, then you should look into the latest and greatest technology. The newest releases from a company are going to be the most expensive, but they will undoubtedly be packed with power and performance.
If you are on a budget, there are a few ways to still get what you need. One option is to look into new models that are 2-3 years old. Each year manufacturers have many leftover clubs, and these stay available for drastically reduced prices for several years. Sometimes a $1000 set of irons can be sold for less than $500.
Another way to upgrade your golf clubs on a budget is to do it in pieces or buy used clubs. Most times, there is an area in your bag that needs immediate attention. Do you not have a sand wedge? Is your Driver 14 years old? Start with these areas.
Look at the weaknesses in your game and attack those areas first. From there, move onto the less imperative needs in your golf bag.
Step 3: Set Building
Now it comes time to figure out what golf clubs you need in your set. The USGA says that you can keep 14 clubs in your bag. The Driver and putter are necessary, so that leaves you with 12 clubs to play around with.
For an average woman golfer to have a complete 14 club set is very likely unnecessary. A perfect set buildup is Driver, 5 Wood, 4 Hybrid, 5-PW, AW and SW.
This is a total of 11 clubs, and it should get you everything that you need in your game. Should you want to add in an additional hybrid or fairway wood, you have the room to do so.
Check the lofts on your clubs before purchasing new ones. If you carry a five iron, the loft might be considerably different than a five hybrid. Plenty of women will bring both a five hybrid and a five iron because of these gaps in loft. Gaps in lofts create differences in yardages.
Another common area for a gap, especially in a women's set of clubs is the Pitching Wedge to the Sand Wedge. A Pitching Wedge in a modern women's golf iron set is right around 43-45 degrees. The Sand wedge is typically around 56 degrees.
Even if you love hybrids and woods, leave room in your bag for that Gap Wedge. Some companies refer to the gap wedge as an approach wedge. The wedges are your scoring clubs; all good players will care more about wedges than they do about woods.
Step 4: Is Custom Club Building Necessary?
If your budget allows, a custom fitting can never hurt. Custom club fitting will tell you precisely what length club you need, if you need the loft or lie adjusted and what grip will work best for your game. All of these things are great to know.
If you are not planning on getting a custom fitting done, some manufacturers make sets specifically for shorter women. Complete golf set options offered in the Petite version are generally one inch shorter than standard women's sets.
A standard women's set is built to fit women who are 5'4″ to 5'9″. If you are less than 5'4″ it's best to look into the Petite option.
If you are 5'9″ or taller, look into the Men's senior flex golf clubs. The clubs will be the correct height, and the flex will be very similar to the women's flex.
Step 5: Testing Equipment
Golf equipment is readily available to test. There are large manufacturers like Golf Galaxy, PGA Superstore, and Edwin Watts located all across America. These stores have all the latest equipment for players to test.
The most important thing when trying out new equipment is to bring your old equipment with you. The salesperson will put the latest Hybrid on the market in your hand.
It's designed to be longer, more forgiving, and higher launching than the club you have now. However, when you hit it in the simulator, both clubs go the same distance.
Why Does This Happen?
Sometimes it's the shaft weight, other times it's the loft, and sometimes it is just that the look of the club doesn't work for you as a player. If, however, you didn't have your current equipment with you, the numbers on the screen might have impressed you.
You walk out of the store with a brand new club that works just as well as your old one. Not exactly what your original goal was.
Golf stores and simulators are the best chance that most of us have to hit new equipment. If you can find an outdoor range that also allows you to try out clubs, that is the best option.
Swinging outside is less restrictive, and you will get a better idea of what you are truly capable of doing. Seeing a real golf ball fly on the range, just as it would on the course is the best possible feedback you can get.
Step 6: Where to Buy?
Golf clubs are sold in local shops, at large retailers, and online. If you have a general idea of what you are looking for, the prices online are generally the lowest.
Look for a sale around the holidays, or at the start of the Spring season. Companies like Ping generally set stringent guidelines on their pricing. You will notice the pricing stays the same from one website to another. Cobra, Callaway, and sometimes TaylorMade will offer discounts and sales throughout the year.
Even if you need clubs custom-built, you can do that directly through the manufacturer on their website.
Checkout out our guide on when to buy golf clubs.
Conclusion
Buying a set of golf clubs can be a significant undertaking, but with these steps, you will be well on your way to lowering your score. Make sure you first determine what type of player you are, set your budget, and decide which type of clubs you need.
Next, you can make some decisions about stock or custom sets, and eventually, it just comes down to finding the deal that works for you.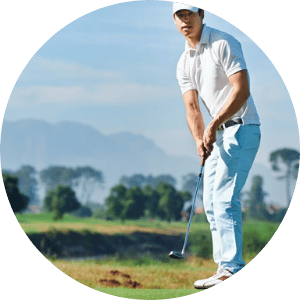 Nick Lomas is the founder of GolfSpan, an avid golfer, not quite a pro but has over 15-years of experience playing and coaching golfers from all over the world. His mission is to bring the golfing community a better experience then it comes to choosing the right golf gear, and finding the right set up for your game.