TaylorMade has established a strong reputation for producing golf balls with high innovation and performance. With so many options available, it can be difficult for golfers to choose the right ball. I've written this Taylormade distance + review to help you understand one of the many Taylormade golf balls available in the market.
Here's a quick TaylorMade Distance Plus review: The TaylorMade Distance Plus golf balls are designed to help slower swing speeds get more distance.
In this review, you'll learn about the benefits and features of the Distance Plus golf balls and any potential drawbacks.
Let's see if the Taylormade Distance Plus balls are worth having in your bag.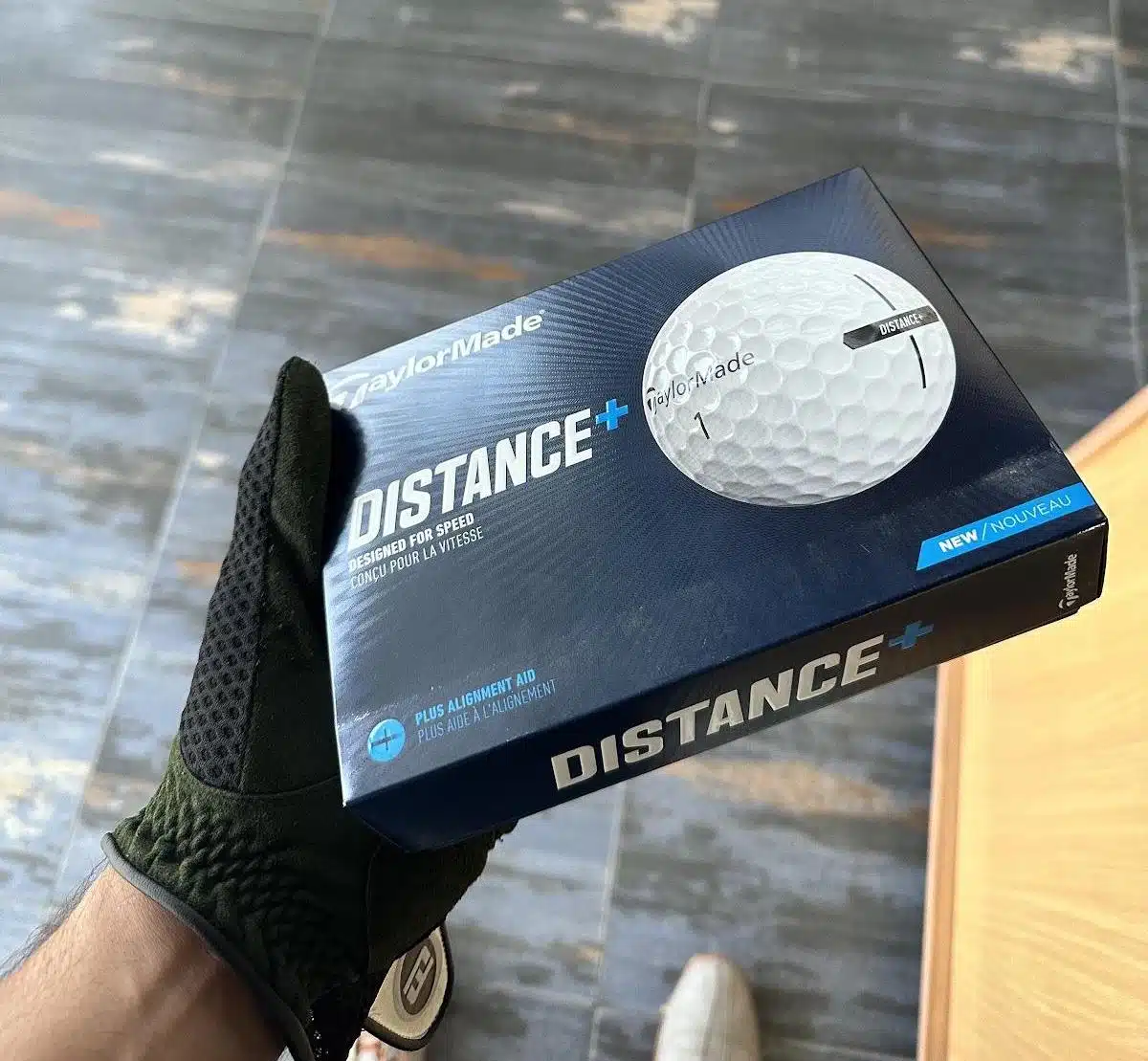 Pros
Maximum distance
Durable
Affordable
Improved carry distance
Low driver spin
Has a straight line for putting
Cons
Limited control
Less spin
Hard feel at impact
Specs
Construction: 2-piece
Golf Ball Type: Distance
Cover Material: Iothane
Compression Rating: 77
Dimples: 342
Alignment Aid
The Taylormade Distance Plus golf balls were introduced in 2021. They're designed for golfers with slower swing speeds that want fast ball speeds and great distances.
The golf balls incorporate a REACT™ Speed Core and high-speed, low-drag aerodynamics. It also features Taylormade's exclusive Iothane cover, which gives extra control around the greens.
It's a great option compared to some of the company's other premium offerings for golfers who want extra distance on the golf course.
Key Metrics to Consider
Here's how I've rated the Distance Plus golf balls.
Note: All ratings are out of 100.
| | |
| --- | --- |
| Overall | 85 |
| Star Rating | 4.5 out of 5 |
| Distance | 95 |
| Forgiveness | 80 |
| Feel | 80 |
| Workability | 75 |
| Aesthetics | 85 |
| Price | 90 |
Continue reading about the Taylormade distance plus' key features, performance, and applicability.
Verdict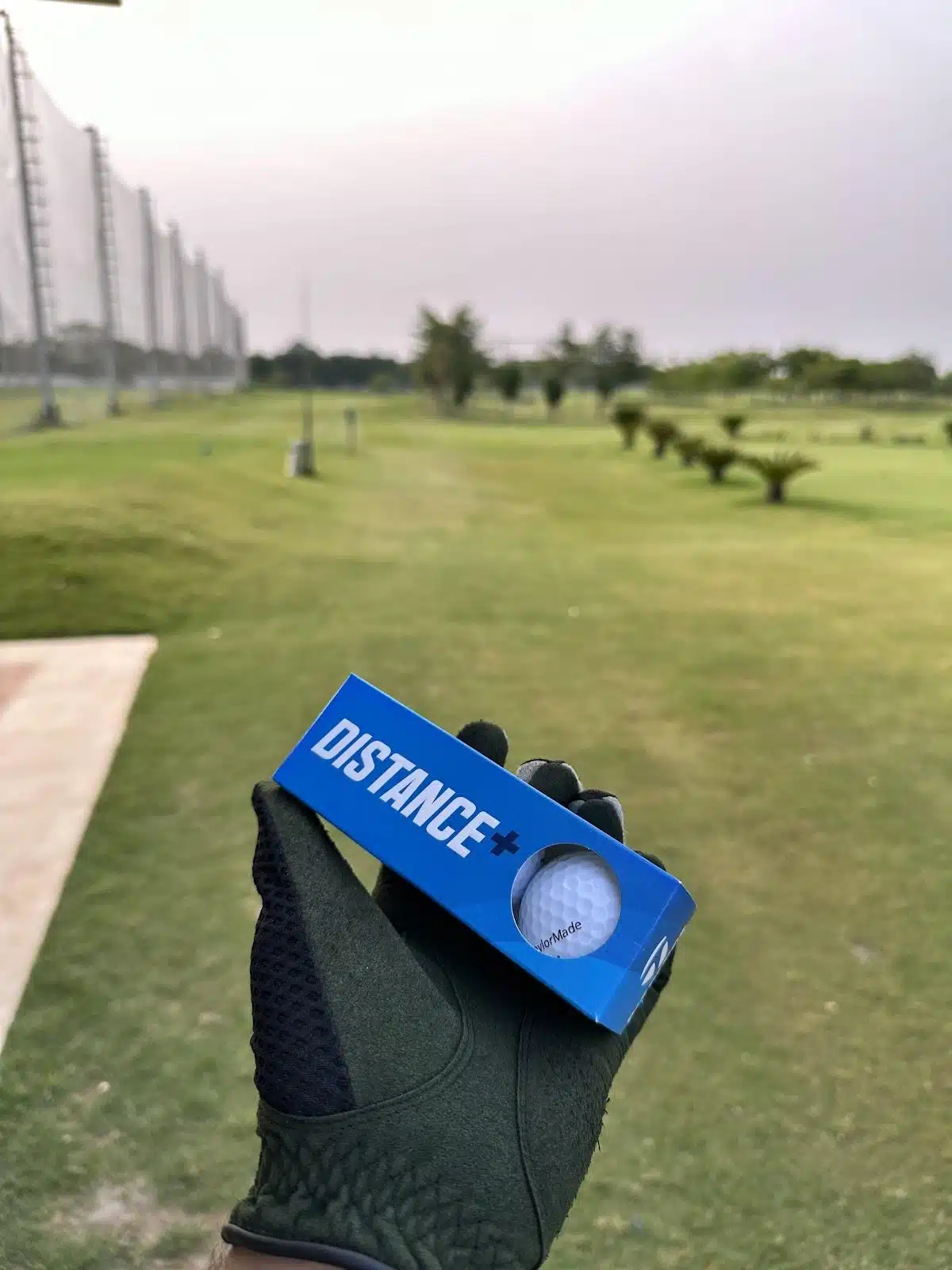 Before I go into the specifics of my evaluation, let me offer my general conclusions after evaluating the Taylormade distance+ golf balls.
The Taylormade Distance Plus golf balls are specifically engineered to cater to golfers with slower swing speeds. These golf balls have a cutting-edge design and structure that maximize distance even with a slower swing, making them the perfect choice for golfers with less clubhead speed.
Even though pros do not use Taylormade distance plus balls, you will see a lot of high-handicapped golfers using these balls on the course.
In general, golfers looking for durability and increased distance should strongly consider the Taylormade distance plus balls.
Who They're Best For? – Handicap Range
Golfers with relatively slow swing speeds highly appreciate the Taylormade distance plus golf balls. These balls are a very popular option amongst high-handicapped golfers.
The distance plus balls give excellent distance and a relatively soft feel around the greens. It's helpful to golfers who prefer a softer putt or chip. However, these golf balls can be challenging when making approach shots.
Nonetheless, I will advise the Taylormade Distance balls to golfers with slow to medium swing speeds who want more distance on their shots.
The distance plus balls are ideal for beginner and senior golfers. These balls have less spin and limited control.
Golfers who like to shape their shots will find the TaylorMade distance+ balls less suitable for their game. So, they're exactly what golfers in the high-handicap range seek.
These balls are highly durable and can withstand significant play before losing their performance attributes. They're more affordable than most golf balls in this category.
If you're a high-handicapper, check out the best golf balls for high-handicappers.
Things to Consider Before Buying The Distance Plus Balls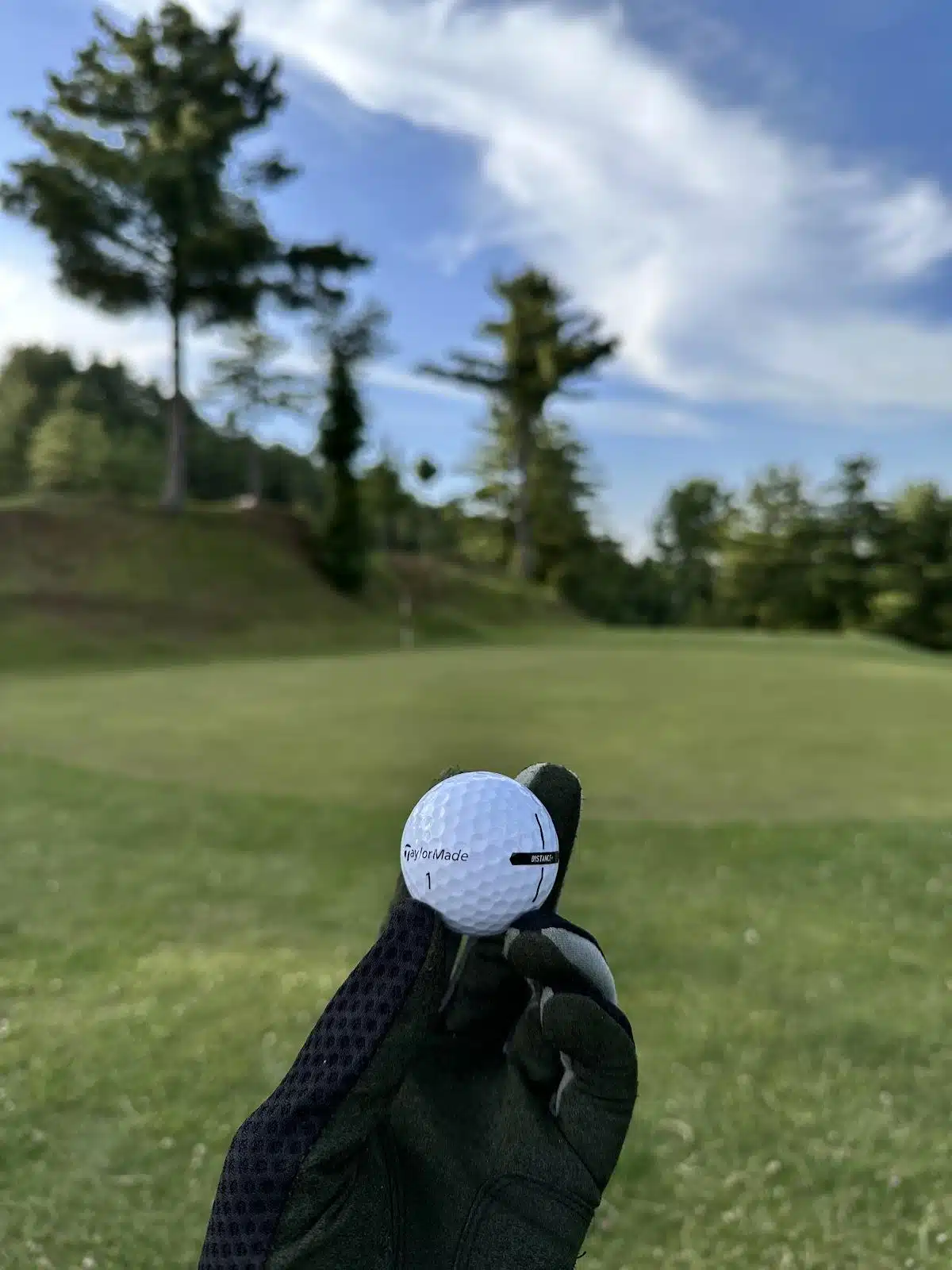 Here are a few things to consider while purchasing the Taylormade distance plus before you decide.
I've included some of these features below for your convenience so you can ensure you're getting the best golf balls for your money.
Your Budget
The Distance Plus balls come with a lower price tag and are more affordable than many other premium golf balls.
So, if you're on a budget, you'd find these great. However, with a lower budget, you're also compromising on the shot-shaping ability of these balls.
Here you can also look at other brands that provide cheap golf balls.
Your Swing Speed
Taylormade distance plus golf balls are designed to deliver maximum distance after impact for golfers with slower swing speeds. You'd be surprised to see the extra few yards on the same swing speed.
If you have a fast swing speed (higher than 100mph), I recommend you check out other golf balls suited for faster swing speeds.
Distance and Forgiveness
Regarding distance and forgiveness, the Taylormade Distance Plus golf balls are an excellent choice for golfers as they provide consistent flight and distance.
These golf balls can also help golfers by maintaining some forgiveness due to their low spin and compression, which you can find beneficial to your game, especially if you aren't looking to shape your shots.
Why You Should Trust Us
Our team spends thousands of hours trying out and researching golf equipment to help you take your game to the next level. Here's our product review process.
We can bring these reviews to you through the small commissions we earn if you buy through the links below.
How We Reviewed These Products
Golfspan only shares equipment and brands we trust.
I've been golfing and reviewing golf equipment for half a decade. I researched and evaluated the Taylormade Distance Plus golf balls. Then an editor reviewed and fact-checked the list.
The information you get in this article is up-to-date because we conduct regular content audits to update and revise our reviews to ensure you receive the latest information.
I considered these criteria to review these irons:
Cost
Distance
Spin & Control
Feel, Appearance & Sound
Launch & Accuracy
TaylorMade Distance Plus Golf Ball Review
The TaylorMade Distance Plus is our top pick for the best distance golf balls. They include a high-energy REACT Core for optimum energy transfer and quick ball speeds. They also have a tough Iothane cover that keeps consistency and responsiveness.
The 2-piece design and low-drag aerodynamics maximize distance performance and improve forgiveness.
I bought the TaylorMade Distance Plus balls from my local pro shop to review them.
I played with the ball in different conditions and environments for a few rounds. Let's find out how it performed.
Overall
The TaylorMade Distance Plus golf balls performed admirably during my evaluation. It's a beautiful ball, and I'd play with it for a friendly match any day.
These balls are cheaper than most premium golf balls and are much more durable while delivering great distances.
If distance is the only thing you're looking for, this might be the best ball you could buy. However, I felt that it had a hard feel at impact and was generally difficult to shape shots with this ball.
It's ideal for straight long shots but slightly tricky around the greens. The ball has a lower spin, but I think it's great for its 77 compression rating.
Because of the low spin and limited control, I wouldn't recommend these balls to golfers who like to shape their shots or want more greenside control.
Distance
Hitting a driver is the best way to judge the distance on the ball. I had 4 to 5 driver tee shots; the rest were irons and Par-3s.
The Taylormade distance plus balls deliver exceptional distance. I played with two balls to compare the distances and gained 10-20 yards on each shot.
I've got a swing speed of 100-110 mph, but I was getting great distances even on my slower swings. So, I believe seniors and golfers with slow swing speeds would definitely gain a few yards on this ball.
I like to shape my shots, and since I have a faster swing speed, I won't be able to maximize my performance with the Distance Plus golf balls. However, these balls can be perfect for you if you have a slower swing speed.
You'll see a lot of golfers who struggle to get good distances use these balls to level the playing field against hard hitters.
For golfers who hit the ball weakly, these balls deliver extra yards because of the 342 dimple design and low compression.
Forgiveness
In terms of forgiveness, the TaylorMade Distance Plus golf balls did okay. Golf balls generally aren't forgiving, but these would still travel a decent distance on poor shots.
The TaylorMade distance plus balls have a lower spin, so they'd roll a good amount even when you'd duff or top your shots.
These balls don't deviate much, so you'd be advantaged on poor-struck shots.
Accuracy
The Distance Plus balls are accurate and straight.
While most golfers would focus on the distance of these balls, I'd remind them of its accuracy.
The high speed and low-drag aerodynamics result in a straight and accurate shot. But that makes it hard to shot shape and hit draws or fades. You can still do that, but it's easier with softer balls like the Callaway Supersoft.
Launch
Golf balls made by TaylorMade generally have good launch characteristics. In this case, the TaylorMade distance plus golf balls soared into the air with a piercing flight.
The Distance Plus balls' low-drag aerodynamic design reduces drag and air resistance while in flight. The ball's optimized design, which includes the dimple pattern and 2-piece construction, contributes to a favorable launch angle.
Greenside Spin
These balls have a lower driver spin which is great for distances. But I found the lower spin challenging for the green.
Getting the ball to roll back or spin was trickier for faster and dried greens. This isn't a problem for any average or amateur golfer, but I believe if you're playing competitive golf, you'd need a ball that spins better on the green.
Feel/Look
I absolutely loved the look of these balls when I took them out of the box. They have a simple yet professional design. The white shine on a new ball is unmatched anyway.
The ball has a nice feel – not too hard nor too soft.
The Distance Plus balls are available in two colors:
White
Yellow
The balls have a neat and polished appearance in terms of aesthetics. I also liked the Plus Alignment Aid side stamp that can help you to line your putts.
Sound
I personally didn't like how the TaylorMade Distance Plus golf balls sounded. The sound felt slightly hard at impact for me, but not a deal breaker.
I've played with other balls around this compression rating, and some, like the Bridgestone e6, have a sweeter sound than the TaylorMade Distance ball.
The sound isn't pleasing, but not unpleasant either. Your sound preference can vary, so this is great for you if you don't mind a harder sound.
Features & Benefits of the Taylormade Distance Plus Golf Balls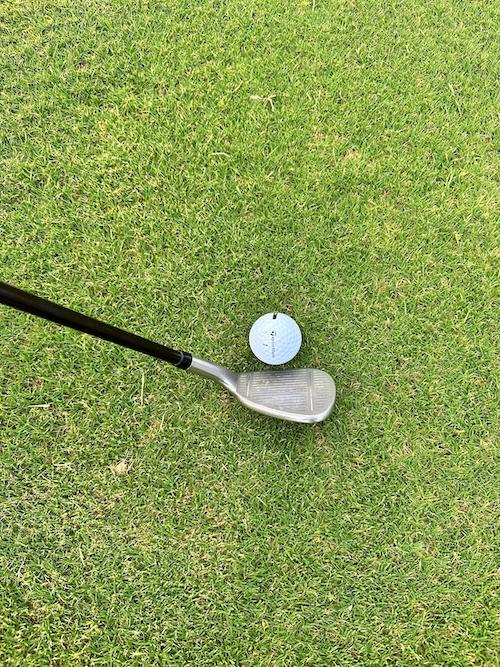 Let's check what features the TaylorMade Distance Plus golf balls offer and how they can benefit your game.
React™ Speed-Core
High-energy REACT™ Core is used to construct the Taylormade Distance Plus golf balls.
This core technology produces quicker ball speeds by maximizing the energy transfer upon impact. As a result of the increased ball speed, you can hit longer shots and possibly get to the greens in fewer strokes by getting the most distance off the tee.
The low compression of the core allows efficient energy transfer, which is why these balls are more beneficial to golfers with slower swing speeds.
Iothane Cover
The cover of the golf balls is made-up of tough Iothane material. This cover provides a balance of toughness, responsiveness, and softness.
The balls can resist the challenges of routine play thanks to the ionomer material's resilience without scratching or wearing out too rapidly.
After a round, I could barely tell that this ball had taken a beating. It still stood strong and barely felt used.
Low-drag Aerodynamics
The Distance Plus golf balls from TaylorMade have low-drag aerodynamics built into their construction.
These balls feature a 342 dimple arrangement and a 2-piece construction design that lessens drag and air resistance during ball flight.
The low-compression core and the Iothane cover are designed to optimize ball speed and flight.
Golfers with slower swing speeds can greatly benefit from this ball as it provides exceptional carry distance and forgiveness.
2-Piece Construction
The Distance Plus balls are made of a core and cover that are separate pieces.
The core produces the ball's initial velocity and energy transmission, and the cover provides durability and control.
A 2-piece structure with a core and cover gives golfers a balance between distance and forgiveness.
Due to the forgiving nature of the balls, you may still gain a respectable distance and keep some accuracy even on off-center smashes.
Because of the increased forgiveness, you can reduce the consequences of bad shots and play your game more consistently.
Plus Alignment Aid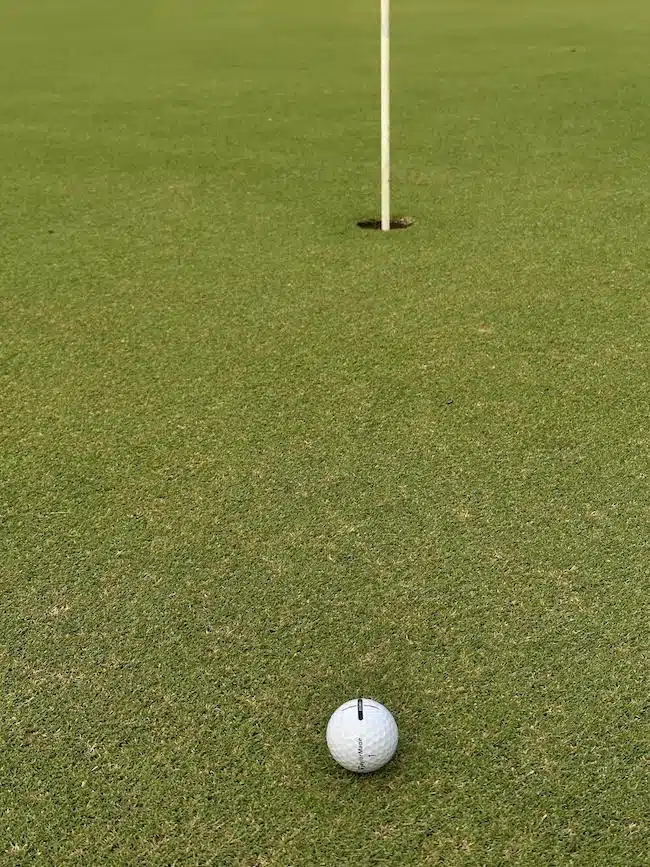 The Distance Plus golf balls have an alignment side stamp and a small marking on the side of the ball.
I loved the alignment aid on these balls. Unlike most balls, the alignment lines on these were bold and prominent.
You can line up your shots more precisely with the help of this side stamp, which acts as an alignment guide.
Alternatives to The Taylormade Distance Plus Golf Balls
If the Taylormade distance plus golf balls differ from what you are looking for, many options exist to provide you with the desired features.
Here are some alternate choices to consider:
As the name implies, the Titleist velocity ball provides exceptional distance and forgiveness.
They have a high-energy core for faster ball speed and a 350-octahedral spherical dimple pattern for better aerodynamics and predictable ball flight. The softer cover gives short game shots a nice feel.
It's a reasonable alternative if you are looking for distance golf balls.
Pros
Impressive distance
Consistent ball flight
Soft feel
High durability
Cons
Low spin
Poor greenside control
Read More: Titleist Velocity Vs. Titleist Pro V1
Bridgestone's e9 golf balls are incredibly effective and versatile.
They have a Gradational Compression Core, Dual Dimple Technology, SlipRes Cover, Seamless Cover Technology, and a tough design.
The Gradational Compression Core produces great distance off the tee, while the Dual Dimple Technology improves launch and aerodynamics.
The SlipRes Cover offers superior greenside spin and durability, while the Seamless Cover Technology assures constant ball flight and control.
The Bridgestone e9 balls provide great performance and a well-rounded playing experience.
Pros
Impressive distance
Consistent ball flight
High durability
Enhanced Accuracy
Excellent greenside control
Cons
Hard Feel
Higher price point
The Srixon Soft Feel golf balls are renowned for their balanced performance. Their core is an energetic gradient growth core, which produces faster ball speeds for greater distances.
The 338 Speed Dimple design offers a steady ball trajectory and greater carry distances, while the Soft Feel balls provide precise shots around the green due to their exceptional greenside control.
These balls give players a soft feel, more distance, consistent ball flight, and outstanding greenside control.
Pros
Balanced performance
Consistent ball flight
Soft feel
Excellent greenside control
Cons
Read More: Srixon Soft Feel Vs. Callaway Supersoft
FAQs
What Compression Is a Taylormade Distance Plus?
The TaylorMade Distance Plus compression rating is 77, which indicates the stiffness of the ball's core. Golfers with slower swing speeds should use a ball with a lower compression rating, as it enables maximum energy transfer and enhanced distance. This can help them increase ball speeds and perform better.
What Compression Is Considered a Soft Golf Ball?
Soft golf balls typically have a compression value of 70 or below, which benefits golfers with slower swing speeds or those seeking more spin and control. Different golf ball manufacturers' compression ratings may vary, so it is important to check the precise compression rating provided by the manufacturer for accurate information.
Final Thoughts
So after my Taylormade Distance Plus review, I can confidently say they're among the best distance-focused golf balls in 2023.
Having the right golf balls that suit your game and playing style is necessary to perform better on the course. And who doesn't love a few extra yards off their tee? With this ball, that's exactly what you're getting.
TaylorMade promises distance with these balls, which is exactly what they deliver.
The Taylormade Distance+ golf balls are a viable option for high-handicapped golfers, especially beginners and senior golfers with relatively slower swing speeds looking for extra distance and consistency.

As a skilled golfer and wordsmith, Abdulmoiz brings a fresh and engaging voice to the golfing world. Whether he's on the course or at the keyboard, he strives to improve and inspires others to do the same.