Having the right tools is essential for any athlete; golf is no exception. Whether you're a seasoned professional or an amateur enthusiast, the right tools can improve your performance while helping you read and understand your game on a deeper level.
One such tool that's garnered attention in the golfing community is the Callaway 300 Pro Golf Rangefinder. As technology continues to revolutionize the sport, this state-of-the-art device promises to be a game-changer in terms of accuracy, and precision course reads.
In this comprehensive Callaway 300 Pro review, we'll delve into the key features, performance, and overall value of the Callaway 300 Pro Golf Rangefinder.
From its sleek, thoughtful design to its advanced tech, we'll explore whether this device deserves a spot in your golf bag or if it falls short of expectations.
Callaway 300 Pro Review: Overview
Pros
Accuracy—accurate within +/- 1 yard; one of the most dependable rangefinders we've played with
Optics—easy-to-read LCD display with 6X binocular display
Slope Adjustment Tech—automatically calculates and adjusts distances due to even the slightest elevation change
Game Improvement—Pin acquisition engineering locks onto your target from up to 300 yards away, with automatic alerts to improve your approach shots
Durability—well-made and built to last, the Callaway 300 Pro Golf Rangefinder is water and fog proof as well as weather-resistant and backed by a 2-year warranty
Cons
Speed—I found that the Pro Golf didn't grab pins as quickly as other, more expensive models
Tree Interference—can interrupt your rangefinder's ability to lock onto targets
Stabilization—no included stabilization tech and may prove inaccurate if your hands aren't steady
Scoring

Total Score
9.3
Accuracy
9.6
Battery
9.5
Look & Feel
9.2
Technology
9.7
Ease Of Use
9.3
Packaging
9.0
Value
9.0
The Verdict
The Callaway Golf Pro 300 Rangefinder is a cutting-edge device designed to enhance and improve your golf game. Released in 2014, the 2021 redux features advanced technology and precision engineering; this rangefinder offers you the tools you'll need to improve your game and make informed decisions.
The Pro 300 Rangefinder is among the best rangefinders for golfers looking to make accurate reads and even more accurate shots. Callaway—the U.S. golfing giant—continues to cement itself as a staple in the golfing community, both at the professional and amateur levels.
After extensive analysis, our Callaway 300 Rangefinder Review determined that the 300 Pro is an excellent, highly accurate rangefinder perfect for high handicappers, beginner golfers developing their game, or experienced golfers playing on unfamiliar courses with tough lies and varied slopes.
Who's It For?
For high handicappers, the 300 Pro Rangefinder can play a significant role in your club selection and bring your handicap and overall score down.
Callaway Pro Golf Rangefinder Specs

Weight
7 oz.
Size
4.25" W. 3" L. 1.75" H
Laser Range
5-1000 Yards
Magnification
6X
P.A.T Range
300 Yards
P.A.T Accuracy
+/- 1 Yard
Why You Should Trust Us
Our team spends thousands of hours trying out and researching golf equipment to help you take your game to the next level. Here's our product review process.
We can bring these reviews to you through the small commissions we earn if you buy through the links below.
How We Reviewed These Products
Golfspan only shares equipment and brands we trust.
I'm a PGA-certified golfer and instructor, and I thoroughly researched and evaluated the Callaway 300 Pro. Then an editor reviewed and fact-checked the review. Finally, we conduct regular content audits to update and revise our reviews to ensure you receive the latest information.
When researching this review, we considered these criteria:
Cost
Launch
Speed
Spin
Feel
Distance
Accuracy
Callaway 300 Pro Golf Rangefinder Review: Features & Benefits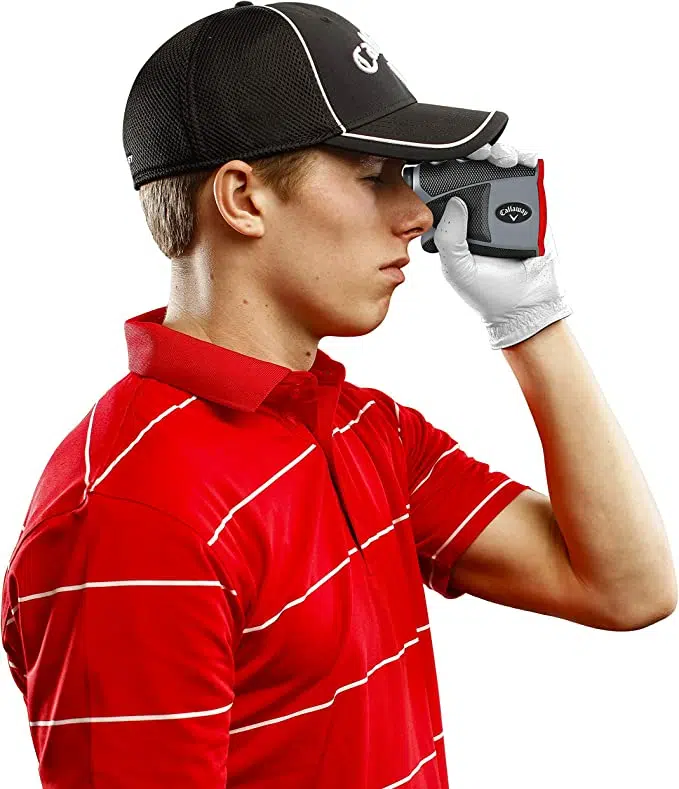 Impressive Range With Enhanced Accuracy
The Callaway 300 Pro features an LCD display with 6X binocular zoom and a range of 1000 yards. You can accurately read the course for even the toughest of Par-5s or the longest holes as you lower your handicap.
This impressive range with enhanced accuracy optimizes the performance of the 300 Pro Golf, where no matter the terrain, range, or skill level, you can expect precise reads above all else.
Slope Adjustment
Slope not only affects your swing's kinematics and output but also your ball's spin and the accuracy of your lie. You'll need to know what you're up against, as even the slightest change in elevation can hurt your stroke, accuracy, and overall score.
The Slope Adjustment takes the inherent accuracy of the 300 Pro up a notch, where your rangefinder automatically adjusts to slope settings, whether uphill or down. Even with the slightest elevation change, the Callaway Rangefinder 300 has covered you, ensuring your hold is secure and your swing stays sharp even at the steepest angles.
I found this feature especially helpful. This tech is a lifesaver for courses with many green bumps or harder-to-read slope changes.
Moreover, the Slope Adjustment has an external on-off switch, making it legal for tournament play.
Pin Acquisition Technology (P.A.T)
The state-of-the-art P.A.T engineering can lock onto your desired pin from up to 300 yards away. With the P.A.T design, you're given an exact measurement down to a minuscule +/- 1 yard, the standard across most rangefinders you'll find at play in the golfing world.
I'd recommend honing in on the flag rather than the pin, as most courses put a reflector strip or some form of indicator for rangefinders on their flags to make more accurate reads.
To use the P.A.T feature, simply aim your rangefinder at the flag and press the power button. After you've powered on, and if you're in birdie mode, you'll hear an audible chirp, an indicator that makes great scoring that much more exciting.
After you've heard the bird, you'll be given 2 numbers: the first being the true distance and the second being with the adjusted slope change. Once you've achieved the same numerical reading–and with the birdie sound—a couple of times on the same target line, you're good to fire away.
The precision of the +/- 1-yard reading paired with the 300 Pro's audible indicator and simplified, the 2-number display makes P.A.T shots easy and full of confidence; you'll notice an immediate difference in just how calm, cool, and collected you'll feel approaching the pin.
Look, Feel, & Durability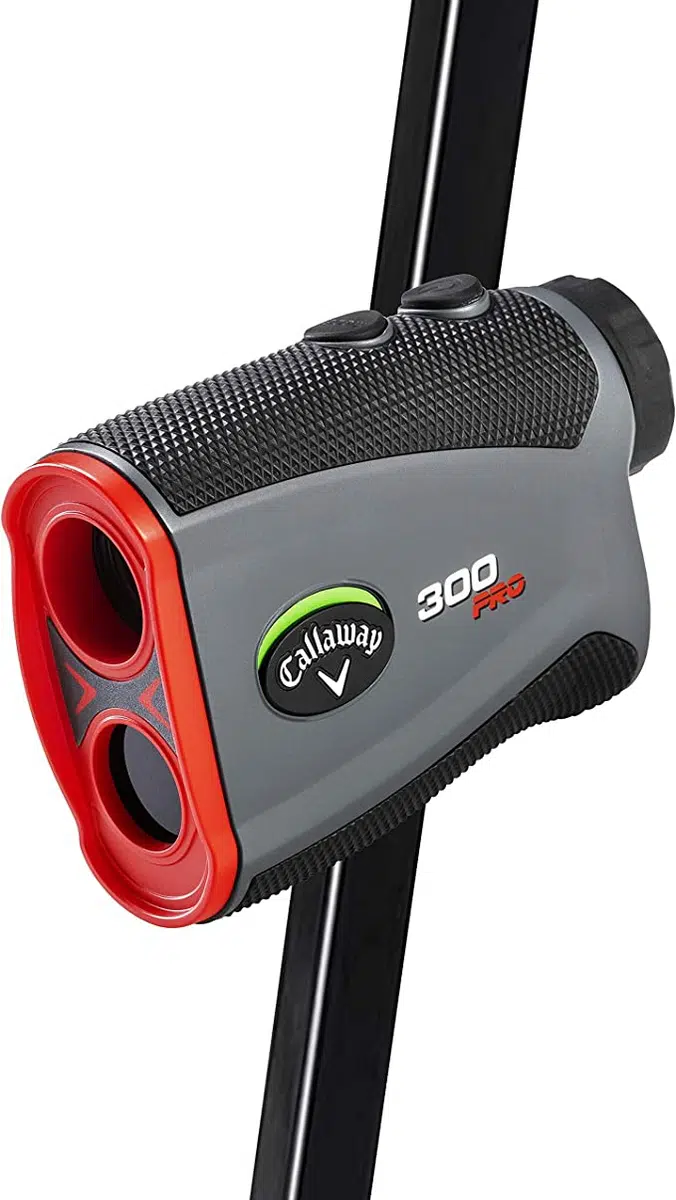 CHECK CALLAWAY 300 PRO PRICE ON AMAZON
Build
Coming in at only 4" wide and less than 2" high, this compact rangefinder will surely fit in any golfer's bag regardless of space constraints. This is also a lightweight, sleek rangefinder that's up there with other contemporary, stylish models, with the Pro featuring a stripe of polished crimson.
I found the rangefinder well proportioned and thoughtfully designed when using it, as you can fix the Pro to most other rangefinder holders that magnetically fix to your cart or club. If that's not enough, the Magnahold magnet can fix itself to any magnetic part of your cart effectively.
What's more, the case for the 300 Pro is a nice touch as it comes with its own hard-shelled case that provides additional protection from damage.
Water & Fog Proof
Not only does moisture affect all areas of your golf performance, it certainly can do a number on your equipment, causing warping to your clubs over time or simply short-circuiting your electronics well before their lifespan.
Luckily, the 300 Pro has a water-resistant outer casing that protects your rangefinder from fog, water, or otherwise damaging moisture buildup. This protective casing makes the Pro suitable for all playing conditions, whether sunny and 70° or a foggy 7 AM tee time.
Battery
With your purchase, you're getting an additional, powerful V3 battery and charger thrown into your purchase bundle; the Callaway will certainly be—and last as—your favorite rangefinder for many reads to come.
Callaway backs the 300 Pro with a limited, 2-year warranty if that isn't enough.
Callaway 300 Pro Alternatives
Callaway EZ Laser Rangefinder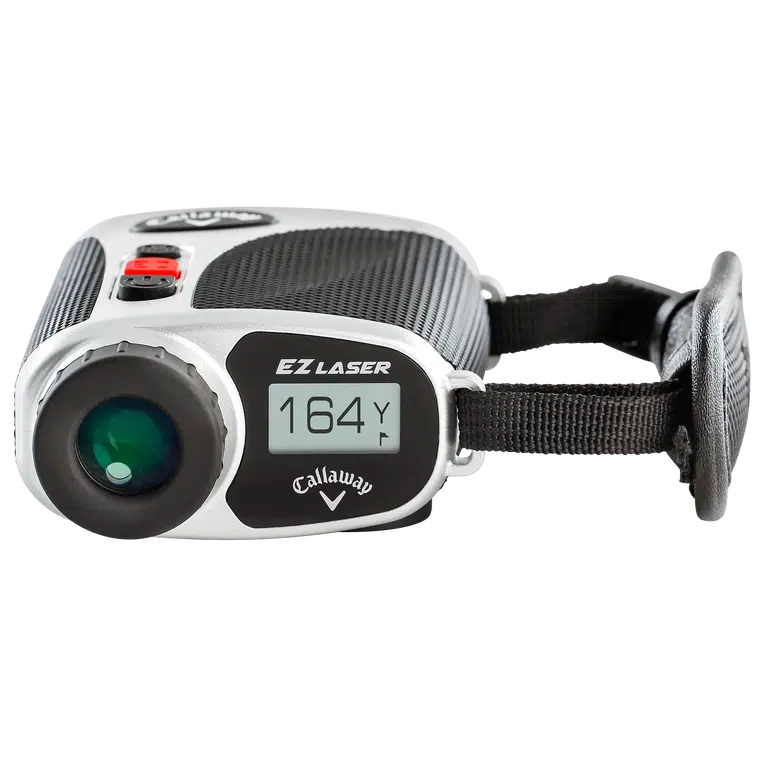 Pros
Exterior LCD display
Image stabilization technology and hand-strap
A larger variety of scanning modes
Cons
Less range, with P.A.T range at 275 yards and overall at 800
No external slope on/off
For the more experienced golfer looking for the best rangefinder, it's worth trying out the Callaway EZ Laser Rangefinder. Featuring multiple scanning modes, a flashy, exterior LCD display, and image stabilization tech, the EZ Laser is for golfers who love the accuracy of the 300 Pro, but want something a little more advanced to match their experience level.
Callaway 400S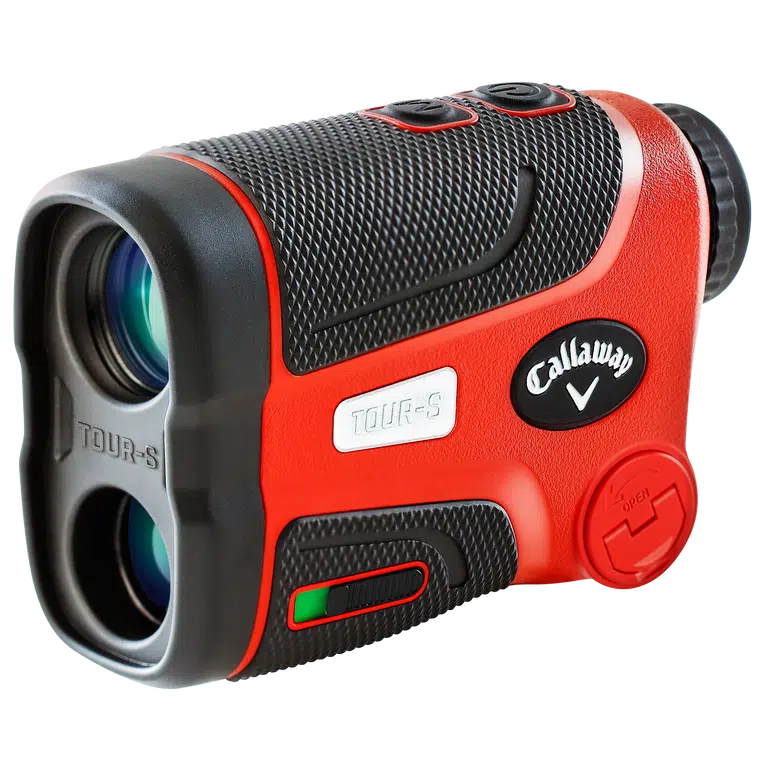 Pros
Superior accuracy at +/- 0.5 yards and 7X visibility
Lock onto pins at up to 400 yards away
Ergonomic design with an OLED red display
Cons
Premium price tag (triple the 300 Pro)
Online reviewers claim of occasionally sporadic yard-to-meter changes
For beginner golfers struggling with hitting accurate shots and want a rangefinder that gives them an even clearer view of the range to make the most informed reads, the 400S is the way to go.
The 400S has a bold, OLED red display where you're able to hit 7X visibility across the course, no matter the conditions. The P.A.T. grabs pins from up to 400 yards away, while the accuracy of the reads you'll find through the 400S is an astounding +/- 0.5 yards.
For more on Callaway rangefinders and finding the perfect one to match your needs, readh the full article.
Things To Consider Before Buying The Callaway 300 Pro Rangefinder
Speed
During extensive play-testing, I found that operating the 300 Pro tended to be a little slower than other rangefinders I've used, especially when locking on focuses.
Tree Interference
When playing on a course with taller trees near the pin, we found that the 300 Pro had trouble locking onto a given target. Usually, the system will climatize and work itself out, but the distance read's accuracy may be affected.
Stabilization
The 300 Pro's lack of stabilization tech may provide you with the occasional inaccurate read, especially if your hands are unsteady.
That said, if you're careful and steady when locking onto your reads, you'll get plenty of helpful, game-improving data back.
FAQ's
Does Callaway 300 Have Slope?
The Callaway 300 does have slope with slope detection technology that automatically adjusts for a given course's slope down to the slightest change in elevation. For high handicappers or golfers looking to read and predict lies accurately, this is a critical feature for your success and, in turn, lowers your score.
Does Callaway 300 Pro Have Magnet?
The Callaway 300 Pro features an integrated Magnahold™ magnet that works to quickly affix your rangefinder to your cart with a secure hold. For golfers that prioritize speed and efficiency in their equipment, this is a must to keep your rangefinder handy and in the spirit of ease of access.
How Do I Change My Callaway 300 Pro To Yards?
You can change your Callaway 300 Pro to yards by firstly powering on your rangefinder via the external power button. From there, hold down on the "mode" button where a visible Y for yards and an M for meters is displayed. Select Y for yards, and voila, it's just that easy.
Final Thoughts
With our Callaway 300 Pro Review, we set out to determine the functionality of the Pro by weighing its build, durability, tech features, and just how precise a reading it delivers. The 300 Pro rangefinder is all that and a bag of chips.
With accuracy down to +/- 1 yard and a powerful 1000-yard range paired with its cutting-edge slope advance tech and pin acquisition engineering, the 300 Pro Golf Laser Rangefinder is a weather-resistant, precise tool for golfers looking to be better and improve their game.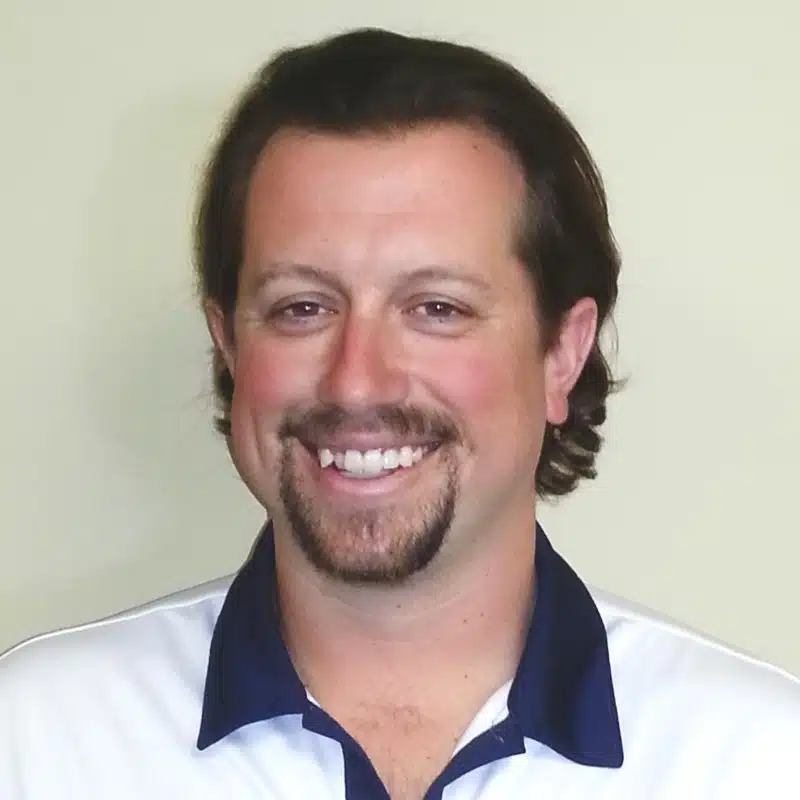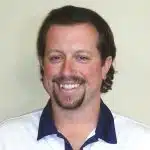 Clint became the Head Teaching Professional at one of Toronto's busiest golf academies and was featured on Canada's National Golf TV program, "Score Golf Canada," twice. He now tests and reviews golf equipment and gets to enjoy the game he loves whenever he wants while helping people lower their scores.