The most forgiving wedge must possess perimeter weighting, a wider sweet spot, versatile sole grind, and a consistent launch. Otherwise, amateurs will chunk and shank their shots or lose distance control around the green.
By the end of this review, you will know the top 10 most forgiving wedges for the 2023 season and learn how to select them. In addition, I introduce you to the specs, spin rate, sole grinds, and accuracy of each forgiving golf wedge this year.
Here is a quick rundown of what you can expect to learn in our most forgiving wedge 2023 review:
Top 10 forgiving wedges 2023 with specs, pros, and cons
What constitutes a forgiving wedge
How to choose the best forgiving wedge for your game
Which golfer suits each wedge.
Top 3 Most Forgiving Golf Wedges
Best Overall
Best Budget
Best Cool Belt
Cleveland CBX2
Wilson Harmonized
Tour Edge Hot Launch E522
Pros

Optimal forgiveness
Wider sweet spot
Consistent spin

Entry-level price tag
Easy wedge to strike with an open clubface
Limited turf interaction

High launching wedge
Impeccable turf interaction
Affordable

Cons

Minimizes workability on full shots
Superior golfers may demand higher spin

No alternative sole grinds are offered.
Glare proved an issue

The high-launching nature can hamper spin and forward momentum on some shots
No alternative sole grind options.

Price Score
90.1
96.5
89.7
Forgiveness
93.2
88.1
92.4
Spin
94.6
90.2
93.5
Feel
90.1
87.8
88.1
Rating
4.5 Stars
4.5 Stars
4.5 Stars
Why You Should Trust Us
Our team spends thousands of hours trying out and researching golf equipment to help you take your game to the next level. Here's our product review process.
We can bring these reviews to you through the small commissions we earn if you buy through the links below.
How We Reviewed These Products
Golfspan only shares equipment and brands we trust.
I've been playing golf for 28 years and thoroughly researched and evaluated the products shared below. Then an editor reviewed and fact-checked the list. Finally, we conduct regular content audits to update and revise our reviews to ensure you receive the latest information.
To select these wedges, we considered these criteria:
Cost
Forgiveness
Spin
Looks
Workability
Grinds
Turf Interaction
The 10 Most Forgiving Wedges in 2023
1. Cleveland CBX 2  – Overall Best Forgiving Wedge
Pros
Optimal forgiveness
Wider sweet spot
Consistent spin
Soft feel
Glare resistant finish
Cons
Minimizes workability on full shots
Superior golfers may demand higher spin
Specs
Lofts: 46 – 60 degrees
Sole Grinds: Low, Mid, Full
The Cleveland CBX2 wedge proved to preserve spin on mishits and prompt a consistent launch without impacting spin and feel. A hollow cavity back design pushes masses to the clubface perimeter to expand the sweet spot for maximum forgiveness on all shots.
Cleveland applied 3 sole grinds to the wedge to ensure optimal bounce from all degrees. Pitching through lob wedges are typically fitted with a mid-bounce Grind, while sand and lob wedges also carry a full Grind. Finally, lob wedges also feature a low bounce to help you get under the ball at contact.
Besides its bounce capabilities, Cleveland fitted the CBX2 with Enhanced Feel Balancing (EFB) Technology and a Gelback TPU insert. The EFB produced a soft feel on all strikes to enhance feedback, while the Gelback TPU insert damped vibrations on mishits for pure feeling.
In addition, the CBX2 sports a Fourth Generation Rotex clubface with Tour Zip Grooves and highly aggressive face milling. The grooves bite into the golf ball at impact and impart maximum spin. Conversely, the milled face increases friction to keep your ball on the clubface longer, maintaining spin on all shots.
A forgiving golf club is essential for inexperienced golfers prone to mishits. Bookmark our guide to the best wedges for high handicappers to improve your consistency around the green.
Rating: 4.5
2. Wilson Harmonized – Most Forgiving Budget Golf Wedge
Pros
Entry-level price tag
Easy wedge to strike with an open clubface
Limited turf interaction
Classic blade shape
Helps you get under your ball
Cons
No alternative sole grinds are offered.
Glare proved challenging
Specs
Lofts: 50 – 64 degrees
Sole Grinds: Special grind
Beginners require an affordable, versatile golf wedge that gets them airborne and provides enough spin for greenside control. The Wilson Harmonized wedges feature a simple construction, which lacks the perimeter weighting and enlarged sweet spot of other clubs. However, it is one of the easiest-to-hit wedges on our 2023 list.
Wilson engineers opted for a versatile sole grind, which proved a breeze to open my clubface and get the ball airborne. This is a challenge I find many beginners struggle with, and they often chunky their shot or catch the ball in the teeth.
The classic, polished Harmonized wedges are built to get under your golf ball from the fairway, rough, and bunker. As a result, you launch your ball high and stop it dead on approach for improved short-game control.
Despite their entry-level price tag, the Wilson Harmonized wedges hold well over time, thanks to their durable construction. The only downside of these wedges is the lack of perimeter weighting, which can cause undesirable results on off-center strikes. However, my performance proved consistent with these wedges.
Rating: 4.5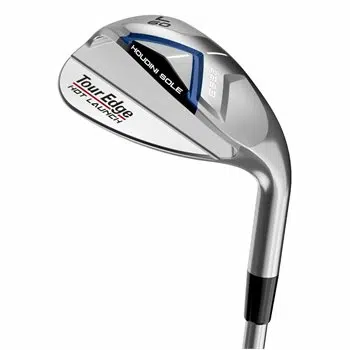 Pros
High launching wedge
Impeccable turf interaction
Affordable
Enlarged sweet spot
Built for beginners and seniors
Cons
The high-launching nature can hamper spin and forward momentum on some shots
No alternative sole grind options.
Specs
Lofts: 52, 56, 60 degrees
Sole Grinds: Houdini sole
Tour Edge is no stranger to creating forgiving and consistent spinning wedges for seniors and high handicappers. The Hot Launch E522 produces clean turf interaction, optimal spin, a high launch, a massive sweet spot, and exceptional turf interaction.
The patented Houdini sole design produced limited turf interaction from every lie to promote a clean strike and optimal playability. In my experience, the super wide sole helped me deliver cleaner contact with the ball for enhanced spin and speed on all shots.
I felt the sole combined well with the reduced center of gravity (CG) to promote higher shots which seniors and slower swing speeds may welcome. The launch is aided by the plus-sized clubface, which offers ample surface area for you to strike the ball and generate sufficient spin.
In my experience, the higher launch prompted a soft landing. While this was golden for me, lower handicappers may prefer a less flight. The Full Face Maximum grooves did provide ample spin, but superior golfers may demand more.
Rating: 4
Pros
Maximum Forgiveness
High spinning grooves
Promotes straighter shots
Reduces the risk of chunking your shot
Prevents spin drop off on mishits
Cons
The high bounce on the lob wedge did not suit me
No alternative sole grinds
Specs
Lofts: 46 – 60 degrees
Sole Grinds: Full and W-grind
The challenge with classic, compact wedges is that they possess no perimeter weighting resulting in a smaller sweet spot. This leads to diminishing spin on off-center shots and an erratic dispersion chart. The cavity-back Callaway Mack Daddy CB equips mid and high handicappers with all the consistency and leniency you need around the green.
Our best game improvement wedges are crafted in two sole grinds to enhance launch, spin, and bite on full and partial shots. Wedges carrying 46 to 52 degrees of loft feature the full grind for clean turf interaction on full pitching and gap wedge strikes.
The remaining sand and lob wedges contain a W-grind which offers increased bounce in the rough and bunker. This design reduces the risk of chunking your shot, promoting cleaner contact from tough lies.
Next, Callaway did an excellent job with their progressive groove setup producing a seamless transition from short irons to wedges. The pitching and gap wedge lofts carried conventional grooves. However, lofts weaker than 54 degrees sported full-face grooves for aggressive revolutions per minute.
Rating: 4
Pros
Encourages clean contact from the sand and rough
Delivers a controlled flight
Available in 3 sole grinds
Produces impeccable spin
Attractive aged copper finish
Cons
Priced at a premium
Slower swing speeds may prefer a higher launching wedge.
Specs
Lofts: 50 – 60 degrees
Sole Grinds: Low, Standard, High
A sand wedge is a versatile club that produces quality chips, pitches, flops, and bunker shots. Given the nature of its labor, most strikes are struck with an open clubface, which is tricky for amateurs to control. The TaylorMade Hi-Toe 3 is built for maximizing control and spin on open-face greenside shots.
The Hi-Toe design encourages crisp interaction with the sand and turf, and it helps golfers make cleaner contact with the ball using an open clubface. Plus, it pushes the CG higher, delivering a lower controlled flight and one bounce-stop spin, which mid and low-handicappers will welcome.
Besides its controlled flight, superior golfers will appreciate the three sole grind options and the aged copper finish. TaylorMade engineers designed the Hi-Toe 3 in a low, standard, and high bounce. The sand and lob wedges carry low and high bounce, while the regular bounce grind fits all wedges.
Next, I appreciated the soft feel and enhanced feedback produced by the Hi-Toe 3, thanks to its toe weight pad. Finally, the ZTP Raw grooves and Raised Milled Micro-Ribs generated exceptional friction and spin. Plus, they prevented spin decrease for consistent revolutions off the clubface.
Read about more high-spinning sand wedges in our review on the best 56 degree wedges.
Rating: 4
Pros
Prompts aggressive spin across the clubface
Improves friction on all shots
Produces lower, controlled flight
Delivers aggressive bite into the green
Versatile sole grind with moderate bounce
Cons
Expensive
No pitching or gap wedges in the set
Specs
Lofts: 54 – 60, 64 degrees
Sole Grinds: C-grind
High-spinning wedges arm you with the ability to attack the flag on short shots to get your ball to within tap-in range. The Callaway JAWS Full Toe topped the best forgiving wedges for spin, thanks to its sharp Full Face Grooves and micro Offset Groove-In-Groove technology.
The Full Face Grooves simplified the task of producing clean contact with an open clubface for optimal control on partial shots. In addition, the Offset Groove-In-Groove technology boosted friction at impact to limit velocity and spin drop-off.
My cause was further aided in open-face shots by the Full-Toe construction and C-grind sole, which produced moderate bounce to prevent chunked shots. I felt the versatile grind glided swiftly across all turf and sand to promote cleaner contact.
Lastly, Callaway engineers employed variable-weight ports to raise the CG for lower flight and an aggressive bite. While this may not appeal to slower swing speeds, it is welcomed by mid and low-handicappers.
Rating: 4
Pros
High MOI design for improved accuracy
Produces ample spin
The milled face boosts friction
Multiple sole grind options for sand and lob wedges
Prompts a low, controlled flight
Cons
The satin finish produced glare
Slow swing speeds may struggle for consistency with the lower launch.
Specs
Lofts: 46 – 62 degrees
Sole Grinds: Low, Mid, Full
High moment of inertia (MOI) wedges are essential for the average golfer who tends to rotate the clubface during your swing. Forgiving wedges like the Cleveland RTX ZipCore resist twist to keep your clubface square to the target at impact and deliver greater accuracy.
The high MOI design helped me deliver straighter shots more consistently than its competitors for improved short-game accuracy. In addition, the elevated MOI enabled the engineers to raise the CG for a low, controlled flight that bites hard upon landing.
Cleveland offers the RTX ZipCore in three sole grinds ranging from low to mid and full. Pitching and gap wedges only offer the mid-grind, while sand and lob wedges provide the choice of all three.
I felt the UltiZip grooves generated more spin than the Cleveland CBX 2. The reduced gaps between each indentation and their durable, heat-treated finish provided sufficient friction to limit spin drop-off. The sharp, deep, narrow grooves improved contact on each shot.
Rating: 4.5
8. Ping Glide 4.0 – Best Wedge For Full Shots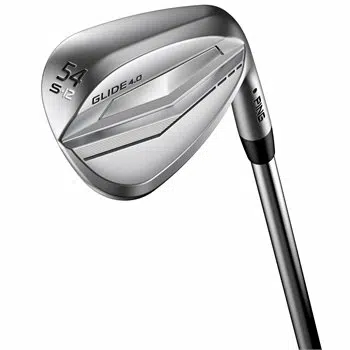 Pros
Optimal turf interaction for clean strikes from any lie
Produces a lower flight
Generates ample spin
Greater friction at contact
Compact, clean profile.
Cons
Expensive price tag
No alternative sole grind options for pitching and gap wedges
Specs
Lofts: 46 – 60 degrees
Sole Grinds: S, W, T, E
Full wedge shots require a sole that ensures clean turf interaction to glide over any surface and promote clean contact with the ball. The Ping Glide 4.0 proved one of the most effortless wedges to hit on full shots in 2023.
The Glide 4.0 pitching and gap wedge are fitted with an S-grind sole, balancing trail edge, and heel relief. In addition, it prompts sufficient bounce to prevent you from chunking full short shorts. In my case, I produced consistent contact from the rough and fairway, even when I miscalculated the low point of my swing.
Ping applied grooves with a 20-degree sidewall and 0.005-inch edge radius to the stronger lofted wedges for a controlled launch and maximum bite. The milled grooves also improved friction to prevent spin loss on off-center strikes.
Besides its turf interaction and spin, the Ping Glide 4.0 wedges present a classic, compact profile for an attractive appearance. Finally, the 8620 carbon steel and an Elastomer CTP insert combination encourages a soft feel and crisp acoustics on short game shots.
If you are looking for a reliable club to hit short full shots, read our review on the best pitching wedges.
Rating: 4
Pros
Glare resistant finish
Progressive groove design for optimal launch, flight, and bite
Easy to hit wedges with an open clubface
Multiple sole grinds on offer
Generates consistent spin
Cons
Moderately expensive
No alternative sole grinds for the 48, 50, and 54-degree wedges
Specs
Lofts: 46 – 60 degrees
Sole Grinds: Low, Mid, Full
Glare-resistant wedges are recommended for golfers with weaker eyes, like mine. Consistent glare distracts you at address and during your swing, obliterating your focus. The King Cobra Snake Bite wedge, with its black QPQ finish, kept the rays at bay for enhanced focus on each short shot.
I found the Snake Bite was more effective than just preventing glare. The grooves on this model are 40% sharper and 11% deeper, which does wonders for spin consistency, control, and bite. However, the weaker lofted wedge sport shallow, wide full-face grooves to ensure superior contact on open-face strikes.
Cobra engineers employed three sole grinds in the Snake Bite range for minimal turf interaction and chunked shots. The 48, 50, and 54-degree wedges are available in the versatile grind. On the other hand, other options throw a wide-low and classic Grind into the mix.
Personally, I find high handicappers stand the best chance with the versatile grind. However, lower handicappers should thrive with the widelow and classic design.
Rating: 4
10. Ping ChipR – Best Wedge For Greenside Shots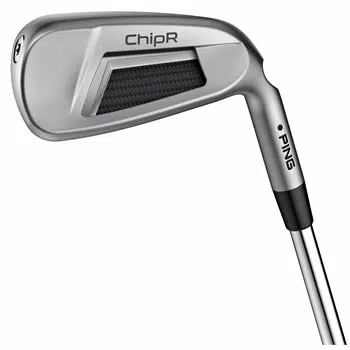 Pros
Built for bump and run shots
Use your putting stroke to strike the ball
Enhanced sweet spot
Maintains velocity and topspin on off-center strikes
Promotes a square clubface at contact
Cons
Expensive club for a one-trick-pony
You cannot hit flops or bunker shots because of the low loft.
Specs
Lofts: 38.5 degrees
Sole Grinds: Cambered sole
Closing out our list of most forgiving wedges in 2023 is a niche club that adds value to seniors and beginners. The Ping ChipR is specifically built to induce leniency and consistency on shots from the fringe of the green. This is not a typical wedge, as its loft suggests. You cannot hit flops and bunker shots, but it is a master of the bump and run.
The low loft and weight of the clubhead enable golfers to produce a putting stroke and keep the ball down as it runs up to the cup. My playing partner, who is in his mid-50s, swears by the ChipR. After years of suffering from yips, this chipper helps him not overthink each shot. He only strokes it and watches it run.
Adding to its consistency is a perimeter-weighted clubhead which sheds mass around the clubface to expand the sweet spot. As a result, you preserve topspin and ball speed on off-center strikes for optimal distance control.
Finally, the Ping ChipR strays from the golf chippers of yesterday, which were chunky and a pure eyesore. The 38.5-degree ChipR carries a compact profile that is pleasant to look at and ensures maximum stability at contact.
Rating: 4.5
What To Consider When Purchasing The Most Forgiving Wedges
Forgiveness
Golf wedges offer forgiveness in different areas, and some offer more than others. If you are a beginner or high handicapper, you may prefer a cavity back wedge with an enlarged sweet spot. These wedges will preserve spin and speed on mishits and promote high launches to help you get airborne on each shot.
In addition, a forgiving, cavity-back wedge contains a higher moment of inertia (MOI) to boost stability and restrict face twisting. The outcome is consistent spin and speed at impact for improved distance control and accuracy.
Conversely, mid and low-handicappers may seek forgiveness through a high-bounce wedge to prevent chunking shots. Or, they may seek a higher center of gravity (CG) wedge, improving contact at impact and lowering your ball.
Loft
Wedges vary in lofts from 46 degrees on the low side to 62 degrees on the high side. A 46-degree wedge is a pitching wedge, while a 62-degree option is a lob wedge. At the very least, I always suggest carrying a pitching and sand wedge.
However, depending on your preferences, you may seek a gap or lob wedge. When selecting your wedges, avoid severe loft gaps for greater distance control. For example, I play a 46-degree pitching wedge, a 52-degree gap wedge, a 56-degree sand wedge, and a 60-degree lob wedge.
Notice how there is never more than a 6-degree gap between each wedge, which limits the risk for yardage gaps.
Spin Rate
If you struggle to produce wedge spin with your current setup, you need a forgiving wedge that increases revolutions. I recommend searching for wedges with a full-face groove structure.
The broader grooves encourage consistent contact on open-face shots. Plus, when the indentations are sharper, deeper, and narrower, they impart aggressive spin on your ball for hop and stop control.
Besides the grooves, it helps to operate with a high friction wedge, which prevents spin and speed drop-off on mishits. Friction is elevated by the milled face between each groove, and averts a loss of spin and distance control.
Flight
In my experience, the most forgiving golf wedges carry a low CG to ensure an effortless, high launch on all shots. However, that does impact your spin rate and can lead to a loss of control for lower handicappers.
Therefore, one must determine that a high-launching, forgiving, consistent wedge trumps playability, spin, and control of low-flight wedges. I recommend slower swingers stick to the lower-ball flight wedges.
Turf Interaction
Finally, a forgiving wedge must possess a sole grind that prevents you from chunking your shots. In addition, I recommend looking at versatile sole Grinds, which produce quality full shots and make it easier to strike the ball with an open clubface.
Experienced players may prefer a broader selection of sole grinds for different shots and conditions. However, the average golfer should not spend too much time fretting about grinds and stick to versatile, forgiving setups.
FAQ
What Is The Easiest Golf Wedge To Hit?
The Tour Edge Hot Launch E522 is the easiest golf wedge to hit because of its undercut cavity, low and back CG, and Super-Wide sole. It provides clean turf interaction to prevent chunking your shot, while the full-face grooves promote clean contact on open-face wedge shots.
Which Wedges Are Most Forgiving?
Golf wedges with cavity backs and perimeter weighting, like the Cleveland CBX 2 and Callaway Mack Daddy CB are the most forgiving. These wedges carry an enlarged sweet spot to preserve spin and ball speed on mishits. Plus, their high MOI construction encourages straighter shots.
What Is The Best Wedge For A High Handicapper?
A forgiving wedge with perimeter weighting, low and back CG, and sharp grooves suit high handicappers. The Cleveland CBX 2 ticks all these boxes as it offers maximum forgiveness, consistent spin, a higher launch, and a soft landing.
Conclusion
Although the levels and types of forgiveness differ between game improvement wedges, they all aim to produce optimal spin, launch, and accuracy around the green. I found that cavity-back golf wedge constructions, with versatile sole grinds and expanded sweet spots, offered the most forgiveness.
Without a forgiving wedge, golfers experience spin drop-off on mishits, a loss of accuracy, and erratic shot dispersion. While all the wedges on the list were lenient in their respective categories, the Cleveland CBX 2 proved the most forgiving wedge of 2023.
The cavity back design, expanded sweet spot, and higher launch make this a super lenient wedge for the average golfer. If you want to take a closer look at our most forgiving wedge this year.
Read More: