Optishot is an award-winning golf simulator system that is built to suit most golfers. It offers a wide range of golf simulator solutions ranging from their entry-level Optishot2 to a range of complete solutions including a hitting mat, net, enclosure, and projectors.
The Golf In A Box range includes a full solution ranging from the entry-level Golf In A Box competing with some of the most affordable packages in the market to the Golf In A Box 5. The range comprises 5 different packages ranging between $799 and $5000.
In this review, we will look in detail at the most affordable of these solutions.
If you are a golf fanatic wanting to have hours of fun and have some spare space, the Optishot Golf In A Box will provide all the components for you to get started.
The package includes a golf hitting net, hitting mat, training simulator system, and more. A set of world-renowned courses offering you an authentic 3D experience and the ability to compete in a 4-player competition against friends and family.
However, you don't need family members or friends to complete your golfing experience. There are sufficient software options to keep you in practice during the freezing winter months or compete with golfers from around the globe.
Setting the system up is a little time-consuming as can be expected when building an enclosure. This does not mean that it is a complicated process that will take a team of workers weeks to complete. Detailed instructions are provided to guide you through the process.
Once the setup is complete, it is easy to maintain and use.
OptiShot Golf in a Box Review
What Is Included In Golf In A Box?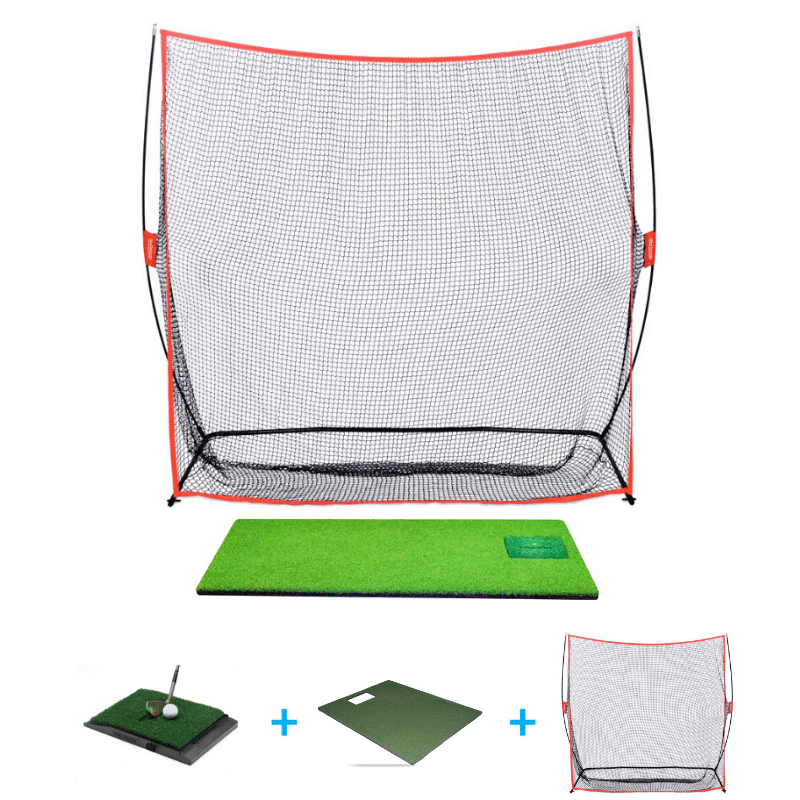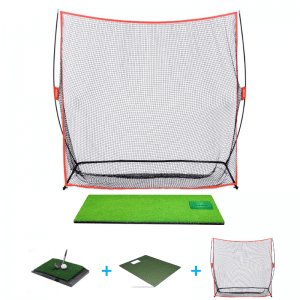 Optishot2 Infrared Optical Swing Pad
Optishot2 Software must be downloaded
15 Courses Included
Driving Range
10 foot USB Cable
Adjustable Rubber Tees
Two Foam Practice Balls
Instructions
1 Year Warranty – Optishot2 Simulator
Free Software Updates
Optishot Hitting Mat
Optishot Full Portable Hitting Net
Warranty
Optishot offers a 1-year warranty from the date of purchase on the Swing Pad including the base, internal electronics, and black plastic housing
Additionally, it offers a 30-day warranty from date of purchase on the Golf Mat, Net, USB Cable, Tees, Tee Gripper, Foam Balls, and Turf
Room Size Requirements
To get maximum enjoyment out of your Optishot Golf In A Box you need a room that is at minimum 10 feet wide, 15 feet long, with the ceiling at least 10 feet high if you want to hit your driver. If you are only planning to use your irons, the ceiling height can be reduced to 8 feet high.
OptiShot Golf Mat
Optishot's s hitting mat is manufactured in the USA and made from high-density foam with a turf-like surface. It measures 5 feet wide, 4 feet long, and 1 3/8 inches high/thick. The mat is designed to integrate flush with the Optishot 2 simulator providing a perfect fit to get the full experience.
The turf can be replaced if damaged by continuous contact with the golf clubs.
There are 16 48MHz infrared sensors placed behind the clubface at address that tracks the club swing path and 16 48MHz infrared sensors at the end of the mat to track clubface data.
A USB port on the side of the mat connects the mat to your computer.
Tip: The accuracy of your shots depends on the sensors picking up your clubhead during the swing. Cleaning your clubs before the swing or adding reflective tape to your clubhead will improve the performance of the system.
OptiShot Golf Net
To protect the areas surrounding the simulator from bouncing real golf balls, OptiShot includes a durable hitting net to absorb the impact of golf balls traveling up to 180 mph.
Setting the net up is straightforward and only needs to be done with the initial setup. Moving the net is made easy as the package includes a convenient carrying case for traveling and storage.
The space required for the golf net is 7 feet high, 10 feet wide, and 3 feet deep.
The Plus Net is available as an option. This is the only golf net that automatically returns the ball to you. Fast swingers will benefit from the Plus Net as it can absorb shots up to 225 mph. The size of the Plus Net is 7 feet 6 inches high, 8 feet wide, 3 feet 6 inches deep.
Attachable Impact Screen
For a full simulator experience, you can replace the net with an attachable impact screen that attaches to the net with Velcro tabs making the installation a breeze.
Minimum System Requirements
To operate the system effectively Optishot recommends the following minimum requirements for Windows or Mac.
Internet connection is required for software installation, updates, Platinum course delivery, and online play
Windows Minimum System Requirements:
Windows® 8 or 10 (latest service packs)
Graphics Card: 256MB available Adapter RAM with OpenGL 2.0 support and the latest Video Drivers (no more than 18 months old)
3GB Hard Disk Drive Storage
4GB RAM
USB 2.0 port
Mac Minimum System Requirements:
Mac® OS X 10.13 and up
Intel® Core 2 Duo or better
NVIDIA® GeForce® 8600M GT or ATI Radeon™ HD 2600 or Intel Iris Pro or better
OpenGL 2.0 Support
3GB Hard Disk Drive Storage
4GB RAM
USB 2.0 Port
Courses Included
Optishot Golf In A Box includes the 15 courses that come standard with the Optishot 2 system. Additional premium courses can be purchased to increase the variety and difficulty
The Golf Club Scottsdale (The Golf Club Scottsdale)
Long Island Black (Bethpage Black Course)
Torrey White (Torrey Pines Golf Course)
Torrey Black (Torrey Pines Golf Course)
Palm Desert Mountains (Bighorn Mountains Course)
Palm Desert Canyons (Bighorn Canyons Course)
Barsebäck Golf Club (Barsebäck Golf & Country Club)
Black Mountain (Black Mountain Golf Club in Hua Hin)
The Canadian Club (St. George's Golf and Country Club)
Österåkers Golf Club (Österåkers Golf Club)
West Maui Plantation (Kapalua Golf – The Plantation Course)
Warwick Hills Golf & Country Club (Warwick Hills Golf & Country Club)
Fylde Links (Royal Lytham & St. Annes Golf Club)
Cogs Corner (Cog Hill Golf & Country Club)
Twisted Twig (Crooked Stick)
Set-Up
Setting the Golf In A Box is straightforward. Optishot provides clear instructions to enable you to complete the setup within a couple of hours before you can enjoy it for years.
After the purchase, a link will be sent to you to download and install Optishot Live software. Link the Optishot mat to your computer via the USB port on the side of the mat, download and install the software.
You can link your computer to a TV or projector via an HDMI cable to display the high-definition images of the course that you are playing.
Golf In A Box requires you to set up the hitting mat and golf net or impact screen before hitting shots.
Now all that is left is for you to swing and enjoy.
Ease Of Use
Scrolling through the menus will provide information on the various options available and some of the shortcuts that make your life easier.
Newbies to the Optishot range of simulators are well-advised to use the driving range option to get familiar with the way the system operates and dial in the distance that registers for every club
You will be required to set up the clubs in your bag and the distance associated with every club.
For increased accuracy, you are able to fine-tune your distances by changing the 'swing speed percentage'.
Graphics/Sound Effects
Graphics on the Optishot Golf In A Box package is effective and clear.
A flyover is provided when you start a hole to provide you the opportunity to determine whether there are any hazards between you and the green.
Detailed graphics shows moving water, drifting clouds, tee boxes ahead of your tee, and other relevant detail. No persons are shown on any of the graphics, but you will hear them applaud when you hit a good shot or score a birdie.
Sound effects include some bird songs and cheering spectators.
Final Thoughts
Golf-In-A-Box provides all the basic equipment you need to set up your mancave to provide hours of fun with family and friends.
It is possible to increase the functionality by investing in a return net, impact screen, or a projector, but this is optional.
Your experience with golf simulators, especially the Optishot Golf In A Box range, will be highly appreciated in the comments section below.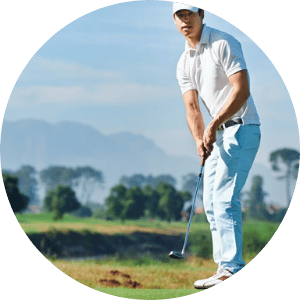 Nick Lomas is the founder of GolfSpan, an avid golfer, not quite a pro but has over 15-years of experience playing and coaching golfers from all over the world. His mission is to bring the golfing community a better experience then it comes to choosing the right golf gear, and finding the right set up for your game.