We all want to improve our golf game. While golf is a complex sport, good equipment will make a significant difference to your game.
Irons are the clubs you often use the most so a good set is essential. There are many good options available but we will take you through some of the better options for your needs.
Unless you are a pro, you will find some benefit in these sets. These are game improvement drivers that will suit all but the top golfers.
Things to consider before buying a quality set of irons
One of the aspects of golf that makes it such an amazing sport is that each player is unique. As such, there is no one size fits all when it comes to equipment.
Fortunately, we are spoilt for choice and there is a wide range of options available.
For those fortunate or skilled enough to drive the green, the rest of us use our irons a fair amount.
Here are a few things to look out for when selecting a set of irons
Type
Game Improvers
These irons are more forgiving and will help reduce off-center hits and mishits. They are designed to be forgiving and help most golfers get around 18 holes with fewer issues.
Players Irons
These are normally blades and are for more experienced golfers with greater accuracy. They are way less forgiving.
Hybrids
These have become popular and are generally purchased separately. They have a large profile for additional forgiveness and most have a good launch. High handicap players might enjoy these but they lack the playability of good irons. They are particularly useful for those that battle with the longer irons.
Loft
This is something that many mid to high handicappers struggle with and these irons will all help with that. They are designed for an easy launch and decent loft.
Shaft
This is something that is often only analyzed with drivers but is equally important with irons. Shafts can be graphite, steel or multi-material. Each has its advantages and disadvantages so find the one that suits your game best.
Also important when selecting irons is the weighting as well as the loft of the individual irons.
Here's a video to guide you in your iron choice:
Callaway X20 Irons Review
Callaway Golf Men's X-20 NG Irons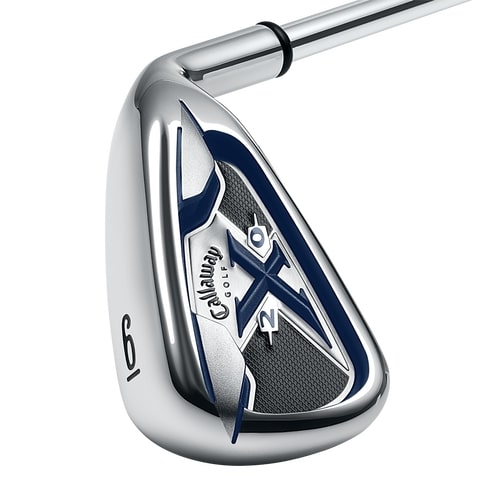 The X20 Irons by Callaway can probably best be described as game improvement irons. The consistency and accuracy, as well as the easy launch, will suit most mid to high handicap golfers and they are ideal for serious beginners wanting to invest in a quality set of irons.
A real deal sweetener is that they happen to be really good value for money. The durable build means they will last you for many years of golfing enjoyment. In the looks department, they impress too and certainly do not look like budget irons at all.
While you might find some more forgiving irons on the market, these are great all-rounders that hit the ball solidly and fairly high.
The cavity has notched weighting and the low center of gravity that will minimize errors and improve stability and consistency. The thick top line inspires great confidence at address.
The sole is narrow and the head relatively compact so they are great when you have a tricky lie. Most players found improved distance with the X20 Irons.
Despite being designed for players on the mid to high handicap level you still get decent control and playability with these irons.
Pros
Great value for money
Extremely accurate
Good balance and feel
The low center of gravity improves stability and reduces errors
Uniform impact across the face
Cons
The irons do not have the Callaway Tru-Bore® Technology
Not quite as forgiving as comparative irons
Longer irons tend to launch rather high
For more information and some feedback from Callaway, check out this video here:
Callaway X-20 NG Irons
A slight variation of the X-20 is the x-20 NG set of irons. The main difference is the groove design that conforms to the latest USGA requirements.
This is only necessary if you will be playing on tour otherwise it need not be a concern.
The other notable difference is the undercut channel. The X-20 has a 360-degree undercut while the NG set has a 180-degree undercut.
Apart from that, there is nothing much between the two sets.
Click here to view the best deals on the Callaway X-20's
Alternatives To The Callaway X20
You always want to compare a few options when investing in a set of irons. Here are 3 other options that compare well to the Callaway x-20 Irons.
Ping G700 Irons
Easy launch
Great distance
Forgiving
Ping claims their G700 Irons to be their "longest, highest-flying iron to date" something that will appeal to most golfers.
These irons are designed with a hollow-body and a relatively thin face. It is well weighted on the perimeter and designed for forgiveness, power and lift.
The hollow design gives the irons a decent sound on impact and the feel is great. Aesthetically, the clubs look the part and most players enjoy the design.
They are easy to hit and launch and will deliver impressive ball speeds for greater distance. The irons are suitable for a wide range of golfers but are probably more suitable to mid to high handicap players.
They are not the cheapest irons available.
Read our Ping G700 Irons Review
Wilson C300 Irons
Very forgiving
Good distance
Great playability
Look great
These are seriously good looking irons that are great game improvers. They are slightly more reasonably priced than the Ping G700 sets and are super forgiving.
Having said that, they still offer a fair amount of playability so they are not just for the high handicappers.
Apart from forgiveness, you will get a great feel and good distance with these irons. The main technology in these irons is the Wilson is their exclusive FLX Face™ Power Hole technology.
This has been further enhanced by the new Power Holes which form a double row on the sole of these irons. These will help with forgiveness and distance while still allowing for playability.
The flex maximizes power across the face of the irons for forgiveness, accuracy, and distance.
Some golfers were not crazy about the wedges in the set but then these days, most people buy separate wedges specific to their needs and swing.
Mizuno JPX 900 Forged Irons
Speed and distance
Accurate
Versatile
Good spin for playability
Another great set of game improvement irons is the JPX 900 set from Mizuno. They have used variable face thickness to reduce weight on these forged head irons. Boron steel improves ball speed and therefore distance.
The MOI is greater thanks to the perimeter weighting. Mizuno has also used variable face thickness to reduce weight on these forged head irons.
Boron steel, along with the design, all0ows for faster ball speeds and therefore greater distance.
The MOI is greater thanks to the perimeter weighting. This improves accuracy and reduces twists while minimizing the negative impact of off-center strikes.
The design makes these irons more versatile and while they are game improvers, they will still find favor with many lower handicap players.
Good spin is achievable for those that want to work it.
Read our Mizuno JPX 900 Review
Don't rush into your decision to purchase a new set of irons. While all of the options we have looked at are serious game improvers that are bound to lower your average score, find the set that is right for your style, your requirements, and your budget.
Conclusion
While many golfers spend a lot of time and money investing in their driver and possibly their putters, most golfers will use their set of irons more than anything else.
Quality irons are essential and if you are trying to shave a few strokes off your game then a set of game improvers will be a good start.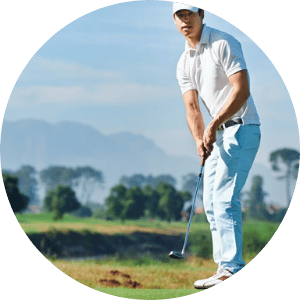 Nick Lomas is the founder of GolfSpan, an avid golfer, not quite a pro but has over 15-years of experience playing and coaching golfers from all over the world. His mission is to bring the golfing community a better experience then it comes to choosing the right golf gear, and finding the right set up for your game.