All major manufacturers now offer golf balls in color. In this post, we are conducting a Callaway SuperHot Bold review to see if they are worth giving up the white ball for.
Although the first colored golf ball was released to the market in 1923, traditional golfers did not take them seriously until 1982. That was the year that Wayne Levi and Jerry Pate won PGA tournaments using an orange ball.
Things To Consider Before Buying Golf Balls
Shopping for golf balls in the modern game requires some research and planning. The golf ball has come a long way since 1905 when William Taylor invented the first dimple golf ball.
There are now golf balls for every type of player at a variety of price points. Whether you are on a shoestring budget or price is irrelevant. You can find what you need.
I have put together a few tips to help you identify the best ball for your game.
Budget
Before you start looking at specific features, I suggest understanding how much you can spend, and how many balls you will need.
Premium balls will set you back anywhere from $40 to $50 plus for a dozen. That may not be the best option if you tend to donate balls to the hazards on your home course, frequently. Those of you on a tight budget, can pick up a box of twelve balls for under $20.
Performance
What part of your game requires the most help? Do you need a ball that sits quickly on the greens or would you prefer less spin on drives and long iron shots? Premium golf balls now offer less spin on long shots, and enhanced spin on approach and chip shots.
After answering the above questions, you then need to identify the characteristics of the ball best suited to your game.
Covers
There are two broad categories of golf ball covers, urethane and ionomer polymers. Urethane is naturally softer and is used to enhance the spin capabilities of a ball, enabling soft landings into greens. You will find that most premium golf balls are fitted with urethane covers.
Ionomer covers are slightly firmer in nature and were created to ensure less spin on your longer shots. If you want a ball solely for distance, this may be the material for you.
Durability
In all the years that I have been testing golf balls, I have noticed one main trend. Ionomer-covered golf balls don't tend to be as durable as the urethane option. At the end of the day, that would explain why golf balls with ionomer covers are more affordable.
Dimples
Golf ball dimples differ in quantity and shape. They are crafted to provide varying levels of flight, which will impact your carry and total distance. Golf ball dimples are found in three shapes, Tetrahedral catenaries, hexagonal and quadrilateral dipyramids.
Tetrahedral catenary dimples give golfers a more consistent flight which helps with softer landings into greens. If you frequently play courses with tight greens, it is worth considering a ball with these dimples.
If you are looking for distance then, keep reading. Hexagonal dimples cover the entire surface of a ball, resulting in a symmetrical design that reduces drag and enhances your launch and the aerodynamics of the ball.
Finally, those of you looking to achieve a penetrating flight for increased roll should look for a ball that has quadrilateral dipyramid dimples.
Callaway Superhot Bold Review
Great for Slower Swing Speeds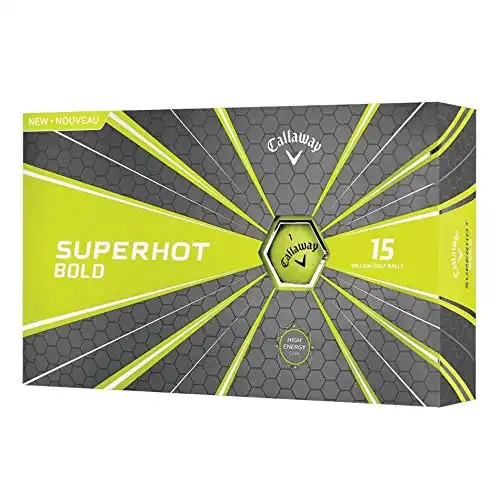 The Callaway Superhot is a 3-piece ball, with 332 dimples, and was crafted to offer you a steady flight, resulting in further carry and longer distance.
The Superhot range is available in two options, superhot and superhot bold. Both balls offer you the same performance features, however, the Superhot is white, while the Superhot Bold's are sold in Matte-red and Matte-yellow. Despite the cosmetic differences both the Superhot and Superhot Bold's run at the same price point.
Callaway used a trionomer cover for the Superhot, which is a type of ionomer polymer, commonly featured on distance golf balls. Ionomer covers are a regular feature on entry-level to mid-range priced balls. As is the case with the Superhot. Traditionally these covers result in a harder feeling ball, but the ionomer on this ball has been manipulated to provide a soft feel.
Despite the ball's trionomer cover, the Superhot is meant to enhance your spin and control around the greens. I found that the ball struggled to stop on long and mid-iron shots.
Let us take a look at the features of the Superhot, and identify where it can benefit the average golfer.
Callaway Superhot Bold Specs and Benefits
High Energy Core
At the center of the Superhot sits a high-energy core, inserted to amplify your ball speed. The increased speed helps golfers with launching the ball skywards to achieve more carry and longer distances.
Low Drag Hex Aerodynamics
Callaway has used their low drag hex aerodynamic technology to fit 332 dimples across the entire surface of the ball. The design reduces the drag of shots and helps you get the ball in the air faster. Once airborne, the ball is kept in the sky for longer as a result of a stronger flight.
Compression
The Callaway Superhot Bold compression rating is 55, making it a mid to soft feel golf ball. Excellent for providing distance on long shots, and spin around the greens. I have found that softer compression balls spin better if they have urethane covers, used on premium golf balls.
The Superhot Bold's have an ionomer cover, and I found that I was not receiving the level of spin I need around the greens.
Durability
The trend of ionomer being less durable continued with the Superhot Bolds. I started notice that the cover was disfigured after 6 holes.
However. based on a price of $2 a ball, you can't complain about the durability. If you only need to switch out a ball every 6 holes, that's only $6 a round in balls, if you don't lose any others.
Color and Cost
Callaway Superhot matte golf balls are available in red and yellow. You also have the option of the traditional Superhot's which is of course white. Unlike the majority of golf balls on the market, these balls are sold in boxes of 15.
Alternatives to the Callaway Supersoft vs Superhot
1. Callaway Supersoft
The Supersoft is a super low compression ball, with a rating of 28. The 2-piece design is created to reduce your side spin on longer shots, giving you a straighter launch.
Like the Superhot Bold, this ball has a trionomer cover that features Callaway's legendary low drag hex aerodynamics to minimize drag and enhance your loft.
Carry and total distance measurements match what you would achieve with the Superhot Bold, as a result of the hex aerodynamics, and the same quantity of dimples on the ball.
The higher ball flight you enjoy with the Supersoft helps the ball to bite quickly around the greens. The ball flight compensates for the reduced level of spin to still provide everything you need from tee to green.
As a result of the Callaway Supersofts amplified trajectory and straighter launch, it is best suited to players that swing a driver under 95 mph. The additional assistance to get the ball airborne and traveling consistent distances is well worth the $22.99 a dozen on Callaway.com.
If you would like to see how the Superhot's compare to the Supersoft's you can read our Callaway Superhot vs Supersoft review, for more detail.
2. Callaway Chrome Soft
Chrome Softs are Callaway's premium golf ball. The 3-piece creation contains a graphene-infused dual SoftFast core, a high-speed mantle, and a thin urethane cover.
The inner core prompts a higher launch and lower spin. While the outer core is fitted with graphene to enhance the ball's durability and wedge spin.
Unlike the Superhot Bold, this ball contains a thin soft urethane cover. The polymer material offers lower spin on long strikes and higher spin on shots around the green.
The Chrome Soft offers an all-round performance, giving you distance on longer shots, and high spin around the green.
While this is every golfer's dream, I recommend low mid to high-low handicappers to consider this option.
3. Callaway Chrome Soft X
Chrome Soft X's share a similar composition to the Chrome Soft's. However, it is the performance of the ball and the compression where we begin to notice a difference. Chrome Soft X's have a compression rating of 95, which is 20 higher than the Chrome Soft, giving them a slighter harder feel.
While the Chrome Soft's offer maximum forgiveness the X's offer less forgiveness, but still at a high level. The final difference of the Chrome Soft X is that it offers workable ball flight, which will likely attract lower handicaps to this ball over the straight flight of the Chrome Softs.
Final Thoughts
After completing our Callaway Superhot Bold review it is clear that this is a mid-range golf ball. Created to help players with slower swing speeds consistently get the ball airborne and carrying further.
Finally, it is refreshing to see a range of balls offered in a variety of bold matte colors and sold in boxes of 15. You have to appreciate a company that breaks from the traditions in golf.
If you are looking for colorful golf balls, that provide enhanced launch, ball flight, and distance. Check out the customer reviews of the Callaway Superhot Bold golf ball.
Related Articles
Nick Lomas is the founder of GolfSpan, an avid golfer, not quite a pro but has over 15-years of experience playing and coaching golfers from all over the world. His mission is to bring the golfing community a better experience then it comes to choosing the right golf gear, and finding the right set up for your game.