In their forever quest to play better and precise golf, the use of distance measuring devices has become popular and provides a range of information that golfers can use to tweak their swing. We provide you with a Flightscope Mevo vs SC300 review today.
The complexity of the swing dynamics is extremely difficult to analyze with the eye only. Having the technology available to assist you in identifying a specific area to address will aid you in rapid improvement.
The amount of data available in the electronic age can provide the information required to get beginners and experienced golfers fitted with the clubs that will get the most fun and enjoyment out of golf.
FlightScope Mevo vs Swing Caddie SC300 Reviews
Pros
Accurate readings both indoors and outdoors
Storage of data on cloud services for easy access
Compact and lightweight
Adapts to all phone sizes
Works on all ground surfaces
Can produce a video for analysis
Cons
Less accurate than more expensive launch monitors
Inconsistent spin rate when not using the metallic dots
In 1989 by Henri Johnson founded Flightscope to track projectiles for the defense industry which spilled over into various sporting codes such as baseball, golf, tennis, and even bowling.
Flightscope Mevo is a pocket-sized 3D Doppler radar launch monitor for indoor and outdoor use. Despite its compact and lightweight dimensions, it provides ample features to compete with some of the higher-priced devices.
Mevo is an acronym for Measure, Evaluate, Visualize, and Optimize.
Measure your numbers and performance data
Evaluate your game using saved swing data
Visualize your improvement by making use of recorded video clips and data overlays
Optimize your performance
Appearance
Mevo is available in a white body with red rubber edges for additional protection.
Modes
There are 3 modes available on the Mevo
Indoor
Outdoor
Chipping / Pitching
The chipping/pitching mode relates to shots under 50 yards.
Dimensions
The Flightscope Mevo is compact measuring at 3.55 inches X 2.76 inches X 1.18 inches and weighs in at less than ½ pound. This is perfect for putting into the side pocket of your golf bag to the practice range or golf course.
Connectivity
Charging the battery requires the supplied USB cable.
Linking your smartphone or tablet to the MEVO is a breeze as both can be connected via Bluetooth.
App
Various settings can be adjusted to personalize it for your environment.
This includes a selection of 3 modes, (chipping/pitching, indoor and outdoor modes).
Other settings that can be changed are the distance from the device to the tee, altitude, and the feedback to be displayed on the screen.
Furthermore, you can select whether you want audible feedback after every shot or not.
Setup
Setting up the Mevo is an n simple process of placing it according to the instructions and then starting to hit golf balls.
The ideal position to place the MEVO is between four and seven feet directly behind the golf ball in line with the target.
For maximum benefit, the MEVO device and your mobile device should have uninterrupted Bluetooth connectivity.
Optimum accuracy is achieved when you stick small metallic dots (stickers), that are available from FlightScope, to your ball for measurement of backspin.
The use of these stickers is not practical when using a practice range ball.
How it works
The smaller widow reduces the width of the field in which the Mevo can access data. To overcome this you can set the projected launch based on the club in use.
Upon selecting the club on the Mevo app, the movements of the club will initiate the recording of your swing automatically.
Video recording mode will record your swing from initiation, backswing downswing, and release, the initial motion initiates the recording and the recording stops when the club stops moving.
Analysis
Basic editing tools enable you to mark key positions in your swing for later scrutiny.
All shots that are recorded are stored and collated in the app for further analysis. You can analyze a specific shot or a collection of shots on your smartphone or tablet.
The most frequently viewed categories are ball speed, clubhead speed, launch angle, spin rate, and carry distance.
Spin rate is dependent on the use of stickers as mentioned earlier and without these dots, your spin rate measurements can be misleading.
Battery
A fully charged battery can provide power to complete approximately 3 range sessions last approximately 2 hours each.
To make life easier, the Mevo has a battery indicator displaying how much battery life is still available.
Measurements
Although the range of data points is not as extensive as more expensive units, it should suffice for the majority of golfers.
Flightscope Mevo uses Doppler radar technology to measure ball flight thus require between 12-15 feet of ball travel for accurate measurements. Flightscope recommends that you have 4-7 feet behind the ball, and 8 feet in front of the ball for optimal readings.
Although range balls will provide different readings from your normal premium balls. However, the measurements should be consistent between the range balls.
This device is not aimed to be used for golf club fitting and more advanced golfers.
Mevo measures and provides feedback on the following:
Carry distance
Clubhead speed
Smash factor
Apex height
Ball speed
Spin rate
Vertical launch angle
The Mevo app
Data is synchronized with the myFlightScope.com cloud service for review at any time. You can access this stored information by downloading a CSV file from myFlightScope.com cloud service for offline analysis.
Concentration is key to successful golf. The Mevo app integrates into FocusBand, a brainwave sensing system used to train the brain into a calmer state.
Modes
Indoor mode is ideal for shots traveling up to 40 yards in a hitting cage.
Outdoor mode produces more accurate information as it can continue to measure the golf ball for an extended distance.
Chipping/pitching mode is ideal for shots that travel 20 yards or less through the air
Pros
Easy and fast set-up
Lots of details for useful fitting and gapping
Long-life Lithium battery
Remote for switching clubs and modes
Instant verbal feedback on your shot if selected
The target mode provides great accuracy for wedge practice
Easy to read Orange screen with black digital numbers
You can synchronize it to a mobile device to review your data
Cons
Spin rate is only available on the app
No off-line measurement
High price excludes the protective case
Swing Caddie SC300, similarly to the Mevo, uses Doppler Technology to take reading and provide feedback. In addition the SC300 use of atmospheric calibrators for increased accuracy.
Unlike the Flightscope Mevo, the SC300 is a standalone unit and does not require an app to display the data. Only the spin rate requires the app.
Appearance
The SC300 is only available in a black casing with a 5.3-inch LCD with an orange background. Black lettering makes it easy to read in any light conditions.
Modes
Data collected for both practice and Target include:
Total distance or Carry distance depending on the selected setting
Swing speed
Ball speed
Smash factor
Shot apex
Launch angle
Practice mode is aimed at collecting data from your general practice sessions and it is ideal to map the distance for every club in your bag.
Target mode that is ideal for tweaking your distance control and is aimed at irons only. It adds some fun to your practice sessions starting at a default distance of 60 yards and it can be adjusted by increments of 5 yards varying between 15 to 195 yards.
Dimensions
Measuring in at 6 ½ inches high X 4 ½ inches wide X 1.1-inch deep and weighing in at 15 ounces it is larger and heavier than the FlightScope Mevo.
Although it is bulkier than the Mevo, the larger display makes the data easier to read.
Connectivity
Connectivity to a mobile device from the SC300 can be done via Bluetooth. This is a simple process as you only have to touch the Bluetooth icon on the screen and select the SC300 to connect.
App
The Swing Caddie SC300 does not need an app to operate. However, there is an app available to capture and store the data collected relating to distance, shots count per club, and the most recent practice date.
Data is aggregated for every practice session for offline or online analysis.
Set up
Setting up the SC300 is quite straightforward. You have to place it on an even surface approximately 5 feet directly behind the ball. You have to ensure that the SC300 is at the same level as the golf ball.
There is a foldable stand to keep the device upright.
Using the SC300 in an indoor environment requires the net to be 6 ½ feet away from the ball.
How it works
For accurate measurement, you have to set up the launch angle of your club.
Feedback can come in the form of an audible reading and display on the LCD. The audible feedback can be turned off.
Remote control comes as standard in the package improving the usability of the SC300. Changing the club in use is straightforward as you can select the club from the remote control.
Settings that are adjustable on the sC300 include the unit of display, voice language, volume, club loft, the distance to the target, display carry distance or total distance, and the club in use.
Switching between modes can be done from the remote using the MODE button.
Battery
A Lithium Polymer battery powers the SC300. It can be fully charged in 6 hours and will last up to 12 hours. Power level is displayed on the screen to warn you when a charge is imminent.
The manufacturers highly recommend that the battery is only charged for the recommended time, not overnight or for extended periods.
When not in use for an extended period it is recommended by Swing Caddie that the battery charge should remain in the 40% to 50% range and not at 100% or 0% charge.
Measurements
Accurate measurement can be achieved between 10 – 370 yards.
Carry and total distance
Smash factor
Launch angle
Swing speed
Apex (Max Height)
Ball Speed
The spin rate is only available on the SC300 app
Final Thoughts
The Swing Caddie SC300 and FlightScope Mevo compete as equals to measure distances and provide feedback to the golfer.
The application of the two differs slightly as the Mevo is aimed to be used for club fitting whereas the SC300 is ideal for club fitting.
If portability is your major selection criteria, the Mevo with its lightweight compact structure will be ideal.
Both the devices use Doppler technology and provide similar data points.
As a standalone unit with access to an app, longer battery life, and remote control, the Swing Caddie SC300 is our selection as the better distance measuring device.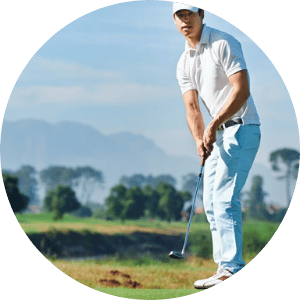 Nick Lomas is the founder of GolfSpan, an avid golfer, not quite a pro but has over 15-years of experience playing and coaching golfers from all over the world. His mission is to bring the golfing community a better experience then it comes to choosing the right golf gear, and finding the right set up for your game.