Operating with the best golf grips for your swing is essential to generate lighter pressure, optimal power, and maximum control. Any golf grip that is too large or firm for your hands can cause excess grip pressure and a loss of control, power, accuracy, and distance.
Here is a rundown of our best golf grips in 2023:
By the end of this article, you will know the 12 best golf grips for your woods, hybrids, irons, wedges, and putters. Plus, I highlight what factors to consider when looking at golf grips and how to ensure you play the correct setup for your swing.
Top 3 Best Golf Grips
Best Overall
Best Budget
Best For Accuracy
Golf Pride MCC Plus4
Champkey Victor Hybrid
Lamkin Sonar +
Pros

Encourages reduced grip pressure
Optimizes traction
Moisture wicking materials

Affordable
Durable material
Promotes a soft feel

Helps golfers stabilize the clubface at contact
Torsional control reduces torque
Lighter grip pressure

Cons

Moderately expensive per unit
The grips are sold individually and cost a premium.

Not the most effective vibration drainer
Grips are thicker than standard offerings

Pricey
Reduces feedback which some players may despise

Price Score
90.1
96.5
89.7
Comfort
93.2
88.1
92.4
Traction
94.6
90.2
93.5
Performance
90.1
87.8
88.1
Rating
4.5 Stars
4.5 Stars
4.5 Stars
Why You Should Trust Us
Our team spends thousands of hours trying out and researching golf equipment to help you take your game to the next level. Here's our product review process.
We can bring these reviews to you through the small commissions we earn if you buy through the links below.
How We Reviewed These Products
Golfspan only shares equipment and brands we trust.
I'm an experienced golfer and I thoroughly researched and evaluated the products shared below. Then an editor reviewed and fact-checked the list. Finally, we conduct regular content audits to update and revise our reviews to ensure you receive the latest information.
To select these golf grips, we considered these criteria:
Cost
Durability
Traction
Moisture wicking
Sizes
Colors
Feel
The Best Golf Grips For Drivers, Irons, And Wedges 2023
Pros
Encourages reduced grip pressure
Optimizes traction
Moisture wicking materials
Available in all sizes
Crafted in 5 colors
Cons
Moderately expensive per unit
The grips are sold individually and cost a premium.
The Golf Pride MCC Plus4 bags the title of the best overall golf grip in 2023 for its affordability, comfort, and control. Golf Pride engineers crafted a grip that delivers sublime traction, reduced pressure and encourages improved energy transfer.
The grip masters employed a Larger Lower Hand construction to help players minimize grip pressure for enhanced fluidity during the swing. In addition, the lighter hold on the club optimizes your ability to unload on the downswing, boosting acceleration and power.
Adding to your control is Maximum Surface Texture, which features micro textures built to soften your feel and increase traction. Finally, Brushed Cotton Cord and moisture-wicking fibers shed water from the grip to keep it dry and maximize friction.
Rating: 4.5
Pros
Affordable
Durable material
Promotes a soft feel
Encourages less grip pressure
Crafted in standard, mid, and oversized
Cons
Not the most effective vibration drainer
Grips are thicker than standard offerings
Regripping your entire set of irons and woods can quickly skyrocket your golf budget. However, a quality, budget golf grip like the Champkey Victor Hybrid design minimizes costs without hampering your performance.
I admired the work of the Micro-Texture Technology, which proved efficient in increasing my traction in the heat and rain. It provided a pleasant, soft feel and shed moisture from the surface to keep your palms in constant contact with the material.
Next, Champkey engineers employed Cross Cotton Thread Tech, which adds extra threads to the top of the grip to bolster stability and durability. In addition, the combination of its tapered profile and responsive material promotes less tension in your hands for greater power and energy transfer.
Rating: 4.3
3. Lamkin Sonar + – Best Golf Grip For Accuracy
Pros
Helps golfers stabilize the clubface at contact
Torsional control reduces torque
Lighter grip pressure
Durable design
Comfortable feel
Cons
Pricey
Reduces feedback which some players may despise
The Lamkin Sonar + grip promoted superior control of my golf club thanks to the combination of torsion control and minimal taper. These features enhance control of the golf club and help me stabilize and square the clubface at impact for more accuracy off the tee and deck.
A lower-taper profile encourages lighter grip pressure and improves your ability to optimize power and accuracy on the downswing. In addition, the high traction and torsional control granted me elevated levels of traction in all weather.
Further softening the feel was the Fingerprint Technology, which provided a plush area to hold for superb comfort. Finally, the Lamkin Genesis material produced an incredibly tacky surface making it easy to grab and optimize friction between my palms and the material.
Rating: 4.2
4. Super Stroke Traxion Tour – Best Golf Grips 2023 For Consistent Hand Placement
Pros
Promotes consistent hand placement
Affordable
Non-slip
Maximizes stability
Enhanced control
Cons
The Spyne Technology can take time to get used to
No other complaints
The Super Stroke Traxion Tour offers golfers reliable hand placement to produce a consistent swing on all shots. Spyne Technology creates an embossed ridge, which runs on the undercarriage of the grip, helping you replicate the same position on each swing.
Besides guiding your hand placement, this Super Stroke grip delivers phenomenal traction control and stylish looks. It could have easily claimed the best cool golf grips category. However, the grip powerhouse littered X-traction marks in high-touch areas of the material for a superior feel and improved friction.
The combination of Taper Control Technology and Torsional Performance was integral to my stability and power. The Taper Control minimized grip pressure for a consistent swing, and Torsional Performance stabilized the clubface leading to impact for optimal energy transfer.
Ultimately, the constant pressure, control, and power best suit higher handicappers requiring hand placement guidance.
Rating: 4.1
Pros
Soft, comfortable feel
Tacky design for increased traction
Evenly distributes grip pressure
Entry-level price
Crafted in three colors
Cons
Not as long-lasting as velvet or cord grips
Require additional levels of solvent to fit seamlessly
Wrap golf grips provide a traditional leather appearance and a softer tacky feel. The Super Stroke Traxion construction is the best wrap grip design for our golf clubs, thanks to its affordability, comfortable feel, and consistent traction in all weather.
Wrap grips are not typically renowned for their friction in wet weather, but the Super Stroke Traxion proved otherwise. It did not provide the level of traction found in a velvet grip, but by Wrap standards, it played out of its boots.
I also felt the Taper Control Technology evenly distributed my hand pressure for increased club command. As a result, I found it easier to guide my clubface down to the ball and square it at impact for straighter results.
Rating: 4.0
Pros
Made for golfers suffering from arthritis
Provides maximum shock absorption
Cushioned feel
Enhanced friction in all conditions
Minimizes grip tension
Cons
It wears faster than other constructions on the list
Some players may prefer a further reduction in firmness
Winn golf grips are prized for their all-weather performance, reduced tension, and exceptional shock absorption. The protection it provides at impact elevates them to the best golf grips for arthritis sufferers seeking a soft, cushioned feel.
The Polymer Grip Technology made the difference in the feel, absorbing vibrations on mishits and softening each strike. Golfers suffering from joint pain will also welcome the oversized construction that encourages less tension to boost power on your downswing.
Next, the Dri-Tac grip delivered impressive results in the sun and rain as its tackiness and X-traction pads enhanced friction for supreme control. In addition, the WinnDry material wicked moisture from the surface to prevent my hands from slipping.
Rating: 4.0
Pros
Tracks stroke gained and club distances
Provides distance measurements
Offers club selection advice
Promotes lighter grip pressure
Minimizes tension
Cons
Accuracy on high-impact shots is erratic
Priced at a premium
Arccos shows that current grips offer more than a cushioned feel, shock absorption, and increased traction. Smart golf grips track each shot and provide data on strokes gained and club distances. Plus, they sync with a mobile application to offer rangefinder features and caddie tips.
The grips are Golf Pride MCC Plus4, our top pick for 2023. As I discussed earlier, they work wonders to reduce tension and promote a lighter grip pressure for enhanced power on the downswing.
In addition, these grips fit an Arccos sensor at the top of the design, which tracks your performance. The sensor synchronizes with the mobile application to store all your analytics in one place. While a premium for golf grips, it is far more affordable than acquiring a launch monitor and rangefinder.
Rating: 3.8
Pros
Maximum grip in all weather
Produces exceptional feedback
Reduces tension in the lower grip
Constructed with premium rubber
Affordable
Cons
The excessive feedback is not suited to arthritis-sufferers
Not available in an oversized design
An all-weather grip equips you with the support to control your golf club in the rain or shine. I retained my desired grip pressure without increasing tension in all conditions with the S-Tech, our best performer in wet and dry weather.
Three-time major champion Jordan Spieth operates with the S-Tech, built for superior golfers seeking added feedback without relinquishing control. Super Stroke engineers employed an innovative rubber compound to induce an improved feel.
Next, the S-Tech carries Super Stroke's famed Cross-Traction Surface Texture, which kept my hands firmly connected to the rubber during my swing. Finally, I appreciated the reduced taper design, which promoted minimal pressure at the bottom of the grip for a better transition at the critical point of the golf swing.
Rating: 3.6
Pros
Delivers maximum feedback
Affordable
Premium leather look on a budget grip
Available in three colors
Sufficient tackiness
Cons
Require constant wiping in wet and warm weather to keep dry
Grip tape and solvent are not included in the package
The Golf Pride Tour Wrap 2G are not exclusively for short-game clubs. However, their feel and feedback make them the best wedge grips option. I also approve of the high-end leather appearance and insanely tacky feel and grip.
In my experience, the midsize construction promoted a soft feel and delivered increased feedback on each strike. This simplified identifying where the clubface struck the golf ball, a feature superior golfers welcome around the green.
Golf Pride crafts the Tour Wrap 2G range in undersize, standard, mid, or jumbo construction, catering to a broad audience. Finally, the grips are offered in white, blue, and black.
Rating: 3.5
The Best Putter Grips In 2023
Before concluding our golf grip reviews, here are the three best putter grips for 2023.
Pros
Limits wrist and hand movement
Encourages consistent hand placement
Comfortable
Increased feedback
Promotes greater accuracy
Cons
Expensive price tag
Some golf bag putter wells might struggle to fit this grip
Oversized putting grips have proven efficient in limiting wrist action during the putt to keep the clubface square at contact. The Super Stroke Traxion Tour over-sized grip provided a combination of consistent hand placement, minimal pressure, and improved feedback.
Super Stroke added their successful Spyne Technology, creating a ridge on the underside of the grip to guide consistent hand placement. This consistency helps golfers generate a fluid putting stroke to keep the putter face square as it strikes the ball, starting it on the desired line.
Next, Multi-Zone Texturing is applied to boost the comfort of your hands around the grip and lighten the pressure. Lastly, the No Taper Technology saw my hand movement contained to prevent sending the putter offline during the putt for greater accuracy.
Rating: 4.7
Read More: 9 Best Fat Putter Grips
Pros
Produces maximum feedback
Enhanced control in all conditions
Firm feel
A modern-shaped design makes it easy to replicate hand placement
Available in three colors
Cons
Moderately expensive
Excess hand and wrist movement may deliver inaccurate strokes with the standard grip
Lower handicappers demand feedback, an optimal feel, and maximum control from their grips. The Golf Pride Pro Only delivers outstanding feedback on all strokes, working to boost distance control.
The standard grip follows a typical pistol design. It is also thinner than the Super Stroke Traxion Tour, requiring controlled wrist and hand movement. However, the cord material is positioned to ensure a firm hold, which is ideal for elevated feedback.
In addition, the corded design prompted superb traction and feel in the wet and heat to keep me in control of the flat stick. Finally, Golf Pride crafted these grips in a green, red, or blue design to spice up your appearance on the dancefloor.
Rating: 4.3
Pros
Affordable price tag
Durable material
Delivers impressive feedback
Available in four colors
Built for golfers with arched strokes
Cons
The narrower profile is not ideal for golfers with straight strokes
Not the softest grip around
Finally, we conclude our best golf grips for 2023 review with the top budget putter grip. The Lamkin Deep Etched build is significantly more affordable than its peers. Despite its entry-level price, it provided significant durability, enhanced feedback, and consistent hand placement.
Lamkin engineers opted for Genesis Material, which they suggest is more durable than standard rubber, and I agree. The compounds promote a firmer grasp of the club in wet and dry conditions for a controlled, accurate putting stroke.
I find the paddle-style grip makes it easy to replicate my desired hand position on each putt for superior control and accuracy. Finally, since the grip is narrower than its peers, it best fits players with an arc or arc to straight stroke as it offers limited assistance in keeping your putter head square.
Rating: 4.0
Read More: 15 Best Putter Grips
What To Consider When Purchasing Golf Grips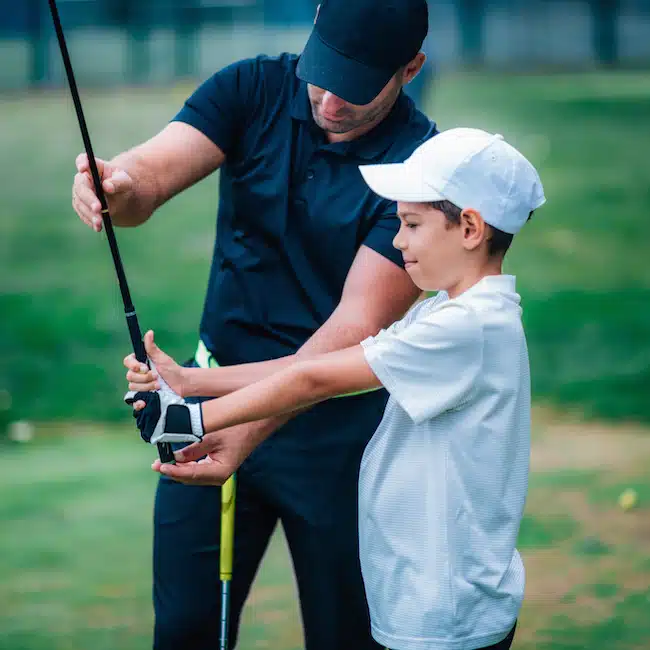 Type Of Grip
Golf grips are divided into two predominant categories, swinging and putting grips. Swinging grips fit on your woods, hybrids, irons, and wedges, whereas putting grips are specifically crafted for your flat stick.
Underneath these categories, you find velvet, corded, multi-compound, and wrap golf grips, which excel in varied environments. For example, velvet grips are plush and efficient in wicking moisture from the surface in the wet.
Next, corded grips also deliver sublime moisture-extracting qualities when your palms sweat or the grips are engulfed by raindrops. However, they are rough on your glove and hands.
Multi-compound grips often feature cord at the top of the grip for maximum moisture wicking, while the bottom contains rubber. Rubber enhances feedback and lightens grip pressure for increased control.
Finally, wrap grips are the finest-looking creations and provide an exceptional feel. However, their durability leaves much to be desired. Besides their reduced durability, they struggle to produce meaningful traction in the wet.
Grip Size
Golf grips are sold in four sizes, undersize, standard, midsize, and oversized. An optimal grip sees the fingers on your top hand unable to touch your palm once fully wrapped around the handle.
Players with smaller hands may excel with an undersized or standard grip, and larger hands might prefer a mid or oversized construction. Besides hand size, some golfers may opt for the oversized grip because it controls your hand and wrist action to promote a consistent swing path and an accurate shot.
For context, I have provided a table below outlining the sizes of grips.
| | |
| --- | --- |
| Grip | Size (Relevant to standard grip) |
| Undersize | 1/64 inches smaller |
| Standard | 0.58 to 0.60 diameter |
| Midsize | 1/16  inches larger |
| Oversized | 1/8 inches larger |
Round Or Ribbed
Golf grips typically carry two shapes, rounded or ribbed, with the former offering the most traditional setup. However, the ribbed design sees a raised ridge running along the underside of the putter to help you produce consistent hand placement for every putt.
Super Stroke's Spyne Technology is a prime example of a ribbed grip. The tech creates an embossed ridge on the undercarriage of the putter, making it easier to determine the precise position to hold the flat stick on every putt.
While I appreciate the value of rubbed technology, I prefer the consistency of smooth transition through the set, offered by a round grip. It provides limited guidance and assistance but delivers the elevated feedback I desire on each shot.
Tapered vs Non-Tapered
Grip manufacturers employ tapered and non-tapered designs to promote varied levels of grip pressure, wrist action, and power. A tapered grip is a standard offering that gets smaller from the top down, with the width decreasing by a quarter from cap to tip.
Next, grips with reduced taper are almost 20% smaller at the tip than a standard taper grip. Reduced taper is built to lighten pressure in your bottom hand for more control and power leading into impact.
In addition, a non-tapered grip takes it to the extreme, creating an even width from cap to tip. This structure helps players lighten grip pressure and lower tension for less clubhead deviation during the swing.
Finally, the lesser-known reverse taper grip is thicker at the bottom than the top, keeping your lower hand stable throughout the swing.
All Weather Performance
The final feature to consider is the all-weather performance of golf grips. In other words, how effective are they at keeping grips dry in the rain and wicking sweat away in the heat. I find velvet and cord grips deliver the best performance in these conditions, thanks to their advanced moisture-wicking components.
In addition, multi-material compounds provide an element of protection in the rain and shine, thanks to the upper cord construction. However, the least effective moisture-combatting grips are the less durable wrap grips.
FAQ
What Is The Best Brand Of Golf Grips?
Golf Pride is the best golf grip brand due to their exceptional quality, all-weather performance, and durability. They are followed closely in second by Super Stroke, who create a wealth of grips to serve amateurs and professionals from tee to green.
What Golf Grip Do Most Professionals Use?
The Golf Pride MCC is the most used grip on tour among professionals for its all-weather performance, enhanced feedback, and superb control. Golfers like Rory McIlroy, Jon Rahm, Xander Schauffele, and Viktor Hovland use the Golf Pride MCC grips.
What Grips Does Tiger Woods Use?
Tiger Woods grips the Golf Pride Tour Velvet Cord 58R on his woods and irons while he employs the Ping PP58 putter grip.
What Is The Best Golf Grip For Accuracy?
Our review revealed that the Lamkin Sonar + is the best golf grip for accuracy, thanks to its fingerprint technology, durability, and affordability. It encourages consistent hand placement to boost the clubface control and square it at impact for straighter golf shots.
Conclusion
The best golf grips provide optimal traction in all conditions while reducing grip pressure and enhancing durability. Our 12 finalists delivered a combination of maximum control and shock absorption. Besides the Arccos Smart Grips, most offered sublime value for money.
While the grips on our list above are worth inspecting, Golf Pride showed their class over the competition. The MCC Plus4 delivered incredible friction in all conditions and wicked away moisture from the surface unhindered. Plus, it offered a soft, comfortable feel for a pleasant hold on each swing.
Super Stroke also showed why they are a force to be reckoned with in the golf grip sector, claiming our vote for the best putter grip. The Traxion Tour promotes consistent hand placement, limited wrist action, and superb traction in all conditions.
As a result, if you are considering a new set of grips, think about the MCC Plus4 for woods and irons and the Traxion Tour for your putting needs.
Read More: