Functionally, headcovers do a lot for our drivers. They provide shelter from the rain and UV rays and prevent unnecessary scratches. They're also pretty handy for hiding your $500 driver from prying eyes.
But in this modern age of golf, driver headcovers can be so much more. Creativity has boomed, with sleek, colorful, and sometimes outrageous designs taking the headcover market by storm. Long gone are the days of headcovers made out of old wooly socks.
So whether you're looking for fashion, or function, or both, look no further than these headcovers to give your driver the crown it deserves.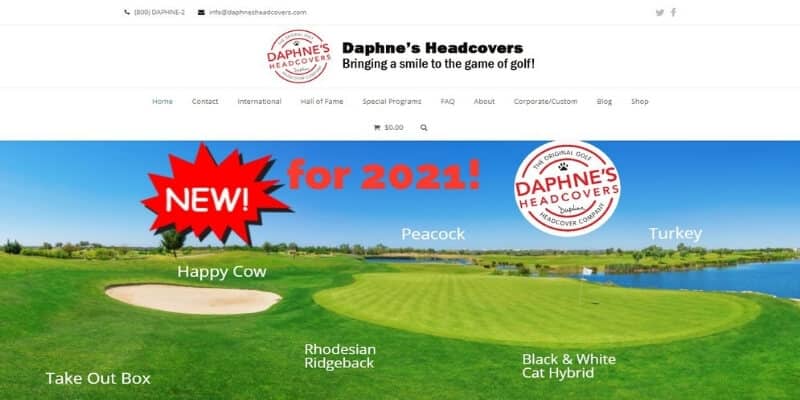 In 1983, Kultilda Woods purchased a tiger Daphne headcover for her son, Eldrick "Tiger" Woods, who at the time was a teenage golfing prodigy. The rest, as they say, is history.
You'll still see Tiger Woods playing with his Daphne headcover today – this extremely lucrative celebrity endorsement has no doubt contributed a great deal to the company's success. But Daphne's has a lot more to offer than a mere tiger; they have nearly 200 designs on offer, from chickens to tortoises, to leprechauns, to pineapples.
As one of the oldest and most successful golfing headcover companies out there, you can be assured of Daphne's quality. Sure, they're fun to look at and nice to stroke, but they're also made from robust, durable fabrics, keeping your driver as safe as can be for years to come.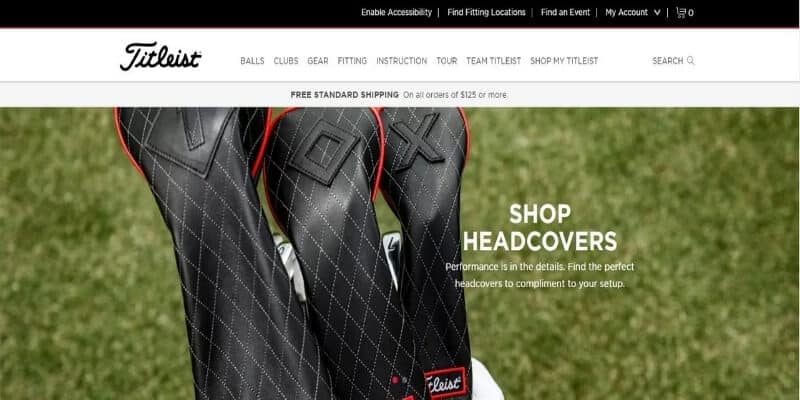 If it's a more traditional style you're after, these Titleist headcovers might just be the perfect fit. Available in either white and black or jet black, these retro, sharp designs are an excellent way of showing your competitors that you mean business.
They're made 100% from leather with a two-panel construction; the level of protection is second to none. Fairway and hybrid headcovers are also available to complete the set, with differing symbols for ease of identification. It's hard to go wrong with practically any product that proudly dons the Titleist logo, and these high-quality headcovers are no exception.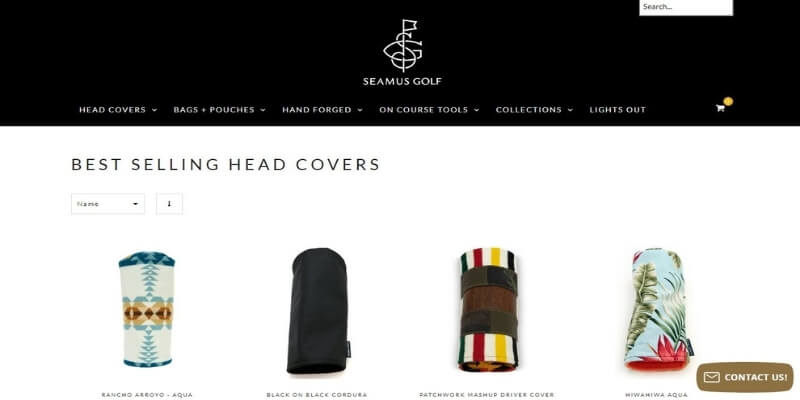 Golf has a rich history, and few companies are better equipped to celebrate it than Seamus Golf. The majority of their headcovers are unflinchingly retro, with designs ranging from chequered, to tweed, to colorful 80s fashion.
Add a few Hawaiian patterns, American patriotism patterns, and sports team patterns into the mix, in addition to the individual customization that Seamus offers, and you have a truly fine collection of headcovers to suit any taste. Each product is hand-cut, sewn, and packaged for each individual golfer. The materials used, which are often locally sourced, are carefully picked to be the most durable.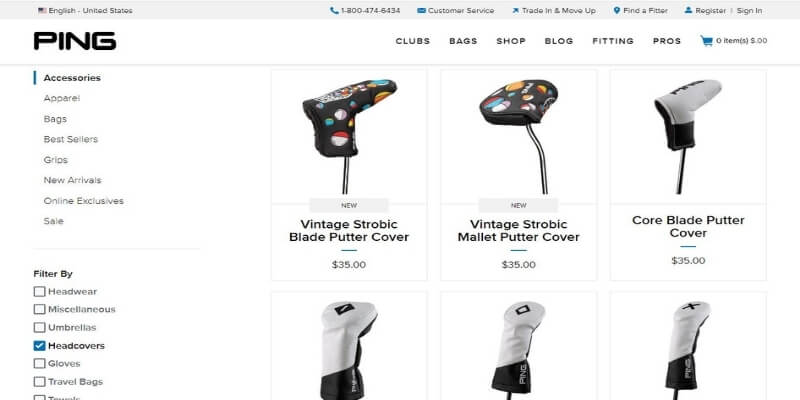 Made from durable polyurethane covers, these PING headcovers are built to last. They feature soft velour-padding on the inside, cushioning your driver and ensuring its protection. At this price, these quality materials are a steal.
The design is simple, and yet it stands out; it would be well-suited to practically any bag and club set-up. There are also matching fairway and hybrid covers, as well as a bunch of other matching PING products to complete your perfect aesthetic.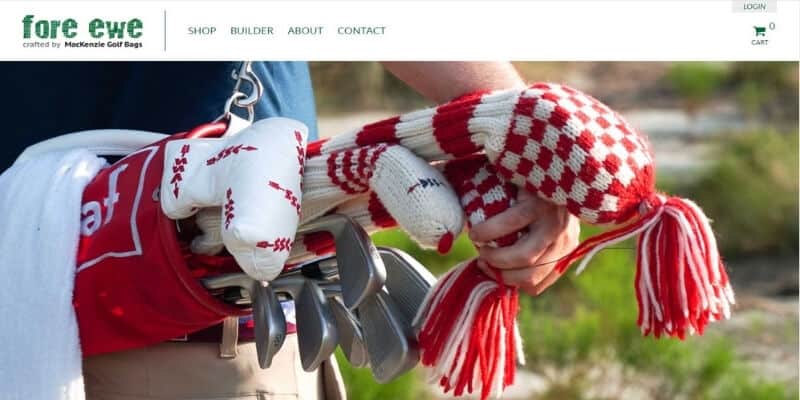 Knitted headcovers are far from being forgotten figments of the past. Companies like Fore Ewe continue to prove that they are still very much in bloom and that their iconic aesthetic is highly sought after among discerning, fashionable golfers.
Fore Ewe use 100%, USA made wool to craft their headcovers. The knitting is spun and double waxed, ensuring that it rests smoothly on your driver with color and character.
Individual customization is at the center of the Fort Ewe brand. Each golfer can design something from scratch, or they can take inspiration from past works. The process is a lot of fun, and the result will always be a charming, stylish, meticulously knitted headcover to give your driver lasting protection.
If you're a stylish leather lover who appreciates a good bit of customization, the Winston Collection will probably tick all the right boxes.
You start by choosing your size – they have them for drivers, fairways, hybrids, or putters. Then you select a material, choosing from a variety of leathers, or waxed canvas, or vinyl. Then it's time to personalize to your heart's content. You can add names, numbers, logos, flags, and just about any other kind of graphic you can think of.
For a stylish, robust headcover that is entirely your own, be sure to explore the world of Winston.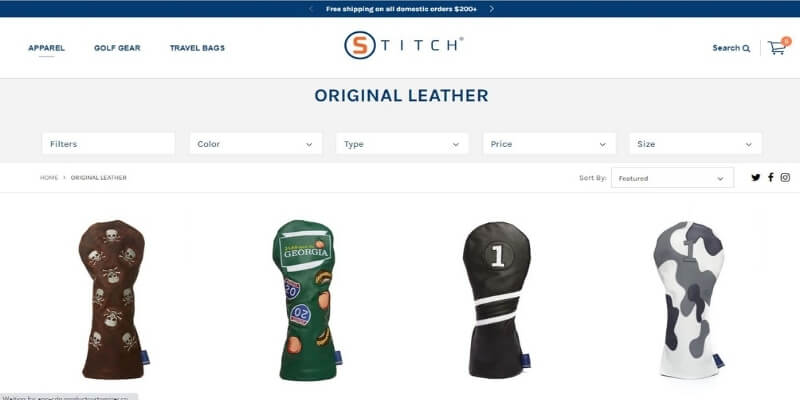 They might not be cheap, but they're made from some of the finest materials available and are assembled with uncompromising attention to detail. Stitch makes both leather and knitted headcovers, the majority of which are available in a range of colors.
The designs themselves, particularly the leather covers, exhibit retro-racer looks. It's the kind of design that never goes out of fashion, which is a good thing because these products are built to last many years.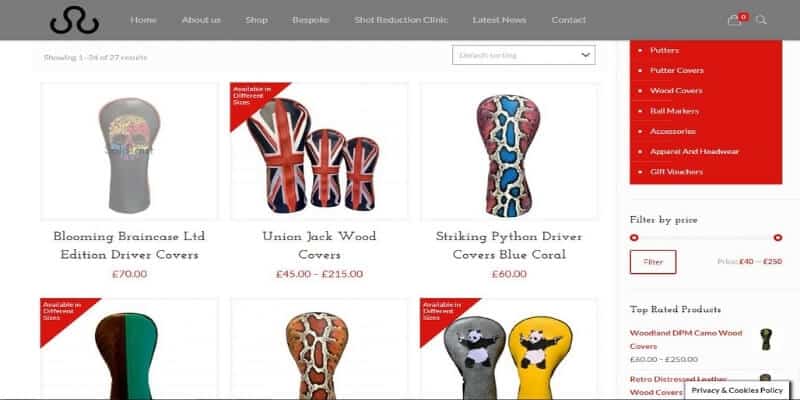 Based in the UK, Scott Readman is a former PGA pro who has spent his life refining the craft of assembling quality golfing gear. A number of pros have taken to social media to sing praises of Readman's equipment, and small wonder; Scott Readman headcovers are quality pieces of kit, with a colorful variety of designs to suit all manner of tastes.
Going a step further, Scott's shop features bespoke offerings, allowing you to design your own headcover. Experiment with endless combinations of colors, materials, and designs until you find your perfect match. You can even contact Scott directly, who will work with you to create your own masterpiece.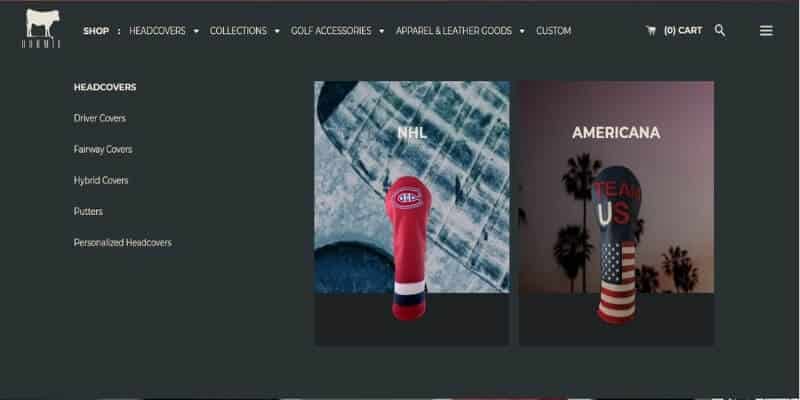 Dormies are some of the more pricey products on this list, but the level of service and quality of the product more than justifies the tag. All products are handmade to order, crafted from premium leather with intricate stitching.
From a menacing black panther to a night ninja, to a sasquatch, the Dormie Workshop designs are unique and innovative. Pages and pages of playful designs will leave you feeling spoilt for choice.
Furthermore, Dormie Workshops are also keen to accommodate your own personalized designs. They'll provide a mock-up design based on your request, and then you can tinker to your heart's content until your dream design sits comfortably, stylishly, and protectively on your driver.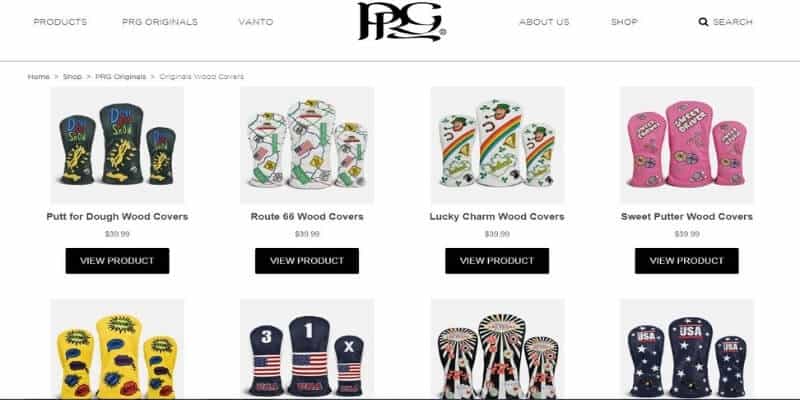 A PRG Originals headcover can be recognized from a mile off. For years, they have been one of the leading producers of stylish accessories, and their unique wood headcovers continue to delight with their fun, why-so-series approach to design.
Despite the playfulness of the exterior, the material functionality of these headcovers is strictly business. The premium leatherette provides excellent protection from the elements, while the soft interior lining takes the best possible care of your driver. And of course, as with all PGR Originals products, a sprinkling of 'luck' is included as standard.
Final Thoughts
There is certainly no shortage of quality driver headcovers out there. Though prices vary quite drastically, you can be assured that you are getting a quality piece of kit with any one of these brands.
In the end, it comes down to personal taste. It's the little nuances in design that are really going to help you make your final decision. And remember, a lot of these brands encourage you to design your own headcover; it would be worth taking the time to design something that is exactly to your taste.
As for me… I rather like that look of that pineapple.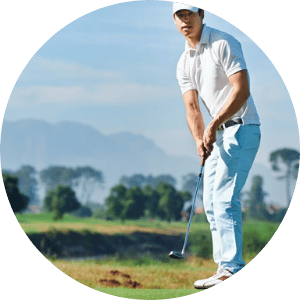 Nick Lomas is the founder of GolfSpan, an avid golfer, not quite a pro but has over 15-years of experience playing and coaching golfers from all over the world. His mission is to bring the golfing community a better experience then it comes to choosing the right golf gear, and finding the right set up for your game.