It makes use of photometric technology which measures swing and ball data making it optimal for indoor and outdoor use while it provides instant feedback on a range of clubhead and ball statistics. Clubhead and golf ball contact data is measured by the high-speed camera while the ball trajectory and distance are calculated by the software.
Ball flight trajectory is representative, and it displays all directions such as hooks, slices, pushes, pulls, fades, and draws are all taken into account.
The physical unit is attached to the shaft of the club being used and straightforward to attach to your golf clubs thus no additional equipment is required. You can pre-load the information on all the clubs in your bag for ease of selecting a club when taking measurements.
The software has to be loaded on your Windows 10 PC and no separate launch monitor or projector is necessary. A range of software aimed at making the experience loads of fun comes standard with the purchase.
Quality graphics of up to 4K creates life-like fluid movements provided your computer system can cope with the extra workload.
Using the unit outdoors is no problem since it can be powered by a rechargeable battery for an uninterrupted period of approximately 4 hours.
The Auto Rewind Feature allows you to hit the same shot repeatedly thus enabling you to practice a variety of shot shapes and ball trajectory.
Pros:
Auto Rewind Feature
Accuracy
Compatible with any golf club including your own
Gaming features such as 15 courses, driving range, and multiplayer option
Runs optimally on PC
Easy to set-up
Good graphics
Easy to use lightweight sensors clips
Budget-friendly
Cons:
Does not offer customizable settings for multiple players
Problems have been experienced connecting to the dongle
Not compatible with Mac operating system
Need a hitting mat and impact net for better simulation
Inconsistent in reading short chips
What You Get In The Box
It comes well packaged in a strong box containing
1 X Tracker/sensor comes standard and is designed to work without fail.
Clips – the R-Motion tracking device makes use of a small sensor that you attach to the shaft of the club and has to be moved when you change club. There are 4 durable clips available as standard but can be supplemented by upgrading the package and purchasing an additional 10 clips. This will remove the necessity to change the clip when you change the club you want to use
Software is included in the "lite" version and can be downloaded for free. This includes access to 15 virtual golf courses and a driving range. You can increase the number of virtual golf courses available by upgrading to the full version of the software. The software makes provision for fun competitions with your friends and family through the multi-player mode.
A free app download can be downloaded from the app store
Manuals are standard in aiding you through the setup steps and ease of use
Runs on PC/Mobile Phone Application
There is no screen or projector linked to the unit for displaying the information that has been captured; therefore, you have to link it top your computer via the dongle that is supplied as part of the standard package. Your computer must run Windows 10 operating system as a minimum requirement but it is not compatible with the Apple operating system.
In addition to the software that runs on your computer, there is an app available on the various app stores. The app links to your smartphone and via Bluetooth and is compatible with mobile devices that run on iOS 10.0 and above, or Android 6.0 Marshmallow and above.
The app is not compatible with iPhone 11 or newer models, Samsung s10, note 9, and newer models.
MAC iOS operating system devices will only be able to access the simulator portion and not the swing analyzer.
The minimum PC requirements to operate successfully are:
Windows 7 (32bit or 64bit) operating system
Intel Core i5 or equivalent processor
Minimum of 4 GB RAM
Nvidia GTX 670 or better graphics card
Version 11 or higher of DirectX
You will be able to view more information on the app such as the attack angle.
Ease of Setup and Use
Setting up the R-motion for the first time will be a laborious and time-consuming event; subsequent use of the R-motion will be a breeze and the setup can be done swiftly.
The initial setup is a straightforward process but will take a considerable time. Some of the steps can be completed in parallel thus cutting down on the overall time required to complete the setup.
The steps for the initial setup are:
Charge the sensor for approximately 3 hours
Create an R-Motion account while the sensor is charging
Download the R-Motion software and The Golf Club game. The Golf Club game will require quite some time to download due to its size. The time required may vary depending on your available bandwidth.
Once the software download is complete you can just follow the installation procedure and execute the software.
While all of the software downloads and setup are running you can attach the sensor adapters to your clubs.
Once the software has been loaded you can start with the initial setup. For increased accuracy, it is recommended that you load the shaft length and type of ball being used.
Allow a moment time for the tracker to synchronize with the software.
Work through the menus on the system and set up the games, your profile, your clubs, and other options.
In-game controls are user friendly and you should not experience any difficulties to find your way through the system.
Once the initial setup is complete you can enjoy your R-motion tracker. To start up the R-motion again after the initial setup all you have to do is attach the clip to the shaft of the club being used, turn on your computer, and away you go.
The only additional equipment that you will require to start enjoying your R-motion is a mat to hit your shots off and a net if you are planning on using it indoors. These will not be required if you are using it on the course or the driving range.
Accuracy
Although the device is accurate it is not meant to compete with the top of the range launch monitors that sell for $10,000 or more. It will guide you to identify areas that require attention and enable you to track whether any changes that you make are producing the required results.
The R-Motion only measures the club data club information and uses this to calculate ball information through the use of complicated algorithms. The resulting distances may not be 100% accurate but it will be consistent.
Accuracy is within acceptable ranges as set out below
Recorded ball speed is accurate to within +/- 1mph
Horizontal launch angle is accurate to within +/- 2 degrees
The technologically advanced software provides data that is sufficiently accurate to enable you to analyze your statistics. Feedback is provided after every shot on the following
Swing path
Face angle
Club path
Smash factor
Overall distance or carry distance depending on the one you selected
Statistics that are not measured and recorded are
Ball speed
Launch angle
Spin
Rapsodo R-Motion Alternatives
The Blast sensor simply attaches to the back end of the grip of any club and straightforward to set up.
Included in the package you will get
a sensor which attaches to the end of your club
a charging pad
and an app which can be used on any smart device
Blast golf swing trainer is equipped with advanced smart video capture technology.  The natural motion capture will record our swing and putting stroke. Recorded swings are automatically stored enabling slow-motion reviews with advanced overlay.
You are provided with 11 data points, how your stroke compares to these data points, and what is required to amend your stroke to achieve the best results.
Advice and extra tips are available from expert coaches and PGA Tour Players on the in-app Training Center.
2. Arccos Caddie with Smart Sensors
Pros:
Gives you your strengths and weaknesses of your game
Free IOS or Android app
Doubles as a range finder
Straightforward setup
Accurate readings
Provides club recommendations
Cons:
Features:
14 sensors Included in the standard package
Automatic shot tracking
AI-powered GPS rangefinder
No software subscription required
The Arccos Caddie provides launch monitor technology providing automatic shot tracking with numerous stats. It comes equipped with a powerful AI-powered GPS rangefinder.
Accurate distances to the pin, green, and hazards are provided by the rangefinder function. Courses are available on the app and you have to download the course when you are playing it for the first time.
Artificial intelligence built into the app will recommend the club to be used based on statistics accumulated.
Setting up and using it is a breeze and can be completed within 30 minutes.
There are  14 sensors in the package that screws into the back of your golf grips and pairs to the free IOS or Android app via Bluetooth.
Power is provided by a rechargeable battery that is designed to last five years.
Lightweight SmartTags screw into the back of each of your golf grips. The app will automatically recognize the club in use and track the information on every shot. Information includes distances and location.
Setup and continuous use are straightforward and quick.
After your round, you can view your shots on HD maps on the app that is pre-loaded with 35,000 true ground course maps with accurate distance to bunkers, carries, water, creeks, and more.
It has a powerful shot tracker and a strong suite of shot tracking stats too.
The entire hole can be viewed from an eagle-eye view showing all hazards and obstacles.
Reading greens have never been easier. The Intelligreen displays the true shape of the green and you can view the green from various angles. It is possible to move your cursor to any point on the green to fine-tune reading the break.
Final Thoughts
The Rapsodo R-Motion Simulator is not aimed at competing with the top-end golf launch monitors and tracking devices. It offers a budget-friendly unit that provides feedback on the most important statistics to assist you in lowering your scores.
It compares well to the competitors and provides consistent and accurate information.  The simulator provides excellent entertainment for indoor and outdoor and provides information on   15,000 courses as well as a driving range option.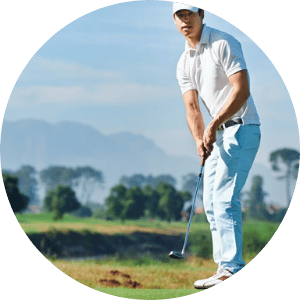 Nick Lomas is the founder of GolfSpan, an avid golfer, not quite a pro but has over 15-years of experience playing and coaching golfers from all over the world. His mission is to bring the golfing community a better experience then it comes to choosing the right golf gear, and finding the right set up for your game.