As golf enthusiasts, we're always seeking equipment to enhance our performance on the course, and one essential item is a high-quality pair of golf shoes.
Today, we'll dive into the world of SQAIRZ golf shoes, a brand that has been creating quite a buzz in the golfing community.
Here are the 3 best SQAIRZ golf shoes:
SQAIRZ Speed Golf Shoes – Best Overall
SQAIRZ 20/20 – Best for Comfort
SQAIRZ Arrow Golf Shoes – Best Budget Pick
We'll cover various price points, top features, and even some lesser-known alternatives that might suit your game even better. Don't miss out on the chance to elevate your game with the perfect pair of golf shoes!
With their superior comfort, support, and durability combination, the Sqairz Speed golf shoes are a worthwhile investment for those looking to enhance their performance on the course.
Best Overall
Best for Comfort
 Best Budget Pick
Product
SQAIRZ Speed Golf Shoes
SQAIRZ 20/20 Golf Shoes
SQAIRZ Arrow Golf Shoes
Pros
– Superior traction

-Enhanced stability

-Comfortable fit

– Flexible design

– Excellent breathability

– Good grip

– Affordable

– Durable construction

– Classic design

Cons
– Slightly expensive

– Limited color options

– Less support

– Sizing may vary

– Not as comfortable as other models

– Limited advanced features

Price Score
85/100
90/100
95/100
Stability
95/10
92/100
89/100
Traction
93/100
95/100
87/100
Durability
97/100
91/100
96/100
Rating
4.7/5 Stars
4.5 Stars
4.3 Stars
Why You Should Trust Us
Our team spends thousands of hours trying out and researching golf equipment to help you take your game to the next level. Here's our product review process.
We can bring these reviews to you through the small commissions we earn if you buy through the links below.
How We Reviewed These Products
Golfspan only shares equipment and brands we trust.
I'm a PGA-certified golfer and instructor, and I thoroughly researched and evaluated these SQAIRZ golf shoes. Then an editor reviewed and fact-checked the review. Finally, we conduct regular content audits to update and revise our reviews to ensure you receive the latest information.
When researching this review, I considered these criteria:
Cost
Comfort
Grip
Waterproof
Stability
Design
Colors
The 3 Best SQAIRZ Golf Shoe Reviews
Pros:
Exceptional comfort
Superior grip
Enhanced stability
Waterproof protection
Patented square-toe design
Cons:
Higher price point
Limited color options
Key Features:
Patented Sqairz square-toe design
Waterproof construction
Pivotal Traction System
Comfortable cushioning
Durable materials
Rating: 4.5/5
The Sqairz Speed Golf Shoes are a top choice for golfers looking to maximize performance on the course. Boasting a patented square-toe design, these shoes provide a larger surface area for improved balance and stability during swings.
The waterproof construction ensures that your feet stay dry even in wet conditions, while the Pivotal Traction System offers excellent grip on various terrains. Comfort is also a key focus, with ample cushioning and support for all-day wear.
Despite the higher price point, the Sqairz Speed Golf Shoes are a worthwhile investment for golfers who demand the best from their footwear.
Who's it for: Ideal for serious golfers who want to improve their game with superior stability, grip, and comfort.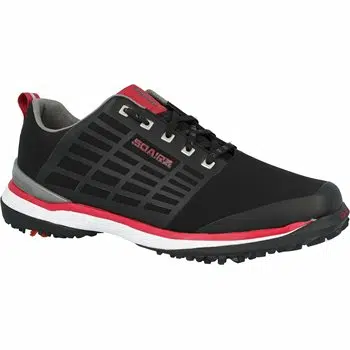 Pros:
Unparalleled comfort
Durable and well-made
Helps with alignment towards the target
Impressive traction
Suitable for walking
Cons:
Initial stiffness in synthetic material
Key Features:
High-quality synthetic upper with custom-fit side structures
Tongue with gusset design to keep debris out
Secure sta-put lacing system
Sqairz toe featuring a wide forefoot area for natural movement, comfort, alignment, and stability
Outsole with Torque Generation System and 6 removable Pivix SoftSpikes
EVA foam midsole offering responsive cushioning
Removable cushioned insole
Rating: 4/5
The Sqairz 20/20 Golf Shoes are known for their unique square-toed design that delivers exceptional comfort, stability, and alignment assistance. Although the synthetic material might initially feel somewhat rigid, it becomes more comfortable.
These golf shoes' traction system is remarkable, ensuring a firm grip throughout your swing.
While the price might be higher, these shoes are built to last, making them a sound investment.
Who's it for: Perfect for casual golfers who value comfort and performance and are willing to invest in a pair of durable, high-quality golf shoes.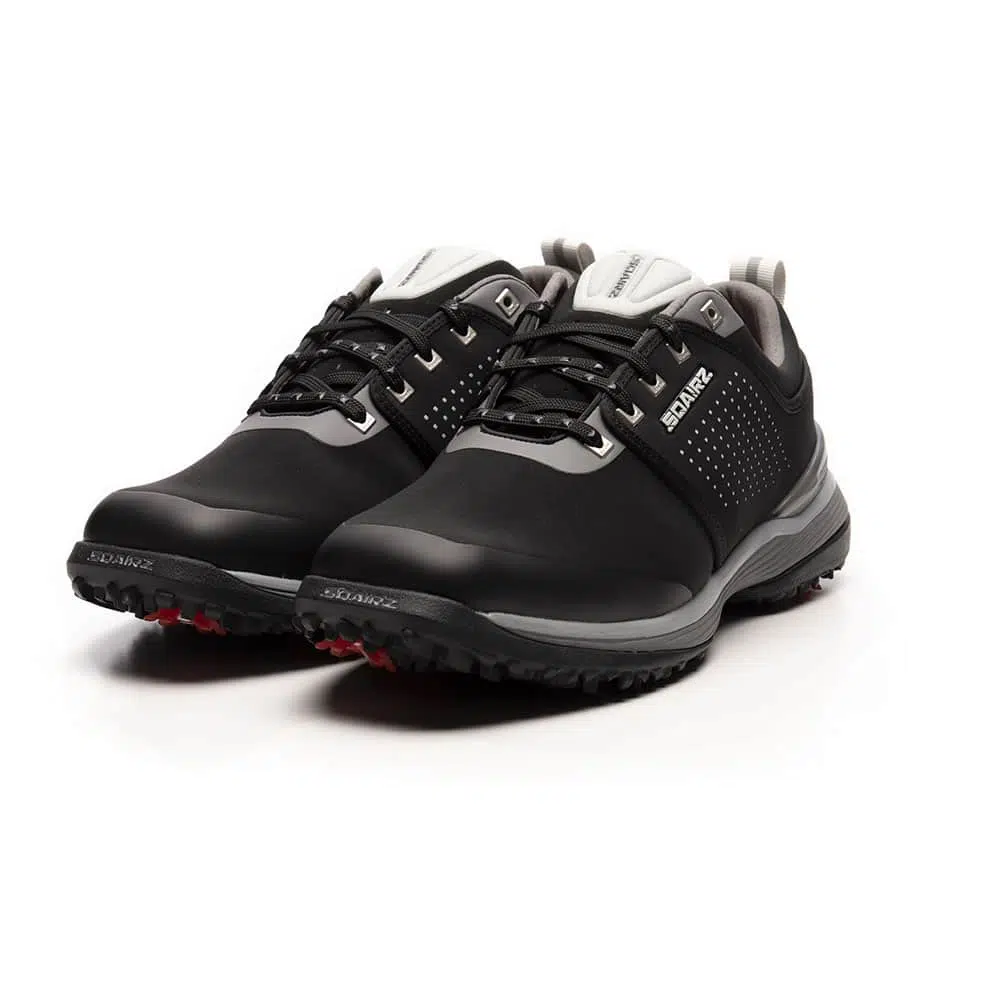 Pros:
Affordable price
Classic design
Comfortable fit
Adequate performance
Easy to clean
Cons:
Less durable than premium options
Limited performance features
Key Features:
Synthetic leather upper
Traditional lace-up design
Cushioned insole
Molded outsole
Water-resistant
Rating: 3.5/5
The Sqairz Arrow Golf Shoes are a fantastic option for budget-conscious golfers who still want a comfortable and functional shoe. These shoes offer a classic look and feel, featuring a synthetic leather upper and a traditional lace-up design.
The cushioned insole and molded outsole provide adequate comfort and performance on the course, while the water-resistant materials help to keep your feet dry in light rain.
Although they may not have the advanced features found in premium golf shoes, the Sqairz Arrow Golf Shoes are a reliable and affordable choice for beginners or casual players who don't require the latest in golf shoe technology.
Who's it for: Suitable for beginners or casual golfers looking for an affordable, comfortable, and functional golf shoe with a classic design.
Sqairz Golf Shoes Size Chart
| | | | | | | | | |
| --- | --- | --- | --- | --- | --- | --- | --- | --- |
| SQAIRZ | FJ | ADIDAS | NIKE | PUMA | SKECHERS | ECCO | G/FORE | NEW BALANCE |
| 7 | 7 | 7.5 | 7.5 | 7 | 7 | 7.5 | 7 | 7 |
| 7.5 | 7.5 | 8 | 8 | 7.5 | 7.5 | 8 | 7.5 | 7.5 |
| 8 | 8 | 8.5 | 8.5 | 8 | 8 | 8.5 | 8 | 8 |
| 8.5 | 8.5 | 9 | 9 | 8.5 | 9 | 8.5 | 8.5 | 8.5 |
| 9 | 9 | 9.5 | 9.5 | 9 | 9 | 9.5 | 9 | 9 |
| 9.5 | 9.5 | 10 | 10 | 9.5 | 9.5 | 10 | 9.5 | 9.5 |
| 10 | 10 | 10.5 | 10.5 | 10 | 10 | 10.5 | 10.5 | 10.5 |
| 10.5 | 10.5 | 11 | 11 | 10.5 | 10.5 | 11 | 10.5 | 10.5 |
| 11 | 11 | 11.5 | 11.5 | 11 | 11 | 11.5 | 11 | 11 |
| 11.5 | 11.5 | 12 | 12 | 11.5 | 12 | 11.5 | 11.5 | 11.5 |
| 12 | 12 | 12.5 | 12.5 | 12 | 12 | 12.5 | 12 | 12 |
| 13 | 13 | 13.5 | 13.5 | 13 | 13 | 13.5 | 13 | 13 |
| 14 | 14 | 14.5 | 14.5 | 14 | 14 | 14.5 | 14 | 14 |
What To Consider When Buying Golf Shoes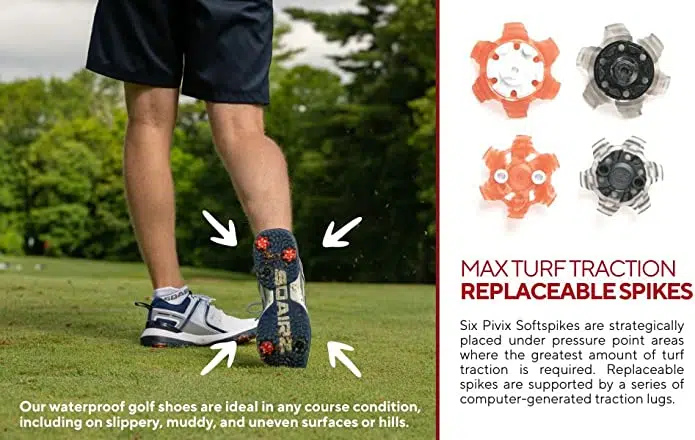 Prioritize Comfort
Golfers often spend hours on their feet, walking the course and perfecting their swings. Comfort should be a top consideration when selecting golf shoes. Make sure to try on multiple sizes and styles to find the best fit for your feet, ensuring that the shoes provide adequate cushioning and proper support.
On a side note, you might be interested in slip-on golf shoes. Luckily, we've got the list.
Evaluate Traction And Grip
The right golf shoes should offer excellent traction to maintain balance and control during swings. Consider both spiked and spikeless options, and determine which type of traction system best suits your needs and playing style. Remember that spiked shoes typically provide better grip on wet or uneven surfaces, while spikeless shoes are more comfortable for walking and offer versatile off-course wear.
Look For Waterproof Options
Weather conditions on the golf course can be unpredictable, making it crucial to select waterproof shoes to keep your feet dry and comfortable throughout the game. Waterproof shoes will protect your feet from moisture and help extend your footwear's lifespan by preventing damage from water exposure.
Consider Style Preferences
While performance is vital, you'll also want shoes that reflect your personal style and preferences. Golf shoes come in various designs, colors, and materials, so take the time to explore different options and find a pair that complements your golf attire and personal taste.
Assess Breathability
Golf shoes with proper ventilation can help keep your feet cool and dry during hot days on the course. Look for shoes with breathable materials or mesh panels that allow for air circulation, contributing to overall comfort and reducing the risk of blisters or discomfort.
Sqairz Golf Shoe Alternatives
FootJoy Golf Shoes
FootJoy, a prominent name in the golf shoe market, offers an extensive range of models catering to various preferences and budgets. Renowned for their comfort and quality, FootJoy shoes excel in on-course performance.
Although lacking Sqairz's unique square-toe design, FootJoy shoes still provide remarkable stability and support, incorporating cutting-edge features like FJ Launch Pods for increased traction.
Adidas Golf Shoes
Adidas is another reputable brand that offers a diverse range of golf shoes, combining stylish designs with cutting-edge technologies.
For instance, Adidas' Boost cushioning technology provides unparalleled comfort and energy return, while their Forgefiber technology adds targeted support and stability.
PUMA Golf Shoes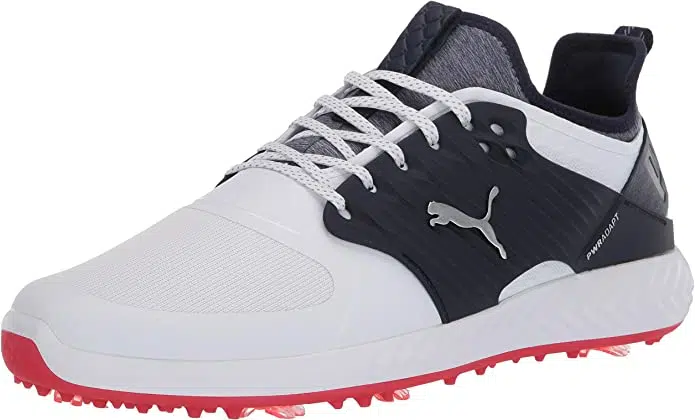 PUMA golf shoes perfectly balance style and performance, appealing to golfers who want to make a statement on the course.
PUMA's shoes are designed with advanced technologies, such as IGNITE foam for responsive cushioning and PWRADAPT for excellent traction across all types of terrain.
FAQs
Are Sqairz Golf Shoes Made In China?
Yes, Sqairz golf shoes are indeed made in China. Despite some concerns that consumers might have about products manufactured in China, it is essential to note that many reputable brands also produce their goods in the country.
Sqairz maintains high-quality standards in their production process, ensuring that the materials and construction of their golf shoes meet the expectations of golfers who prioritize performance and durability.
Do Any Pga Golfers Wear Sqairz Shoes?
Yes, a number of PGA golfers have opted for Sqairz golf shoes during tournaments, reflecting the growing popularity and credibility of the brand among professional players. For example, Sepp Straka wore Sqairz golf shoes when he won the 2022 Honda Classic.
This endorsement from professional golfers is a testament to the effectiveness of the innovative square-toe design and the overall performance benefits offered by Sqairz shoes.
Where Are Sqairz Golf Shoes Made?
Sqairz golf shoes are manufactured in China, a country known for its large-scale production capabilities. Sqairz is committed to upholding high-quality standards in their production process, ensuring golf shoes that excel in performance, comfort, and durability.
By manufacturing their shoes in China, Sqairz takes advantage of cost-effective production methods while preserving the quality golfers demand from their footwear.
Do Sqairz Golf Shoes Add Distance?
Yes, the innovative square-toe design in Sqairz golf shoes offers enhanced balance and stability, potentially adding up to eight extra yards in distance. This groundbreaking feature significantly contributes to a golfer's overall performance on the course.
This improved stability allows golfers to make more consistent and powerful swings, ultimately leading to better overall performance on the course. While individual results may vary, many golfers have reported noticeable improvements in their game after switching to Sqairz golf shoes.
What Are the Sqairz Golf Shoes Prices?
Sqairz golf shoes are available through their official website and select golf retailers. The price range for these shoes is generally higher than many other golf shoe brands, but the innovative design and high-quality materials justify the cost.
For those looking for a high-performance shoe that provides stability, balance, and comfort, Sqairz golf shoes are a worthwhile investment, especially if you can find a Sqairz golf shoes coupon on the way to the store.
Final Thoughts
Sqairz golf shoes offer a unique and innovative approach to golf footwear, prioritizing stability and performance.
After carefully reviewing these Sqairz golf shoes, we confidently recommend the Sqairz Speed as the best option. With its combination of comfort, stability, and unique cleat design, the speed model stands out as the top choice for golfers seeking exceptional golf shoes.
While their unconventional design may not be for everyone, the numerous benefits, such as improved balance, traction, and comfort, make them a worthwhile investment for serious golfers.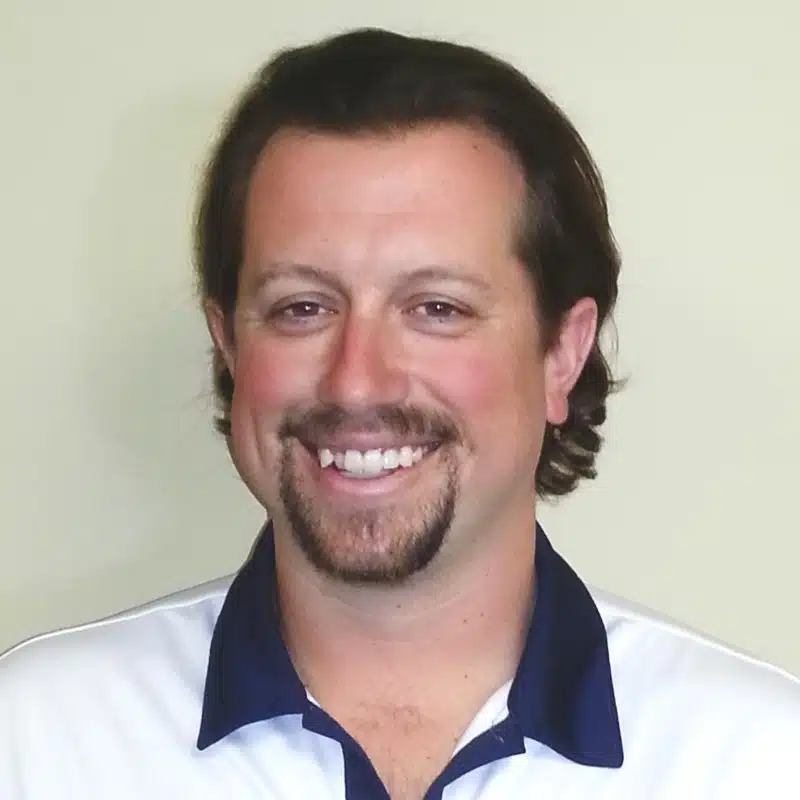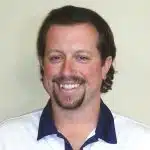 Clint became the Head Teaching Professional at one of Toronto's busiest golf academies and was featured on Canada's National Golf TV program, "Score Golf Canada," twice. He now tests and reviews golf equipment and gets to enjoy the game he loves whenever he wants while helping people lower their scores.