I have always been a fan of hiring a caddie. Their course knowledge helps you think differently about your approach, and having them on the bag can help you save a few shots. The reality is, hiring a caddie every time can quickly burn a hole in your wallet in the long run.
The alternative option is to invest in a high tech laser rangefinder, which will act as your caddie, minus the carrying of your bag. Recently I conducted a Bushnell Pro Xe review and was impressed with the accuracy of its compensated distance readings.
Things To Consider Before Buying a Laser Rangefinder
The laser rangefinder market is packed with options. Before acquiring a new laser rangefinder device, you will need to consider your budget and the features you want. Furthermore, it is worth thinking about the type of device that would work best on your home course.
Budget
If you are looking for an industry-leading laser rangefinder, your budget will need to be $600 +. Players looking for an older version with more basic but still accurate measurements can pick up a device for around $200.
While the higher-priced technology may seem like a lot of capital to fork out upfront, do this basic math to determine if it may actually be worth it. Consider how much a caddie costs per round and how many rounds you play in a year. If it costs you $60 every time you hire a caddy, it means that your laser rangefinder would have paid for itself after 10 rounds.
If you usually don't hire a caddie and are looking for a value for money product, there are plenty to choose from.
Features
Laser rangefinders will generally provide you with an accurate distance to within 1 yard of the target. The more advanced units provide the compensated distance measurement. Which may account for the slope, temperature, moisture, wind, and altitude.
These features are not permitted in tournaments, as per the USGA rule 14-3. If you consistently play in amateur competitions, you may want to avoid the risk of breaking the rules by acquiring a standard laser rangefinder. The standard editions will give you the accurate distance to your target but not offer any compensated distances, and they are more affordable.
Brand
The laser rangefinder market has grown exponentially over the past ten years. Leading to a variety of brands entering the space, the most well-known being Bushnell, Nikon, and Garmin. Although there are a host of lesser-known brands that offer excellent affordable options.
Products from the more established brands tend to be at the higher end of the spectrum. But you can acquire one of their older models for the same price as some newer additions from the smaller manufacturers.
If your budget is tight, and you want the comfort of a brand with a long history in the industry, then an older model is the way to go. If you want the latest technology and are on a budget, then a newer release from a smaller brand should be considered.
Range
One must consider the total yardage of the links you play the most when looking at the maximum range of devices. If your home course plays long, think about a laser rangefinder that can lock onto the pin from some way out. Devices with a range of 1000 yards can give you a measurement to the pin from up to 400 yards away.
Waterproof 
For most golfers, this is not something they think about. Until their device is drenched in water from torrential rainfall. The compact size of laser rangefinders makes it challenging to fit them with waterproof material. It is for this reason that most devices are rainproof and not waterproof. This means that the unit doesn't handle excessive amounts of water and can damage in these conditions.
If you live in a region where the rain buckets down without warning, check to ensure that your laser rangefinder is waterproof and not rainproof before you buy it.
Magnification
Devices with additional magnification capability enable you to detect the distance from further out. The magnification prompts devices to zoom in and focus on the target.
Older laser rangefinders were habitually found with 5x magnification. New models are typically fitted with 6x or 7x magnification.
Rangefinders with 5x magnification and a range of 1000 yards lock onto the pin from 400 yards away. The same distance and 6x magnification will result in your unit's laser picking up the flag from 450 yards away.
Consider the length of your home course, as well as the distances you need reading from. If your home course plays short, it is unnecessary to spend extra on a device with enhanced magnification levels.
Bushnell Pro Xe Laser Rangefinder Review
Pros
Waterproof
Factors in the elements to give you compensated distance readings
Range of 1300 yards
7x magnification
Visual jolt technology vibrates and displays a red ring around the flag once the distance is measured
Cons
Higher price device
The features you pay more for are not permitted in tournaments
Does not factor in wind speeds
Bushnell's ability to deliver golfers accurate distance measurements has made them the industry leaders in golf's laser rangefinder equipment. As of 2020, 99% of PGA tour players and their caddies use Bushnell products during practice.
The manufacturers have a healthy selection of products on the market for golfers of all levels and budgets. Personally, I have found range finders in recent years to have similar features to older models. Which did not warrant me spending top dollar.
My perceptions have changed somewhat when it comes to their new release, the Pro Xe. I believe this is one of Bushnell's most exciting products in years.
It comes equipped with a host of innovative features for your benefit.
Features & Benefits
Elements 
This is Bushnell's best addition to a laser rangefinder. The elements feature factors in the current temperature, adjusted altitude, and slope to give you pinpoint compensated distance readings. Compensated distance readings account for the distance to the flag at that moment in time based on your surroundings.
It does not factor in wind speeds, but this is the most accurate reading you will get when it comes to compensated distance. The USGA terms these functions "effective playing distance features," which are prohibited during tournaments.
Visual Jolt Technology
Visual jolt technology has strengthened the brand's jolt technology, which was first seen in the Tour V3. Visual jolt now displays a red ring around the flag on top of transmitting the two faint vibrations. This makes it more convenient for the golfer to know when the device has the measurement to cup.
Modes
As I mentioned before, the Pro Xe has several features that are not tournament legal. Bushnell has solved this problem by adding a button onto the device to flick between slope mode and standard.
The standard setting only gives you the accurate distance measurement from your ball to the target. You will not receive any compensated measurements. The ability to switch between two modes is ideal if you are a serious golfer. It allows you to perfect your distance control during practice but avoid the risk of disqualification in a tournament.
Waterproof
Bushnell laser rangefinders are not just packed with the latest technology, it also looks good. The compact, ergonomic design of older models meant that the units could only be fitted with rainproof material.  
The Pro Xe is waterproof and can handle itself in soaking conditions. Finally, a laser rangefinder for golfers from areas with high annual rainfall.
7x Magnification
Bushnell has up the ante with the Pro Xe. This model is equipped with 7x magnification. Enabling the laser on the device to zoom in and lock onto the flag from 450 yards away.
Range
The Pro Xe has a total range capability of 1,300 yards. The extra distance capability allows you to clearly detect obstacles in front of you on longer par 4 and 5 holes. Giving you the ability to plan your approach from tee to green.
Alternatives
1. TecTecTec ULT-X Golf Rangefinder
TecTecTec only entered the market in 2014. The French company has produced some impressive laser rangefinders for the mid-range market over the years, with the ULT-X continues the trend.
The device enables you to conveniently engage and disengage slope mode, like many of its competitor products. Remarkably, this rangefinder is accurate to within 0.3 yards of the pin and has a range of 1000 yards.
The ULT-X can detect and lock on to the flag at 450 yards out. As we often see in Bushnell products, the ULT-X also vibrates to notify you that it has measured the distance to the pin. Like the Pro Xe, this device is waterproof, but it comes with a 30-day money-back guarantee and a 2-year warranty.
2. Precision Pro NX7 Pro Slope
The NX7 Pro Slope is another laser rangefinder in the mid-price range of the market. It has many of the same features as competitor products on the market, including adaptive slope measurements and pulse vibration when the laser locks onto the flag.
Precision Pro's unique selling point is not as much in the product as the service they provide. Every rangefinder purchase comes with the Precision Care package, not offered by anyone in the industry. The package includes a 90-day money-back guarantee, free lifetime battery replacement, a 2-year warranty, and a 30% discount when upgrading to any other Precision Pro product.
The Tour V5 comes in two options, standard and slope mode. The slope edition enables you to conveniently switch between slope and standard mode when playing in tournaments.
The magnification is 6x, which is one lower than the Pro Xe, and it has a range of 1300 yards. Tour V5 devices are fitted with bite technology. Bushnell used a magnet to help your device stick to any bar on your cart, preventing you from having to store it away and take it out after every shot.
This is the most compact rangefinder that Bushnell has released, making it easy to fit into the palm of your hand. Like the Pro Xe, this rangefinder also comes with visual jolt technology.
The Tour V5 is slightly more in price than the ULT-X and the Pro Golf NX7. But it is significantly more affordable than the Pro Xe.
Final Thoughts
I have found that the Pro Xe is the most exciting laser rangefinder that Bushnell has released in recent years. I have been waiting for a product that factors in the elements, and now it is here.
The accuracy of measurements can only get better, helping us ace our distance control and improve our confidence. The only downside is that you will pay top dollar for this rangefinder and are restricted from enjoying the extra features if you play in copious tournaments.
Based on the level of detail factored into the distance calculations. I would recommend this device for lower handicap players looking to perfect their distance control by leveraging any data available to them.
If you are looking for a new rangefinder that factors in the natural elements, check out the Bushnell Pro Xe here.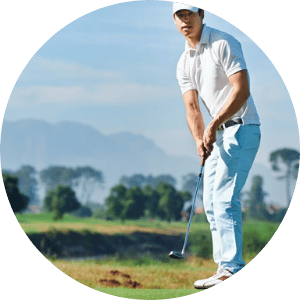 Nick Lomas is the founder of GolfSpan, an avid golfer, not quite a pro but has over 15-years of experience playing and coaching golfers from all over the world. His mission is to bring the golfing community a better experience then it comes to choosing the right golf gear, and finding the right set up for your game.