Your putter is the most frequently used club in your bag. A new putter from the major brands can easily put you back by $300 before any customization. Finding a putter for under $100 can be challenging but well worth it.
We've assembled a list of 5 of the best golf putters for under $100.
At a glance: Our Top 5 Picks for Best Putters Under $100
Below are some of the key considerations in buying a putter.
Buyers Guidelines
Putter Head
It would be true to say that design plays an integral role in optimizing your putter performance. There are many designs with a mallet or blade putter head. This creates a variety of sizes and weights. The design will lead to diversity in your shot experience.
Blade putters are the oldest and original type of putter with a relatively small head, tend to be face balanced, and are aimed at golfers with a straight putting stroke.
Mallet shaped putters offer more stability on the green due to the larger putter head with manufacturers applying a variety of alignments aids and shapes on the rear of the head.
The deep design helps players align their putts better, create a lower and deeper center of gravity
They also increase the Moment of Inertia (MOI) for a reduced spin. This makes mallet putters perfect for golfers with an arc in the putting stroke.
This video will give you more insight into which option is best for your needs.
Length
Putter shaft length has a direct impact on the position and height of your stroke. You need to choose the length that's easier to grip.
Balance
Face balanced putters have a face that faces upwards when you balance the shaft on your finger. This means that the center of gravity is directly below the axis of the shaft. These putters tend to open less on the backswing and close less on the follow-through making them ideal if you have a straight putting stroke.
Toe balanced putters point the toe to the ground when you balance the shaft on your finger. This means the center of gravity is not directly below the shaft axis. These putters are more inclined to open and close throughout the stroke making them ideal if you have an arc in your putting stroke.
Putters can fall somewhere in between with some degree of toe hang. The correct balance will enhance consistency on the greens.
Loft
There is no industry standard regulating loft angle, and it majorly depends on the brand and putter type.  Most putters have a loft angle of three degrees.
Grip
Grips are available in a wide variety of sizes according to your hand size. However, many golfers have turned to an oversized grip to stabilize their putting stroke.
Review – The 5 Best Putters Under $100
Quick Overview: Our Top Picks for The Best Putters Under $100
The QUOLF GOLF Two-Way Putter is a blade-like putter that can be used by both left-handed and right-handed golfers without compromising on the quality of the shots.
It is designed with multiple size options, promising suitable angles, and the shape of the shots while the high-end material does not compromise on quality. The long handle design offers you more control over the shots.
If you require more responsiveness from your putter and even weight distribution in the putter head, Quolf is perfect for you.
The shaft is 34 inches in length that is suitable for the average golfer measuring 5 feet 8 inches tall. The putter head is 2.6 inches in length and 0.5 inches in height weighing in at 1 pound.
A two-way putter head works well for either left or right-hand golfers.
Intech TRAKKER is an uncomplicated mallet head design with a traditional half semi-circle look. It is a pleasing alternative to some of the newer larger clubhead putters.
The semi-mallet design offers enhanced forgiveness than a blade while being smaller than a mallet
Plumber's neck hosel with a slight offset assist in keeping your hands ahead of the ball at impact.
An incredibly soft face insert for added feel at impact aids you with developing feel and distance control.
Subtle alignment features on the topline and rear flange will help you with aligning your eyes over the ball
The Ray Cook Golf Silver Ray SR500 putter will invoke images of the TaylorMade Spider putters.
A large mallet head design weighing in at 360 grams will assist you if you struggle with distance control and play on slightly slower green speeds. Control is the result of involving bigger muscles when putting due to the heavier head. The head is attached to a steel shaft.
It is an excellent looking putter that is available in red or black finish.
The alignment system offers a good combination and use of colors on the different putters. It frames the ball well and has three alignment lines, if you discount the outer lines, providing you with multiple options to align.
Golfers with a straight back straight through putting strokes will benefit most from this head.
The Wilson Harmonized M5 putter is designed for recreational golfers that prefer mallet putters with a plumber hosel.
Wilson's Easy Alignment design consists of horizontal lines strategically placed on the putter head to visually aid your alignment resulting in an accurate setup.
Harmonized putters come standard with a vertical seam grip where the seam is on the back of the grip to offer you a more comfortable grip throughout the putting stroke.
For a softer feel and better contact, Wilson injected the face with a micro-injection polymer to promote accurate contact on the face.
Shafts come standard in 35 inches lengths making them ideal for golfers between 5 feet 10 inches and 6 feet.
The CAG with its Sightline technology is an excellent option if you want to establish solid fundamentals when it comes to aiming and alignment
It is a blade type face-balanced putter with a PVD finish on the unique putter head shape attached to the end of a steel shaft.
A precision milled face promotes forward roll.
Final Thoughts
Your putter is the one club that you will almost certainly use on every hole, except for the lucky few that score an ace or hole a long shot.
Having the best putter in your bag that suits your budget will almost certainly drive your scores down and make you enjoy the game much more.
Although a fully fitted putter is what all golfers aspire to, it is out of the financial reach of most.
In this article, I aimed at highlighting some of the key areas that you have to consider when selecting a putter and introduced some of the lesser-known brands, and combined it with well-known brands that produce high-quality putters for under $100.
This article is not an exhaustive list of the best putters under $100 and we will update it in the future to expand on the selection.
From the list reviewed here, there are quite a few that stand out. The one that stands out most in my assessment is the Cleveland Golf Huntington Beach #1 with its diamond-patterned milled face, one-piece head design, simple alignment lines, and soft feel.
Enjoy putting well using a putter that suits your stroke and feel. This will lead you to putting lower scores on your scorecard.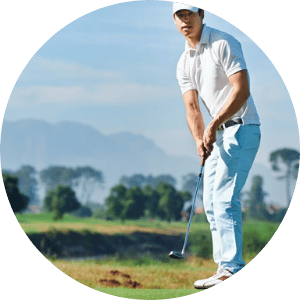 Nick Lomas is the founder of GolfSpan, an avid golfer, not quite a pro but has over 15-years of experience playing and coaching golfers from all over the world. His mission is to bring the golfing community a better experience then it comes to choosing the right golf gear, and finding the right set up for your game.