We're hoping this article will provide you with guidance on what's available and help you avoid the pitfalls of making an uninformed selection.  Here are 9 of the best golf clubs available for senior ladies.
At a glance: Our Top 5 Picks for Best Golf Clubs For Senior Ladies
What To Consider When Selecting Clubs Suitable For The Senior Lady
As you age, your body inevitably changes, and you encounter challenges that you've never experienced before.  However, you have worked hard all your life, and now is the time to enjoy the fruits of your labor and play as much golf as you can.
Moving into the selection of the clubs that will provide you with hours of pleasure out on the course, there are some pointers to keep in mind.
The Shaft
The shafts of your clubs are extremely important and will play a big role in determining the outcome of your effort. There are several areas related to the shaft to take cognizance of:
Shaft Torque
The torque plays a role in the trajectory of your shots. A lower torque, let's take a 3 degree, will not only feel stiffer than a 5 degree, but the trajectory of your ball will also be lower than the 5 degrees one.
Shaft Weight
The lighter the weight, the faster you will be able to swing your club and the more distance you will achieve. It is highly recommended that seniors do not exceed a shaft weight of more than 60 grams. Many manufacturers produce shafts that weight around 50-55 grams which will be an excellent fit for most.
It is not only the weight that is important but how the weight is distributed along the shaft. The grip end should be heavier than the tip to maximize accuracy.
Take note of the length of the shaft as well and ensure that you fit the longest shaft that you can comfortably swing and control. You will gain more speed and distance as a result. If the shaft is too long you will lose control of your swing.
Shaft Flexibility
The flexibility is the amount of bend you can extract out of the shaft during your swing. This will assist you in generating more speed and power. Set your flex to your swing speed for maximum benefit. Most manufacturers have shafts that are specifically aimed at the senior market and will enable optimal performance.
Club Head Loft
The next area that plays a crucial role in your ability to lift the ball off the ground to soar like an eagle, is your clubhead.
The areas to concentrate on here would be the loft of the head as this affects how quickly the ball gets into the air and how high it can reach. The slower your swing speed the more loft you will need for maximum results. Forget the 9-degree loft on your driver, you will be far more pleased with your shot off a 15-degree driver.
Club Face
Manufacturers spend millions of dollars every year to make the clubface thinner and more flexible to achieve the highest MoI possible as well as the biggest possible sweet spot. They further look at strengthening the face and bulging it in the correct areas to enable you to achieve the best shape and most forgiveness.
Head Design
This area is not just for good looks but the design plays a big role in obtaining top speed for maximum distance.
Summary
There are many different types of clubs available on the market.  Buy the clubs that will make your game as easy as it can get and that suits your style. Woods and hybrids are easier to hit than long irons and there are sets on the market that consists mainly of hybrids or a good mix of both.
Quick Overview: Our Top Picks for Best Golf Clubs For Senior Ladies
The Best Golf Clubs for Senior Ladies Are:
The Cobra F-max range is highly sought after by golfers of any age and ability. The range for senior ladies are no exception and will result in hours of enjoyment.
Ultralight shafts and swing weights make this a highly desirable set for senior golfers with different levels of ability or experience.  Maximum clubhead speed and distance results from the low swing weights.
As per the standard F-max range, this set comes with an offset hosel for maximum forgiveness and draw bias. Combined with the gravity weight fixed towards the heel, the center of gravity promotes straighter or more draw-biased drives.
Staying in line with the range you will experience bigger, midsize grips for increased comfort and swing consistency.
2. Founders Club Believe Women's Ladies Complete Golf Set
Pros:
460cc largest driver head allowed for forgiveness and confidence on the tee
Wide soles for maximum forgiveness and launch on your iron shots
Mallet putter
Bag that has 7 zippered pockets for maximum storage
Bag also has a 14-way divider for maximum organization on the golf course
Cons:
Bag is pink or blue and that might not be your color of choice
May be priced too high for a beginner budget
Does not have an insulated beverage pocket
The Founders Club have produced a women's golf bag that fills just about every need for a golfer that wants to upgrade their clubs or is purchasing their first set. If you are looking to give a gift to the special woman in your life, then this might be your best bet.
The ratings are currently stellar with a 4.5-star rating and that proves that this bag is of great quality.
A 16-piece set makes you have a lot of options and will not leave too many yardage gaps in your game so you can attack the pins like it is your job. We have provided a link for you to check out the Founders Club Believe Women's Complete Golf Set!
The Callaway Strata is one of the top golf sets available on the senior circuit. Consisting of a driver, two fairway woods, four irons, two wedges, and a putter it gives you most of what is needed. It has all the ingredients for a perfect round of golf between a group of senior ladies. The golfer in the group playing with this set will have an absolute advantage over the rest of the group.
Firstly you will experience the typical lightweight, easy swinging Callaway Strata 460cc forged driver with an aerodynamic head shape for extra speed, a large sweet spot and produces efficient distance and forgiveness to ensure that maximum distance is achieved. All of the requirements to ensure that senior golfers get maximum enjoyment out of a round of golf are present.
Then there are two excellent woods producing extremely efficient contact and forgiveness to inspire confidence when you are required to take up the challenge for longer shots. The wood covers the fairway woods as well as the long irons for ease of play, distance, and forgiveness.
Four irons ranging from a 6-iron to a pitching wedge as well as a sand wedge. These irons have weight distributed to the perimeter and progressive width in the sole technology for increased distance and stability.
Visual alignment aids on the putter round the set off in perfect harmony with the rest of the set.
The PowerBilt Countess brand was introduced in 1968 and quickly become known for quality and value. This contemporary version of the PowerBilt Countess truly hits a sweet spot.
There are 3 fashionable colors available, magenta, cyan, and lime green. The right-hand model is available in 3 sizes varying by +1 inch and -1 inch from the standard length. The left-handed set comes in standard lengths.
Countess clubs offer quality and performance at a fair price.
Higher lofts and graphite shafts throughout the irons ensure that you get a higher ball trajectory on every club. The 15-pc set comes standard with Countess custom graphite shafts and Powerbilt custom velvet grips
Wilson offers a great range of sets for senior golfers and it is a highly recommended option for all levels. The Wilson SGI Women's Golf Set is a highly rated complete set of senior golf clubs.
The long clubs consisting of a driver, a three wood, and a hybrid comes standard with a stainless steel and titanium club head construction. Swing speed and turf interaction are enhanced through the aerodynamic design of the sole.
The cavity-backed irons include everything from a six-iron to the sand wedge. All aspects of the set have been designed with the lady golfer in mind and it is an ideal set for seniors.
This set is aimed specifically at the senior lady market where the golfers struggle to master the irons. The set comprises of eight oversized clubs ranging from a 3-iron to a pitching wedge. Although the heads are oversized, it retains a low profile look to enable alignment. It's also notable that you can have the set custom made to fit your height.
The shot dispersion achieved with the hybrid clubs should be much tighter than what you will achieve with a set of irons. Mishits will be corrected slightly for even better results.
Maximum distance can be achieved as the Senior Lady Flex Velocity Graphite shafts are extremely suitable to lower swing speeds and the drag reduction resulting from the aerodynamic design as found on the senior circuit.
As the target market for iDrive Pink is senior ladies, and as the name indicates, the clubs come with a bright pink grip and deeper pink shaft.
Arrow markers on the black crown assist with alignment towards the target area.
This set consists of 11 lightweight clubs ranging from a 460 cc driver, a number 3 fairway wood, 2 hybrid irons, 6 irons with extra-wide soles and a putter. This will enable you to have full experience with no limitations on distance.
The driver is set at the maximum size allowed by the golfing governing bodies. Other than the size the driver offers maximum forgiveness and does not lack distance on mishit shots.
A low central center of gravity will allow you to attain a high flying trajectory from either the tee box or fairway shots with the number 3 wood.
Two-hybrid irons take the place of long irons as it would do in any set since the hybrid clubs are superior to irons for seniors or people with slower swing speed.
Wide soled irons will allow you to you get out of the rough with little effort.
Rounding the set-off is a mallet putter that produces efficient roll on the greens for more opportunity to achieve birdies.
This is a complete set consisting of 11 clubs suitable to everyone from beginners through the ladies Club Champion.  The Ladies Complete Set comes with 11 clubs to help make you a more consistent player.
The easy 13-degree loft found on the driver promotes maximum distance off the tee. Rounding out the wood section of the set is a three wood and a five wood providing A speck paint job makes the woods quite pleasing on the eye.
Premium quality cavity-backed irons with a slight undercut at the back, linked to a graphite shaft will ensure that you achieve maximum speed from any swing speed.
Standard to the set is the blade-style putter with tru-roll treated face.
TaylorMade is a premium brand that has not neglected the senior golfer market. All TaylorMade sets are aimed at maximizing the enjoyment for all categories of players. The M6 Combo provides excellent value for money and maximum forgiveness.
All clubs in this range come standard with senior flex lightweight graphite shafts for optimum swing and clubhead speed and enhanced playability.
There is no driver or putter included in the set and this makes the pricing a contentious issue comparing it to most competitors. Granted that this is a high premium brand, you would still expect a full set for the maximum benefit.
Only hybrids and irons are included in this set so if you will need to get a driver, putter, bag, and extra wedges to complete the set.
Included in the set are two hybrids featuring a speed pocket design which are the equivalent to a 4 iron and a 5 iron. Irons cover the six iron through pitching wedge but not a sand wedge.
The technology that comes standard on the set is of high quality but it comes at a high price with loads of optional extras required to complete the set.
Final Thoughts
No matter your age, ability or level of fitness, golf remains one the very few sports that can be played (and played competitively, so thanks to the handicap system) until a ripe old age. There is no reason to give up on our beloved sport while you are still able to swing a club at any decent speed. Equipment manufacturers will make every effort to enable all golfers to continue enjoying the open air and exercise.
The equipment reviewed here are all competitive in the 'best golf clubs for senior ladies' ranking and should be tested to find a suitable set. There are no sets under all of the reviews that you can exclude for any reason.
Our best performing set is the Cobra F-Max Golf Set. The cavity-backed irons are easy to launch and highly forgiving. The shafts are ideal for senior lady golfers and the set is great value for money.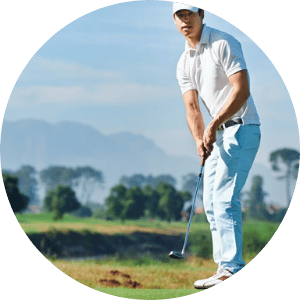 Nick Lomas is the founder of GolfSpan, an avid golfer, not quite a pro but has over 15-years of experience playing and coaching golfers from all over the world. His mission is to bring the golfing community a better experience then it comes to choosing the right golf gear, and finding the right set up for your game.