How do you lug your clubs around the course? Do you carry your bag? Hire a caddie? Or maybe you have a cart at your disposal. Your preferred approach provides an excellent guide to the type of golf bag that best suits your needs.
However, once you know what type of bag you need, the next step is to filter through the brands and designs to find one that fits your budget. The purpose of this post is to show you the best golf bag brands on the market, to save you hours of research.
The Best Golf Bag Brands In 2022
1. Best Overall Golf Bag Brand – Callaway Golf
After much deliberation, our team finally agreed that Callaway is the best overall golf brand on the market. The reason for this is the diversity of their golf bag offerings, which range from stand bags to staff bags.
Whether you are on a budget or willing to spend top dollar, there are an array of options at your disposal with Callaway.
The carry bags generally feature a lightweight design and padded straps to make carrying your clubs as comfortable as possible. Furthermore, they are fitted with a stand to save you from placing your bag on the ground before every shot.
Cart bags from Callaway contain ample space to store your clubs, rainwear, refreshments, and accessories. And the company's staff bags are well suited to the needs of competitive amateurs and professionals needing to carry multiple items during their round.
The Best Callaway Golf Bags:
1.1 Best Callway Carry Bag – Hyperlite Zero Double Strap Stand Bag
Pros
Lightweight
Comfortable double strap
Carbon fiber stand
Seven pockets to store valuables and accessories
Nine different color combination options
It includes a matching rain cover
Cons
The 4-way top may cause your clubs to jam, making it difficult to pull them out
Moderately expensive
The Hyperlite Zero is Callaway's lightest stand bag design, weighing in at under three pounds. The ultra-light design delivers optimal support to your shoulders through 19-holes.
Furthermore, the 4-way top divider setup enables the bag to carry all fourteen clubs. And it is supported by seven pockets to keep your cellphone, golf balls, tees, and rainwear. Finally, the bag is fitted with carbon fiber legs to provide a stable and lightweight stand.
1.2 Best Callaway Cart Bag – Epic Org 14 Cart Bag
Pros
14 way top helps to keep your clubs organized to add or remove them with ease
Ample storage space
Durable fabric
Trolley friendly loop prevents the bag from rotating
Features separate pockets for your cellphone and E-trolley battery
Cons
There is only one color combination available
The single strap design is not ideal for carrying your bag if there is no cart on hand.
Moderately expensive
The Org 14 holds the honor of being Callaway's best-ever selling cart bag. With a fourteen-way top and ten front-facing pockets, this bag provides maximum space to carry everything you need during a round of golf.
In case you doubted that this is a cart-specific bag, Callaway added a specific pocket to keep a spare battery, and the base is E-trolley compatible. Added to the cart-specific features is an improved cart strap to ensure easy access to the bag's pockets.
Finally, the durable heavyweight fabric bag has a single padded strap that simplifies lifting the golf bag. Plus, it contains a Carabiner towel hook and a glove attachment for optimal convenience.
1.3 Best Callway Staff Bag – Epic Staff Bag
Pros
Good looking bag
Spacious
The perfect balance base keeps the bag upright when you are not holding it
The Padded OptiFit Comfort strap makes carrying the bag comfortable
It includes a specific compartment for your valuables and GPS or rangefinder
Cons
Only one color combination
Heaviest golf bag that is not suited to carrying yourself
Expensive
The Callaway Epic Staff bag is designed for the golfers who desire the best. Priced at a premium, this is the same bag design we saw Jon Rahm use in the 2021 Players Championship. Along with a host of other tour pros.
The 10-inch top is divided into six compartments that will comfortably fit all fourteen clubs.
Plus, it includes nine pockets to hold everything a competitive golfer requires during your round. Callaway also went the extra mile to add a specific valuables pocket to protect your phone and wallet.
Furthermore, the bag features a perfect balance base that keeps the 11 lbs construction upright during your shot.
Finally, a Padded OptiFit Comfort Strap is attached to the bag to support your shoulders and conform to their shape for optimal comfort.
Honestly, I would not suggest purchasing a staff bag if you intend to carry it yourself, given the increased weight.
2. Best Stand Golf Bag Brand – Cleveland Golf
Cleveland claims our number one spot for the best stand golf bag brand, thanks to its affordable, spacious, and clean designs.
The company puts a big focus on affordable carts and stand bags. It is ideal for the average golfer looking for an option from a reputable brand that does not break the bank.
The only downside to Cleveland's stand bags is that they weigh just over five pounds on average. Slightly heavier than the Callaway equivalent. Although a couple of pounds does not sound like much, it can weigh on you while trying to traverse 18-holes.
Here is our pick for the best stand bag in the Cleveland stable.
Cleveland's stand bag is a 5.5 lbs construction with a 14-way top that ensures order among your clubs. Three grab handles are connected to the bag for an easy pick-up out of your trunk.
Cleveland enhanced the organization of this bag by adding a specific pocket for your scorecard and a waterproof pocket for your valuables.
Furthermore, the bag features six pockets that are easily accessible and able to store everything from your golf balls and tees to your rainwear, GPS, and refreshments.
Finally, this affordable stand bag is covered in polyester and is available in four color options.
3. Best Cart Golf Bag Brand – Titleist
Titleist may be best known for their premium golf balls, but they also know how to create a cart bag. The tops of their bags often contain fifteen dividers, making it easier than ever to keep your clubs organized.
Furthermore, their carts bags feature numerous pockets to store your accessories and a specially molded pocket to store your valuables. Unlike other brands, Titleist offers a healthy selection of color combinations to cater to a broad audience.
Finally, these moderately priced bags are fitted with tour-inspired handles to allow for a hassle-free lift.
Our choice for the best golf cart bag by Titleist is their Cart 15 design.
Titleist's Cart 15 Bag provides the ideal layout to maintain order in your bag throughout your round. With fifteen full-length dividers and a specialized putter well, each club gets its very own section.
Aside from keeping your clubs organized, there are eleven pockets on the Cart 15 bag to store your accessories and rainwear. That includes a molded valuables pocket for added protection of your phone and two velour-lined pockets to keep your wallet and keys.
Titleist also integrated two tour-inspired handles to ensure an easy lift out of the trunk or off the cart. Plus, it includes an integrated cart strap to better secure the bag to your vehicle and a single strap, should you wish to carry the bag over your shoulder.
Finally, this bag is available in ten colors, ranging from plain black to pink, grey, and white. At a moderate price point, this is a bag that puts space and organization first. As a result, it helps to speed up play.
4. Best Staff Bag Brand – Cobra Golf
Cobra tops our list as the best staff bag brand, thanks to their more recent works. Although the company has spent plenty of time developing the perfect clubs for Bryson DeChambeau, they have also created incredible staff bags.
The aesthetics, top dividers, and dual oversized apparel pockets combine to deliver a premium golf bag where comfort and space reign supreme.
After looking at Cobra's staff bags, we have concluded that the Radspeed Tour Staff Bag is their finest work.
4.1 Cobra Radspeed Tour Staff Bag
Pros
Premium storage space
A 6-way top with full club length dividers keeps your clubs in order.
Dual oversized pockets help you store apparel for all weather conditions.
Special fleece-lined valuables pocket
Clean look
Cons
Expensive
There are only two color choices
It is a heavy bag that I suggest you don't carry on your own.
Cobra's Radspeed Tour Staff bag offers the average golfer a chance to enjoy equipment that the pros use. The bag is a tour-inspired creation built to deliver optimal comfort and space.
The bag features a six-way top with full club-length dividers to prevent your grips from becoming tangled. Plus, it includes ten pockets with dual oversized apparel pockets to keep you prepared for all conditions.
At 11 lbs, it only makes sense to add this bag to your collection if you have the budget to hire a caddie every time you hit the links. Finally, the Radspeed Tour Staff bag runs at a premium. So, if this is the bag you want, you may need to start saving.
What To Consider Before Purchasing A Golf Bag?
Before you purchase a golf bag there are a few factors to consider to ensure you get the best bang for your buck. For starters, think about the type of golf bag that is best suited to your needs. The next step is to create a budget that will help you filter out any products that may break the bank.
Other features to factor in are the material of the bag and the number of clubs it holds. The final factors to consider are the available space for your golf balls, valuables, rainwear, and refreshments.
Types Of Golf Bags
According to Golfweek's Kate Evelyn, three types of golf bags dominate the market. These are cart, staff, and carry bags.
From my experience carry bags are the most popular option among amateur golfers. These bags feature a lightweight design with backpack straps to ensure optimal comfort while carrying your clubs. Carry bags are often fitted with a stand to eradicate placing your clubs on the ground.
After carry bags, amateurs use cart bags the most. They are designed to be attached to your push or automotive cart. Their construction allows for more space than carry bags. Therefore, enabling you to comfortably store your garments, phone, wallet, golf balls, tees, and refreshments.
Finally, staff bags are what the pros use on tour. Their bulky construction offers more space than any other bag on the market. But that means they are also the heaviest.
Tour bags, as they are also known, cater to every need of a pro. They offer maximum space to carry everything you need during a round. Given the bag's weight, you should hire a caddie if this is the route you decide to go.
Are There Alternative Options To The Standard Golf Bag Designs?
If the standard golf bag options are too mundane for your liking. There are alternative options for the more adventurous golfer.
The pencil golf bag is making a comeback for its light and simple design. These bags typically don't have any top dividers and struggle to hold all fourteen clubs. Furthermore, they offer limited space for your valuables, rainwear, golf balls, and tees.
Another option comes to you from the Czech Republic. Golf Geum Company has partnered with European Tour player Ondrej Lieser to promote their inside-out Decolt bag.
Storage Space
Besides a place to store your clubs, you will want to ensure that your bag offers sufficient space to keep your rainwear, tees, balls, and other valuables. Golf carts and staff bags offer more compartments to store goods than stand bags. However, the more storage space, the heavier the bag will be.
Do I Need A Golf Travel Bag If I Fly With Clubs?
For the most part, I never travel with clubs. I always find it less stressful to hire clubs at the course as it eradicates the hassle of lugging my bag long distances. However, if you travel with your clubs, it is worth investing in a golf travel bag.
We have all seen videos of baggage handlers showing little respect for our possessions when loading them into the cargo hold. As a result, I wouldn't recommend leaving your bag or clubs exposed. That is where a travel bag adds value.
What Bag Should I Use If I Carry My Clubs?
If you are like me and prefer walking around a course, your best bet is to acquire a carry bag. I suggest looking for a bag with a stand and ample pocket space to store everything you need.
What Bag Should I Use If I Hire A Caddie?
If you intend to hire a caddie every time you play, you probably have the budget for a staff bag. However, you can also use the lighter-weight carry bag if you use the services of a caddie.
Final Thoughts
Our journey to find the best golf brands in 2022 is complete, and you now have a roadmap to guide you to find the right option.
In conclusion, here are a few points to take away from this post. First, Callaway is the best golf bag brand overall, while Cleveland reigns supreme with stand bags.
Conversely, Titleist came out on top when we were looking for cart bags. And, Cobra dominated the staff bag category.
Those are our findings, and I will leave it up to you to decide. However, if you are interested in Callaway golf bags, you can find out more here.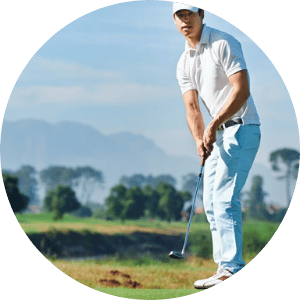 Nick Lomas is the founder of GolfSpan, an avid golfer, not quite a pro but has over 15-years of experience playing and coaching golfers from all over the world. His mission is to bring the golfing community a better experience then it comes to choosing the right golf gear, and finding the right set up for your game.