Over the last 3 decades, I have played everything Callaway from their woods and hybrids to irons, wedges, and putters. In this post, I focus on greenside play and reveal the 5 best Callaway wedges for 2023 to boost spin, control, drop, and hop landings.
After reading this post, you will know which Callaway wedges produce the greatest spin. On the contrary, I reveal the most forgiving design that aims to keep high handicappers out of trouble. Naturally, I also discuss the highest-spinning Callaway wedge before assessing the best option for ladies.
Here Is A Breakdown Of The Best Callaway Wedges
Top 3 Callaway Golf Wedges
Best Overall
Most Forgiving
Highest Spin
MD5 JAWS
Mack Daddy CB
JAWS Raw Full Toe
Pros

High spinning grooves
Boosts friction for consistent contact
Clean turf interaction

Maximum Forgiveness
Promotes clean turf interaction
Preserves ball speed

Optimal spin
Clean, compact profile
Classy milled finish

Cons

The glare was challenging during an early morning round
The weighting medallions are an eyesore at address

I did encounter glare on some shots
The oversized design may not appeal to lower handicappers.

Only available in a J sole grind
Not available in pitching or gap wedge lofts

Price Score
90.6
95.8
84.3
Spin
91.8
84.2
94.9
Feel
92.1
83.8
93.6
Forgiveness
87.3
97.2
85.8
Rating
4.6 Stars
4.4 Stars
4.3 Stars
Why You Should Trust Us
Our team spends thousands of hours trying out and researching golf equipment to help you take your game to the next level. Here's our product review process.
We can bring these reviews to you through the small commissions we earn if you buy through the links below. 
How We Reviewed These Products
Golfspan only shares equipment and brands we trust. 
I'm an experienced golfer of 28 years and thoroughly researched and evaluated the wedges shared below. Then an editor reviewed and fact-checked the list. Finally, we conduct regular content audits to update and revise our reviews to ensure you receive the latest information. 
To select these wedges, I considered these criteria:
Cost
Spin
Feel
Glare
Weighting
Turf interaction
Loft options
Read more: The Best Callaway Drivers
The Best New Callaway Wedges
1. MD5 JAWS  – Overall Best Callaway Wedge
Pros
High spinning grooves
Boosts friction for consistent contact
Generates clean turf interaction
Buttery soft feel
Available in 2 sole grinds
Cons
The glare was challenging during an early morning round
The weighting medallions are an eyesore at address
Specs
Lofts: 50° – 60°
Sole Grinds: S, W
The MD5 JAWS range claims top honors as the overall best Callaway wedge for its appearance, feel, spin, and turf interaction. I found all the wedges in the set delivered a buttery-soft feel. In addition, I welcomed the progressive look of the compact Callaway gap wedge and pitching wedge to the traditional style sand and lob.
Legendary wedge designer Roger Cleveland got his mitts on the project and delivered a brilliant look and extremely high-spinning clubface. My first strike produced an impressively soft feel and crisp acoustics offered by the 8620 mild carbon steel clubface.
Next, the MD5 JAWS wedge produced outstanding friction and spin on full wedge shots and greenside chips. An incredibly aggressive groove design proved effective on most strikes helping me transfer elevated levels of spin to the golf ball.
The high-spinning grooves were supported by microgroove features, which helped keep the ball on the clubface for longer. As a result, I produced consistent spin, feel and control on all shots. Finally, Callaway engineers packaged the MD5 JAWS with 2 sole grind offerings.
The S-grind suits more golfers, and I feel the W-grind offers greater bounce consistency for high handicappers susceptible to chunking shots. Overall, the MD5 JAWS wedge range suits mid-handicap golfers seeking consistency, versatility, and workability.
Rating: 4.5
2. Mack Daddy CB – Most Forgiving Callaway Wedge Set
Pros
Maximum Forgiveness
Promotes clean turf interaction
Preserves ball speed and spin on all strikes
Available in a host of loft options
Ideal for high handicappers
Cons
I did encounter glare on some shots
The oversized design may not appeal to lower handicappers.
Specs
Lofts: 46° – 60°
Sole Grinds: Full, W
High handicappers desperate for short-game forgiveness are better off with a cavity back Callaway pitching wedge to sand wedge. The Mack Daddy CB is the most lenient offering from Ely Callaway's company, thanks to its wider sweet spot, clean turf interaction, and enhanced bite on approach.
The cavity back design on the fittingly named CB wedge adds stability to the clubface at contact, minimizing spin, friction, and ball speed drop-off. This allows less gifted ball strikers to generate sufficient revolutions per minute to promote swift bite on approach.
Admittedly, I had higher hopes for the JAWS groove construction, which delivered less-than-desirable spin levels. However, it makes up for it with its forgiving nature, and I need to recognize it is a wedge for less skilled players who do not require an exceptional spin rate.
Callaway fitted the Mack Daddy CB wedges with 2 sole grinds, but it does not give you the option. Instead, the CB Callaway pitching wedge through to the 52-degree gap wedge features the full sole. Conversely, wedges weaker than 54 degrees carry the W-grind, which has a wider sole and works to prevent digging the clubhead into the turf.
Rating: 4.3
3. Jaws Raw Full Toe – Highest Spinning Callaway Golf Clubs Wedges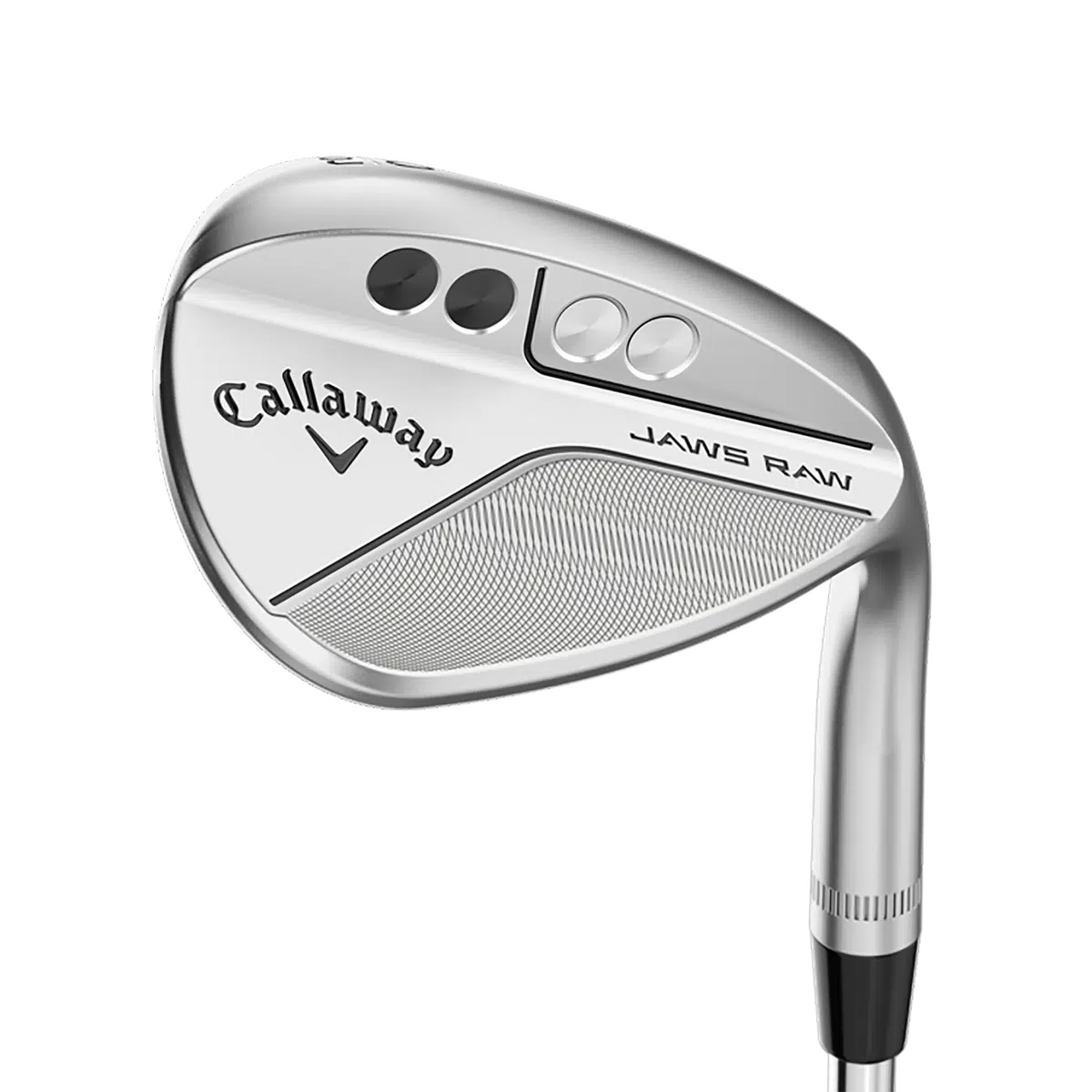 Pros
Optimal spin
Clean, compact profile
Classy milled finish
Easy clubface to open for bunker and flop shots
Generates controlled flight
Cons
Only available in a J sole grind
Not available in pitching or gap wedge lofts
Specs
Lofts: 54° – 60°
Sole Grinds: J
The Jaws Raw Full Toe ranks as our highest spinning Callaway wedge owing mainly to its full face grooves, controlled flight, and balance. These wedges also made light work of flop and bunker shots with their full-toe construction, and the compact profile was gorgeous to gaze down on at address.
The full-face grooves represent some of the best wedge work by Callaway engineers, producing exceptional spin across the surface. A combination of a Raw face, Offset Groove-in-Groove technology, and sharper grooves delivered the spin control needed for hop and stop landings.
Next, the weaker loft wedges were built for shotmaking around the green. Its Full Toe design enlarges the clubface, leaving more room to work with. I found it easier to get the clubface open and slide it under my golf ball to lift it high.
I appreciated the work of the J-grind sole, which minimized turf and sand interaction and was specifically built for full-toe wedges. Some players may prefer the option of multiple grinds, but I feel the J-grind is a winning formula.
Callaway pushed the center of gravity (CG) high and away from the club's heel to deliver a controlled trajectory, which superior golfers appreciate.
Rating: 4.3
Read More: The Most Forgiving Callaway Irons
4. Jaws Raw Black Plasma – Best Glare Resistant Callaway Wedges 2023
Pros
Glare resistant finish
Clean turf interaction
Optimal stability at impact to prevent spin drop off
Enhanced friction and spin
28 loft options
Cons
Pricey
The raw face rusts over time which may not appeal to every golfer
Specs
Lofts: 48° – 62°
Sole Grinds: S, W, C, X, Z
The Jaws Raw wedge sports a plateless design on the clubface, designed to rust over time for longstanding spin control. But spin aside, it stood out to me for its glare-resistant qualities produced by its muted toe pad and black plasma coating.
From the Jaws Callaway pitching wedge to the lob wedge, these short clubs contain tungsten weighting. While popular in woods and irons, it is a first for the equipment giant, and I feel it worked out. Besides enhancing my clubface stability at contact, the wedge centered the CG for improved flight, control, and feel.
The popular Offset Groove-in-Groove construction employed 20-degree angled micro-grooves to boost my spin on greenside shots. I also noticed that the club enhanced my friction contact to preserve revolutions and speed on all strikes. As a result, I enjoyed improved short-game control.
Callaway went all out on the wedge grinds for this model, offering 5 varied constructions to cater to all turf conditions and attack angles. In my experience, the S-grind was most helpful for pitching and gap wedge shots, as it works for several playing conditions.
However, the W-grind will likely suit mid and high-handicappers seeking a grind to reduce digging.
Rating: 4.1
5. Jaws Raw Chrome – Best Callaway Wedge For Women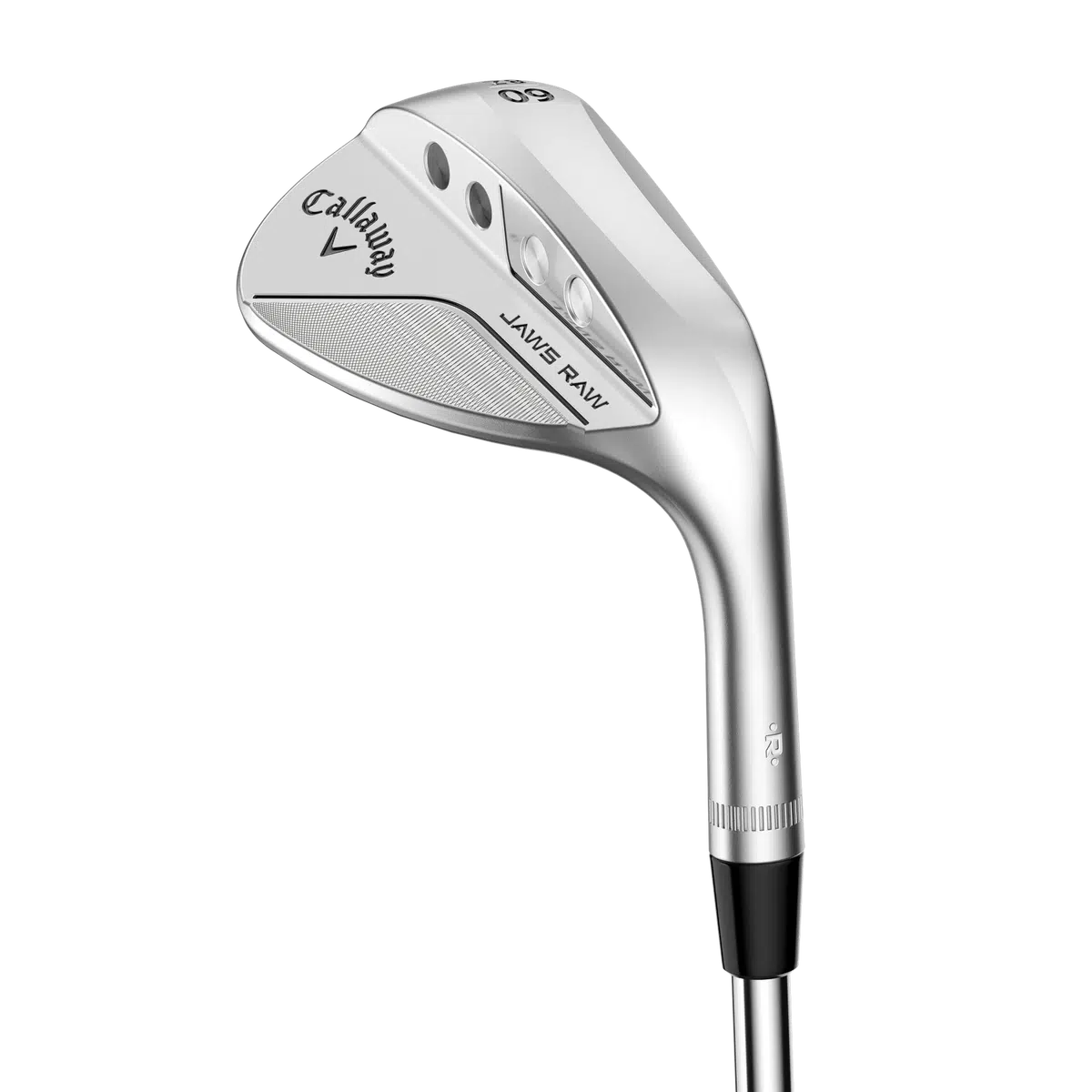 Pros
Elegant finish
Generates rampant spin
Available in 2 sole grinds
Optimal stability at contact to stabilize spin and ball speed
Buttery soft feel
Cons
Priced at a premium
Not available in a pitching wedge or 50-degree gap wedge
Specs
Lofts: 52° – 60°
Sole Grinds: S, W
We conclude our best Callaway wedges review with the top selection for ladies, the Jaws Raw Chrome. It features some of the technology found in the Jaws Raw Black Plasma and the Raw Full Toe. However, it is only available from a 52-degree gap wedge to a 60-degree lob golf club.
The Raw Chrome clubface presents a stunning appearance at address thanks to its refined profile and partly milled flange. Looks aside, it produces superb stability at impact stemming from the presence of tungsten weight.
Once the clubface struck the ball, it delivered supreme spin revolutions. The collaboration between the Offset Groove-in-Groove technology, micro sharp grooves, and a plateless face proved lethal in imparting rampant spin onto my golf ball. Plus, the clubface is crafted to rust over time which will continue producing exceptional spin.
The Jaws Raw Chrome features 2 sole grind options to cater to differing turf firmness and swing attack angles. Although mid and low-handicappers will thrive with the S-grind, I feel high-handicap ladies are better off with the anti-digging W-grind.
Rating: 4.2
What To Consider When Purchasing Callaway Wedges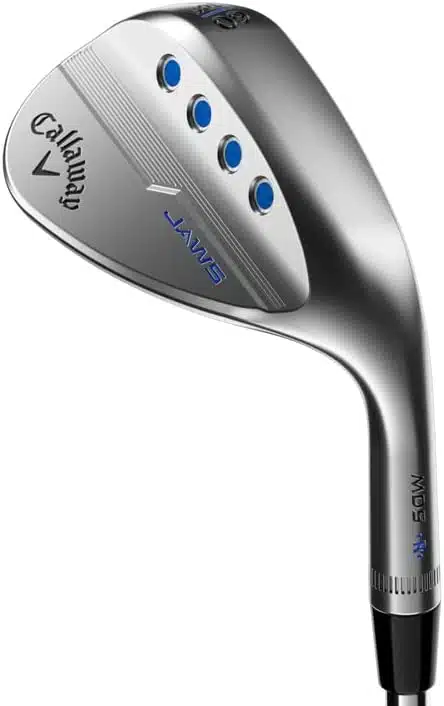 Loft
The first factor to consider with Callaway wedges is which lofts suit your game. The strongest lofted wedges in their repertoire are the 46 and 48-degree pitching wedges, while the weakest is a 60 or 62-degree lob wedge.
Since most iron sets include a pitching wedge, you will likely only need a gap, sand, and lob wedge. If your pitching wedge carries 43 to 45 degrees, you may consider a 50-degree gap wedge to plug any holes in your game.
I find my 56-degree sand wedge compliments my 50-degree gap wedge, and I close out the bag with a 60-degree lob wedge. Ultimately, you want to reduce the loft gaps in your bag where possible to avoid distance discrepancies.
Sole Grind
Callaway crafts 6 sole grinds to deliver varied performances across the sand, rough and fairway turf. My preferred grind for Callaway lob wedges is the "Z" because I find it easier to open the clubface around the green, making it easy to slide the clubface under the golf ball and get it airborne.
However, I turn to the W-grind for my pitching, gap, and sand wedge needs owing to its sensational forgiveness and reduced risk of digging. Next, skilled wedge players who produce a shallow divot may find solace in the C-grind wedge. Finally, the J-grind is a construction for full-toe wedges, like the Jaws Raw Full Toe.
Cavity Back Vs Blade
Callaway engineers build predominantly blade wedges that offer less forgiveness, controlled ball flight, and crisp turf interaction. However, these wedges are better suited to experienced golfers who can handle a reduction in leniency and welcome a refined profile.
The Callaway Mack Daddy CB is one of the few cavity back wedges on the market, earning the prize for the most forgiving wedge in their portfolio. A cavity back wedge possesses perimeter weighting that stabilizes the clubhead at contact, preserving spin and preventing ball speed drop-off.
In my experience, I find high handicappers are better equipped to the consistency of a cavity back wedge.
Standard vs Full Toe
Full Toe wedges from Callaway are refined constructions featuring an enlarged clubface for more surface area. The design promotes clean contact on full open-face shots, generating improved spin and a high launch from the bunker, fairway, or rough.
Conversely, a standard toe design offers less surface area to strike the ball with an open clubface. As a result, it proves more challenging to produce consistent contact on flop and bunker shots.
Finally, designs like the Jaws Raw Full Toe are generally spotted on weaker lofted wedges like the sand or lob wedge.
FAQ
Do Callaway Make Good Wedges?
Yes, Callaway makes good wedges containing premium components to boost spin, soften your feel and amplify your acoustics. In addition, the production of Callaway wedges is overseen by industry legend Roger Cleveland who has built short clubs from the brand for almost 3 decades.
Finally, to further prove the quality of Callaway wedges, Jon Rahm, Xander Schauffele, and Si Woo Kim play Jaws wedges.
What Wedges Do The PGA Tour Callaway Players Use?
PGA Tour Callaway players use varied versions of the Jaws range of wedges. Jon Rahm swings the Jaws Forged wedges, while Xander Schauffele and Si Woo Kim play the Jaws Raw Face Chrome wedge.
Conclusion
Our review of the best Callaway wedges reveals that the industry giant prefers blade-style wedges over cavity back options. The Mack Daddy CB is the only complete cavity back in the Callaway bag for 2023, with the remaining options sporting refined, blade-like profiles.
Industry veteran Roger Cleveland is running a tight ship at Callaway and ensuring the wedges present an attractive look, crisp turf interaction, and rampant spin. Other than the forgiveness of the Mack Daddy CB, I feel Callaway wedges better serve mid and low-handicappers who can forgo some forgiveness.
After testing these wedges, I am comfortable awarding top honors to the Callaway MD5 Jaws. Although not highly forgiving, it did produce an air of consistency, carrying ample sole grinds to cater to all attack angles and turf conditions. Finally, each strike delivered a soft, pleasant feel for improved acoustics and control.
Read More: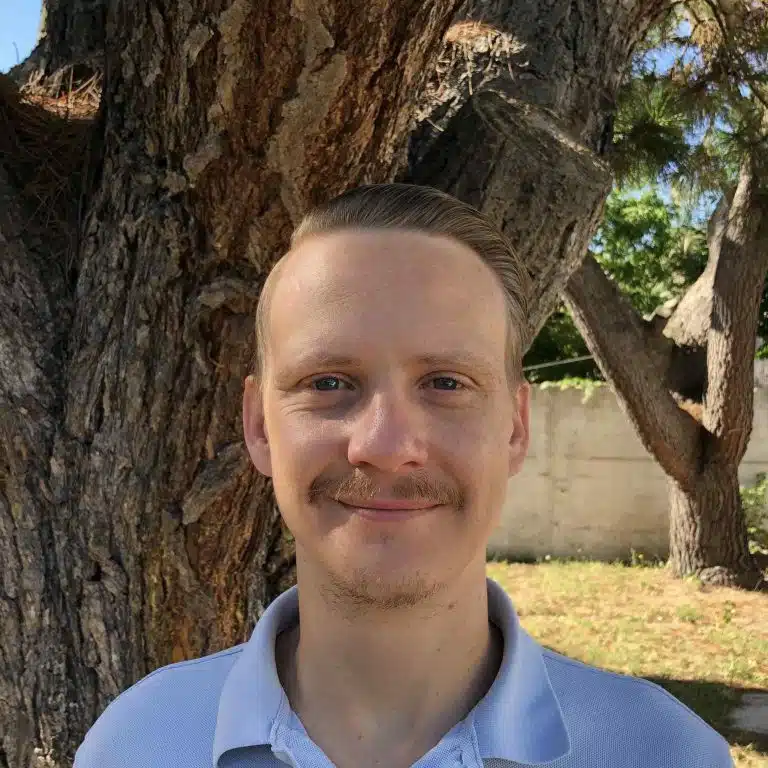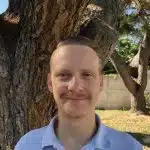 Matt is a seasoned golf equipment writer and sports fanatic. He holds a Postgraduate in Sports Marketing and has played golf for over 28 years.