This article will look at the best websites to purchase used Callaway golf clubs, but first, a brief history on the renowned Callaway golfing brand.
Callaway Golf Company was founded by Ely Callaway Jr. (an avid golfer) in 1982 after he sold his wine farm for a considerable profit. Hickory Sticks experienced cash flow problems and approached Callaway to invest in the company. After buying 50% of the company it was renamed Callaway Hickory Stick USA.
The remaining 50% was purchased by Callaway in 1984 and the company renamed Callaway Golf.
In 1985 Bruce Parker was hired as head of sales and he grew the sales to more than $3.0 billion.
Callaway hired Richard C. Helmstetter, as a consultant in 1986 and promoted him to chief club designer when computer-controlled manufacturing machines were introduced. Under Helmstetter and Glenn Schmidt stewardship the company developed the original Big Bertha driver with a 190cc steel clubhead.
In 1996 Callaway Golf launched the forged wedges that were constructed from carbon steel with modified U-grooved faces. In the same year, Callaway announced the development of a new golf ball after spending 3 years in development.
Odyssey Sports was acquired in 1997 to increase the range of Callaway putters.
In 2003 Callaway Golf announced the company's intention to purchase Top-Flite Golf and its Ben Hogan Golf division. Adidas made a counteroffer to Top-flite and Callaway Golf eventually paid $169 million for the acquisition.
Callaway acquired OGIO, a US-based bag and apparel brand, and TravisMathew, a California-based lifestyle and golf apparel brand in 2017
The company keeps expanding its product range and in 2019 Callaway acquired German outdoor apparel company Jack Wolfskin.
Where to buy used Callaway Golf Clubs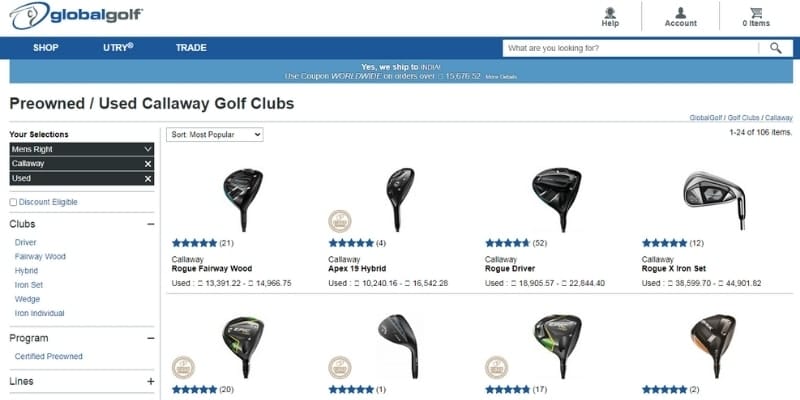 Global Golf has 100 used Callaway golf clubs for sale on their website under the pre-owned program. This consists of drivers, fairway woods, iron sets, wedges, putters, and individual irons.
You can select the shaft flex, shaft length, shaft material, loft, and product line for drivers and fairway woods.
Iron sets options include all of the options for drivers and fairway woods and provide an option to add the lie angle and the number of clubs in the set composition.
Wedges options include all of the above, bounce, and type of wedge.
Putter options are flex, lie angle, length, loft, shaft material, type, grip type, and product line
Shipping
Orders are only processed during office hours on weekdays excluding holidays.
Residential deliveries are done every day except for Sundays and holidays. Commercial deliveries will only be executed on weekdays excluding holidays.
Domestic shipping to all contiguous states can expect delivery between 2 and 5 working days depending on the option selected.
Deliveries can be expedited using either the next day, 2 days, or 3 days options.
Non-contiguous states and territories, Alaska, Hawaii, and Puerto Rico, can expect deliveries within 3 to 7 business days.
Military APO/FPO deliveries must be done by USPS Priority mail with delivery between 2-4 weeks from dispatch
International shipments to more than 125 countries will be dispatched within 1 business day after confirmation of payment. No part shipments will be made on international orders. Where an item is out of stock, the order will be shipped within 1 business day after receiving stock from the supplier.
You are responsible for all duties, taxes, and any other import fees levied by your government and this will not be refunded under any circumstances.
Shipments to Canada are done under the standard international economy category with deliveries within 2 to 3 business days after dispatch.
Other deliveries to most major international metropolitan areas can be expected within 2-5 business days after dispatch.
Global golf applies flat rates for domestic shipping within the contiguous states however many items you have purchased. The flat rates for Economy shipping is $4.99 USD, standard/ground $9.99 USD, Military APO/FPO $19.99 USD, 3-day delivery $14.99, 2-day $19.9, next-day $29.99.
A flat rate of $9.99 is levied on shipping to states that do not form part of the contiguous states, Alaska, Hawaii, and Puerto Rico.
International deliveries, including in Canada, are done on weekdays only. The shipping rate is based on the size, weight, and shipping destination. Options available are International Economy with delivery from Monday to Friday within 5 to 10 business days after dispatch; International Standard are generally delivered between 4 and 9 business days after dispatch; International Priority deliveries are made between 3 and 7 days from dispatch; International Express quickest with deliveries made between 2 and 5 days after dispatch.
Return Policies
Products that have not been personalized, customized, or altered after purchase will be accepted within 60 days of receipt and must include all accessories. No questions asked and the full purchase price will be refunded between 5 and 7 days after receipt and inspection in the same form as the original payment
Personalized items, items not in the original condition, altered, or missing accessories will incur a 15% restocking fee
Products returned under the Playability Guarantee, the refund will be done in the form of a GlobalGolf e-gift card.
Condition Rating
Global Golf rates all items sold with a condition rating.
Mint condition clubs have never been used but could have marks due to movement within the shop.
Excellent condition clubs have had limited use,
Very Good condition clubs have been played with and may show cosmetic wear
Value condition means that the clubs have been played frequently but are still in 100% playable condition.
Clubs that are in Poor conditions show significant wear and will not be sold by Global golf.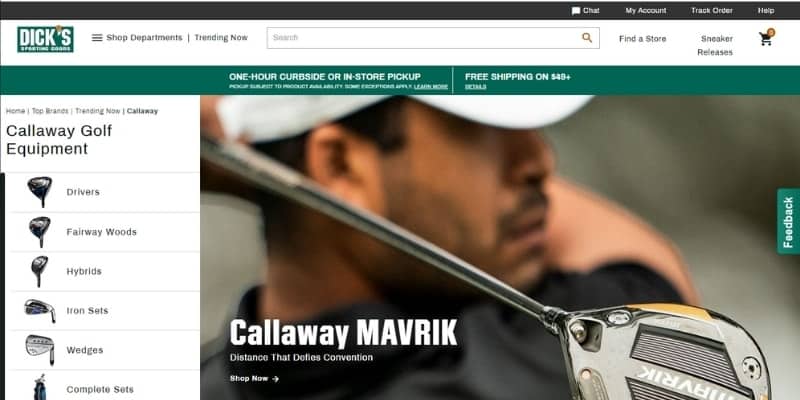 Dick's Sporting Goods was founded by Dick Stack in 1948 when he was 18 years old. He was tasked by the store owner to compile a list of fishing tackle required to open a store. The owner was not impressed with the list and told Dick that he was a "dumb kid" after which Dick immediately resigned.
At home, he explained the situation to his grandmother who then asked him how much money he would require to start his store. He explained to her that he needed $300 which she promptly took out of her savings jar enabling him to start his store.
Starting with the fishing tackle store, Dick expanded the product line by the late 1970s to include the product range available today.
Dick's Sporting Goods went public on the New York Stock Exchange on October 15, 2002, under the ticker symbol DKS.
Other brands that are owned by Dick's are Golf Galaxy; Field and Stream specialty stores; DICK'S Team Sports HQ; GameChanger mobile apps; and more.
There is a vast selection of Callaway clubs available on the website. You start by selecting the category of a club, driver, fairway woods, hybrids, iron sets, wedges, or complete sets. Once the category has been selected the website allows you to fine-tune your selection within each category.
Dick's offers the best price guarantee which will match any price from an authorized dealer. To qualify for the best price guarantee the product must be an identical match, same brand, same model number, same color, same size; be available immediately at a qualifying store or website.
There are 2 rewards programs, Scorecard and ScoreRewards where you earn points and receive rewards.
1 point is earned for every $1 on qualified purchases. 2 points for every $1 on qualified purchases with a ScoreRewards credit card. 300 Points = $10 Rewards
When you partake in these programs you will receive Exclusive Offers, get access to special discounts, coupons, and giveaways, experience faster checkout, and you will be the first to know about new and exclusive gear.
The terms and conditions as well as the levels of the programs are well set out on the website.
Shipping
Shipping is done on business days from Monday to Friday excluding holidays. The processing time and expected delivery time is shown on the website per product range.
Shipping costs are determined by the item size, weight, selected shipping method, and destination. The estimated lowest shipping cost is shown in your cart. This price can vary if you select a different shipping option or live outside the contiguous states.
Expedited shipping can only be done to the 48 contiguous states, Alaska, and Hawaii are eligible only APO/FPO addresses must be delivered by the US Postal Service
Returns Policy
DICK'S Sporting Goods, Golf Galaxy, and Field & Stream offer a 90-day return policy on most products. Returns with a gift receipt will be offered a gift card or even exchange, returns where Scorecard Reward or a coupon was redeemed, will receive an adjusted refund amount.
Returns must be accompanied by the original sale receipt or pack slip to qualify for a refund based on the initial form of payment.
If the original receipt or pack slip is not available a valid form of identification will be required. The refund will be based on the lowest selling price in the form of store credit.
Pre-owned golf clubs and demo clubs may be exchanged within seven (7) days of purchase provided it is in the same conditions as they were sold and be accompanied by the original sales receipt. All exchanges are subject to approval.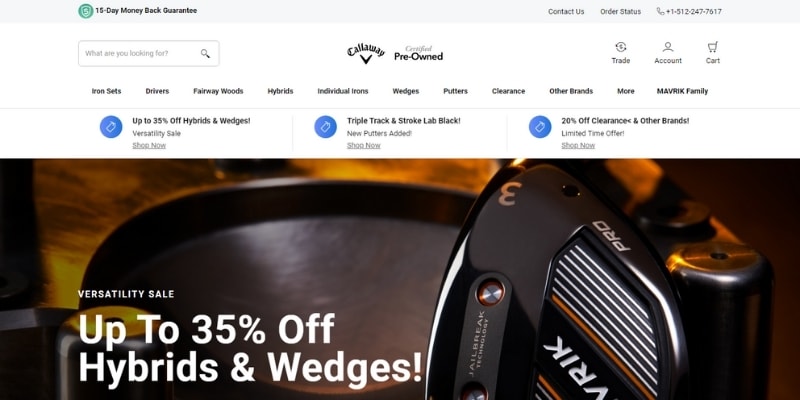 Callaway Golf Pre-Owned offers a price protection guarantee and if a price is decreased within 14 days of purchase you can request an adjustment to your purchase price. Clubs that do not conform to your requirements can be returned under the 90-day buyback policy.
All clubs will be issued with a certificate of authenticity and a condition guarantee.
The Trade-In! Trade Up! Program will enable you to trade your existing clubs in on the purchase of any Callaway clubs that are equal to or more than the price offered for your trade-in. You cannot exchange the trade-in value for gift cards. This program is only available to domestic customers.
Some conditions apply to the Trade in! Trade up! Program and only clubs that are listed on the Callaway Golf Pre-Owned rate card will be eligible for the program. Clubs deemed unacceptable by Callaway Golf Pre-Owned may be refused
To qualify for a trade-in all iron sets must consist of at least 7 consecutive clubs e.g. 3-PW; 3-PW, SW; etc. 7-club sets will be priced at 7/8ths of the trade value. Individual clubs will be priced at 1/10 of the set price. No individual 5 and 6 irons will be accepted for trade-ins.
All products must be in perfect working order and clubs that rattle, shows rust, shows dents, rock chips, have been altered or shows bag wear will not be accepted.
A maximum of $2,500 per calendar year per customer or household can be transacted under the Trade-in! Trade-up! Program.
Making it easier to acquire the Callaway clubs of your choice they have partnered with Affirm to finance your purchase.
The purchase will be offered at a rate between 0% APR and 30% APR based on your credit score and an eligibility check. Any returns, refunds, and trade-ins processed against Affirm payment plans may take as long as 30 days to appear on your Affirm statement.
Shipping
UPS Ground® Services is the preferred method of shipping within the contiguous with UPS Second Day Air and UPS Next Day Air available as alternate options.
The shipping rate via UPS Ground® Services is $9.95 irrespective of the number of clubs and delivery to commercial and residential addresses are typically done on weekdays between 1 and 5 business days after dispatch.
UPS Ground orders are processed on weekdays excluding holidays. Orders placed on Black Friday and Cyber Monday promotions could take 3-5 business days processing.
Alternate options available are UPS Second-Day Air Service and UPS Standard Overnight
Items shipped outside the contiguous U.S. to Alaska or Hawaii can only be shipped via UPS 2-3 Day® Service.
Deliveries to any US Territory or APO/AFP addresses must be shipped via the USPS and cannot be expedited. The expected delivery for these shipments ranges from 10 to 30 business days.
Packages not delivered within 75 days or more require a written notice of non-receipt to be submitted to Callaway Golf Pre-Owned after which a claim will be filed with the USPS. You can then select to either receive full credit for the purchase amount or a reshipment of the order.
DHL and/or UPS International Express services will deliver all international shipments. The service provider and delivery times are determined by your destination. International orders are divided into 3 zones that are available on the Callaway Golf Pre-owned website.
All taxes, duties, and/or brokerage fees must be paid before delivery.
Returns Policy
If you are not satisfied with the item you have purchased, you may return it within 15 days from shipment for a full refund of the product price excluding shipping, handling, or any customization charges that may have been assessed.
To qualify for a full refund the item must be returned in new and unused condition, include the Return Merchandise Authorization (RMA) number, and must include all parts and accessories.
Callaway Golf Pre-Owned will buy back any club for a predetermined fixed price agreed upon at the time of purchase for an in-store credit. The in-store credit can be used toward the purchase of any other product sold by Callaway Golf Pre-Owned. The buyback guarantee will refund 90% of the purchase price when the clubs are returned between 15 and 30 days, 80% of the purchase price when the clubs are returned between 31 and 60 days, and 70% of the purchase price when the clubs are returned between 61 – 90. The buyback guarantee is not valid after more than 90 days.
Money-back / buy-back credit will be issued within 7 to 10 business days from receipt and inspection of your items.
Final Thoughts
Callaway has a great reputation built up over many years for delivering quality products that last for many years. This makes them a favorite brand on the used club market.
Many websites are selling used Callaway clubs online with many features offered to attract buyers.
Callaway pre-owned golf offers an authentication, condition guarantee, and financing to create peace of mind and an ability to acquire the set of used Callaway golf clubs that you desire.
Dick's sporting goods are listed on the NYSE and own other online stores providing you with a variety of options.
Global Golf is a highly regarded online store that offers a well-designed, user-friendly, and easy to navigate website. Their overall experience from the time that you start searching until delivery and after-sales service is top-notch highly recommended for the purchase of your used Callaway golf clubs.
Nick Lomas is the founder of GolfSpan, an avid golfer, not quite a pro but has over 15-years of experience playing and coaching golfers from all over the world. His mission is to bring the golfing community a better experience then it comes to choosing the right golf gear, and finding the right set up for your game.