In today's technology-centered environment in golf, there are constant buying decisions between products. A popular decision for golfers is to decide whether or not to purchase a golf GPS or a rangefinder, and hopefully, this post will help you decide.
I will break down the two in an unbiased manner and let you decide for yourself between a golf GPS or a golf rangefinder.
Price Comparison
I know that most people want to know about what kind of prices things are before they get their hopes up, so that is exactly why I am mentioning it first.
For a golf GPS, a cheap but effective GPS can cost you a little over $100.  If money is no object, then you can buy some of the best on the market for close to $350 in some cases.  It really all depends on what you think is a fair price to pay.
For rangefinders, the prices are a bit more inflated.  A cheap but effective rangefinder is going to cost you around $200.  For the best of the best, you could expect anywhere in the $400 to $500 range or even more in some cases.
The best tip is to establish your budget and if you are not willing to spend much, then a golf GPS might be your best bet.  But, make sure the GPS or rangefinder has all of the qualities that you are looking for first.
Capabilities
The abilities of both products have a significant range because of the large price gaps.  A cheap rangefinder does not do nearly as much as an expensive one in most cases.  The same can be said for a GPS watch.
The Capabilities of a Golf GPS are:
Show a detailed map of each hole.
Show the distance between you and the pin for more accurate approach shots.
Can show hazards that may be out of sight at your current position.
Can be used as a regular watch in some cases.
Access to hazard distances from the ball. Great for deciding whether or not to lay up.
Shot performance tracking for detailed data to analyze your game.
The Capabilities of Golf Rangefinders are:
Accurate distance from you to the pin for approach shots.
Can show the distance from you to hazards.
Degree of elevation to the target, or slope.
Can be useful for telling the distance to anything as long as the laser picks the object up.
Keep in mind that not every GPS or rangefinder has all of the abilities, but the most elite products in each category most likely do.  A cheaper model of each product will not have all of the capabilities.
Usefulness
So, are the features of each golf gadget useful on the course?
The short answer is absolutely.  A golf GPS or rangefinder is going to immensely help your game if you know the distance.  If you have always just guessed what the elevation, distance, and other factors are, then you have not done yourself a service.
As far as comparing the two products, both of them become very useful on a golf course.
The only feature that a rangefinder has a GPS beat on is that a rangefinder can technically be used to show the distance to anything on a course, and a GPS can only show the distance to hazards or the green.
Something that a GPS has a rangefinder beat on is that a rangefinder has to be able to see something to get a read on it, and a GPS does not because it is connected to satellites.
Both are very useful and come in handy on the course so no need to worry in that department.
Best Golf GPS Brands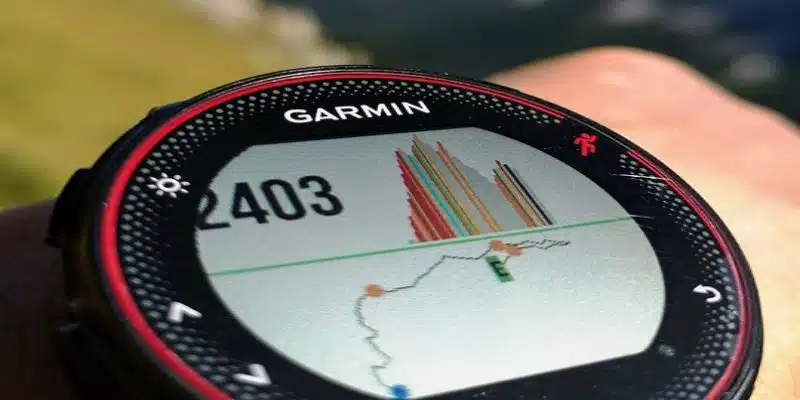 When shopping for a Golf GPS Watch, the best companies to look for are:
Garmin
Bushnell
SkyCaddie
GolfBuddy
Check out our article on the best GPS for golfers
Best Rangefinder Brands
The best companies on the market for rangefinders are:
Bushnell
Callaway
GolfBuddy
TecTecTec
Check out our article on the best rangefinder for golfers
Should You Buy Both Products?
Some people wonder if buying both would benefit their golf game even more compared to just buying one.
To be honest, there really is not much of a point in buying both products.  If you have a lot of disposable income to buy both, then by all means go ahead and get both.
But, for people with a budget there is not much of a point in purchasing both because even though they are different, they produce pretty much the same result.  Both products just have their own benefits compared to the other.
It is not recommended to buy both in most situations but if you have the money then do it if you feel like you want to!
Can You Use Both Products in a Tournament?
Both products are perfectly fine to use in most tournaments that you are going to play in, but the slope feature in rangefinders is not legal.
The slope feature is an unfair advantage because players without it have no way of knowing the elevation to the green.  Always check in with your tournament and make sure that whatever you are going to use is legal for the tournament and you are not breaking rules.
Final Thoughts
And there you have it for an in-depth comparison between a golf rangefinder and a golf GPS watch. Both products have changed the game for thousands and thousands of golfers, and maybe they will for you too.
Golf is constantly evolving and coming a long way with products that are really helping people grow their games.  Who knows what will be out there in the next 20 years?
Nick Lomas is the founder of GolfSpan, an avid golfer, not quite a pro but has over 15-years of experience playing and coaching golfers from all over the world. His mission is to bring the golfing community a better experience then it comes to choosing the right golf gear, and finding the right set up for your game.