A hybrid golf club is simply a golf club that is designed to provide golfers with an option to replace the problematic long irons. Hybrids offer you more forgiveness on mishits and versatility out of nearly any condition from the tee, rough, bunkers, and even putting.
Combining features from irons and fairway woods, hybrids to provide you with superior distance, trajectory, control, and playability,
There were relatively popular hybrid clubs such as the Baffler and the Ginty in the 1970s, but it is only in the 2000's that it became popular with the mass market.
Most golfers have replaced their long irons with hybrid golf clubs, and some have gone as far as replacing up to their 6-irons.
Even the top professional golfers on the international golfing tours have added a hybrid to their bags.
A hybrid's clubhead comes with several features that can help boost a golfer's game:
The face is typically made of titanium or steel.
The center of gravity is moved back and lower on a hybrid club.
The hybrid club has a wider sole
Hybrid clubs come in lofts typically ranging from 16 to 27 degrees but can go higher.
Hybrid golf clubs typically come with graphite shafts
You should compare the loft and shaft length of the iron that you want to replace to prevent the creation of too big a gap between your clubs.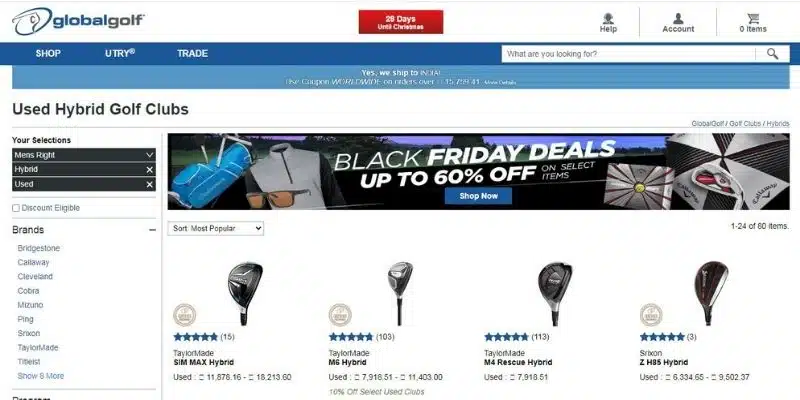 Global Golf was founded in 2001 to provide a marketplace for golfers to trade used golf clubs irrespective of brand or product range. There is a loyalty program in place whereby can earn loyalty points and redeem on future purchases.
Purchase is a straightforward process and Global golf offers the best prices on trade-ins. There is a UTRY program that allows you to try out the clubs for 14 days by paying a $50 deposit upfront.
A wide range of brands, lofts, and other options make it easy to select the hybrid best suited to you from the current selection of 112 hybrids in stock.
The selection of the club is made simple as you can filter by club type, program, condition (new or used), and product line.
Sorting the results for ease of selection is possible by Most popular, Ascending and descending price, newest, Best reviewed, Most discussed on their blog.
Global Golf ships domestically to 48 contiguous states that will be completed within 5 business days using the Economy Delivery option or within 4 business days using the Standard/Ground option. Next-day, 2-day, or 3-day options are available when you cannot wait to put your new clubs into action.
Deliveries to non-contiguous states and territories such as Alaska, Hawaii, and Puerto Rico can be expected within 3 to 7 business days.
It is compulsory for all Military APO/FPO deliveries to be done by U.S. Postal Service Priority Mail and delivery can be expected between 2-4 weeks from dispatch.
Deliveries to Canada can be expected within 2 to 3 business days after dispatch.
Global Golf delivers to 125 countries and filled order will be dispatched within one business day of payment verification with delivery between 5 to 10 business days. International Express deliveries take between 2 and 5 days after dispatch.
Domestic deliveries to the 48 contiguous states are charges at a flat rate regardless of the number of items purchased. The flat rate for Economy is $4.99; Standard/Ground $9.99; Military APO/FPO $19.99; 3 Day $14.99; 2 Day $19.99; Next Day $29.99.
The flat rate for deliveries to non-contiguous states is $9.99.
International shipping costs are determined by the weight and destination zone of the items.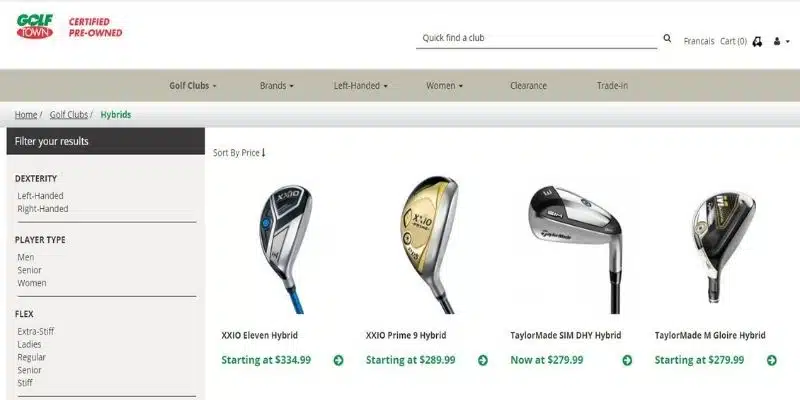 Golf Town offers a feature that is not commonly offered by its competitors. If there is a price reduction within 15 days of your purchase, you will receive a credit for future purchases. Items on sale are excluded from this option.
Filtering the items on the website is straightforward and the options available are Dexterity, Player type (Man, Woman, Junior), Shaft flex, Loft, Shaft material, Overall condition, Brand, and Price. The filtered list can only be sorted by ascending or descending price.
Once payment is confirmed your order will be dispatched within business hours excluding weekends excluding holidays. Only renowned shipping companies such as UPS and Canada Post are used.
Standard shipping option deliveries take between 3 and 7 business days while Express shipping deliveries take between 2 and 3 business days.
Pricing of your delivery includes insurance and is based on the size and weight of the item, selected shipping method, and the delivery location.
UPS World Saver is contracted to do all international shipping outside of Canada and the United States. Deliveries can be expected between 2 and 5 business days after dispatch.
You are responsible for all customs duties and taxes and it is payable to the shipping company at the time of delivery
Individual customers can return the purchase within 30 days for a refund for the full price of the item. Items returned between 30 and 45 days will be charged a 15% re-stocking fee. No returns will be accepted after 45 days.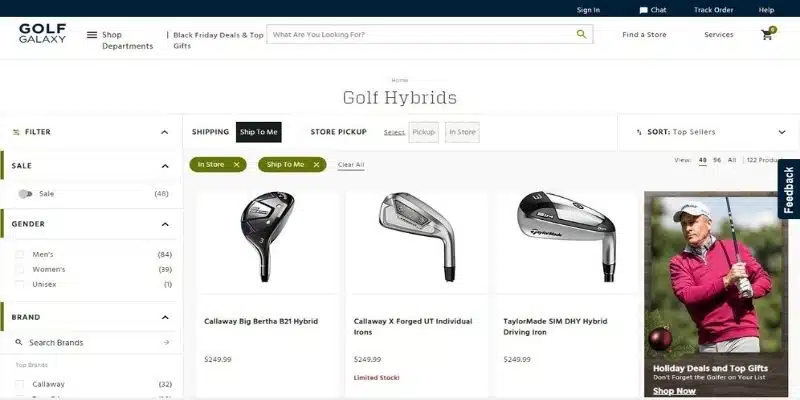 The Golf Galaxy website easy simple and straightforward to navigate and extremely functional.
There are 124 hybrid golf clubs available on the website covering the full spectrum of lofts and clubface types.
Filtering your selection is straightforward and quick. Filter by Brand, Product type, Dexterity, Special features, or price. The selection can then be sorted by Top sellers, Savings in descending sequence, Price from low to high, Price from high to low, New products, Brand, and Most relevant
No deliveries can be done to P.O. Boxes, APO, or FPO addresses, or destinations outside of the United States.
There are diverse options available for delivery such as Ground shipping, 2nd day, or 1-day service.
The cost of non-bulk order shipping within the contiguous 48 states for Ground service is $5.99; 2nd Day delivery $10.99; 1 Day delivery $25.99.
Rates for non-contiguous states is $15.99 for 2nd Day service and $25.99 for 1-Day service.
Returns accompanied with an original sales receipt or pack slip will be refunded in the same format as the original payment.
Purchases with ScoreCard Reward points or where a coupon was redeemed, will receive an adjusted refund amount.
All exchanges are subject to prior approval from the customer services department. Pre-owned and demo golf clubs may be exchanged within seven (7) days under the same conditions they were sold.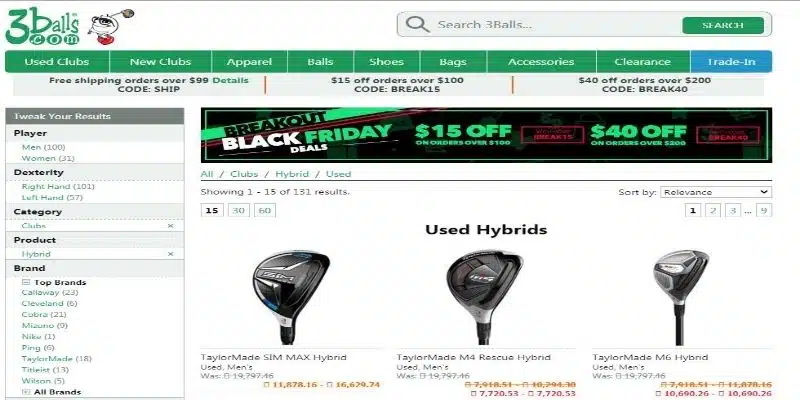 The 3 Balls website has 172 hybrids for sale on their website split between men (133), women (38), and juniors (1).
You can select the gender (men, women), dexterity, brand, grade (used or new), shaft flex, putter type, shaft length, shaft material, and product line.
If 3balls.com has all the equipment in stock to fill your order, shipment will be done during business hours within 1 business day after receipt of payment.
Deliveries to residential addresses will only be delivered on weekdays excluding holidays. Limited areas may be able to receive deliveries on Saturdays.
Commercial deliveries can only be done from Monday to Friday excluding holidays.
Economy deliveries to contiguous states will take between 3 and 12 business days, Ground delivery between 2 and 6 days, and self-explanatory options next day deliveries, 2-day deliveries, and 3-day deliveries.
APO/FPO deliveries are completed between 2 and 4 weeks.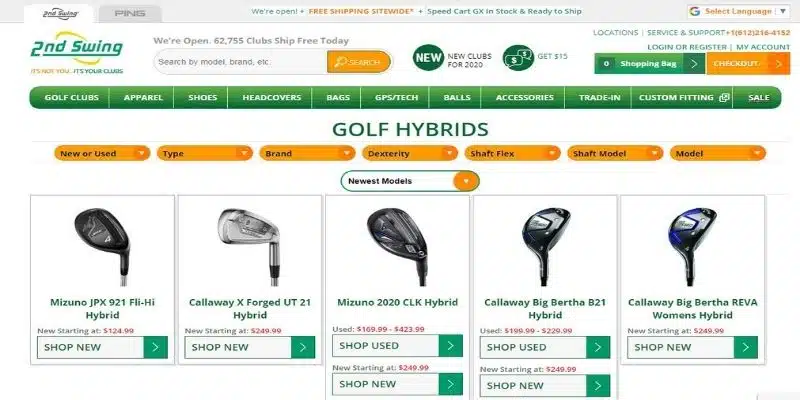 The company started in 2006 to offer a market for trading used golf clubs. The first brick-and-mortar outlet opened in Minnesota in 2007. Two stores were added to the footprint in the Twin Cities area; 3 in Scottsdale, Arizona in 2015; Wilmington, Delaware in 2017; Columbia, Maryland in 2019.
The 2nd swing is a reliable website with more than 57000 clubs for sale with a 30-day Play Guarantee. This includes a wide range of hybrid clubs. It is also possible to trade your clubs. Unlike other sites, you do not list your clubs on 2nd Swing, but they credit you for the refund on your next purchase. Being a virtual market, trades are done directly with 2nd Swing and no trades are allowed with 3rd parties.
2nd Swing presents you with a range of possible trade-in prices before you ship your clubs.
The trade-in process is quite straightforward and effective. Firstly, you ship the clubs to the company, then they evaluate the clubs and then make you two offers. The first offer, which is generally the higher amount, is applicable if you are using the amount to upgrade your equipment. The second offer is a cash amount that will be paid to you.
You can filter your hybrid selection by status (new or used), dexterity, brand, putter head style, toe hang, shaft length, and club model.
The results from the filter process can be sorted by the newest models, oldest models, relevance, best sellers, ascending price, or descending price.
All equipment sold on the website carries a 30-day guarantee.
There is a free delivery option on 2nd Swing to all contiguous states.
Order dispatching is generally dispatched during business hours within 48 business hours after payment confirmation.
FedEx Ground or USPS Priority will be responsible for Standard shipping and deliver orders between 2 and 6 business days.
USPS will deliver orders to non-contiguous states, Alaska, Hawaii, and Puerto Rico shipments, and expedited shipping will be sent via FedEx.
Domestic shipping costs for hybrid and shoes are $9.99, 2 Business Day shipping $24.99, Next Business Day shipping $44.99. The FedEx shipping rate to Canada is $29.99
You will be responsible for all taxes, import duties levied by your country directly to the shipping company at the time of delivery.
Final Thoughts
Hybrid clubs are high in demand and provide you with an edge to play your best golf. Selecting the best hybrid for you can take hours traveling between physical stores.
The virtual market makes sit much easier to determine what is available in the used market at competitive prices.
Most of the online golf equipment resellers offer a range of new and used hybrid golf clubs for sale, each with their pros and cons.
Global golf offers excellent service and a website that is straightforward to navigate. Filtering and sorting the available equipment to create a shortlist is quick and efficient. This website is highly recommended as one of the best online golf equipment sellers.
Related Articles
Nick Lomas is the founder of GolfSpan, an avid golfer, not quite a pro but has over 15-years of experience playing and coaching golfers from all over the world. His mission is to bring the golfing community a better experience then it comes to choosing the right golf gear, and finding the right set up for your game.